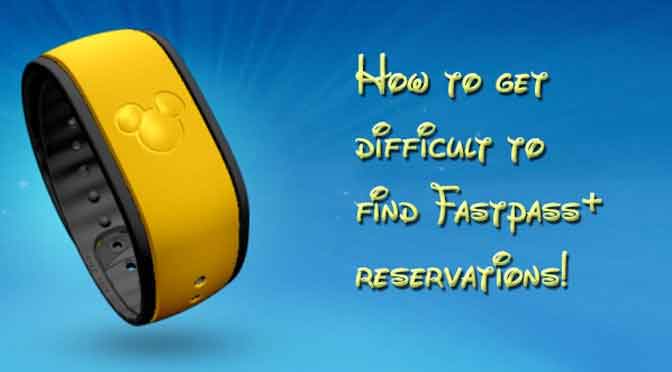 NOTE:  EVERY person that plans to enter the line must have a pre-reserved Fastpass+, even if they don't plan to take part in the photo opportunity.

Kelly wrote me to ask why she couldn't find Fastpass+ (FP+) reservations for her group of 5 for a certain Fastpass in May even though she is within her 60 day window for guests staying at a Disney resort.  I recommended using a strategy that I used yesterday afternoon at Hollywood Studios to get Rock n Roller Coaster, Tower of Terror and Star Tours in the afternoon when Rock n Roller Coaster didn't have group availability.
Here's the Hard to Find Fastpass+ strategy:
Book Fastpass reservations for ONE PERSON AT A TIME until you get the ones you want, regardless of the return time.  You could then play with the times a bit.  It's easier to adjust the times on a computer than it is a phone though.  You might need to move a person's return time up or down a bit to find a range that a group could use for entry.
I recommended this strategy to Kelly who was able to find the following reservations for her Fastpass on her desired date.
1 person for 2:55 – 3:55
2 people for 3:05 – 4:05
2 people for 3:25 – 4:25
She asked what her return range would be if they entered as an entire group.  I stated that the return range would be 3:25-3:55 pm.  The reason is because the group can't enter together until the LAST person is available (3:25) and the group can only enter as late as the FIRST person (3:55) in the group.
With that stated, you are allowed to enter 5 minutes early and usually are allowed to enter up to 15 minutes late at each FP+ reservation.  So, the theoretical range for this group is 3:20-4:05pm, but I wouldn't guarantee the late arrival time, as it is subject to the Cast Member allowing entry.
It's a lot of work to find those little crumbs some times, but it's worth it if your family REALLY wants to do an attraction that isn't showing availability.
If you are wondering on what date you can book your Fastpass+, you might want to look over my Crowd Calendar for your dates.
Be sure to share on Facebook and Pinterest!
Are you planning a vacation? Reach out to our trusted travel agency sponsor Authorized Disney Vacation Planner
Mouse Class Travel
!