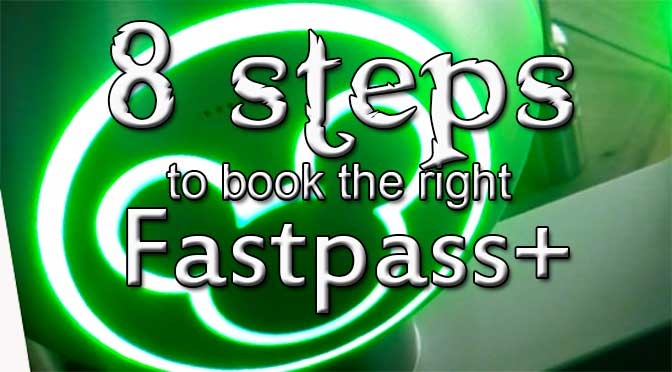 You're new to going to Walt Disney World or new to the revamped Fastpass system known as Fastpass+ and you need a little help understanding how to optimize Fastpass+ usage in the theme parks.  You want to have the easiest possible day in the parks and don't want to run around in circles, so follow these steps to a great day in the parks by booking Fastpass+ in advance.
Know your booking window.  If you are staying onsite at a Disney World resort or Swan and Dolphin, you can book your Fastpass+ 60 days before your arrival date for the length of your stay.  If you are staying off Disney World property, you may book your Fastpass+ 30 days in advance of your trip only.  If you are uncertain when this window is exactly, check out my

Crowd Calendars

for your check in date.  It also provides your 180 day booking window for your dining reservations.
Set up your my Disney World Experience account well in advance. Visit www.disneyworld.com and establish your own account.  Link your tickets if you are staying offsite and begin to familiarize yourself with the process of login and selection.
You can book your Fastpass+ at 7:00am EASTERN on your reservation date (usually).  The system can sometimes delay up to an hour, but the new Fastpass+ bookings are usually listed around Midnight. You may have to hit refresh a few times to get them to show up.
Begin with the LAST POSSIBLE date and work backwards. Fastpass+ for Anna & Elsa and Seven Dwarfs Mine Train often book really quickly and many guests are frustrated that they couldn't find them.  They often begin with the first available date and work forward, but that is a mistake.  Start with the last possible date you'll visit the Magic Kingdom and work backwards.  If you are unsure which Fastpass+ you should book first, check out my

Fastpass+ prioritization guide

.

 I'd also recommend you looking over my

Fastpass+ optimized Touring Plans

with Character meets to get great time slots.

ONLY select the Fastpass+ that you REALLY want.  If you want Anna/Elsa and 7 Dwarfs Mine Train, you might consider trying them on separate dates.  Then choose two really low priority FP+ along with the one you really want.  You can easily change those low priority ones for things like Big Thunder Mountain, Splash Mountain, Space Mountain etc after getting the primo FP+ that you really need.  Take ANY time you can get for Anna/Elsa and 7 Dwarfs Mine Train.  You can attempt to adjust the time later, if there is availability.
Know what you can do if you still can't find your FP+.  If you can't find Fastpass+ for your entire group for the hard to find Fastpasses, check out my "

How to find difficult Fastpass+

" information guide that explains how to book single FP+ and manuever them to help you get what you need.
On your booking date:

Choose date and park (farthest out first)s
Choose your FP+ options.  Remember that you can only book THREE Fastpass+ allocations, at one park per day.  Hollywood Studios and Epcot limit you to ONE high priority FP+ and TWO lesser priority FP+
You'll be able to add FP+ one at a time in the park at a kiosk after you've used your three. It's really rare to find a high priority FP+ at a kiosk.  Availability may be limited.

You can change FastPass+ at any time. Just click on the Fastpass+ that you wish to switch, but be aware that it may not place it in the same time slot.  It might move the attraction up or down in your schedule.  You can easily try to adjust it.