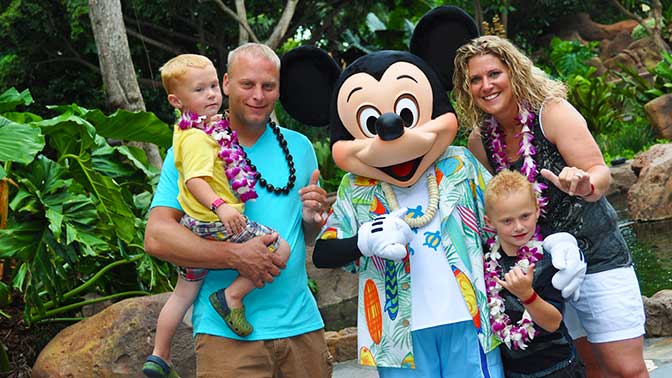 Today's guest review is provided by Kristen Papiez who took her family to Disney's Aulani in Hawaii earlier this year.  I've edited the photos slightly,  but the photos and story are all hers.
---
My family (husband Paul and son's Jayce and Bryce, ages 6 and almost 3 respectively) just returned home from a short, but AMAZING, 5 night stay in Oahu. We stayed 3 nights in the Waikiki area and then moved to Disney's Aulani Resort for our last 2 nights.
We rented a car for our entire stay and explored as much of the island as we could in our short time there. We visited Hanauma Bay, Halona Blowhole, Sandy Beach, Lanikai Beach, Bellows Beach, Turtle (Laniakea) Beach, the surf town of Hale'iwa, and ate shave ice at Matsumoto's, among other things. We saw some of the most beautiful sights we will probably ever see. Our hotel in Waikiki was beautiful and the sunset was something from a postcard, but I don't think anything could prepare us for our arrival at Aulani.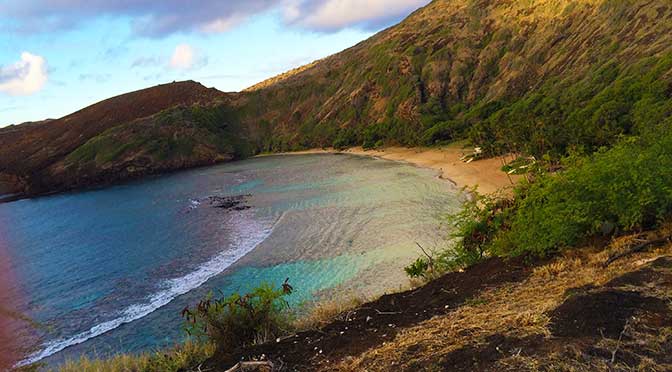 Arrival
We arrived at the Aulani Ko'Olina Resort area about 3pm. Upon arrival at Aulani, we were greeted by a cast member from bell services who helped us unload luggage from the car and took our name to see if the room was ready. It was. We had done online check-in about a week prior to arrival, which allowed us to bypass the front desk completely. When we had everything out of the car, valet took it for complimentary 30 minute parking so we could get settled into the room before having to move it to the self-park area. Parking costs $35 per day but there is no charge for DVC members and people staying on DVC points. We were then met by a cast member who handed us room keys and information on the resort. She poured each of us a glass of ice water with lemon, presented me with a fresh flower lei, my husband with a Kukui nut necklace, and each of the boys with a Menehune necklace. Next, she gave us the option to go straight to the room or to take a minute to hear a little bit about the resort. We decided to hear what she had to say. She took us to the balcony that overlooked the resort and gave us a brief overview of some of the features at the resort and information on the pool area.
The whole arrival/check-in procedure was like nothing I've ever experienced before. I was just trying to take it all in. This is our first time at Aulani and our first time renting DVC points – so I don't know if it's always like this when you arrive here or at other DVC resorts, but I was truly blown away in the first 5 minutes. I assumed it was going to be nice, but I did not expect to receive such a gracious welcome. When it was time to head toward our room, the thought that went through my head was, "No one does it like Disney!"
Renting DVC points
We rented DVC points from a person I found online. Everything went really great with the rental process. The DVC owner was really nice, prompt to reply to any questions I had, and went above and beyond to make sure we got what we wanted. I would recommend anyone looking to stay here that is not a DVC member to look into renting points rather than booking the stay through the Aulani website, as we saved about $700. This was a huge savings!
Our room
We reserved a studio ocean view room. A couple days before we left, the DVC owner put in a room request for us. I wasn't sure we would get what we wanted but I figured it was worth a try. I requested the highest floor available with a view of Waikolohe Valley (pool area). We got exactly what we wanted. We were in room 1678 of the 'Ewa Tower overlooking Waikolohe Valley, the lagoon/ocean, and the most breathtaking sunset I've ever seen. Because we had reserved a studio room, we had 1 king size bed and a queen size sleeper sofa. This was plenty of room for our short stay. In the room there was also a flat panel TV that could be pulled out and rotated, a wet bar, refrigerator, microwave, toaster, coffeemaker, and safe in the closet. The bathroom was gorgeous with a toilet separate from the sink and shower area. Shampoo, conditioner, bar soap, foot scrub, lotions, and aloe (which could come in very handy in that Hawaiian sun) were all provided. We also had a balcony with tables and chairs to sit at and enjoy the wonderful view.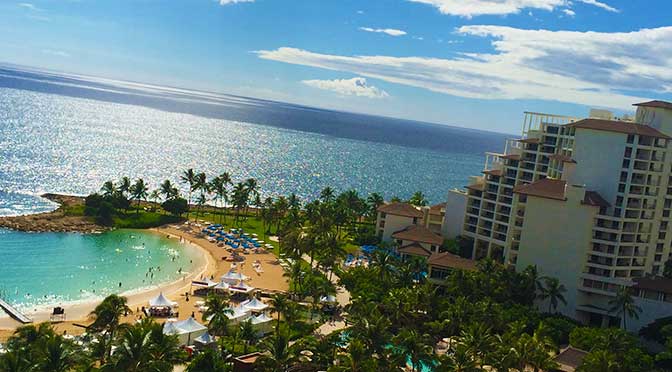 As a bonus, our arrival night was also the last night of Hawaii Food and Wine Festival. We had no idea this was going on so we didn't catch any part of it, but we did get to watch a spectacular fireworks display from the balcony. Fireworks were being lit off from both sides of the lagoon and the view was perfect!
Pools
As soon as we got settled in the room, it was time to check out those incredible pools! Jayce got a really good view of the water slides from our room so that's where we were headed first. There are 2 water slides that make up Waikolone Stream. One is for tubes; you can grab singles or doubles. This slide is fun for the whole family. We all enjoyed it, including Bryce, who was allowed to ride down with an adult. The slide ends at the lazy river, so you can do the water slide and then just stay on your tube and float, or you can get out at the stairs. A few times I noticed fairly long lines for this slide, but more often than not the wait wasn't more than 3-5 people long. The other slide is done without tubes and you go one at a time. It's dark; I mean pitch black the entire time! I did it once and that was enough for me. Jayce loved it though and did it several times during our stay. This slide ends in Waikolone Pool, the main pool. I never noticed any significant wait for this slide.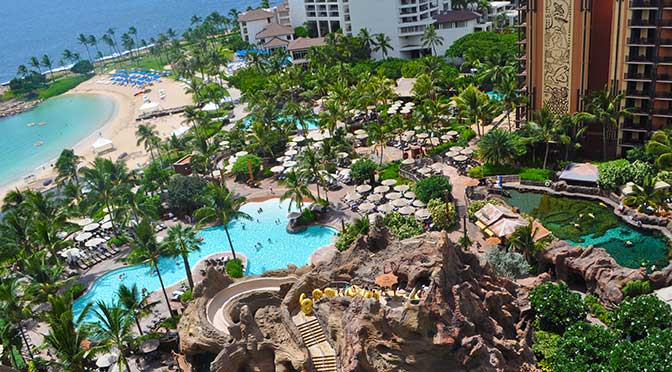 Next up was to check out Menehune Bridge. This area is for children 48" or less. It has a large climbing structure with many different water elements, 2 water slides, and a big canoe on the top that dumps water out every so often. Parents are not allowed on the structure with the children; they have to go alone. I wasn't really crazy about this because the area is open, and technically the kids could enter from one side and exit at the other side and you may not see them. Another fun spot for the younger kids is Keike Cove. This is just a small splash pad, but Bryce had fun in it. Both areas close at 5pm.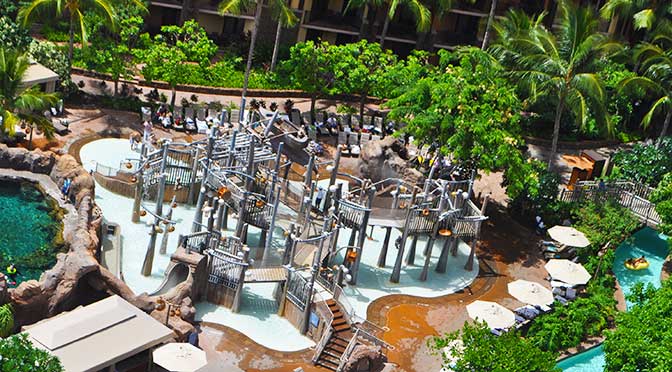 The last pool area that we spent time in was Ka Maka Grotto. This is an infinity pool overlooking the Ko'Olina lagoon and ocean. It has a little "cave" with a small lookout that affords a nice view of the beach area. There is also a hot tub here that children are able to go in. We'd never been in an infinity pool before, so it was something different and we all found it really enjoyable.
Beach
We spent a couple hours in the afternoon of our second day at the lagoon and beach. Typically complimentary rentals of boogie boards, sand toys and other beach items are available to Aulani guests at Makiki Joe's Beach Rentals; however, it was closed while we were there. I am assuming this is due to Hawaii Food and Wine Festival because there was a stage that had been set up over the water that was being removed and none of the Aulani beach chairs were out or available for use. Luckily we were able to use some chairs over on the J.W. Marriott side of the lagoon without any trouble.
Before we set up on the beach, we walked the sidewalk towards the J.W. Marriott and took a small path into the next lagoon. There we found a Hawaiian monk seal sunning himself on the rocks. It was really cool to be able to see him so close. He didn't move much; he'd open his eyes for a second to check us out, but would quickly close them again. Just a word of caution, don't get too close because there are pretty hefty state and federal fines (and possibly jail time) for harassment or disturbance of these protected animals!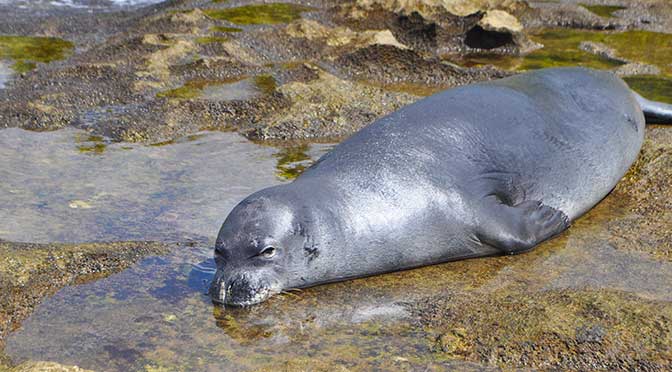 Back at the beach, we rented a water hammock for the kids from the J.W. Marriott rental desk. It was $15 for 30 minutes. Kind of expensive, but the kids had fun. My husband did a little bit of snorkeling in the lagoon. He said he saw some fish, but not like he'd seen at Hanauma Bay.
Activities
There are so many different activities included in your stay at Aulani, I think it would be hard to do everything that is offered each day. We tried to do as much as we could and there was nothing we did that we didn't enjoy or wouldn't do again.
The first evening of our stay we decided to do the Menehune Adventure Trail. This was fantastic. This is an interactive "scavenger hunt" experience that begins in the Pau Hana Room (community hall). Choose between doing the outside adventure trail (pool area) or the inside trail (lobby). We did the outside version the first night and the inside version the next night. They are both similar but the outside one lasts about 45 minutes and the inside one lasts about 15-20 minutes. Each adventure provides you with a neat tour of whichever area you are doing. You are given an iPad to begin your adventure and following the instructions given, see where it takes you! I don't want to give too much away, but there are really cool interactive elements involved and the adventure is different every time. Although I've never done the Agent P's World Showcase Adventure at Epcot, I assume this to be similar.
Another fun thing was Aloha Fun with Disney Characters. This was surf lessons with Goofy. Each child was given a small rug in the shape of a surf board and a cast member taught them about surfing. They learned the parts of the board and some surf moves, in a funny and interactive way. Goofy came out and did some surfing too. A Photopass photographer was there and took pictures the whole time. There were no individual pictures with Goofy, just a group shot at the end. This took place on the Kipuka Lawn by the car rental window.
We also did Disney Jr. Aloha at Aunty's Beach House. Most of the day Aunty's Beach House is a childcare center, where parents can leave their kids and go enjoy some adult activities, but for this event parents stay. They did some singing and dancing which was led by an enthusiastic cast member, Jayce did arts and crafts and Bryce played on an interactive table. At the end, Stitch came out for more singing and dancing. Again, there was a Photopass photographer the whole time but no individual photos with Stitch, just a group photo at the end.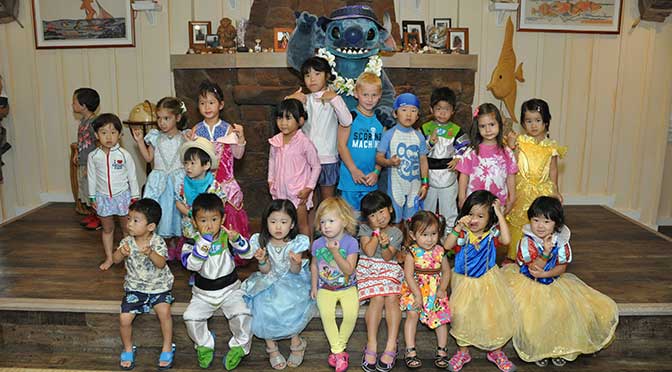 We spent a little bit of time in the Pau Hana Room. This is a community room for all guests to enjoy. They have many different complimentary Disney movies and board games that you can rent. They also offer different family activities each day. We made leis while we were there, and the boys were really excited to bring them home for grandma! This was offered throughout the day, until the flowers were gone. The day we were leaving they had a drawing class, which I assume to be similar to the one offered at Hollywood Studios, but unfortunately we didn't have the time to do this.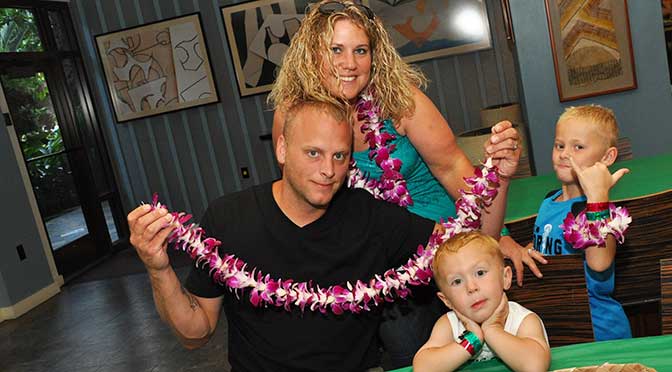 Our last evening at Aulani, we went to Mo'olelo storytelling. At a gathering around the fire pit, a story is told by Uncle. I don't know if the story is the same each time but we heard a story about the Menehune. It lasted about 15-20 minutes and was captivating, interactive, and Uncle was quite animated. I would say it is a must do for any family, especially the kids.
Photopass
Just like at Walt Disney World, there are Photopass photographers located throughout the resort, including in the pools and on the beach around sunset! The pictures can be viewed on the TV in your room, although not all of the pictures showed up there. I just went down to the Photopass desk in Kalepa's Store and made sure all the pictures were there. We had some really good photos taken throughout our stay and decided to buy the CD for $99. Make sure you've had all the photos that you want taken before you buy the CD – after it's done they charge you to add pictures. The CD takes about 10 minutes to burn so leave enough time to wait for it. What I wish I'd known – they have a Photopass scavenger hunt and if you get pictures taken at all 8 locations, you get a free 8×10 photo. I didn't know about this until I was buying my photo CD. We had missed 2 locations so we only got a 5×7 photo. Live and learn.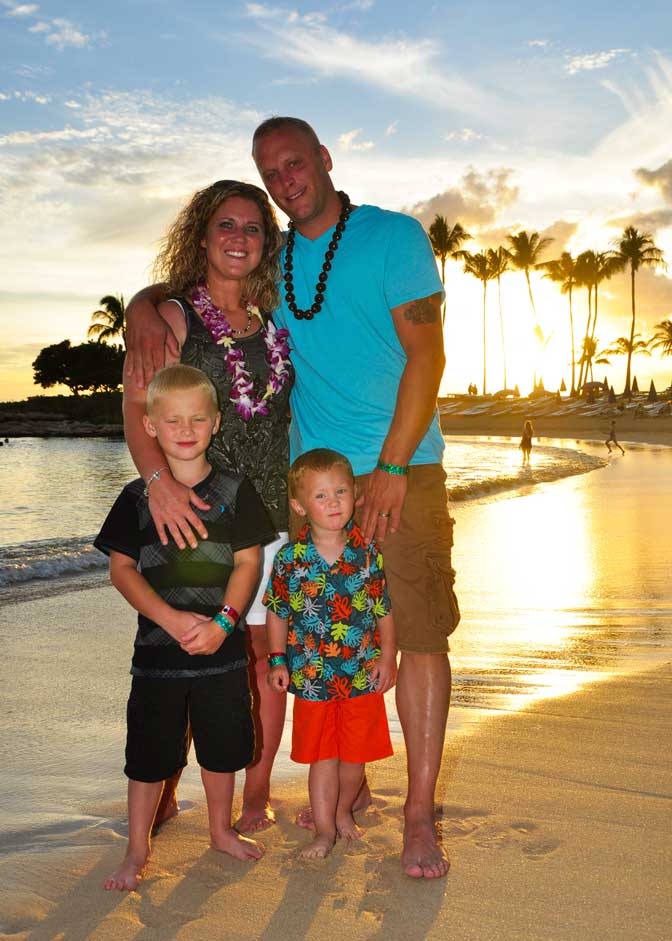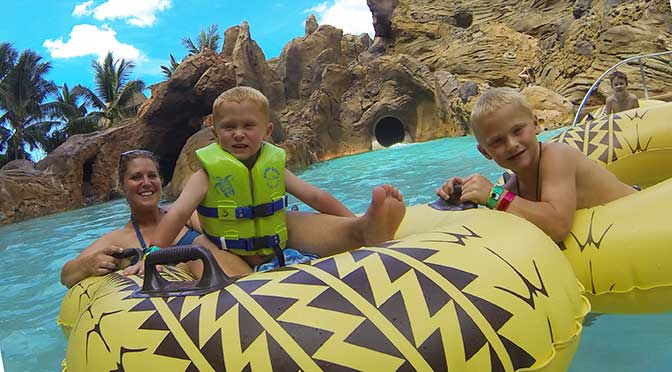 Characters
The character presence at Aulani isn't what it is at Walt Disney World. They're not out all day, and are basically done by 4 or 5pm. The daily 'Iwa, which is a printed schedule of all the day's activities, lists some times and locations where characters can be found but also gives an extension to call from the room to hear even more meet and greet opportunities. I highly recommend calling the number in the morning because much more specific character information is given.
Most of the meet and greets take place on the island in the middle of the lazy river. The lines we experienced aren't anywhere near those at Walt Disney World; however some characters are more popular than others. Another difference we noticed is that there are not usually Photopass photographers available at these meet and greets.
We met Mickey and Minnie together. We got in line about 5-10 minutes before they were scheduled to appear and waited about 5 minutes to meet them. Toward the end of their meet, Aunty showed up and would pose for pictures as well.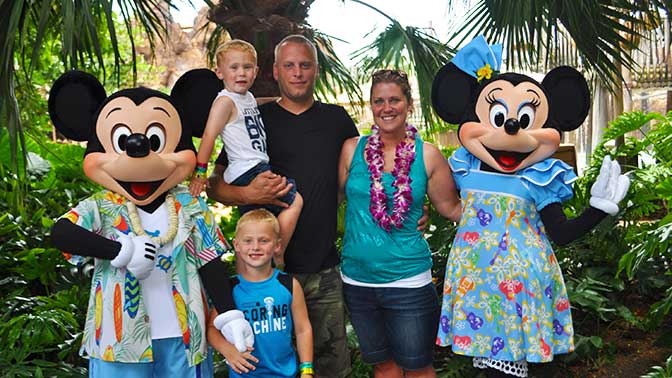 We saw Chip and Dale waving to passersby from on top of the bridge as we were floating down the lazy river. They had absolutely no line.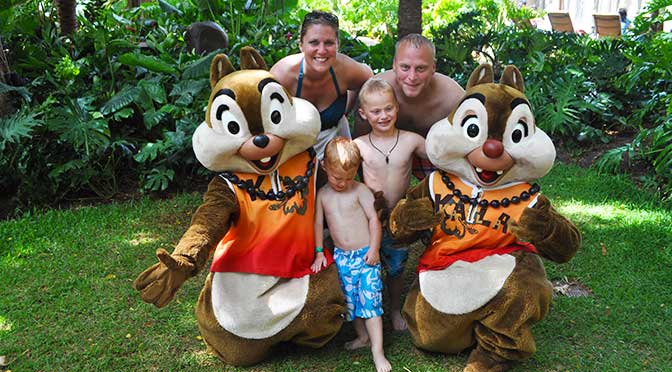 Stitch draws quite a crowd! We got in line for him about 5-10 minutes before he was scheduled to appear and again waited only about 5 minutes. When we left, the line appeared to be maybe 10-15 minutes.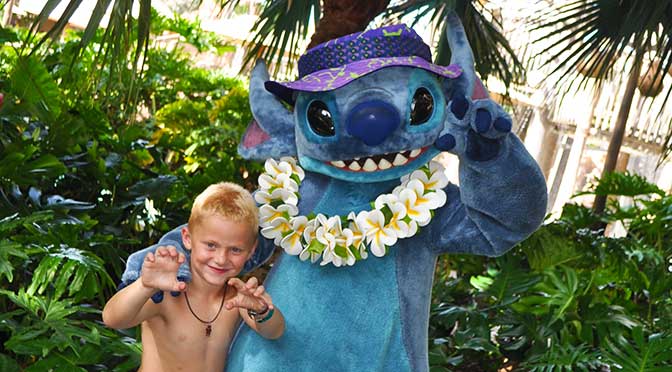 Donald Duck's line was probably longer than any other character. We were first in line because after we met him we had to leave. The line appeared to be about 15-20 minutes as we were leaving.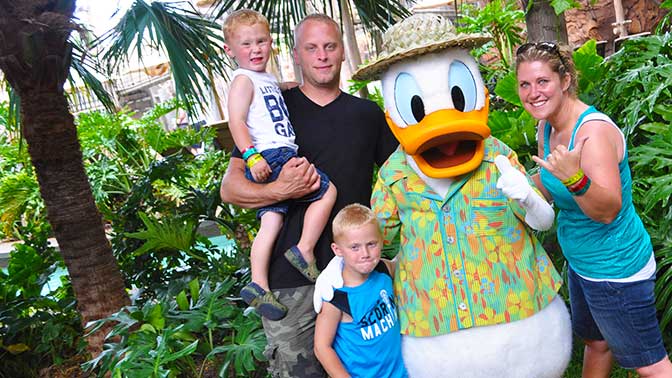 Goofy met at the zero-entry section of the lazy river. He would get about ankle deep in the water to pose for pictures. He was out at this location for at least an hour and had a Photopass photographer there the whole time. There was no line to meet him.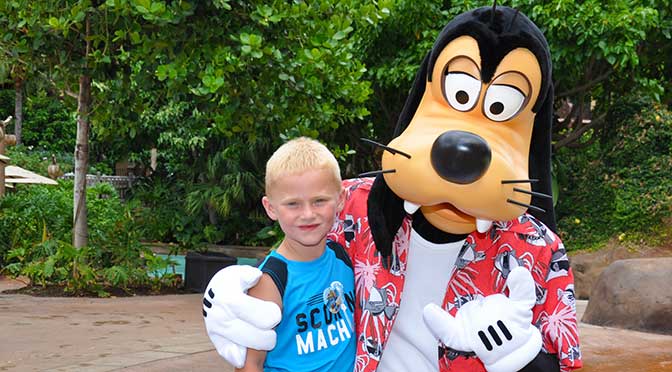 Character interaction was great, if not better than at the parks because it didn't feel as rushed. I don't know if they sign autographs as I never saw anyone ask, although I did notice Aulani autograph books for sale in the store.
Dining
We ate at the quick service locations, except for our character breakfast. We weren't unhappy with anything but we are very simple eaters and aren't extremely picky when it comes to food. We had chicken tenders for lunch at Mamas Snack Shop by the pool, pizza from Ulu Café for dinner one night, and breakfast the morning we were leaving from there as well. We had Mickey pretzels and chocolate chip cookies from Little 'Opihi's on the beach. Everything was good, nothing exceptional, but definitely nothing to complain about. Was it expensive? Oh yea! But, first of all you're in Hawaii, second of all you're at a resort, and finally it's DISNEY! Of course it's going to be expensive. You could eat cheaper if you had a full kitchen in your room (we didn't) or if you went off site for meals. We were only there such a short time that we wanted to spend the time enjoying the resort so we decided to just eat there. They also had grills available for guests to use.
Our first morning at Aulani we had breakfast reservations at "Aunty's Breakfast Celbration at the Makahiki". I made the reservations online about 4 months in advance and had no problem getting anytime I wanted. When you arrive you have your photo taken with Mickey. There is a Photopass photographer there and they will use your personal camera. Minnie and Goofy meet at the tables. Aunty is also there and leads the kids in several group activities (parades, dancing, and singing). The buffet was good but there isn't as much variety as some of the other character meals we've been to, however, there is something for everyone. This experience doesn't come cheap, but we thought it was worth it. Would you want to eat breakfast here every day? Probably not, but you're paying more for the experience rather than the food. The character interaction was great and not rushed like it sometimes can feel at Chef Mickey's or other character meals. The Photopass package is available for purchase and they will bring it to your table. It comes with a 5×7 picture and a couple 4×6 photos. I think it was around $30 and can be added to your bill. All the photos can be added to your Photopass CD by bringing either the receipt for the purchase or the actual photo package to the Photopass counter at Kalepa's Store.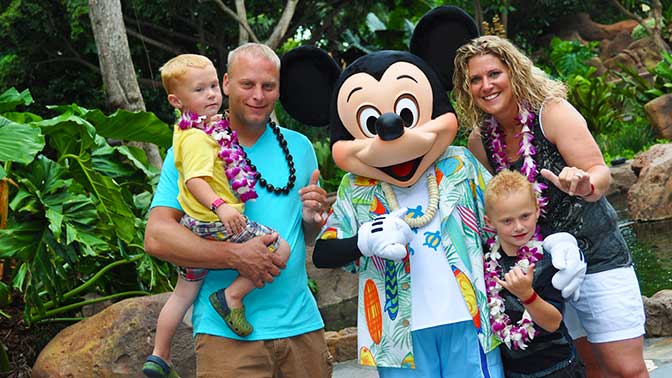 Refillable mugs are available for purchase; they were about $20 each. There are 3 locations to refill; Ulu Café, Lava Shack, and near 'Ama 'Ama restaurant. All these locations are down in the pool area, there are none in the main building. However, we didn't think these locations were inconvenient. We spent more time down by the pools and exploring the resort than we did in the room so there was always a refill location fairly close.
Conclusion
We truly had an amazing time in Hawaii and at Aulani. We were blown away by the beauty, attention to detail, friendliness of the staff, amount of included activities, and amenities at Aulani. I have traveled quite a bit and I have never been anywhere as wonderful as Aulani. Like I mentioned in the beginning, "no one does it like Disney". I believe this wholeheartedly and it couldn't be more evident than at Aulani. This isn't an "in your face" Disney resort. The main focus is more on the Hawaiian culture with the quality and attention to detail for which Disney is famous.
Although I have no major discontent with the accomodations, there are a couple things I could mention. I would've liked to see Menehune Bridge and Keiki Cove opened past 5pm. It seemed to be really early to close those areas for kids. Also, many of the quick service locations close at 5 or 6. The only option after that time is Ulu Café and they have a fairly limited menu. Finally, choice and inventory, even at the biggest retail location Kalepa's Store, is minimal. There is also Hale Manu, a high end store in the main building. I walked through it and thought I was going to have to be resuscitated after looking at some of the price tags!
The resort is expansive, but we were never more than a 5 minute walk to anything. We were only able to stay 2 nights and there was much more that we would've like to do, specifically the Starlit Hui and Rainbow Reef snorkeling. We could've stayed a week or longer and not been bored – but if given the chance to only to stay 2 nights, I would not pass it up!
We made so many memories and saw things more beautiful than I ever could have imagined. It was really a dream vacation and I hope we get the opportunity to go back someday!
Oh! One more thing, they have MICKEY ICE CREAM!!!