I have stayed at almost all of Disney's hotels. My absolute favorite is the Disneyland Hotel. Read all about this incredible resort!
The OG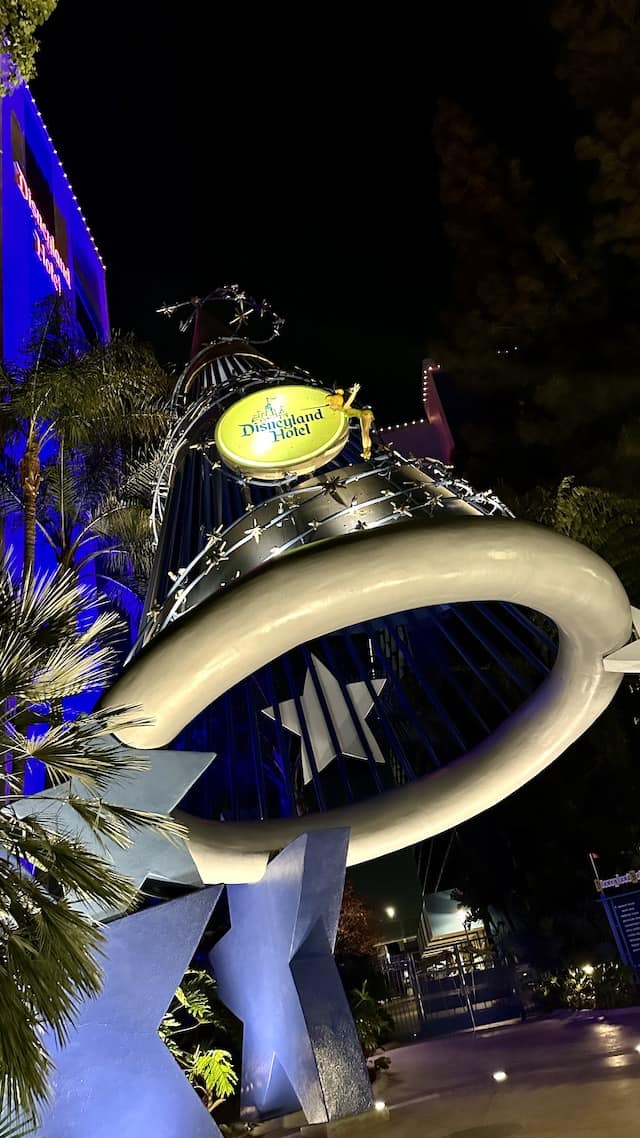 Did you know Disneyland almost opened without plans for a hotel?! At the time of construction, Walt wanted a hotel for guests to stay at because Anaheim was so far away from everything else. However, he did not have the financial resources to build one.
He came to an agreement with a third party to own and operate a hotel under the Disney name. It opened in October 1955, just a few months after the opening of the park. The Walt Disney Company finally acquired the Disneyland Hotel in 1988!
The hotel has gone through many changes in the 67 years it's been around, but it is the original Disney hotel. I was overjoyed to stay here on a recent visit to Disneyland, and it quickly became my favorite Disney hotel. Let's take a look around the hotel, and I'll share my insight along the way.
Benefits of staying at the Disneyland Hotel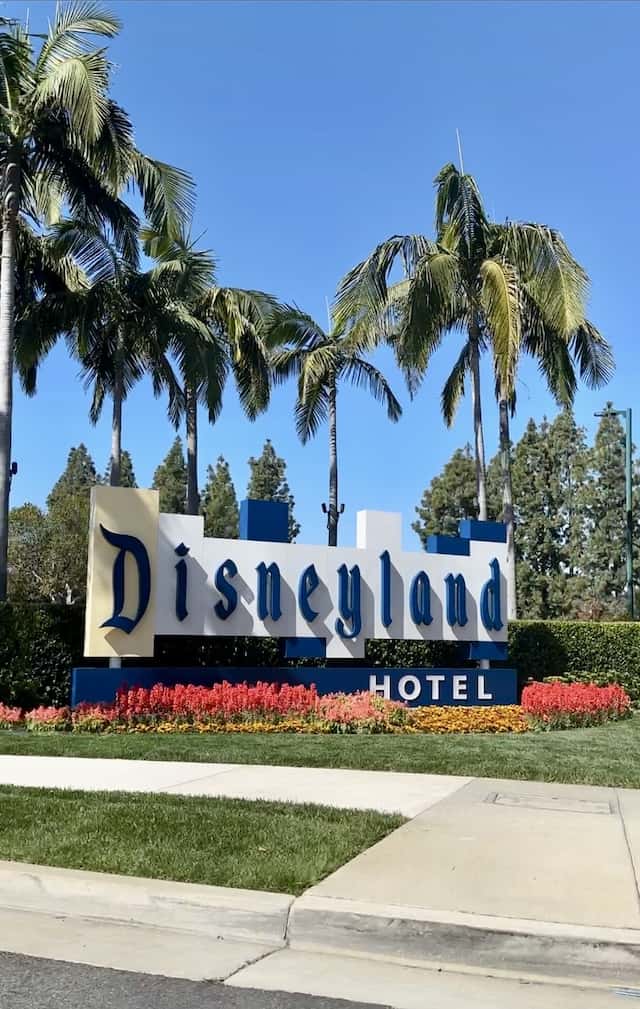 Because the hotel is a Disney hotel, there are certain perks and privileges that may persuade you to book here. Unlike Disney World, there are dozens of offsite hotels within walking distance of the park and they are much more competitively priced. I have stayed both onsite and offsite at Disneyland, and I still prefer onsite.
For one, I just love the feel of being in the Disney bubble. It makes me feel at home and like I am truly on vacation. Onsite Guests can also access the park 30 minutes before everyone else, which means you can squeeze more fun and less crowds into your day. See my touring strategies for early entry at Disneyland parks in this post.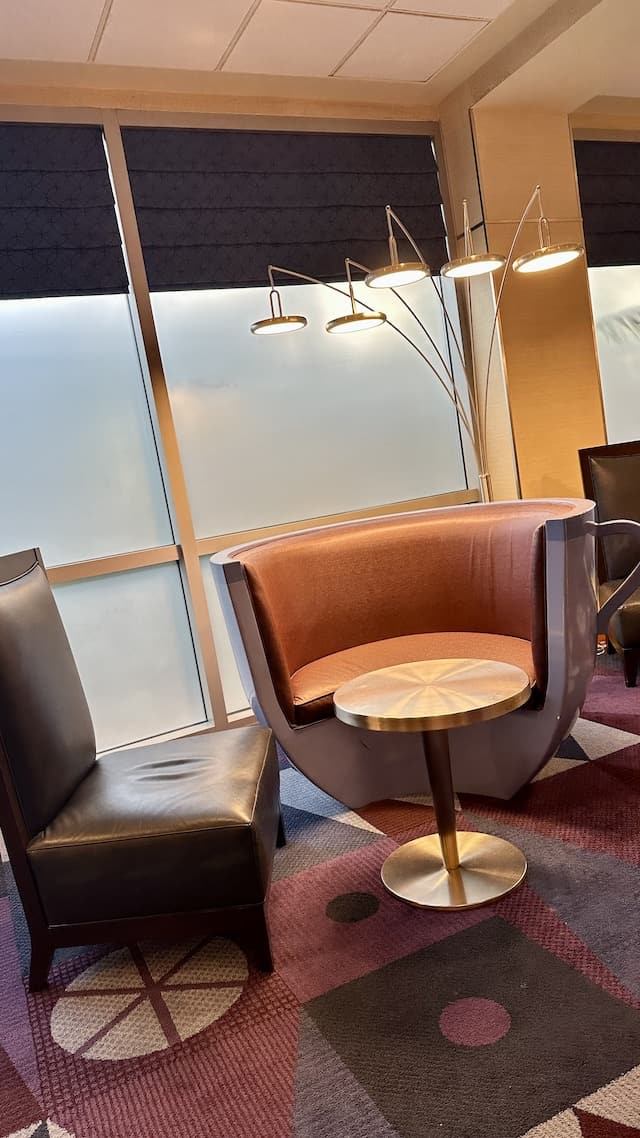 There are also benefits like next-day package delivery and charge-to-room privileges that those who stay offsite cannot take advantage of. You can also book your dining and Enchanting Extra reservations for the length of your stay vs one day at a time, which is especially helpful for those popular reservations.
You will have to do some cost comparison and decide if you will truly use the benefits to see if staying onsite is right for your vacation. Be sure to look at any discounts you may be eligible for!
Location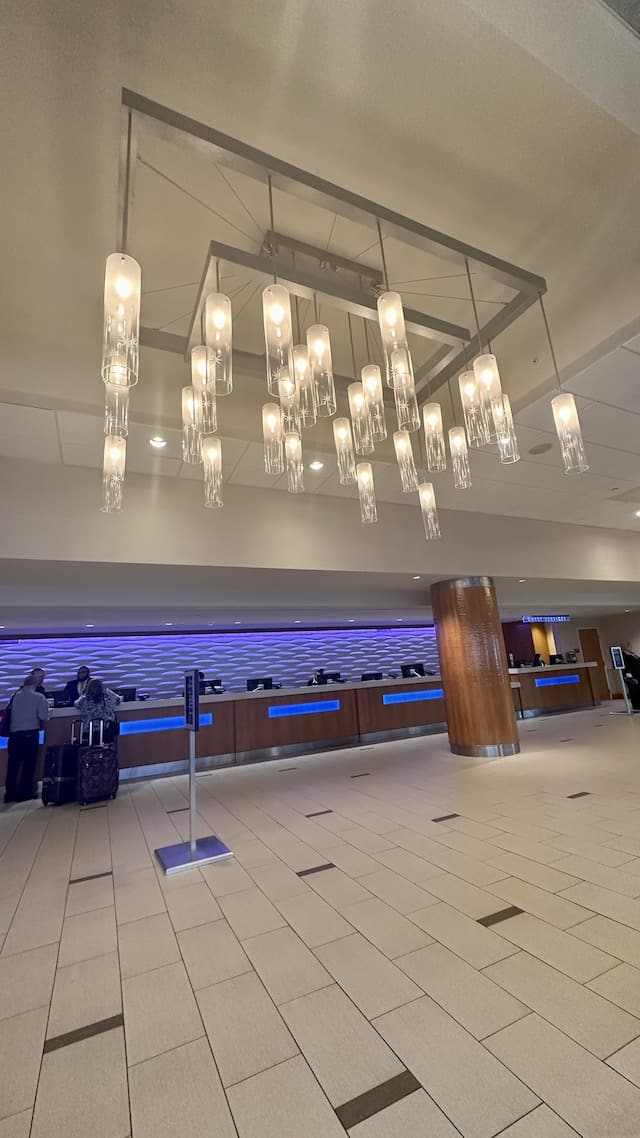 The Disneyland hotel is located very close to the two Disneyland theme parks. While it is not the closest (that belongs to The Grand Californian), it still within walking distance! It is less than 10 minutes from the hotel to the front entrance of both parks via Downtown Disney. Additionally, there is another walkway that gets you to the back entrance of California Adventure! I'll be sharing more about that in another article soon, so be on the lookout!
You can also access Tomorrowland via the monorail, which is a short 3 minute walk from the hotel. The monorail at Disneyland only runs back and forth from the Downtown Disney station to the Tomorrowland station. This is hugely beneficial, and I recommend taking a few rides back and forth as you are able. This means you can skip the front gates, and it also saves you a few steps.
Food and Shopping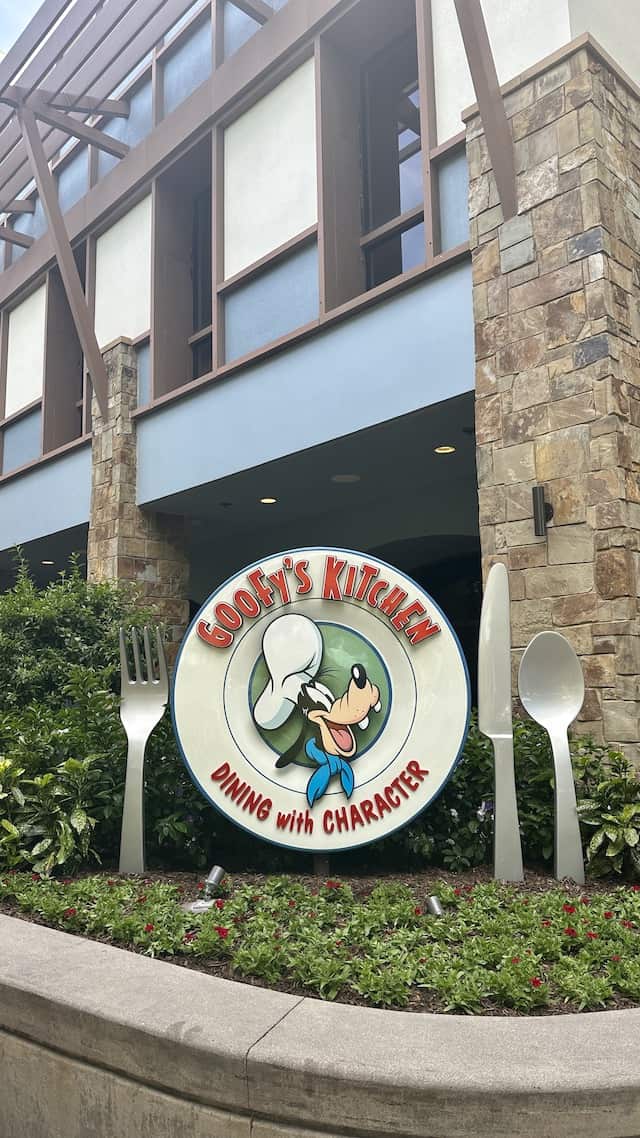 There is one table-service restaurant at the Disneyland Hotel. Goofy's Kitchen is a character buffet that is very similar to Chef Mickey's at Disney World. The hotel is also home to Trader Sam's Enchanted Tiki Bar! You may be familiar with the one at Disney's Polynesian Resort, but there is one at Disneyland as well.
You can find quick-service bites at Tangaroa Terrace Tropical Bar and Grill and The Coffee House. Guests of the hotel can also utilize room service and delivery from Downtown Disney restaurants. The only thing to be aware of when ordering delivery from these restaurants is they will not deliver to your room. You will have to meet them at the main lobby – located in the Fantasy tower.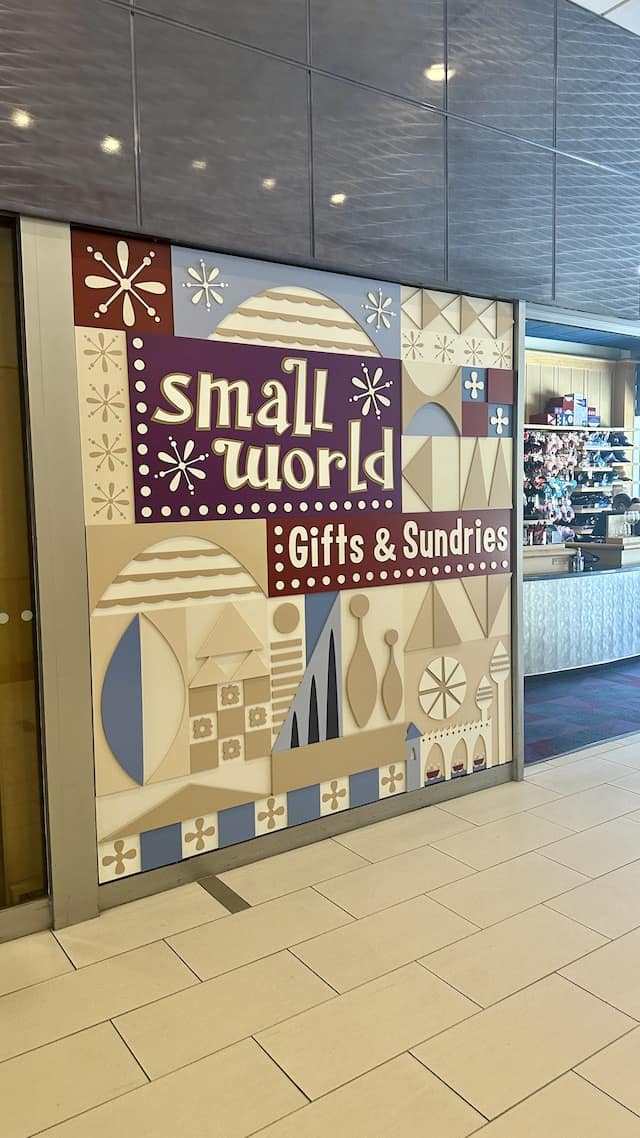 Don't worry if you need to do a little shopping as well. Located in the Fantasy Tower, two retail stores—Disney's Fantasia Shop and small world Gifts & Sundries—offer special edition pins, toys, apparel, collectibles and sundries for sale. These are cute little shops, but World of Disney is just a five minute walk away if you want to get all your shopping done in one location.
Recreation and Amenities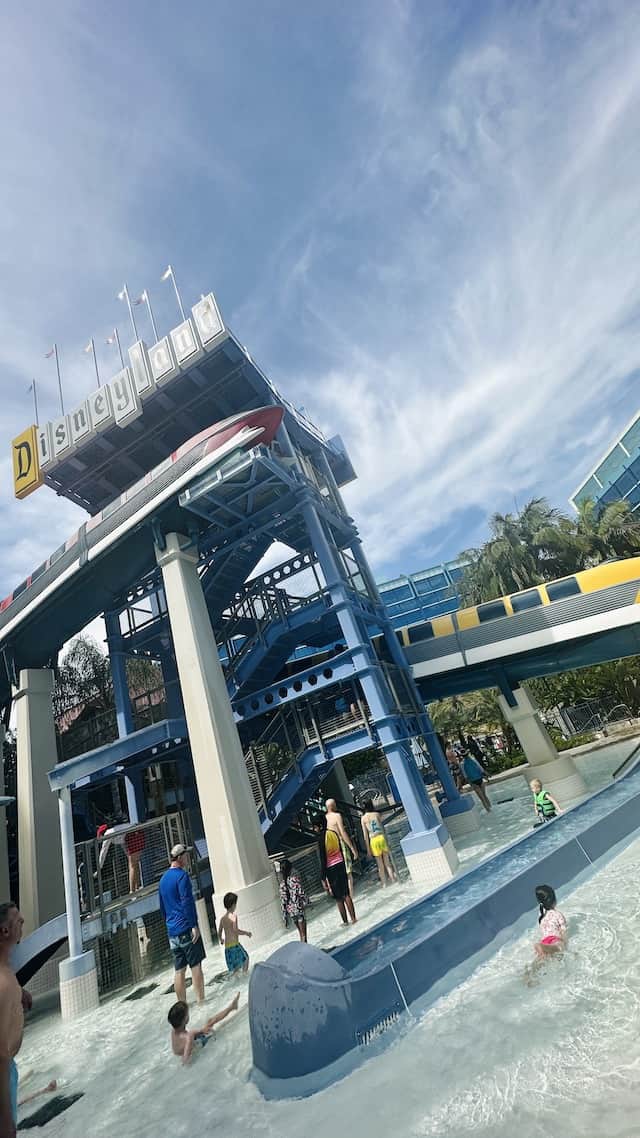 The monorail pool is one of the main things that drew me into the hotel! There are two retro themed pools as well as two water slides that pay homage to the legacy of Disneyland. Make a big splash from the approximate 25-foot-high, 180-foot-long Red Monorail slide or enjoy a more relaxing splashdown atop the 13-foot-high, 80-foot-long Yellow Monorail slide.
A 2-lane mini slide designed for smaller children also spills out into a small pool, while pop jets, fountains and a surging waterfall add to the fun. This nostalgic water play area is topped by a "Disneyland" sign reminiscent of the park's classic years.
The D-ticket pool is the "quiet" pool where you can get some laps in or enjoy the Mickey and Minnie Spa whirlpool. Both areas offer private cabanas you can book for the day.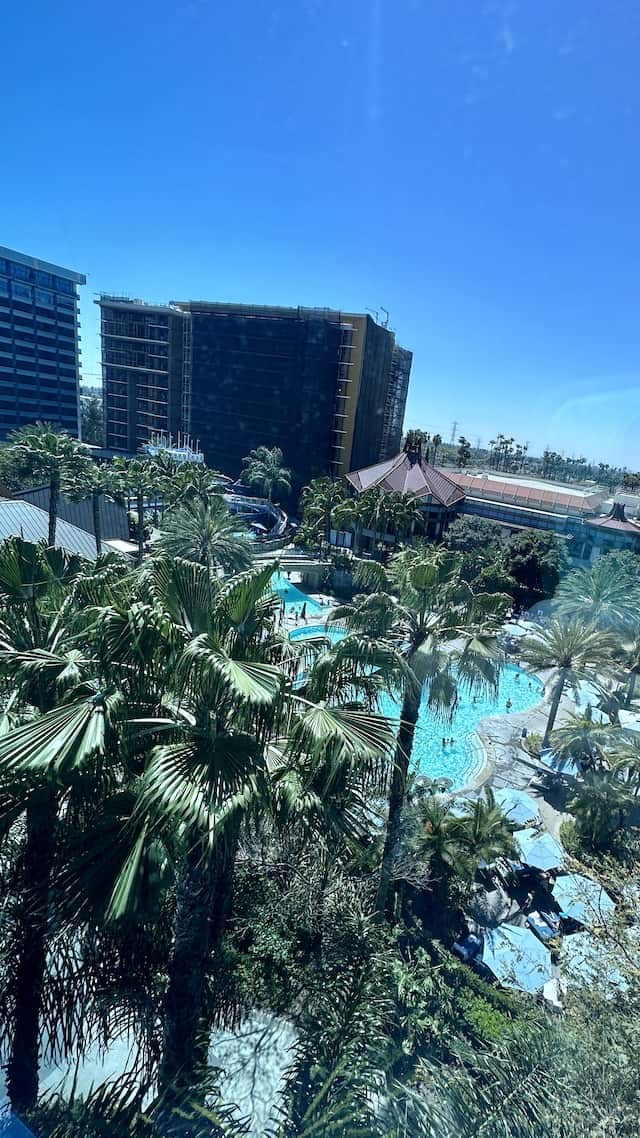 Be mindful of the operating hours for the pools. I visited at the end of April, and the pool closed at 9:00 pm. I thought that was a bit early considering the weather hit almost 90 degrees, so just keep in mind your pool time may be limited.
There is a fitness center, but because of the construction going on at the hotel with the new DVC tower, it is temporarily moved to the Frontier tower. Disneyland also offers many fitness classes and activities like yoga, boot camp, and meditation. Be sure to check with a Cast Member when you check in to see what is currently offered at the time of your visit.
Beyond that, the hotel offers a convention center and private events. There is a beautiful quiet area behind the Adventure tower with space for outdoor weddings and other private events.
Towers and Rooms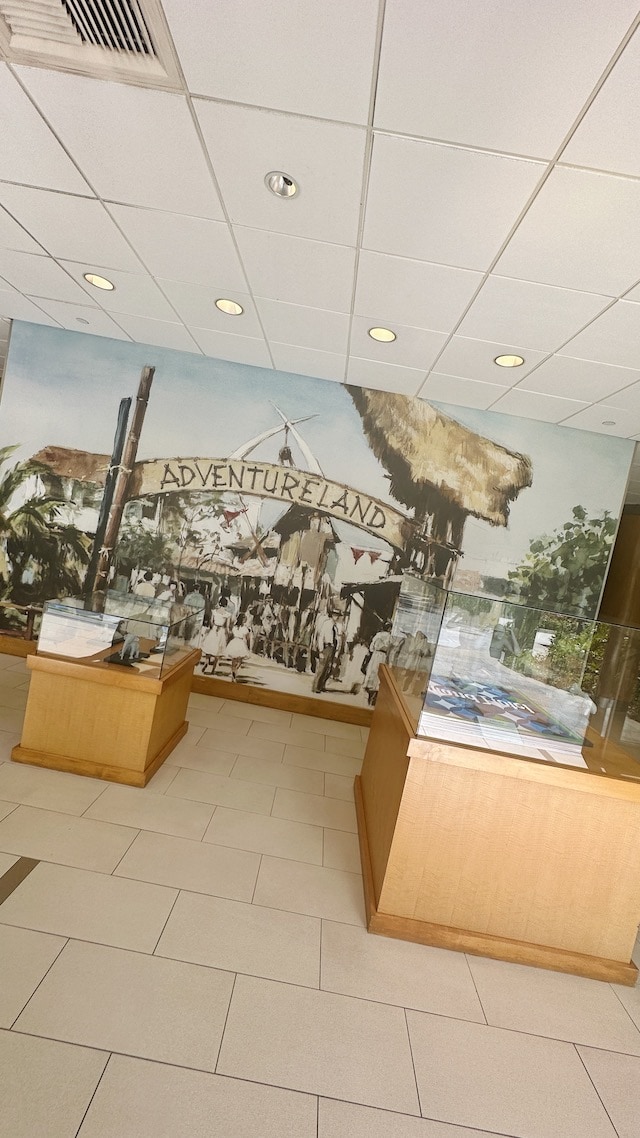 The size of the resort is quite small compared to other Disney Resorts. Again, Disneyland does not have the blessing of size so they must think vertically in many aspects. There are three towers – Fantasy, Adventure, and Frontier and they all surround the main hotel space. Each tower is themed to the respective original land of the park. For example, I stayed in the Adventure Tower and the small lobby area had old photos of Adventureland some fun decor from Jungle Cruise.
The standard rooms are all the same throughout the hotel. However, the suites in each tower are themed a bit differently. The pictures I have seen of these suites are incredible! Disney really put a lot of attention into the details of all the rooms – including the standard rooms.
I will publish an article soon showing why these rooms are so special, but for now I want you to know that the rooms truly feel like Disney. At the Disney World resorts, Walt wanted themes to different areas around the world, but none of them feel distinctly Disney. The Disneyland Hotel rooms feel are exactly what you imagine when you think of a Disney hotel. Mickey fixtures on the shower, a giant headboard with light up fireworks to the tune of "A Dream is a Wish Your Heart Makes", and old photos of Walt give these rooms a classic Disney feel.
In addition to the three towers, Disney is also currently constructing a DVC tower at the hotel. It is set to open later in 2023, and again, the rooms look so amazing! I hope to visit again and stay in this new tower.
Why I think it's the best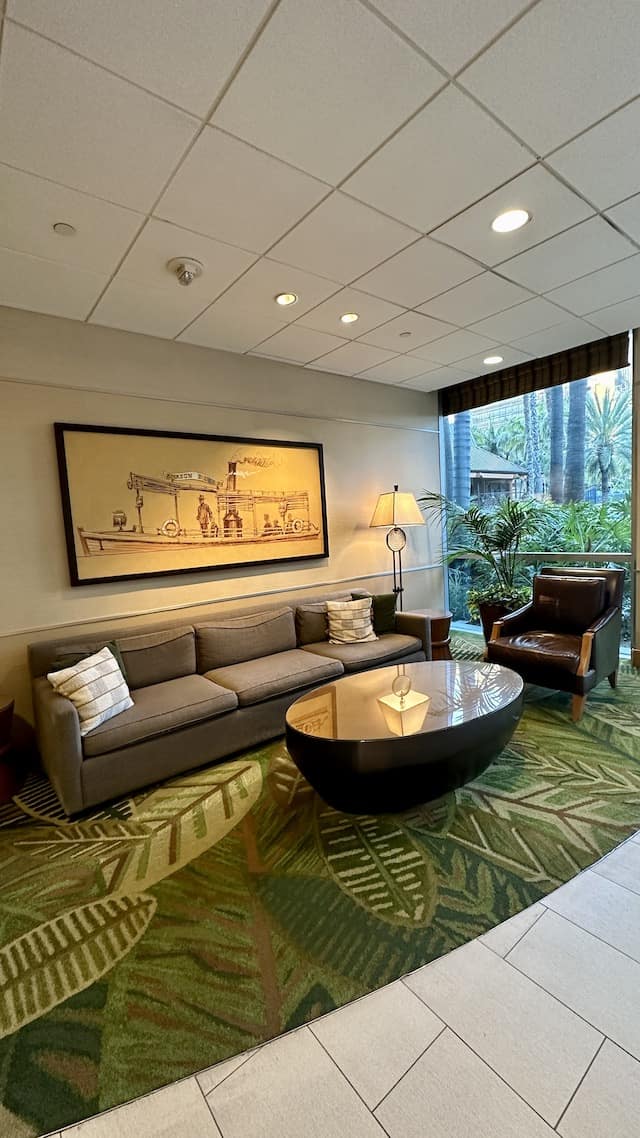 Overall, I (Monica) really love the Disneyland Hotel for two distinct reasons. The first is that it's the original, and sometimes you just don't get any better than the original. I am a very nostalgic person. Reminiscing on past vacations brings me so much joy, and I love imagining what The Disneyland Resort was like when Walt was around.
The second is the rooms. Oftentimes I walk into a Disney hotel and don't think "wow, now THIS is Disney!" Many refurbished rooms as of late are the same copy and paste style: wood floors, white bedding, plain bathrooms. These rooms have such unique character with the fireworks carpet, Mickey finishes, and the giant wood headboard. I walked in to the room, and I squealed with delight!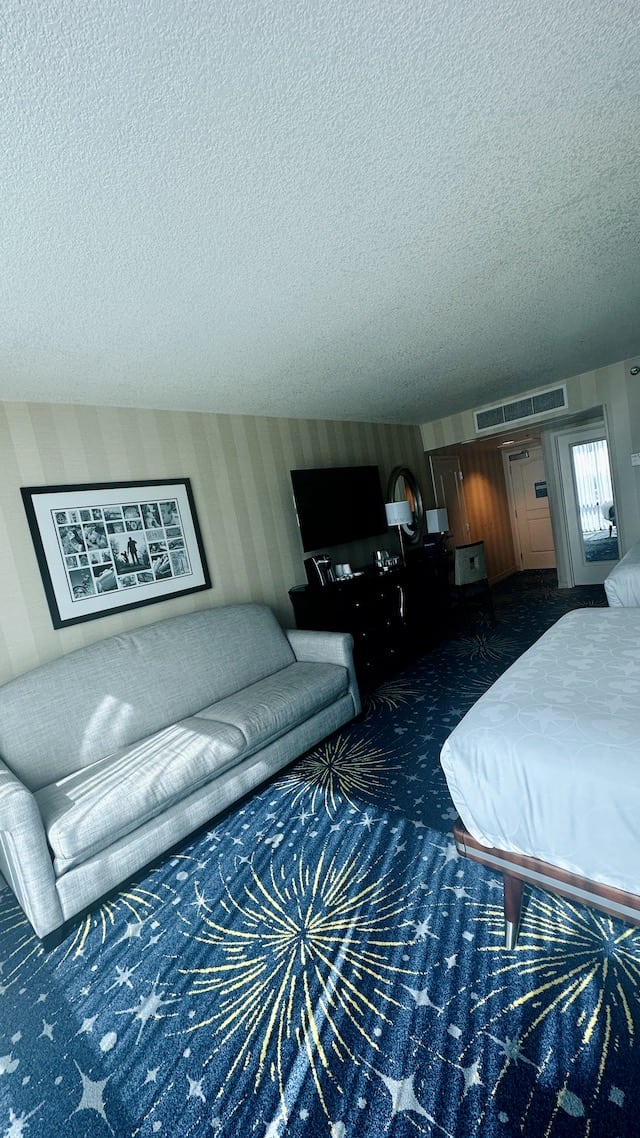 The Disneyland Hotel feels truly Disney – more so than any other Disney hotel I've stayed at.
Be sure to check out my guide to the Grand Californian Resort & Spa HERE and take a look at the rooms HERE. While I really do love the Grand Californian (hello, that lobby is perfection!), the Disneyland Hotel is just really, really special. There is something to be said about it being the original Disney hotel with the most Disney touches.
Have you ever stayed at the Disneyland Hotel? Share your thoughts with me below! Do you know someone who is traveling there soon? Be sure to share this post with them!