Where can you find excellent theming, unique drinks, and a fun backstory? It's just steps away from the Magic Kingdom at this popular lounge!
Disney World Lounges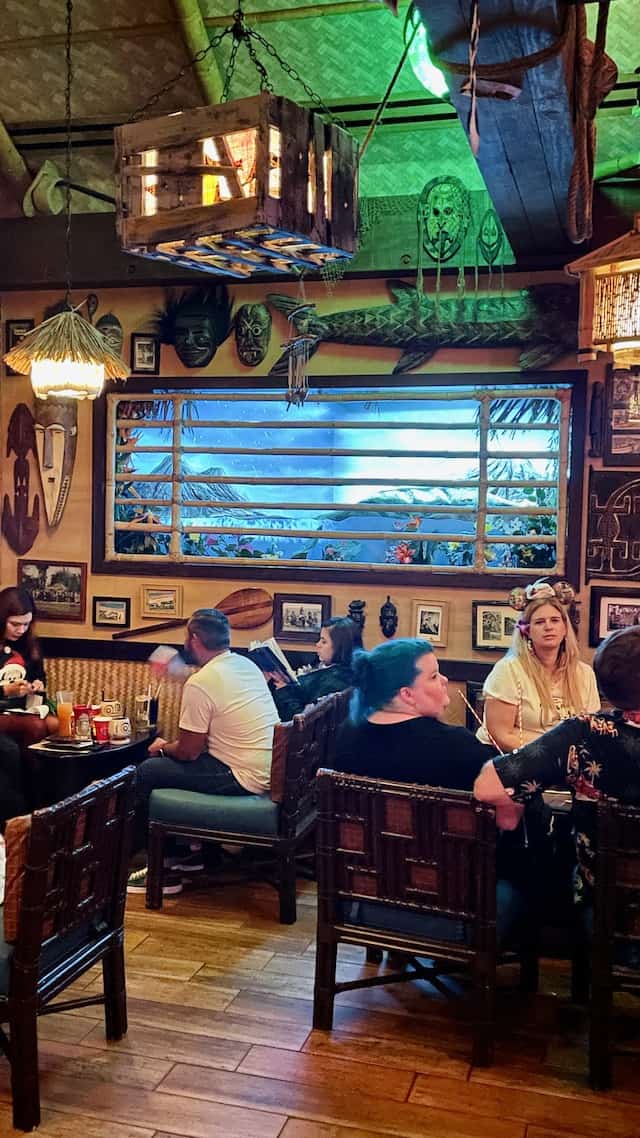 I know Disney World is geared towards children and families, but there is actually a lot of fun that is aimed towards adults. You may be a Disney adult headed to your happy place, or you may be looking for some adult-only fun during your family vacation. Disney World has you covered.
Not only are there are some fun lounges and bars in the parks (looking at you Nomad Lounge and BaseLine Tap House), but you can also find a lot of options outside the parks. This may be great for when you find yourself with a free evening during your trip. I really love Jellyrolls over at Disney World's Boardwalk and Enchanted Rose at Disney's Grand Floridian.
The Most Popular Of All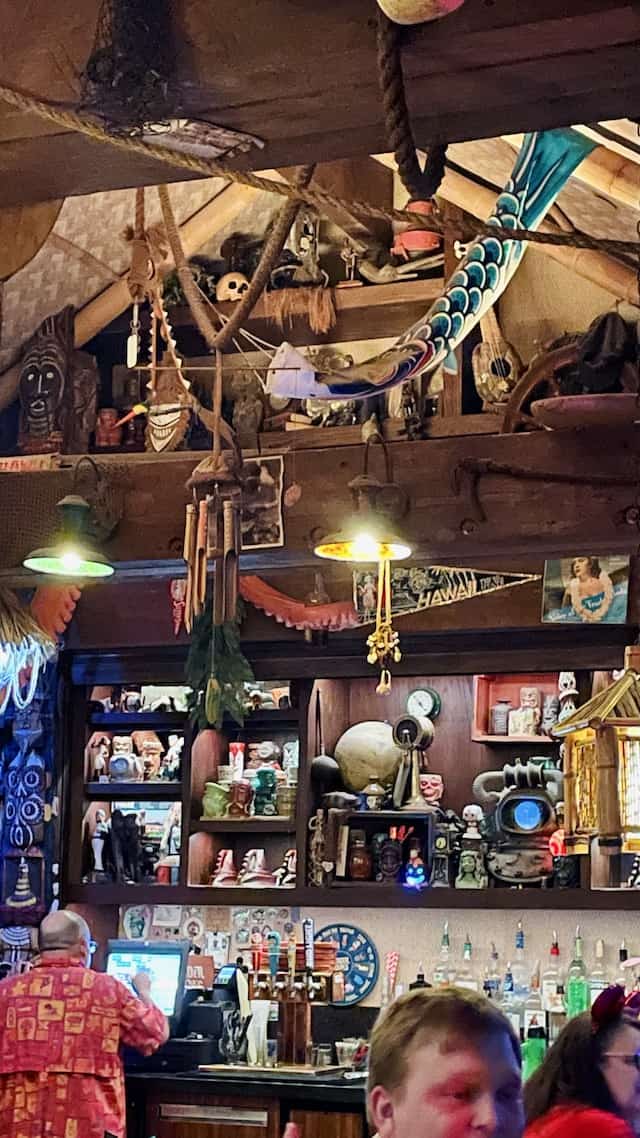 But, where is everyone spending hours to get in at? If you guessed Trader Sam's Grog Grotto and Tiki Bar at Disney's Polynesian Resort you would be correct. Trader Sam's is, hands down, the most popular lounge in Disney World. It has such a laid-back and relaxing island vibe, and everyone wants a table here.
You can find Trader Sam's at the Polynesian Resort on the first floor of the Great Ceremonial House. If you head over towards Capt. Cook's, you will a plain brown door with a little sign that reads "Trader Sam's Grog Grotto" and that's it. You won't find an elaborate building with a giant sign or anything like that. It's entirely possible to walk by it without realizing what it actually is.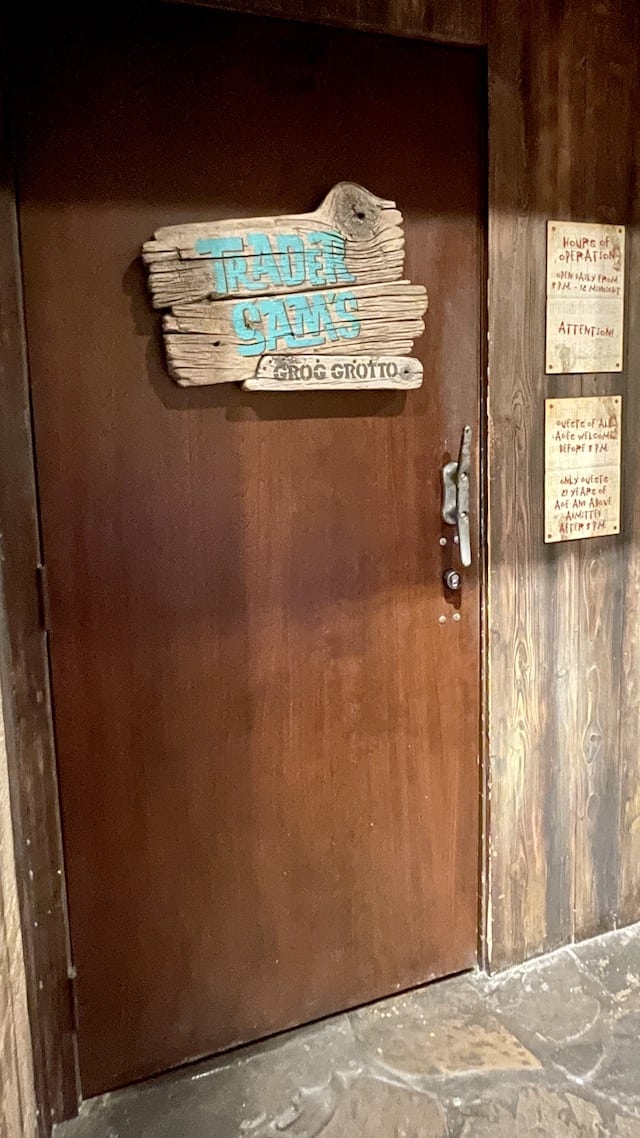 Trader Sam's is open from 3:00 pm to 12:00 am daily. Children are allowed inside before 8:00 pm. This is great news for adults who want to check this place out but don't have childcare arranged for their children on vacation. However, after 8:00 pm the lounge is only for Guests 21 and up.
Let's take a look at why Trader Sam's is such a popular lounge.
Excellent Theming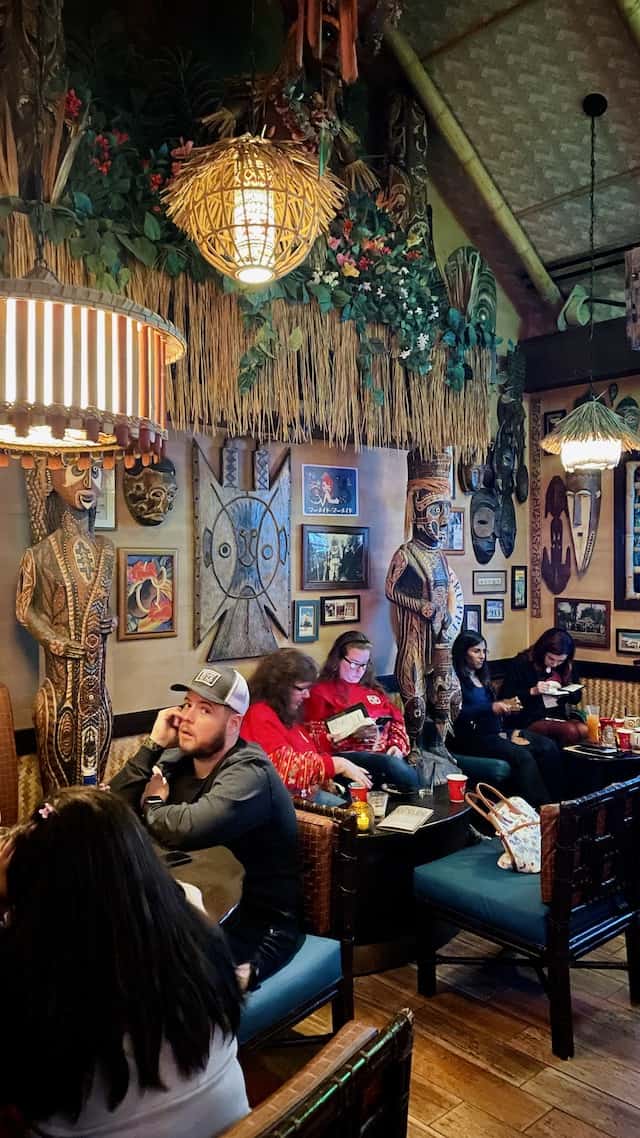 What can I say about the theming other than it is fantastic? It really is! Disney decked this small space out to feel like a funky hideaway on a faraway island. As soon as you enter, you will notice the ancient artifacts and exotic treasures that covers the walls. You will find artwork of mermaids, giant tiki statues, face carvings, photographs, and even some fun animal accents.
From the ceiling hangs old cargo boxes, funky chandeliers, lanterns, ropes, and more. There are even two illuminated screens that make it appear as if you are looking out at volcanoes. This place reminds me a lot of the Enchanted Tiki Room inside the Magic Kingdom, but this is much more heavily themed.
Unique Menu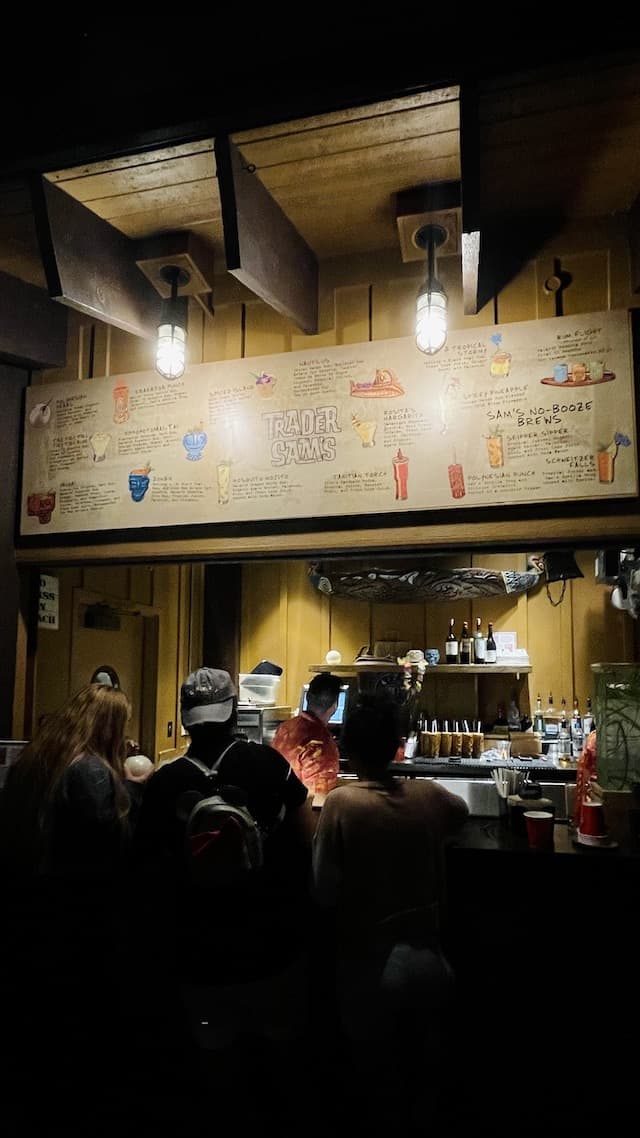 At Trader Sam's you will Polynesian-inspired food and drinks. For appetizers (served until 10:00 pm), the lounge serves sushi rolls, pork tacos, Thai chicken flatbread, and pan-fried dumplings. If you are in the mood for some South Pacific fare that can't be found at the nearby Capt. Cook's or Kona Cafe, then head over to Trader Sam's!
Of course, you need a great beverage to go with that delicious food. Trader Sam's has a large variety of no-booze brews, specialty cocktails, beers, ciders, and wines. There are plenty of mugs to purchase with your drink, which makes a great souvenir! When I visited there was even a small holiday menu that included Male Kaliki Mai Tai, Tropical Snowstorm, and Jingle Jammer.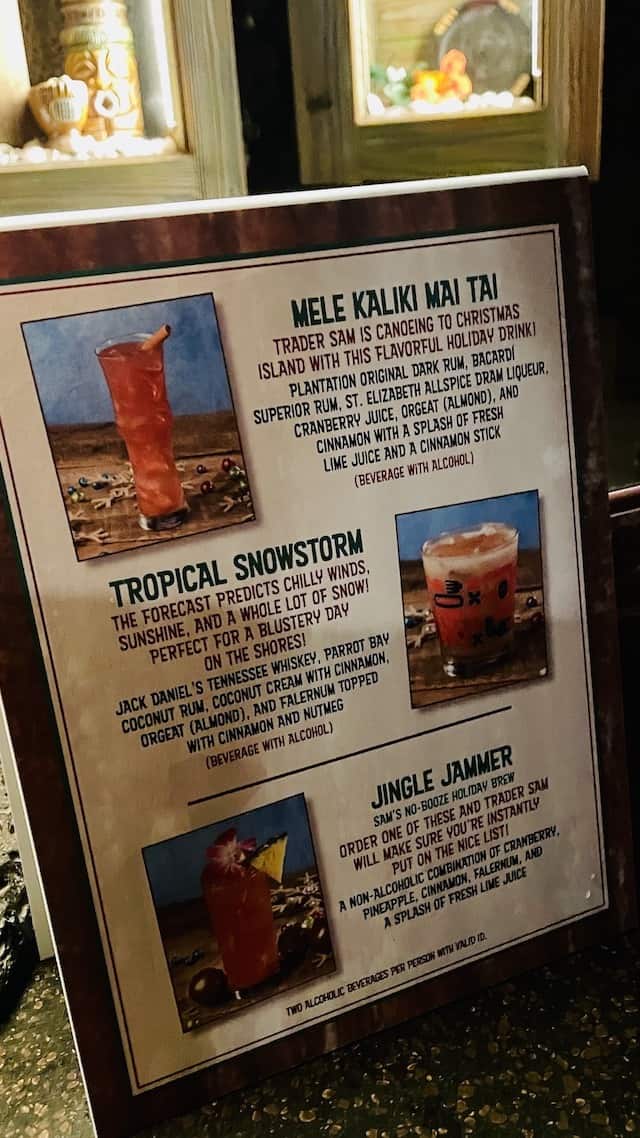 There are also limited edition sippers that become available here from time to time, like the tiki mug featuring Jose from the Enchanted Tiki Room!
The food menu is limited, so unless you plan to order one of everything for a meal, you won't get a full belly here. However, it is the perfect spot for a snack after a long day in the parks or a pre-dinner pit stop.
Fun Backstory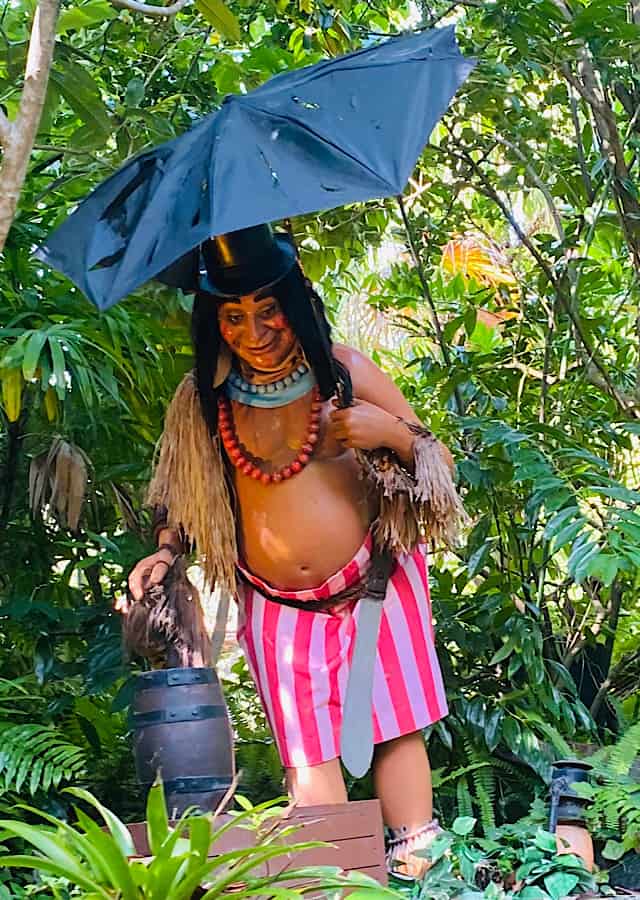 Does the name Trader Sam sound familiar to you? You may know him as the famed Adventureland explorer who traveled the world looking for treasures. You will see nods to him on the Jungle Cruise attraction in the Magic Kingdom. Sam also became close with Dr. Alberta Falls, the S.E.A. (Society of Explorers and Adventurers) member who founded the Jungle Navigation Company and has a private room in the Skipper Canteen restaurant.
Not only is he a witch doctor and shrunken head salesman but also a bartender as well! So how did he get involved in the bartending business? Many years ago, he was bitten by the bartending bug. And ever since then, Sam has searched for exotic ingredients to mix into magical libations.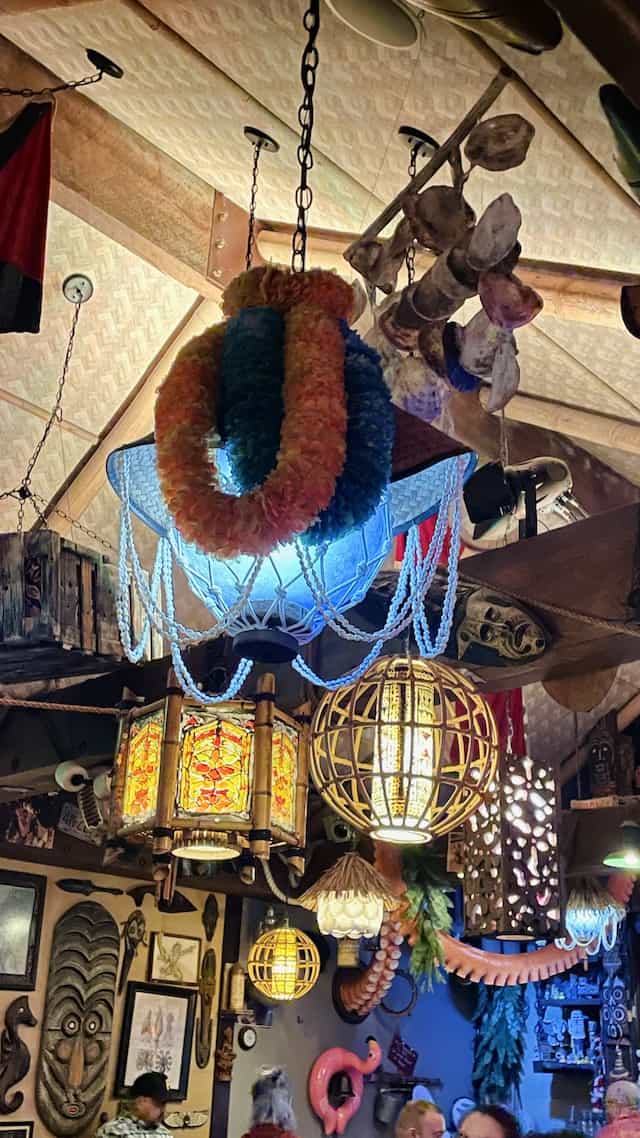 If you are into the Disney backstories and how the stories of various characters weave in and out of each other, this lounge should rise pretty quickly to the top of your bucket list.
In particular, the Society of Explorers and Adventurers is a central element at various Disney theme park attractions around the world. Members include Barnabas T. Bullion (owner of Big Thunder Mining Company), Jock Lindsay (owner of Jock Lindsay's Hangar Bar in Disney Springs), Lord Henry Mystic (Mystic Manor), and Captain Mary Oceaneer (from Miss Adventure Falls at Typhoon Lagoon).
Tips for Getting In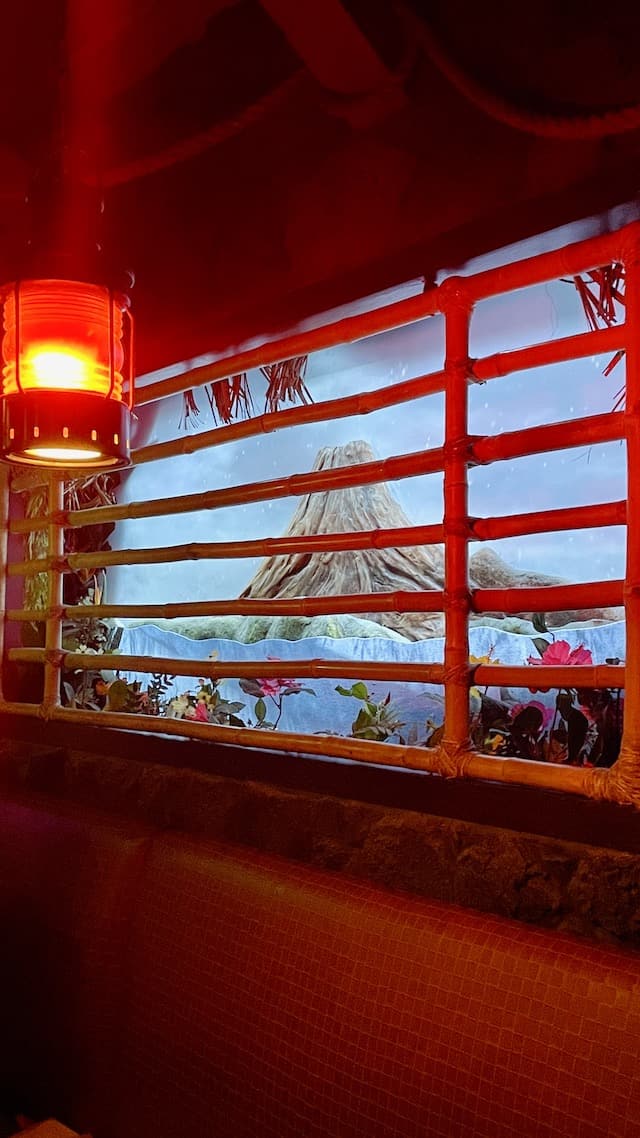 See why it's so popular? One of the only downsides I can find to Trader Sam's is the size. It is an incredibly small lounge, and combined with its popularity, it is not easy to get in to.
Trader Sam's opens at 3:00 pm daily, but you actually want to get there at about 2:00 when they start taking names. Before the lounge even opens, it usually already has a 3 hour wait. Oftentimes, Cast Members even close the waitlist throughout the evening and ask you to come back later to put your name down.
It is possible to get in later in the night, but you definitely need to clear your plans for the evening. I do not recommend having any sort of dining reservations or theme park plans set in stone. Staying at the Polynesian would be a huge advantage so you can scope out the situation every day and have a nearby "home base" on the day(s) you hope to enter.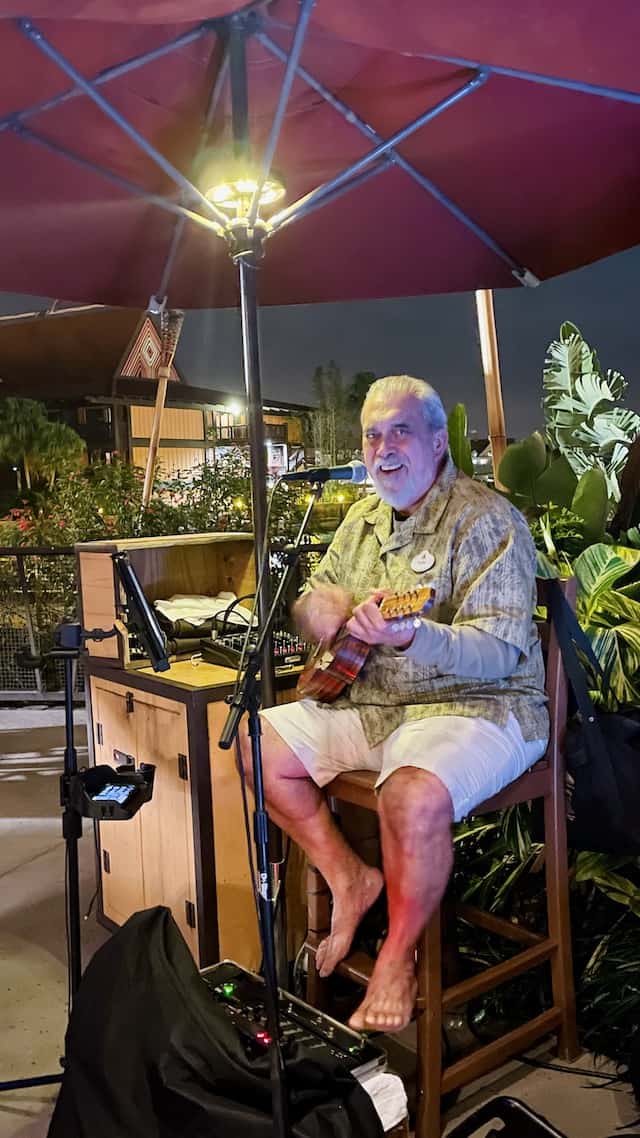 The outdoor open-air tiki terrace is another option if you cannot get inside the lounge. Although it does not have the same fun theming, the outdoor bar serves the same menu and even has live entertainment many nights. It is a great alternative if you are wanting to try some of the same drinks and food items while enjoying a laid-back atmosphere.
Have you ever been in Trader Sam's? Is it on your bucket list? Share your thoughts with us in the comments below, and share this post with a friend who may also be interested in visiting!