If you're looking for somewhere to relax and have fun, look no further than the Beauty and the Beast themed Enchanted Rose Lounge.
Disney's Grand Floridian Resort & Spa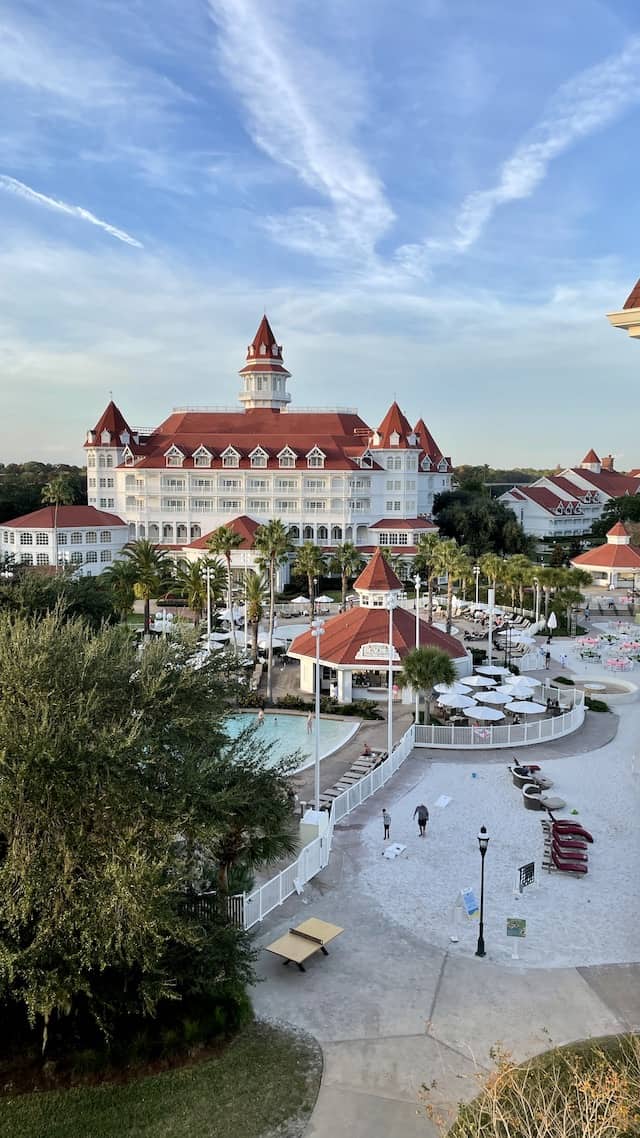 Disney's Grand Floridian Report & Spa is themed after the Victorian elegance of turn-of-the-century Florida beach towns. The white buildings and red gabled roofs are unmistakable as you enter the Magic Kingdom area. Check out our full guide of Disney's Grand Floridian Resort & Spa HERE.
Did you know the resorts in the Magic Kingdom area reflect the various lands of the park? The Grand Floridian represents Main Street, U.S.A. with its elegant old-time feel.
The resort opened in the summer of 1988 and is home to many fantastic restaurants, the Disney Wedding Pavilion, and almost 1,000 rooms. It has become known as Disney's flagship resort and is loved by Disney fans despite the high price tag.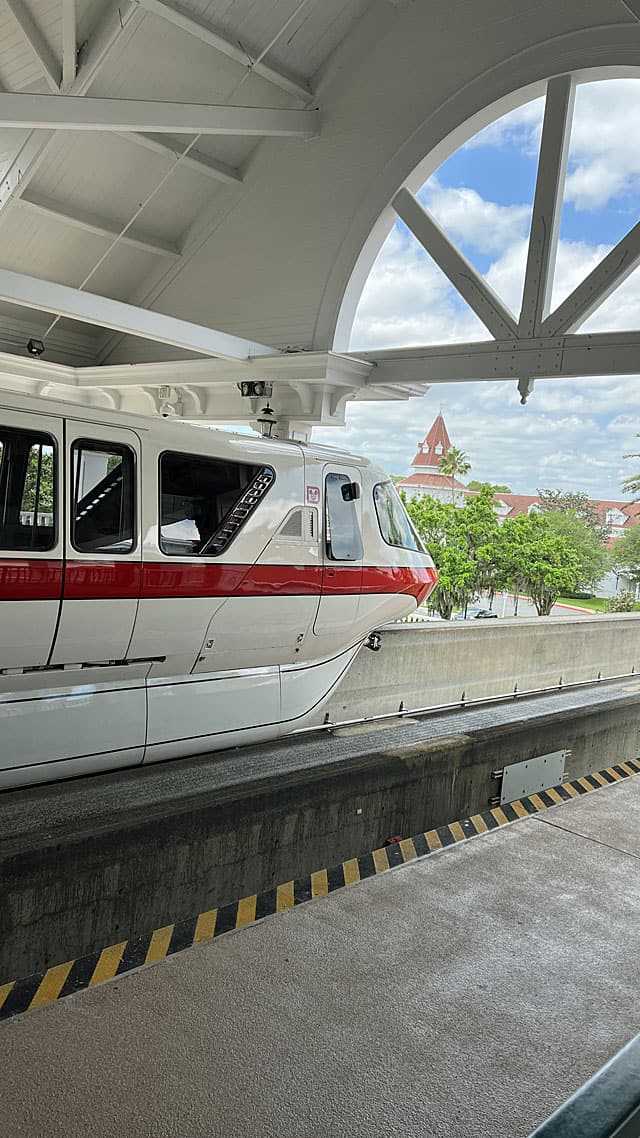 This resort is easily accessible by monorail from the other Bay Lake Disney Resorts, Disney's Magic Kingdom, and EPCOT. Not only that, but it's a short boat ride from Disney's Magic Kingdom and the Transportation and Ticket Center. You can take a bus from Disney's Hollywood Studios and Disney's Animal Kingdom theme parks.
However, guests not staying here cannot park here without a dining reservation. To get here without accessing a theme park or other Disney resort, just take an Uber or drive to the Transportation and Ticket Center, then take the resort monorail and get off at Disney's Grand Floridian Resort & Spa.
The Enchanted Rose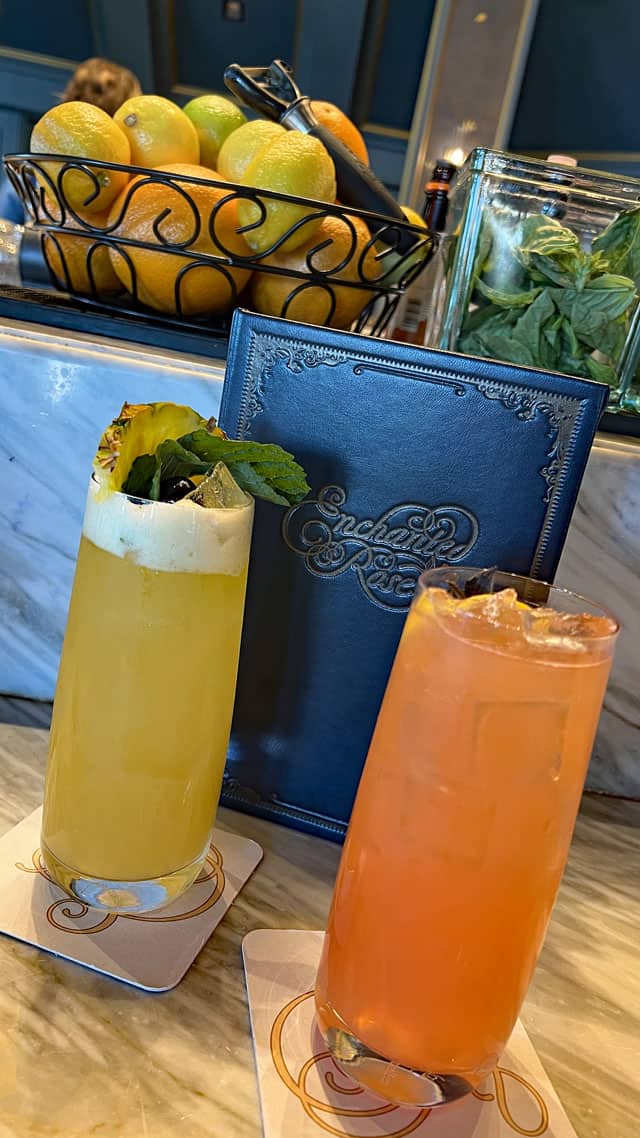 Rethemed in 2019, the Enchanted Rose is located on the second floor of Disney's Grand Floridian Resort & Spa.
Inspired by the romance and magic of Disney's fan favorite live-action Beauty and the Beast, the Enchanted Rose features four unique gathering spaces wonderfully themed with "Beauty and the Beast" details in every corner.
Feasting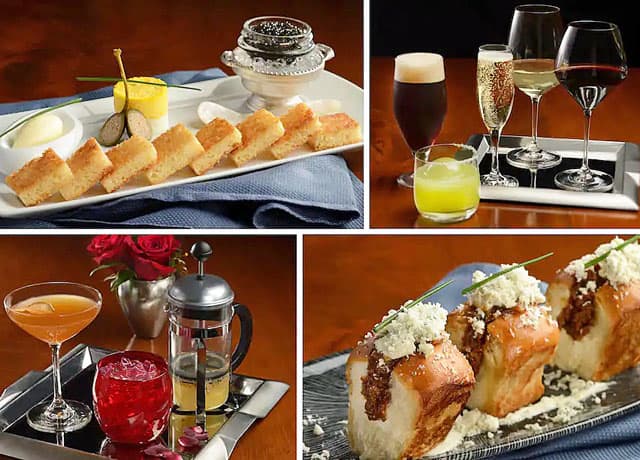 The menu at the Enchanted Rose features a variety of delectable, shareable bites like artisanal cheese, a house-made flatbread, and even caviar.
Snacks served 3:30 to 11:30pm:
House-made Beef Jerky
Warm Marinated Olives
Guajillo-spiced Mixed Nuts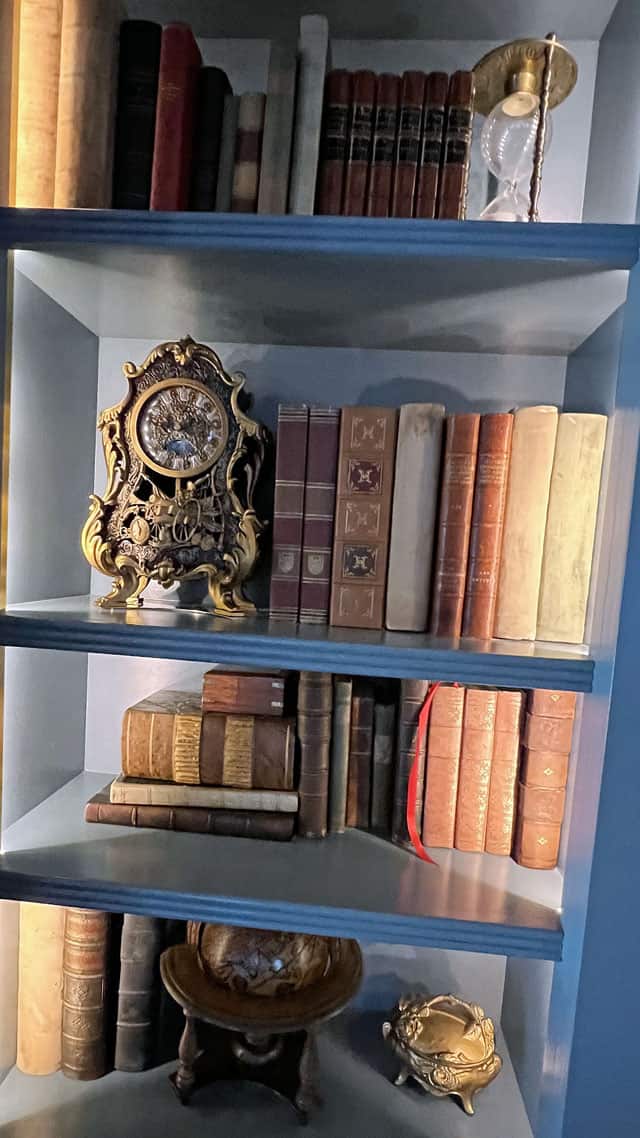 Appetizers served 5:00pm until 10:00pm:
Charcuterie – Duck Rillettes, Bresaola, Serrano Ham, Sopressata, Tomato Jam, Cornichons, Citrus Mustard, Pickled Carrots, Olive Crostini, Grissini
Artisanal Cheese Selection – Four Chef-selected Tasting Portions, Honeycomb, Quince Paste, Apricot Jam, Pumpkin Seed Brittle, Cranberry Bread
Croquettes – House-made Fennel Sausage, Tomato Sauce, Pecorino Romano
Seasonal Flatbread – Artichoke, Fig, Ricotta, Roasted Garlic, Watercress
Smoked Trout and Crab Dip – Salmon Roe, Chive Oil, Sesame Seed Lavosh
Caviar – Siberian Caviar, Egg Yolk Spread, Crème Fraîche, Caper Berries, Brioche
House-made Truffle Fries – Black Truffle, Aged Parmesan, Truffle Aïoli
Hummus – Tapenade, Smoked Paprika, Grilled Pita Bread
Libations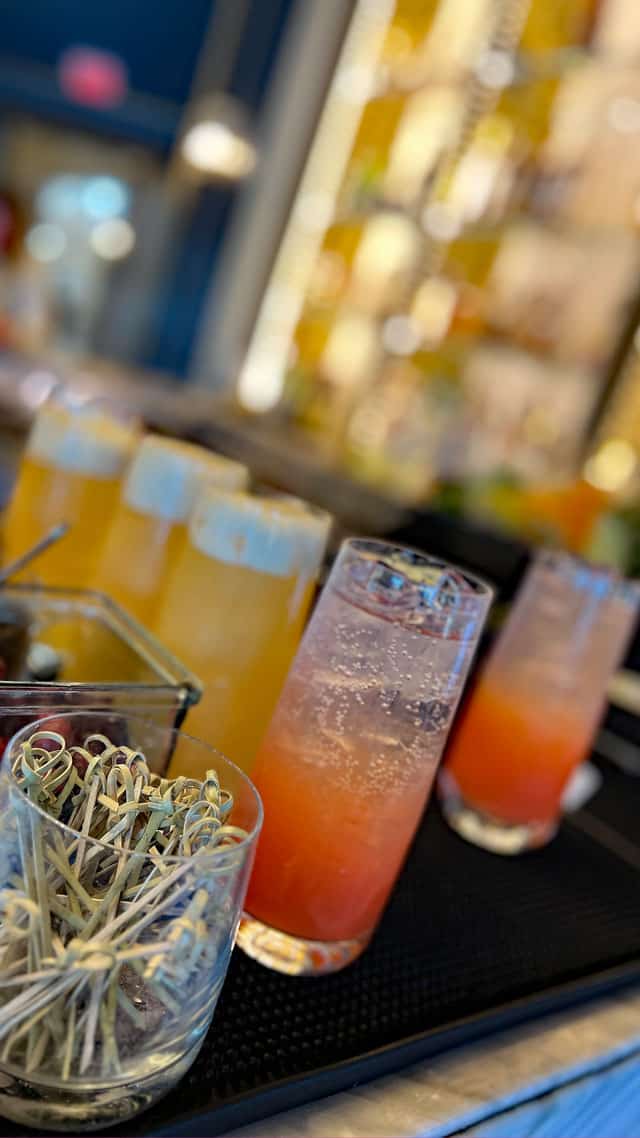 The lounge's drink menu includes crafted cocktails and an entire library of wines served by the ounce, glass, or bottle. Champagne, beer, and cider are also available. Check out the featured cocktail's below:
Island Rose – Ketel One Grapefruit and Rose, Lime, Orgeat (Almond), Pineapple, Bitters, and Rose Water
Floral Bitter Beauty – Hendrick's Gin, St~Germain Elderflower Liqueur, Campari, Aperol, Lemon, and Soda
Lavender Fog – Nolet's Silver Dry Gin, Rothman Crème de Violette, English Breakfast Tea, Vanilla, and Cream
Garden Daisy* – Don Julio Reposado Tequila, Midori, Lime, and Cucumber. *Contains pasteurized egg whites
Sunny Margarita – Patrón Silver Tequila, Grand Marnier Cordon Rouge, Juices of Orange and Lime, and Agave
Rye Not? – Whistle Pig 10yr Rye Whiskey, Grand Marnier Cordon Rouge, Cinnamon, Pineapple, and Lemon
Seasonal Old Fashioned – Widow Jane 10yr Straight Bourbon Whiskey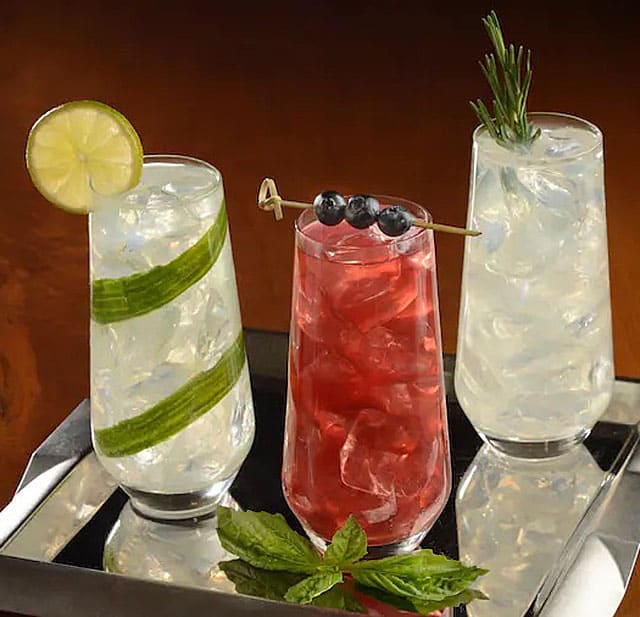 Also on the menu are beverages without alcohol for guests of all ages. These mocktails include the Garden Spritzer (with herbal distilled non-alcoholic spirit, lime, agave, and soda), the B&B (with iced tea, lemon, blueberry, and basil), and the Rosemary Cooler (with lemonade, vanilla, and rosemary.) Various sodas, coffee, and tea are also served here.
Garden Room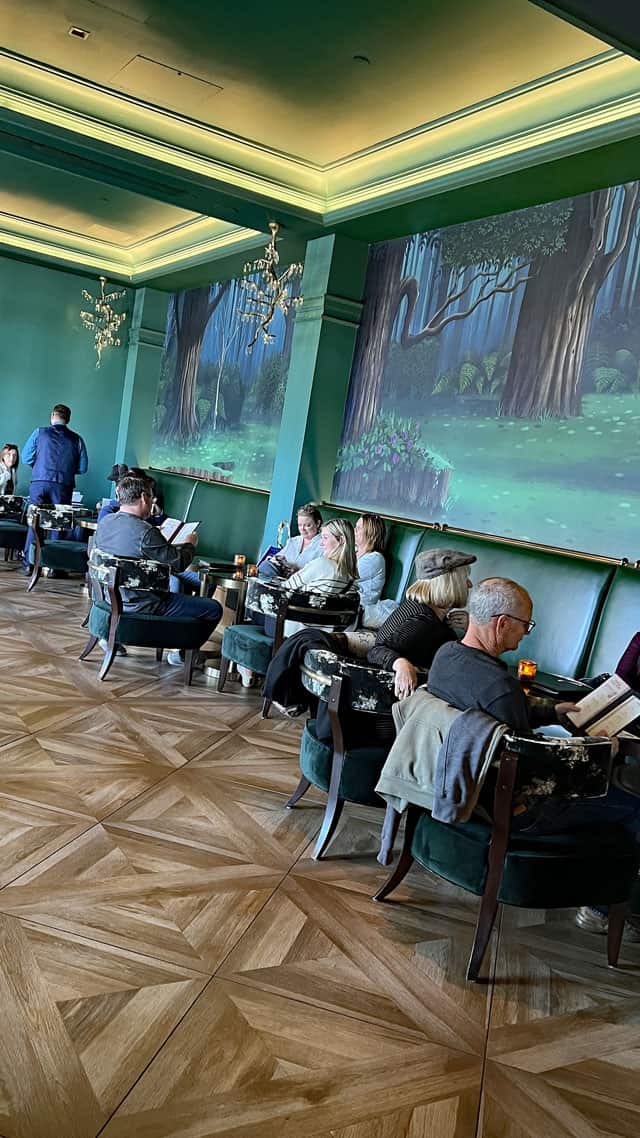 The garden room finds inspiration from the enchanted forest surrounding Beast's castle. This was the smallest room in the lounge and the dark green paint and furnishings made it feel like you were in a magical garden.
Library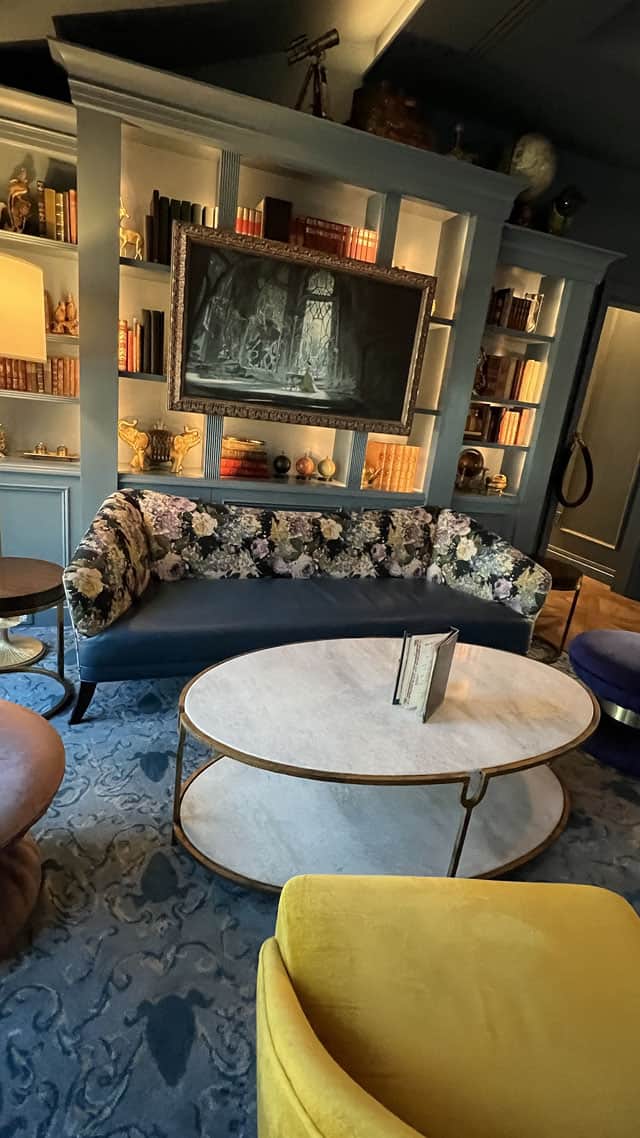 The largest room, the library, is so beautiful. Theming here features classical baroque designs and French furnishings. Be sure to look at all of the "Beauty and the Beast" elements here.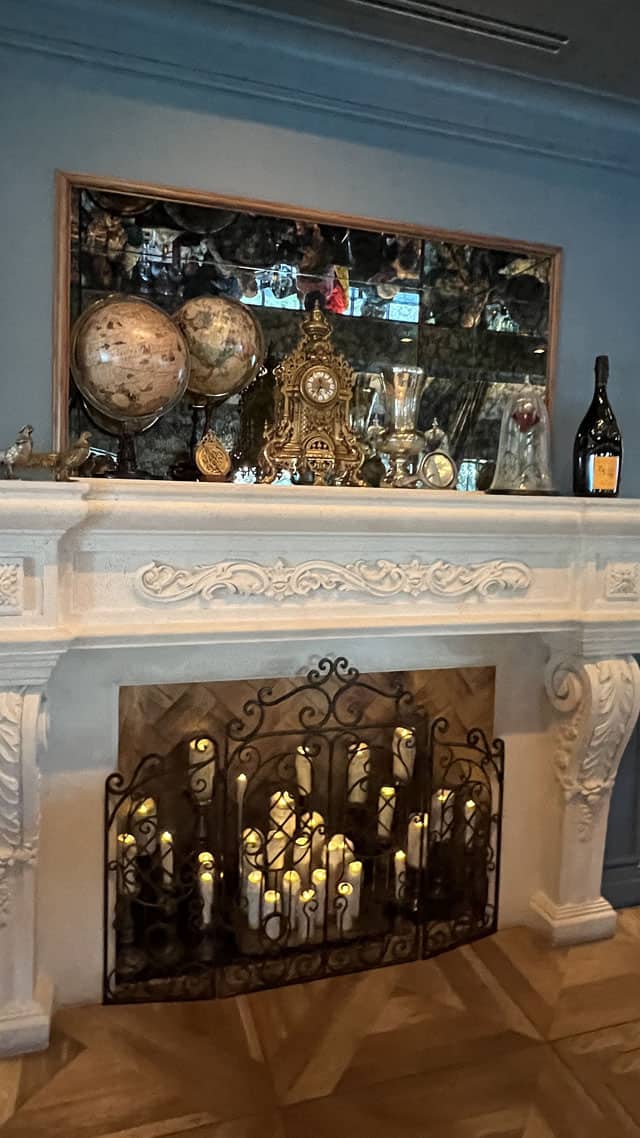 I was blown away by all of the fun elements and the comfortable and lavish furnishings. The bold colors added to the whimsical feel of the lounge.
Outdoor Patio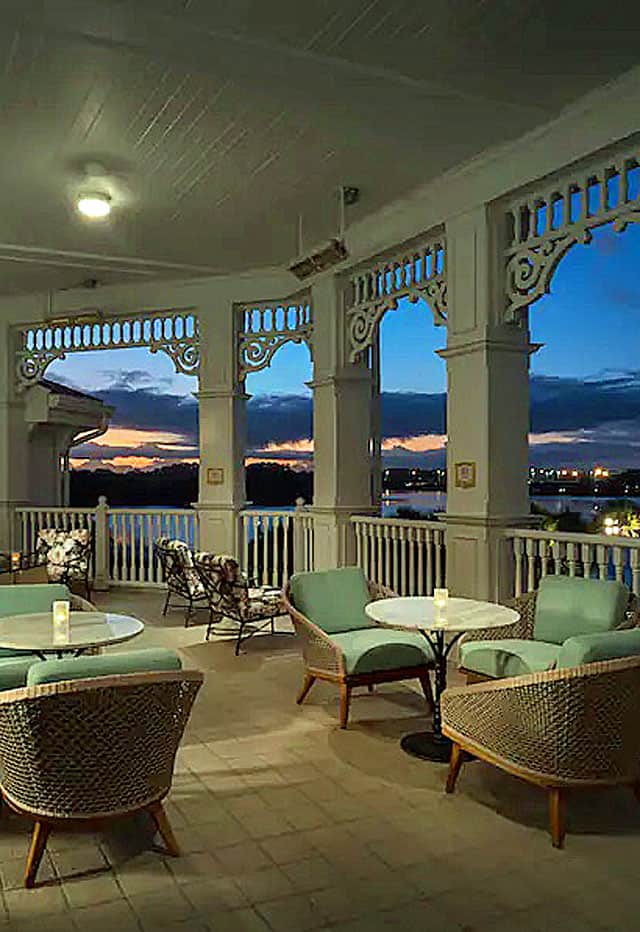 Enjoy a pleasant Florida evening on the outdoor patio. This covered patio has stunning views and evokes the romance of Beast's garden terrace. If you time it right, you may be able to catch the Magic Kingdom fireworks on the patio. This is a perfect relaxing spot after a busy day at the parks.
Ballroom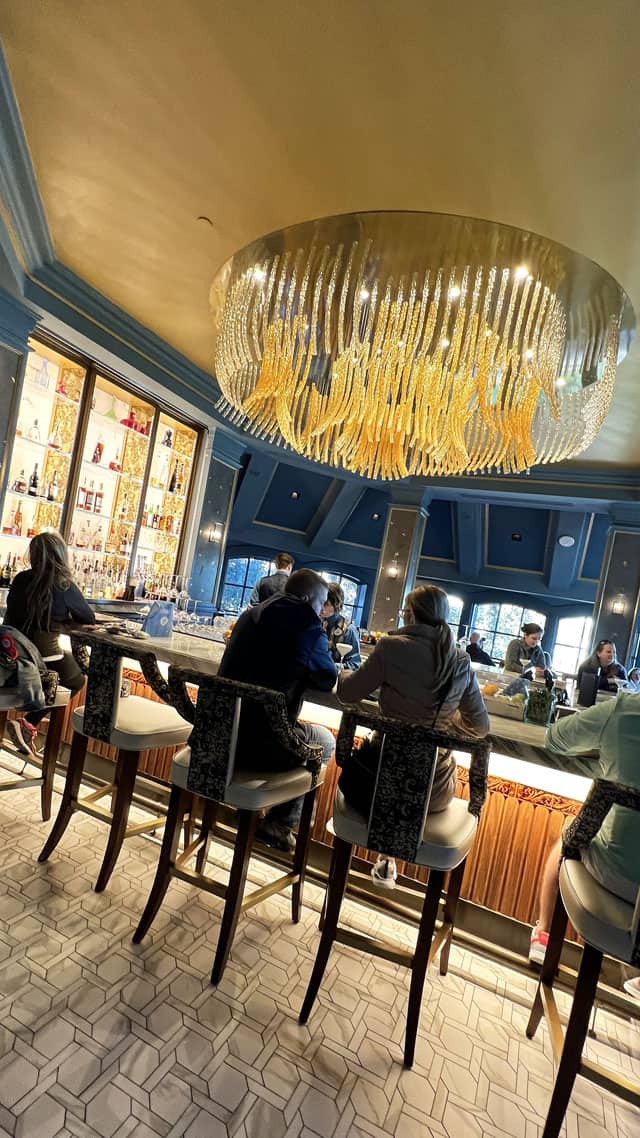 Above the main bar, you'll find the most stunning chandelier. What makes it even more spectacular is that it's inspired by Belle's flowing gold ball gown at the end of Beauty and the Beast.
This room is livelier than the other rooms since everyone is mostly packed around the bar. But, it's so fun to see the bartenders in action! While we visited one bartender took care of guests at the bar and the other provided drinks to the wait staff serving guests throughout the lounge.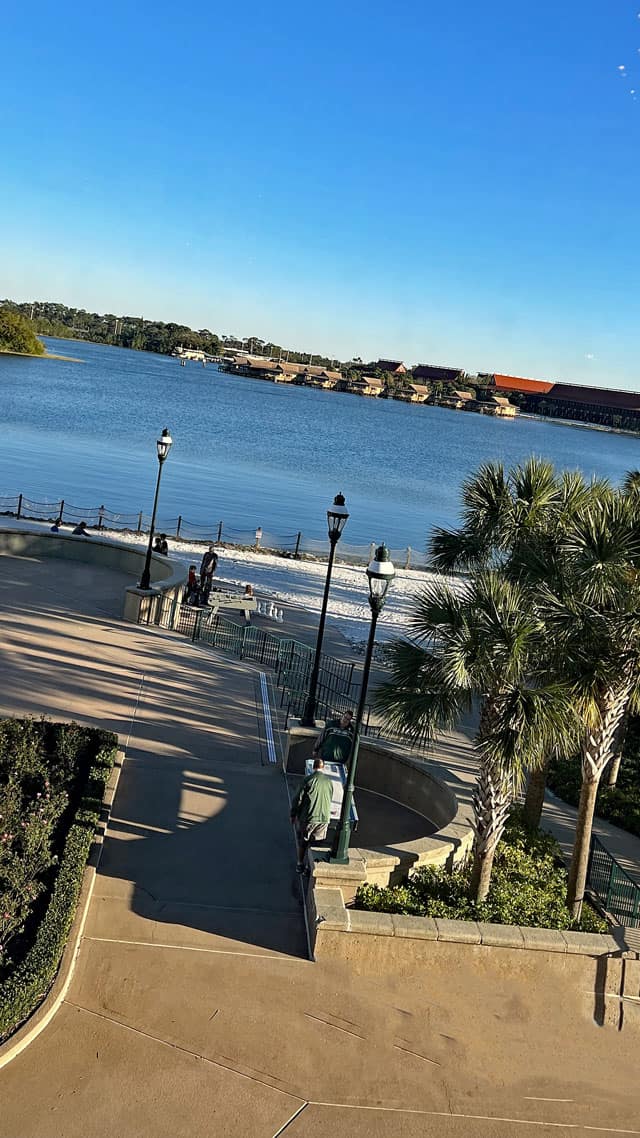 There's also a spectacular view with the windows that surround the entire exterior wall in the ballroom. Take a look at our view in the picture above.
Service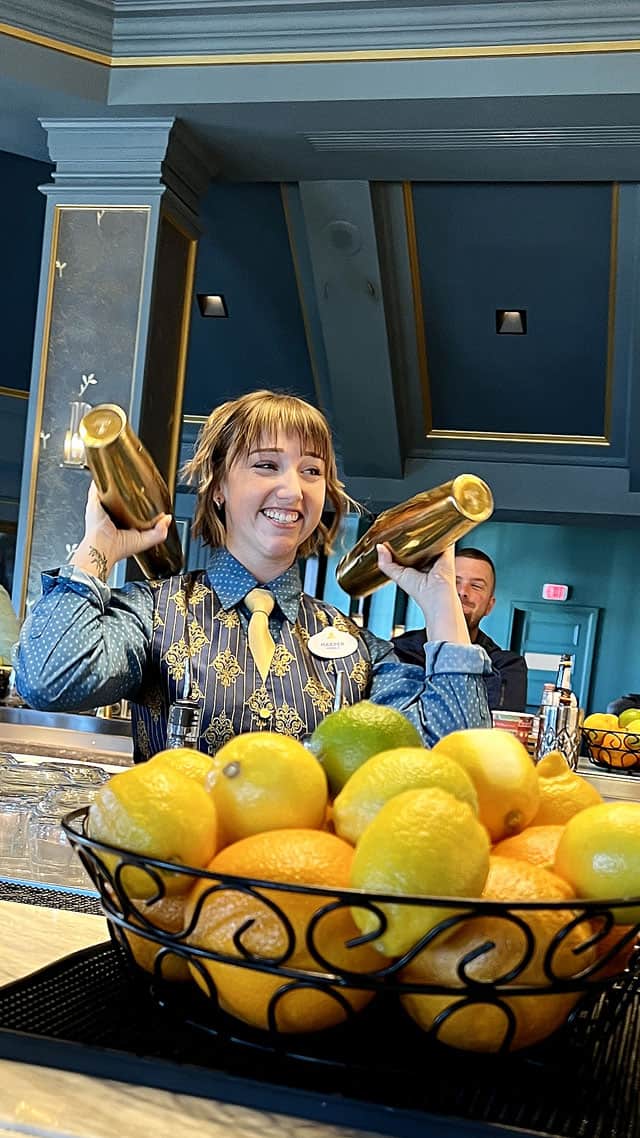 We arrived at the Enchanted Rose about 4:00pm. It opened at 3:30pm and was already packed! This heightened our excitement, but we weren't sure we would find a seat. Luckily, there were 2 seats open at the main bar.
It was so fun watching the bartenders mix up drinks! Even though it was busy, bartenders were attentive and prompt in taking care of guests.
What Keeps Guests Coming Back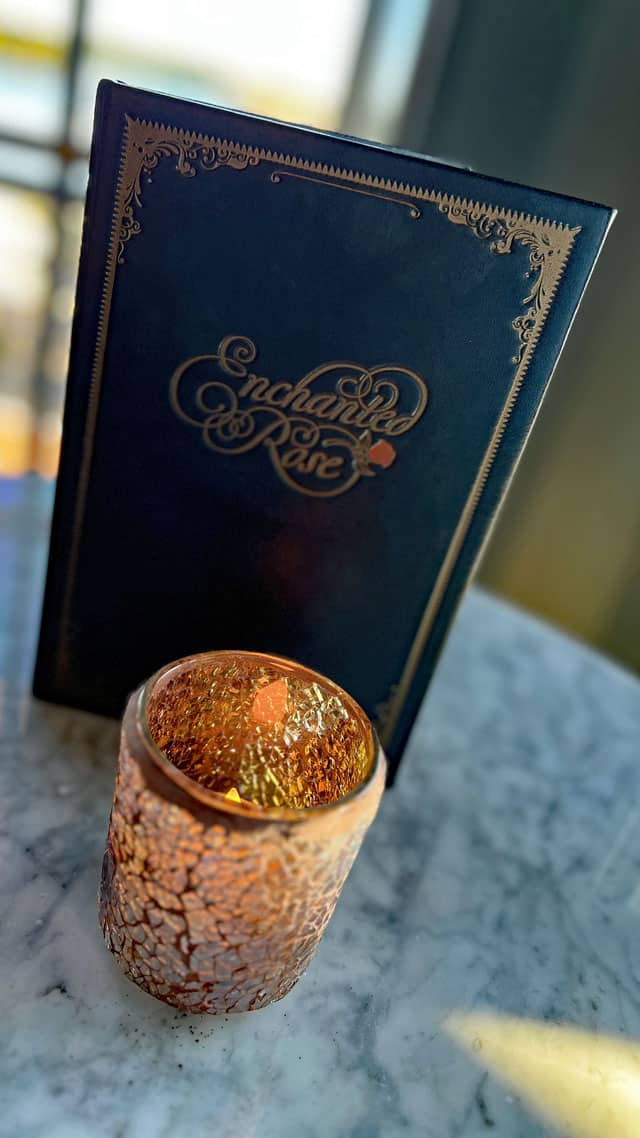 Looking around this wonderful spot, one thing was clear: everyone was enjoying their time here. And, there is so much to keep guests coming back! At the Enchanted Rose, drinks and food are made fresh! Cocktails were garnished with fresh fruit and herbs that added an extra wow factor.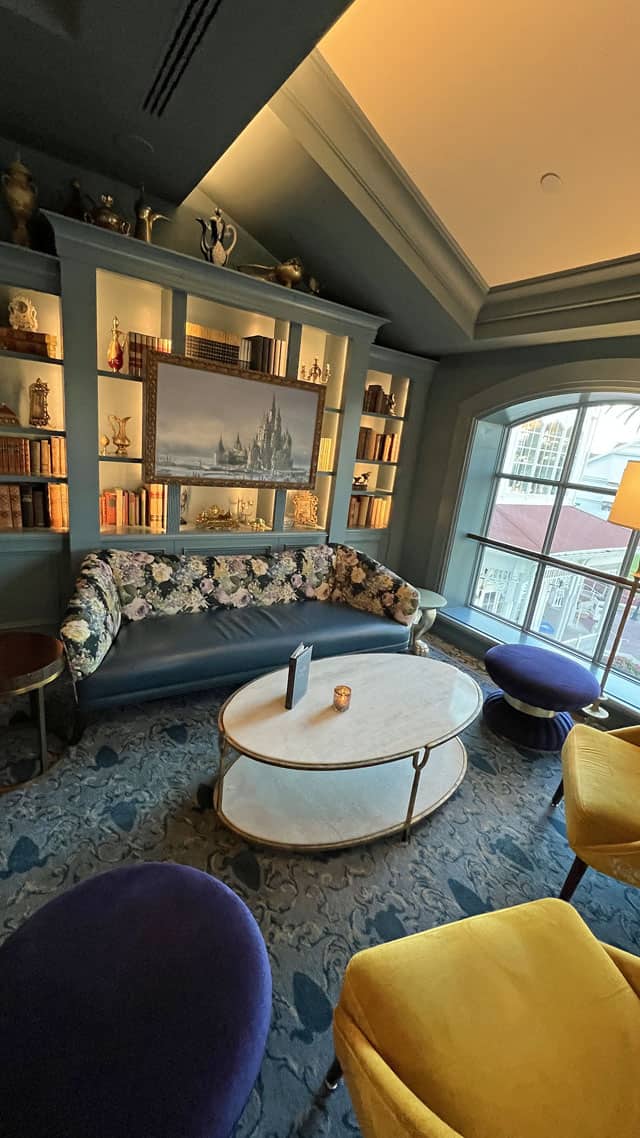 Seating is comfortable and spread out into various rooms, but if you don't get here early, you may have to wait a few minutes for a table. It's worth it though! I hope you'll give it a try on your next Disney World vacation.
Have you visited Disney's Enchanted Rose lounge? Or, do you plan to visit it? Please share your thoughts in the comments below and share this post with a friend to continue the discussion.