If you are a Disney resort guest, you have a 30 minute head start before anyone else! Use it! You can get so much more done than you think. Here are two recent strategies I used.
Early Entry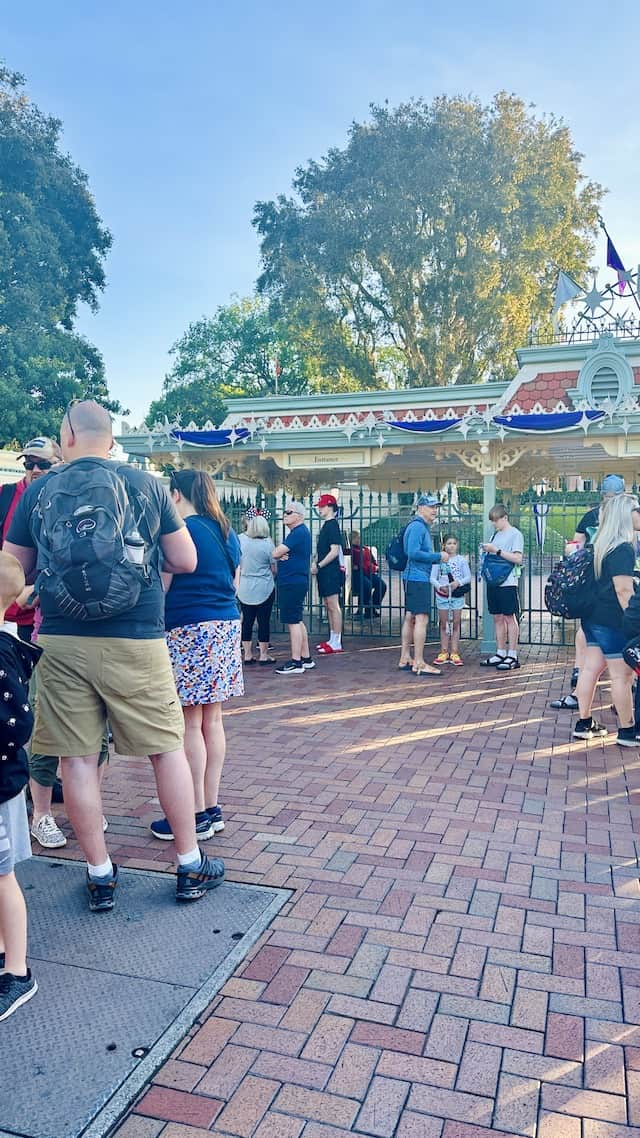 Early Theme Park Entry is a new(ish) benefit for all guests staying at Disney resort hotel. It began in the fall of 2021 and replaced morning Extra Magic Hours. All guests utilizing this benefit can take advantage of entering the parks 30 minutes before the parks officially open.
What can be done in 30 minutes? A lot more than you think! It can save you hours of waiting later in the day and will free up time for you to knock out other attractions or head back for an afternoon rest. I (Monica) have utilized early theme park entry at all four parks in Disney World and both parks in Disneyland.
Maggie has 5 really good reasons why you should use it. Be sure to read her post HERE.
Why a strategy is important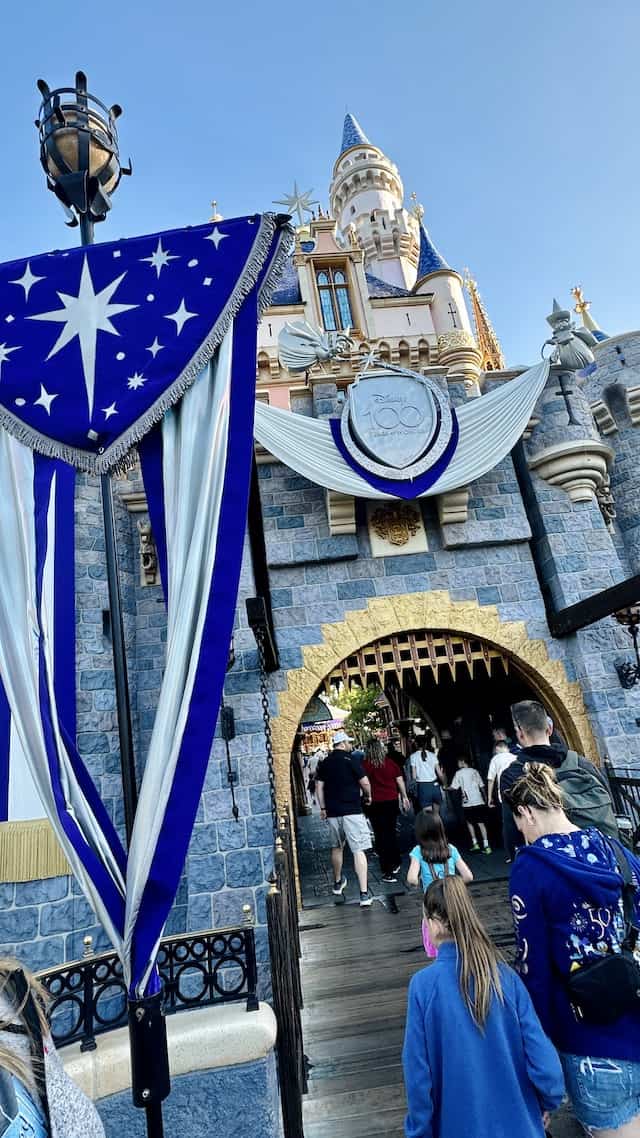 I know what you may be thinking. "The parks already open super early! How am I going to get myself and my family out of bed after a late evening in the parks? Will 30 minutes really put me at a higher advantage? It's not the same as the 60 minutes we used to get!"
Early entry is your best friend, especially during peak seasons! As a mom of four, I know how hard it is to get everyone up and going. You may have to decide between late evenings, early mornings, or maybe a mix of both during your vacation.
However, if you use early entry to your advantage and do the headliners first thing, you can save yourself valuable time and money! You can read about my early entry morning where I hit all the rides in the entire park with almost no wait in this post.
I recently visited Disneyland in late April 2023 and stayed at the Disneyland Hotel. This gave me access to early entry, and I used it at both parks. Here is how my mornings went.
Disneyland Park strategy
Only Fantasyland and Tomorrowland are open during early entry at Disneyland. Because Fantasyland rides do not have the queue space to offer a Lightning Lane entrance, they are not included in Genie+. This means your only option for riding is via standby. In order to maximize my time, I chose to utilize early entry for Fantasyland rides and then head to Toontown for official park opening at 8:00 am.
I chose Toontown because I had visited earlier in my trip, and it was very busy mid-day. I wanted to be able to take in everything the reimagined land has to offer without the crowds. In addition, I did not want to pay for Mickey and Minnie's Runaway Railway or wait in a long line because I have been on it so many times at Hollywood Studios. Here is what my morning looked like with time stamps: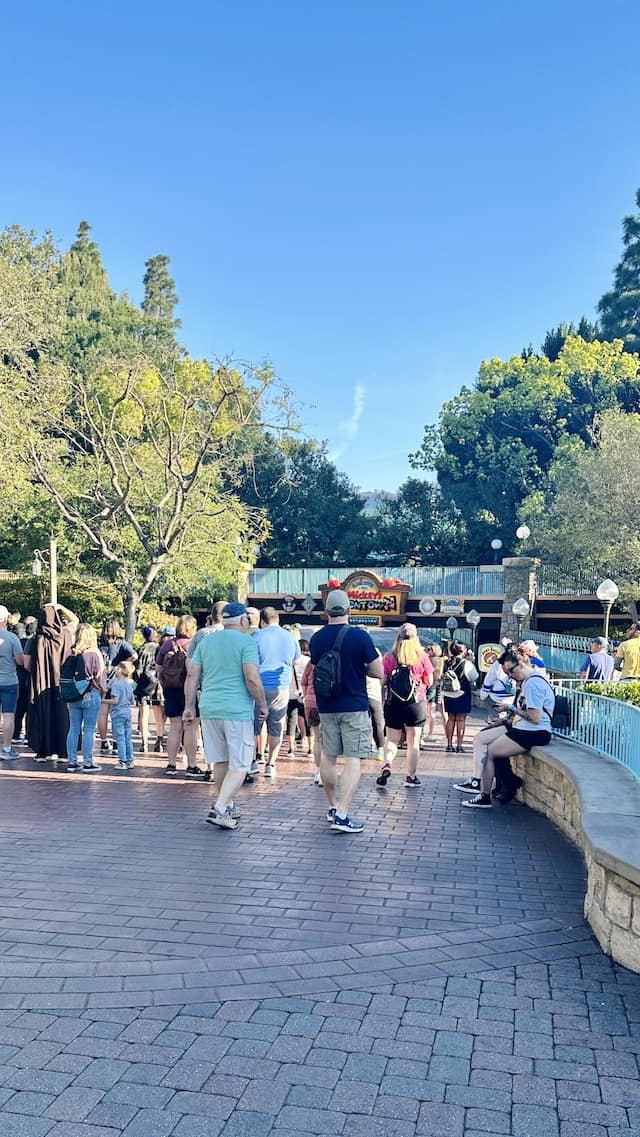 6:40 am: In security at Disneyland Hotel/Downtown Disney. There was quite the line by 7:00! I recommend getting there no earlier than 6:45. The line looks long but moves fast.
7:00 am: Security line opened and walked through Downtown Disney
7:10 am: At the front gate of Disneyland Park
7:20 am: Scanned through entrance and stopped for a few photos by Partner Statue
7:25 am: Got in the Early Entry rope drop (to the right once you pass Main Street up by Plaza Inn)
7:30 am: Scanned room key with Cast Members before walking to Fantasyland to confirm onsite eligibility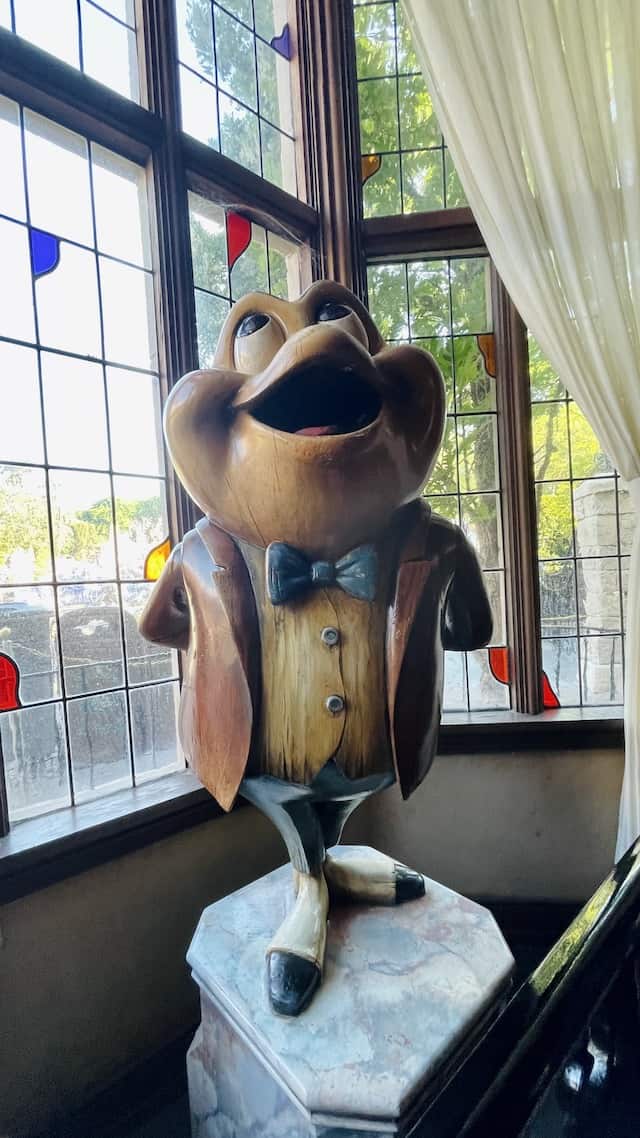 7:41 am: Got on Peter Pan's Flight
7:47 am: Got on Mr. Toad's Wild Ride
7:51 am: Alice in Wonderland not open so decided to head to Toontown
8:00 am: Park officially opened
8:07 am: Watching Perfect Picnic pre-show on Mickey and Minnie's Runaway Railway
8:18 am: Off the ride and headed over to Mickey's House
8:40 am: Met Mickey in his "street clothes" (he is only in this outfit first thing in the morning and later in the evening)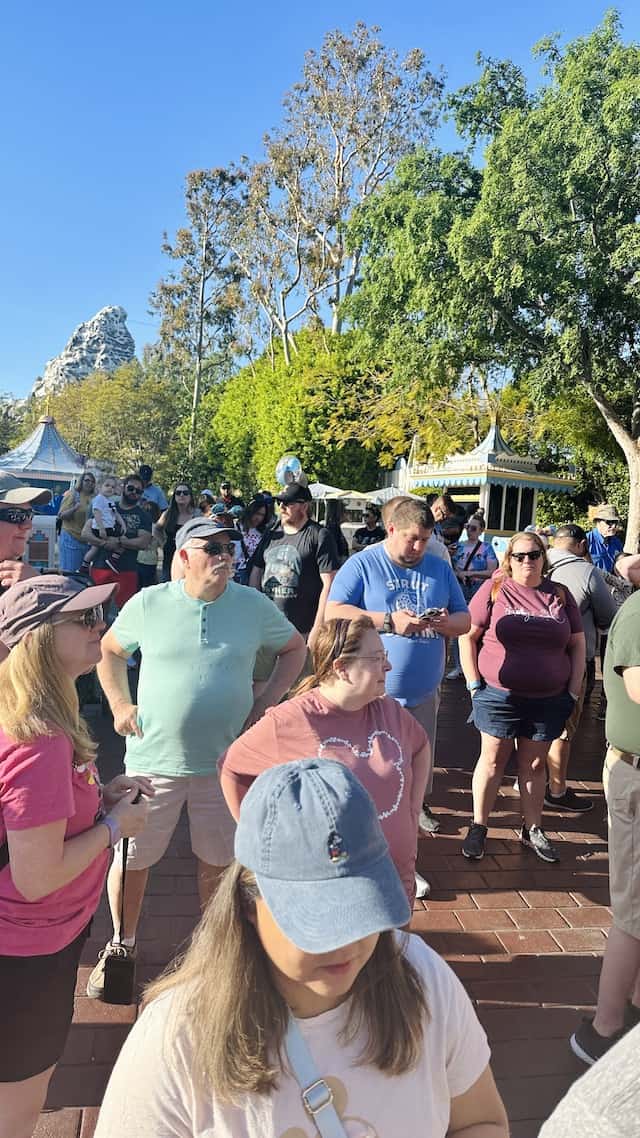 A couple of things to note – First, because I was not at the front of the Early Entry line, I had to wait 10 minutes to ride Peter Pan's Flight. Had I been one of the first few guests on the ride, I could have done another 2-3 rides in Fantasyland. That Partner Statue picture was not worth it. Go straight to the early entry holding spot and walk quickly to where you are headed.
Second, it was not necessary for me to head to Toontown 10 minutes before opening. There was a crowd but not much of one. Looking back, I could have still done another ride or two in Fantasyland before heading over there even after waiting 10 minutes for Peter Pan's Flight. BUT! By the time I got off Mickey and Minnie's Runaway Railway at 8:20 the line was already out the building (as shown below). I would not delay too much after park opening!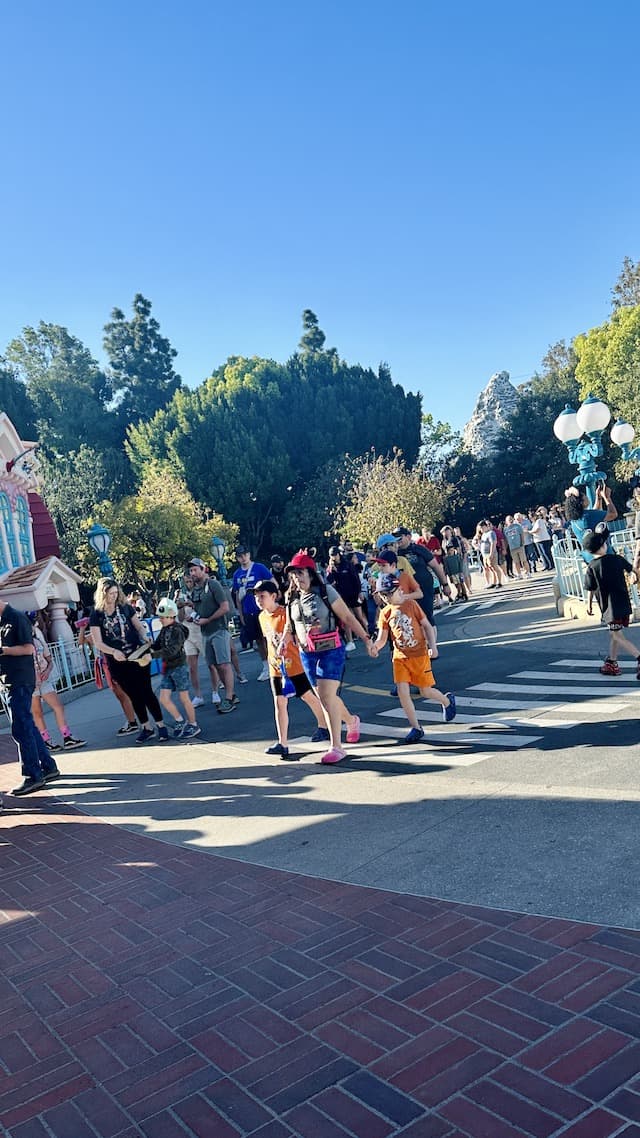 So yes, I made a couple "mistakes" and I hope by sharing them you can learn from them and do ALL the Fantasyland rides!
Disney's California Adventure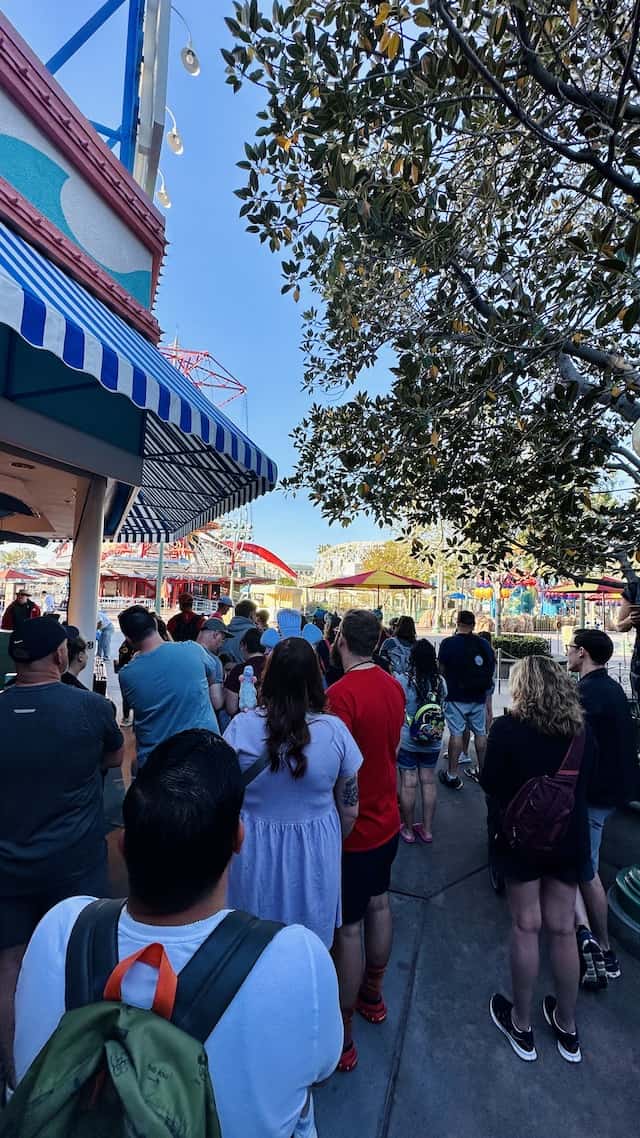 On the morning I visited California Adventure, I also used early entry. I took the Paradise Pier walkway to enter the park through the "back entrance." I will share more about this "secret" walkway in a future article, so be on the lookout! By 7:25 am I passed the security entrance and scanned into the park. Early entry started at 7:30, and as you can see in the photo above it was not crowded at all. There is really no reason to get there super early if you are not using the main entrance. Here are my time stamps:
7:25 am: Through security and scanned into the park
7:30 am: Park opened for early entry and headed straight for Incredicoaster
7:40 am: Off Incredicoaster and headed to Carsland to ride Radiator Springs Racers when it opened at 8:00 am
7:50 am: Told by Cast Members Radiator Springs would not be opening at 8:00 so I went to Avengers Campus
7:58 am: Entered queue for Guardians of the Galaxy – Mission: Breakout
8:08 am: Off the ride and the park was open for the day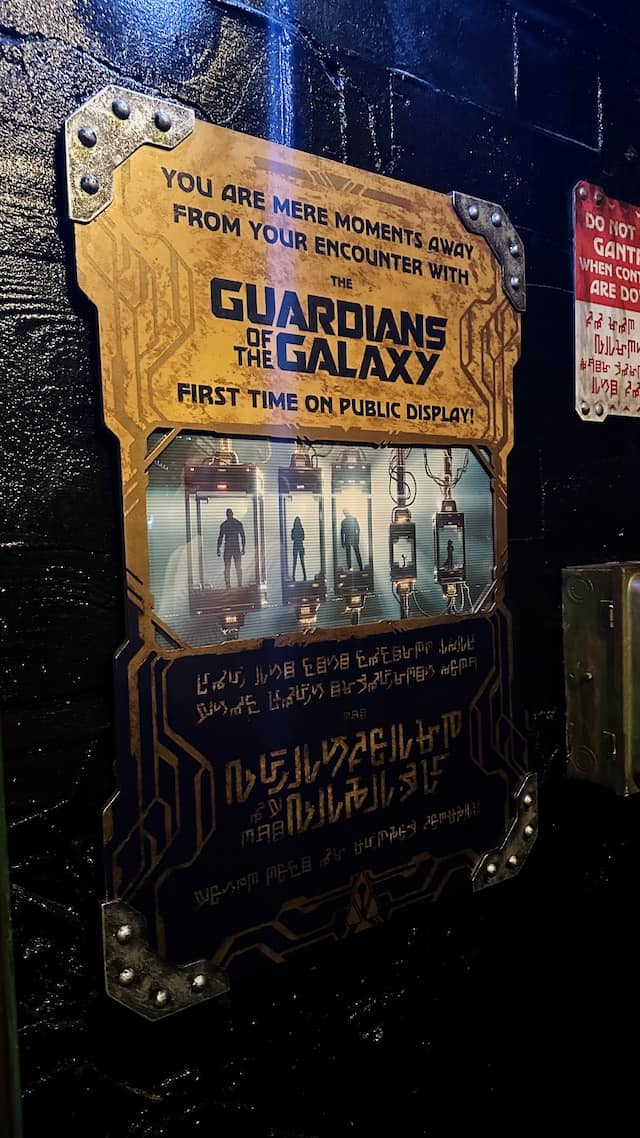 Because I purchased Genie+ and ILLS, I already had my selection for Web Slingers and Radiator Springs Racers when the park opened. I was hoping to ride Radiator Springs Racer twice that day, but that's okay because I had already bought the ILL. The attraction ended up opening around 9:00 am that morning.
By knocking out two headliners during early entry, I was able to use Genie+ for other rides with immediate return times like Soarin'. In addition, my return time for Web Slingers was very early in the morning because I selected it as soon as I scanned into the park. I had completed all the rides I wanted to do by 10:00 am and then spent the rest of the morning eating at the Food and Wine Festival.
What was your strategy for early entry at Disneyland Park and California Adventure? Share it with us below and be sure to pass this article along to a friend so they have the information, too!