Did you know there is only one character meal inside Disneyland Park? Check out this review if you are looking for a place to sit down and eat with some favorite Disney friends!
Character Dining at Disneyland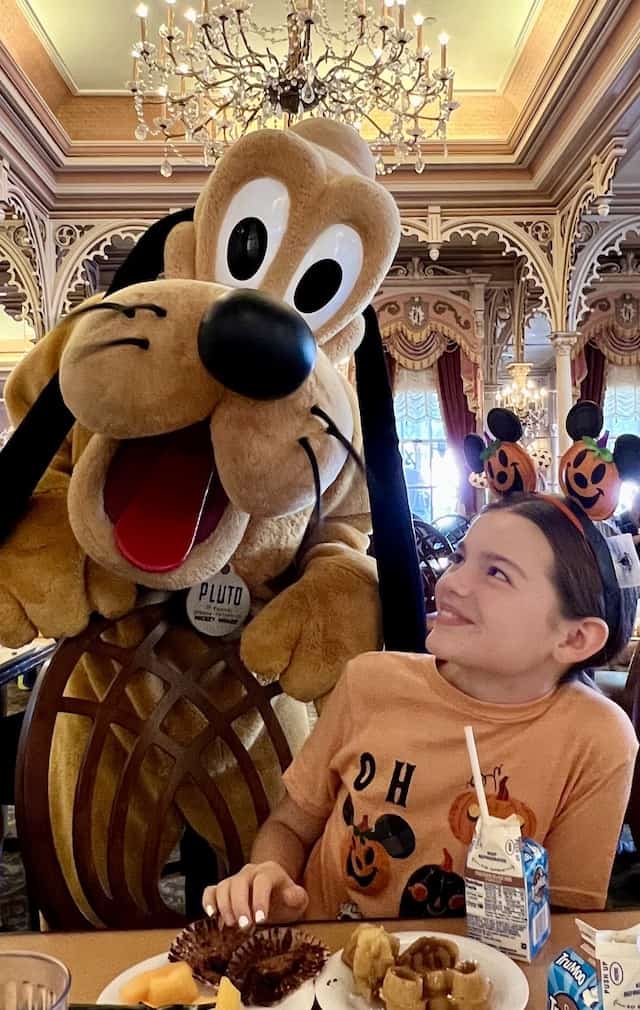 Disney World offers dozens of character meals inside the theme parks and resorts. Disneyland, on the other hand, only has four. Given the size of Disneyland compared to Disney World, this is certainly understandable.
Currently, Disneyland has four character meal experiences. You can find Storytellers Cafe and Disney Princess Breakfast Adventure inside Disney's Grand Californian Resort. The Disneyland Resort has a similar meal to Chef Mickey's at the Contemporary called Goofy's Kitchen. They both have similar characters and similar costumes.
There are no character meals inside Disney's California Adventure and only one inside Disneyland Park: Minnie and Friends – Breakfast in the Park. Let's take a look at Breakfast in the Park to see if it's worth giving up a few hours of your day to dine here.
Plaza Inn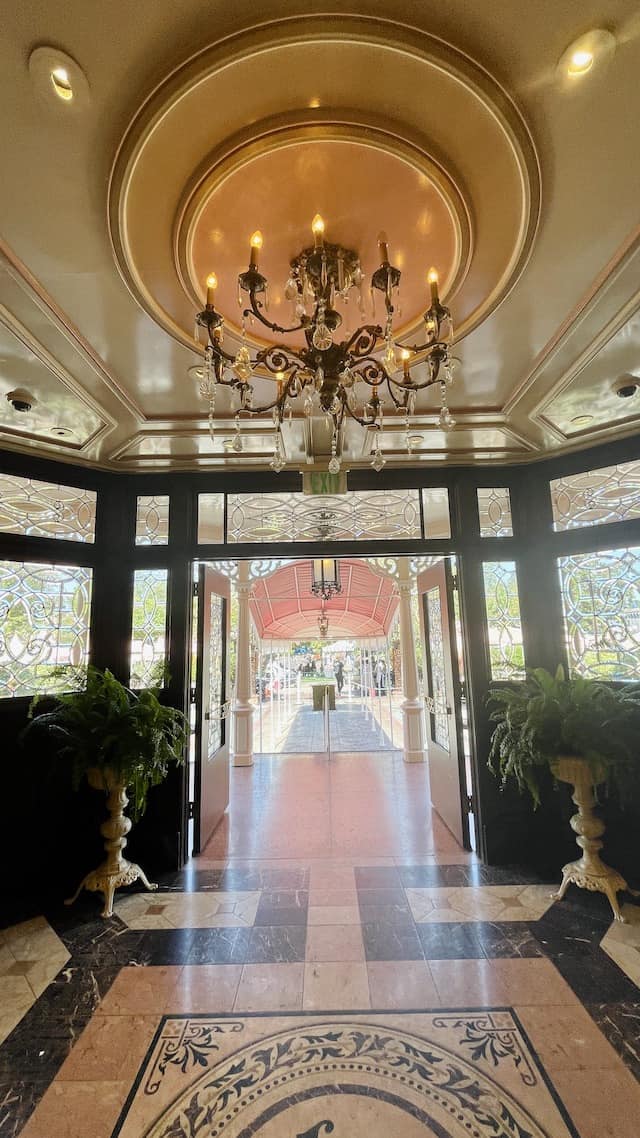 First of all, I must say eating inside the Plaza Inn is a must-do…no matter the meal! This is an opening day restaurant, and one that Walt Disney himself loved to dine inside. Lillian Disney, Walt's wife, handpicked many of the restaurant's authentic 19th-century interior furnishings. Take note of the Victorian stained-glass ceiling, marble foyer and ornate gingerbread woodwork, which were all salvaged from an old home in Los Angeles' historic St. James Park neighborhood.
Plaza Inn is famous for its fried chicken, and lunch and dinner are served first-come first-served. Unfortunately, I was not able to dine here for lunch or dinner but did eat here for breakfast during our first morning at Disneyland.
Minnie and Friends – Breakfast in the Park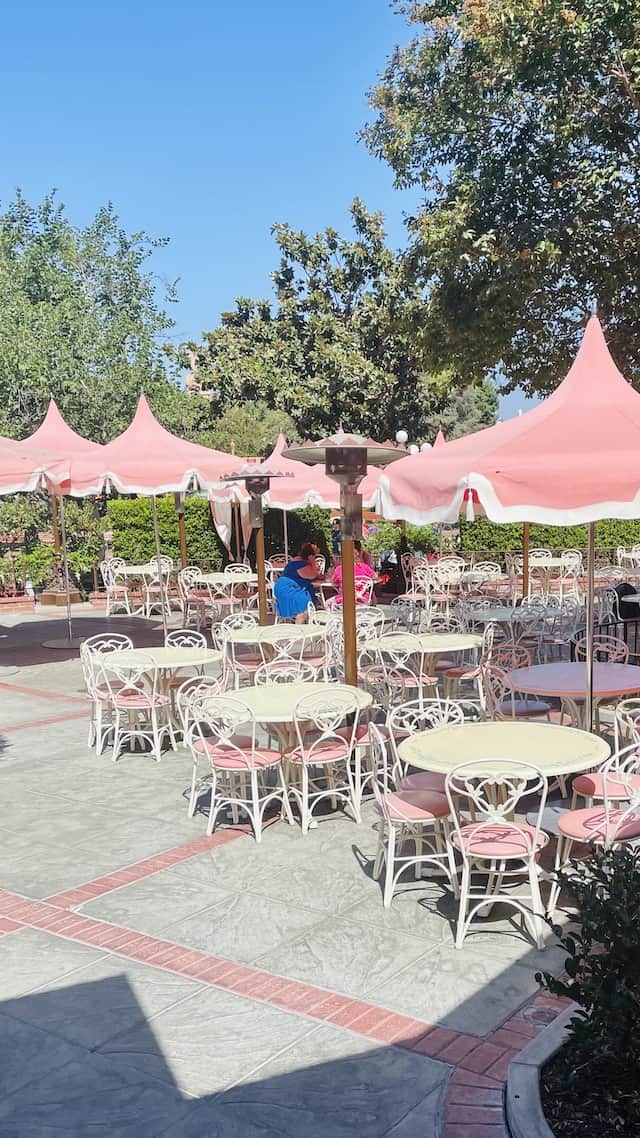 Breakfast is a sit-down character meal with buffet-style food. Advanced dining reservations are highly recommended given that this is the only character meal inside the park. You can try to get seated via walk-up availability, but there is no guarantee you will actually get a table. The Disneyland dining system can sometimes take a few days to fully load, so be sure to check frequently if you are hoping to eat here.
We decided to rope drop some attractions in Fantasyland and then eat at 9:30 am. Despite having advanced reservations, we still had to wait 20 minutes to get into the restaurant. I am guessing since they try to accommodate walk-ups as well as reservations, the entire process is a little behind. We also opted for indoor seating vs outdoor seating because of the heat. This also caused our wait to increase a bit, but it was well worth it to sit in the air conditioning. We took turns shopping around Main Street as we waited.
Breakfast is $41 for adults and $24 for children. Sales tax and tip are not included but will be added when you pay. Speaking of paying, you pay for your meal after you meet Minnie outside but before you are seated.
Meeting Minnie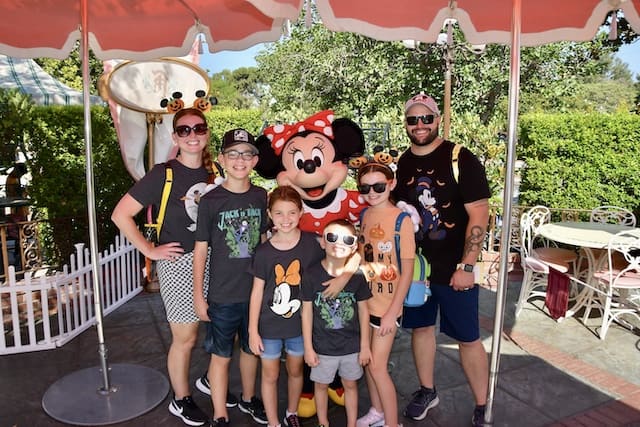 Minnie Mouse actually meets outside in a little corner of the outdoor seating section. You cannot meet her until your table has been called, so this keeps outside Guests from coming in and trying to meet her. You can really spend as much time with her as you would like since there is no line to meet her.
There is a PhotoPass photographer available at this little meeting spot, but there are none inside the restaurant. If you purchase Memory Maker or Genie+ these photos will be included in your downloads.
Minnie is adorable as always, and it is a great way to start off the meal. I also loved the fact that there was a photographer there so we could all get in the picture with her.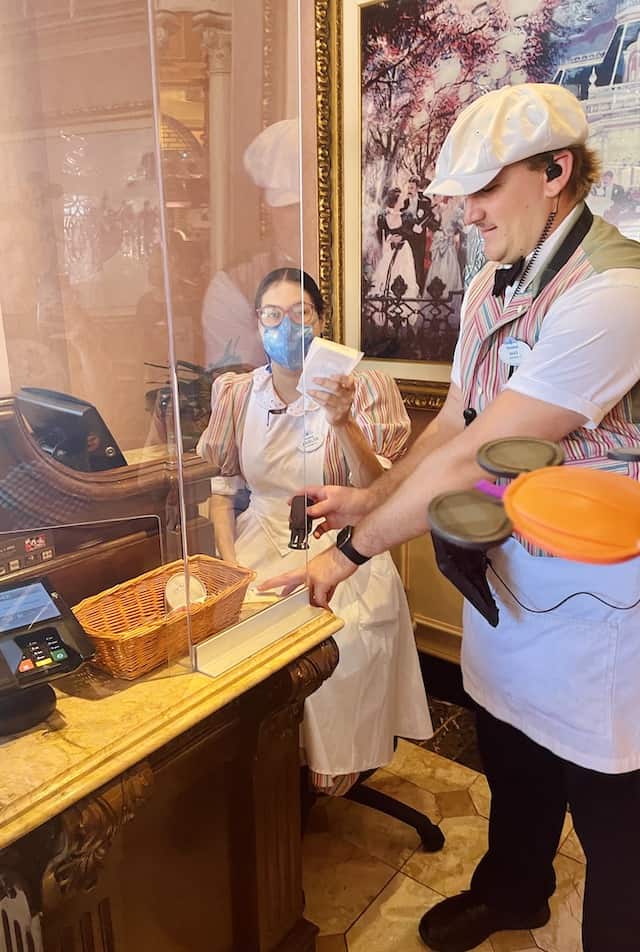 Once you are ready to head inside, you will stop at the cash register to pay for your meal and receive stamps. The stamp on your hand allows you to exit and re-enter the restaurant as many times as you need to. This is actually very helpful because there are no restrooms inside Plaza Inn. You have to exit the restaurant and go to a nearby one if you have to wash hands or use the restroom at all.
We also received adorable Plaza Inn buttons for everyone! I have actually never received so many buttons in one trip than we did at Disneyland! We got first visit buttons, Plaza Inn buttons, and honorary citizens of Disneyland buttons. How neat is that?!
Characters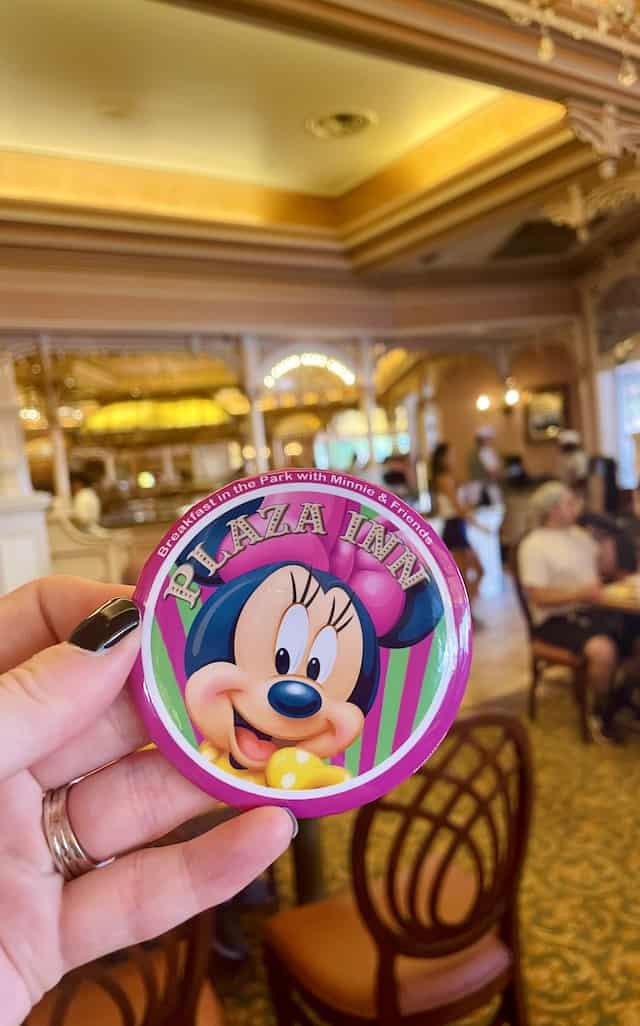 On the day my family and I dined here, we saw several characters on a rotation. They were all dressed in their usual outfits, but they were some characters we do not see as often mixed in with the usual:
Chip & Dale
Daisy
Suzy and Perla from Cinderella
Pluto
Tigger, Eeyore and Pooh
We did notice that some of these characters come out on a rotation. For example, we saw Pooh in passing but he never came to our table. The same goes for Suzy and Perla. Sometimes, ultra rare characters may make appearances, but we did not see any during our visit.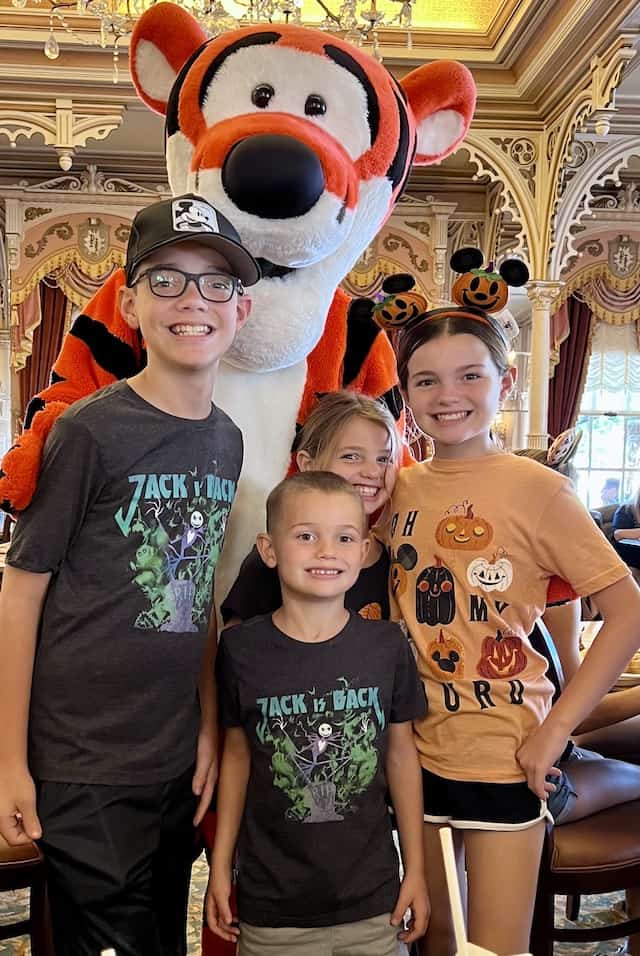 In general, each character will come spend a few minutes at your table. I always struggle with character buffets because my kids are always running in 20 different directions getting food, and I'm yelling at them to come back and get a picture with Daisy! If possible, try to keep everyone at your table if a character is nearby.
The rotations were actually quite chaotic during our meal. Usually when I dine at a character meal, I quickly learn the rotation so I know when and from which direction the characters are coming. These seemed all over the place. This will make it even harder to make sure everyone in your party sees who they want to see. We actually had to ask our server if Suzy or Perla could come back out because my 8 year old daughter really wanted to meet one. We were one of the last parties out of the door for breakfast because of this, but we got our hug and autograph and all was well.
Food Offerings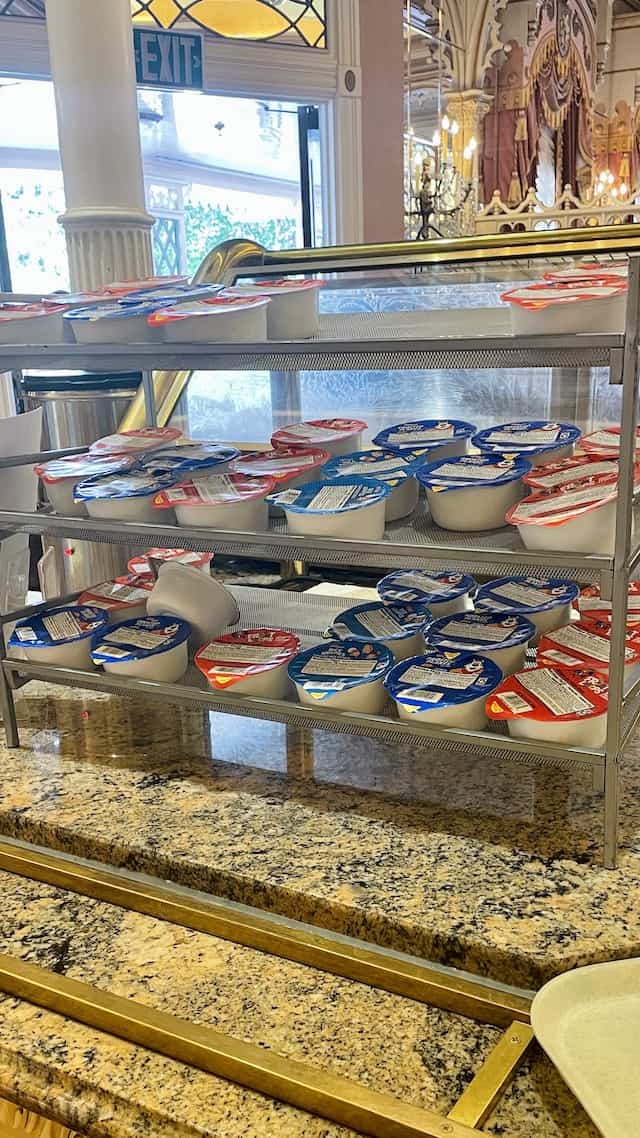 This character buffet is everything you can expect in a Disney buffet. There are many options, none of which are exceptional. Nonetheless, we still left with full bellies. Here you will find:
Made to order Omelets
Scrambled Eggs
Bacon
Sausage
Fried Chicken (but not the kind you get for lunch and dinner)
Breakfast Potatoes
Biscuits and Gravy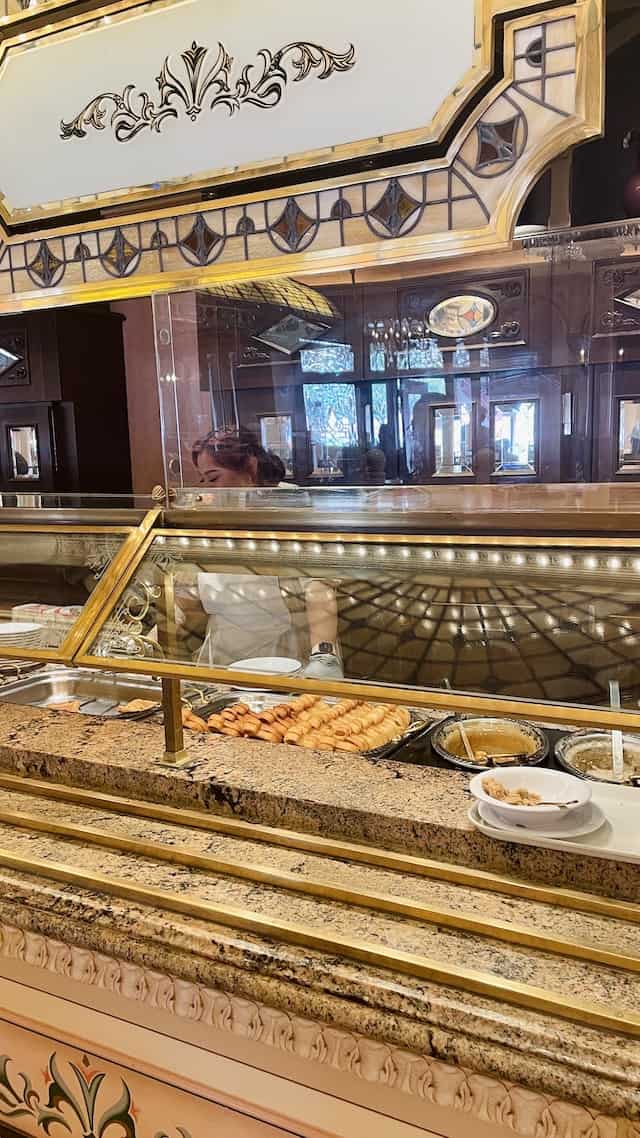 French Toast
Mickey Waffles
Cereals
Muffins, Croissants, Danishes, and Fruit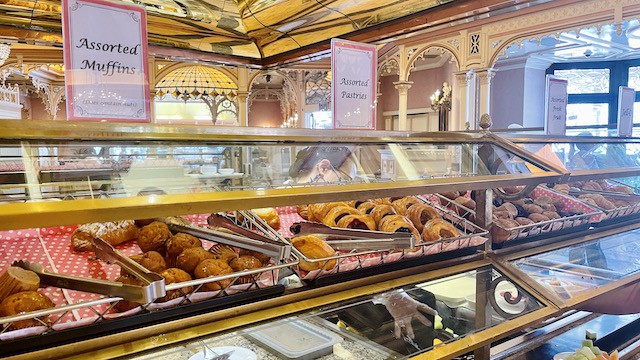 I really wanted to try their famous fried chicken, and when I asked if they had any I was told they had chicken tenders. I imagine it was not quite the same as it would have been for lunch and dinner, but it was enough to satisfy my craving for it.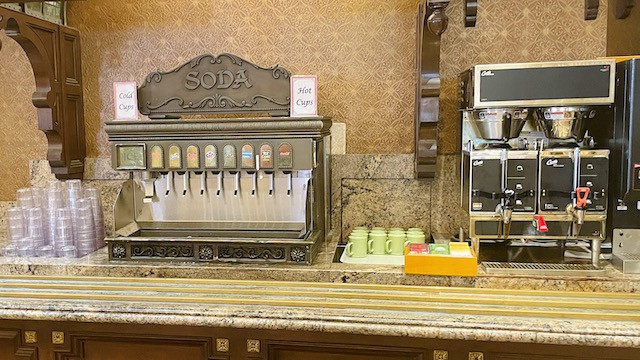 I also want to note that drinks are also self-serve at Plaza Inn. There is an assortment of fountain beverages, coffee, tea, milk, and juice. Your server is basically there to clear away your plates and answer any questions you have (like if Suzy or Perla can come to your table even though breakfast is basically over). Our server was very attentive and helpful. I give him an A+ because he got Suzy to our table.
Overall Thoughts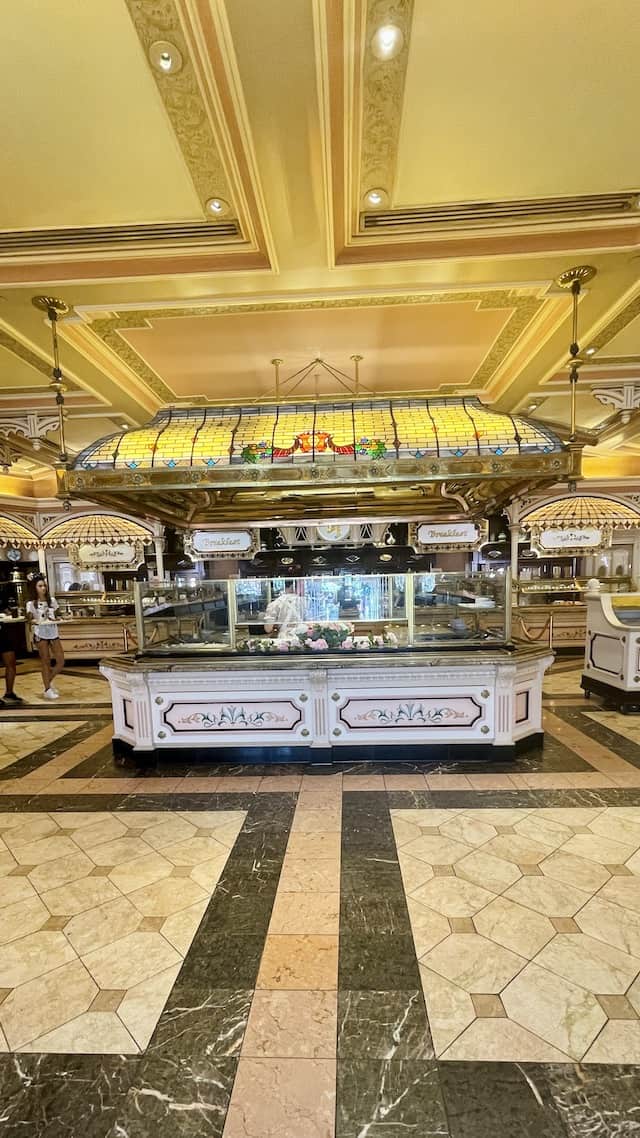 We thoroughly enjoyed our breakfast at Plaza Inn. Since it's the only one in the park it feels very exclusive. Our meal did run very long. As stated above, our reservation was for 9:30. We were in our seats by 9:55 am and we didn't leave until 11:00 am on the dot – when breakfast is no longer served.
I recommend using your first hour or two to rope drop several attractions and then head to a late breakfast. We grabbed a few quick items before leaving our hotel in the morning to hold us over, and we were so stuffed after breakfast we did not need much of a lunch.
The food was average as one would expect from a Disney buffet, but the characters were great. Other than the chaos of it all, we enjoyed our meal and loved the button souvenir to take home.
What questions do you have about Minnie and Friends – Breakfast in the Park? I am happy to answer them in the comments below and on Facebook!