Want to add a bit of adventure to your Disney dining? You will not want to miss this review of adventerous cuisine that you can enjoy without a park ticket.
Dining in Adventureland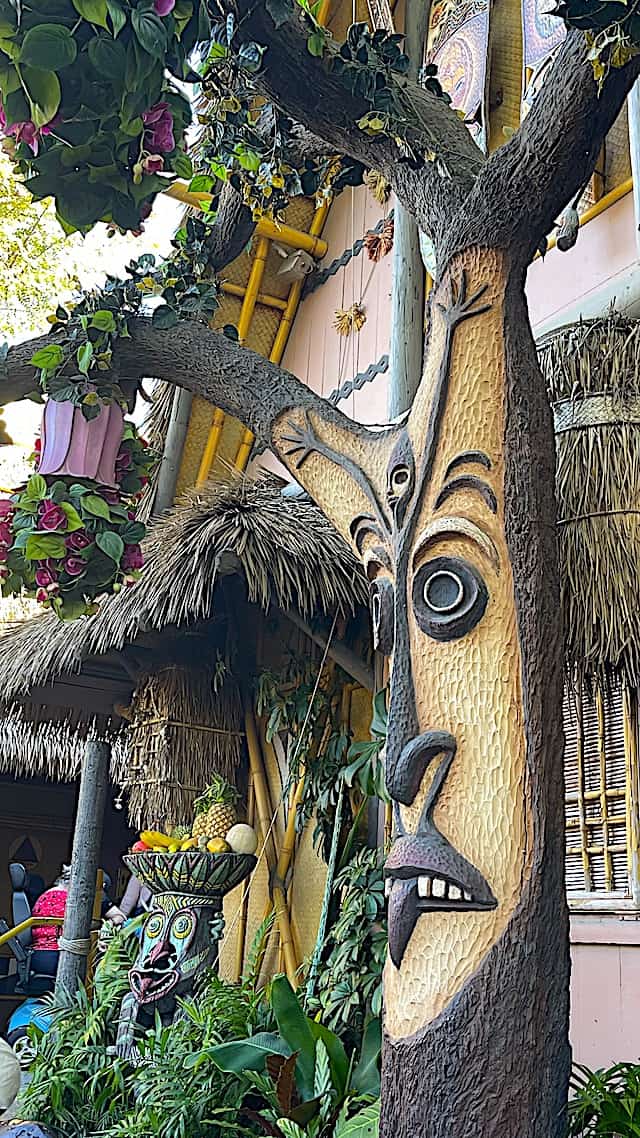 Do you have an adventurous palate and want to enjoy fun dining options while at the Happiest Place on Earth? Disneyland offers many great dining options throughout Adventureland.
After you enjoy singing along with your favorite Tiki Birds inside "Walt Disney's Enchanted Tiki Room", be sure to stop by for a delicious Dole Whip at the Tiki Juice Bar by Dole. There are also great menu options available at the Tropical Hideaway.
Guests can also enjoy a great quick service option in Adventureland at the Bengal Barbecue. Disneyland describes this dining experience as, "Tear into some toothsome jungle skewers at this quick-service stand featuring spicy or sweet beef, chicken, bacon-wrapped asparagus or fresh vegetables."
These are great options inside Adventureland, but there is also an adventurous cuisine that you can enjoy without even needing a park ticket.
Disneyland Resort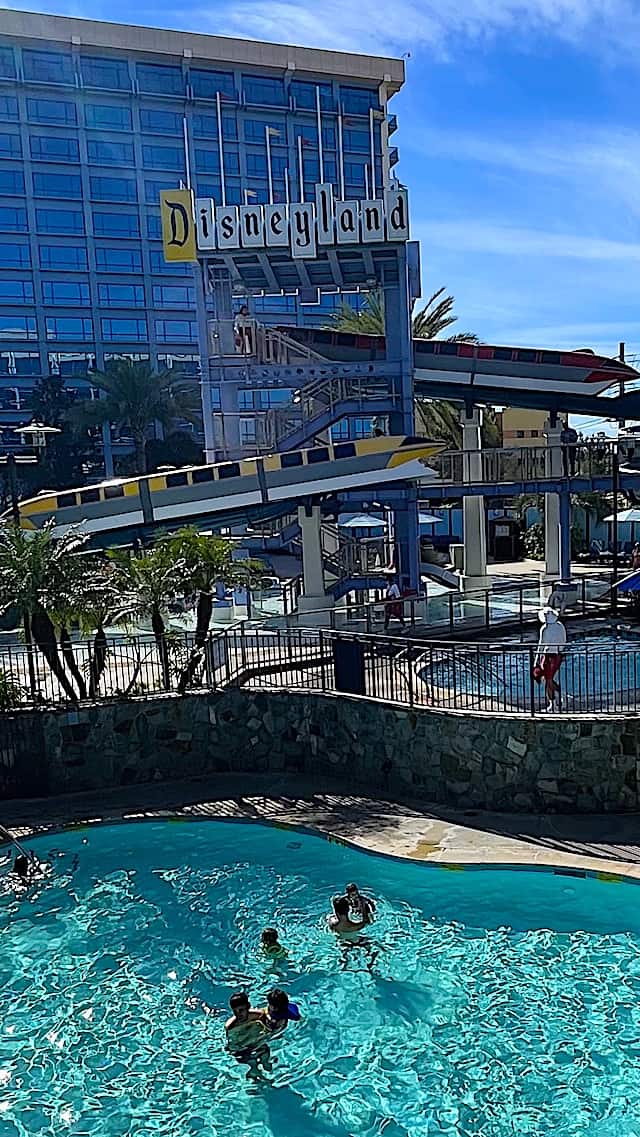 On a recent trip to Disneyland, we enjoyed a bit of resort hopping. This is not an extremely difficult endeavor at Disneyland as there are only three resorts. As we took a walk through Downtown Disney, my (Donna) children asked if we could see the original Disneyland Hotel. They love the Behind the Attractions series on Disney+. One of their favorite episodes is how Disneyland almost opened without a hotel.
We made a short journey to the hotel that started it all. As we walked through the lobbies and journeyed along the edge of the pool, we found a tropical hideaway that seemed to be calling us. The best part for our children was that we could dine and enjoy Disneyland Hotel views at the same time. It was a win-win for the whole family.
Trader Sams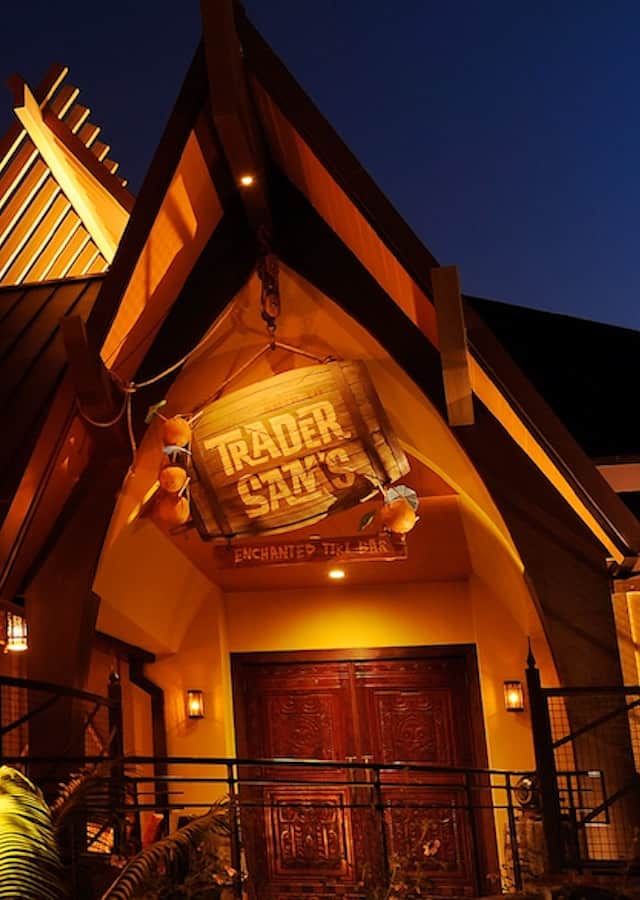 Over at Disneyland Hotel, guests can find a tropical hideaway at Trader Sam's Enchanted Tiki Bar. The bonus for our family is that diners can enjoy the over-the-top theming of Trader Sam's while also enjoying the delicious menu options of Tangaroa Terrace Tropical Bar & Grill.
We arrived at lunchtime and were delighted to be seated immediately for outdoor dining. Guests are invited to enjoy "Jungle Cruise-ine." Disney describes this as, "Hungry from exploring magical kingdoms near and far? Order up Panko-crusted long beans, macaroni salad, and sweet-and-spicy chicken wings served with togarashi aïoli."
"Chart a fearless course to crispy tempura shrimp or colorful Rongo salad and then dive into a steaming bowl of tonkatsu ramen. Sam swears these tropical delights won't shrink your head—they just might stretch your belly."
We set a course and prepared to enjoy a few of the interesting courses available. Climb aboard as we review these tasty entrees.
Poke Bowl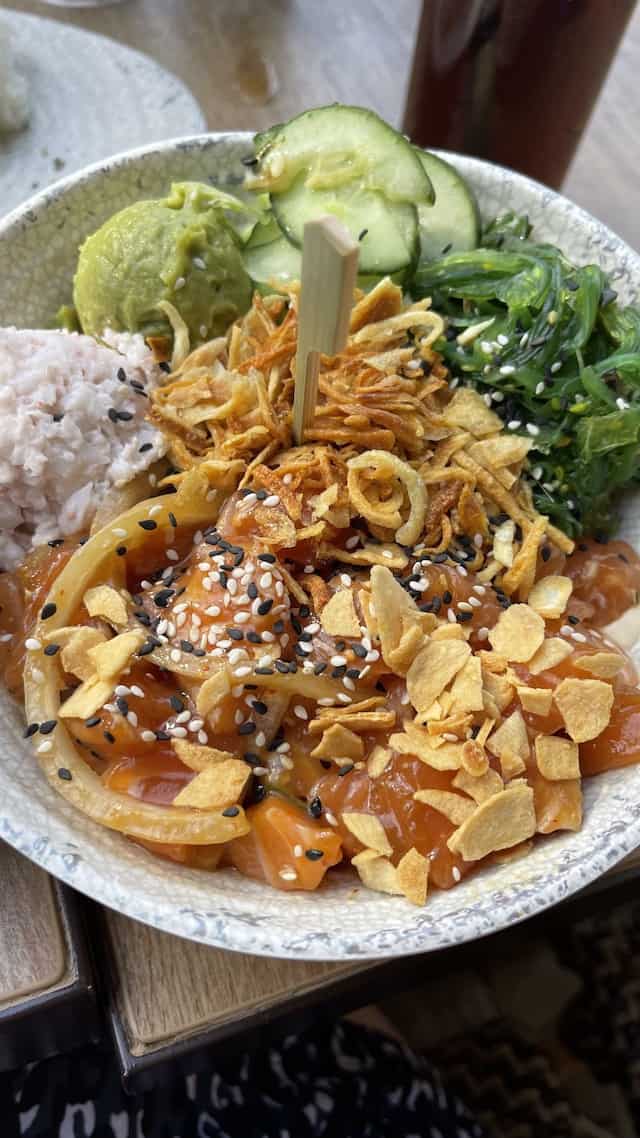 I (Donna) was feeling a bit adventurous and was interested in the Poke Bowl. This entree includes sushi rice, togarashi aïoli, crispy onions, smashed avocado, sliced cucumber, masago fish roe, and crab salad. I chose to add salmon to my Poke Bowl, but other options included Tuna or marinated tofu.
There were so many amazing flavors in this dish. I first started with the crab salad and this was so refreshing and fresh. As I layered the salmon with the rice, cucumber, and a bit of the smashed avocado, I felt as though I was transported to an island getaway. This dish was layers of flavor and was so incredibly fresh.
The Salmon Poke Bowl includes sushi rice, togarashi aïoli, crispy onions, smashed avocado, sliced cucumber, masago fish roe, and crab salad.
With a pineapple allergy, this was the only dish that was offered without pineapple, but it did not disappoint. I will admit that this was more adventurous than my normal liking, but I am so glad I tried something new.
Chicken Teriyaki Bowl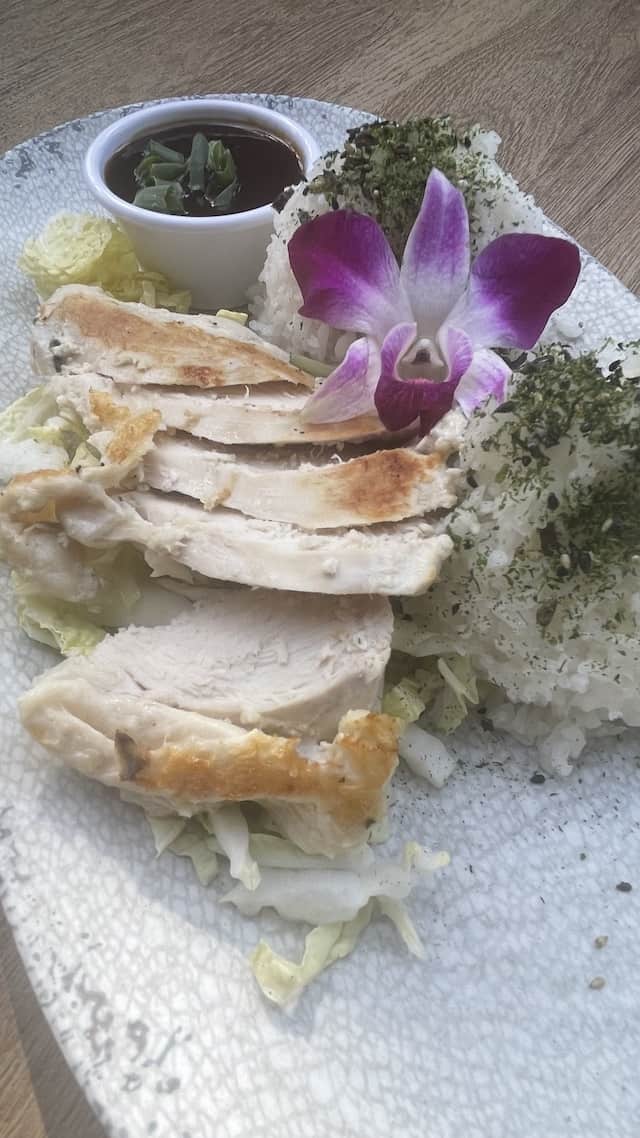 The Chicken Teriyaki Bowl can be enjoyed by both adults and children alike with this offering on both menus. This entree is served with steamed Jasmine rice, chicken, broccoli, teriyaki sauce, and a pineapple wedge. The above photo is the kid's meal selection. The chicken was cooked perfectly and had a great seasoning added to it.
My youngest requested that the teriyaki sauce be added to the side. This made her quite happy and she said that it was delicious. The Jasmine rice was ok but a little bland. It may have tasted better with the chicken prepared in the teriyaki sauce rather than simply having it on the side.
Cheeseburger in Paradise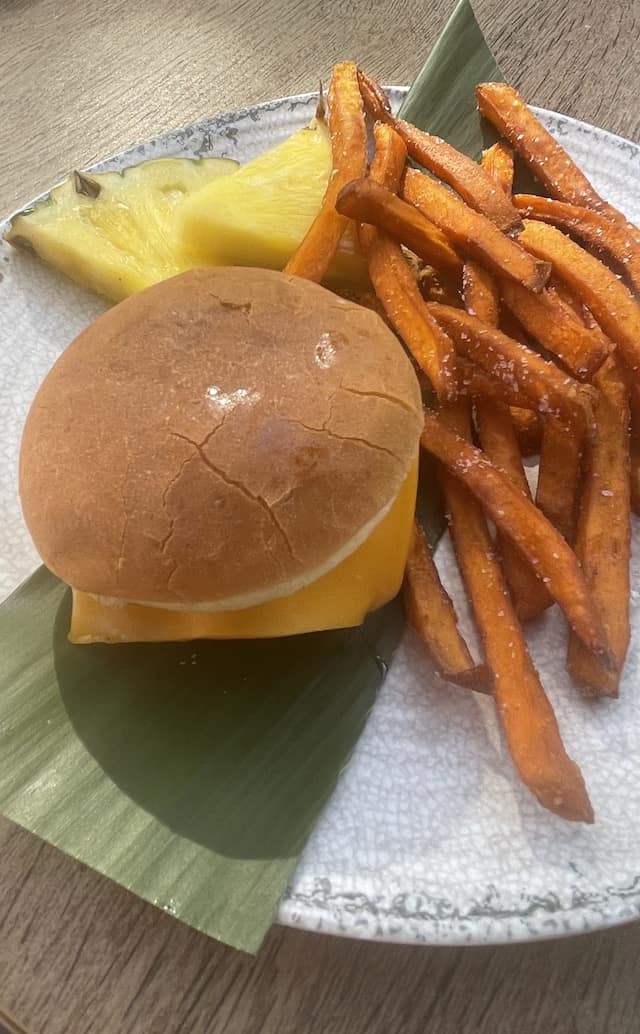 The kid's cheeseburger is featured above and was surprisingly delicious to be a kid's meal. This cheeseburger was seasoned very well and was served with sweet potato fries and pineapple slices.
My oldest daughter is a bit of a foodie. She ventured to my plate and enjoyed a few items from my Poke bowl. This was a bit too adventurous even for her. She was quite content with the safety of her cheeseburger.
The sweet potato fries were crisp and seasoned well. All in all, this was a great-sized burger for a kid's meal and very delicious.
Dole Whip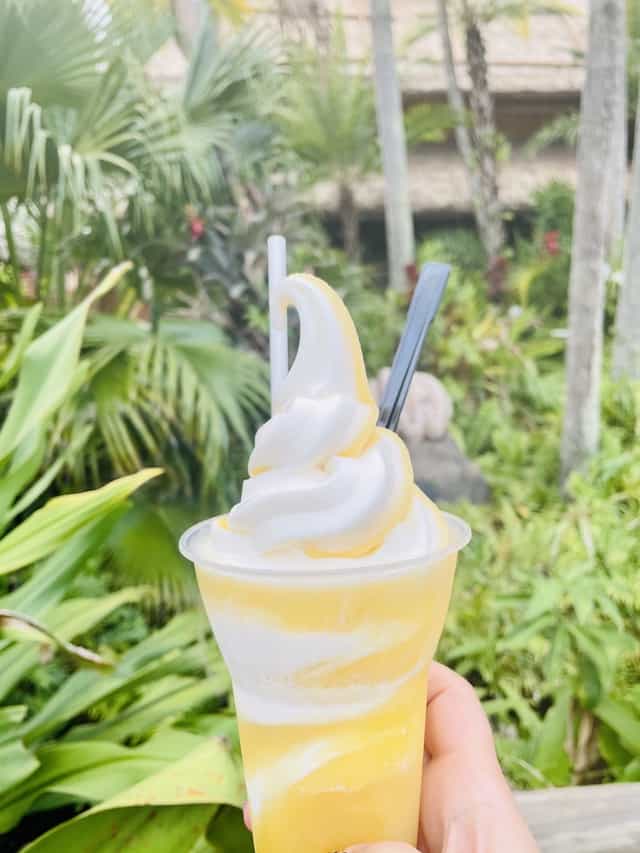 Although a Dole Whip was not featured on the menu, our server was happy to bring over a Dole Whip from the Tangaroa Terrace Tropical Bar. My (Donna) husband and daughters were delighted.
This was the perfect end to our lunch. A Dole Whip is my husband's favorite Disney snack, and this was a great space to relax and enjoy this frozen treat.
Would we dine here again?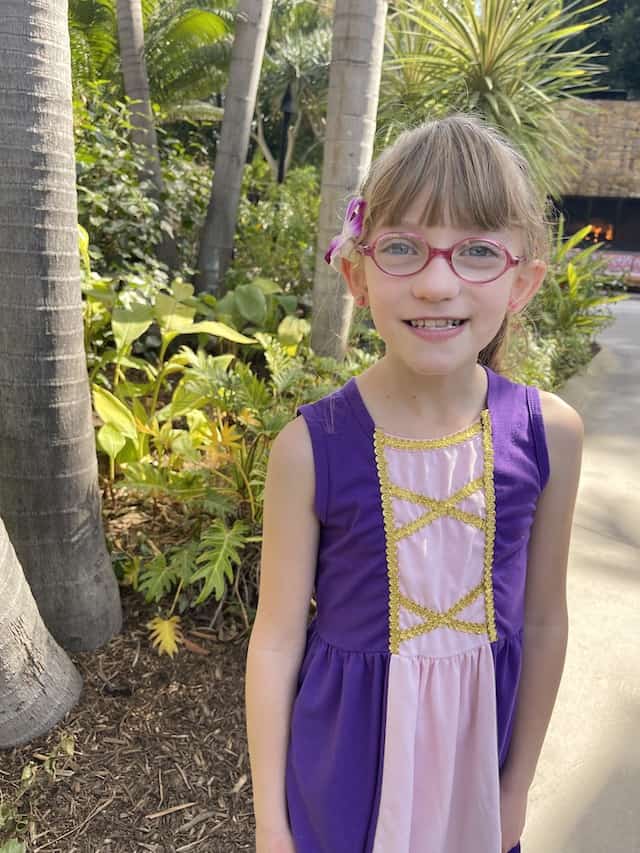 So, would we dine here again? This was such a fun dining location that we would dine here again. It was great to be seated right away and to enjoy the beauty of the Disneyland Hotel for a short time. The menu was a bit different than what we are used to, but the staff was very accommodating to make this a great meal for our entire family.
Have you dined at Trader Sam's before? Do you enjoy dining in Adventureland? What dish would you try first? Share your thoughts with us on our Facebook Page.