The Swan Reserve is one of the nicest on Disney World property and it comes with so many perks! Check out why we love it.
Swan Reserve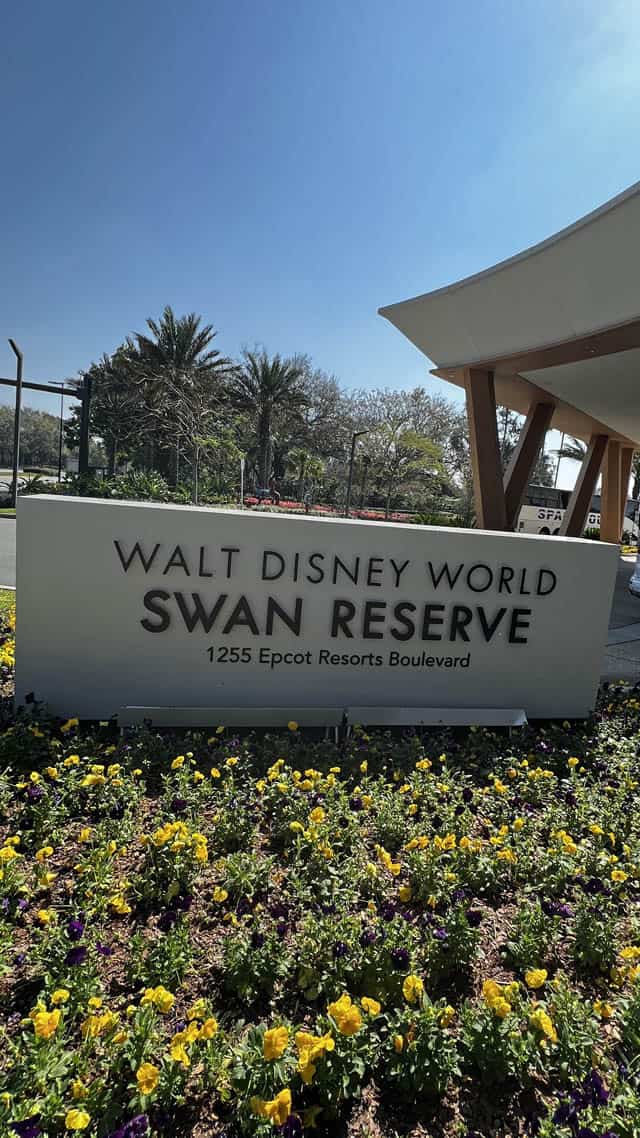 This 5-star hotel is nestled in the heart of Disney World and is a sister hotel to the Swan and Dolphin Resorts. All of these are owned by the Marriott and offer various discounts, such as a 30% discount on most stays for Annual Passholders. The Swan Reserve is the newest and nicest of the 3 Swan and Dolphin Resorts.
Lobby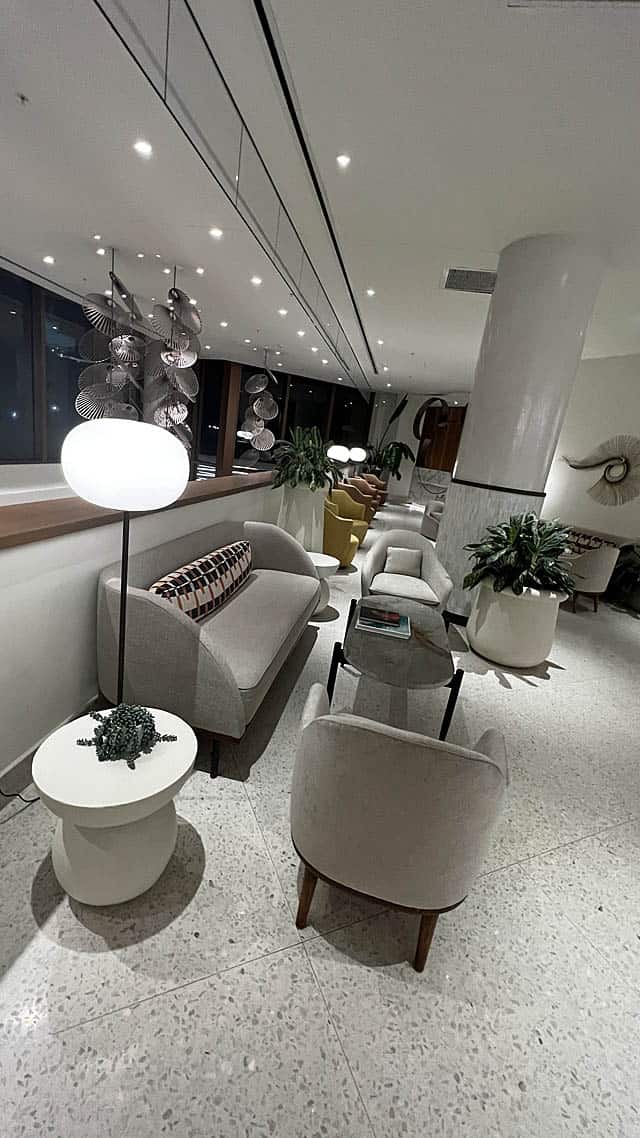 The lobby is located on the second floor of the resort. When you enter the resort, take the escalator to the lobby. One of my favorite things about this Swan Reserve Resort area is the abundance of comfortable and cozy seating here. In addition, decor is upscale and minimalist beauty that reminds me (Susan) of Disney's Bay Lake Tower.
Room Options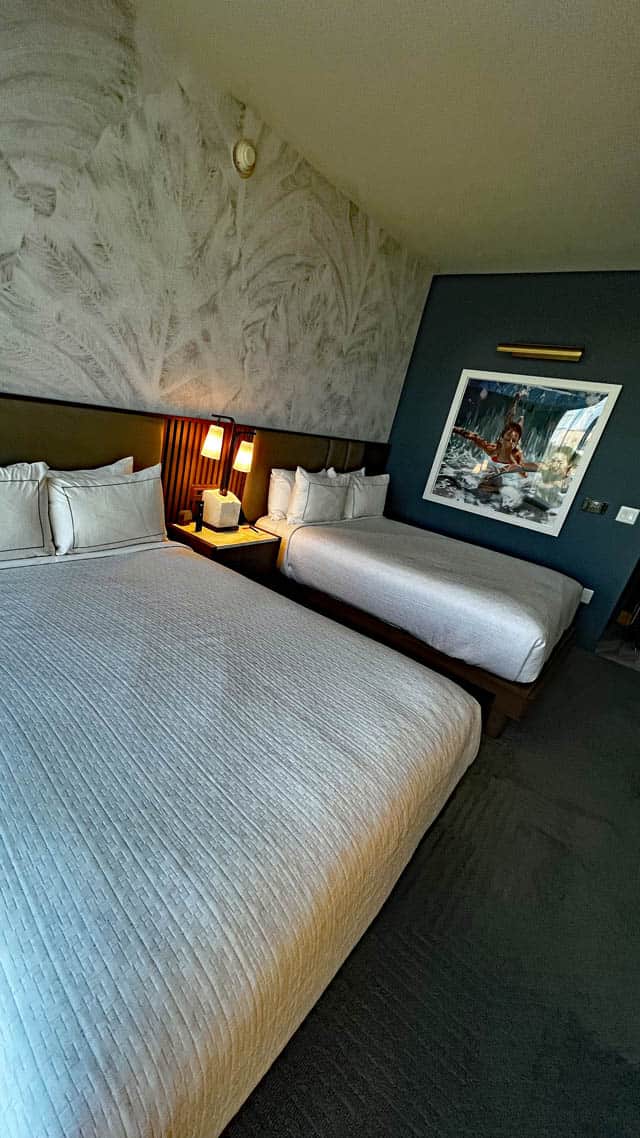 Rooms at the Swan Reserve are spacious, clean and elegantly decorated. However, if you're looking for Disney decor in your room, this isn't the place for you. They remind me of Bay Lake Tower at Disney's Contemporary Resort with simple minimalist upscale vibe.
You won't find Disney theming at the Swan and Dolphin Resort rooms.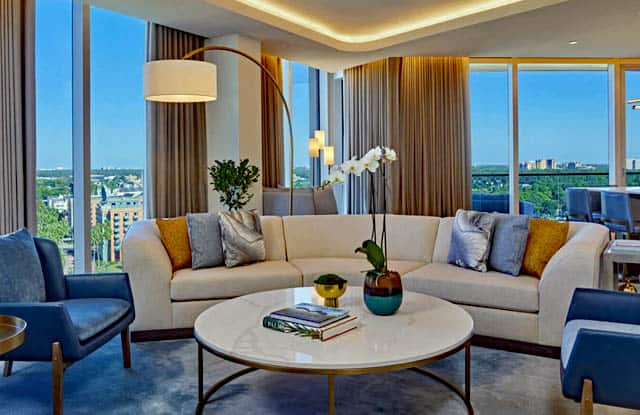 Like other Marriott resorts worldwide, you'll sleep peacefully in The Westin Heavenly Bed featuring a pillow-top mattress, white goose down comforter and overstuffed pillows. These beds are incredibly comfortable.
Get ready for a wonderful night's sleep with The Westin Heavenly Bed.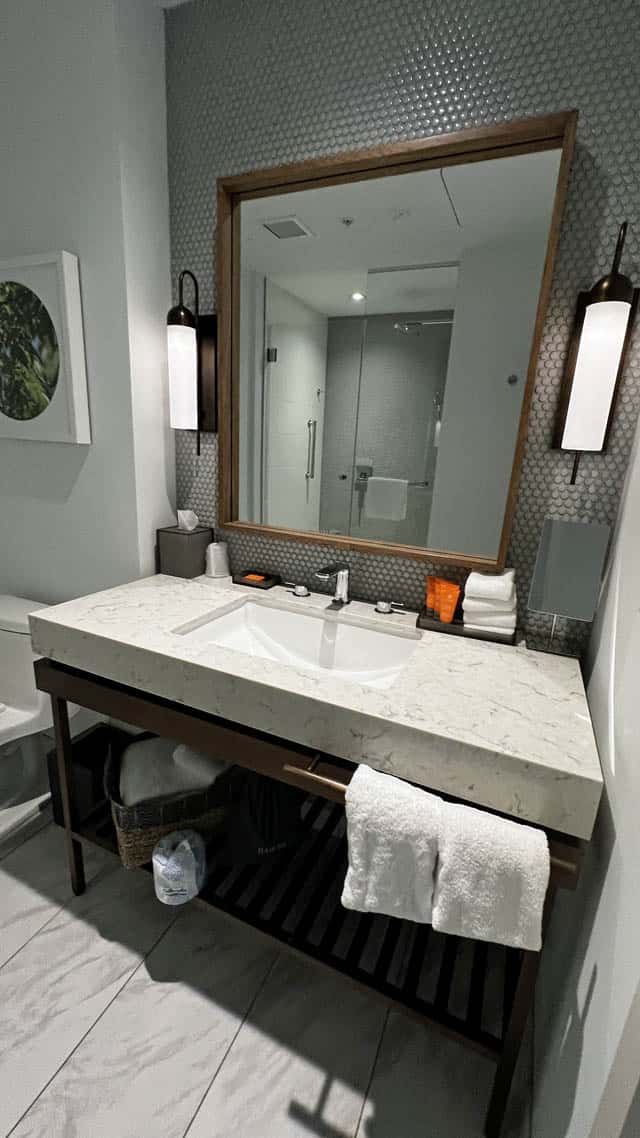 For your convenience, various room types are available here. First, choose a traditional room that hold up to 4 people and include either 2 queen beds or a king bed and sofa bed. Each of these rooms is 330 square feet.
If you need some extra space, consider renting one of the Swan Reserve suites. These range from the Junior Suite (425-490 square feet, sleep up to 4) to the lavish Presidental Suite (1,000 square feet). All suites include an extra seating area or areas.
Services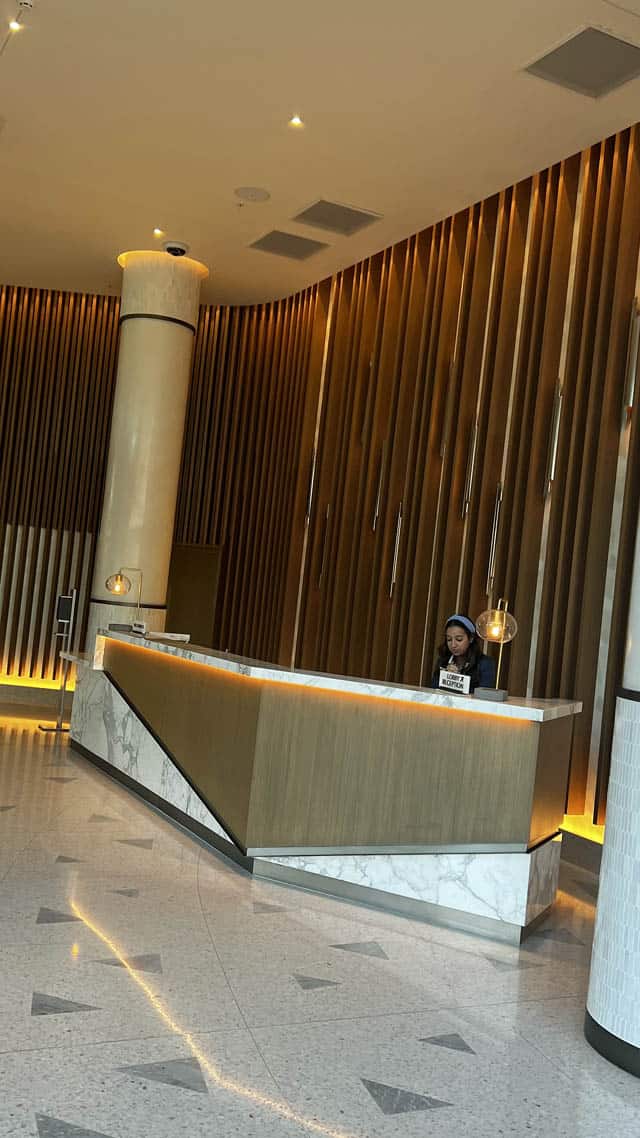 The check-in desk is located on the second-floor lobby next to the concierge desk. We had to come upstairs to see if our room was ready rather than checking on the first floor with our luggage. If it's not ready and you have luggage to store, you'll need to bring it back downstairs to bell services shown above.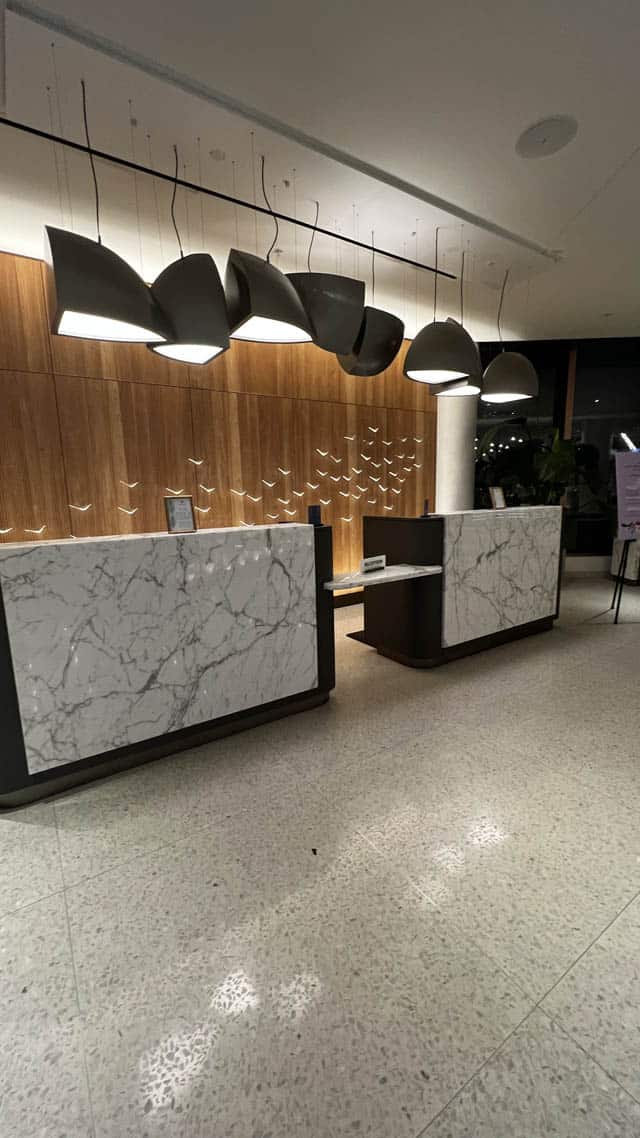 Look for the check-in area shown above after taking the escalator to the second floor. On your way, take in the wonderful scent (similar to Disney's Beach Club) and upscale theming. Elevators are also located on this floor.
The scent here reminded us of the wonderful Beach Club.
Location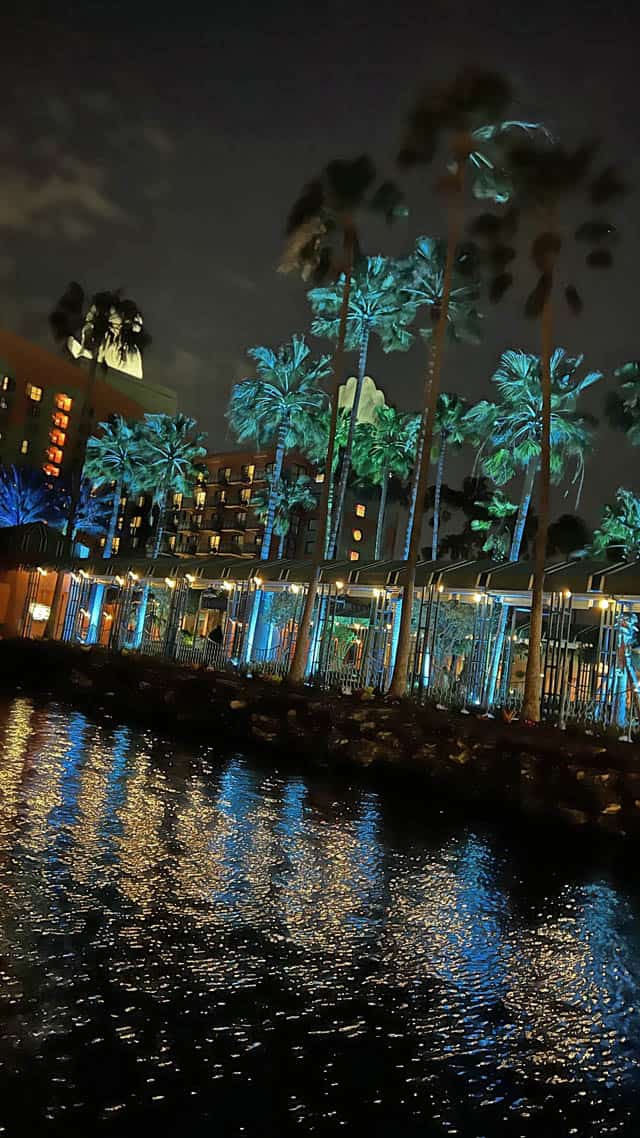 The location of the Swan Reserve is one of my favorite things about staying here! Along with Disney's Yacht & Beach Club and Disney's Boardwalk Resort, all of the Swan & Dolphin Resorts, including the Swan Reserve, are so close to EPCOT. And, Disney's Hollywood Studios is just a short walk or boat ride away!
One of the best things about staying at any of the Swan and Dolphin Resorts is how close they are to EPCOT and Hollywood Studios.
Landscaping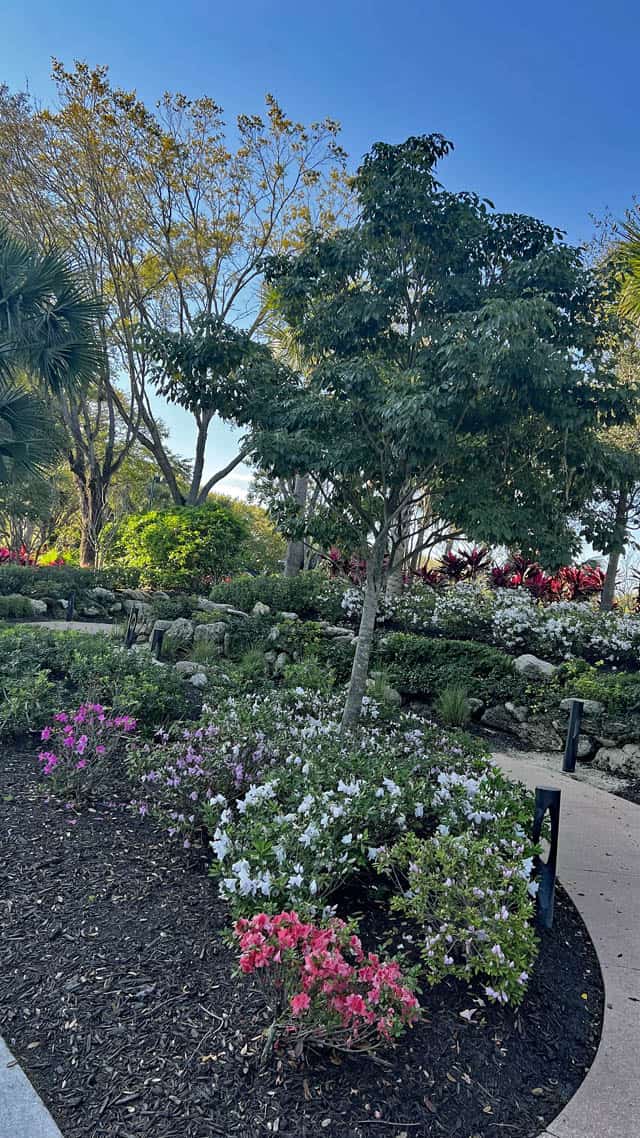 Everything on the Swan Reserve grounds are so beautifully landscaped. Here, you'll find an abundance of stunning blooms, tropical plants, trees and manicured lawns.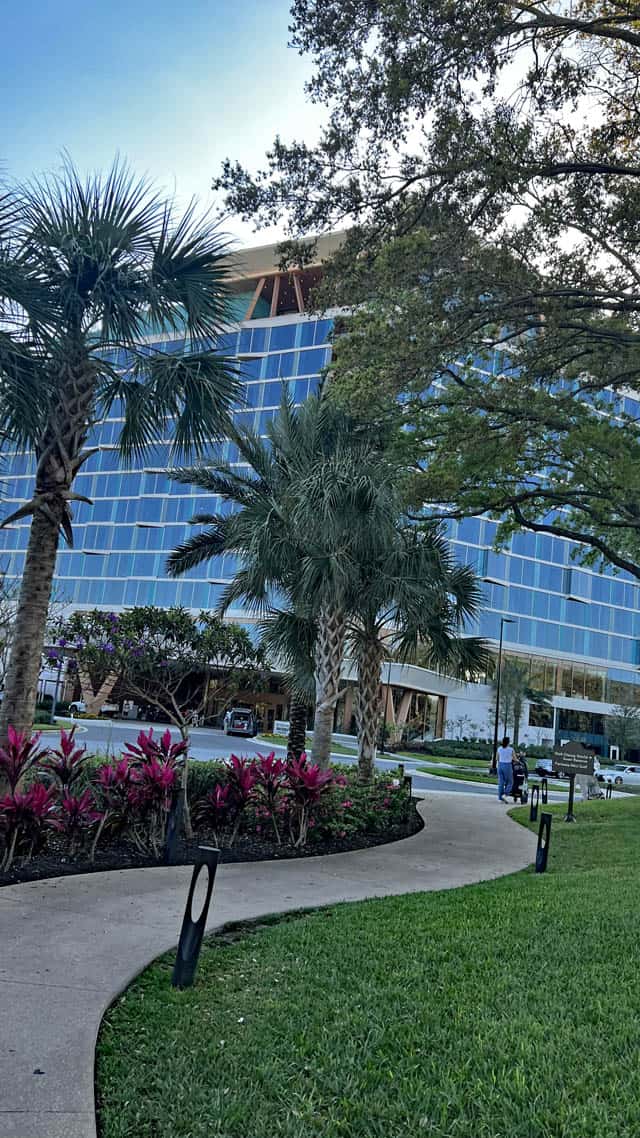 To get to the the Swan and Dolphin Resorts (and boats), you'll take the walkway shown above that continues the tropical landscape theming. Then, at dusk, this path provides ample sidewalk lighting.
Disney Benefits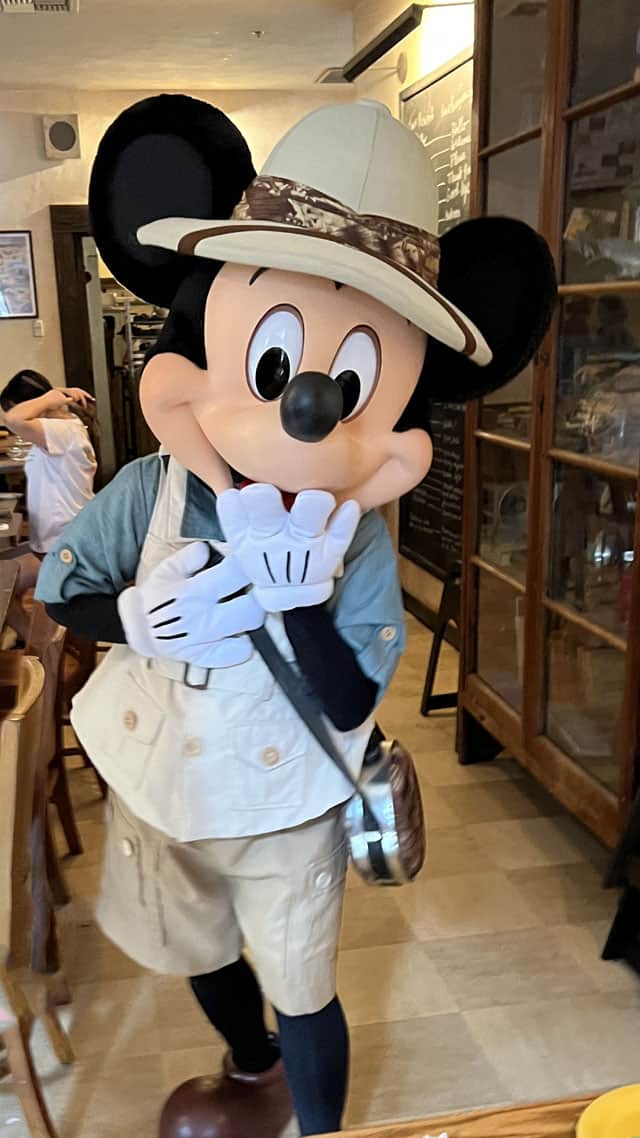 Another great thing about staying at any of the Swan and Dolphin Resorts are the added Disney perks. For example, you'll receive theme park early entry and extended evening theme park hours on select nights.
Like other Disney owned properties, Genie+ selections and Individual Lightning Lane Selections can be reserved at 7:00am daily. You can also link your reservation in My Disney Experience and make Dining reservations 60 days before your arrival date.
Sit back and enjoy the ride to each Disney theme park with complimentary theme park and Disney Springs transportation too. Some of the other Disney benefits include the following: advanced tee times, on-site Disney Planning Center, and free Disney World Theme Park parking for the length of your stay.
Staying here gives you the benefits of staying at a Disney Deluxe Resort.
However, while Disney Resorts provide parking at no additional charge, it will cost you at the Swan Reserve. Self-parking is $29 per day, plus tax, and Valet parking is $39 per day, plus tax. If you want to eat here, you'll also have to pay to park.
Transportation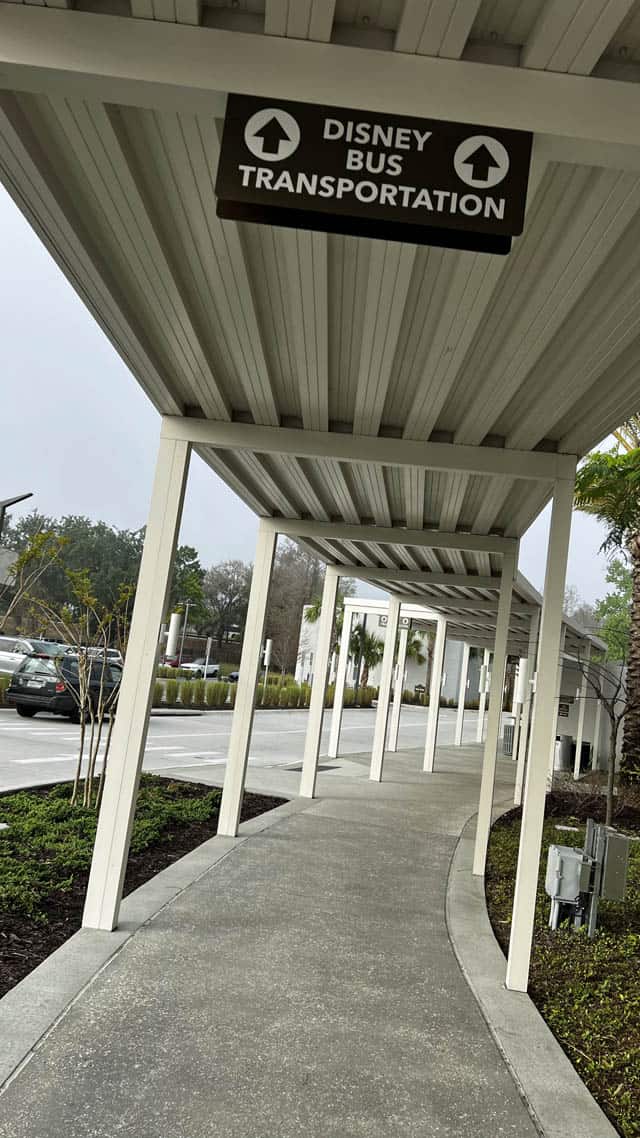 To catch the bus to theme parks, water parks, and Disney Springs, take a right when you come out of the entrance. Follow the covered area shown above to find them. The bus waiting area is also covered.
Take a complimentary water taxi from the boat dock to EPCOT or Disney's Hollywood Studios or take a leisurely stroll. Boats depart every 15-20 minutes.
Boats depart every 15-20 minutes to EPCOT and Disney's Hollywood Studios.
Complimentary transportation is provided to all Walt Disney World parks and attractions, including Disney Springs. Buses depart every 20-30 minutes to Disney's Animal Kingdom, Magic Kingdom and Disney Springs.
Note that because the Swan Reserve is a Marriot hotel and not Disney owned, so there's an extra step for Disney's Magic Kingdom. Take a bus to the Transportation and Ticket Center, then take the monorail or Ferry Boat to Disney's Magic Kingdom.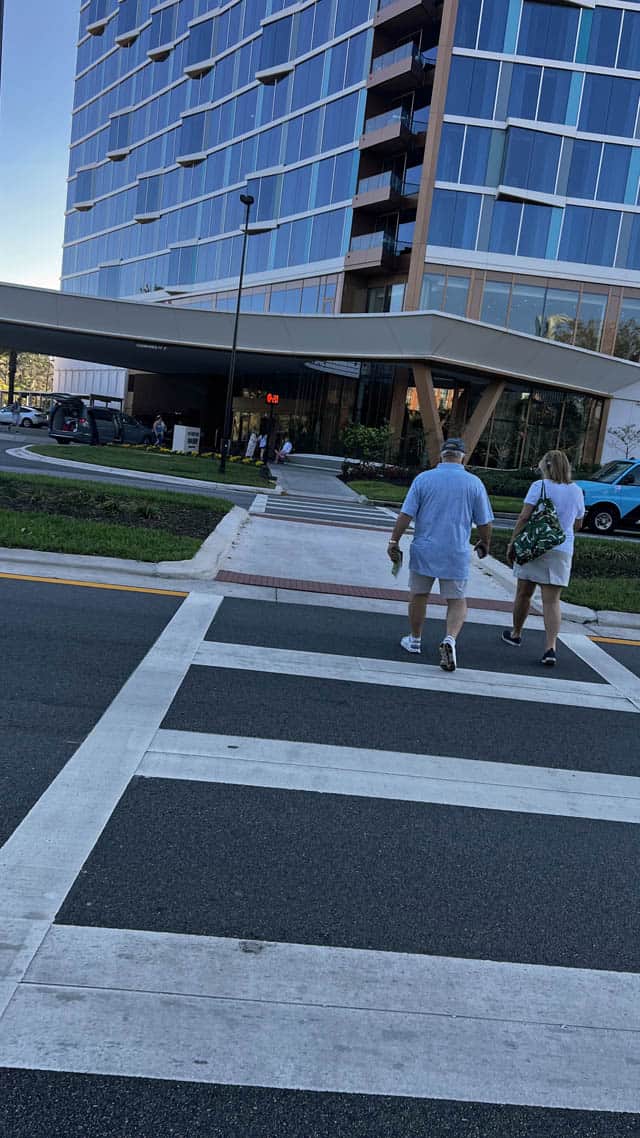 Cross the street using the walkway shown above to get to the Dolphin and Swan Resorts. It's a 5-minute walk to catch the boats.
Dining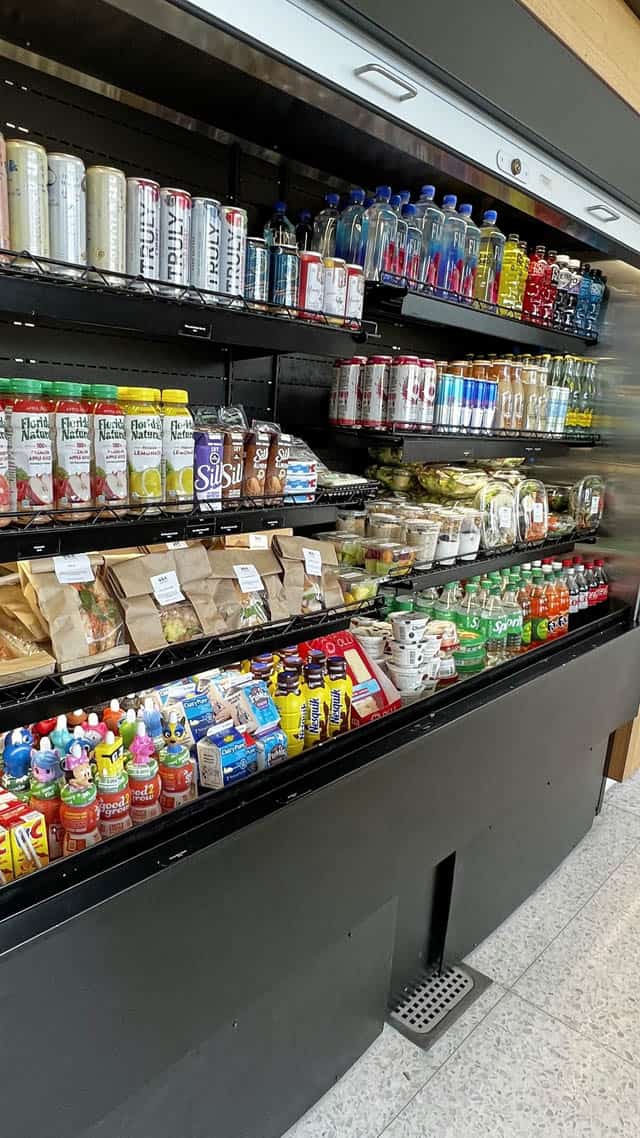 Surprisingly, this resort doesn't have a quick service location. Instead, the Grounds Coffee shop offers a variety of grab and go foods. The sandwiches, salads and other food items were fresh and tasty, but it would be nice to have a quick service option.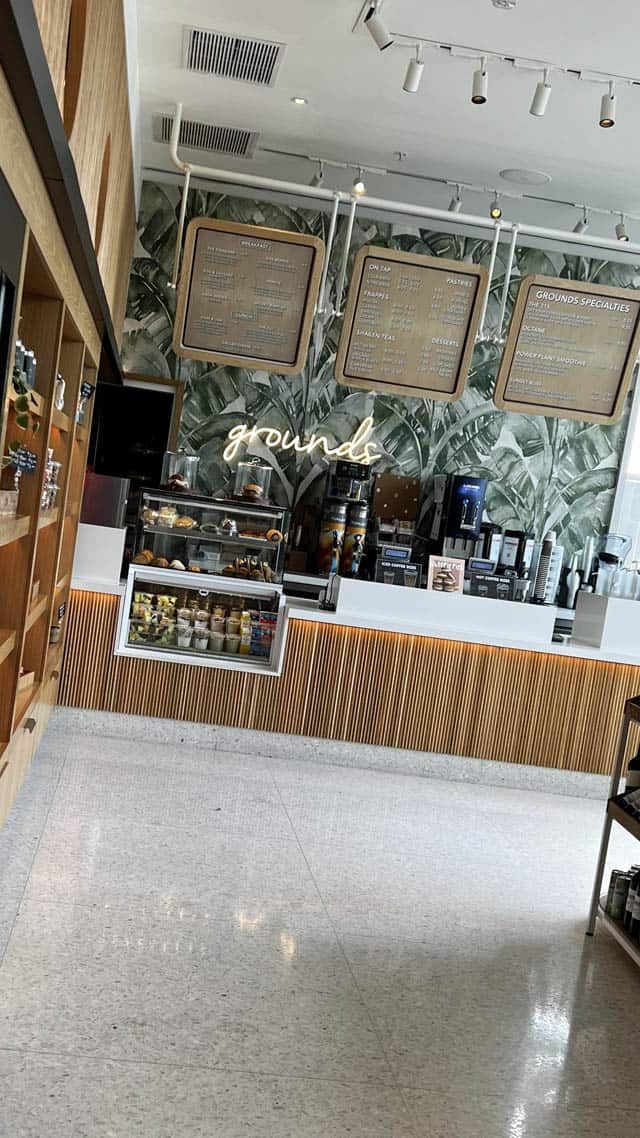 Along with grab and go food and drinks, The Grounds serves pastries and specialty coffee and tea. All of these restaurants are conveniently located on the second floor.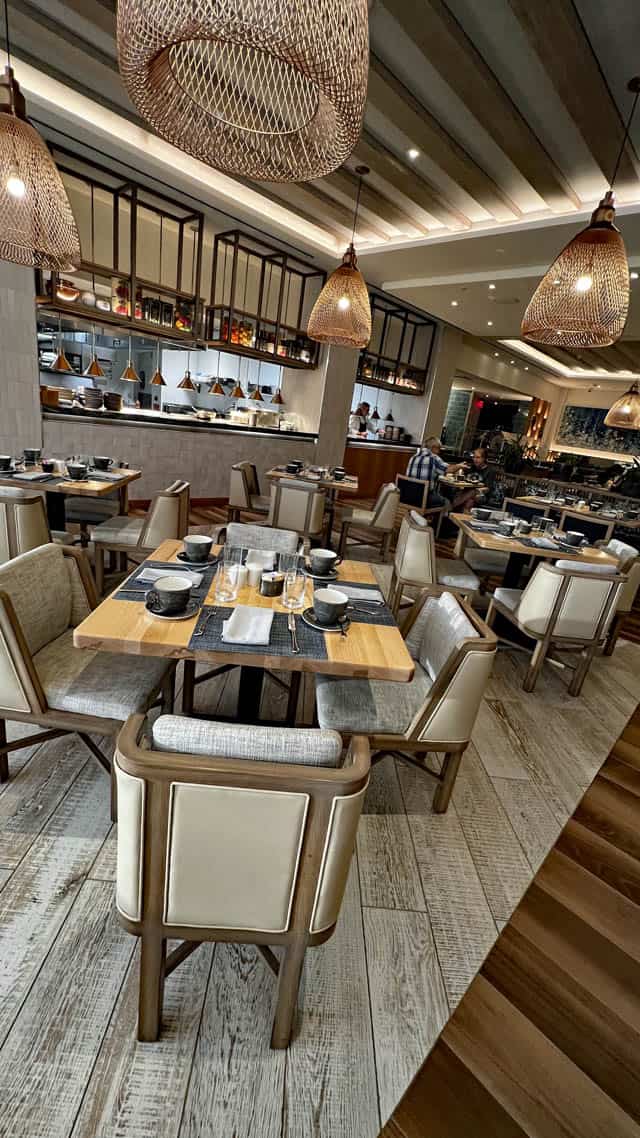 With a name meaning "to love", enjoy this casual upscale table service location inspired by the tastes and cultures of the Mediterranean region. The menu focuses on highlighting fresh premium ingredients popular in the area, including a wide variety of seafood, citrus, olive oils, pasta and pitas.
Amare features an extensive Mediterranean-based wine list featuring several specialized wine flights with selections from across the region. Guests can dine here for breakfast, lunch and dinner.
Note that the restaurant closes for 2:00pm and reopens at 5:00pm for dinner. Reservations are only required for dinner.
Lounges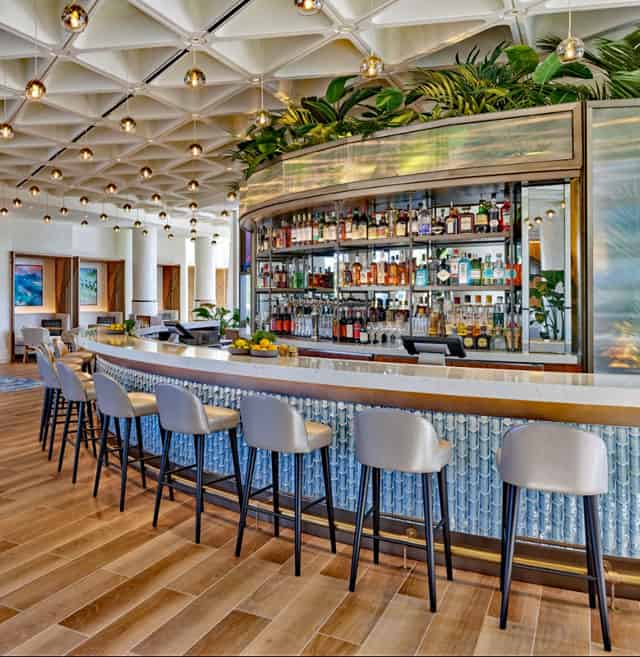 If you're looking for a place to unwind, try the Sips Lounge. This is a great place to relax, watch the game, and grab a drink. Located across from the check-in desk, Sips Lounge is a large area with lots of seating.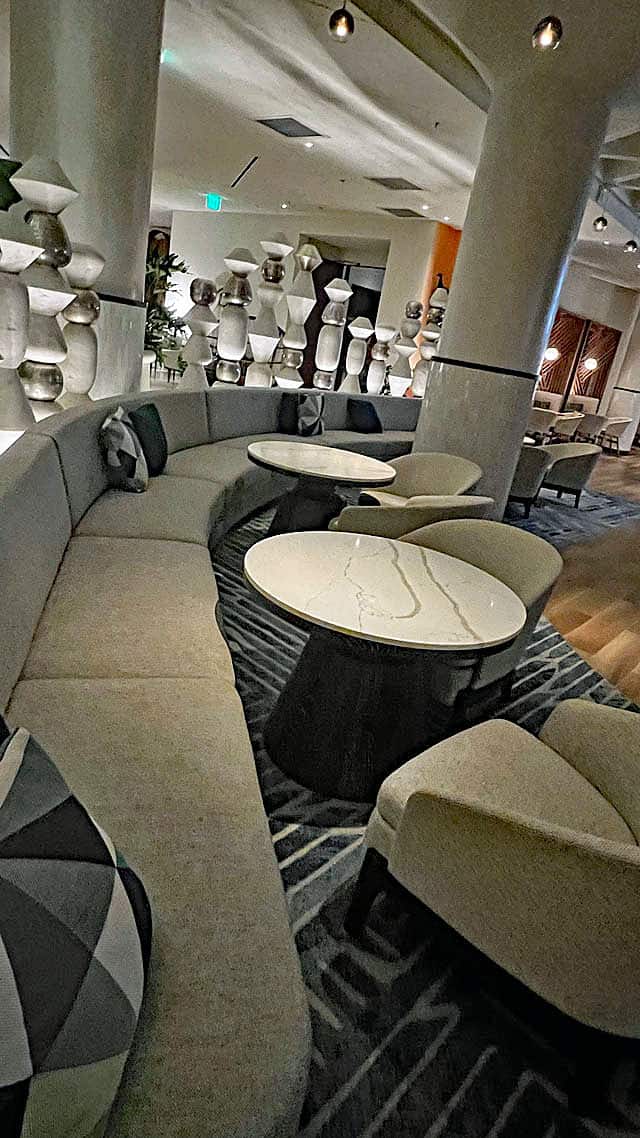 You can also order food and snacks here. It opens at 3:00pm and stays open until 12:00am.Take a look at seating at the Sip Lounge above.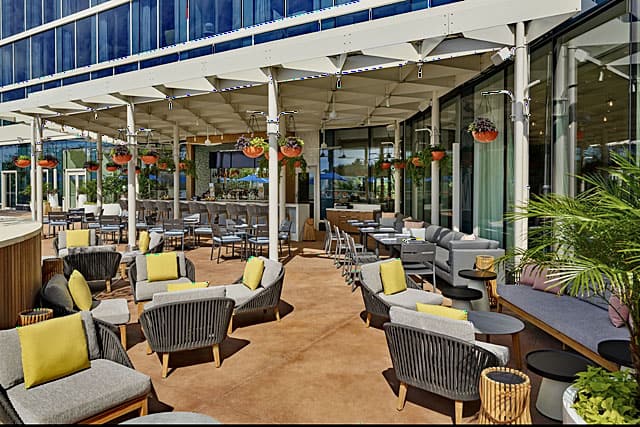 If you prefer an outdoor location, check out the Tangerine Lounge. It features signature drinks, flatbreads, salads, burgers, and sandwiches in a poolside setting.
Activities
Aside from the Disney World theme parks, Disney Springs, and golf courses, the Swan and Dolphin Resorts offer endless choices of recreational activities.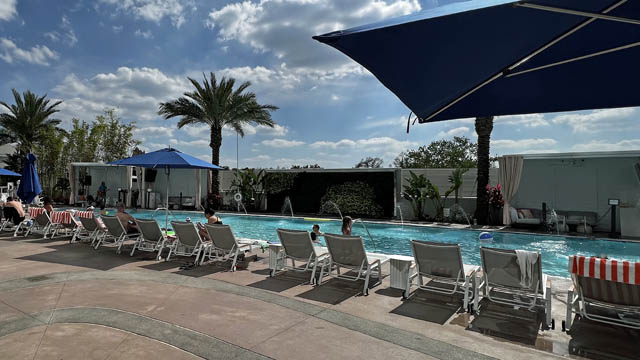 On the second floor of the Swan Reserve, you'll find a large swimming pool with cabanas available and live music throughout the day. When we (Susan and other KtP writers) stayed here, there was a guitarist singing and playing popular tunes. As a guest here, you also receive access to the various pools at the Swan and Dolphin Resort.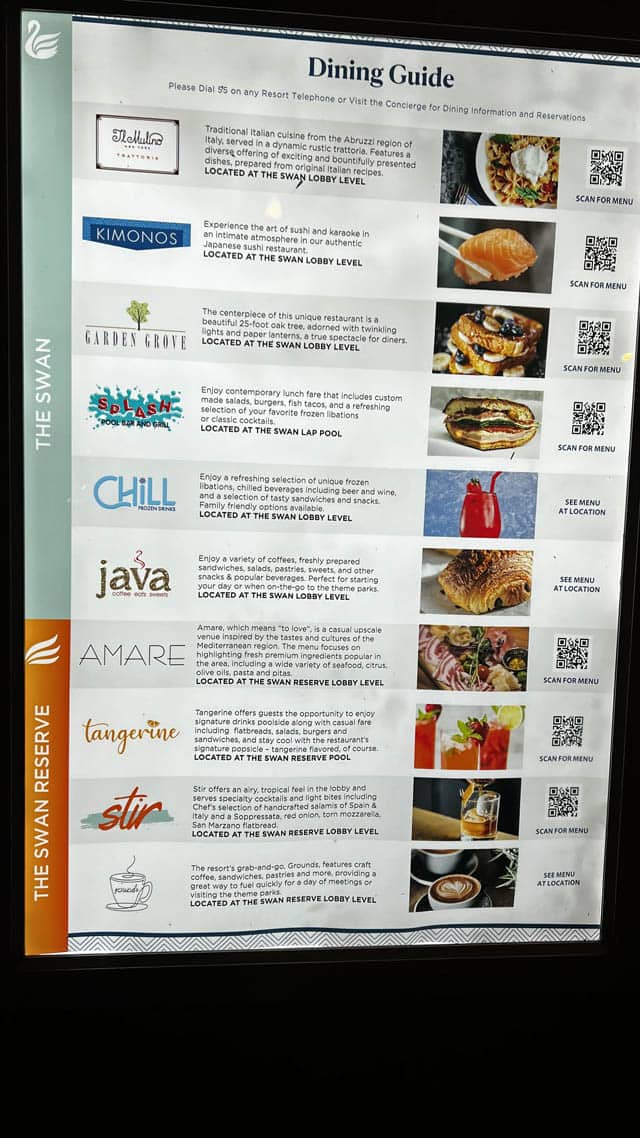 Also, you can rent paddle boats on Crescent Lake, easily visit one of the three sister resorts 22 restaurants and lounges. Choose from sophisticated fine dining like Shula's or grab a sandwich and milkshake at The Fountain.
There are 22 restaurants and lounges available at the Swan and Dolphin Resorts!
Amenities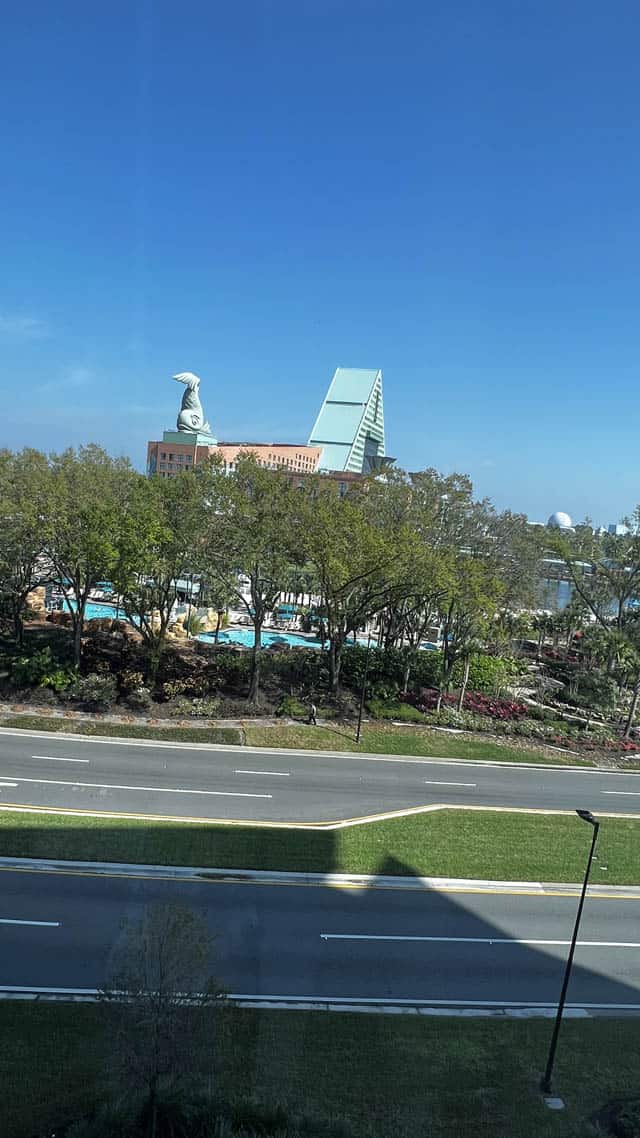 Our room view is shown above. Hopefully, this helps you see how close guests here are close to the action!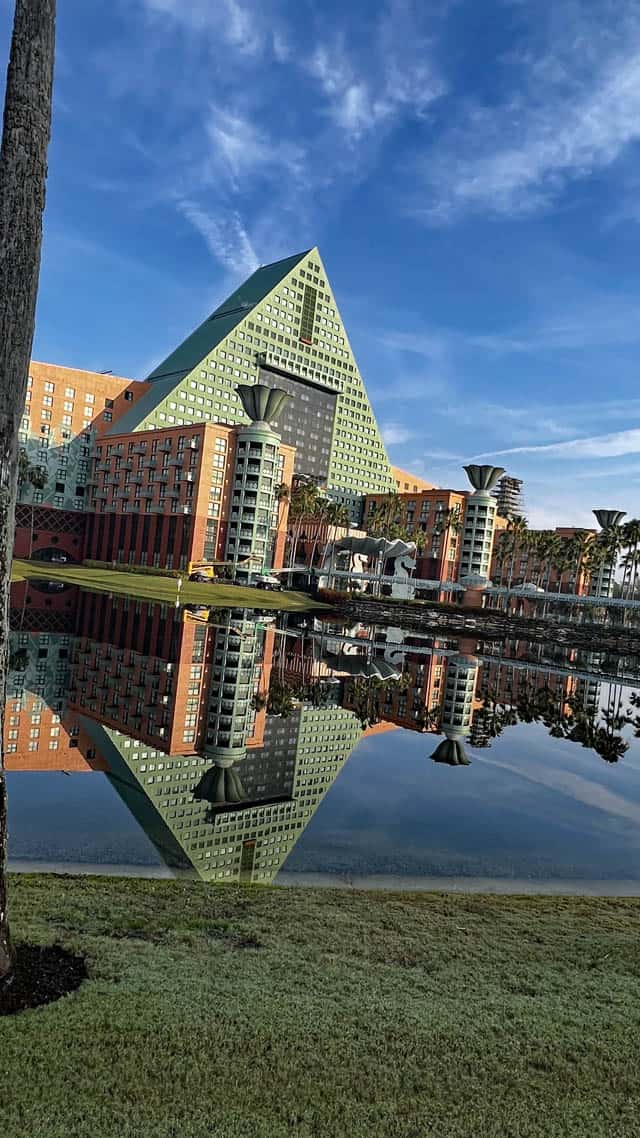 It's a beautiful walk to the other Swan and Dolphin Resorts. Take a stroll to take in all of the options available to all guests. Amenities at the Swan Reserve include in-room celebrations, Minnie Van service, an ATM, laundry and dry cleaning services, mail services, and resort concierge.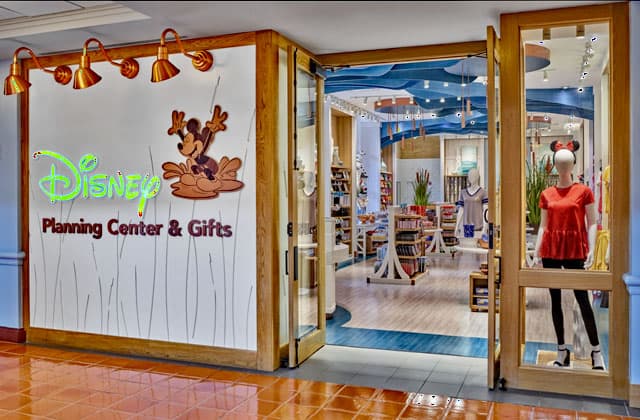 Guests staying here also have access to the amazing Mandara Spa located inside the Dolphin Resort. And don't forget to visit the Disney Planning Center and Gift Shop.
Final Thoughts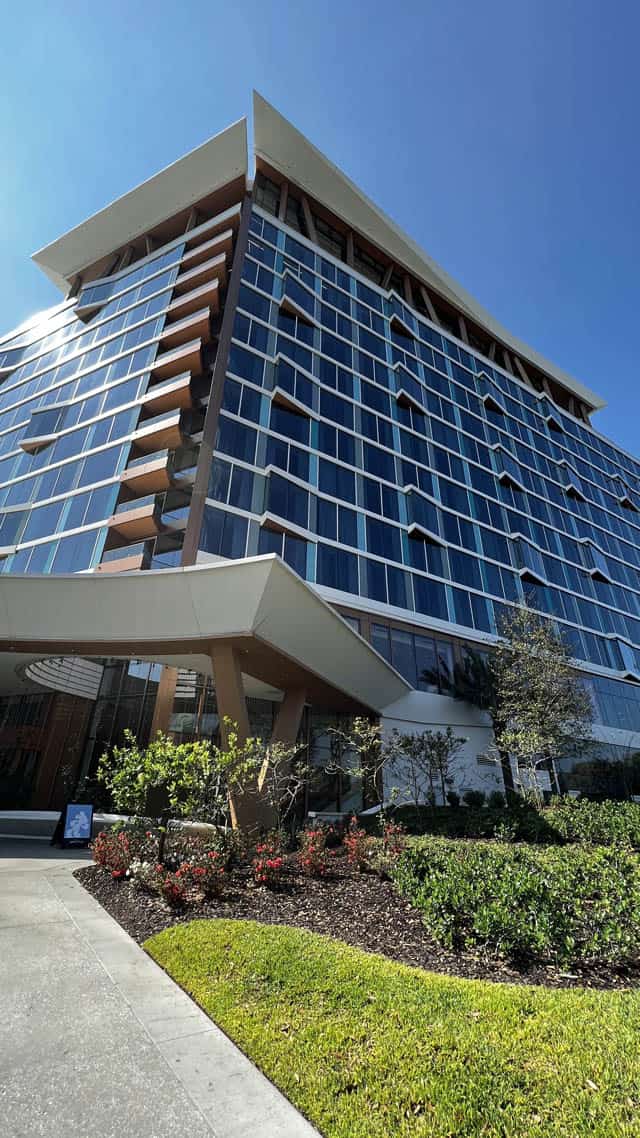 Would I stay here again? Yes, as long as the price fit my budget. While the Swan Reserve is higher priced than the other Swan and Dolphin Resorts, everything is new and upscale. We really enjoyed our stay. All of the Swan and Dolphin Resorts provide complimentary bottled waters and the larger rooms than most Disney rooms.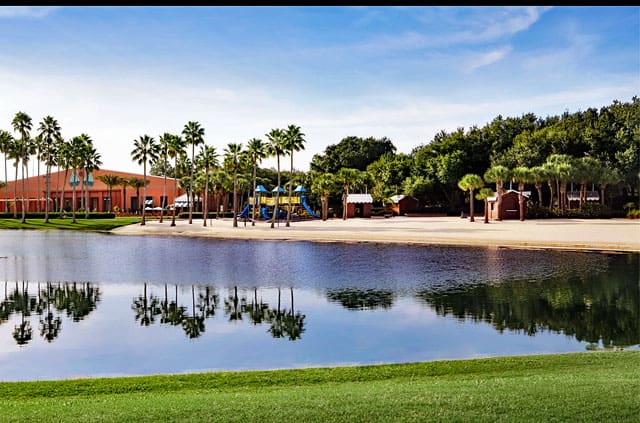 However, there are a few downsides. For instance, when you're excited to get to Disney's Magic Kingdom, the extra step of going through the Transportation and Ticket Center can be frustrating. You could walk to a nearby onsite resort and use their bus transportation. It's also a little further than the other Swan and Dolphin Resorts.
Overall, we loved it here and especially enjoyed staying so close to EPCOT for a lower price than that of Disney owned resorts on Crescent Lake.
Have you stayed at the Swan Reserve, Dolphin, or Swan? If so, would you stay there again? Please share your thoughts in the comments below and share this post with a friend.