There is a fun ice cream and sandwich shop near EPCOT that doesn't require a reservation! Check out all the details here.
Location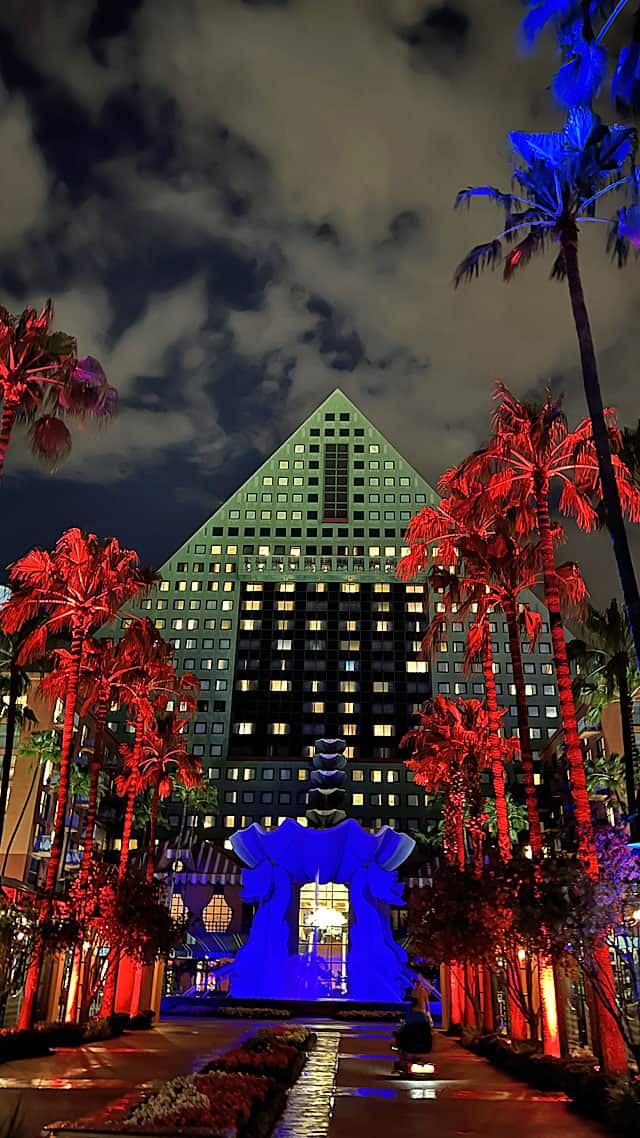 To eat at this fun location, go to the Disney World's Dolphin Resort located on Crescent Lake with the other Disney EPCOT resort. Although the Dolphin isn't owned by Disney, it gives guests the same perks as staying in a Disney resort.
Once you arrive to the Dolphin Resort, just walk in the main doors and The Fountain is located on the first floor to your left. If you arrive on the second floor, take the central elevator to the first floor.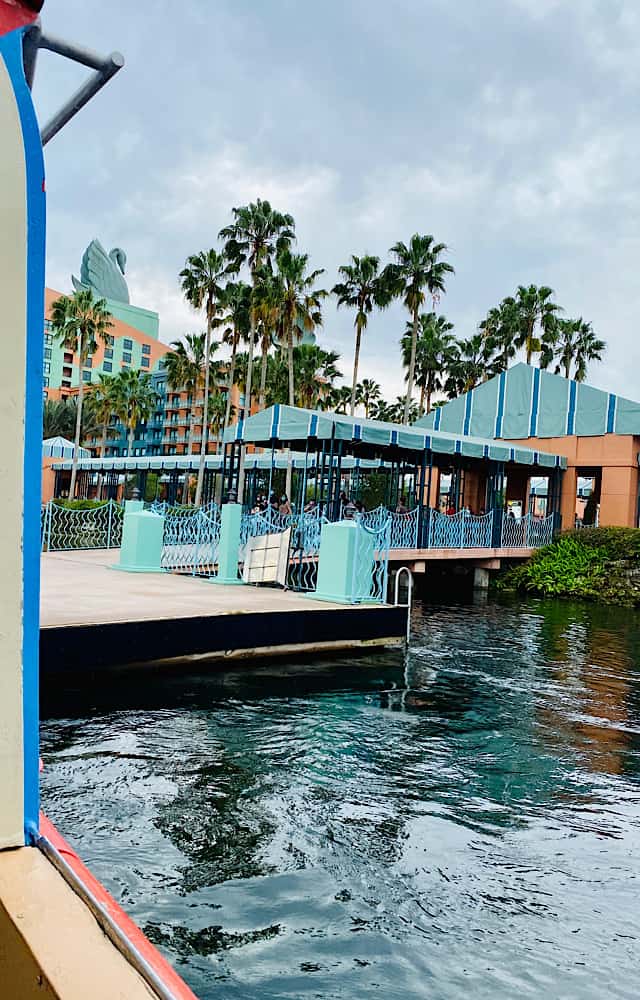 However, unlike Disney owned resorts where guests can park for free when dining there, at the Dolphin each car is charged to park. There isn't a security guard at the entrance though. To avoid this, just take the Friendship boat or walk from Disney's Hollywood Studios or EPCOT. I (Susan) love all of the boat rides at Disney!
Menu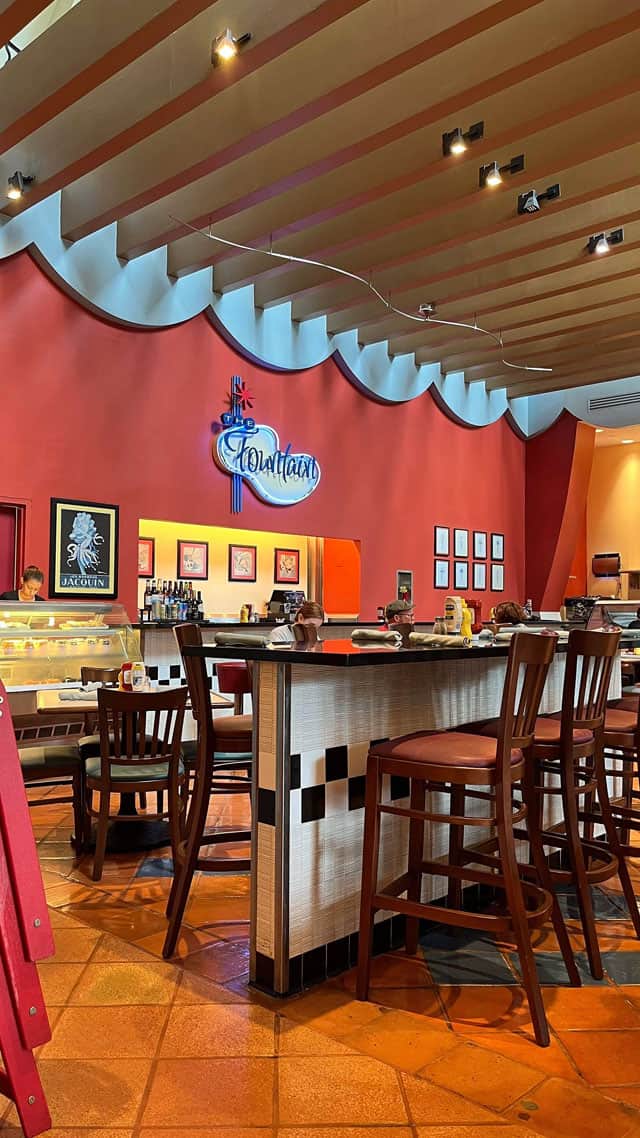 This updated classic American diner serves salads, burgers and sandwiches for lunch and dinner. After the main course, treat yourself to homemade ice cream and baked goods.
Soups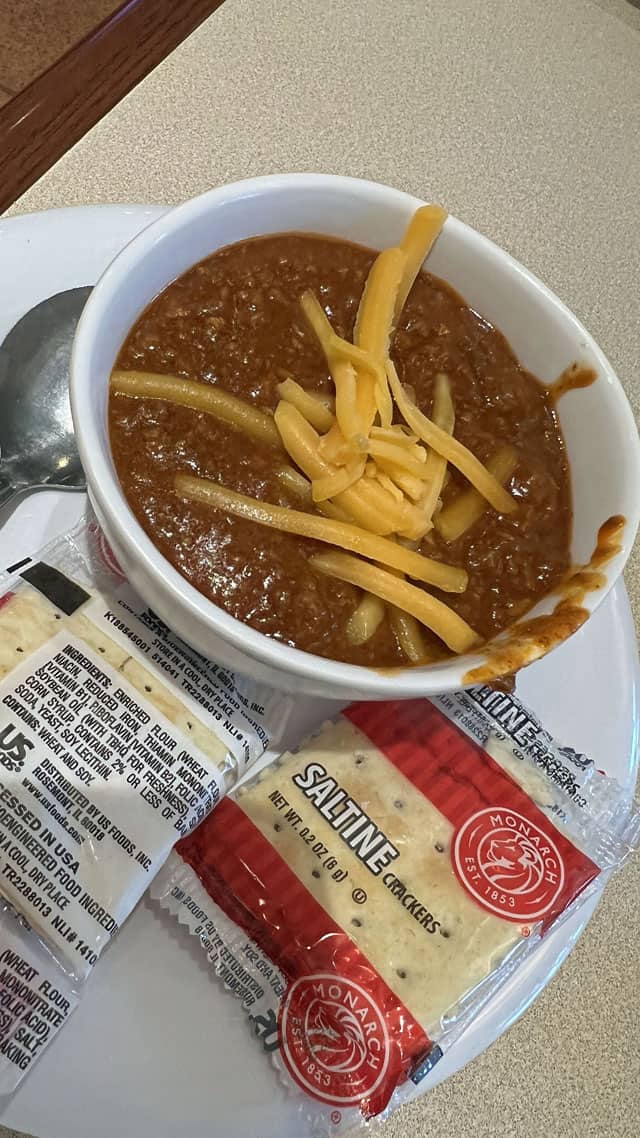 Looking for something to warm you up? Try a cup or bowl of either chicken noodle soup or chili with cheese. I ordered the chili and it had the consistency and taste of hot dog chili. There were no beans in it, just very small pieces of ground beef. It wasn't nearly as good as Walt's chili.
Salads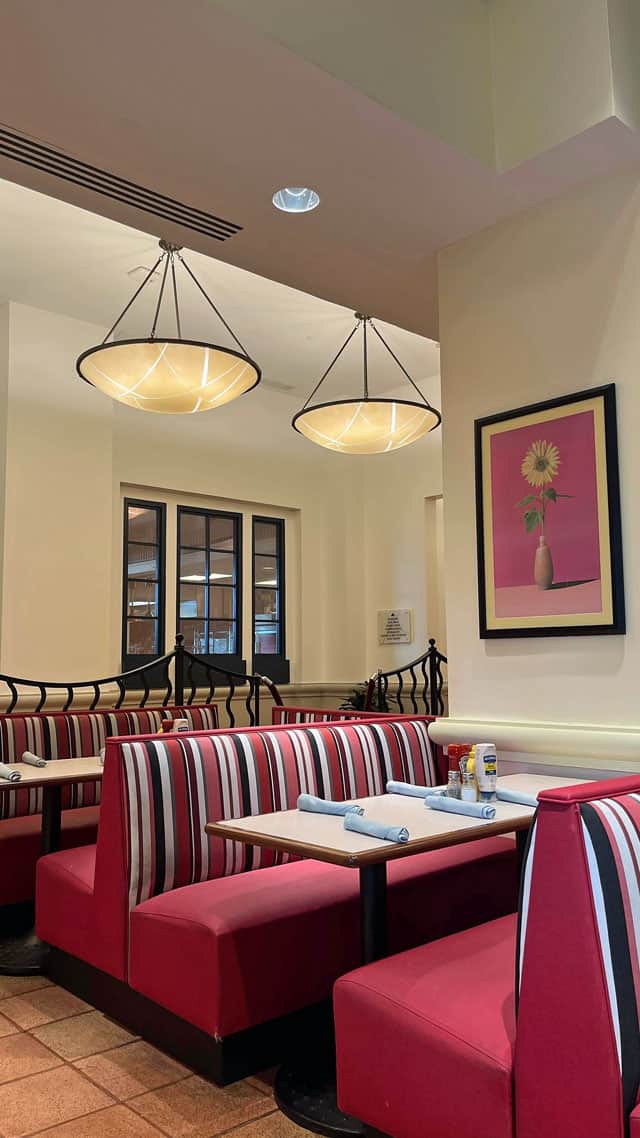 If you love chicken and salads, The Fountain has you offers a variety of options.
Chicken Caesar Salad – romaine lettuce, grilled chicken, parmigiano-reggiano cheese, croutons and Caesar Dressing
Spicy Buffalo Chicken Salad – romaine Lettuce, Roma Tomato, Shredded Cheddar, English Cucumber and Buttermilk Ranch Dressing
Asian Salmon Salad – sesame-soy seared salmon, organic mixed greens, shredded carrots, Florida orange, English cucumber, sugar snap peas, guacamole, rice noodles and Sesame-Citrus Vinaigrette
Appetizers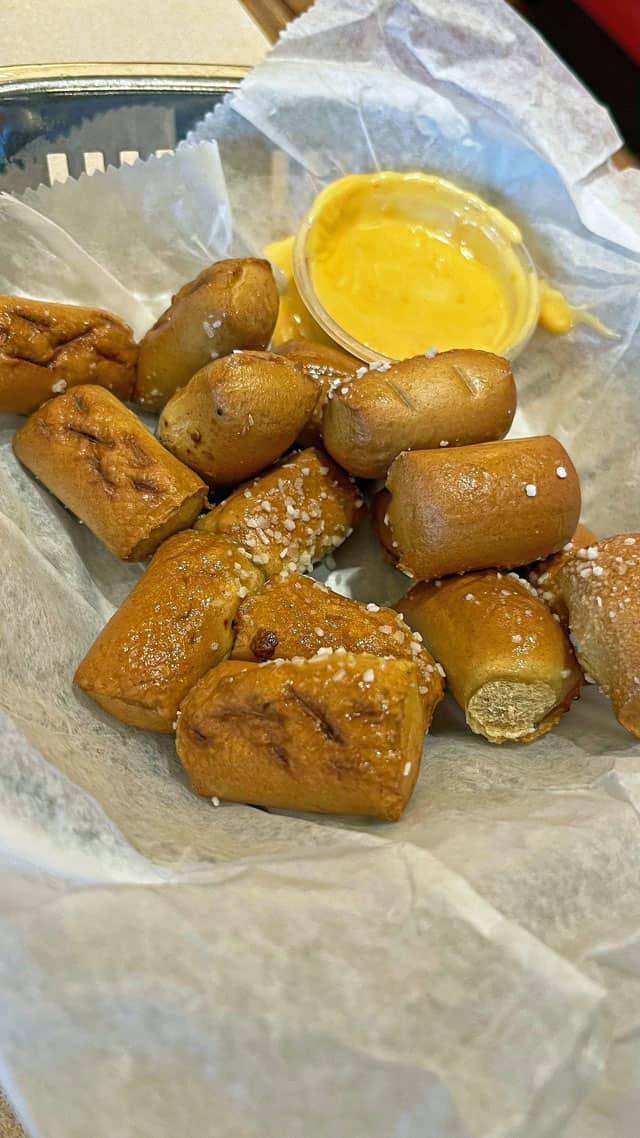 If you're in the mood for a snack to save room for ice cream, or just want to add french fries or other small plates, check out the choices below:
Tortilla Chips & Homemade Salsa
Soft Pretzel Bites served with Cheese Sauce
American Fries
Sweet Potato Fries
Chili Cheese Fries
Cheese Fries
Onion Rings served with Remoulade Sauce
½ Rings, ½ Fries
Burgers and Sandwiches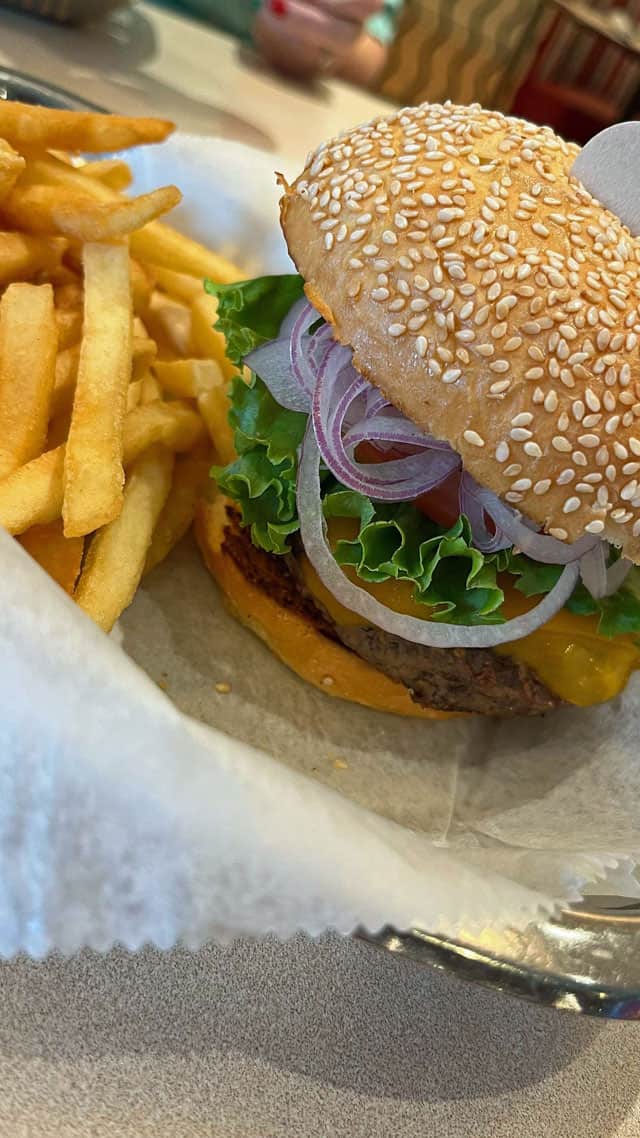 Like classic ice-cream diners the Fountain serves a variety of sandwiches. Take a look at the All-American classics along with a few twists on them:
The Original Burger – Angus Burger, choice of Cheese, Lettuce, Roma Tomato and Onion served on a Sesame Brioche Bun
Fountain Signature Burger – Two 4 oz. Angus Burgers, Smoked Bacon, Avocado-Bacon Spread, Caramelized Onion, Roma Tomato and American Cheese served on a Sesame Brioche Bun
Turkey Burger – Hand-formed Turkey Burger, Nashville Barbecue Mustard, Avocado Spread, Lettuce, Roma Tomato, Red Onion and Pepper Jack Cheese served on a Sesame Brioche Bun
Veggie Patty Melt – Grilled "Beyond Burger" Patty, Handcrafted 1000 Island Dressing, American Cheese, Caramelized Onion, Avocado Aioli, Lettuce and Roma Tomato served on "San Francisco" Sourdough
Grilled Chicken BLT – Seared Marinated Chicken Breast, Hellman's Mayo, Smoked Bacon, Crisp Iceberg Lettuce and Roma Tomato served on a Ciabatta Bun
Low-n-Slow Brisket Sandwich – House-smoked Angus Beef Brisket, Vermont White Cheddar Cheese Sauce, Charred Tomato Barbecue, Wickles Pickles, Sautéed Onions and Mushrooms served on a Garlic Toasted Amoroso Roll
Classic Hot Dog – Vienna All-Beef Hot Dog, choice of Toppings served on a Potato Bun
Buffalo Chicken Grilled Cheese – Braised Buffalo Chicken, Colby Cheese and Blue Cheese Crumbles served on Toasted French Country Bread
Desserts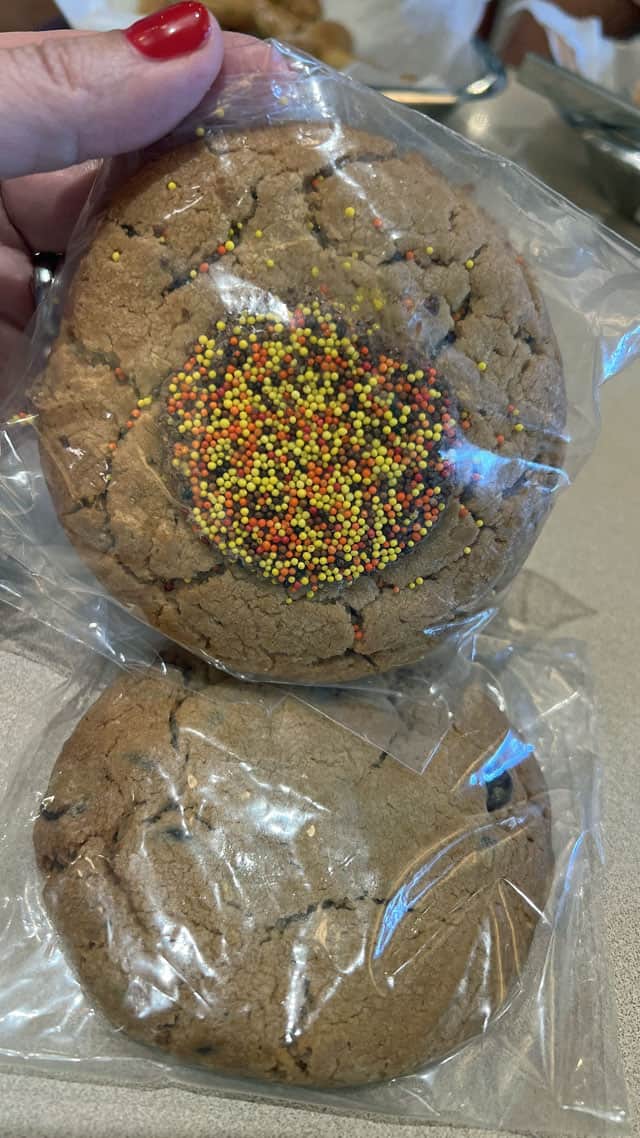 The fountain offers shakes, malts, and ice cream treats. Not only that, but The Fountain also serves fresh baked cookies, cakes, and brownies. Yum! If you're like me (Susan), you may just want to come sit at the bar area and enjoy dessert.
Next to the table service, there's a walk-up window where you can also order a variety of shakes and ice cream treats to go. This is super convenient for hotel guests after a busy day at the parks.
My husband and I did just that! We ordered cookies and cream milkshakes to take to our room. These shakes are as good as those served at Disney's Beaches & Cream restaurant. I would definitely order them again.
Children's Menu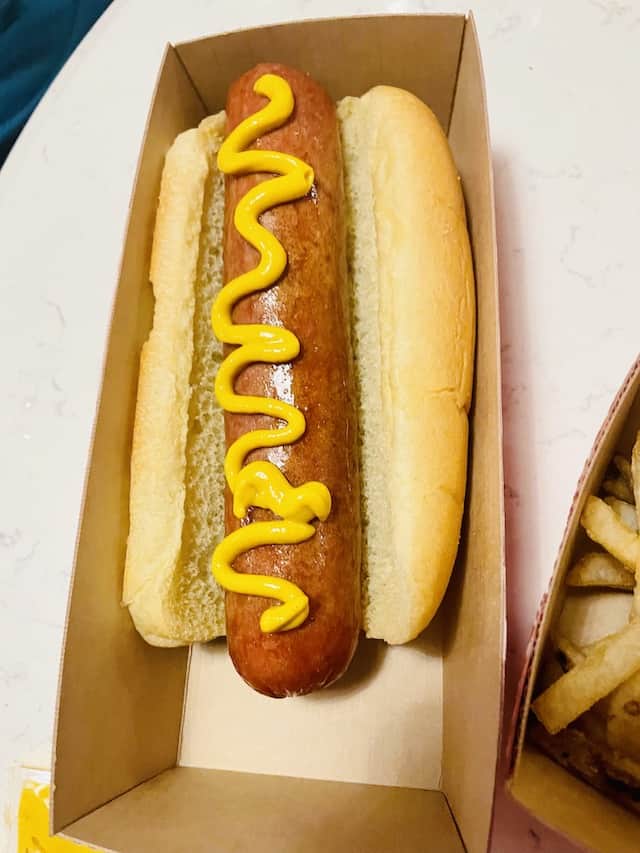 Kids of all ages can choose from traditional peanut butter and jelly sandwiches, spaghetti, chicken nuggets, and grilled cheese. Or, enjoy a hamburger, hot dog, or classic macaroni and cheese. If you want to save room for dessert but want protein, kids meals may fit the bill for adults, too.
What we ordered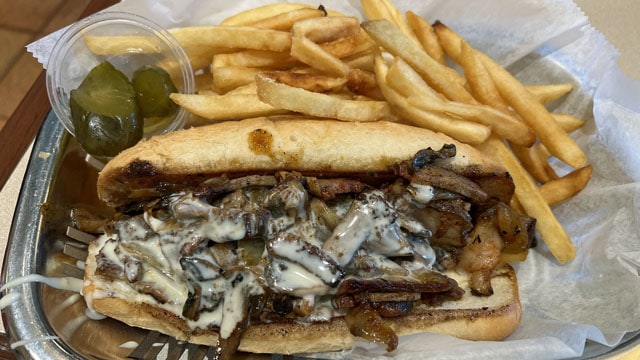 Let's start with appetizers. First, we ordered the chili with cheese. Although it would have been okay served on a hot dog or french fries, it was just okay on its own. We also ordered the soft pretzel bites with cheese sauce. While the pretzels were fresh and soft, they weren't anything special.
For entrees, we ordered the cheeseburger and the brisket sandwich. My friend and co-writer, Maggie, really enjoyed her hamburger and fries. She shared that it was cooked just right and enjoyed the sesame seed bun. Note that Beaches & Cream serves burgers on a brioche bun instead.
The brisket sandwich was a generous portion. I (Susan) wanted to compare it with Beaches & Cream's french dip sandwich. Both sandwiches have very tender meat and cheese, along with a soft, delicious bun. However, the french dip is served with au jus sauce while the brisket sandwich has mushrooms and onions along with a charred tomato barbecue sauce.
I preferred the Fountain's sandwich over the french dip. However, the barbecue sauce gave it a slightly sweet flavor. If you don't care for that, ask for it without the sauce.
The french fries were extra crispy which Maggie enjoyed. However, I prefer mine with a slight crisp on the outside and a soft potato center. I thought they were too crunchy.
Finally, we were excited to try dessert and had our heart set on milkshakes. However, the ice cream machine was broken when we visited, so we tried the chocolate chip and peanut butter cookies. Both of these were soft and delicious.
Service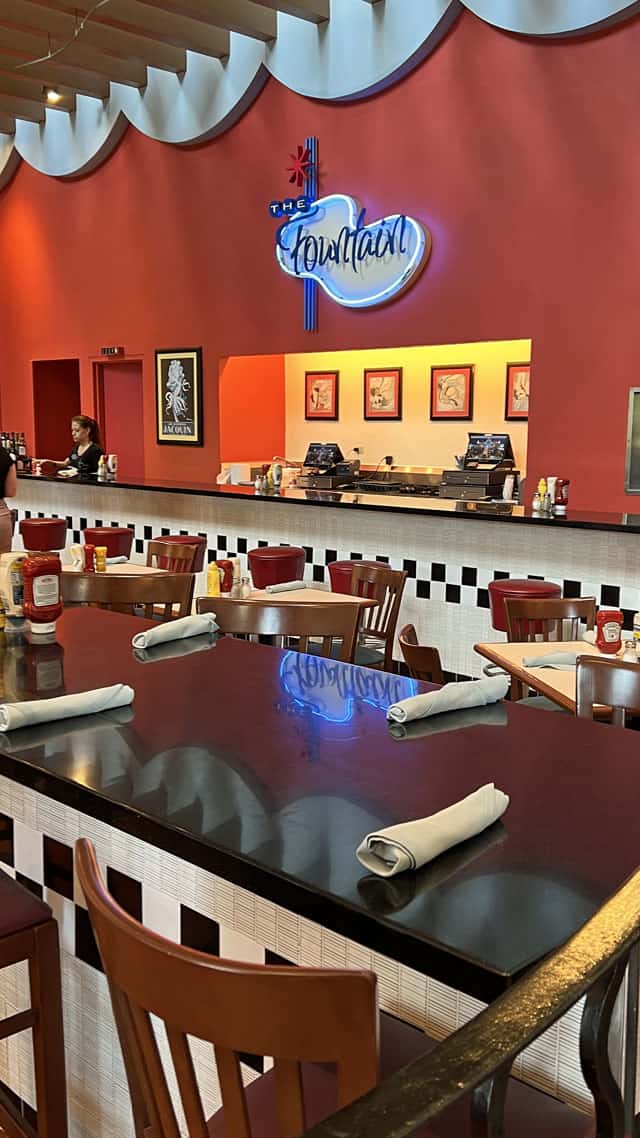 We found service to be mixed. The manager was top notch checking on us several times. However, when our entrees arrived, we didn't have our appetizers yet. When I mentioned this to the server, he brought them out after the meals. Normally, if this happened, I would say I didn't want them anymore, but this time we wanted to taste them for the review.
When we asked the server what kind of cookies they served, we decided on a chocolate chip cookie. Then, he said, "Well you're getting both!" and brought us a chocolate chip and peanut butter cookie. He must have felt bad about the appetizers because he gave them to us on the house which was really nice.
Final Thoughts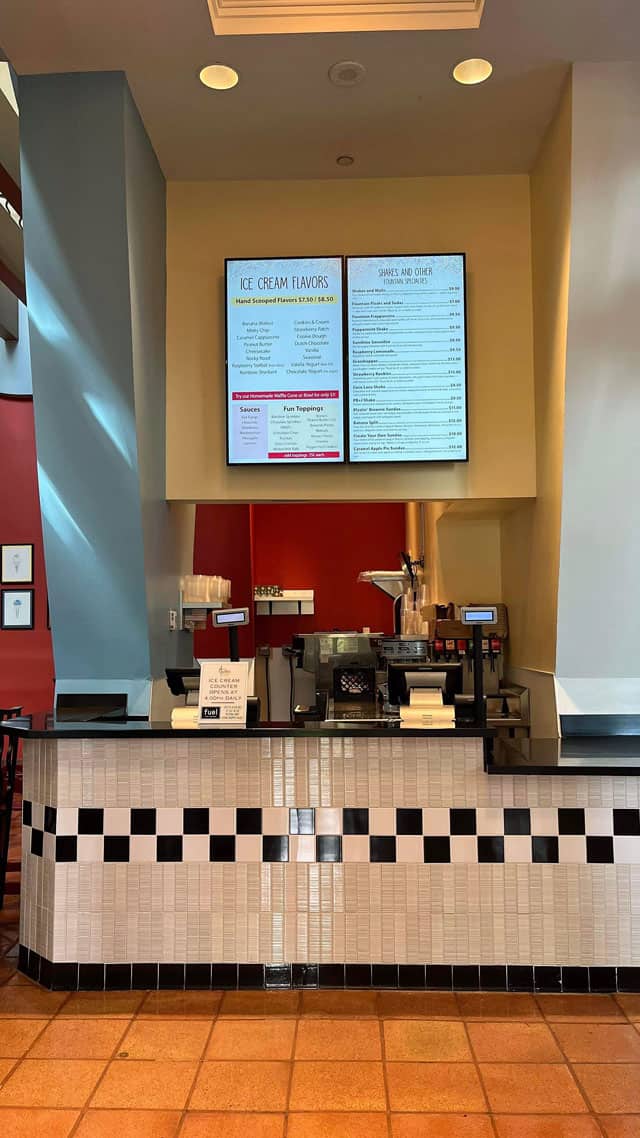 One of the best things about this table service location that they don't take reservations. Although it's never empty, I've never seen it totally full either. So, if you're in the mood for a burger or shake at the last minute, don't rule out The Fountain. Is it as fun as Beaches & Cream? No. But the food and desserts are decent served in a fun retro-themed space.
While not as fun as Beaches & Cream restaurant, the Fountain has decent food selections and yummy shakes in a retro-themed restaurant.
If you're looking to stay in the Disney bubble though, this restaurant may not be for you. When I asked our server about an Annual Passholder discount, he answered, "This isn't Disney," which summed our feelings about it too. If you're able to get a Beaches & Cream reservation, I recommend going there. But if not, give The Fountain a try.
Have you eaten at The Fountain? Or, would you try it in the future? Please share your thoughts with us in the comments below or on our Facebook Page.