It's that time of year when the Disneyland Resort features a lively festive holiday guided tour. Join me as I take you through my experience and all the treats that come with the walking guided tour. Spoiler alert: it was worth it!
Guided Walking Tours at the Disneyland Resort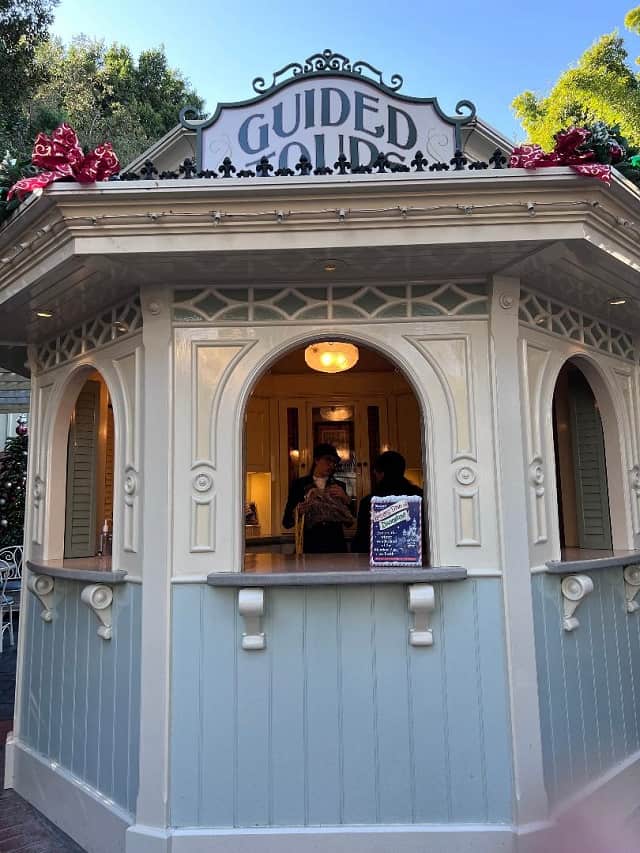 There are two different tours that are available to book at the Disneyland Resort. These include: "Walt's Main Street Story" and "Holiday Time at the Disneyland Resort." Both walking guided tours can be booked through the Disneyland website.
To read more about each tour, you can do so HERE. As a fan of guided tours at the Disney parks, I (Marisol) and my daughter experienced the Walt's Main Street Story Tour last month. You can read about it HERE.
Holiday Time at the Disneyland Resort Check In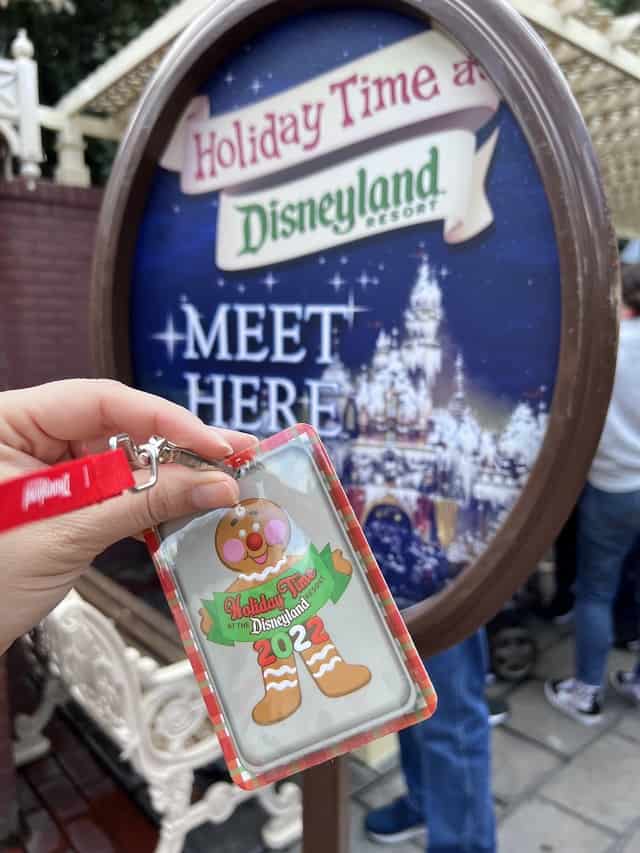 The check in for the tour was the same process as "Walt's Main Street Story Tour." Guests are invited to check in 20 minutes prior to the beginning of the tour. Disney provides lanyards and headsets with earpieces. If someone on the tour has allergies, they will be provided with vouchers for replacement treats. They can be used for allergy friendly treats before or after the tour.
I booked my tour at 1:20 pm and then realized that I had a reservation to begin the day at Disney California Adventure Park. Luckily, I made it a point to leave DCA around 12:45 pm as I was nervous that with park hopping I would be late for checking in. Good thing I left when I did because when the gates opened for park hoppers at exactly 1:00 pm, the line forming behind me was quite lengthy!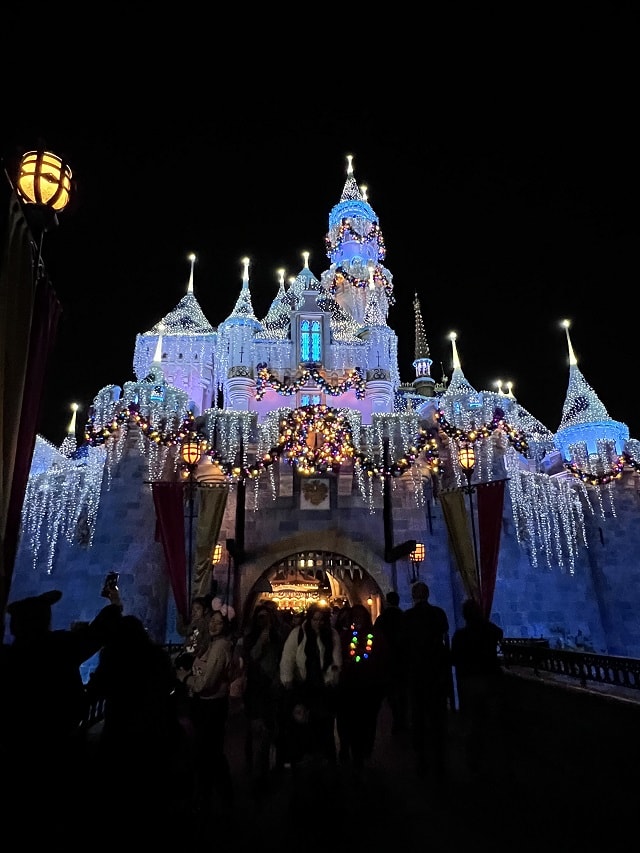 If you book a tour that begins at 1:20 pm, make sure to leave DCA earlier or make a reservation beginning at Disneyland. Disneyland reservations were full for that day which is why I had to park hop.
Disney California Adventure Park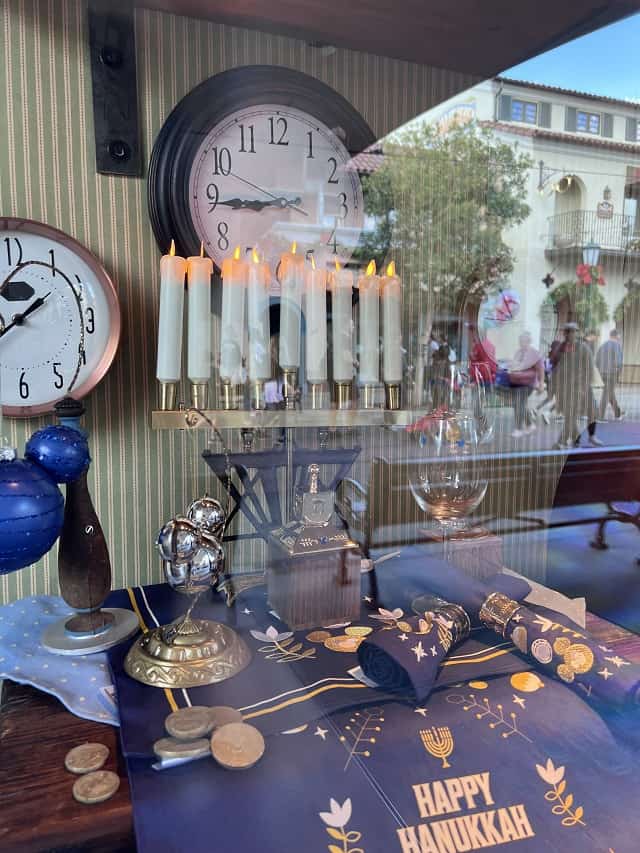 The obvious difference between this tour and "Walt's Main Street Story Tour" is that those holiday tour will be experiencing both parks. This means lots and lots of walking! Although we checked in and began the tour at the Guided Tour kiosk located next to City Hall, a couple of minutes later we were making our way over to Disney California Adventure Park. At DCA, a park cast member opens a side gate allowing quick entry for those on the guided tour.
As we walked the streets of Buena Vista, our tour guide Abby shared various details while pointing out that the décor specifically found in this area is representative of what Christmas was like during the 1920's and 1930's in Los Angeles. Many of the props and decorations are original to the eras!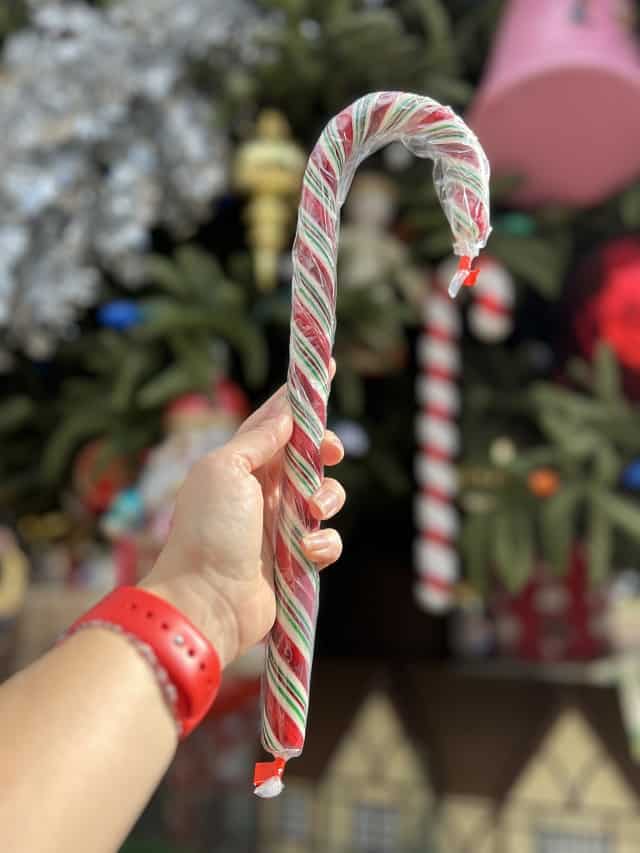 As we made our way up Buena Vista Street, we took a couple of minutes to admire the Christmas Tree at Carthay Circle and learn some more fun facts. We then made our way to Trolley Treats where we learned the significance behind the famous candy canes which are sold on a limited basis during the holidays.
Inside Trolley Treats everyone in the group was treated to a yummy chocolate cake pop. This was the first treat of the tour, with more on the way! As we headed out of DCA we stopped at the Julius Katz storefront window where we learned about the traditions of Hanukkah.
Disneyland Park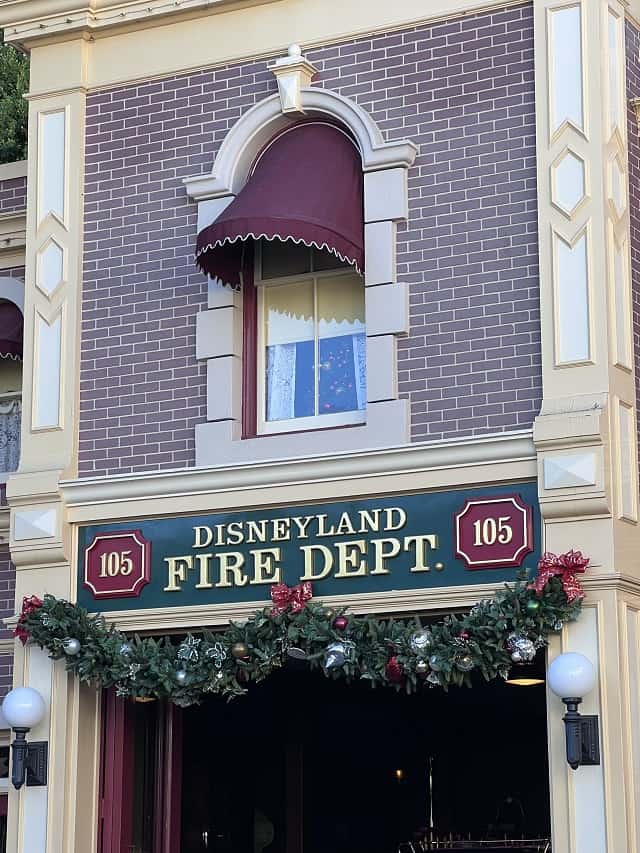 Back in Disneyland Park our first stop was to admire Walt's apartment above the fire station. We then made our way to the 60-foot tree located on Main Street U.S.A. where we were taught about the forced perspective illusion that Disney is well known for. For example, the ornaments towards the top of the tree are smaller giving the illusion that the tree is taller than it is.
As we continued our way down Main Street, Abby shared with us the history and traditions of both Diwali and Kwanzaa before heading to Adventureland.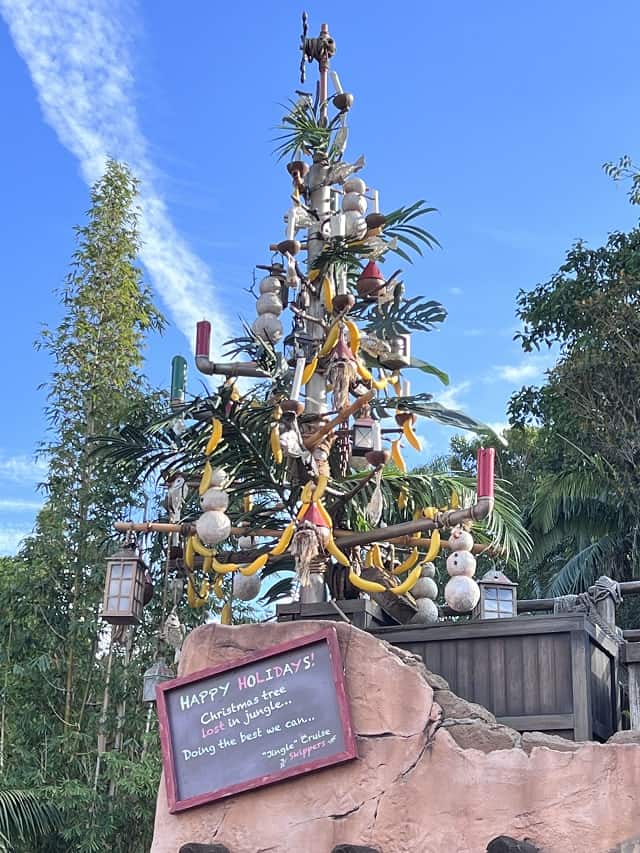 Here, we came across a jungle inspired Christmas tree made of palm leaves and decorated with banana garland. At this time, we were granted a "comfort break" where we could use this time to purchase a drink, quick snack, or use the restroom.
Tip: The bathroom in Adventureland across from Jungle Cruise often is congested. Right across the way at the Enchanted Tiki Room are two restrooms that are located inside the queue for the attraction. This is my preferred restroom with no lines in Adventureland!
The Tour Continues
The tour then continued in New Orleans Square where Abby walked us over to see the angel statue and hear the tale of Papa Noel, the Cajun version of Santa Claus. We continued over to The Haunted Mansion Holiday overlay to hear more fun facts about the attraction and its décor.
From New Orleans Square, we continued our guided walk over to Frontierland before making our way to "it's a small world" attraction. I told you there was a lot of walking on this guided tour! Enjoying and riding the attraction provided our feet a good rest! As we were guests of the tour, we walked right through the Lightning Lane for priority riding.
End of Tour and A Christmas Fantasy Parade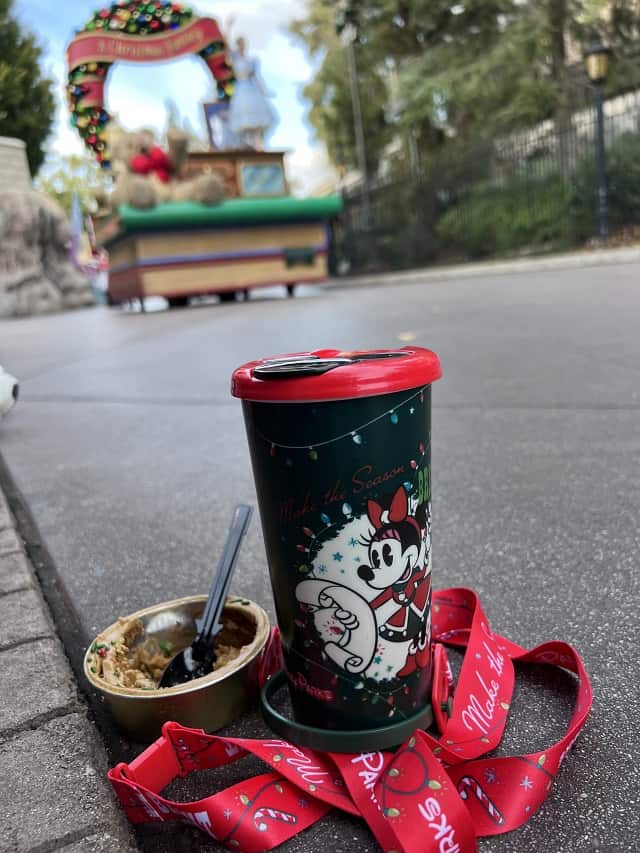 This brought us to the end of the walking aspect of the guided tour which, at this point, had been 2.5 hours! However, the fun continued as we were taken to our reserved viewing for the Christmas Fantasy Parade. Our seats, which consisted of sitting on the ground, were in front of my favorite bathrooms at Disneyland Park! It is an ideal spot to watch the parade as our seating was just across the Matterhorn. No one is allowed to sit in that area, so the view of the parade is wonderful!
Before the parade began, we were treated to more treats and surprises! We received a gingerbread pastry (which I devoured in a second because I was starving) and hot chocolate in a souvenir mug.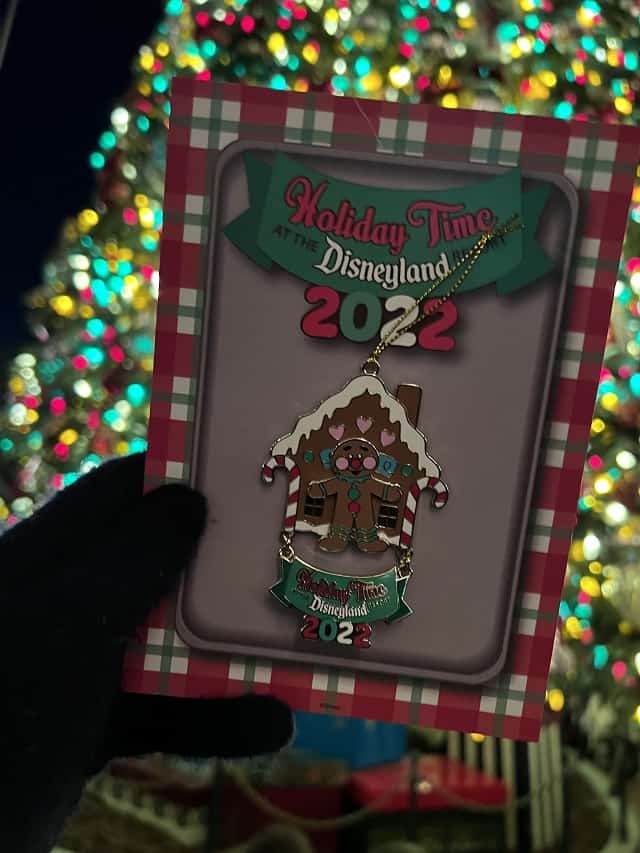 Finally, we received a Holiday Time at the Disneyland Resort pin which also serves as an ornament. Abby informed us that one of the VIP tour guides had designed this year's pin. How adorable is he?
Final Thoughts About the Tour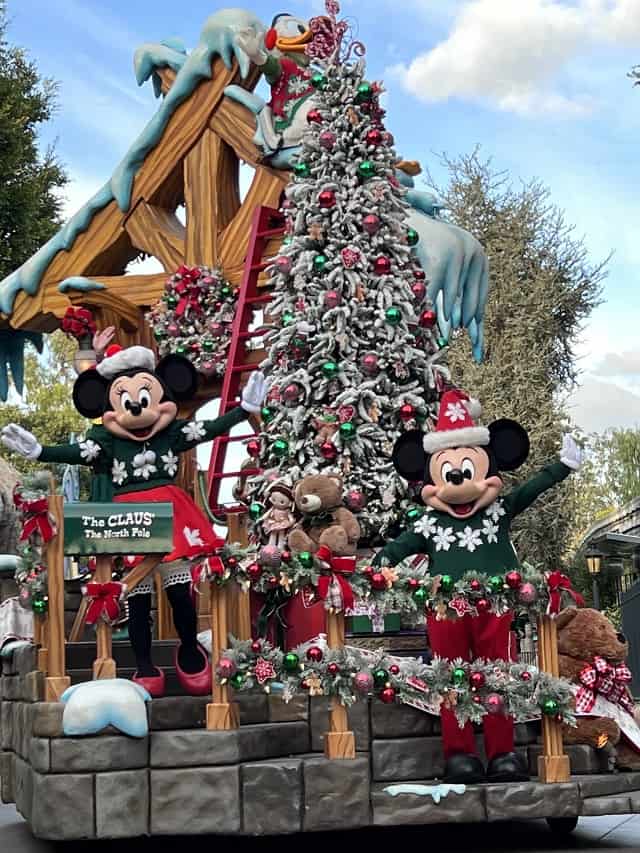 "Holiday Time at Disneyland Resort Tour" is offered daily during Holidays at the Disneyland Resort which runs through January 8, 2023. Valid theme park admission and park reservation are required and not included in the price of the tour. During the 2022 season, a Holiday Time At The Disneyland Resort Tour costs $110 per person for those age 3 years and older. Discounts are not offered. Tours can be booked 60 days in advance.
So, was the tour worth the time and price? 100%. Comparing it to the previous tour I took visiting Walt's apartment, this tour was well worth the money when you take into consideration what you pay for: 2.5 hours in length, riding an attraction, multiple food items, reserved seating for a parade and the pin/ornament gift.
I also enjoyed that it was not always Abby talking throughout the tour. Rather, there were many instances where she played audio through our headset. For example, in Frontierland she played a recording of The Three Caballeros explaining the Mexican tradition of Las Posadas. Learning about different cultures and how they celebrated the holidays were also wonderful to learn throughout the tour.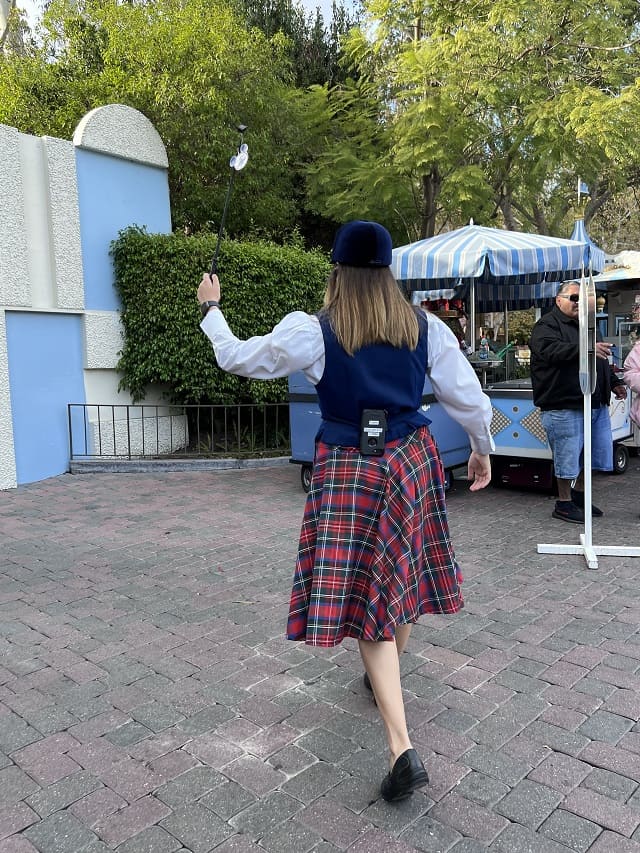 Abby, our tour guide, made the experience quite lively and jolly.  At the beginning of the tour, she made it abundantly clear that our tour group would be spreading Christmas cheer throughout our time together.  And that we did! 
For example, as we excited Disneyland Park to head over to DCA, as a group in unison, we cried out "Happy Holidays" for the gates to "magically" open by a Cast Member.  We must have spread the holiday cheer at least 6 times and we caught many guests off guard. It was funny and certainly put everyone in a good mood with a good giggle!
Tips for the Tour
As the tour is on the lengthy side, I would highly recommend eating something prior or to snack on something while on the tour. In hindsight, I wish I had done either one! I would also recommend taking your own pair of earphones for the headset as the ones that are provided are the type that loop around your ear. At times, it was difficult to put them on and to also take off. Just make sure that the earphone head jack is not a newer iPhone one as those will not work.
As noted in my previous tour review, this is a tour that I would not recommend for young children as it is so much walking. Our tour included 20 guests, and one of them was a little boy around 8 years old. He did very well, and I never heard him complain.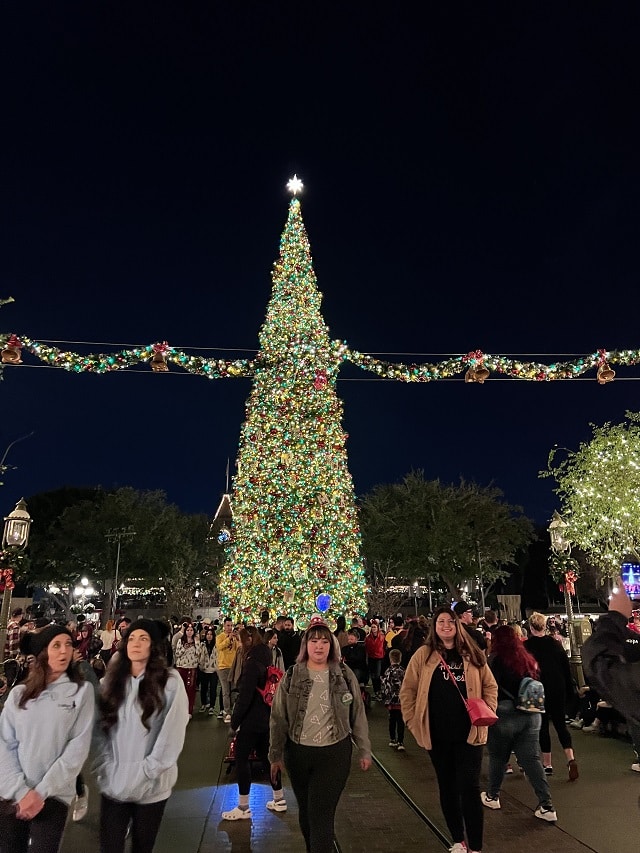 I personally feel that I would only take the "Walt's Main Street Story Tour" once or twice in my lifetime, I felt the opposite for the "Holiday Time at the Disneyland Resort" tour. I could see myself easily booking it each holiday season. In fact, I eagerly anticipate booking it next year! I'm sure much of the facts and information are the same each year, but the pin/ornament, souvenir cup and the reserved parade seating are its selling point!
Have you ever taken "Holiday Time at the Disneyland Resort" tour before? Would you like this guided walking tour to make its way to the Walt Disney World resort? Let us know on Kenny the Pirate's Facebook page or join our crew and continue the discussion there.