Join me as I take you through my personal review of Disneyland's newest walking guided tour now available to book!
Walking Tours at Disneyland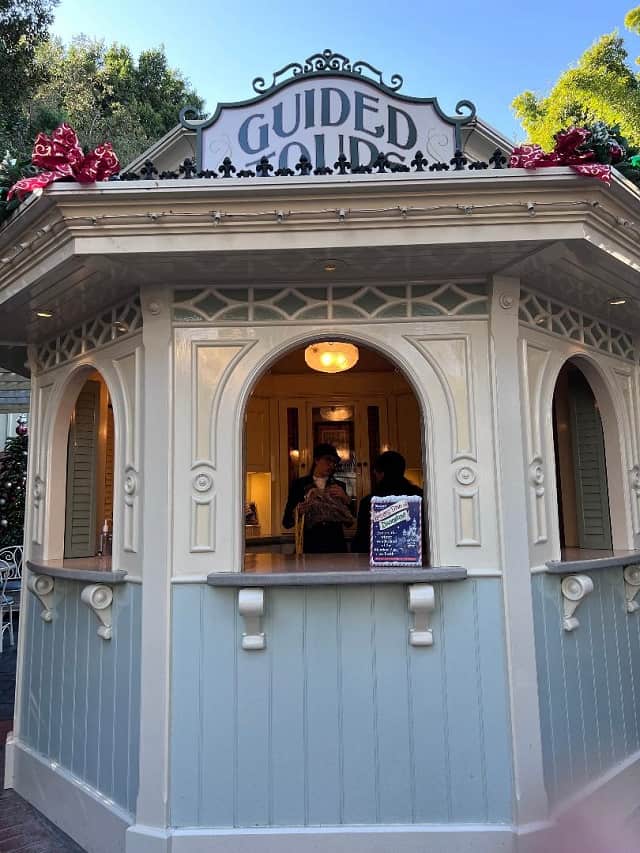 Back in October 2022, Disney announced the return of guided tours available for booking at Disneyland Park. Two different tours are now being offered. To read more about them each, you can do so HERE.
Upon learning about both tours, I was excited and eager to experience each one! For today's review, I will solely focus on Walt's Main Street Story Tour. Both my daughter and I enjoyed together in mid-November. Originally, I booked the tour for myself in December. However, as I shared what the tour entailed, my daughter asked if we could inquire about same day tour availability. After all, she told me, "Mom, visiting Walt's apartment would be amazing as I want to be Disney's CEO one day." How could a mother refuse?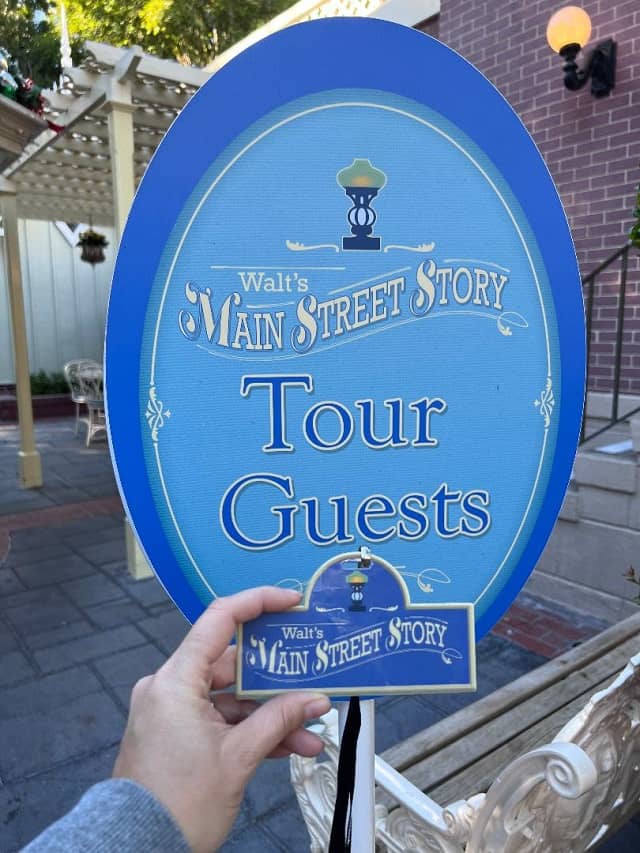 I explained to the Cast Member that I already had a reservation for December, but we were interested in joining a tour that day. We were invited to check on the Disneyland mobile app to check availability for openings. Lo and behold, there were exactly two spots left for the 2:00 pm tour that same day! I booked the tour through the app and canceled my other one for December.
With reservations in place, we had a quick bite to eat before the tour began. I recommend arriving 15 minutes before the tour begins to receive commemorative lanyards and an audio headset.
What Does the Tour Include?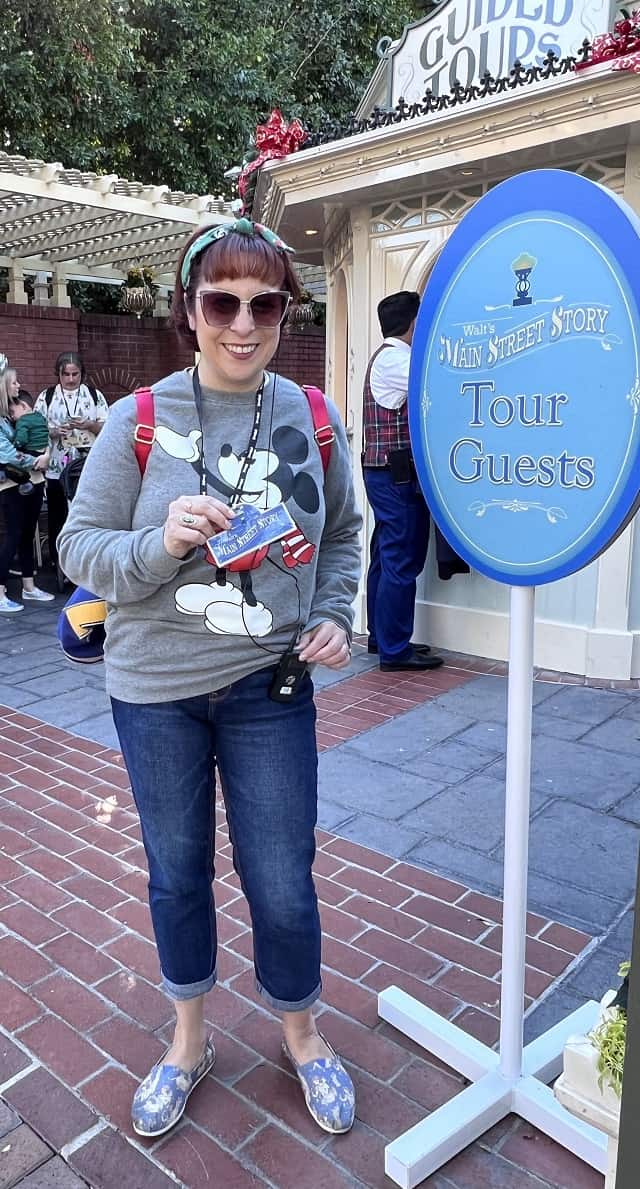 The tour includes refreshments, a treat, access to Disney PhotoPass, a walking tour down Main Street, and a commemorative lanyard. It is expected to last 90 minutes. The tour is for ages 3+ and costs $160 (tax not included).  Guests younger than 14 years of age must be accompanied by an adult during the experience. Full payment is required at time of purchase.
LISTEN AS YOUR DEDICATED TOUR GUIDE REGALES YOU WITH BEHIND-THE-SCENES STORIES AND ENCHANTING TIDBITS THROUGHOUT THIS 90-MINUTE EXPERIENCE. PLUS, LEARN ABOUT SPECIAL LINKS TO WALT DISNEY'S BOYHOOD TOWN OF MARCELINE, MISSOURI.
We arrived back at the same location at 1:45 pm where we met our tour guide who made sure that our audio sets worked perfectly before the tour began. She also provided us with instructions that while on Main Street we are invited to take as many pictures as we want, but when we went "backstage," photography of any kind is strictly forbidden. In fact, when we reached the door that took us away from Main Street, she informed us to completely turn our phones off and put them away.
Tour Along Main Street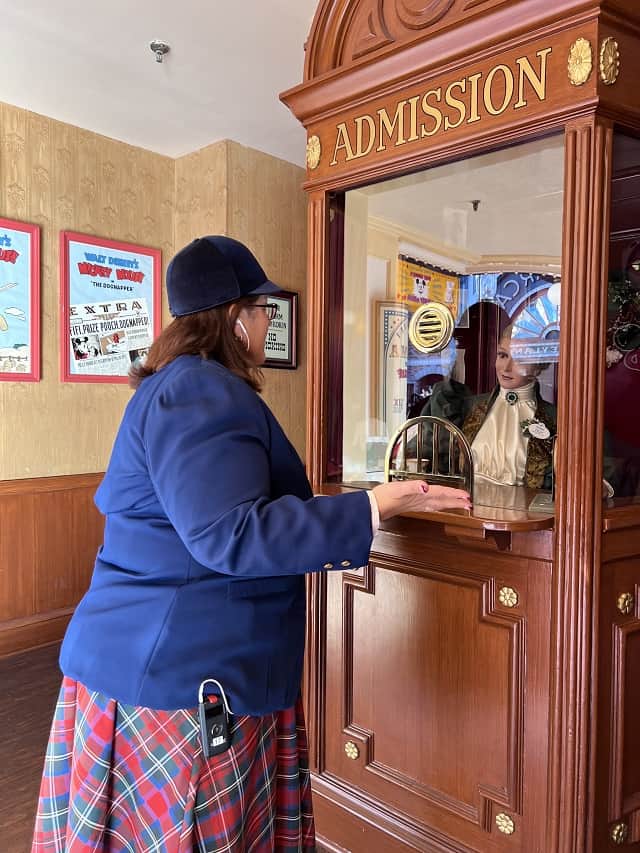 The tour first began just under the train station in Town Square located on Main Street The Cast Member shared information regarding Walt's upbringing in Marceline, Missouri. As we walked along, our tour guide told various stories about Walt and the beginnings of Disneyland as well as pointing out window displays along Main Street, USA. We then made a U-turn at the Jolly Holiday Bakery Café as we stood directly in front of Coke Refreshment Corner.
Fun Fact: Electricians installed light bulb fixtures for alternating red and white light bulbs and found that they had an odd number of fixtures above the front door. This meant that two bulbs of the same color would have to be right next to each other. The problem was solved when it was suggested to Walt that they paint a bulb half white and half red, so that the alternating sequence could be maintained. Problem solved!
We continued our guided tour back into Town Square where we stood in front of the Disneyland firehouse. Walt's private apartment is situated right above the firehouse. It was at this moment that my heart skipped a beat. I looked over to see my daughter's big smile. We knew that in a matter of minutes, we would be stepping inside Walt and Lillian Disney's apartment!
Walt's Apartment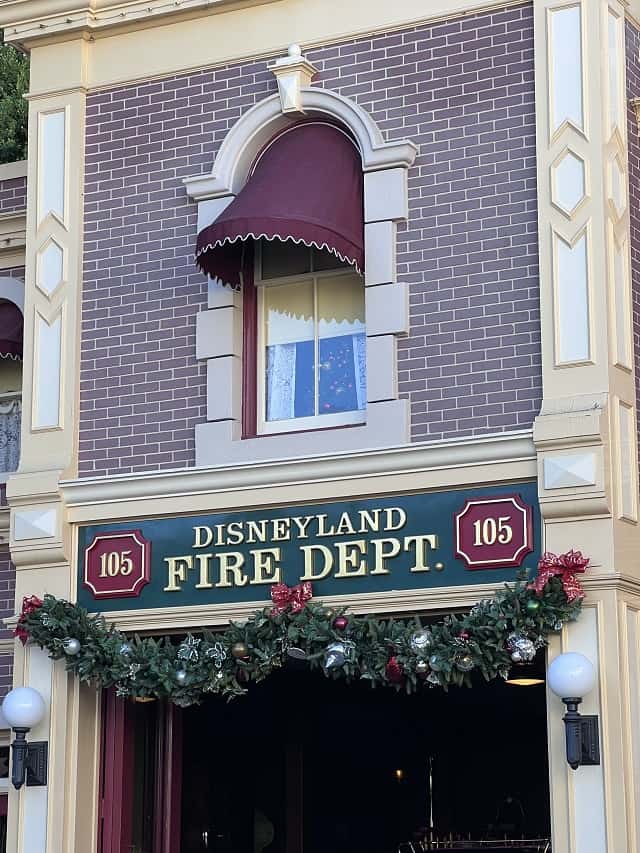 I keep a bucket list in mind of places to visit and things to do at various Disney parks around the world. Two of them specifically at Disneyland are to visit Club 33 and Walt's Apartment. Both have now been checked off! This past summer, my daughter and I were lucky to have been invited to go inside Disney's private dining club as guests. That is a story for another day on how it occurred! Our other wish was to stand in the very same room where one of my heroes worked, slept and looked outside his apartment window high above Town Square.
The feelings that ran through me as we walked into the apartment were many and included watery eyes. I was so excited to share this special experience with my daughter whose imagination soars above and beyond just as Walt's did when he was alive.
To stand inside Walt's apartment, my mind went in many directions as our tour guide shared so many stories about Walt, Lillian, his children, grandchildren, the furnishings, games and gatherings that once took place in that very room. I could vividly picture all the events that they shared. I won't give too much away about what was shared. It is truly an experience that we will never forget.
In fact, we spent so much time inside Walt's apartment that our time here was longer than the portion while we walked around Main Street. This was a nice treat that we never felt rushed, which was wonderful!
PhotoPass Inside the Apartment and on the Balcony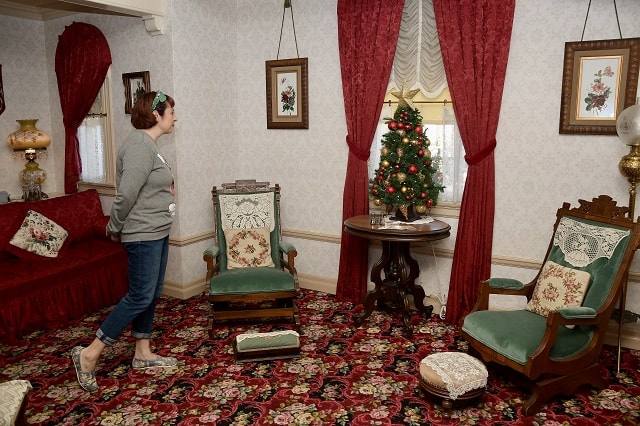 Towards the end of the tour inside the apartment, a Disney PhotoPass photographer came in to take pictures of us standing in front of Walt's pull-out bed/coach and in front of the famous window that overlooks above the fire station.
All pictures taken are included as part of the guided tour price. In total, between my daughter and I, we had fifteen pictures taken. Some of them are individuals and some are with the two of us together.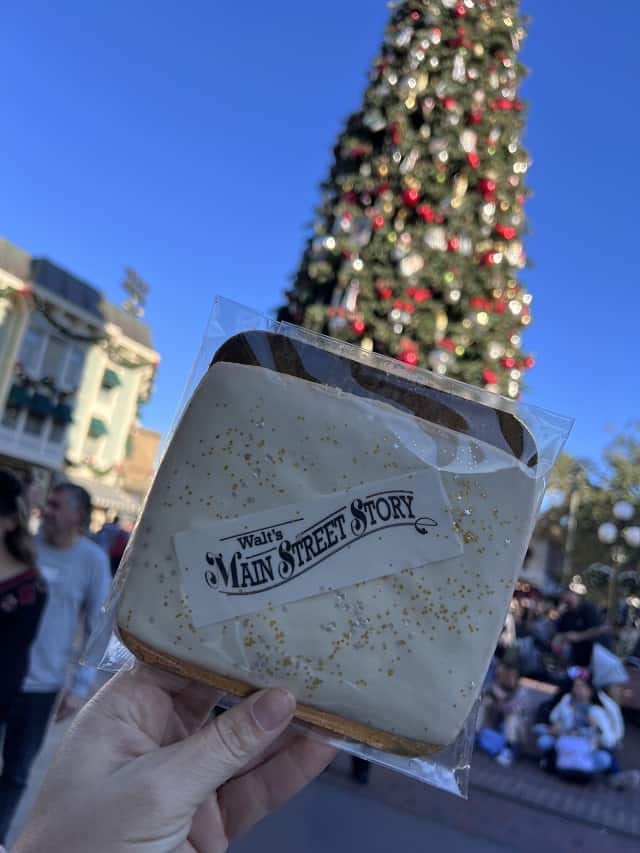 After we had all finished having our pictures taken, we were invited to walk out to a private patio and balcony that is connected next to Walt's apartment. Then, we were presented with special cookies and either a soft drink or water to enjoy while we sat with our tour guide and group and asked questions.
This is also a good time to mention that in total, there were only 10 of us on the tour together. This made it quite nice to not have so many together in a group especially while inside Walt's apartment.
Final Thoughts
Of course, the question that everyone first asks is, "was it worth $160"? Honestly, the price tag scared me a little as the tour is only 90 minutes. In contrast, the next guided tour that I will soon take is $110 and 2.5 hours long! That is a big difference in price and length of time!
However, when taking into consideration that we stood inside Walt's apartment for a good amount of time, it was worth the price. At that point, that very experience and appreciation means everything to every Disney fan.
I also really enjoyed the fact that children are included in this particular guided tour. They are not invited on tours such as Keys to the Kingdom at Disney World. This guided tour allows kids 3+. I do have to mention that my daughter was the youngest in our group. Personally, I recommend that children ages 10 and up would enjoy and appreciate the experience. A younger child, I believe, would find it difficult to understand and appreciate the various stories and fun facts throughout the guided tour.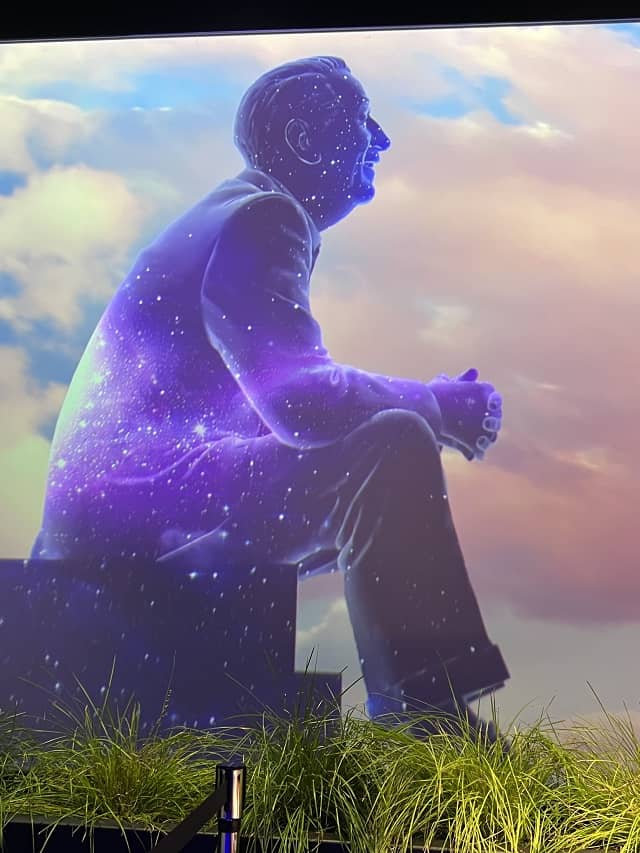 My hope is that next time you are visiting the Disneyland Resort that you book the Walt's Main Street Story Tour. Guests can book both guided tours up to 60 days in advance on the Disneyland website and mobile app. Theme Park tickets and park reservations are required for guests participating in the tours. Currently, there are no Magic Key discounts. Tours are available from 8:00am -Noon or Noon-2:00 pm seven days a week.
My next guided tour will take me on the Holiday Time at the Disneyland Resort Tour. Stay tuned for that review! Did this review inspire you to book this tour? Let us know on Kenny the Pirate's Facebook page or join our crew and continue the discussion there.