I tried almost every item at the Holiday Hearth Kitchen at Epcot's Festival of the Holidays. Here is what I thought of them.
Festival of the Holidays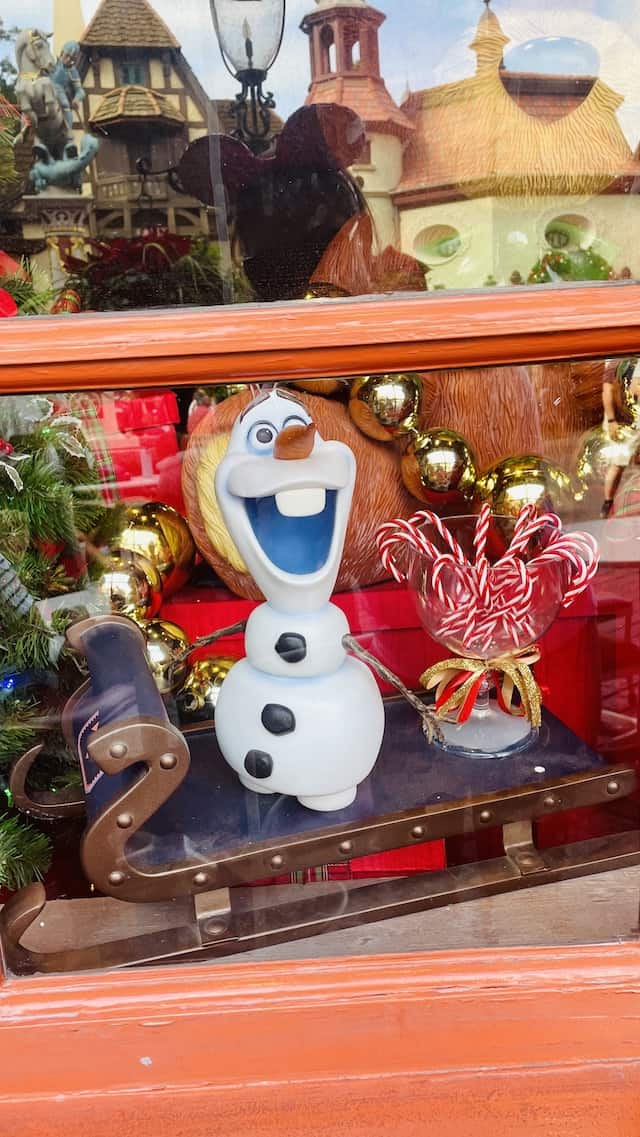 The holiday season is truly magical at EPCOT. Festival of the Holidays is an amazing experience where guests can enjoy the beautiful Candlelight Processional, enjoy delicious holiday food booths, take part in a fun scavenger hunt, cookie stroll, and enjoy great entertainment! There's brand new merchandise that you can check out HERE, along with a new indoor location for Santa Claus.
Guests can ride Guardians of the Galaxy with a new holiday remix! Be sure to grab your boarding group or purchase an Individual Lightning Lane to experience it. Spaceship Earth even has its own light show for the Festival of the Holidays.
Holiday Hearth Kitchen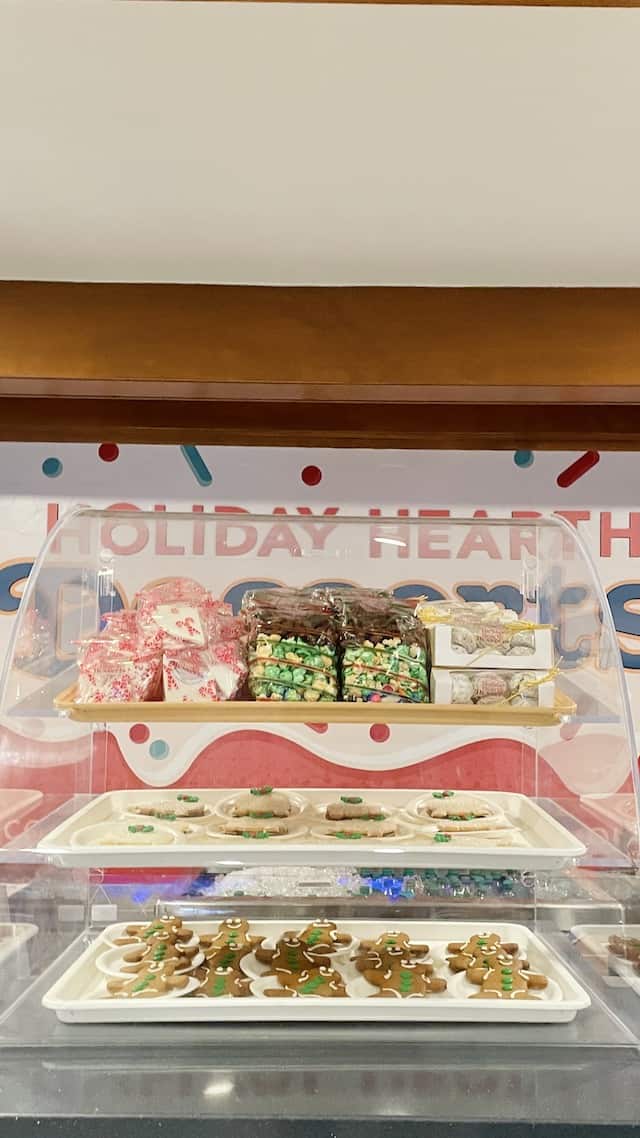 Get ready for double the fun at the Holiday Hearth! It's located inside the Odyssey Pavilion, and you can also meet Santa here.
Food Items:
Red Velvet Mini Bundt Cake with cream cheese icing  $4.75
Salted Caramel Spaceship Earth Cookie $5.50
Snowball Cookies  $4.00
Peppermint Bark (Gluten/ Wheat Friendly)  $6.50
Mouse Crunch made with M&M'S chocolate candies  $6.50
Maple Bûche de Noël: Maple mousse and cranberry rolled in gingerbread chiffon cake  $5.00
Gingerbread Cookie (Cookie Stroll) $3.00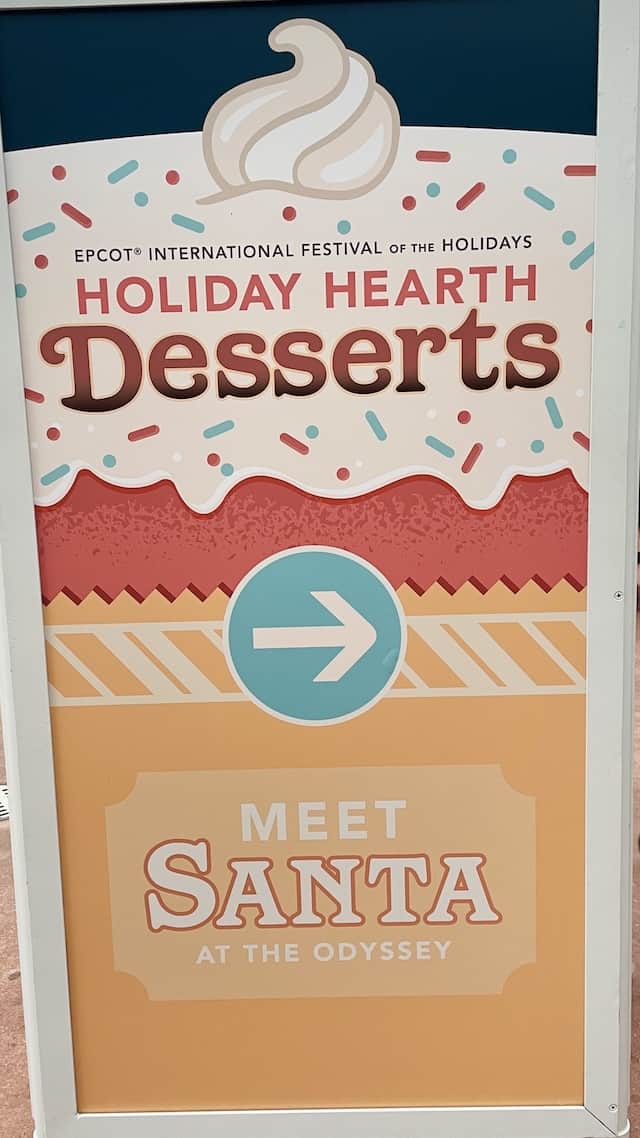 Beverages:
Hot Cocoa (non-alcoholic) $3.75
Cinnamon Apple Cider (non-alcoholic) $3.75
3 Daughters Brewing Winter Spiced Lager $5.50/$9.00
BrewDog Hoppy Christmas IPA $5.50/$9.00
Wicked Weed Brewing Milk & Cookies Imperial Milk Stout $5.50/$9.00
Cocoa Candy Cane: Hot Cocoa with peppermint schnapps $12.50
Beer Flight $10.00
Cookies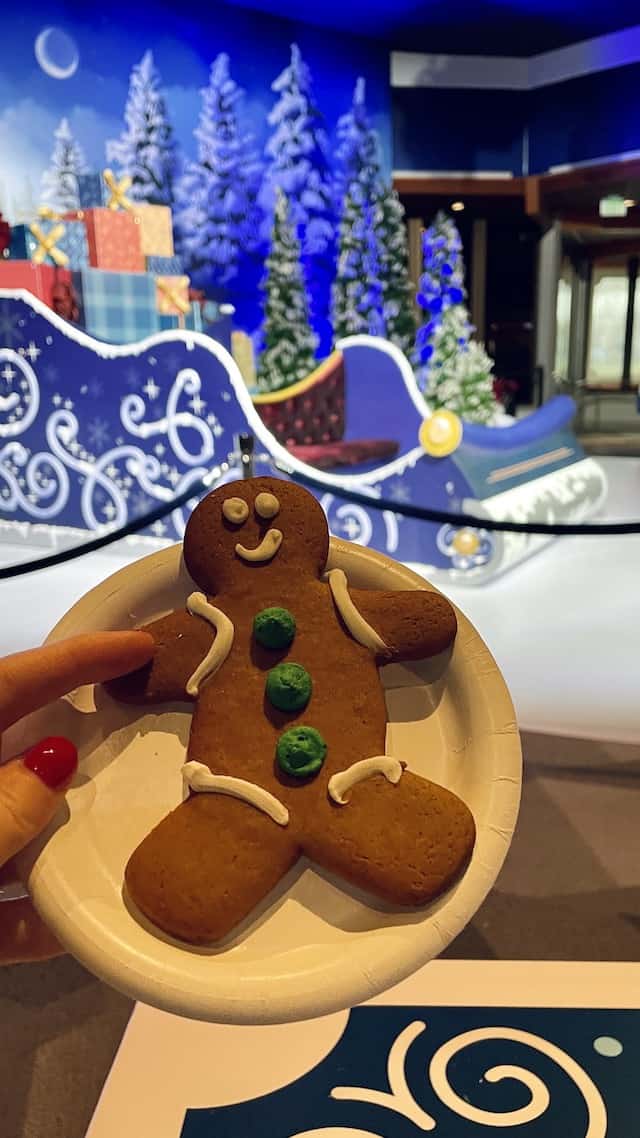 I (Monica) tried both the gingerbread cookie and Spaceship Earth salted caramel cookie, neither of which were edible. The gingerbread cookie is part of the Cookie Stroll, which would be the only time I would recommend getting it. Unfortunately, this cookie was very dry and flavorless to me.
The salted caramel Spaceship Earth cookie consists of two sugar cookie with hard caramel filling in the middle. It was not soft or chewy caramel, and the sugar cookies were hard.
Perhaps because I did not grab them in the morning when they were more fresh? They do not come wrapped, so I believe this is likely what was "wrong" with them.
Red Velvet Cake and M&M Crunch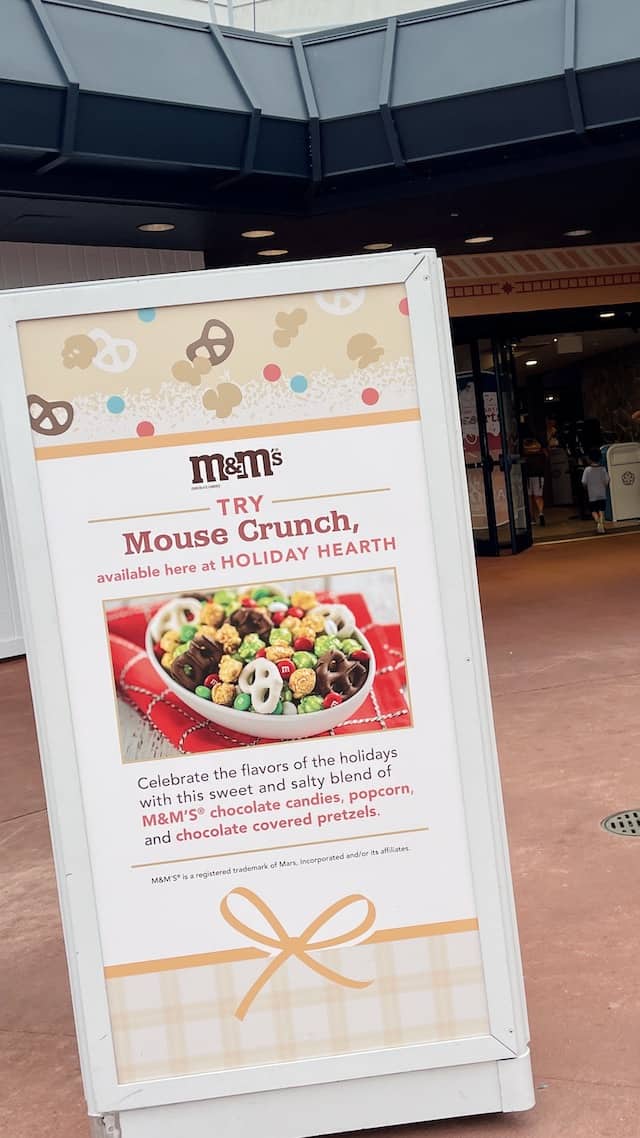 The red velvet cake was the only item I completely finished, partly due to the fact that I did not like the rest of the treats I purchased. It was standard red velvet cake, but it tasted good and was fresh. I love cream cheese frosting, and I thought the candy cane was a cute, festive touch.
I would have enjoyed the M&M crunch more if there were more candies. My bag of treats was very heavy on the popcorn and not enough chocolate covered pretzels and M&Ms to round it out. I did appreciate that it was wrapped and sealed so I could enjoy it later in the day. This would be an excellent treat to give to kids to munch on throughout the day.
Beverages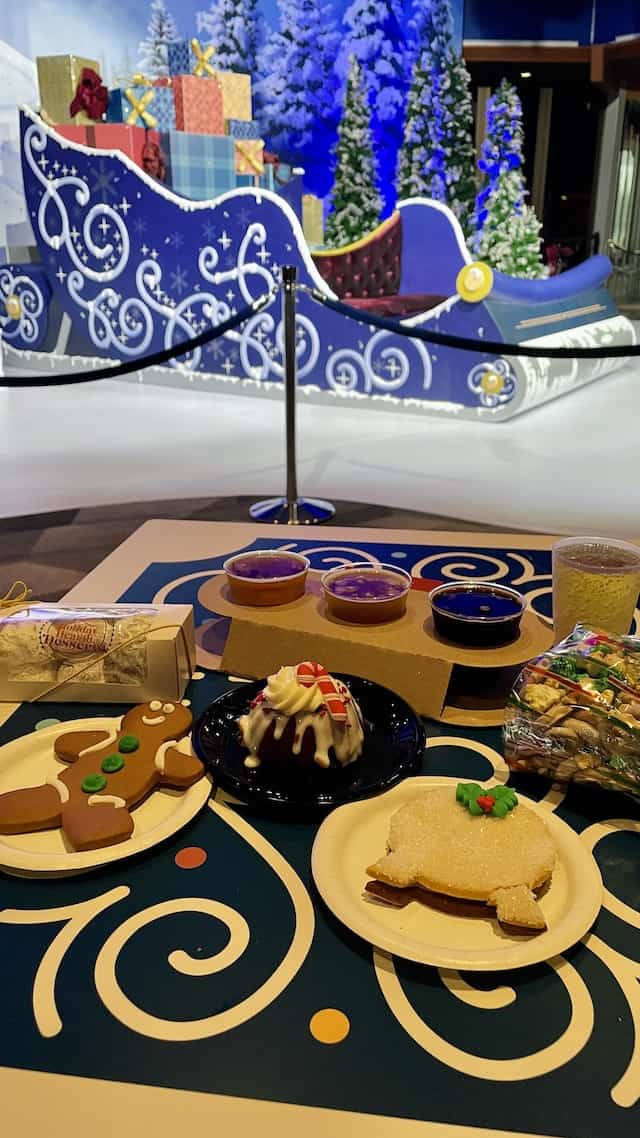 The beer flight and apple cider both receive a thumbs up from me. The beer flight consists of three smaller servings of the festive beers, all of which tasted like you would expect.
The apple cider was served cold, which I was surprised about. I expected warm apple cider, but the cold version makes more sense given it's Florida! It is not a generous serving, so you may want to grab two if you have a lot of treats to munch on.
Overall, I was not impressed with the Holiday Hearth. I wish I had gone in the morning when the cookies may have been more fresh. If you visit this holiday kitchen, please let me know if they taste better in the morning!