Want to enjoy all of the magic and fun of the Disney parks but without a park ticket? Check out why you need to visit this one location this holiday season.
Visit with Santa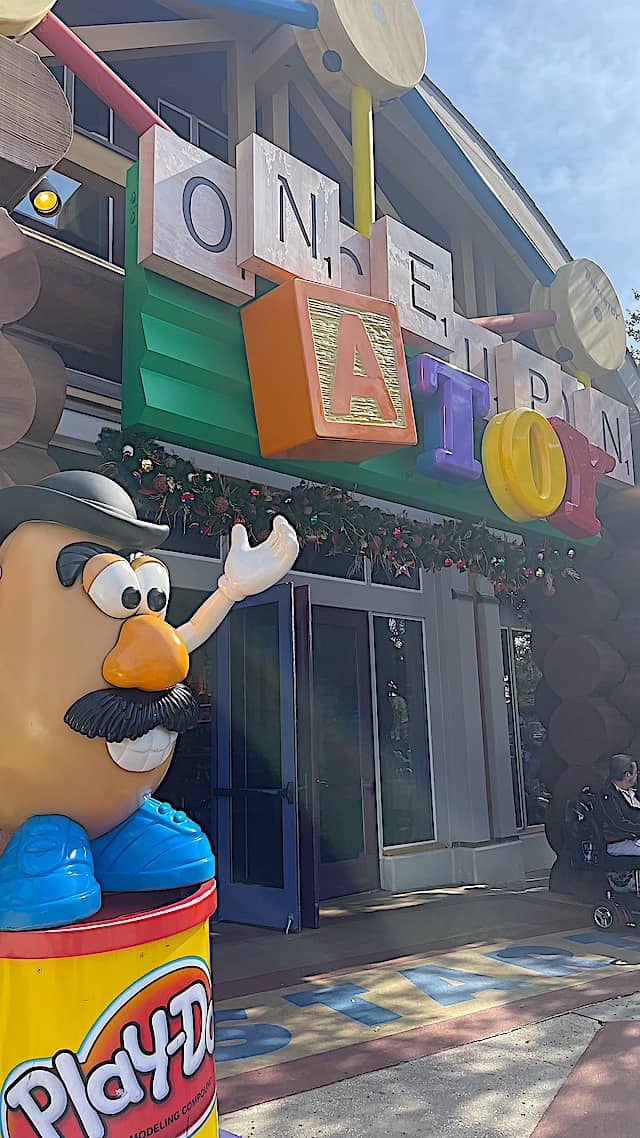 You can meet Santa at Walt Disney World without even needing a park ticket. Over at Disney Springs, you can meet Santa Claus at Once Upon a Toy from November 11th through December 24, 2022. A virtual queue is in place for this meet and greet and is subject to availability.
Guests can join the virtual queue to meet Santa on the My Disney Experience app at 9:00 am, 12:00 pm, 3:00 pm, and at 6:00 pm. It is important to note that you must be at Disney Springs to join the virtual queue.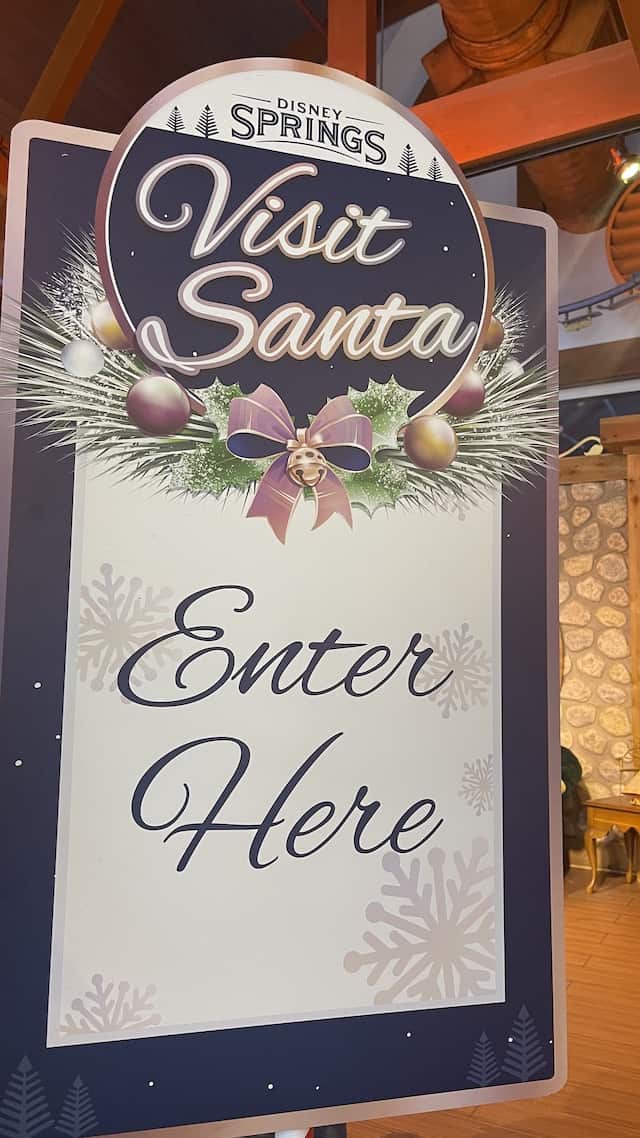 We visited on a Saturday and arrived at Disney Springs around 10:00 am. The 9:00 am virtual queue was closed and we set a timer to join the virtual queue at 12:00. We were easily able to join and our group was called 30 minutes later. Our virtual queue barcode was scanned once we arrived.
Guests can join the virtual queue to meet Santa on the My Disney Experience app at 9:00 am, 12:00 pm, 3:00 pm, and at 6:00 pm. It is important to note that you must be at Disney Springs to join the virtual queue.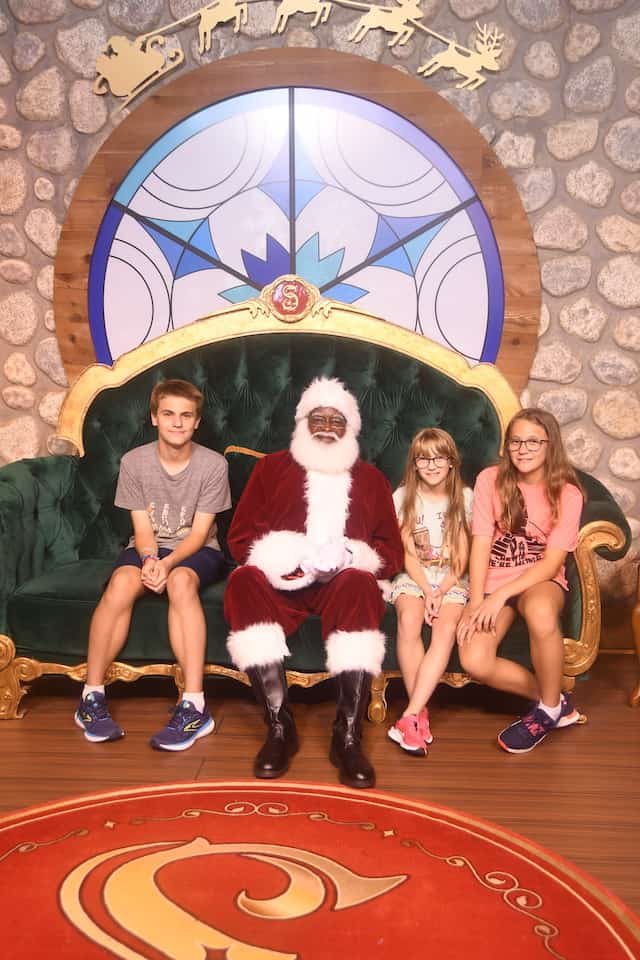 We joined a short line of about four other families. Once we made our way to the front, our MagicBand was scanned and photos uploaded directly onto My Disney Experience. Guests also had the option to purchase individual photos after they visit Santa Claus.
This was such a fun experience and it was great to have professional photos added if you purchased Memory Maker.
Christmas Tree Stroll
Prior to the park closure in 2020, guests could stroll through and enjoy all of the Disney-inspired trees in one location. In 2019, I (Donna) had the opportunity to enjoy this great Christmas Tree Trail. Also during that year, they had Stitch's Holiday Gift Hunt.
You could pick up a map and locate Stitch throughout Disney Springs. This was so much fun, and in the end you received a fun commemorative button.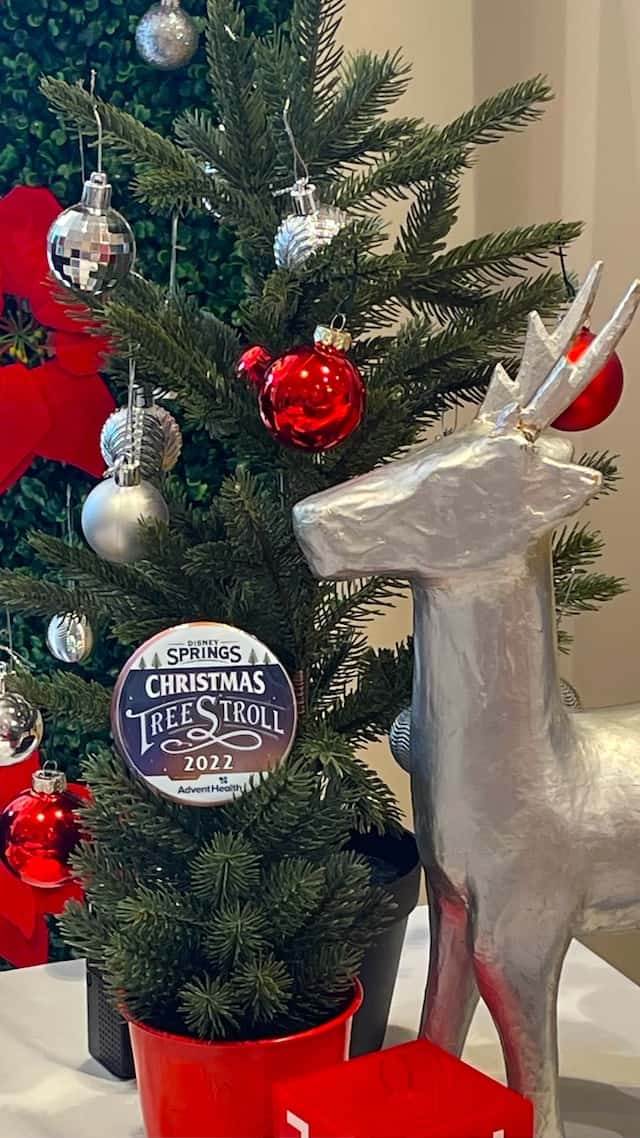 This year, they combined these two ideas. Now, you can go on a hunt to locate each of the Disney inspired trees throughout Disney Springs. To get started simply pick up a map and sticker sheet at one of the following locations:
The BOATHOUSE
City Works Eatery & Pour House
Crystal Arts by Arribas Brothers
Planet Hollywood
UNIQLO (on the 2nd floor)
Simply attach the corresponding sticker that matches the tree at each location. There are 20 trees in total so you will definitely get your steps in while enjoying this Christmas Tree Stroll. Also featured on the map are coupons that may be used at various locations throughout Disney Springs.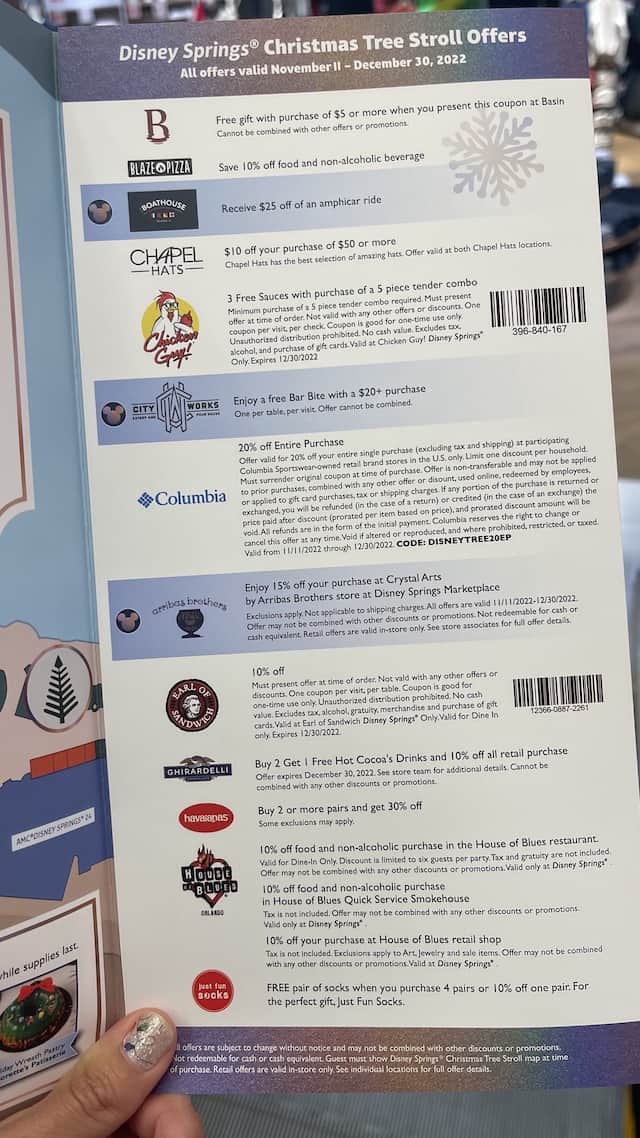 Once you complete your map, you can return it to any of the above-listed locations to receive your commemorative button. This was a lot of fun for our family to complete. We enjoyed a few of the coupons as we did Christmas shopping and enjoyed the beautiful trees.
Be sure to pick up your map to locate all of the trees in this year's Christmas Tree Stroll. You earn a commemorative pin and can also enjoy great coupons as well.
Newest Trees Added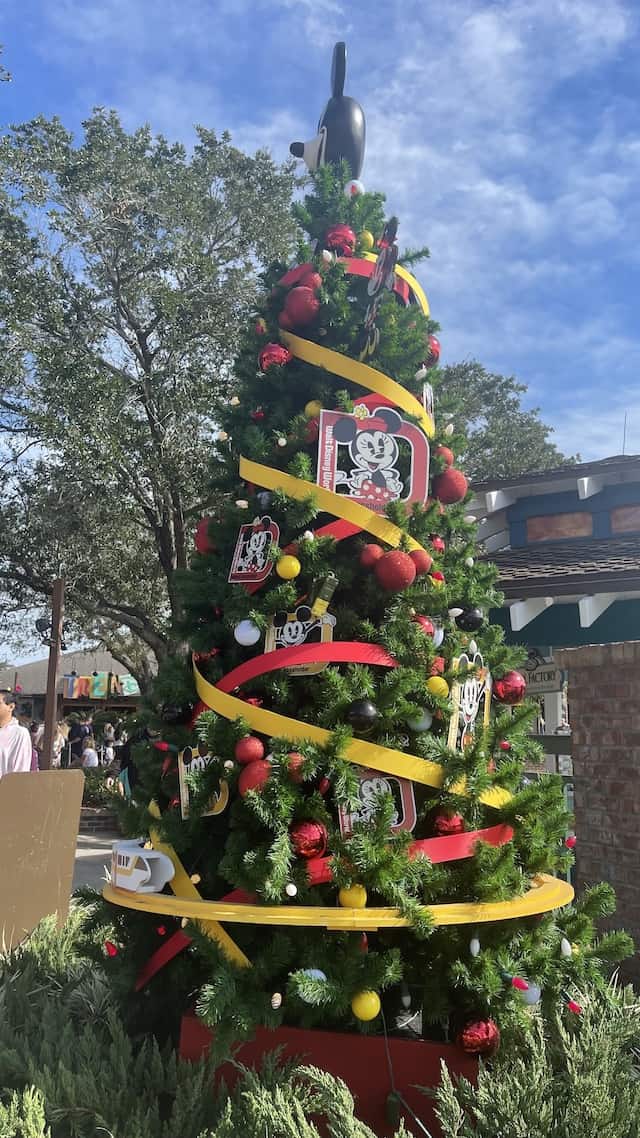 Some of the trees featured in the Christmas Tree Stroll 2022 were similar to previous years. You can check out photos of many of the trees making a repeat appearance this year HERE. We will focus on the newest trees featured for this year. Let's start with the first-ever Annual Passholder tree (featured in the photo above).
From the bold yellow and red ribbon to the yellow monorail track, this tree is so much fun. Large Annual Passholder magnets are featured on this tree with the original yellow Mickey Mouse and the new red Minnie Mouse magnet.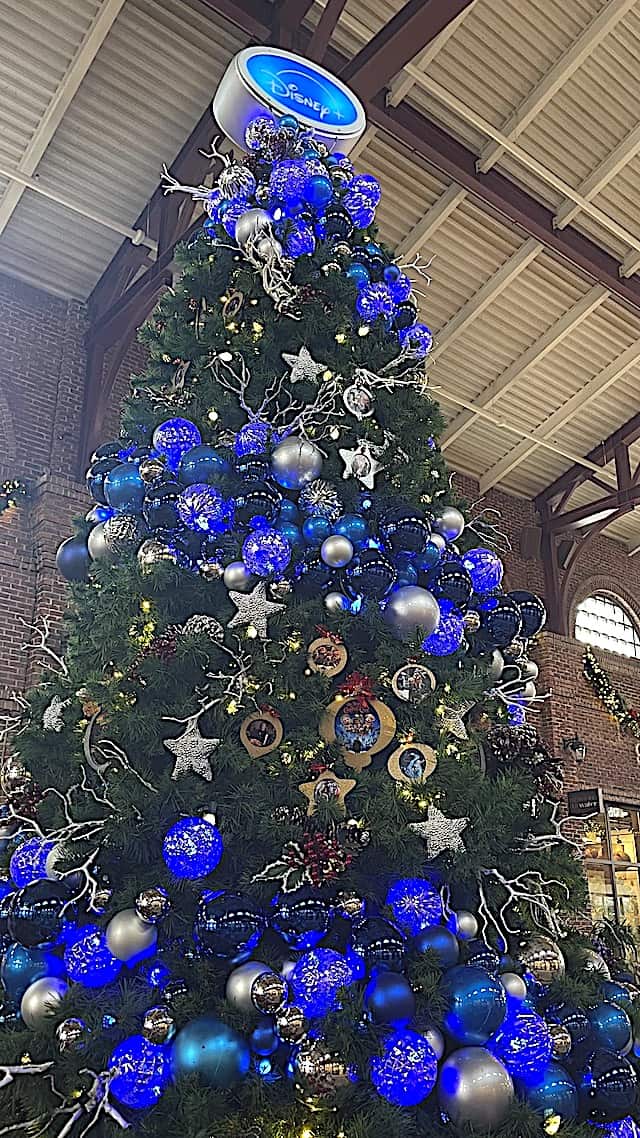 Featuring many of our favorite holiday films is the Disney+ tree. Silver and blue ornaments help to create the color scheme of the Disney+ theme. For each featured film, one large ornament is centered with smaller ornaments surrounding it featuring key scenes. A few films included are The Muppets Christmas Carol, Home Alone, and the Santa Clause trilogy films along with the new The Santa Clauses series.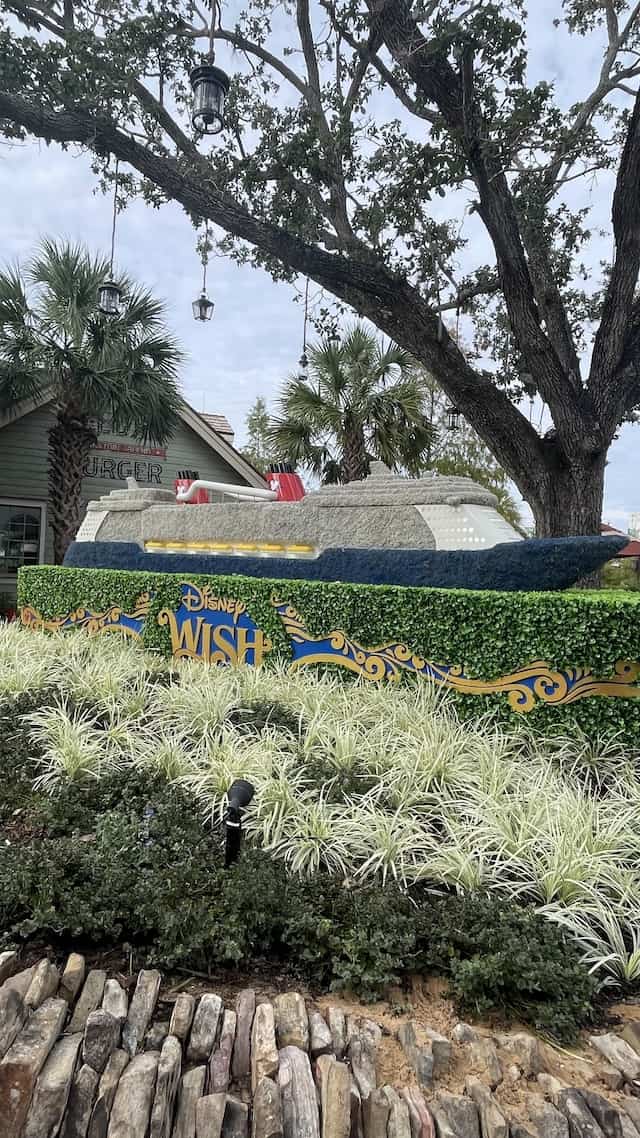 Probably the most unique tree featured was not really a tree at all, but rather a beautiful topiary. This year, Disney Cruise Line welcomed their newest ship to their fleet. The Disney Wish is everything that you could dream of. When we visited, there was quite a crowd gathered to enjoy this beautiful topiary.
Trees featuring Favorite Films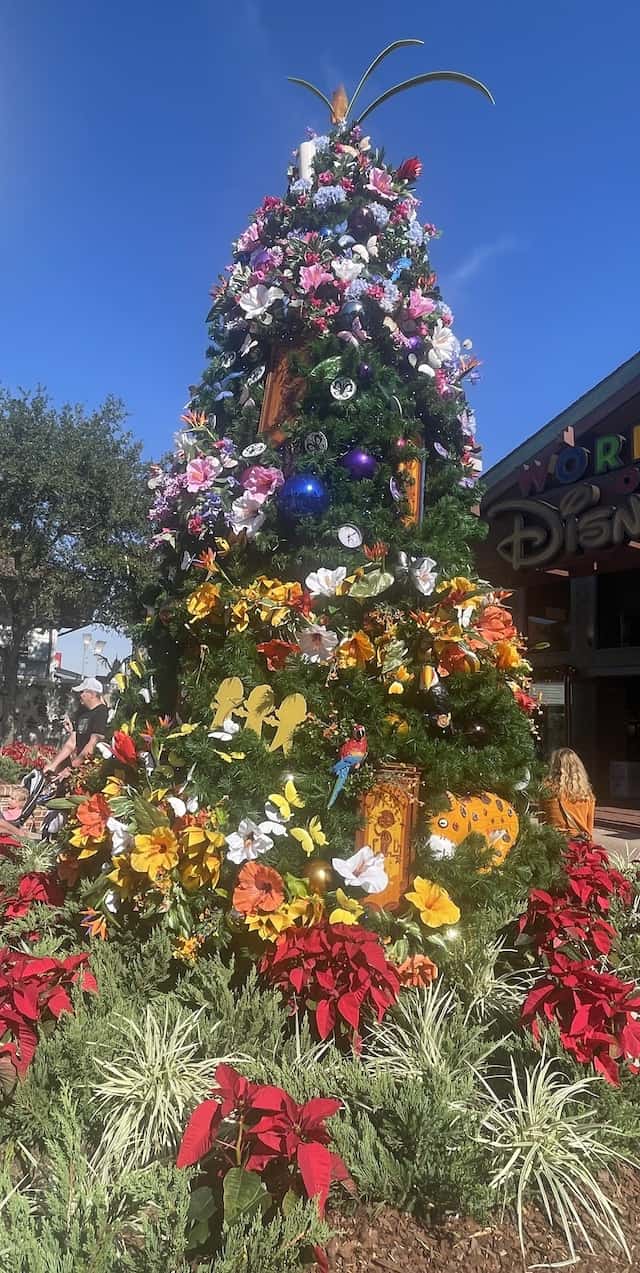 The HUGE hit movie Encanto is also featured this year. We love the touches of each member of the Madrigal family with flowers for Isabel, butterflies for Maribel, animals for Antonio, and the symbolic doors representing each family member's gift. This tree is full of beauty and so many magical touches.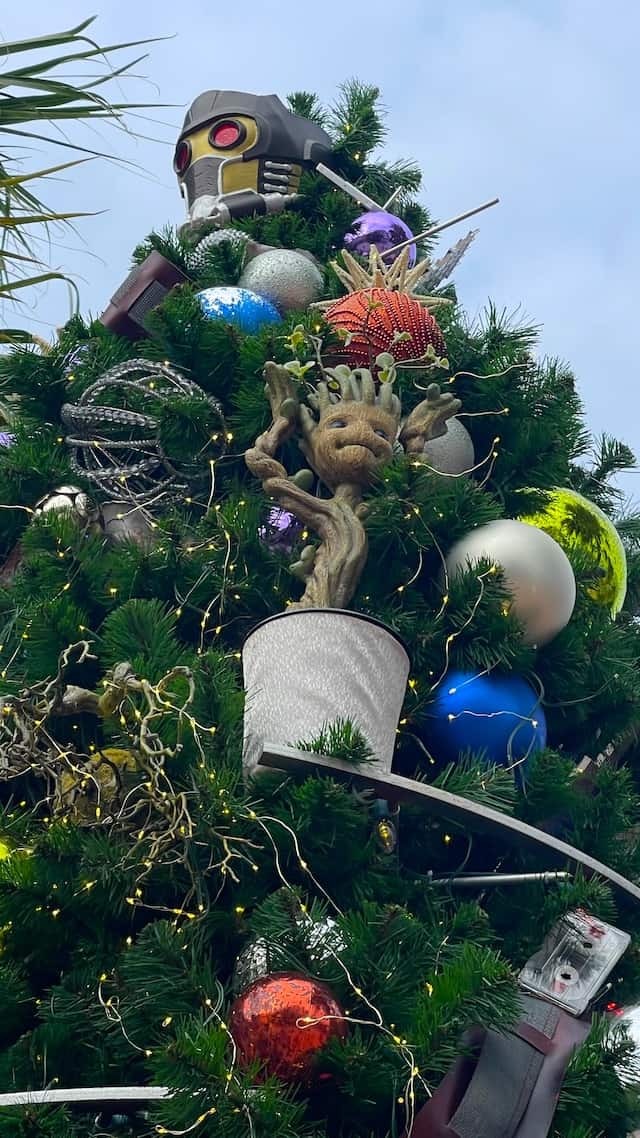 In honor of the newest attraction at EPCOT, Cosmic Rewind, a wonderfully themed tree features Guardians of the Galaxy. The adorable Groot is probably my (Donna) favorite part of this tree. The topper is Star Lord's helmet, and there are so many cool touches with the walkman, mix tapes, and other fun elements.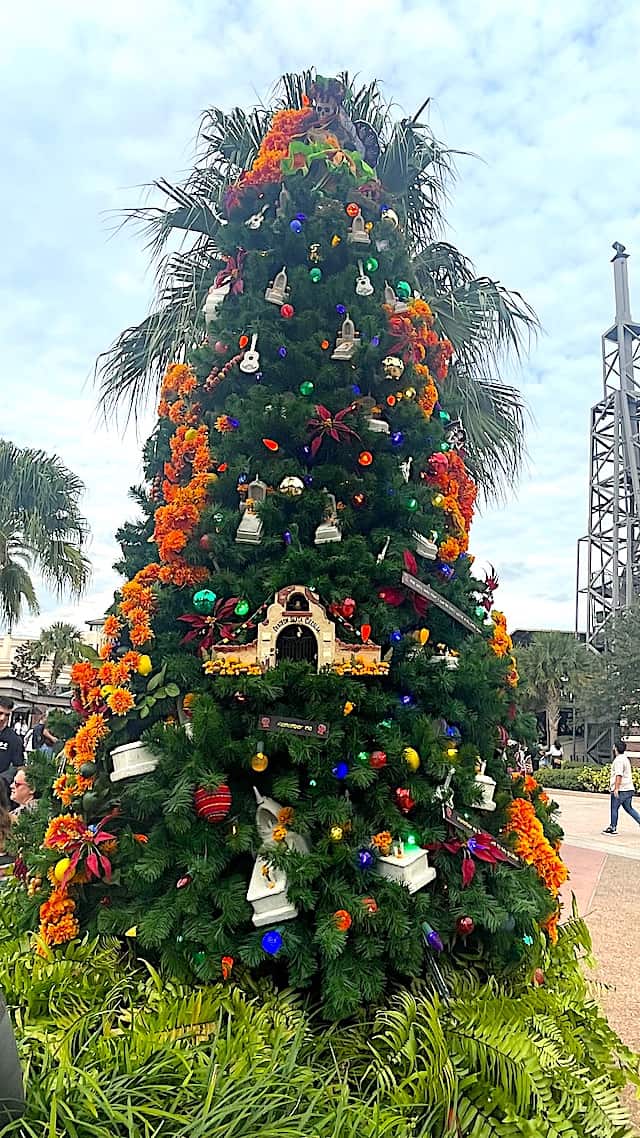 "Remember Me" with this unique Pixar Coco-inspired tree. The rich, vibrant colors make this tree a show-stopper. It is a bit unique to have gravestone ornaments, but it does fit perfectly with the storyline of the movie. Also included in the Christmas Tree Stroll is the film, Raya and the Last Dragon.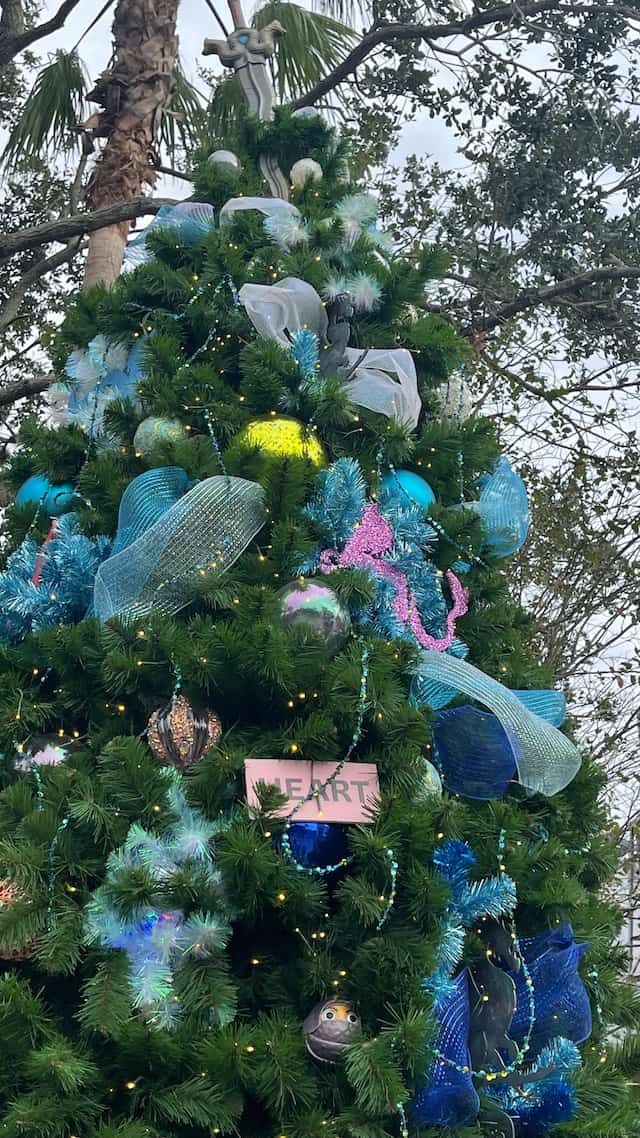 Fun little Tuk-Tuk ornaments are hidden throughout this tree. Each kingdom of Kumandra is featured on this tree with a cool theming. The new film, Black Panther: Wakanda Forever is also included in the Christmas Tree Stroll.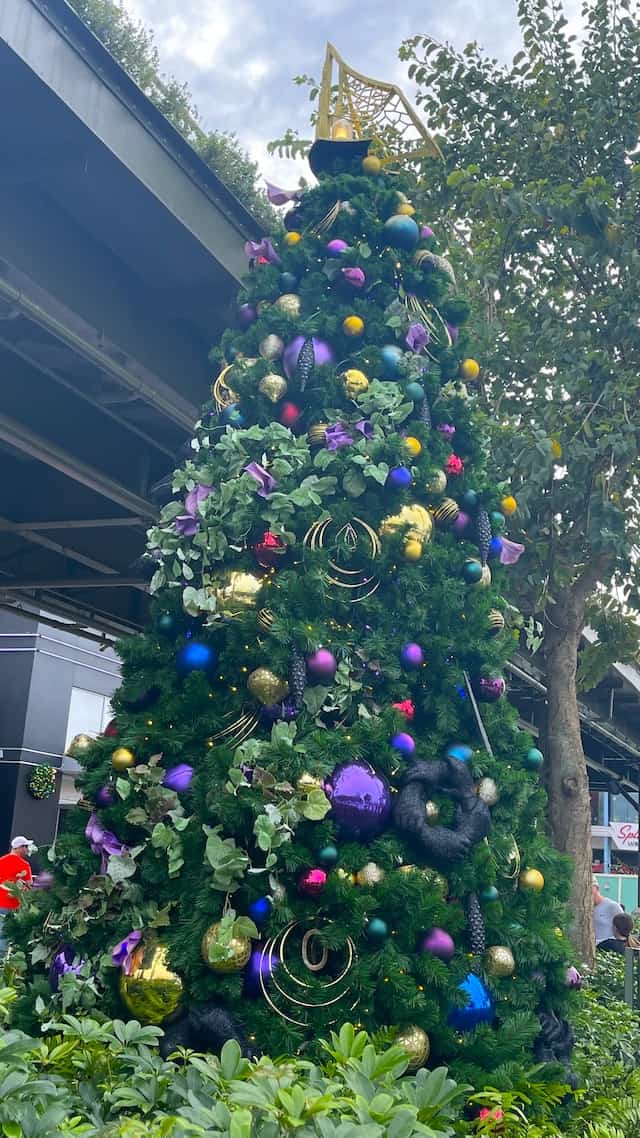 Each of the 20 trees featured this year was absolutely stunning. It was so much fun to complete the full "stroll" to see each of them.
Great Entertainment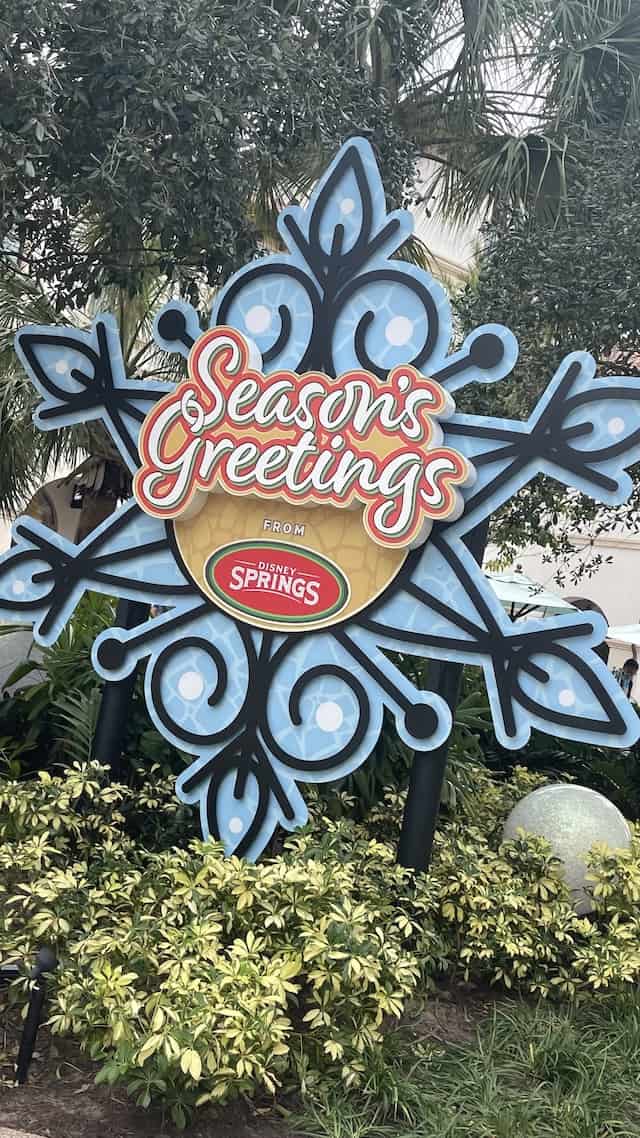 Guests at Disney Springs can also enjoy great holiday entertainment. There is an impressive lineup of entertainers gracing the AdventHealth Waterside Stage across from the huge World of Disney shop. At nighttime, Disney Springs becomes magical with snow falling, snowflake roller bladers, and even stilt walkers.
This is truly a magical way to enjoy the holidays without even needing a theme park ticket.
Do you enjoy visiting Disney Springs during the holiday season? Will you participate in the Christmas Tree Stroll? Which Christmas tree is your favorite this year? Share your thoughts with us on our Facebook Page.