Compared to all other cruise lines, Disney Cruise Line sure knows how to include many different areas and activities for children 3-12 to enjoy during their voyage on all five Disney ships. The Disney Wish expands the notion of including and catering to this specific age group especially in the Oceaneer's Club.
At What Age Should Kids First Sail?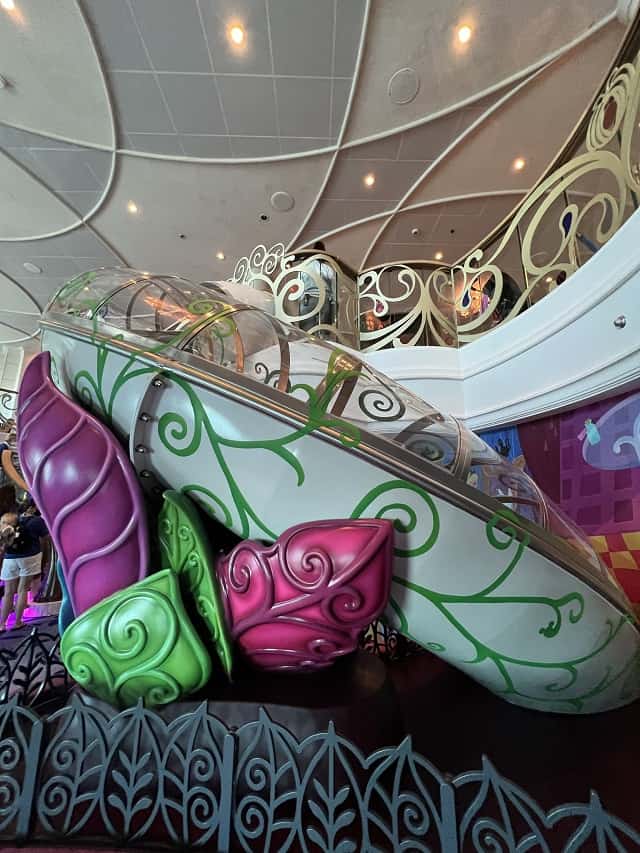 The brand new Disney Wish took many similar aspects from the other four cruise ships when considering the kids club. However, they pixie dusted it to a whole new level in so many ways. People often ask me what the right age is to take a child on their first Disney Cruise. My answer: when they are preschool aged.
Our youngest child first sailed when she was three and a half years old. Even though she may not remember specific moments from that specific cruise her love and enthusiasm to this very day resembles the smiles and excitement from when she first stepped into the kid's club on a Disney Cruise.
Disney knows how to give young kids a great time while sailing aboard any Disney cruise. It kind of makes adults feel a bit sad that we are not able to enjoy the luxurious and awesome amenities. However, open houses do occur throughout sailings where guests of all ages 13+ can live their best lives as children in the designated kids' clubs.
Disney's Oceaneer Club
The Oceaneer's Club is every 3-to-12-year old's dream! The Disney Wish has designed many themed spaces that will keep them entertained for the duration of their cruise. We have often joked that we hardly see our kids when we sail Disney because they love the kid club spaces so much.
Gaining entrance to the Oceaneer Club first begins on Deck 3 of the Disney Wish. Kids literally take a slide down to Deck 2 where the kids club is located! Don't worry adults, you too can live out your childhood of going down the slide during Open House. Oh yes, I lived out my dream and have footage to prove it!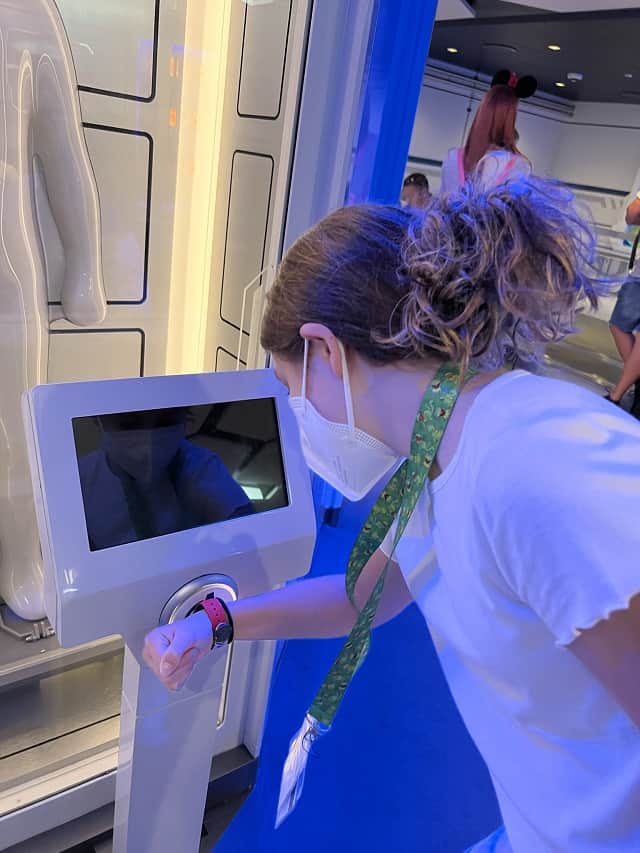 Kids need register for the Oceaneer's Club prior to sailing while completing online check in or anytime during the cruise at the entrance of the kids club. Disney provides MagicBands that you scan upon entering and exiting the club. The MagicBands also allows kids to play and unlock interactions such as in the Imagineering Lab and in the Star Wars Cargo areas. Then you return the bands on the last night of the sailing. For kids who wish to keep their bands, they may do so for $12.95.
Upon entering the kids club, there are many areas that children can enjoy. For example, the stage is a hub where special activities and character appearances take place throughout each day. Other locations within the kid's club are dedicated to different Disney themes and décor.
Inside the Oceaneer's Club Rooms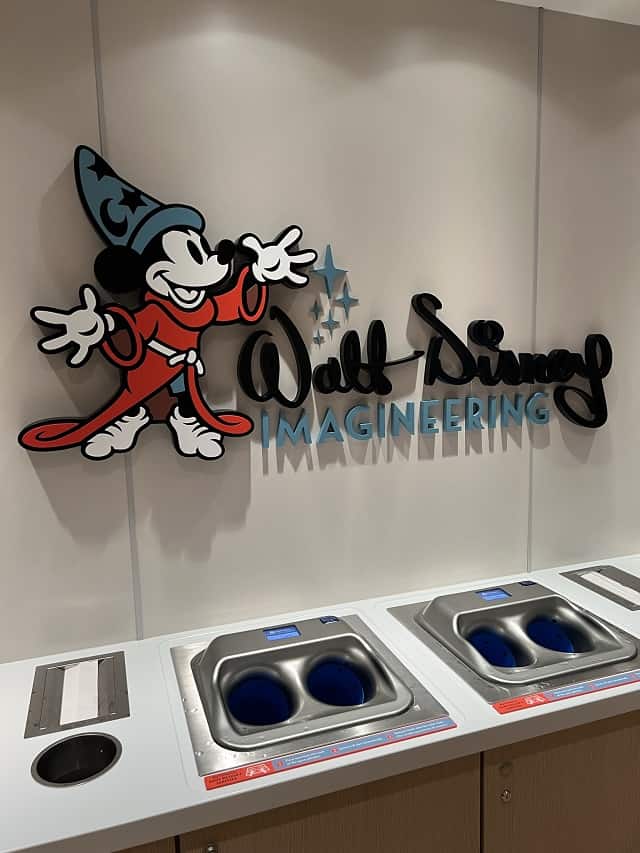 Another area of the kid's club my daughter was most excited about as she dreams of being Disney's CEO one day was the Walt Disney Imagineering Lab. It encourages kids to learn and to be hands on while learning about the Imagineering Department of the Disney Company.
This space is awesome! Not only can kids design a roller coaster but they can take a virtual ride on their creation! The entire lab offers so many easter eggs to favorite Disney characters such as Figment, Tron, Haunted Mansion and more!
The Marvel Super Hero Academy is a must for all superhero fans! Kids are encouraged to choose a superhero suit to suddenly watch the mannequin transform into that super hero right before their eyes. Unfortunately, this activity was unavailable during both of our sailings due to technical difficulties. Marvel Super Hero Academy is also the location where Marvel meet and greets occur during open houses. Days and times are listed on the DCL app on your phone.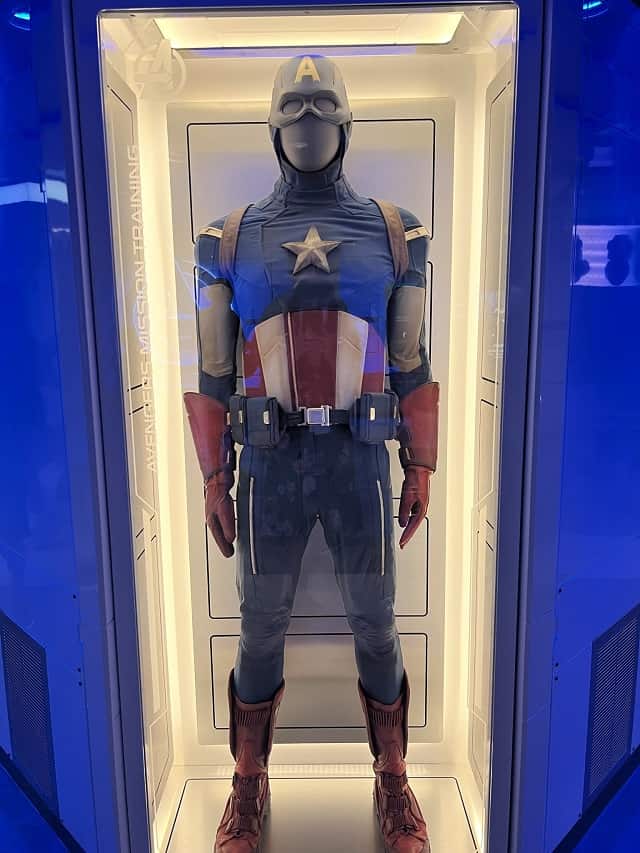 Don't worry Star Wars fans! The Star Wars: Cargo Bay will be one area of the kid's club not to miss! Kids take on the important role of learning how to manage various galactic creatures including porgs and Loth-cats. The interactive "Star Wars: Creature Challenge" experience caretakers (kids) are put to the test as they help feed the creatures and encounter some dangerous beings. Kids should be on the lookout for famous Star War characters who make appearances throughout the day.
Fairytale Hall encompasses Rapunzel's Art Studio, Belle's Library, and Anna and Elsa's Sommerhus. All three spaces allow kids to create art projects and activities that are offered throughout the cruise. These include Storytime with Belle, Disney Junior Dance Party, Minnie's Captain Academy and many others! Lastly, Mickey & Minnie's Captain's Deck is an area meant to allow kids to burn off energy while enjoying and playing on the indoor playsets.
Bathrooms and Hand Washing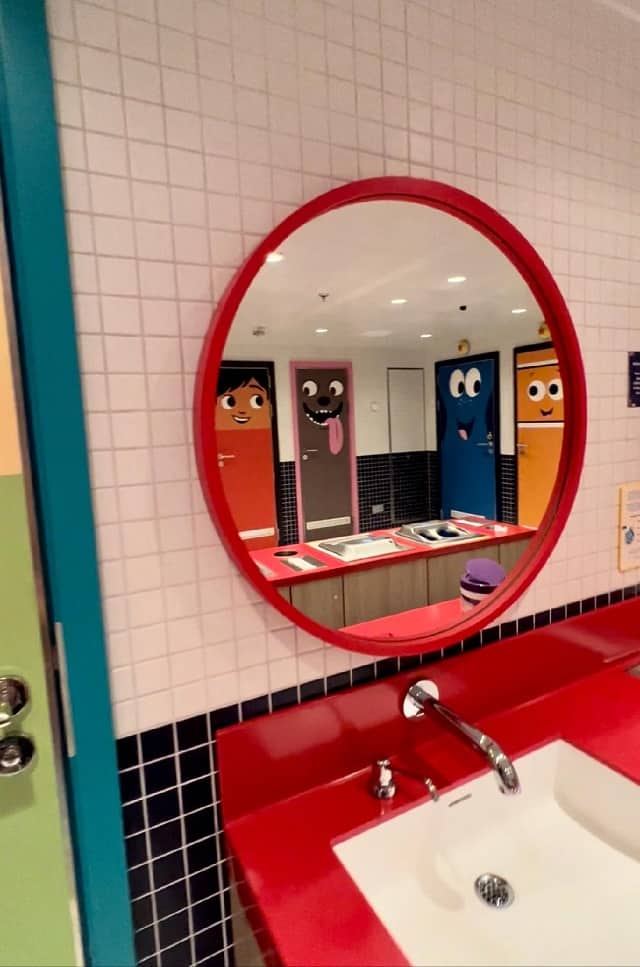 Even before the pandemic, Disney knew the importance of maintaining good hygiene while sailing aboard. Hand washing stations are located immediately inside the entrance which is also conveniently located next to where children slide down into the kids club. Other hand washing stations can see be found in different areas within the kids club.
Needing to use the restroom while enjoying the kids club does not have to be boring at all as Disney, once again, took theming to a whole new level. The pint size toilets and ample of hand washing stations made each adult that passed by squeal with sounds of joy! I cannot stress enough the importance of attending the open house. Kids ages 13 and above are able to soak in a bit of Disney magic that children are able to enjoy when the club is open. No wonder my kids never wanted to leave!
Comments From My Daughter
What a better way to review the Oceaneer's Club than from the eyes and experience of my youngest daughter. She wanted to share her thoughts about spending time in this area of the Disney Wish.
What I really enjoyed in the new Oceaneer's Club was the Disney Imagineering room because I really enjoyed creating my own rollercoaster. Each time that you created a coaster, it unlocked a new track system for the next creation. This was my favorite part of the kids club! I spent the majority of my visits here creating rollercoasters and looking around the Imagineering room.
I also enjoyed the interactive game in the Star Wars room. On a tablet, I scanned a code on a screen and it gave me the instructions of how to play the game. I needed to find a Star Wars creature and its footprints were on the ground. I followed the footprints and found the creature.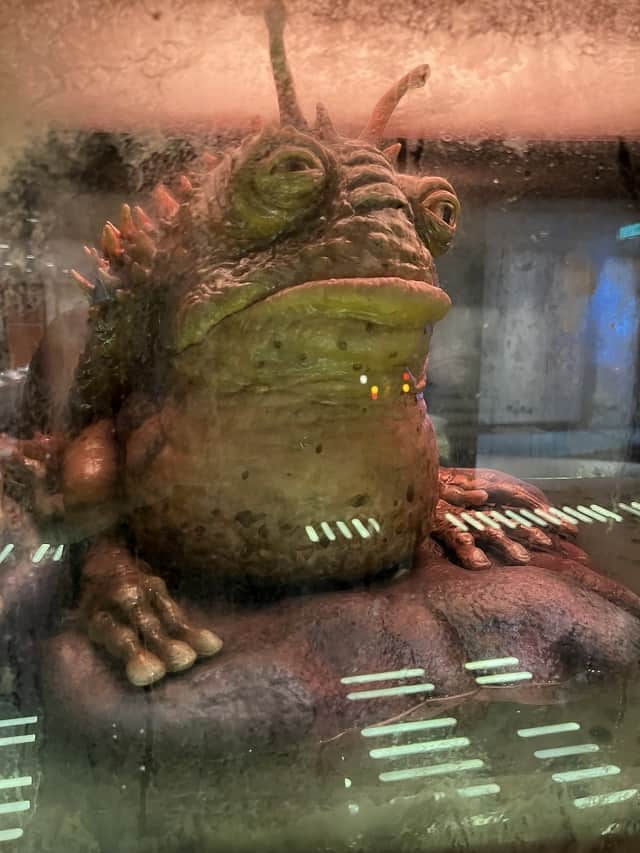 I had a funny experience when using the restrooms! The toilets are for five year olds. They were really tiny in size. I was really scrunched up to the ground while using them. It was pretty funny! Each door has a different Pixar character and is very colorful which was nice to look at.
There were a couple of times that I wanted to enjoy an interactive screen game in the Marvel room but it was always busy with many kids. I also tried to play an interactive game inside Anna and Elsa's Sommerhus, but my MagicBand never linked to it. I was able to watch other kids play the game, and they seemed to enjoy the game.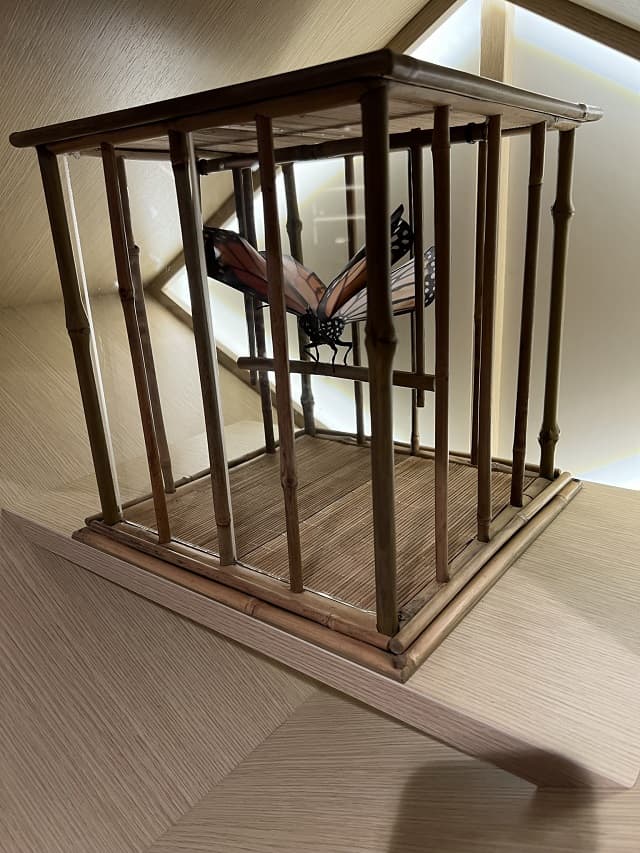 I really enjoyed walking around looking at the different rooms because this is where they show how they make rides and attractions and special effects. My favorite object was the butterfly disappearing effect that you can see on the Figment ride at Epcot. I was able to figure out the special effect on how it works!
The slide that leads into the kids club was really fun but really short. You go really fast on it! I would highly recommend the kids club to children. They will have lots of fun!
Which activity would your child enjoy the most while enjoying the Oceaneer Club aboard the Disney Wish? Let us know in the comments on Facebook and in our Facebook group.

Are you planning a vacation? Reach out to our trusted travel agency sponsor Authorized Disney Vacation Planner
Mouse Class Travel
!