Last year we loved all of the great Disney themed trees at Disney Springs Christmas Tree Trail. Check out the best 19 trees from last year and discover where you may be able to enjoy these great Christmas trees this year.
What is the Christmas Tree Trail?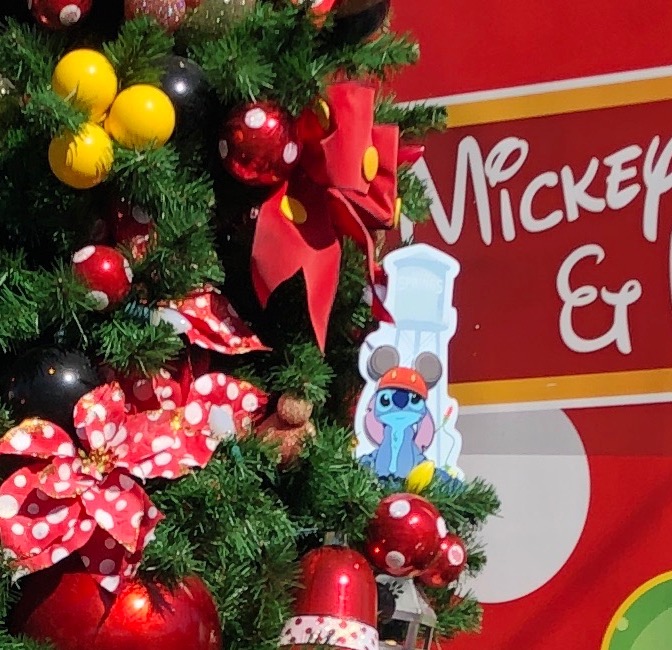 In the past the Christmas Tree Trail was a FREE event offered at Disney Springs featuring 25 Disney-inspired trees. These trees are roughly between 10′-12′ and they are located with a themed mat and backdrop which make a perfect photo-op with your favorite Disney inspired tree.
Due to social distancing guidelines, the Disney Springs Christmas Tree Trail has changed just a bit. There are still beautifully themed trees to enjoy, but they are now scattered throughout Disney Springs to include this year's "Holiday Scavenger Hunt." Read more about this HERE.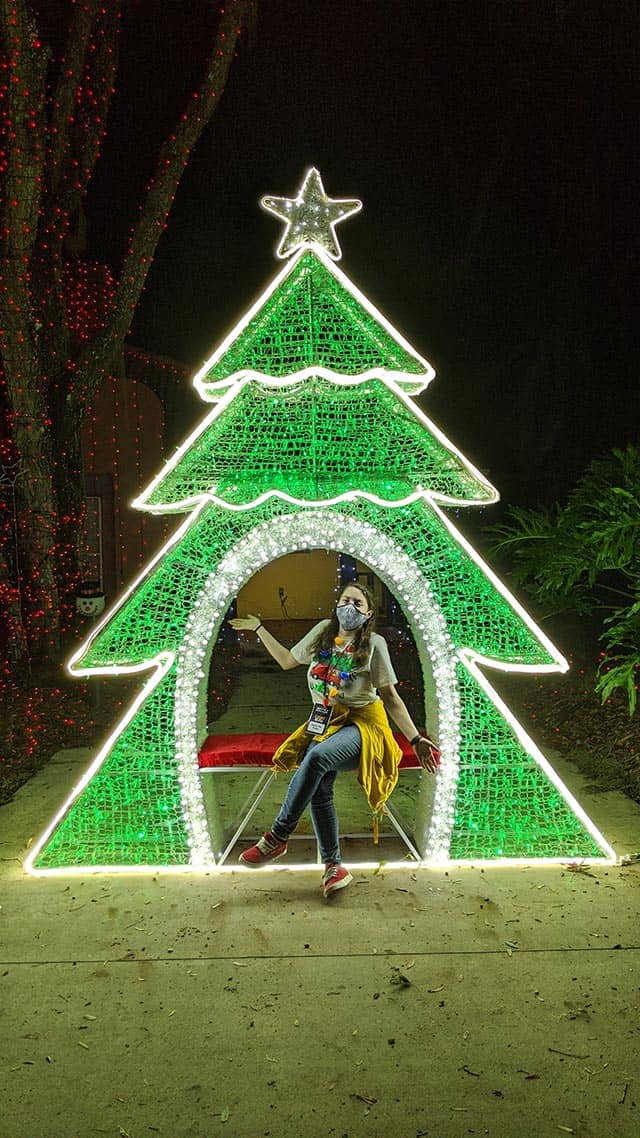 KennythePirate also shared that many of the Christmas Trees featured in the 2019 Christmas Tree Trail may also be enjoyed at the Night of a Million Lights event. This is a great experience benefiting Give the Kids the World. Check out this great event and learn more about this great organization HERE.
Top 19 Trees of 2019
#19. Mickey and Minnie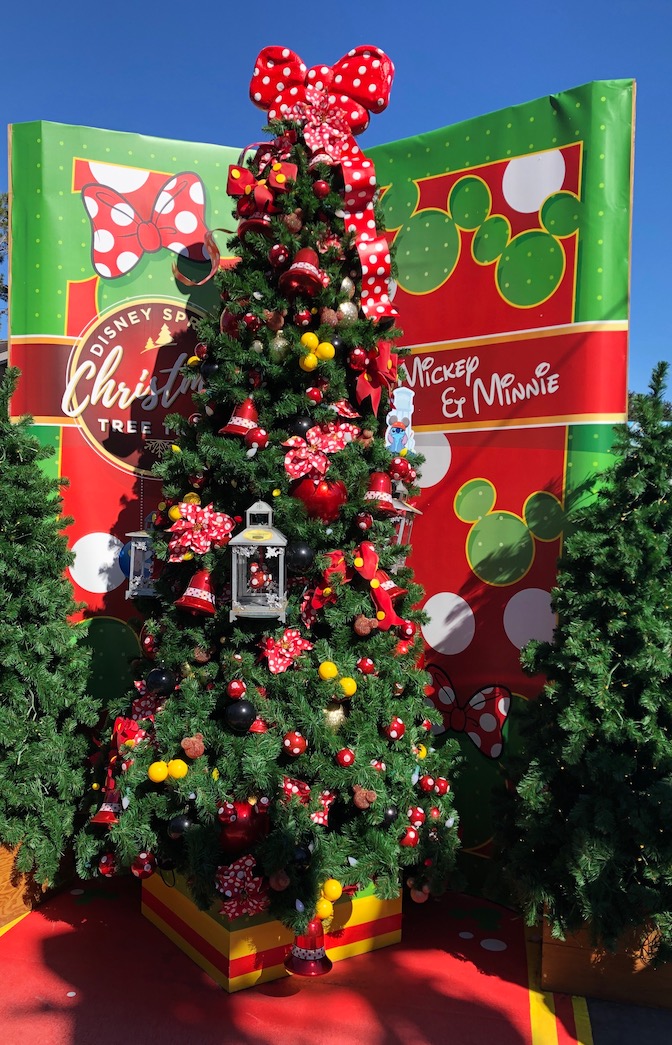 "I only hope we never lose sight of one thing- that it was all started by a mouse"~ Walt Disney. The first tree that we will start with our countdown is the Mickey and Minnie themed tree. Mickey Mouse is my all time favorite character and I loved the bright theming for this tree.
#18. Sleeping Beauty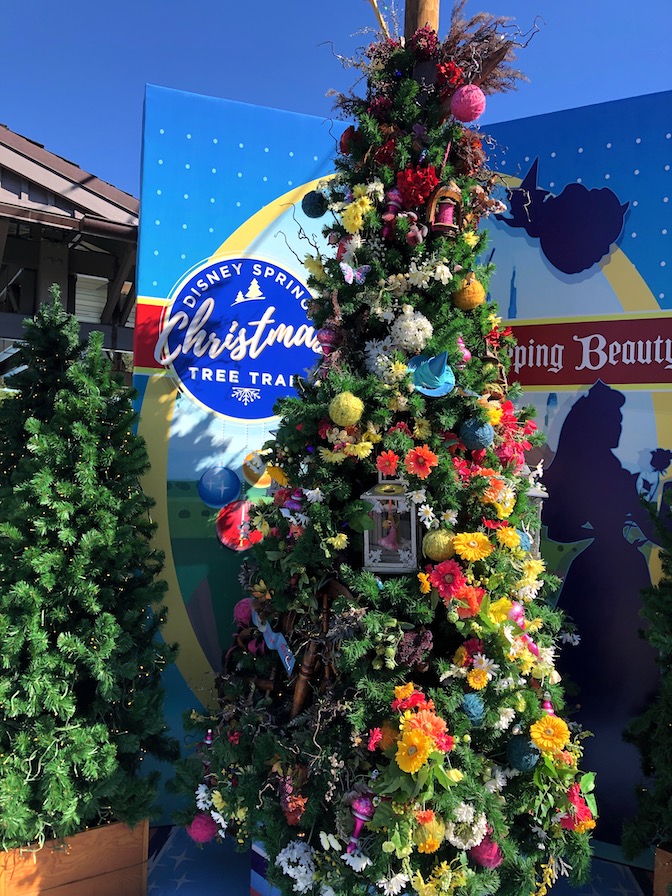 So many wonderful details filled this tree. Check out the spinning wheels that remind us of the curse placed on Aurora. The brightly colored hats remind us of the 3 delightful fairies. Now we wonder if this tree would be better pink, no make it blue. No matter what color, this tree is exquisite.
#17. Mulan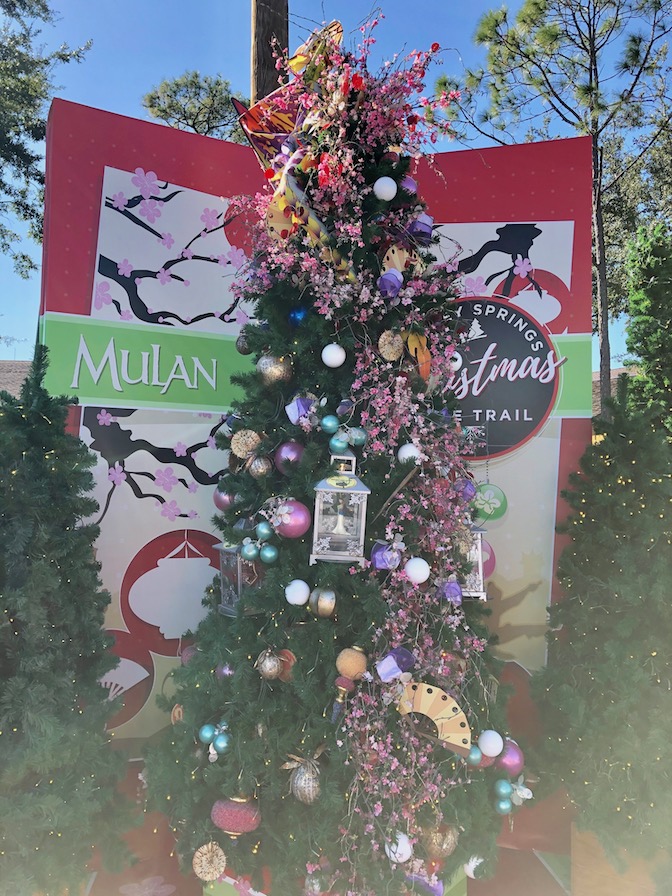 The beautiful cherry blossoms compliment this tree beautifully. This was one of my favorite trees from last year, and a welcome repeat this year.
#16. Cinderella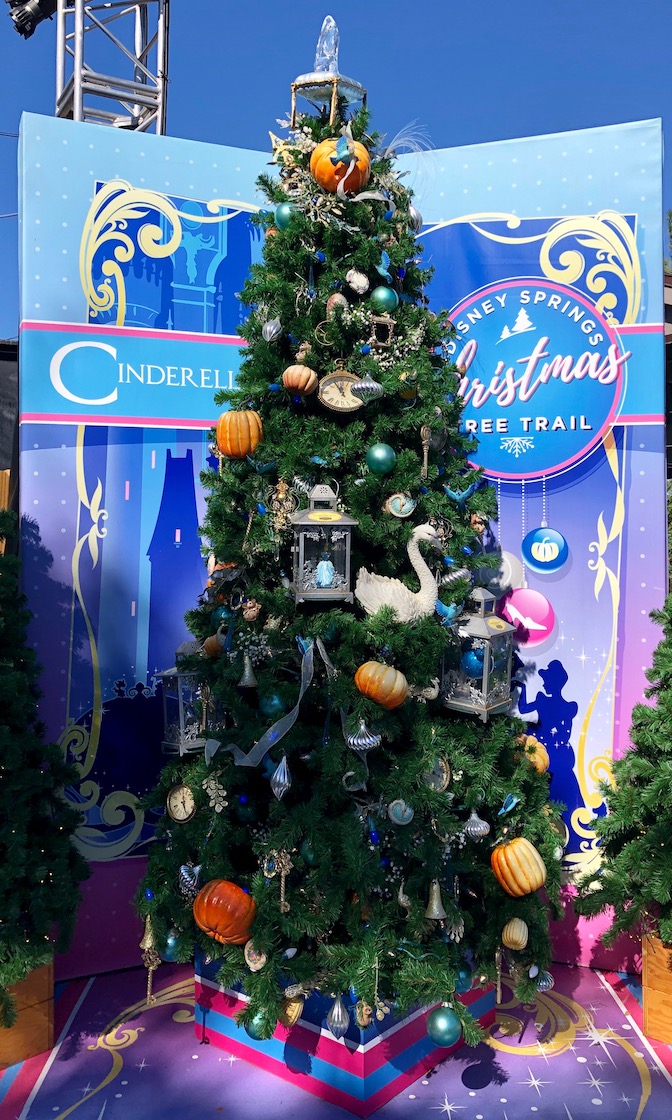 This tree is themed so beautifully with the perfect glass slipper as a tree topper. Also the pumpkins, pocket watches almost ready to strike midnight, and skeleton keys help carry out the theme of such a classic princess.
#15. Beauty and the Beast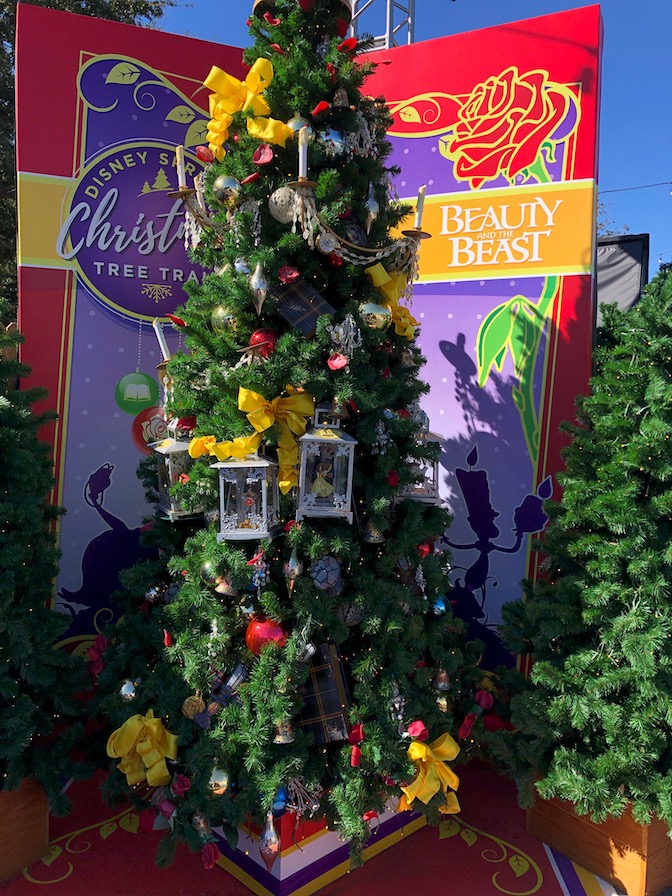 Beautiful pops of red and yellow make this tree a true stand-out. Details of books, candles, and red roses adorn this gorgeous tree.
#14. Star Wars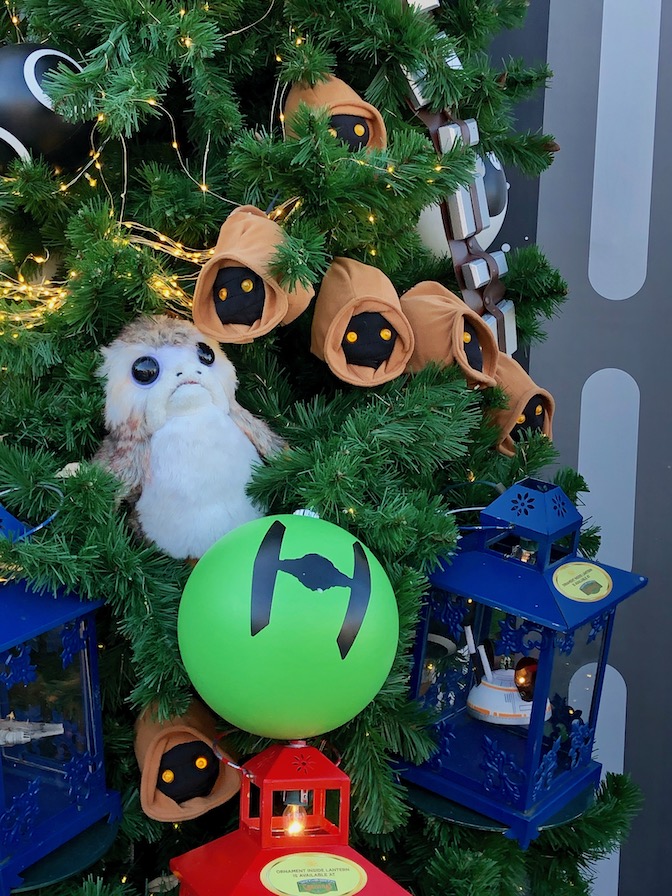 My son loved this tree as he is obsessed with Porgs and Jawas. This tree is sure to make you reminiscent of a galaxy far, far away.
#13. Haunted Mansion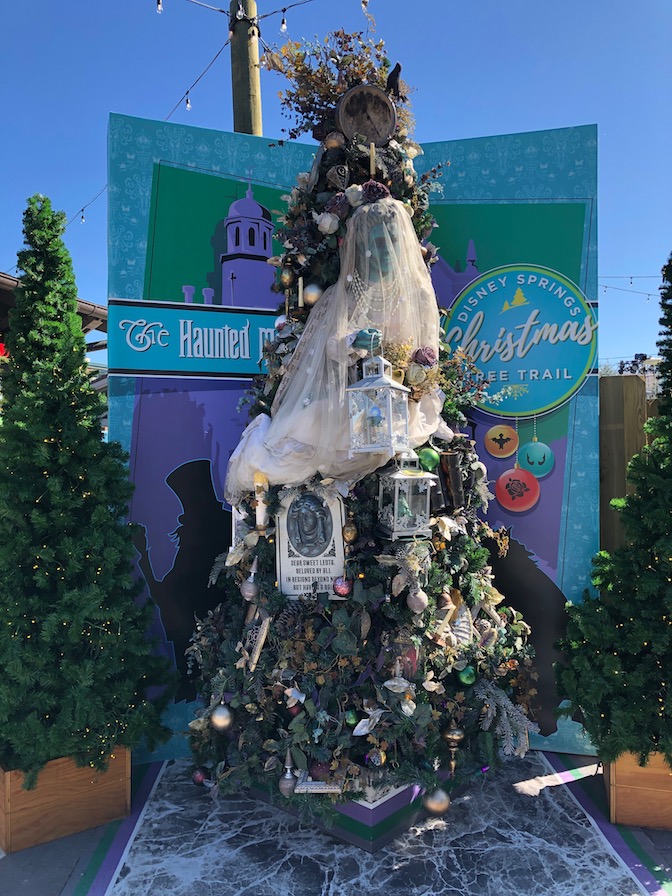 This is the only ride-inspired tree but such a welcome addition. The details are spot-on with some of my favorite scenes from the attraction. This tree is sure to be enjoyed by many foolish mortals.
#12. Toy Story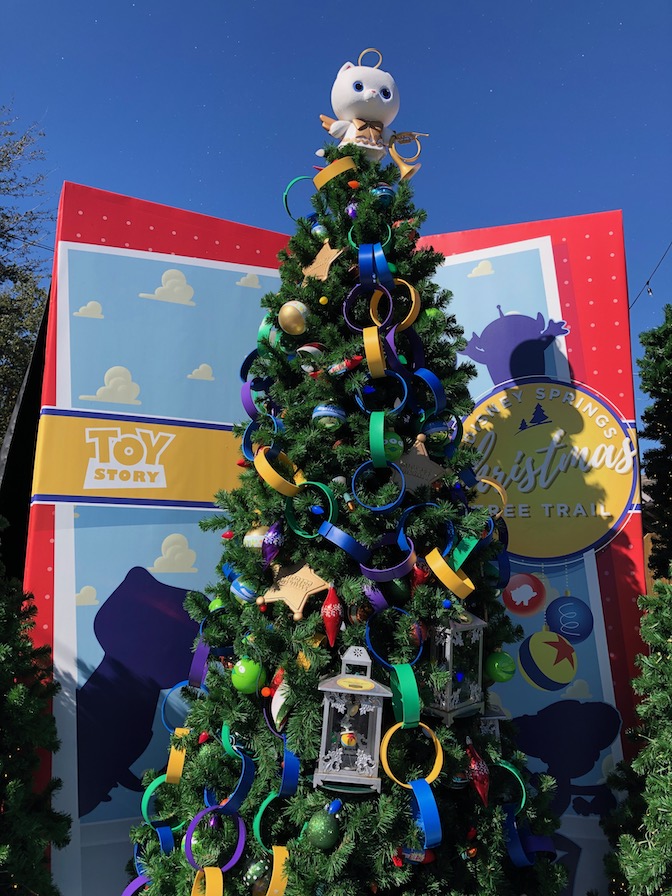 This tree is absolutely adorable with the paper chain garland, sheriff badges, green alien ornaments, and the adorable Angel Kitty tree topper. Angel Kitty was found in "Toy Story That Time Forgot" and she makes a perfect top this festive tree.
#11. Snow White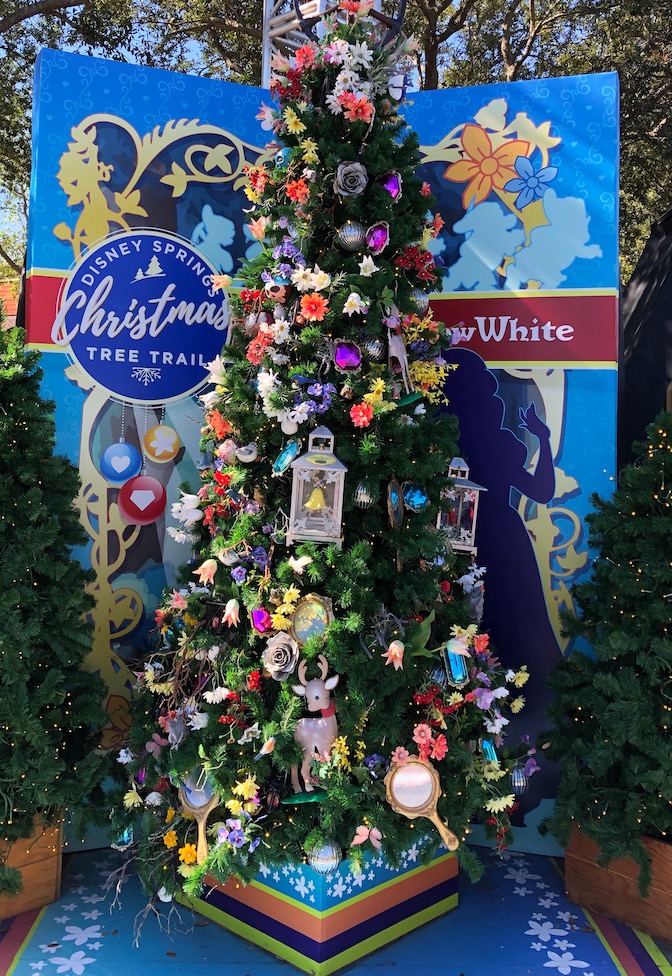 This would be my mom's favorite tree. Disney's first full-length animated movie is wonderfully celebrated in this tree. Adorable deer ornaments, hand-held mirrors, and sparkling gems from the mines are perfectly placed on this delightful tree.
#10. Pinocchio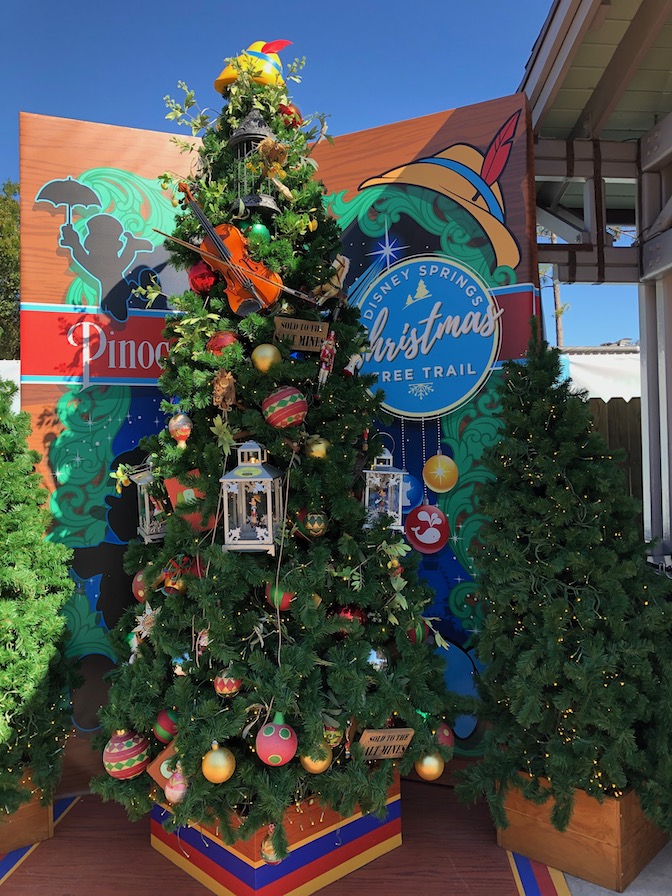 This tree has it all: a fiddle, Pinocchio's iconic hat as the topper, "Sold To The Salt Mine" signs, and cages with long wooden noses have found a place on this wonderful tree. This tree will have you wishing upon a star and believing that anything is possible.
#9. Mary Poppins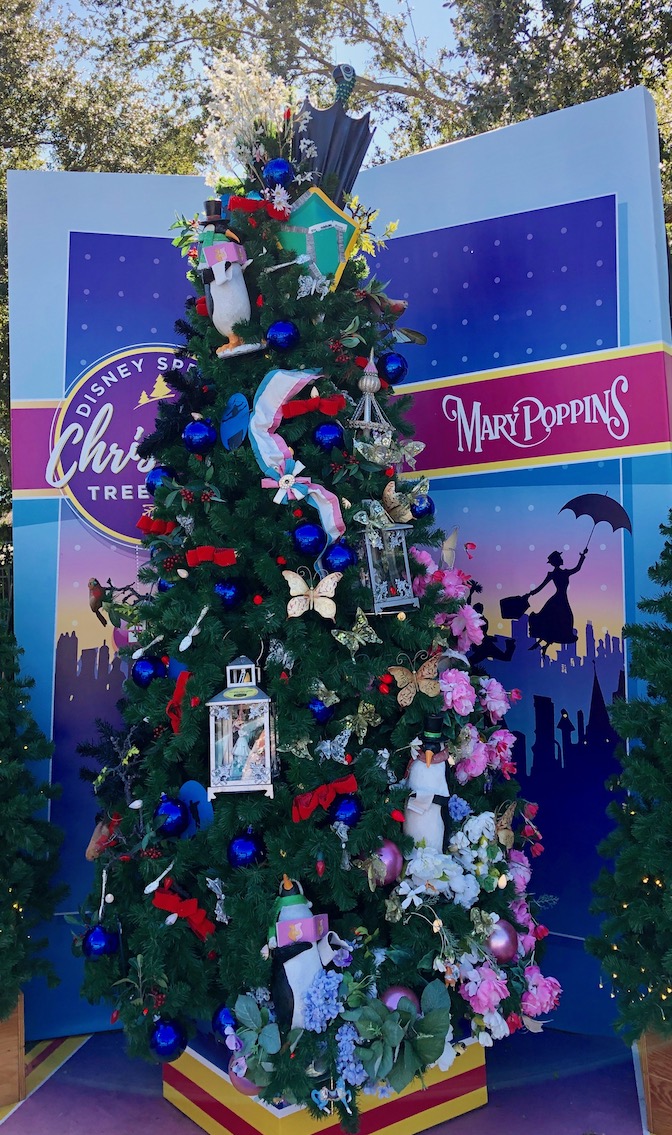 This tree is "Practically Perfect In Every Way" just like Mary Poppins. Penguins, a bandaged kite, Suffragette sash, and bird handled umbrella add to the perfect theming of this tree.
#8. Peter Pan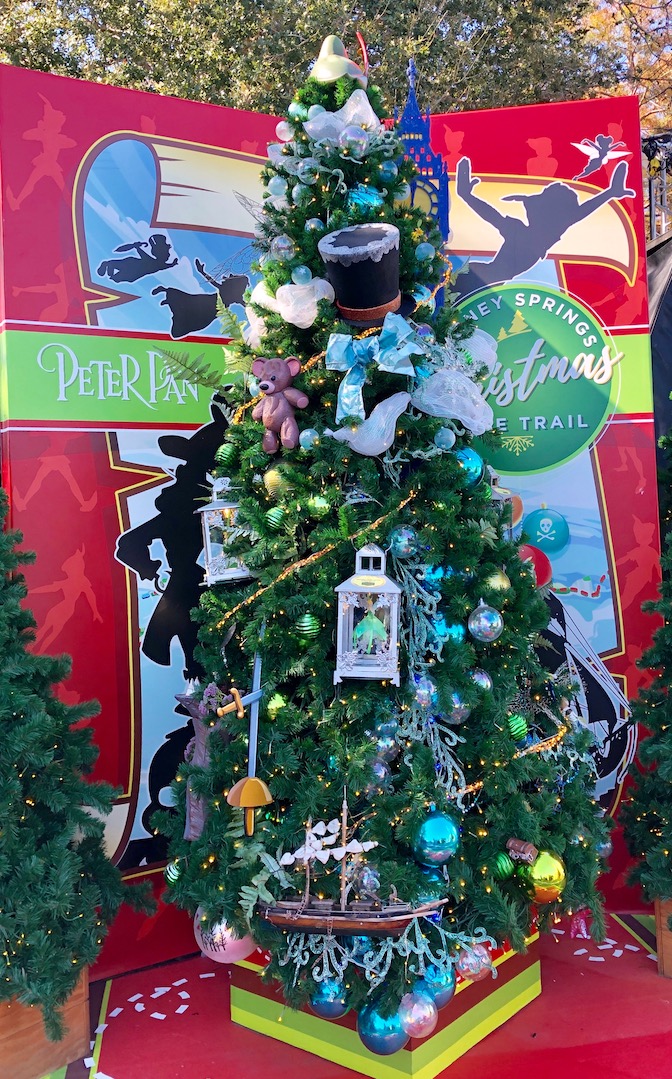 It is hard to decide what is the favorite feature with this tree. It may be the gleaming gold garland of Pixie Dust from Tinkerbell, Michael's teddy bear, or even Captain Hook's ship. This tree will have you off to Neverland in no time at all.
#7. Tangled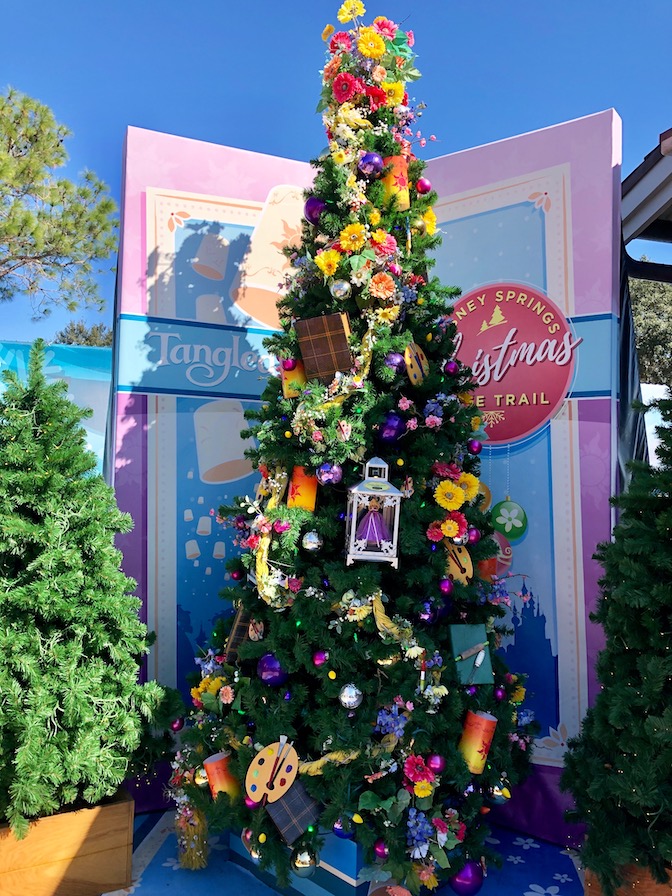 I may be a bit biased, as this is my favorite Disney Princess, but this tree was spectacular. The floating lanterns, beautiful flowers, flowing blonde hair, and paint sets theme this tree beautifully. You will be singing "I've Got A Dream" as you take in this beauty.
#6. Dumbo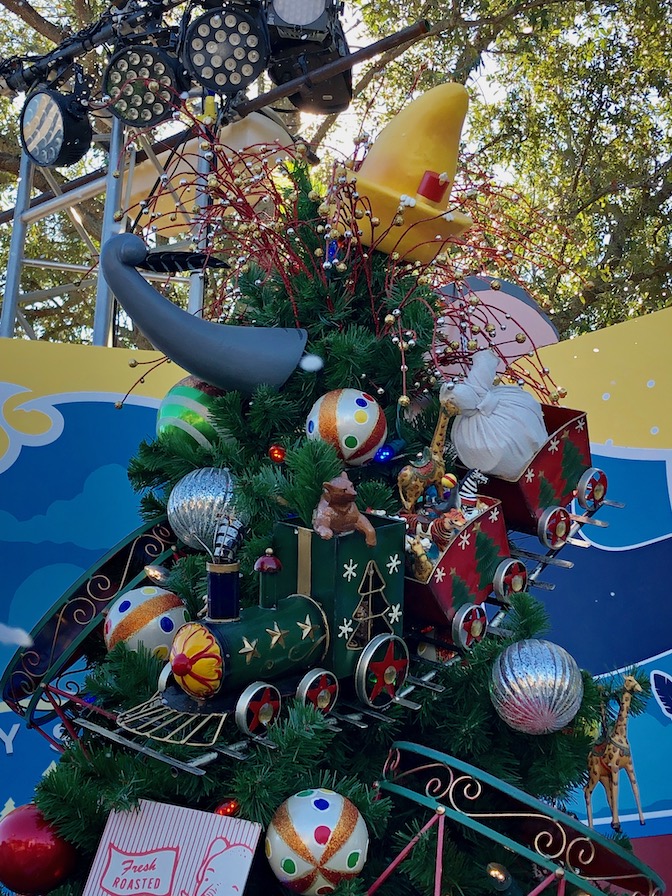 "The Greatest Show On Earth" is amazingly depicted on this tree. The tree topper truly sets this tree apart. From the ears, trunk, and iconic hat with Casey Jr. cascading down from the top of this tree, this tree is truly a show stopper.
#5. Villains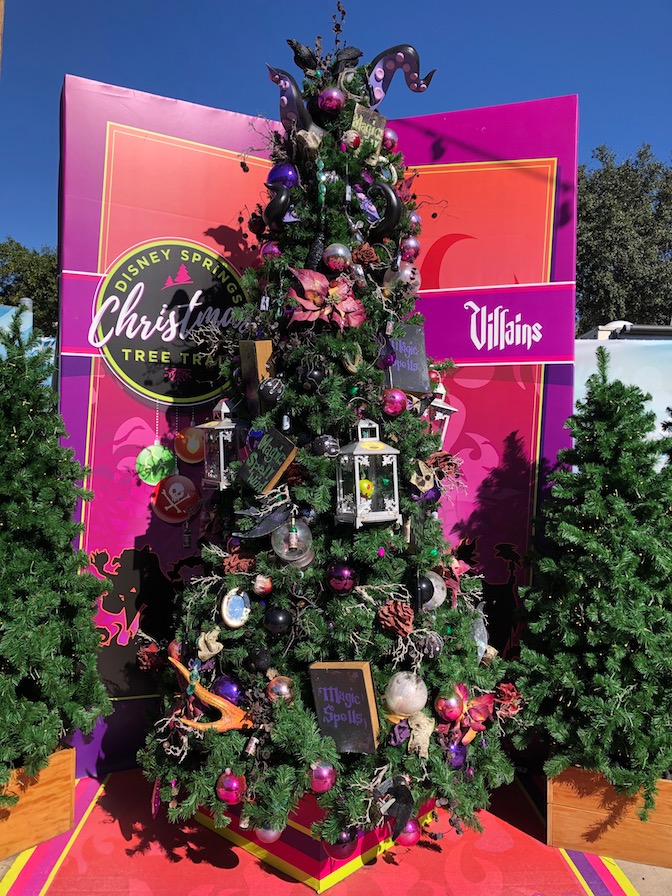 All of your favorite villains are on one tree. Such a great addition to the Christmas Tree Trail this season. Magic spell books, tentacles, black crows, and of course Maleficent's horns make this tree delightfully wicked.
#4. Frozen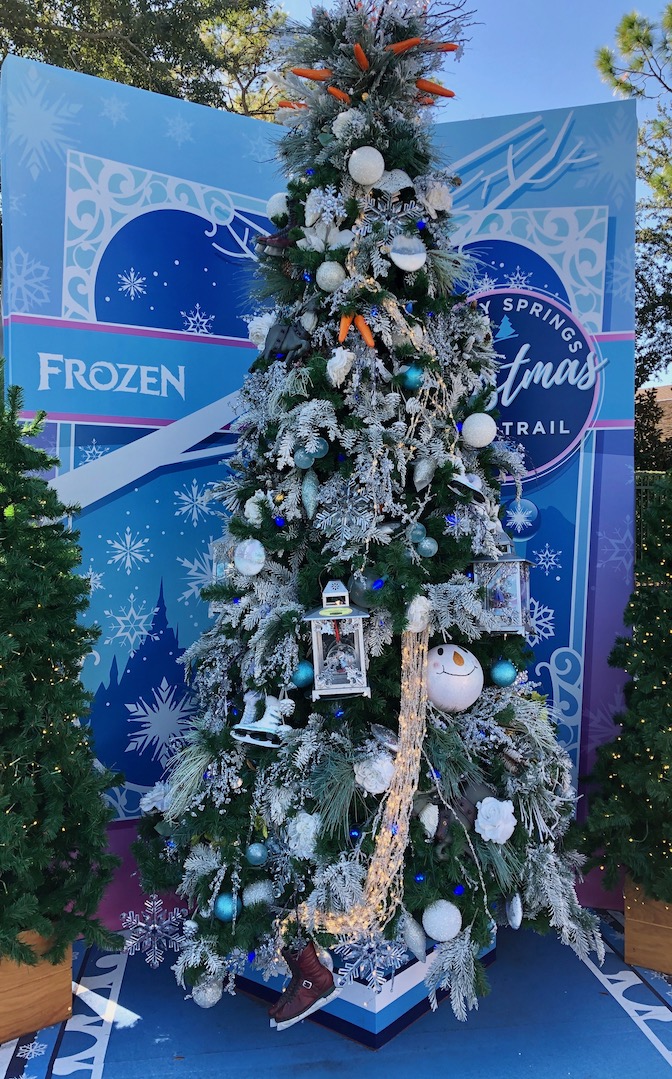 This enchanted tree will take you on a journey "Into The Unknown" with frozen decorations, carrot nose tree topper, and unique snowflakes.
#3. Walt Disney World Parks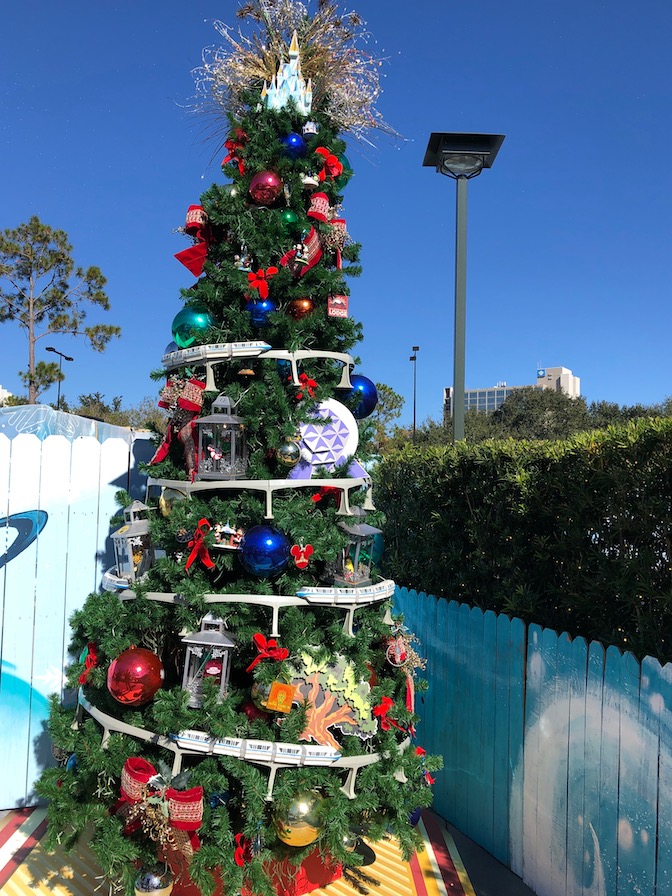 This tree features all 4 of the Walt Disney World Parks and a monorail garland that will transport you to your favorite park.
#2. Aladdin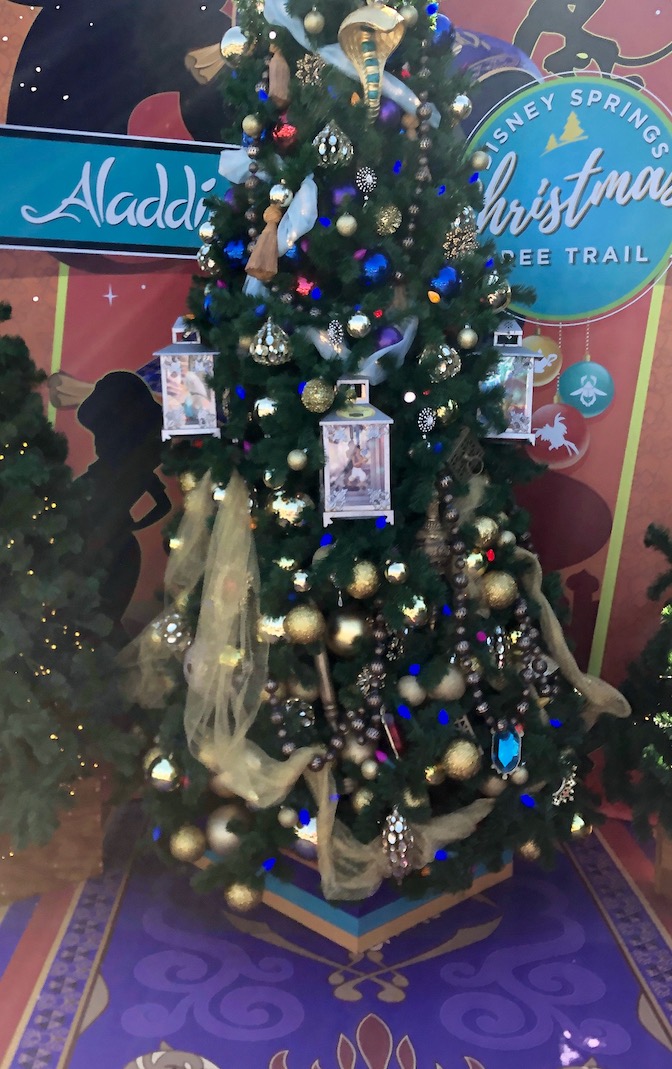 This tree beautifully depicts a favorite Disney classic. With the tree positioned on the magic carpet, Jafar's serpent staff, and all of the gold and riches of Agrabah this tree will transport you to "A land, it's a faraway place, where the caravan camels roam."
A personal favorite was the Genie lamp tree topper. Can't you just imagine a small child on their father's shoulder's trying to get a rub of this coveted lamp?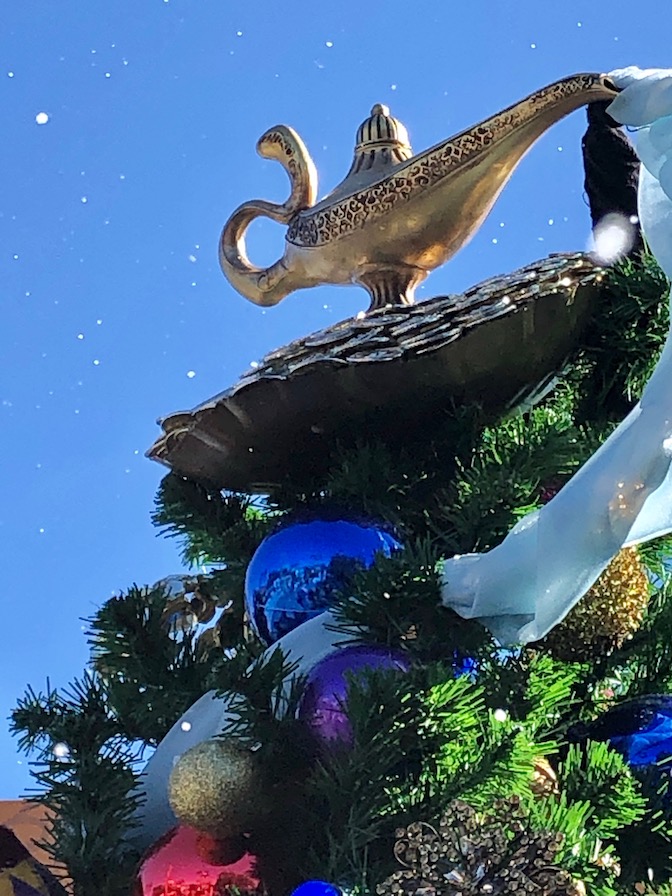 #1. Lion King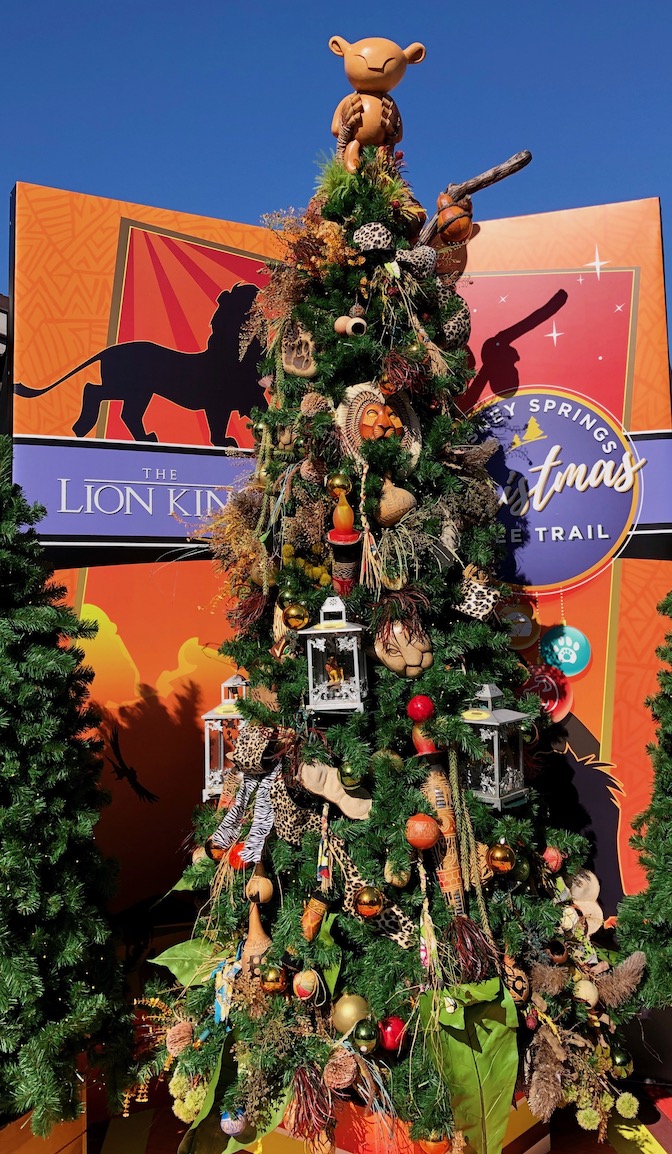 This was our family's favorite tree and it has landed at the top of our countdown. The tree topper alone places this tree in the winner's circle. We absolutely loved young Simba being presented by Rafiki's hands at the very top of this tree.
The lion king tree was truly the highlight of our journey through the 2019 Christmas tree Trail.
Also highlighted on this tree are safari-themed ornaments, Rafiki's staff, large jungle leaves, and lion ornaments. This was truly the highlight of our journey on the Christmas Tree Trail.
Although this years Christmas Tree Trail is a bit different than in years past, we hope that you enjoyed this review of these beautiful trees. Which was your favorite? Do you have memories from visiting the Christmas Tree Trail in the past? Share your thoughts and photos with us on our Facebook Page.