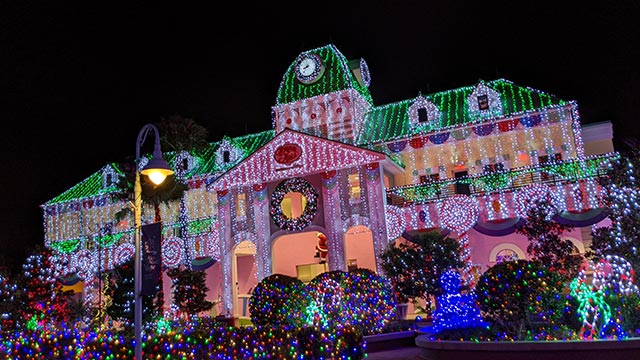 One of my family's most endearing traditions was to visit the Osborne Family Spectacle of Dancing Lights in Hollywood Studios. Sadly, the construction of Star Wars: Galaxy's Edge brought that amazing light display to an end in 2015. But, you can now experience more than 3 million of those glorious holiday lights at the Night of a Million Lights at Give Kids the World Village in Kissimmee, Florida. Every view of this post will result in a donation to the village. Here's all the details and many photos. Please share with others.
What is Give Kids the World?
Give Kids the World Village is a private, non-profit organization that exists to fulfill the wishes of critically ill children and their families. When wish granting organizations, like Make a Wish, receive a request from a critically ill child who wants to visit Walt Disney World or other attractions in Central Florida, Give Kids the World is the organization that fulfills the majority of those wishes at NO cost to the family.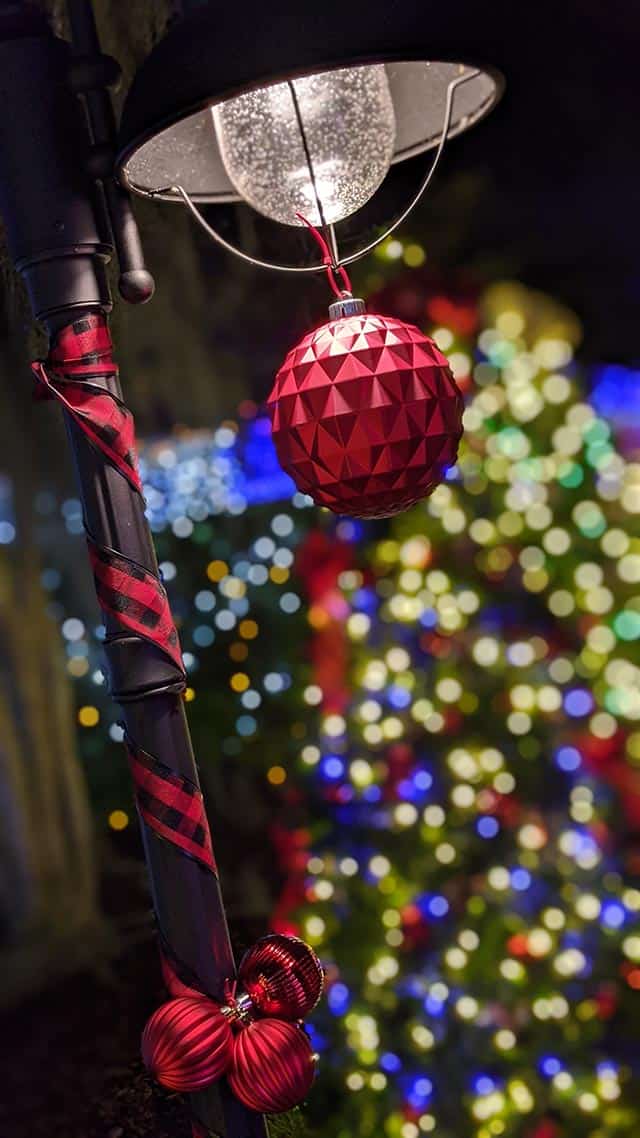 The 89-acre village is compromised of 166 residential villas, many in a duplex style home. A family is granted a full week to experience any local attraction that includes transportation, tickets, meals, snacks, entertainment and tickets to any attraction.
Since 1986, Give Kids the World has welcomed more than 176,000 families from all 50 states and more than 76 different countries. It's been the joy of the KennythePirate Crew to assist in fund raising for the village and bring hope to many of those families. As a part of the Every Ride Challenge Team and our "Give Kids the Rides" efforts, we have raised more than $125,000 to grant wishes thus far.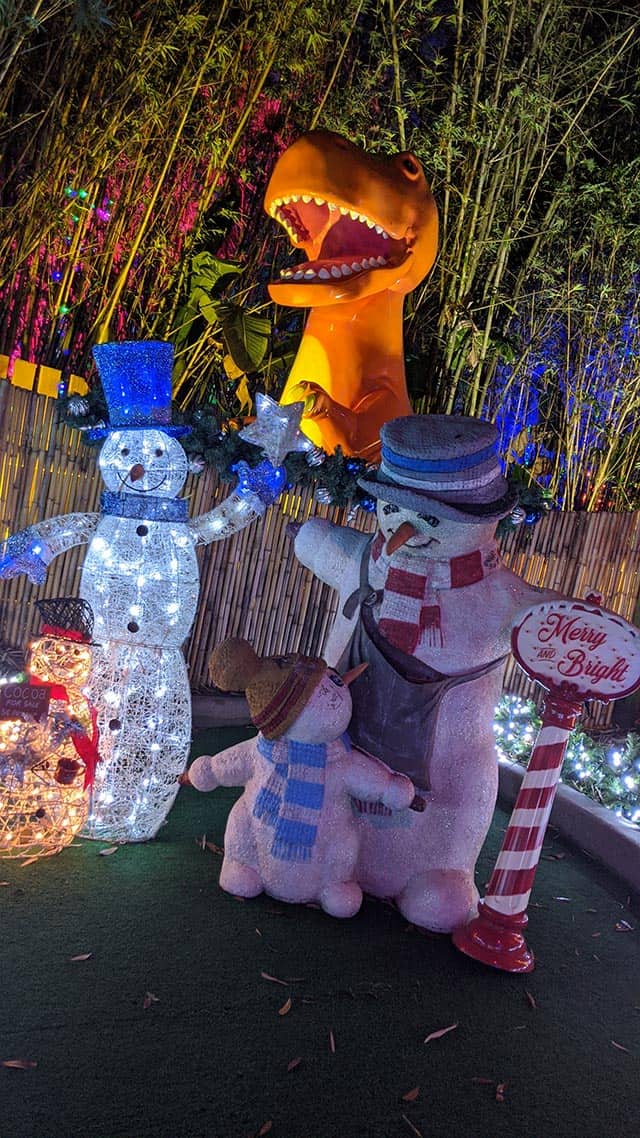 Give Kids the World has been rated as a 4 star charity by Charity Navigator. When you give to the village, you know that you're giving to a charity that uses the funds to bless critically ill children and their families.
With the spread of Covid-19 around our planet, Give Kids the World was forced to close its doors in mid-March, which has delayed more than 6,000 wishes from being granted and affected many of the employees at the village. Night of a Million Lights was created to raise additional funds and awareness of the mission of Give Kids the World. This will help the village re-open to more families and grant more hope to critically ill children.
What is Night of a Million Lights?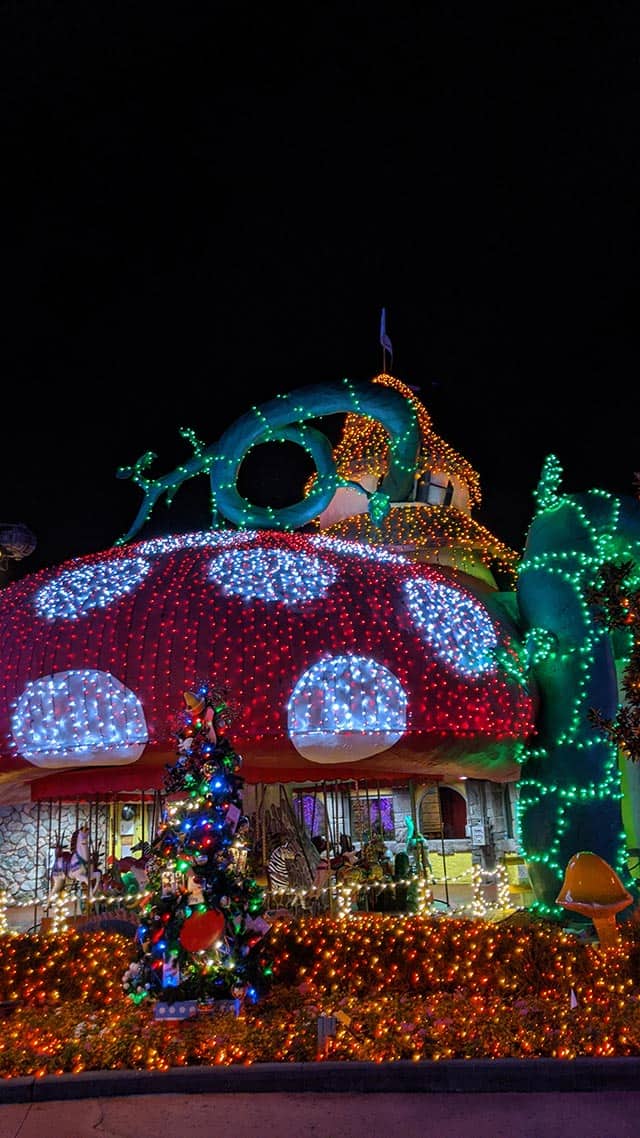 Night of a Million Lights is actually more than 3 million holiday lights that are used to decorate the village center and more than 45 residential housing areas within the village. The overwhelming majority of the lights were donated from Walt Disney World and were likely used on the Osborne Family Spectacle of Dancing Lights in Disney's Hollywood Studios!
From November 13, 2020 through January 3, 2021 the Night of a Million Lights will transform Give Kids The World's whimsical storybook Village into a dazzling winter wonderland. More than three million glittering lights will immerse guests in a festive kaleidoscope of sights and sounds, including a shimmering 150-foot tunnel leading to 45 exquisitely decorated wish family residential villas; more than 50 larger-than-life holiday-themed wireframe displays; an enchanting, incandescent gingerbread arch; and out-of-this-world space-themed decor adorning the Village's delectable new centerpiece, Henri's Starlite Scoops.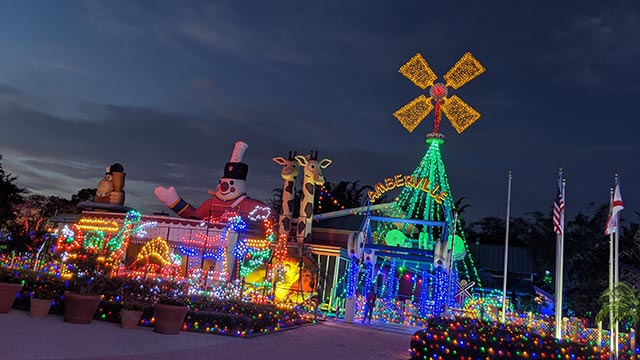 Your admission includes the ability to casually stroll through Give Kids the World Village and take in all the beautiful light displays as well as enjoy some complimentary hot cocoa and ice cream. The Village's wheelchair accessible rides and attractions are available to experience as well. You can even meet Santa and Mayor Clayton, the village's official mascot.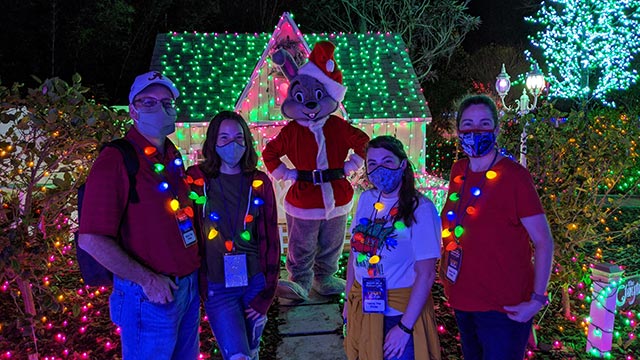 Night of a Million Lights will take place from 5:00 p.m. to 10:00 p.m. daily, with staggered entry times to promote social distancing. In order to help all guests feel safe, mask wearing will be required for all guests.
The Night of a Million Lights is made possible by more than 45 corporate sponsors who have each decorated one of the residential areas. Many are very elaborately themed and will bring a great smile to your face. Here's a few of the ones that stood out to us.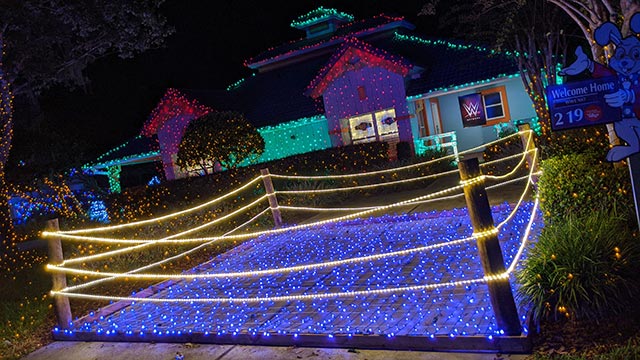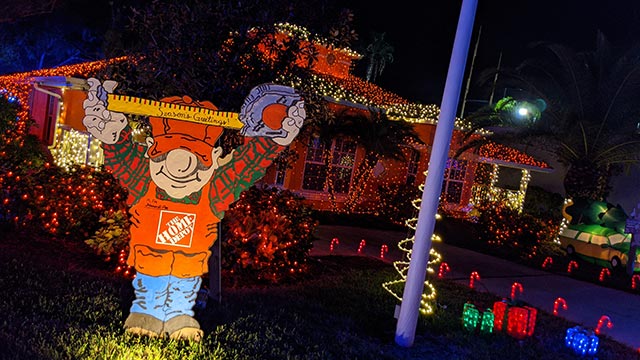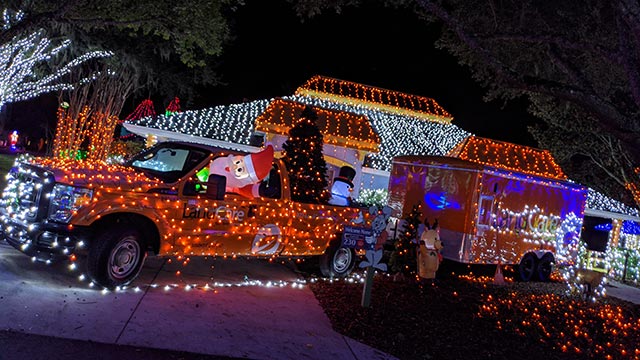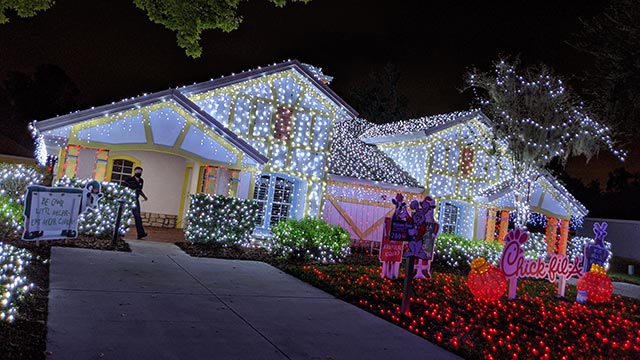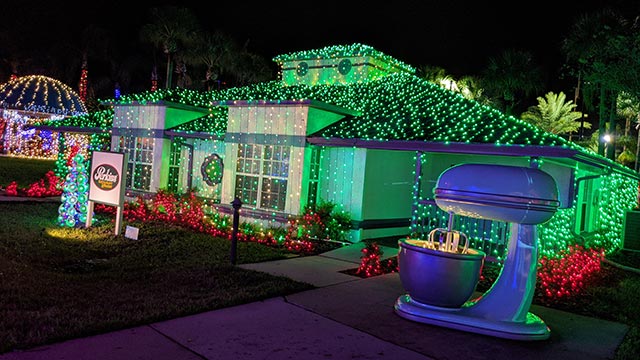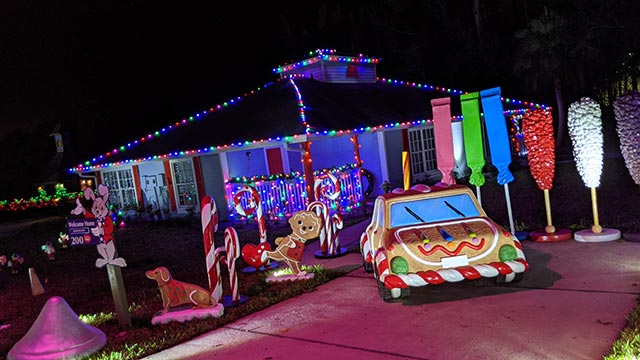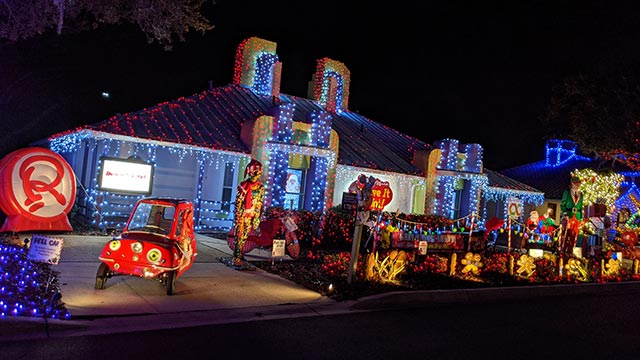 You can view more than 100 of my photos in full size from our visit on my Facebook Page as well.
Is there an admission charge?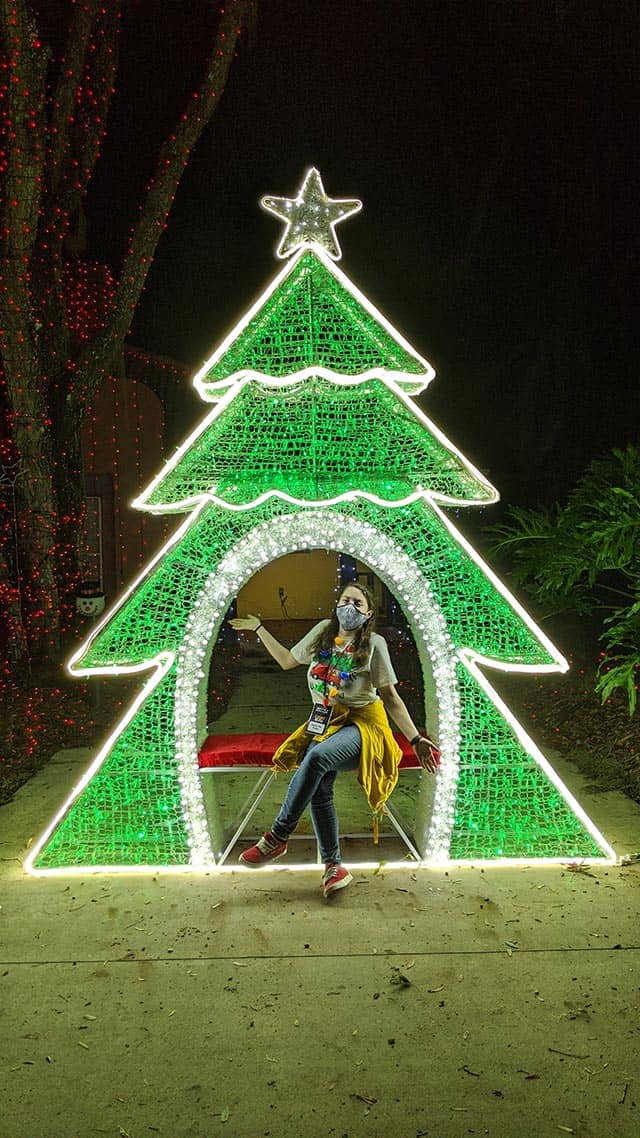 Yes, the admission charge allows the village to provide the experience, as well as raise needed funds to provide wish granting in 2021, once health officials feels it's safe to re-open to families. And be sure to buy your tickets NOW, because many nights will sell out!
Ticket prices vary by date, with three different ticket tiers you may choose from: Standard, Peak and Holiday. Please note that entry times for this event will be staggered to prevent crowding. When purchasing tickets, you will be asked to select a date as well as a specific time of entry between 5:00 pm and 10:00 pm. You can purchase tickets by visiting this link.
Standard Ticket
$25 Adult
$15 Kids 3-17
Nov 13-24, Nov 30
Dec 1-17
Peak Night Ticket
$35 Adult
$18 Kids 3-17
Nov 25-29,
Dec 18-23, 26-30
Jan 3
Holiday Night Ticket
$40 Adult
$20 Kids 3-17
Nov 26
Dec 24, 25, 31
Jan 1-2
A discount is available for groups of 25 or more. Interested parties should contact [email protected] Bring a church group or local sports team!
Where is the event held?
Give Kids The World, Inc.
210 South Bass Rd.
Kissimmee, FL
How can I donate to Give Kids The World?
Perhaps you're unable to attend this amazing event and would like to make a charitable donation? Thank you so much for your desire to support the critically ill children and families! To help them fulfill future wishes, please make a donation:
If you're planning to visit Central Florida from November 13 through January 3, I HIGHLY recommend that you make this part of your plan. Buy your ticket in advance and go see this glorious display that helps provide support for a great charity that blesses many families.
A donation will be made from every view of this post. Feel free to share it on your social media channels!
KtP
Are you planning a vacation? Reach out to our trusted travel agency sponsor Authorized Disney Vacation Planner
Mouse Class Travel
!