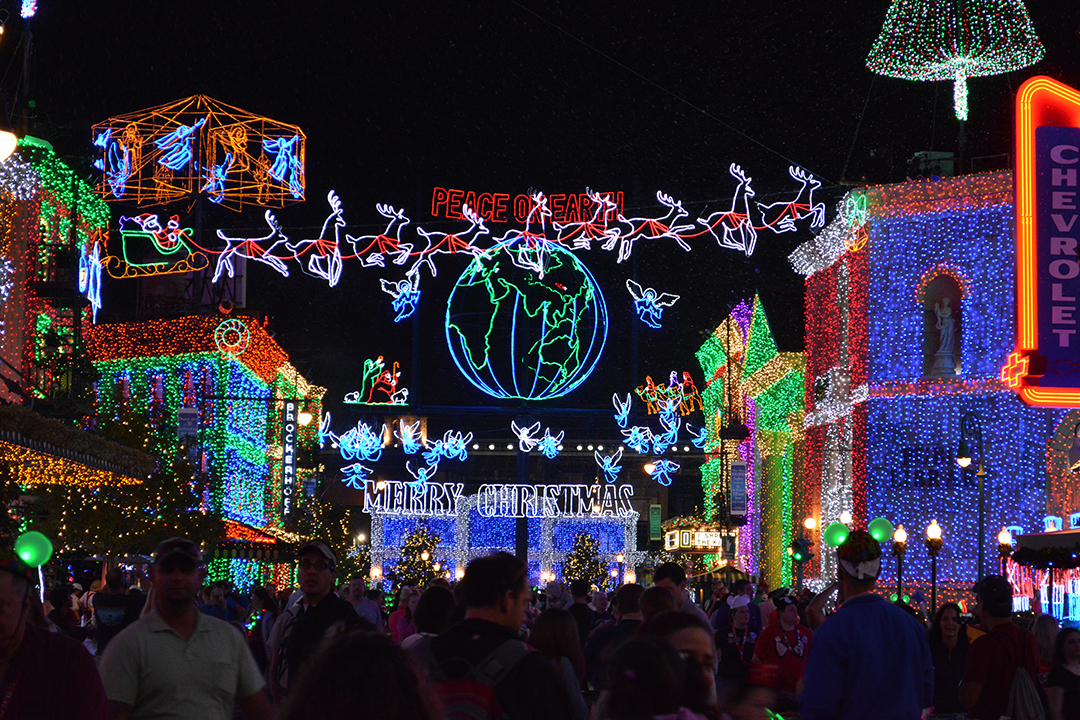 The Osborne Lights are one of our favorite Disney World traditions. We've been attending since the days when they were just static and didn't have special music and lower crowds. I took the family out for the first public night performance on November 8th and we enjoyed the lights, music and some special treats.
To get to the Lights, you'll need to go to Hollywood Studios, then go all the way to the back to the Streets of America. You'll need to go down beside Star Tours, by Mama Melrose's and turn right. You can't enter by the Writer's stop. There's signs and helpful Cast Members directing you to the back.  You can also enter by coming around by Toy Story Mania and passing the Backlot Tour.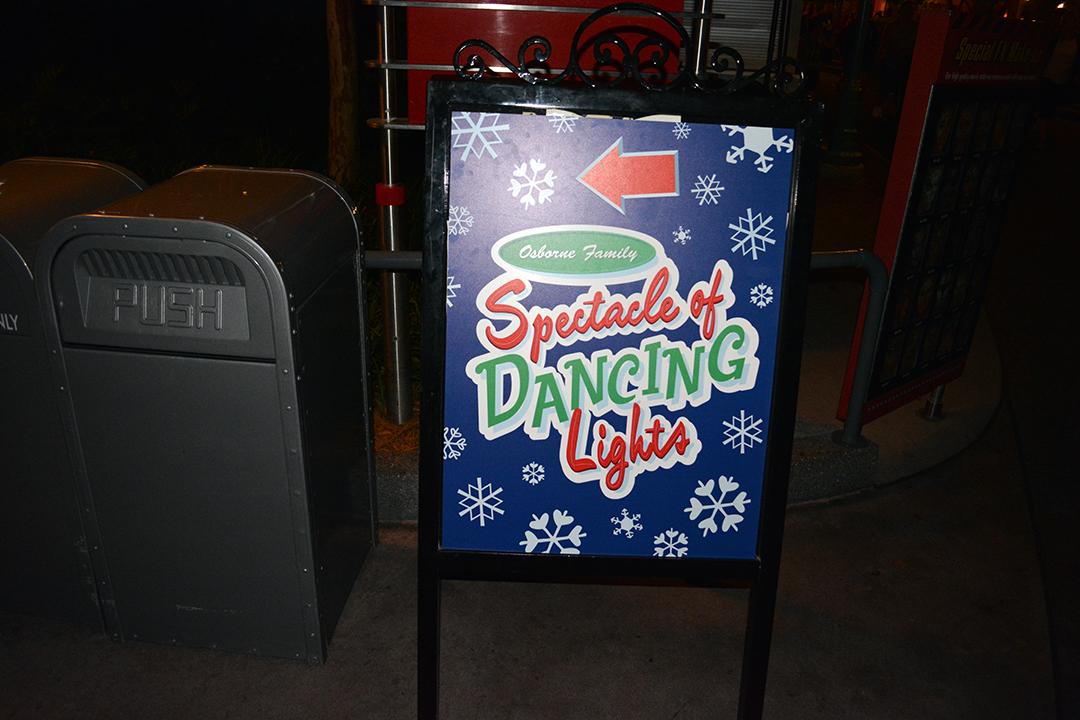 Your first good glimpse of the lights is near Muppetvision 3d, but you can't enter there.  Here's a shot from the area of the Lightning McQueen Meet an Greet looking into the Streets of America.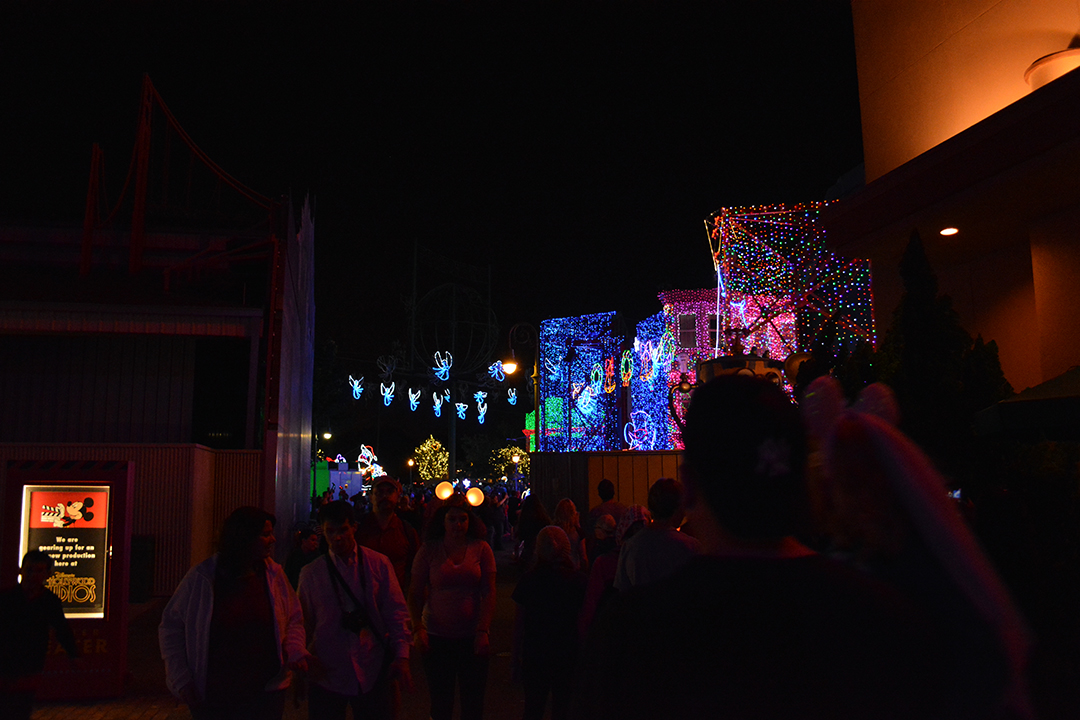 Once you reach the lights, the snowman flying a kite is ready to greet you with a big smile.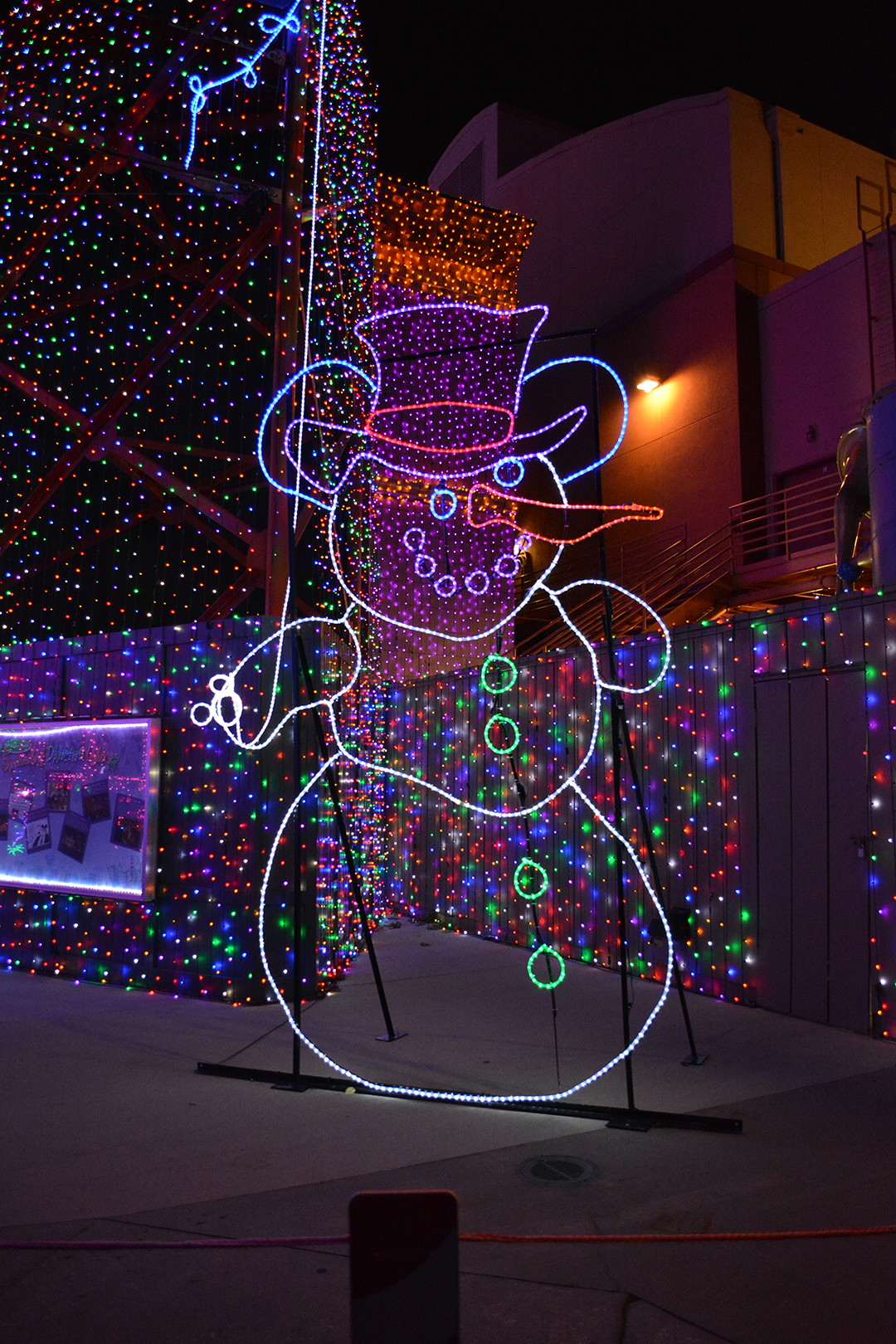 The light canopy is always a big hit on San Francisco street.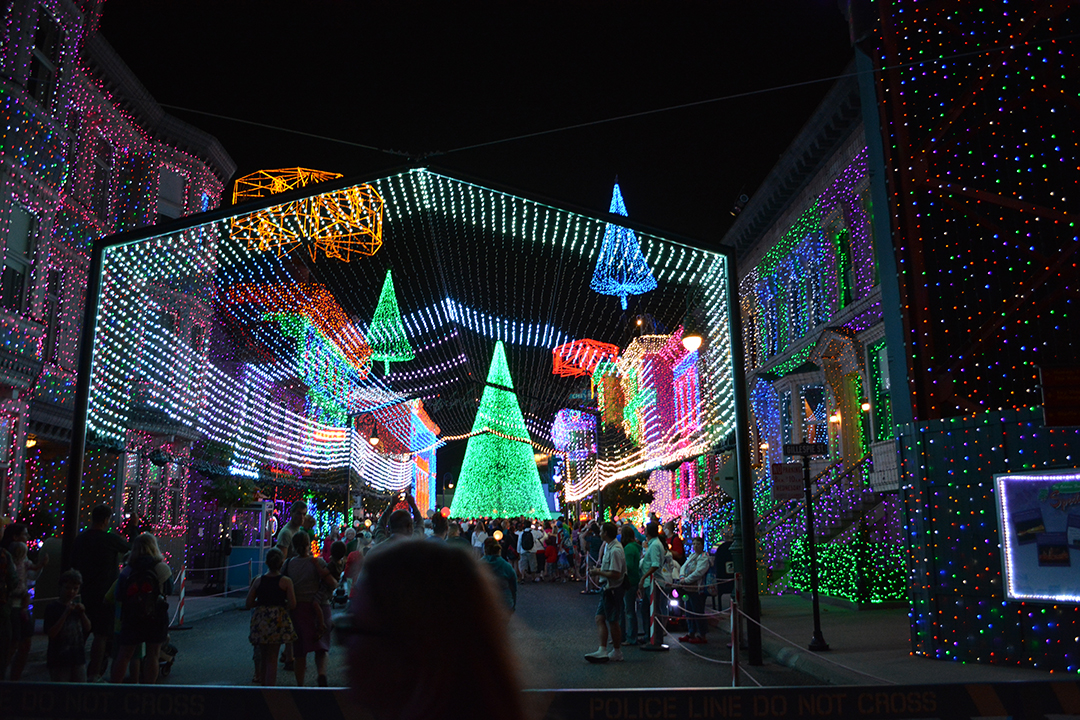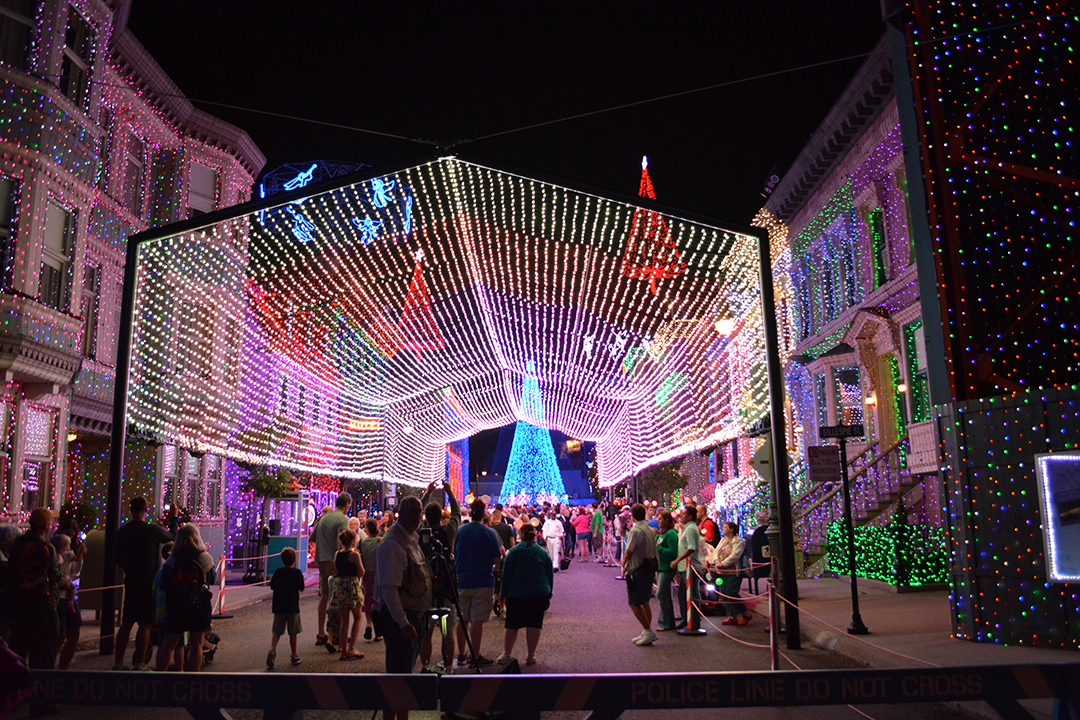 Just past San Francisco, you'll find the manger scene on the right.  It's the same manger scene that Jennings Osborne purchased, but they do buy new hay each year.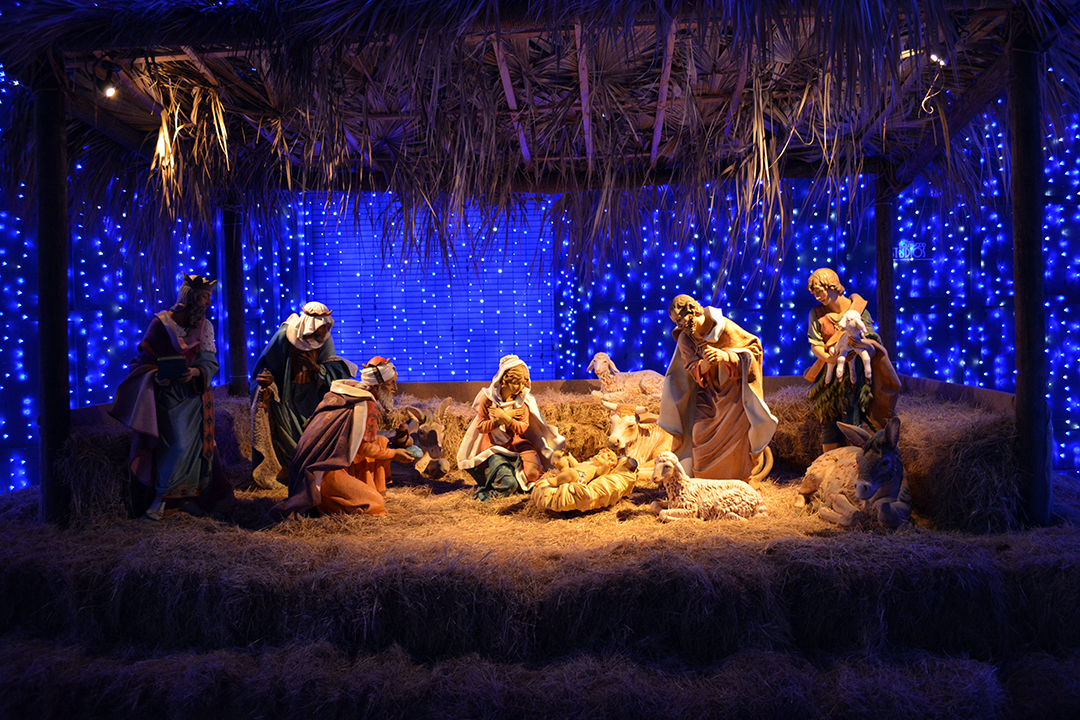 There's like 5 million lights on all these buildings and the Cast Members begin installing them while it's still SUMMER.  There's a bunch of hidden mickeys and other nods within the lights if you're into that sort of thing.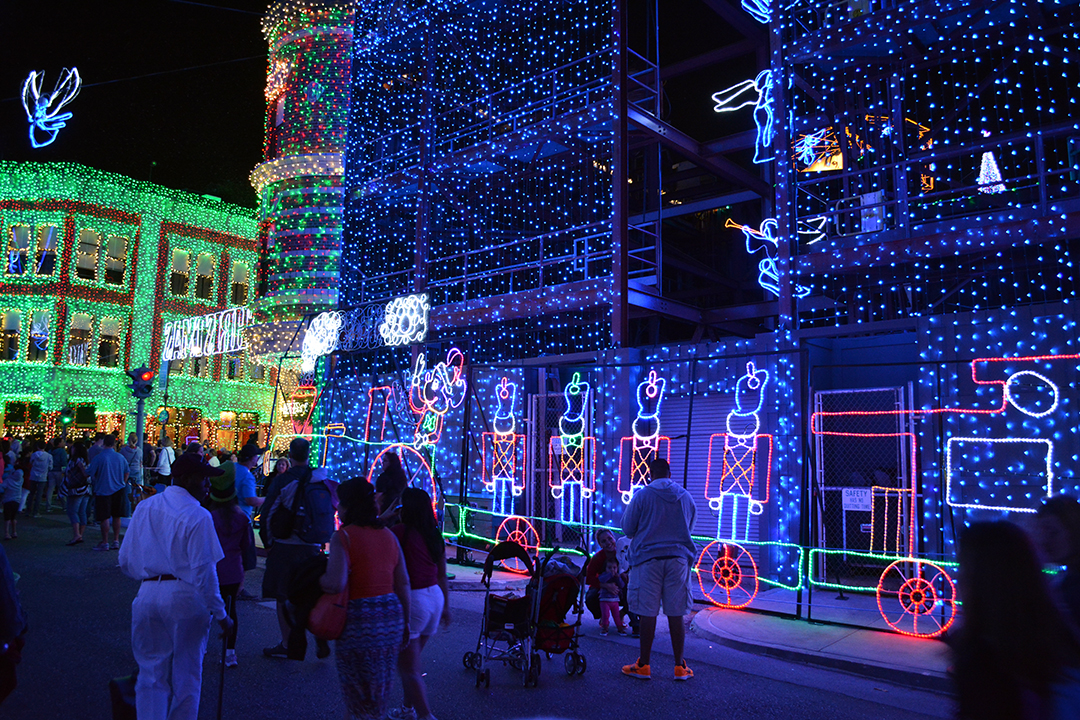 If you look near this globe, you'll find one white angel.  It is placed there in honor of Jennings Osborne who loved Christmas lights so much he bought 3 houses just to display them and then ended up losing a court fight to keep them up.  Why kind of Scrooge's lived in this guy's hometown in Arkansas?  Hundreds of thousands of people trek to Hollywood Studios just to see this stuff now.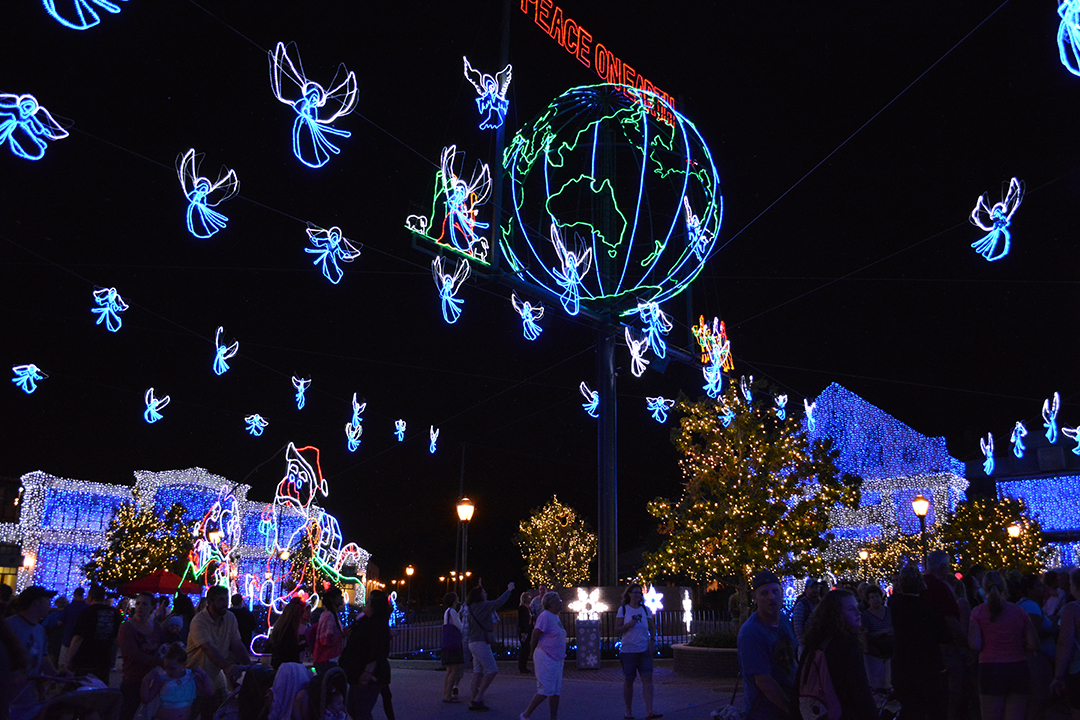 Don't look at the next picture!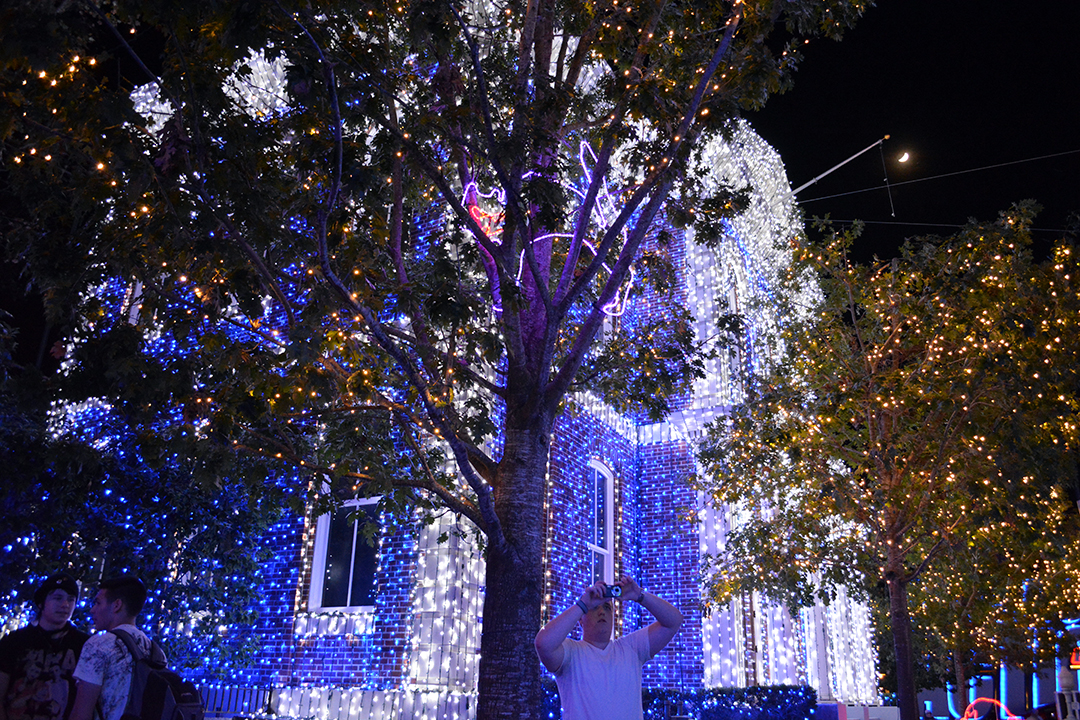 I warned you, but you didn't listen, did you?  Now you know where we found the guy taking photos of the lights!
Santa Claus and Mickey Mouse have entered a corporate sponsorship agreement that allows Mickey to place lights, garland and bows on anything that moves for a small license fee.  Hey, the guy didn't get fat eating parsley!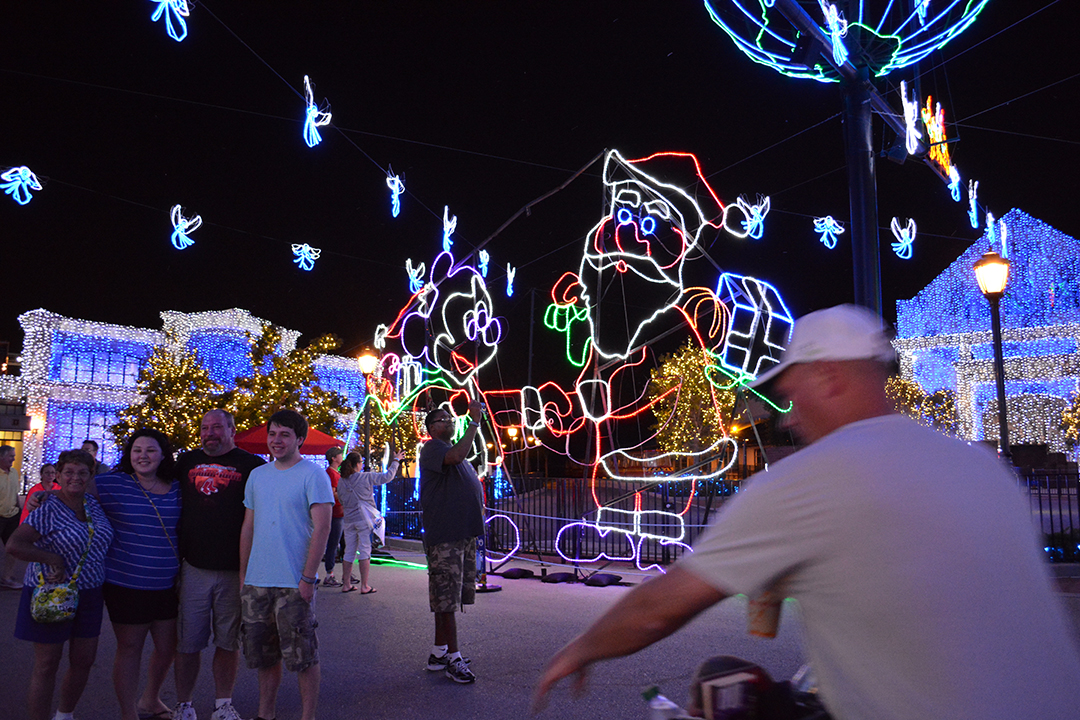 The only time you'll EVER want to visit a City Hall or courthouse!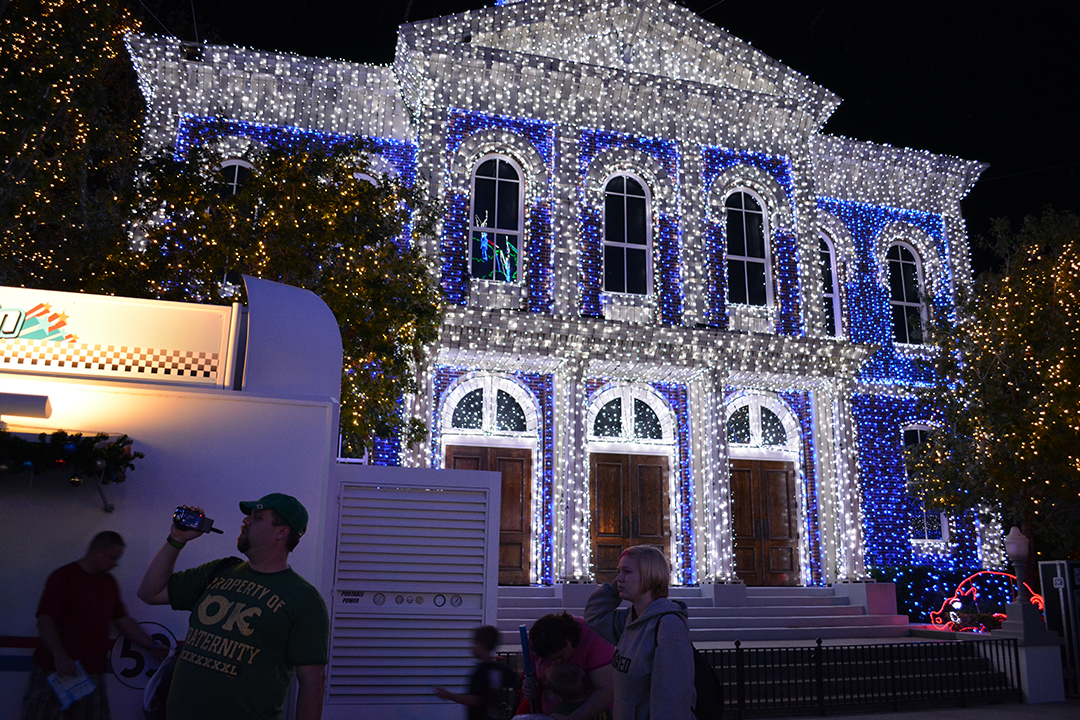 Nothing goes together better than Angels and British Soldiers.  I always associate the two together.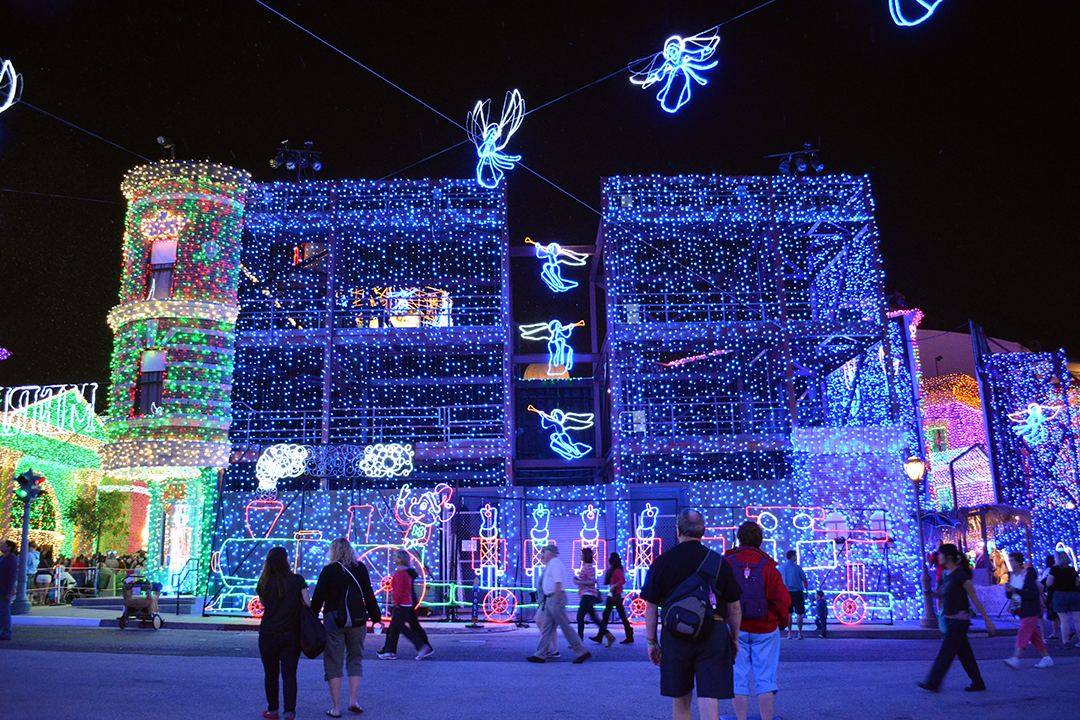 Wait, you mean you can meet a character amongst all these lights?  Why didn't KennythePirate tell us about this "Santa Goofy" character?  You can meet him at the end of the street and is easier to access from the Backlot Tour area.  The wait times were regularly in the 30 to 45 minute range all night.  You can also meet him in the Animal Kingdom from 11:00 am to close all day long AND you get the bonus Pluto sighting.  Start the line behind the lady in the purple shirt.  What do you mean that lady isn't there everynight?  We'll just need to use the sign then, but the queue spills out all over the place.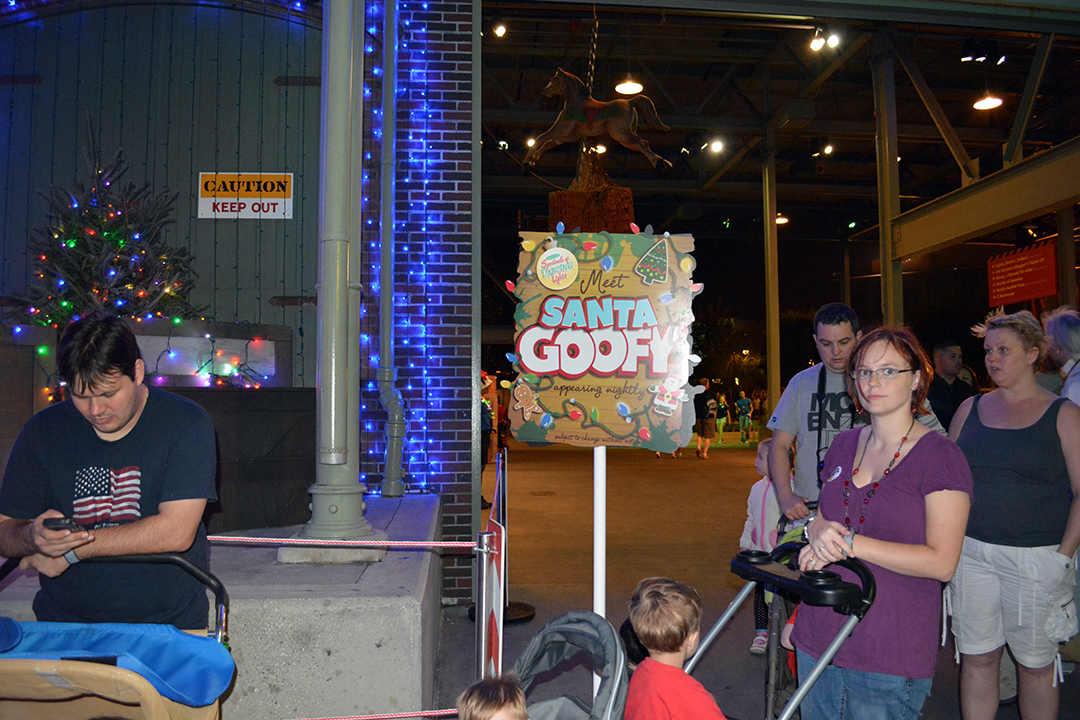 Told ya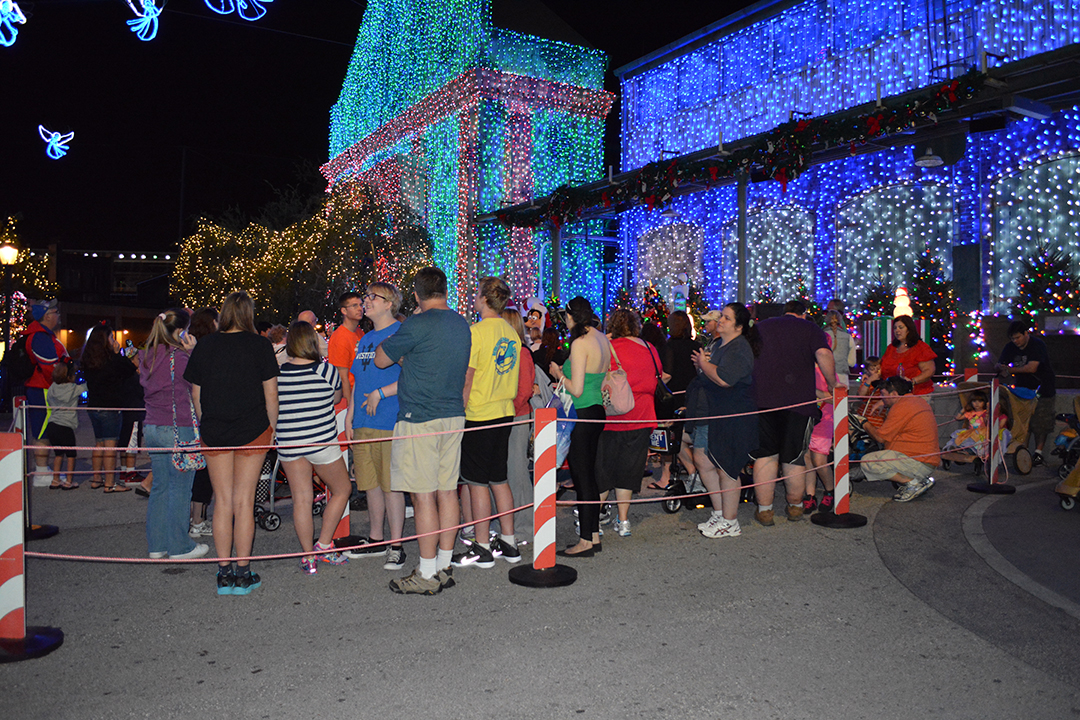 Look!  A family I've never met just got their photo posted on a blog.  Don't worry, no one ever reads this thing anyway.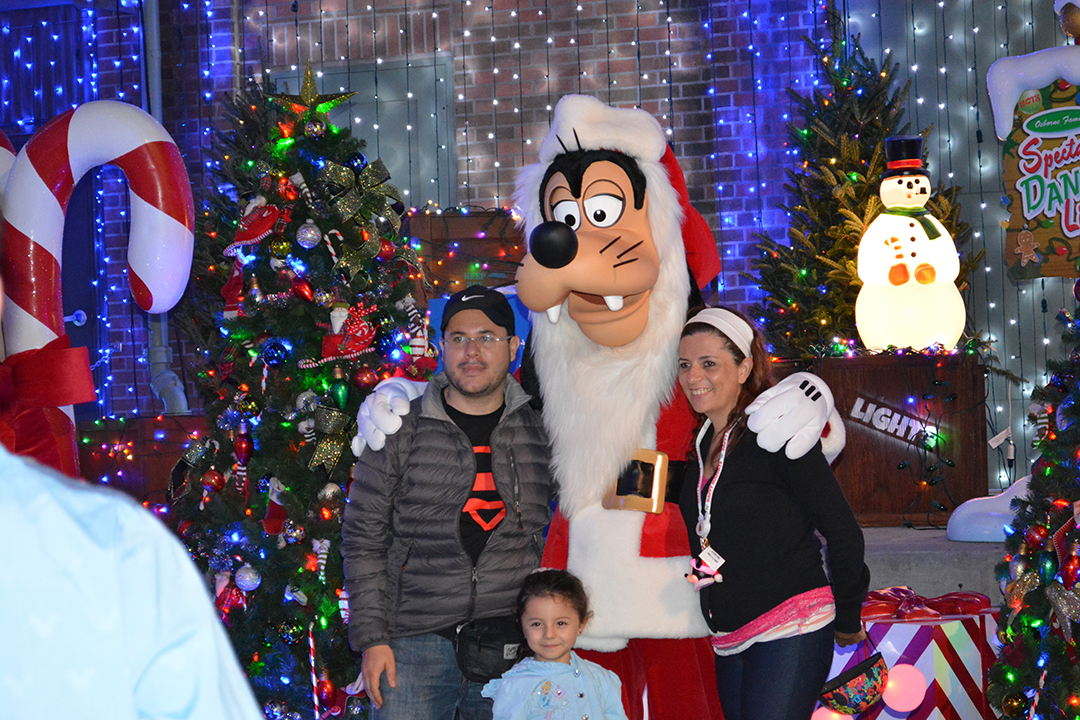 I count NINE reindeer.  The song clearly states there are EIGHT TINY reindeer, but then there's the whole adding on of the guy with the clown nose from Storybook Circus, so I guess it makes 9.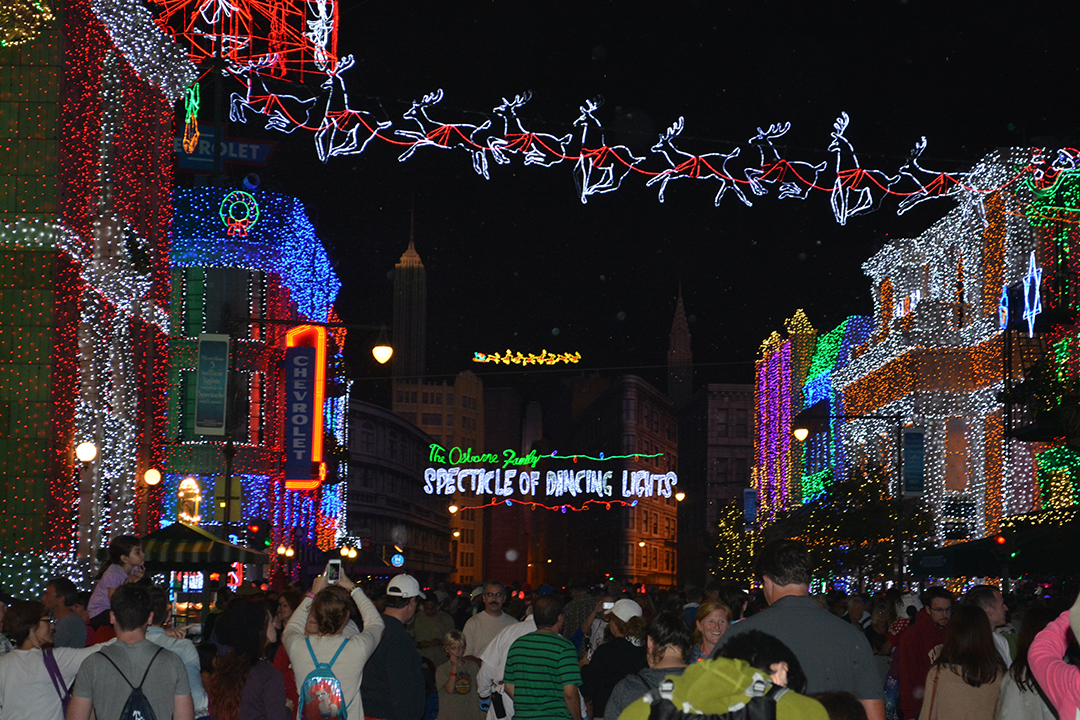 We need to stop with the photos for a moment and enjoy a treat. My little girl chose the candy cane style rice crispy treat and my older daughter and I chose the "Holiday Cupcake."  It costs like $17.99 or something like that and it's carrot cake.  I wanted a chocolate filled one though.  I should have asked first.  It tasted good and the icing wasn't too sweet.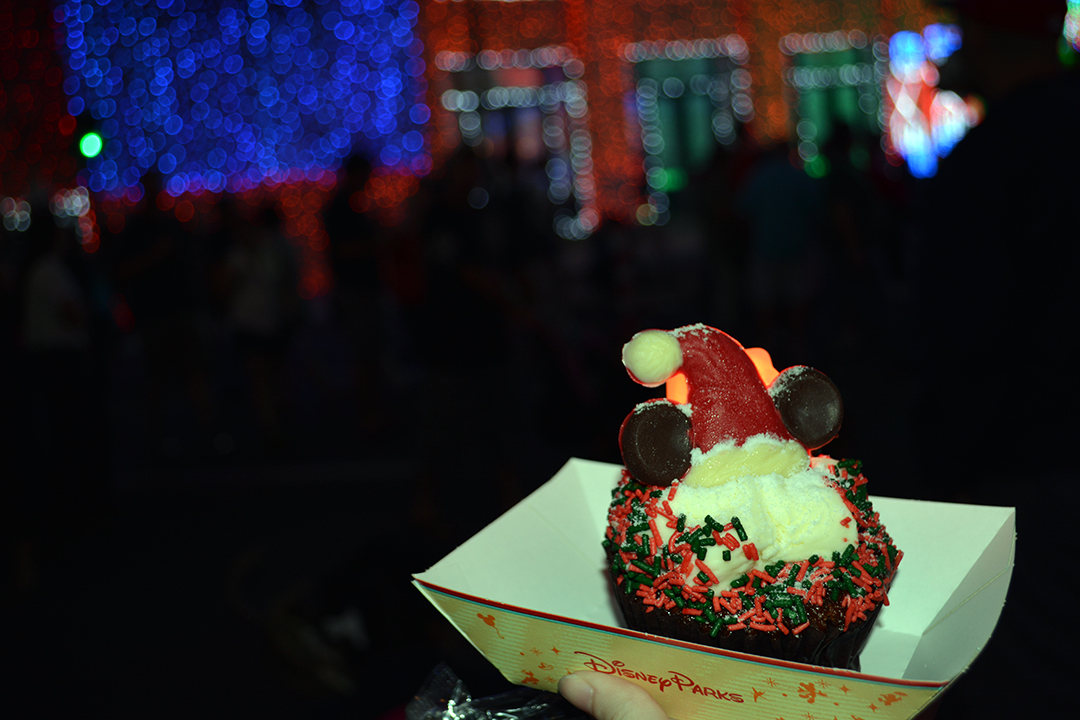 KtP, you said there would be VIDEOS.  I don't see any VIDEOS yet.  Hold your polar bear, we'll get there in a bit.  First you need to see more awesome lights photos.  Oh, by the way, I decided to test drive the Nikon D5200 after my beloved Sony RX100 died a cruel death. I'm blaming it on Oogie Boogie!  I know less about photography than I know about existentialism, so you get these pics.
This building is brought to you by the people who ruined Test Track.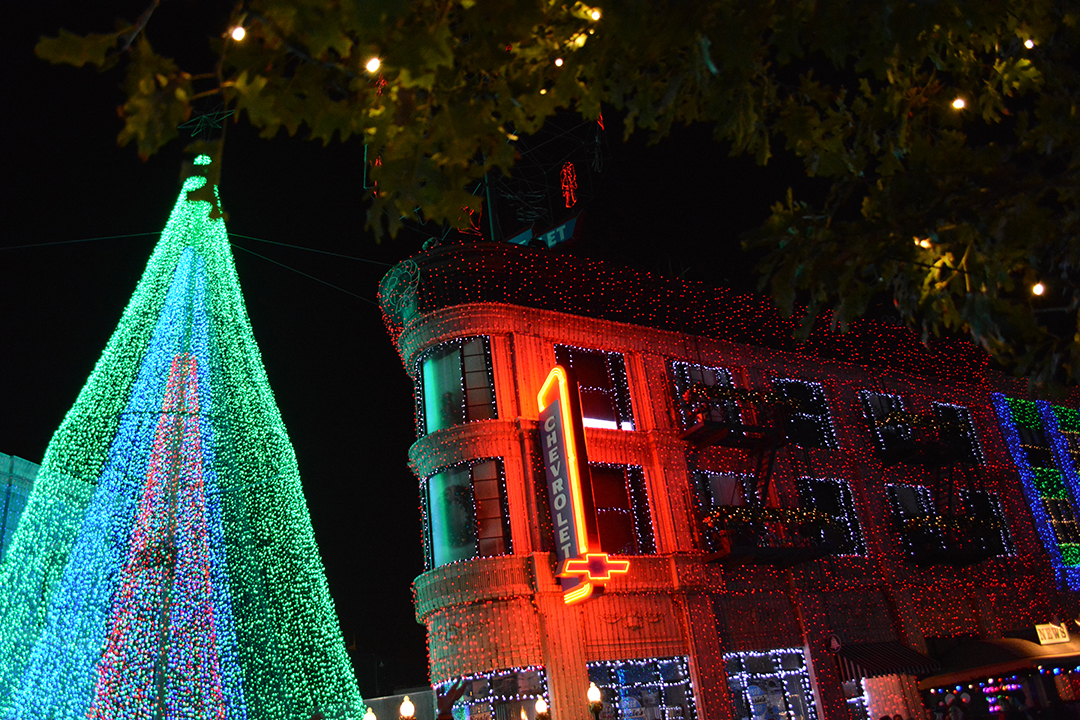 Oh lighted metal hoops…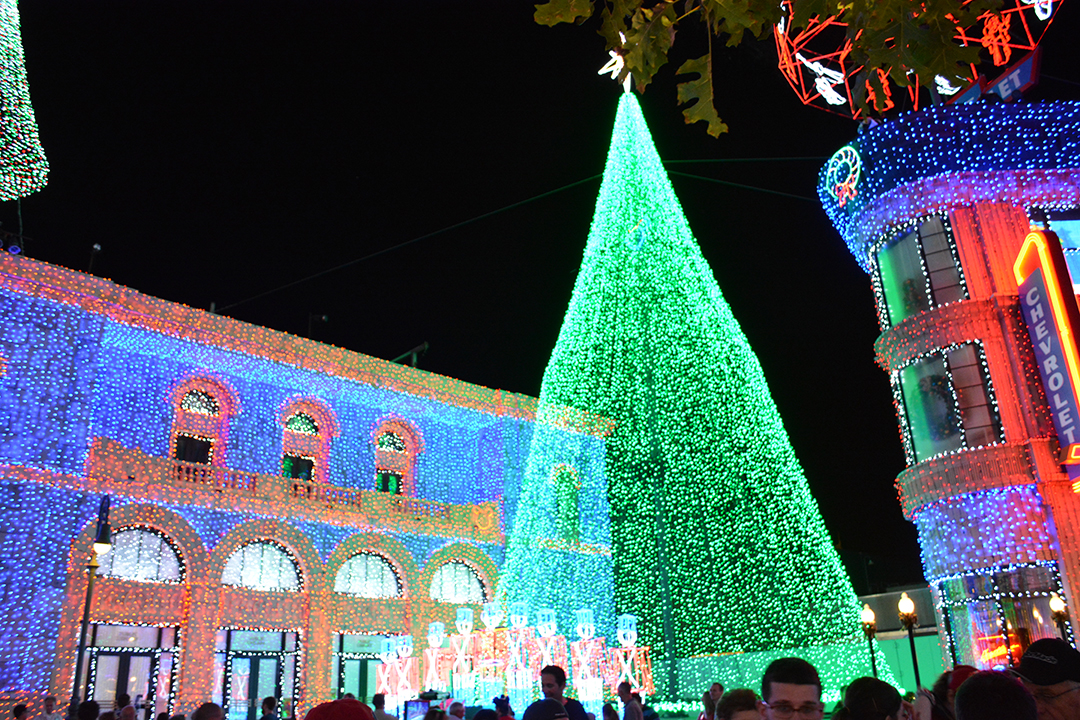 After the lights ended, Santa Goofy made his way to the end of the street, but couldn't figure out how to leave.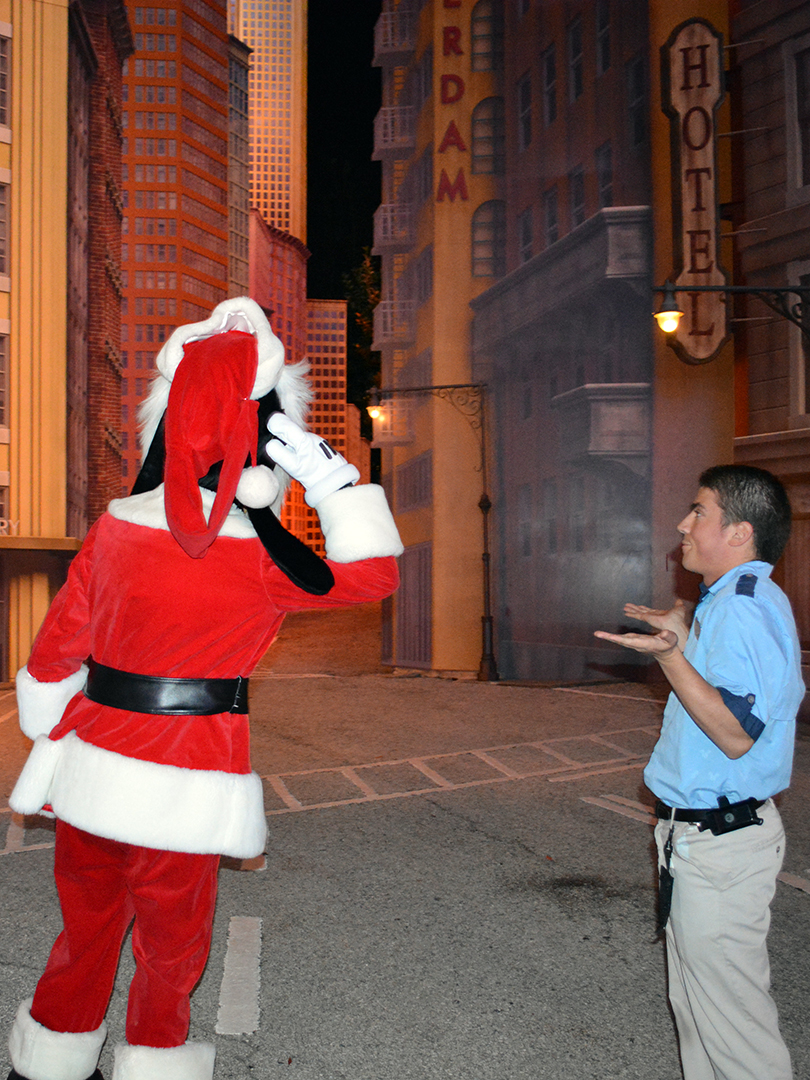 Debbie got one of her 5,000 character high fives before he finally made his way out.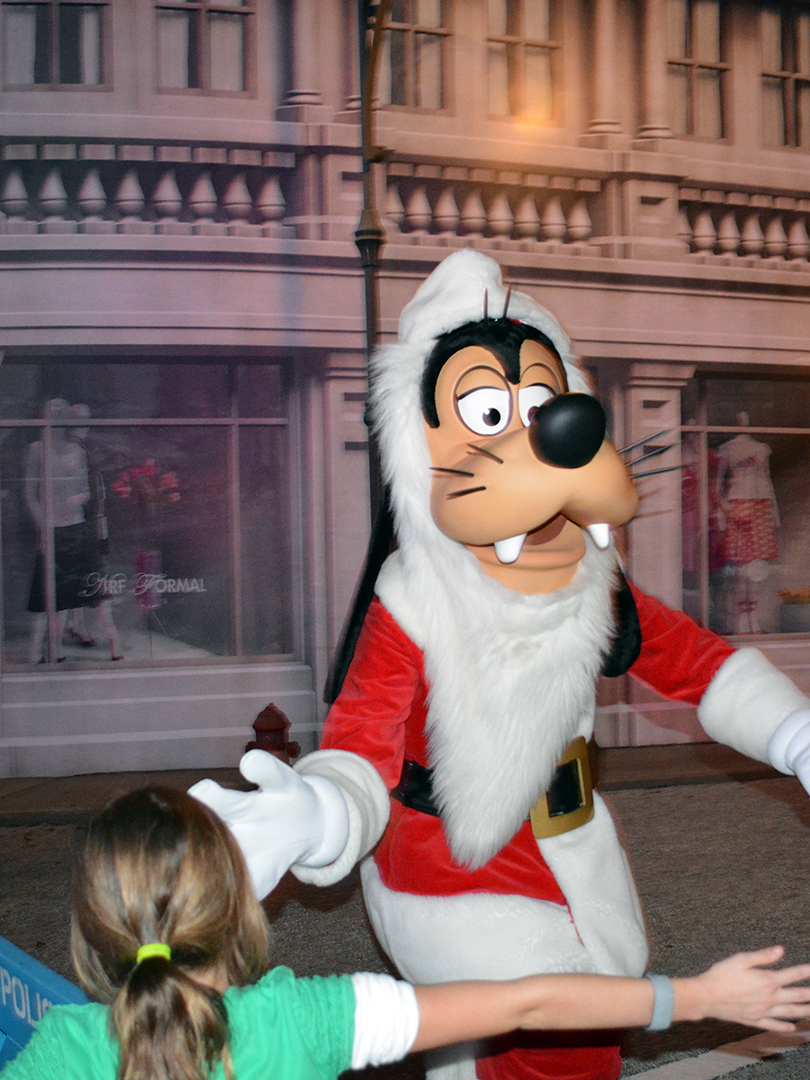 See, I told you there would be videos!
[youtube=http://www.youtube.com/watch?v=QV3YkJKt-KE&w=560&h=315]
[youtube=http://www.youtube.com/watch?v=y-C00Yjaafs&w=560&h=315]
[youtube=http://www.youtube.com/watch?v=r6itA6yVCzM&w=560&h=315]
[youtube=http://www.youtube.com/watch?v=hNXKWbXbdbA&w=560&h=315]