Do you love Disney snacks and food? Check out our Top 10 list of the best Mickey Mouse shaped snacks found at the Disney Parks.
Disney Snacks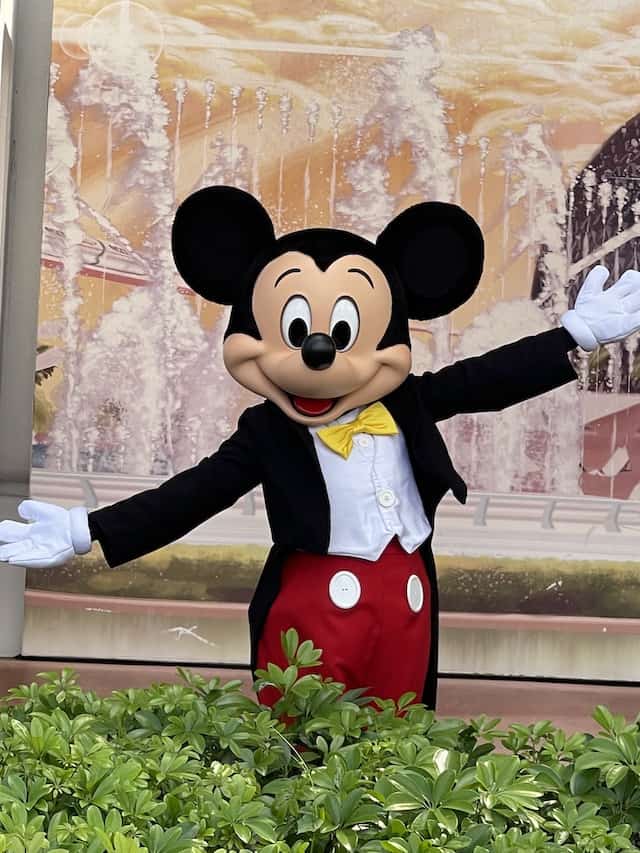 There is nothing quite like visiting Disney Parks. With amazing entertainment, thrilling attractions, immersive experiences, and our favorite characters, it truly is a magical experience.
If you are anything like my (Donna) husband, he enjoys the great dining and snack options at Disney Parks as much as anything else. I love to snack while at Disney Parks and Mickey-shaped snacks are my favorite. Check out my Top 10 Mickey Shaped Snacks ranking and see if you agree with my top picks.
#1 Mickey Pretzel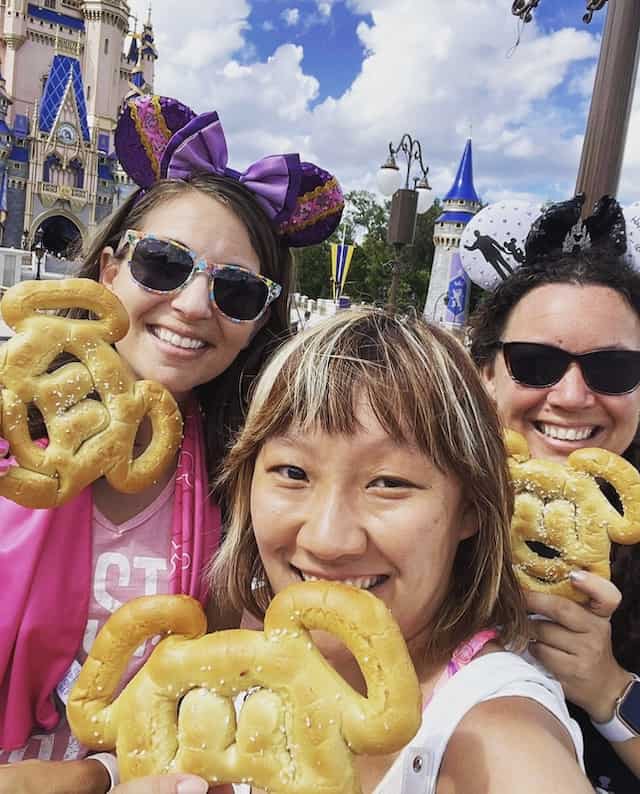 The classic pretzel shaped like Mickey Mouse is truly a classic. This is nostalgic for many guests but maybe not the tastiest snack in all of Walt Disney World. My (Donna) children feel as though they have not been to Disney Parks if they have not enjoyed at least one Mickey pretzel.
These Mickey pretzels can be found all throughout Walt Disney World at food carts located in each theme park. These are served with warm cheese. They may not be spectacular, but they are a nice snack option while waiting for a show or parade.
#2 Mickey Mouse Ice Cream Sandwich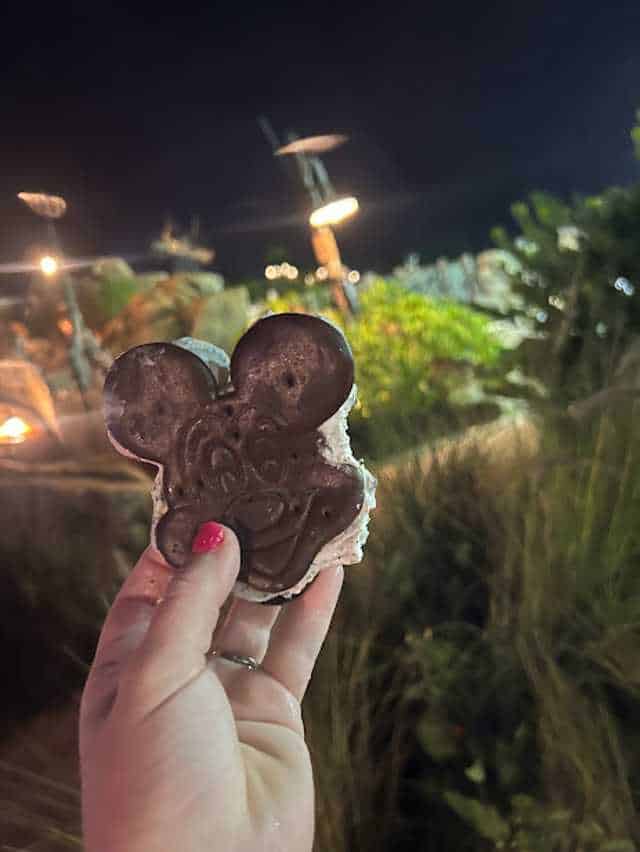 Since Walt Disney World is in the Sunshine State, it is always a good time to enjoy a nice ice cream treat. This ice cream treat has both a chocolate cake slice on the top and the bottom with a rich, thick vanilla ice cream slice in the middle.
These are quite delicious and refreshing. My (Donna) daughter prefers these over the classic Mickey Mouse bar because they do not melt quite as quickly. The best part about these snacks is that they can be found at grocery stores and also convenience stores. This is a fun way to add the magic of Disney to a road trip or an evening at home.
#3 Mickey Mouse Cupcake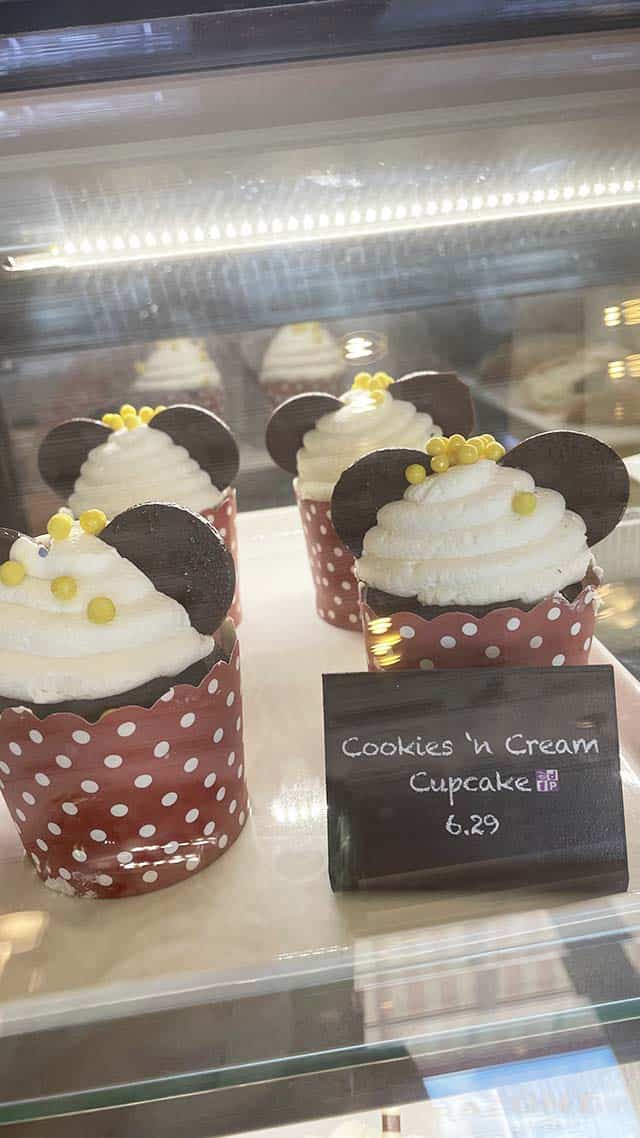 Mickey Mouse cupcakes can be found all throughout Disney Parks, Disney Resorts, and the new Boardwalk Deli. Disney can create exquisite cupcake designs that are picture-perfect.
There are so many varieties for holidays, 50th-anniversary celebrations, and seasonal offerings. Unfortunately, there have been a few Mickey Mouse cupcakes that are as delicious as they are beautiful. These cupcakes tend to be dry and somewhat bland.
#4 Mickey Mouse Waffle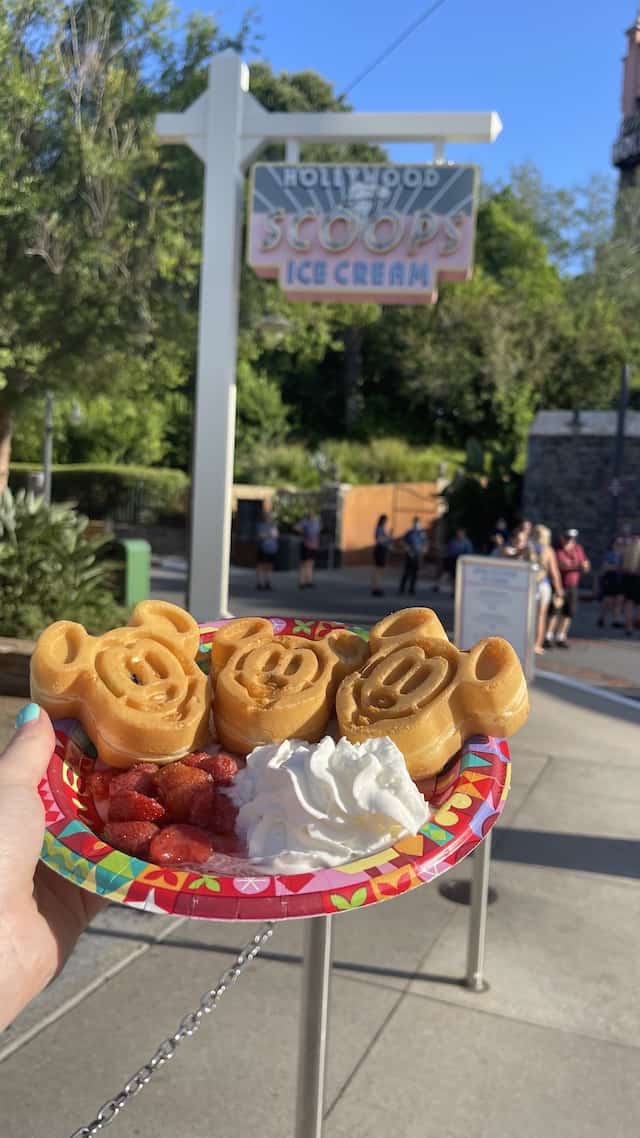 One of the most classic Mickey Mouse treats is the Mickey Waffle. These can be enjoyed at many locations across Walt Disney World Resort. Many Disney Resorts offer Mickey Mouse waffles on their quick service menu in food courts. These can also be found in Disney Parks as well.
These are always great treats even after breakfast is officially over. Add a bit of whipped cream and fresh fruit topping, and this makes a great dessert as well. The delicious waffles in the above photo can be found at Hollywood Scoops Ice Cream at Disney's Hollywood Studios.
#5 Mickey Mouse Cinnamon Roll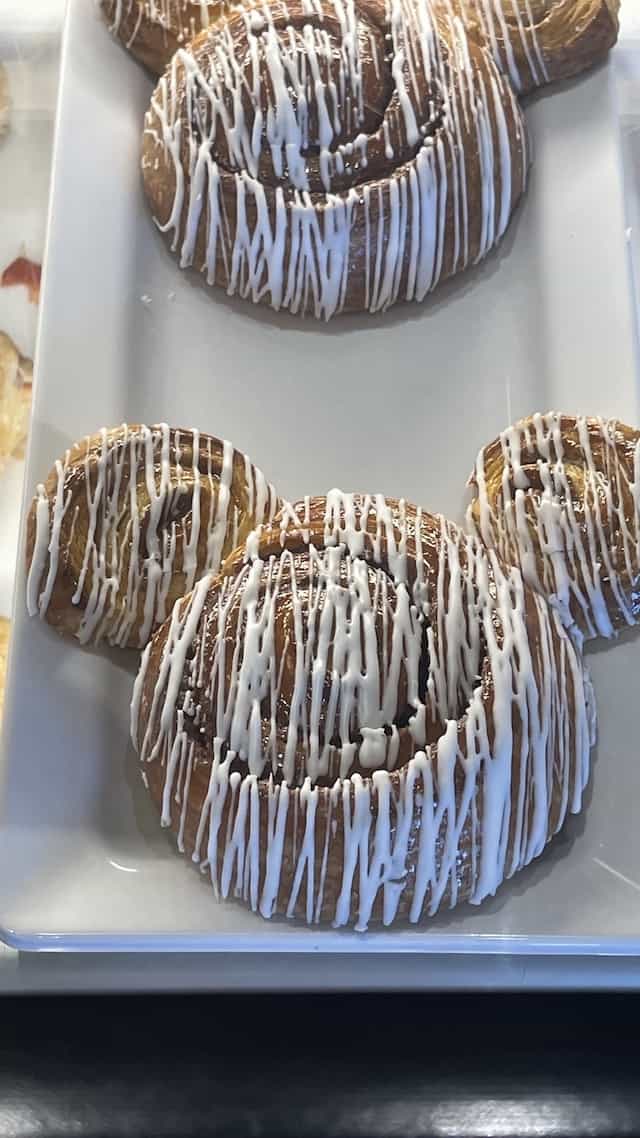 A cinnamon roll is pretty classic and making it Mickey Mouse-shaped makes this even better. These cinnamon rolls are HUGE! They are big enough to share and are really delicious.
One of our favorite locations to enjoy Mickey Mouse-shaped cinnamon rolls outside the parks is the Boardwalk Deli along Disney's Boardwalk. Inside the parks, these can be found at all Starbucks locations. This is a great treat to start your day.
#6 Mickey Mouse Ice Cream Sundae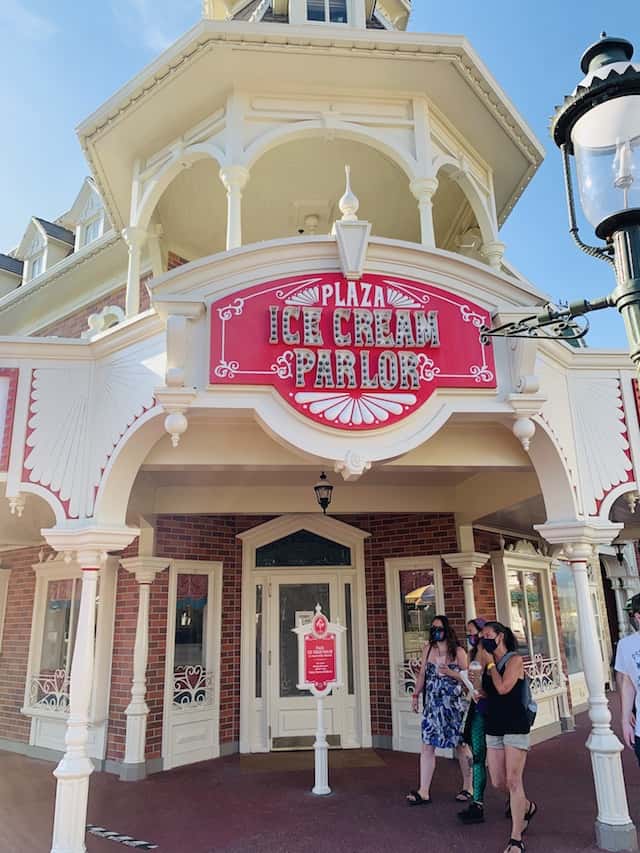 The Plaza Ice Cream Parlor is located on the corner of Main Street, USA on the right-hand side as you face Cinderella Castle. This ice cream parlor offers hand-scooped ice cream which is a delicious way to take in the full magic of the Magic Kingdom.
Besides the delicious ice cream flavors offered at Plaza Ice Cream Parlor, each scoop of ice cream is topped with signature chocolate Mickey Mouse ears. This is simply why we love Plaza Ice Cream Parlor.
#7 Mickey Mouse Ice Cream Bar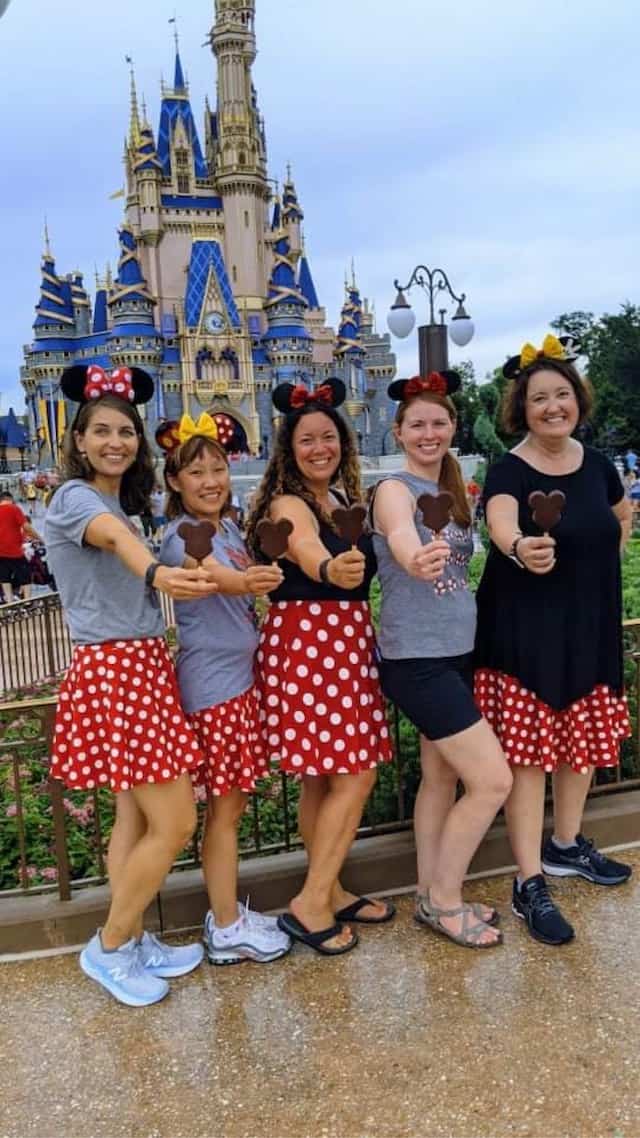 One of my (Donna) personal favorite snacks is the Mickey Mouse Bar. These can be found at small ice cream stands throughout the Disney Parks and at Disney Resorts as well. This snack is definitely better Mickey Mouse shaped although I can't explain the exact reason why.
It can be the hottest day in July or the coolest day (for Florida) in January, and it still seems like it is always the perfect season for a Mickey Mouse bar. You can even enjoy these delicious treats while not in the Park.
Along with the Mickey Mouse ice cream sandwiches, these snacks can also be found at your local grocery store and also convenience store.
#8 Mickey Mouse Apple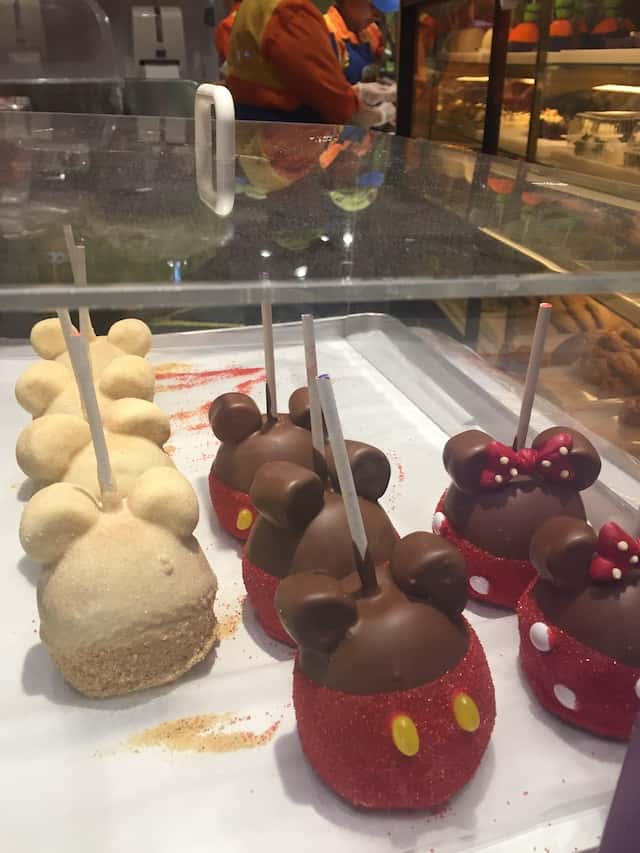 Does a Mickey Mouse apple a day keep the doctor away? We can't confirm if this is true, but this does make for a pretty sensational treat. The traditional candy apple has many great Disney character themes throughout the year, but the classic Mickey and Minnie Mouse with red glittery sprinkles for both the pants and skirt is a favorite.
These sweet treats can be found at Main Street Confectionery and Big Top Souvenirs at the Magic Kingdom. You can also find a delicious variety at Goofy's Candy Company at Disney Springs as well.
#9 Mickey Mouse Rice Krispy Treat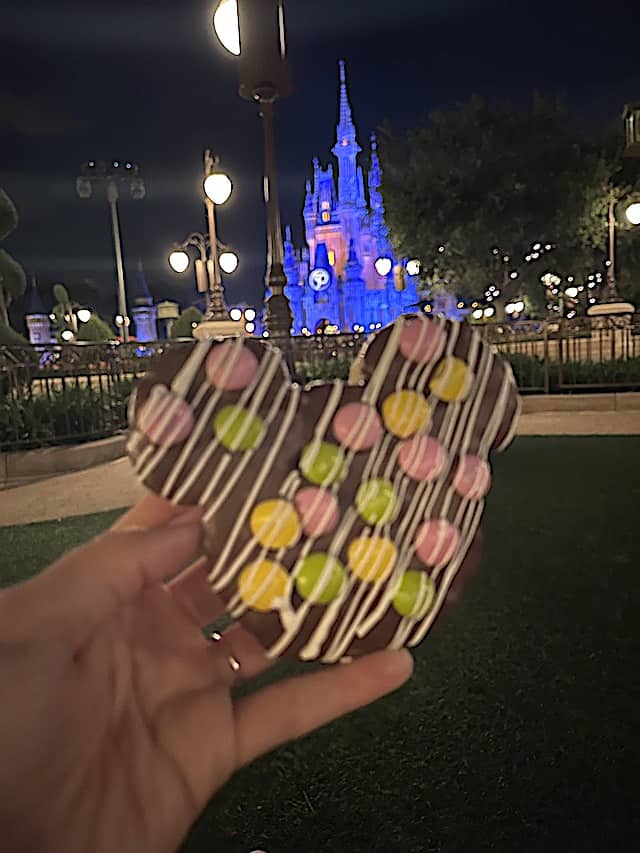 One of my (Donna) personal favorite Mickey Mouse-shaped treats is this rice krispy treats. These are made at the Main Street Confectionery and they are delicious. These treats are covered with rich milk chocolate and drizzled with white chocolate. We prefer these adorned with M&M candies.
These treats are so delicious and feature different colored M&M candies based on the holidays and seasons. I personally enjoy this treat at the park closing. Just find a comfy spot along the castle hub grass and enjoy the beautiful view of Cinderella Castle for a few final moments before leaving the park.
These treats are so delicious and feature different colored M&M candies based on the holidays and seasons. I personally enjoy this treat at the park closing.
#10 Mickey Mouse Funnel Cake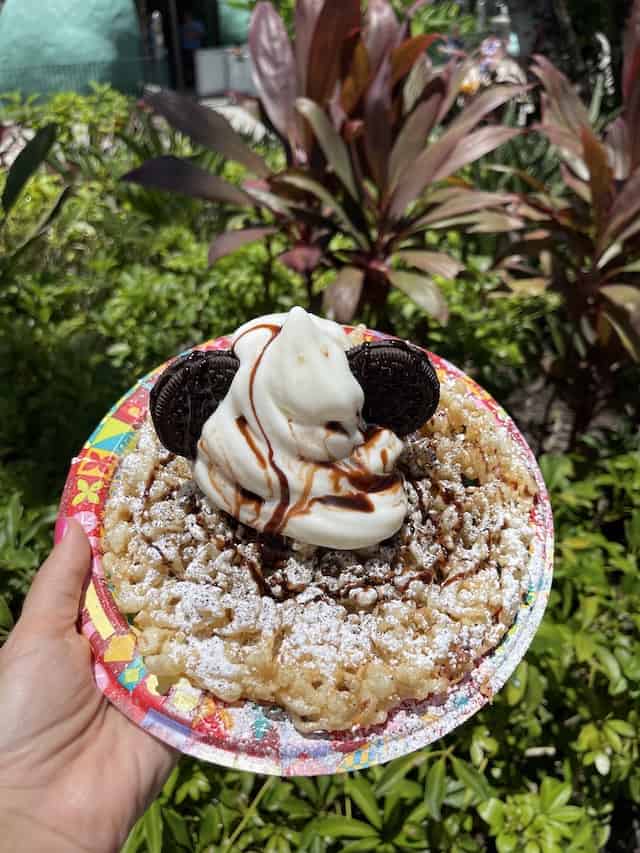 Finally, the last Mickey Mouse-shaped snack is the Mickey Mouse funnel cake offered at the Epic Eats over at Disney's Hollywood Studios. This little kiosk is located near the Indiana Jones Stunt Spectacular.
This fresh funnel cake is light, fluffy, and delicious. Topped with a generous dollop of vanilla soft serve and two mini oreo cookies, this makes this not only an adorable Mickey Mouse shaped treat but also a very delicious treat as well.
In our opinion, every treat is even better when it is Mickey shaped. From treats that can only be enjoyed in the Disney Parks to those that can be found in your own grocery store, it is always a great time to enjoy a Mickey Mouse shaped snack. Be sure to check out our guide to the best Disney Snacks aboard the monorail and in the Magic Kingdom.
Which Mickey Mouse-shaped treat is your favorite? Do you think all treats should be Mickey Mouse shaped? Share your thoughts with us on our Facebook Page.

Are you planning a vacation? Reach out to our trusted travel agency sponsor Authorized Disney Vacation Planner
Mouse Class Travel
!