Rose and Crown isn't one of the hottest Disney advance reservations, but there are several reasons you should give it a try.
Rose & Crown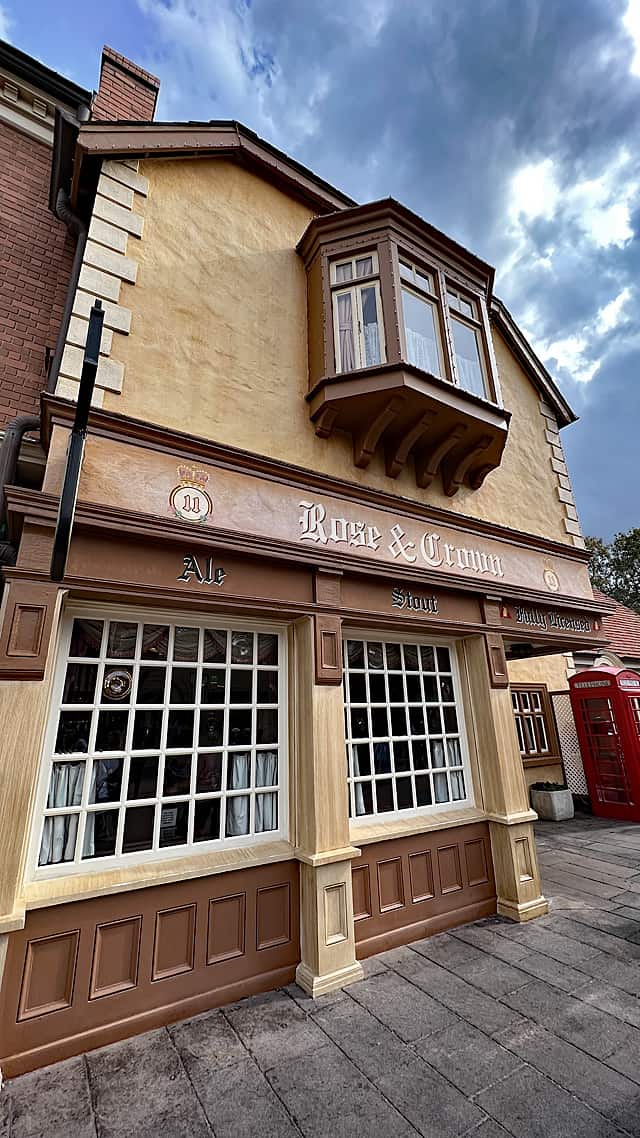 Whether you're a first time visitor or a frequent visitor to Disney World, EPCOT has so much to explore! The United Kingdom Pavilion is no exception with its fun shops, entertainment, and dining. Look for it located between the France and Canada Pavilions.
Here, you'll find Disney's Rose and Crown Dining Room and Pub. Most times, there is a check-in desk outside. Look for the matching stand adjacent to the beer stand shown below.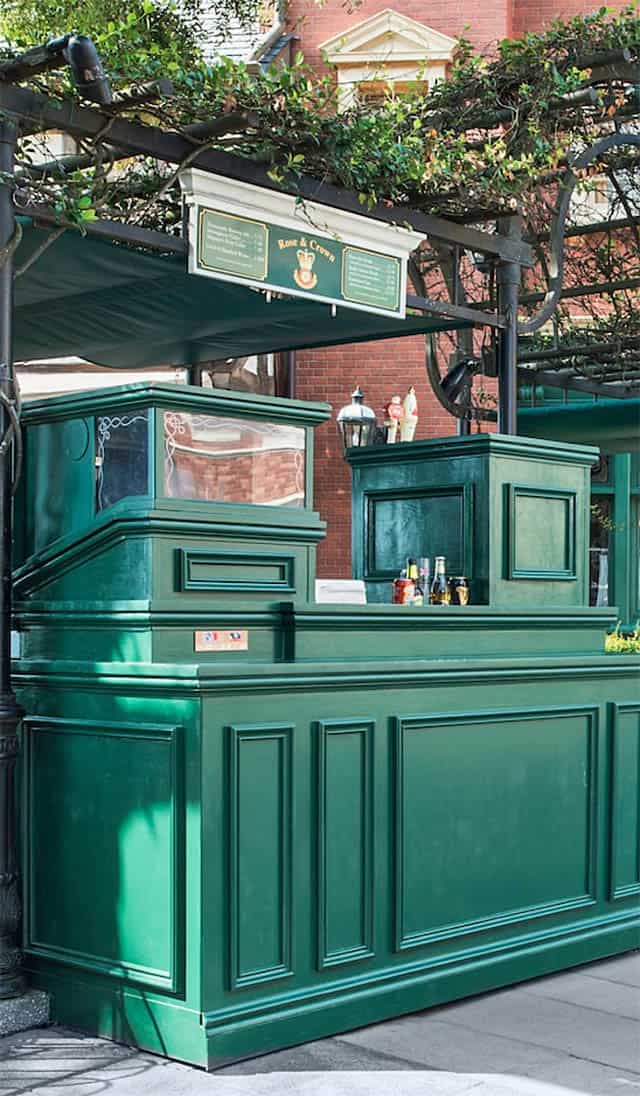 However, when there's inclement weather, Cast Members move inside the patio of the Rose and Crown restaurant. Don't be like me (Susan) and enter the pub. Although the pub can be seen from the actual restaurant, the pathway isn't open that connect the two.
Theming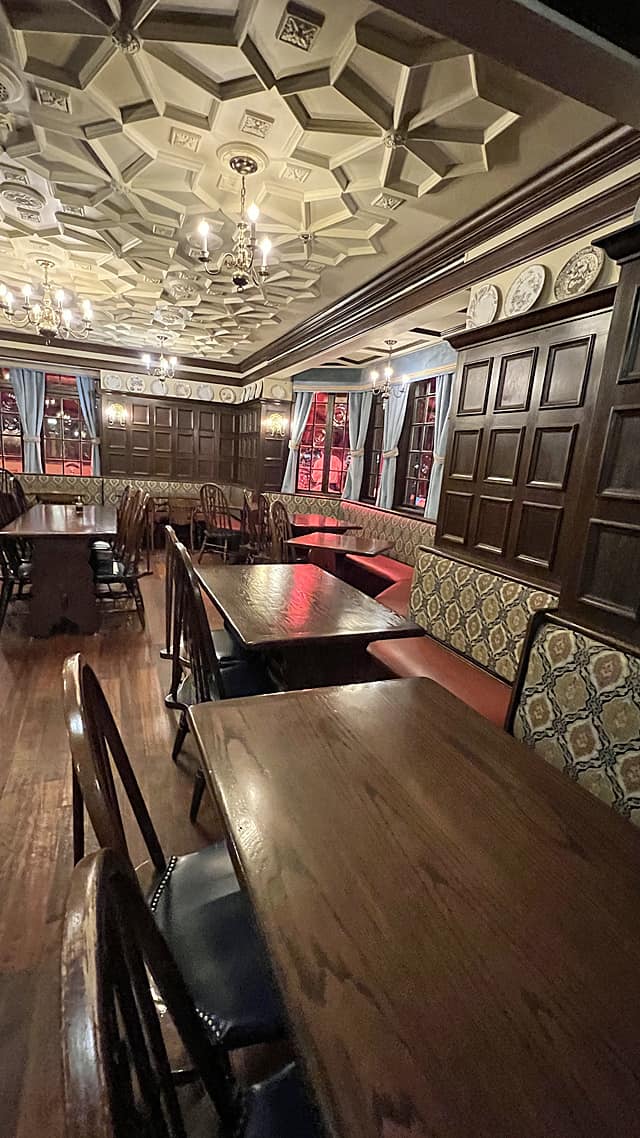 The Rose and Crown Dining Room includes so many charming and quirky British pub features. Everything from the "aged" wooden floors to the metal tiled ceiling give guests the feeling of traveling to the United Kingdom.
When dining here, I find new elements every visit! Look for "whiskey" measuring cups and a ladies portrait with "googly eyes."
Pub Area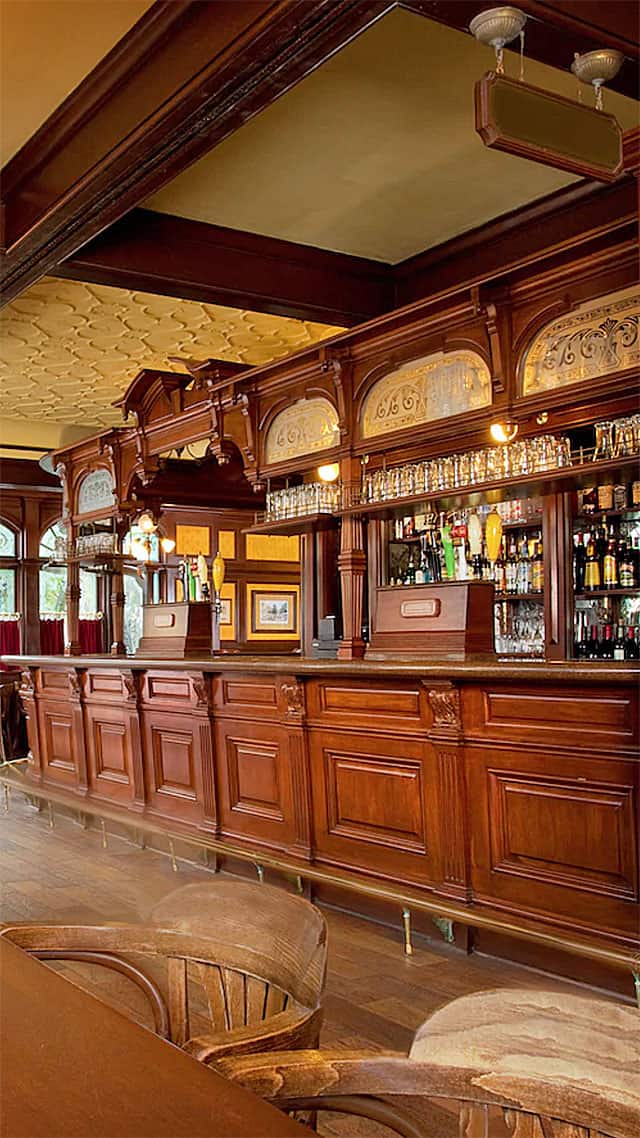 The Rose and Crown Pub features frosted windows and cold refreshments. Here, guests choose from a large selection of British beers, ciders, scotches and signature cocktails that you won't find anywhere else at EPCOT.
However, don't let this tranquil photo fool you. This pub is usually very packed. Even on rainy days, the Rose and Crown Pub draws a crowd. If you're lucky enough to get a bar spot here, quench your thirst with unique half and half beers and more.
Outdoor Dining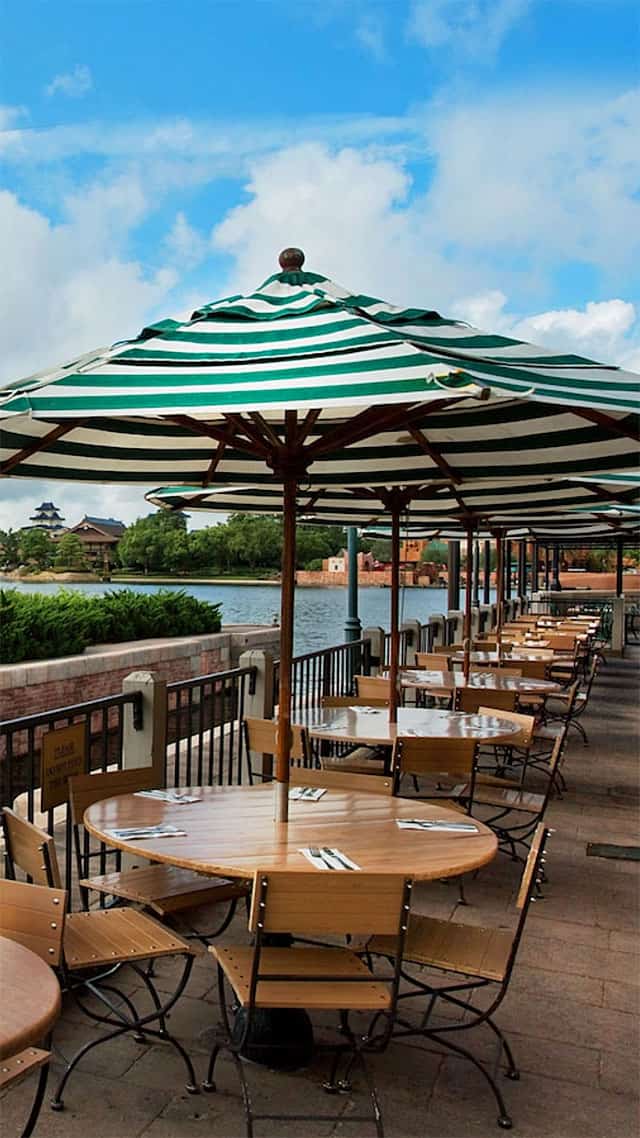 Guests dine inside or outside on the patio overlooking World Showcase Lagoon. Timed right, this table service location is a wonderful fireworks viewing location. Weather permitting, this is the seating location for fireworks packages.
Menu
Delight in British specialties like fish and chips, bangers and mash, and traditional shepherds pie. In addition to British selections, the kids menu includes favorites like turkey meatballs and cheesy pasta.
I ordered the shepherds pie on another visit, and it was delicious. The mashed potatoes were creamy and buttery. And, the meat/veggie blend was cooked and seasoned wonderfully.
What We Ordered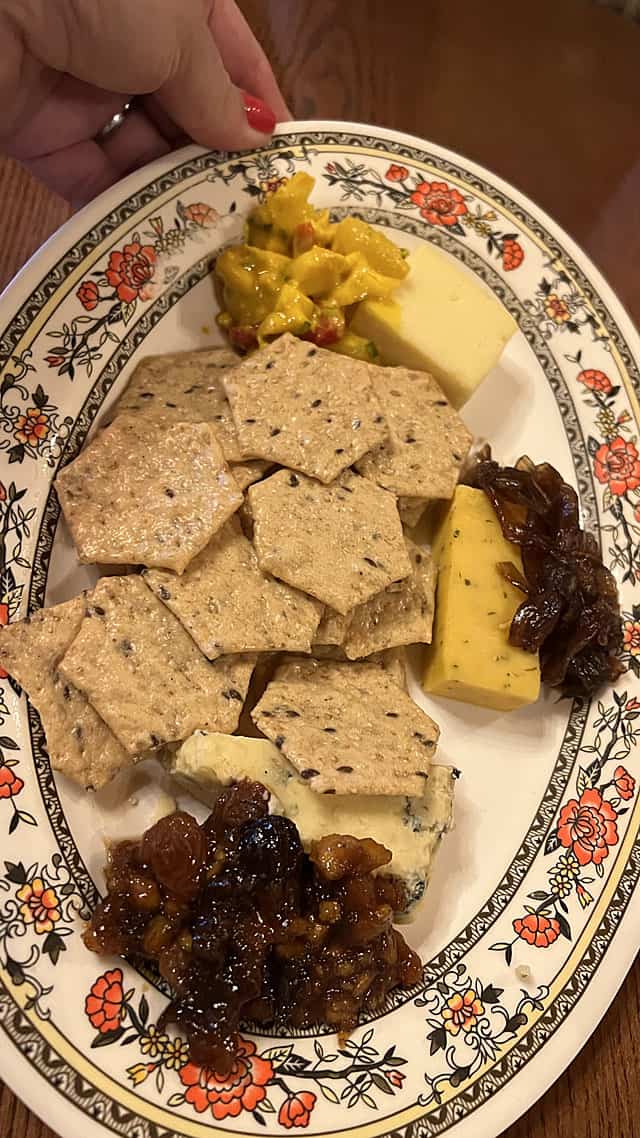 First, as a fan of cheese boards, my friend and I ordered the United Kingdom Cheese Platter. It includes a selection of British cheese with accompaniments.
On our visit this cheese and cracker plate included the following:
cheddar cheese with pickled veggie salad, pearl onions and red peppers (yellow colored)
blue cheese with apple chutney (pictured at the bottom)
herb cheese with chives and onion marmalade
traditional British crackers
I really enjoyed this appetizer, and my favorite combination was the blue cheese with apple chutney.
Appetizer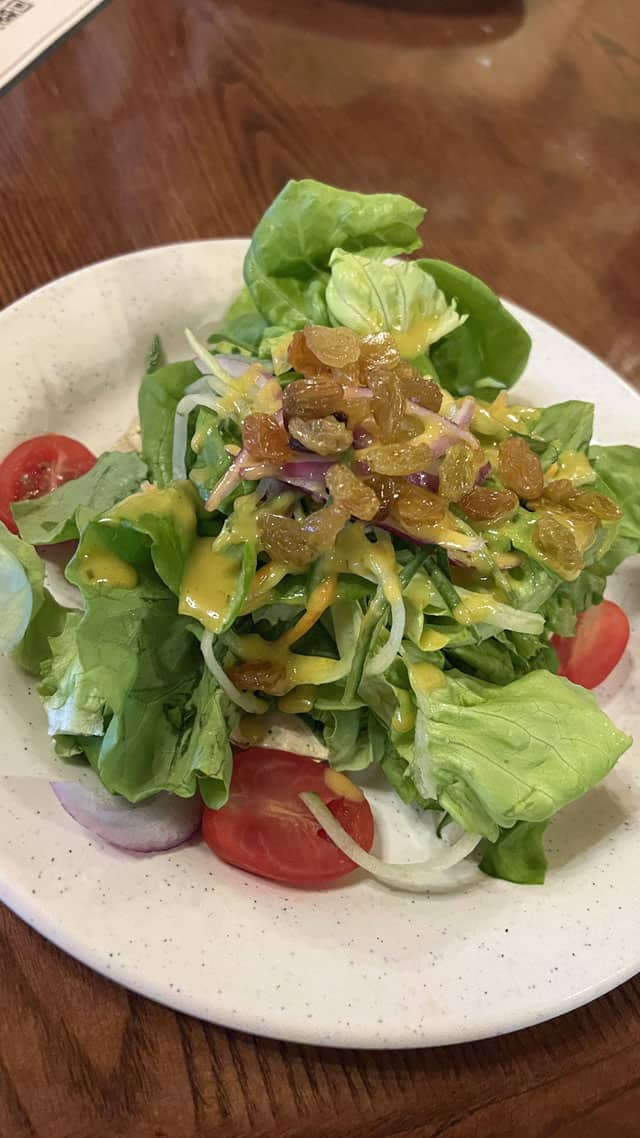 Next, we tried the Coronation Salad. It consisted of Buttercrunch lettuce, sliced tomatoes and onions, thin strips of cucumber, and golden raisins. All of this was on top of a crunchy grain cracker.
Everything in the salad was fresh, but I found Madras dressing with too strong a mustard flavor. It overpowered this dish, and I wouldn't order it again.
Main Dishes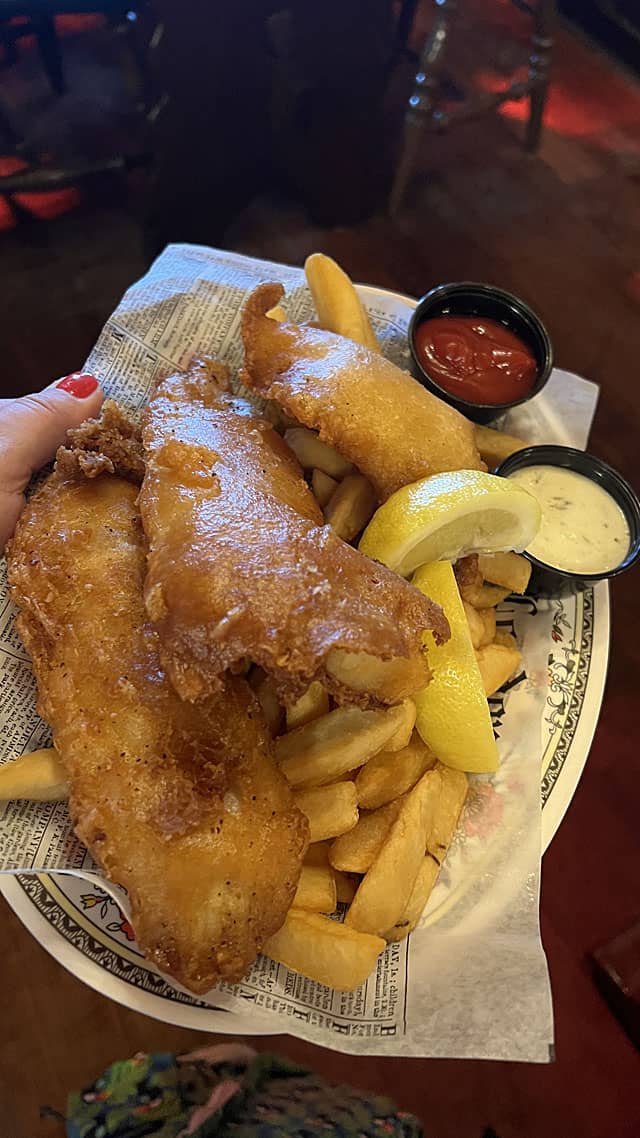 When dining at Rose and Crown, you really need to try their signature Fish and Chips meal shown above. As Mary Poppins would say, "It's practically perfect in every way!" I asked for vinegar, and our server brought it promptly.
Here, the chips are perfectly cooked for crispy batter and tender white fish on the inside. The fries are thicker and cooked just right, too. If you do order this, make sure you're hungry, or split it since it is a huge plate.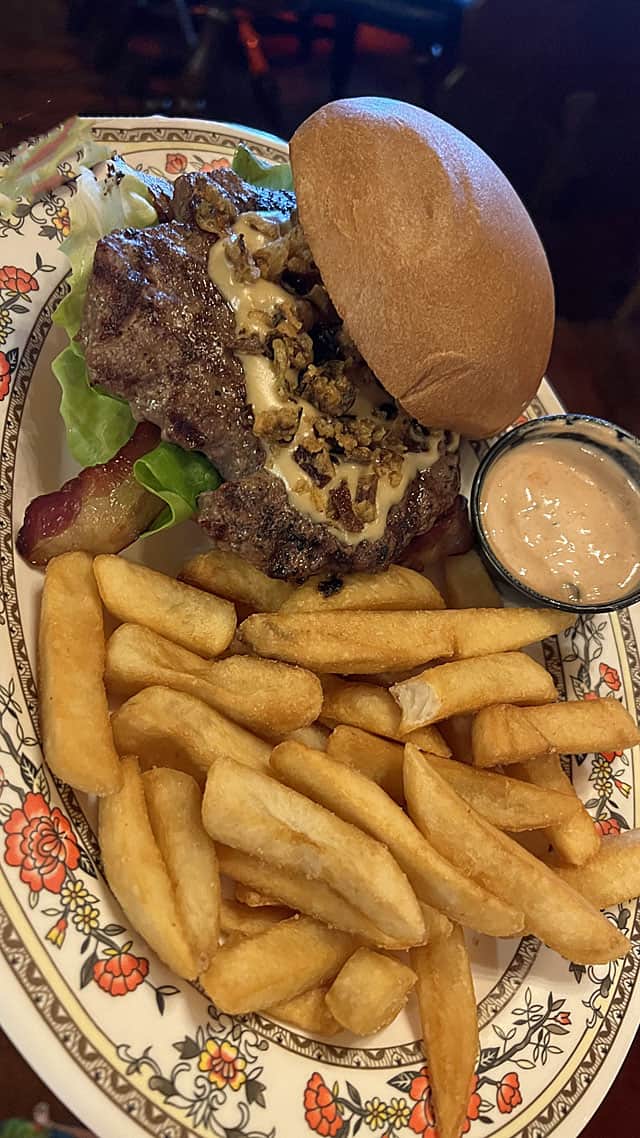 While you think of Bangers and Mash and Fish and Chips as traditional British fare, hamburgers may not come to mind. However, they are quite popular in British pubs. Wanting to try something new here, I gave it a try.
This Welsh Pub Burger is made out of angus beef. Then, it's topped with bacon, beer cheese sauce, and beer-battered leeks. The sauce is a Branston mayonnaise.
I am somewhat picky about hamburgers, but this one was surprisingly delicious. I say surprisingly because I've had some not-so-good hamburgers at Disney World. The Angus beef made it so tender, and each of the toppings complemented the other wonderfully!
Desserts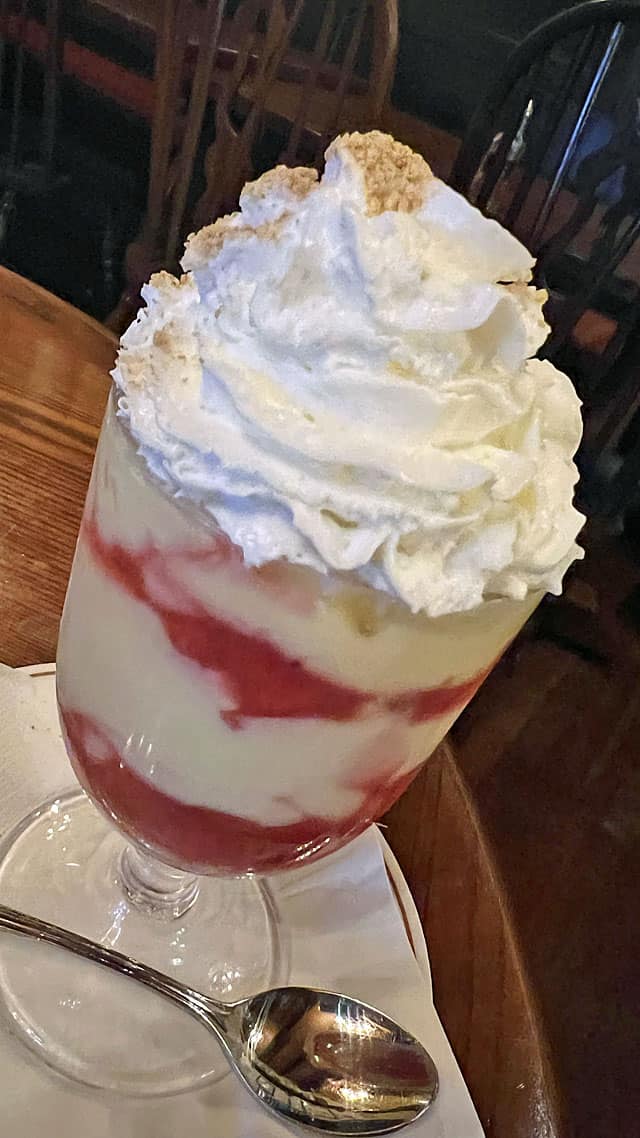 We each ordered one of the two desserts on the menu. First, we tried the English Trifle shown above. It contains layers of strawberries, vanilla custard, graham crackers, and whipped cream. It was very tasty!
One of my favorite things about this trifle is it is light and airy, not at all heavy. After eating a heavy dinner, this was the perfect lighter ending.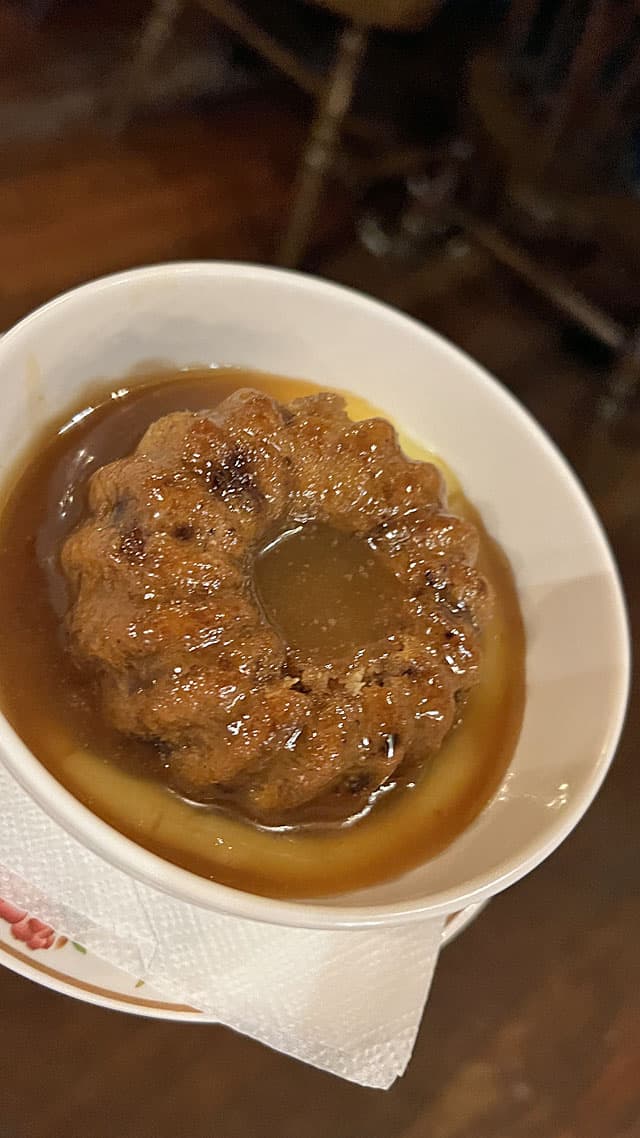 Next, we ordered the Sticky Toffee Pudding. This steamed pudding cake is served with warm vanilla custard and a hot butter-rum sauce. How can you go wrong here? The answer is you can't! This Sticky Toffee Pudding cake melted in our mouths and was so amazing! It's our pick for favorite dessert here.
Types of Reservations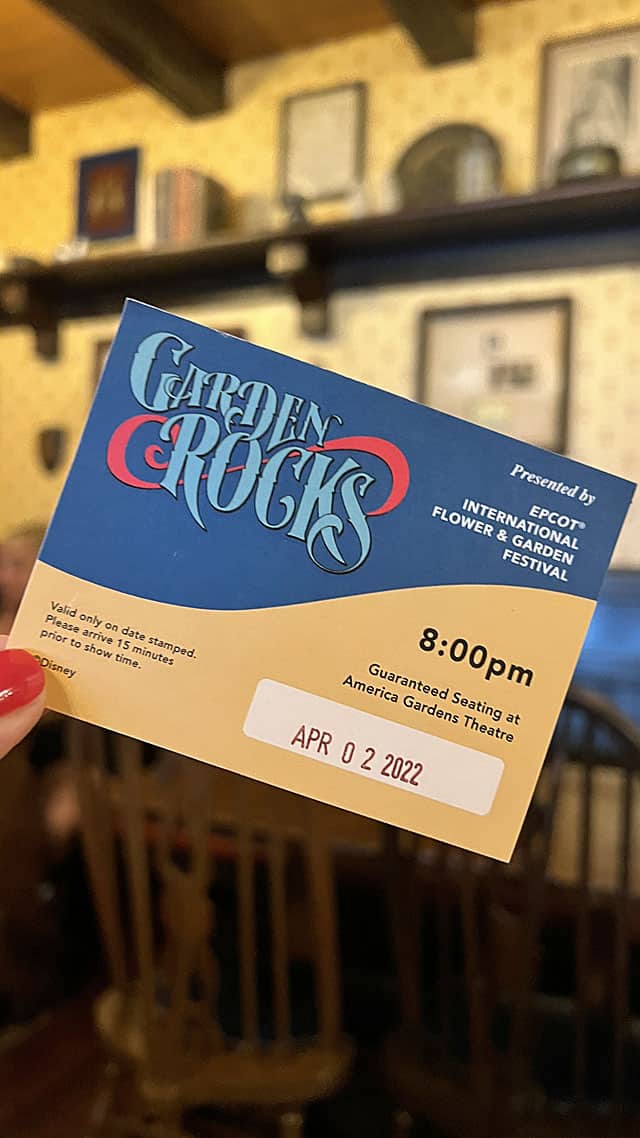 Along with traditional advance reservations and joining the walk-up wait list, there is another option in eating at the Rose and Crown Dining Room. It also participates in various dining packages.
First, for Disney's Festivals you can purchase a reserved seating and dinner package. You may be able to book it for the following concerts: Eat to the Beat, Disney on Broadway, and Garden Rocks.
Next, if you want a guaranteed seat for the Candlelight Processional during the holidays, book a dining package here. Check out Monica's review of this package HERE.
Last, for night waterfront dining, try the Harmonious fireworks dining package. You can read all about our experience in Donna's review and see if it was worth it HERE.
Final Thoughts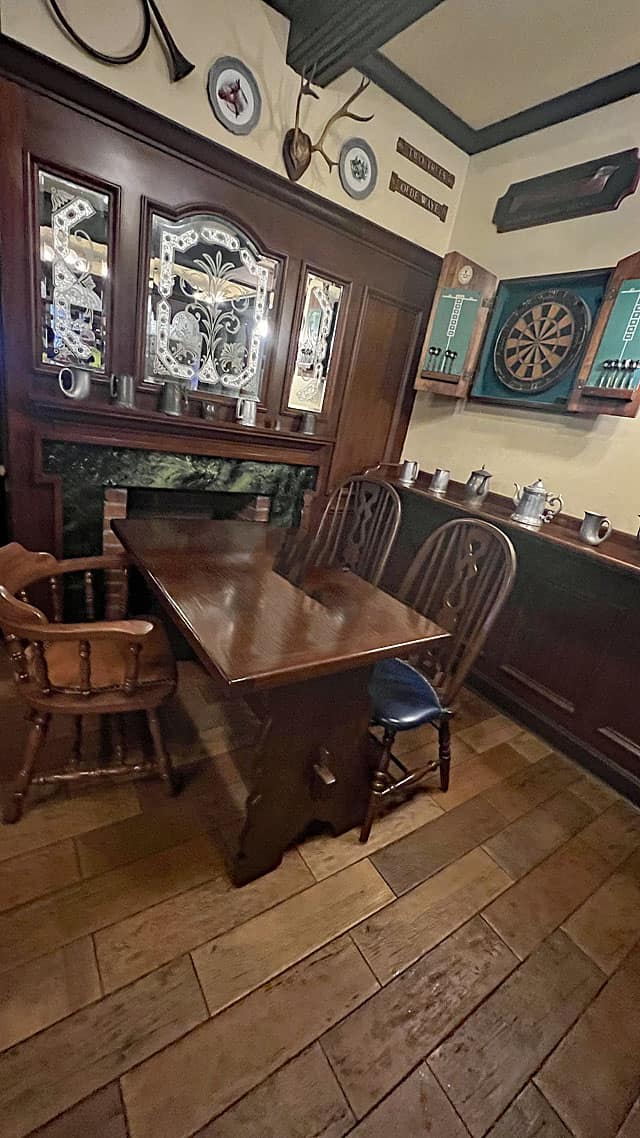 The Rose and Crown restaurant is one of those reservations I made and then cancelled on occasions. Then, I finally kept a dining package to dine here. I'm so glad I did because the theming and food here are fantastic! I hope you'll give it a try soon if you haven't already.
Have you eaten at EPCOT's Rose and Crown restaurant? If so, did you like it? Or, would you like to try it in the future? Please let us know your thoughts in the comments below and on Facebook.

Are you planning a vacation? Reach out to our trusted travel agency sponsor Authorized Disney Vacation Planner
Mouse Class Travel
!