Do you love taking in views of the Disney castles while enjoying a meal? Look at these quick service options that offer breathtaking views at a few of our favorite Disney parks.
Castle Views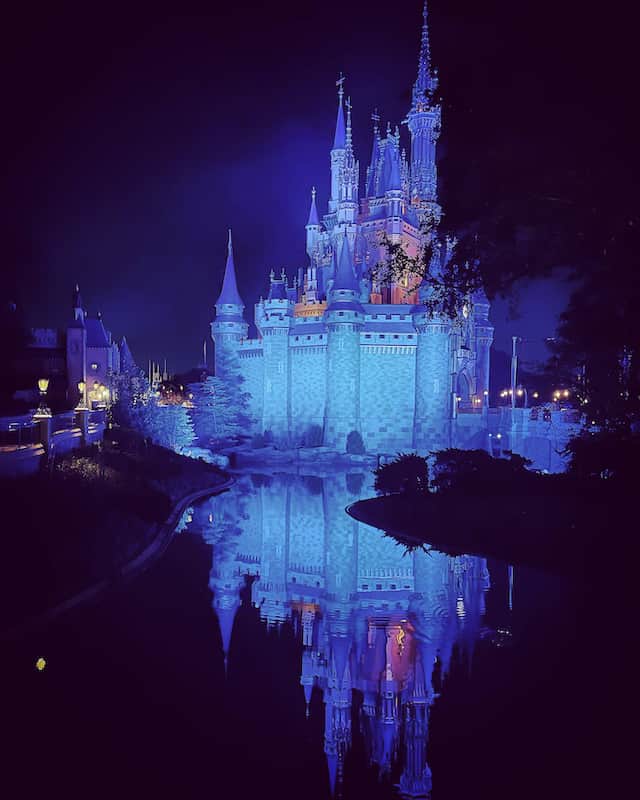 There is nothing quite like making your way through the entrance gate and getting your first glimpse of the Disney castle at the end of Main Street, USA. Each Disney Park has a castle, and this is where the true adventure begins for guests.
Each Disney Park showcases a different princess, but why did Walt Disney decide to place a castle in Disneyland? Walt and his wife, Lillian, traveled through Europe they visited Neuschwanstein Castle in Germany. This fairytale charm inspired him to create the Sleeping Beauty castle in Disneyland.
Have you ever just wanted to sit and enjoy the beauty of the Disney castle while enjoying a quick meal? You can enjoy a delicious meal while enjoying a spectacular view without even having to wait in line to order with Mobile Ordering.
Sleeping Beauty Castle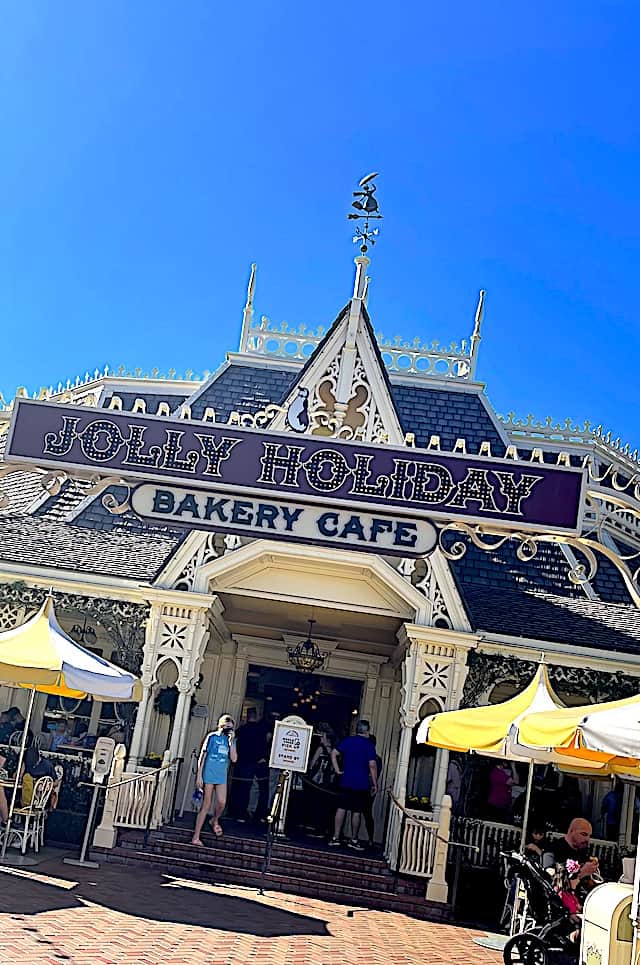 The castle that truly started it all is located in Disneyland. It is a little surprising to see the size of Sleeping Beauty castle in comparison to Cinderella Castle at Walt Disney World. Although it is more modest in size, this castle is gorgeous. At Walt Disney World, I (Donna) enjoy viewing the castle from the side, but not so at Disneyland.
Jolly Holiday is located at the end of Main Street, USA on the left-hand side towards the entrance to Adventureland. This quick-service location is gorgeous with a large Victorian-style wraparound porch that allows for ample seating and gorgeous castle views.
My family discovered the best quick service option to enjoy a beautiful view of the castle while also enjoying a delicious meal. It is always a "Jolly Holiday" at this quick-service location.
Jolly Holiday is a quick-service location is gorgeous with a large Victorian-style wrap-around porch that allows for ample seating and gorgeous castle views.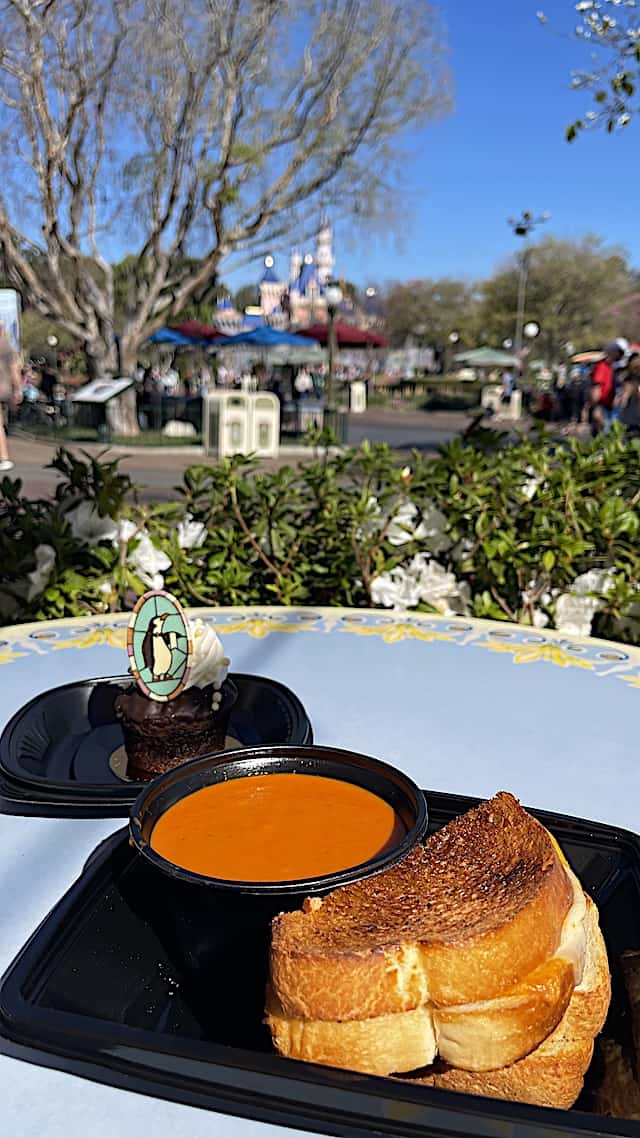 Hands down the best dish at Jolly Holiday in my (Donna) opinion is the Jolly Holiday Combo. This combo includes a toasted cheese sandwich with a bowl of tomato basil soup. This may sound like a bit of a basic dish, but I (Donna) promise that is not. This sandwich pairs nicely with the rich and creamy tomato soup.
The Jolly Holiday offers a few dishes and many delicious bakery items as well. One of our favorites is this Chocolate Mousse Brownie. This delicious brownie is dressed up like a practically perfect cupcake with decadent chocolate ganache, topped with white chocolate mousse, and a penguin decoration made of chocolate. Although we don't know if it is a dressed-up brownie or a cupcake, this may be the best dessert that we enjoyed at Disneyland.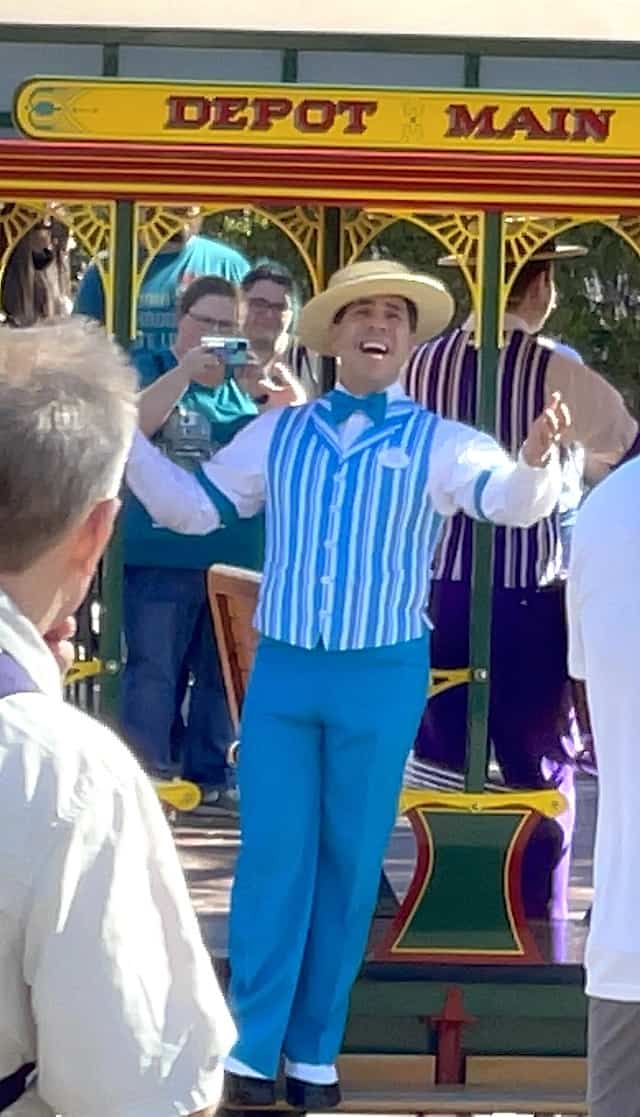 This is a great location to enjoy a beautiful view of Sleeping Beauty Castle and take in the magic of Main Street. While enjoying lunch, we enjoyed a serenade from the Dapper Dans as they traveled along Main Street.
If you are traveling with someone with a food allergy, the Jolly Holiday has many great allergy-friendly options. My mother has a gluten intolerance and was delighted to enjoy great dishes that accommodated her allergy.
Cinderella Castle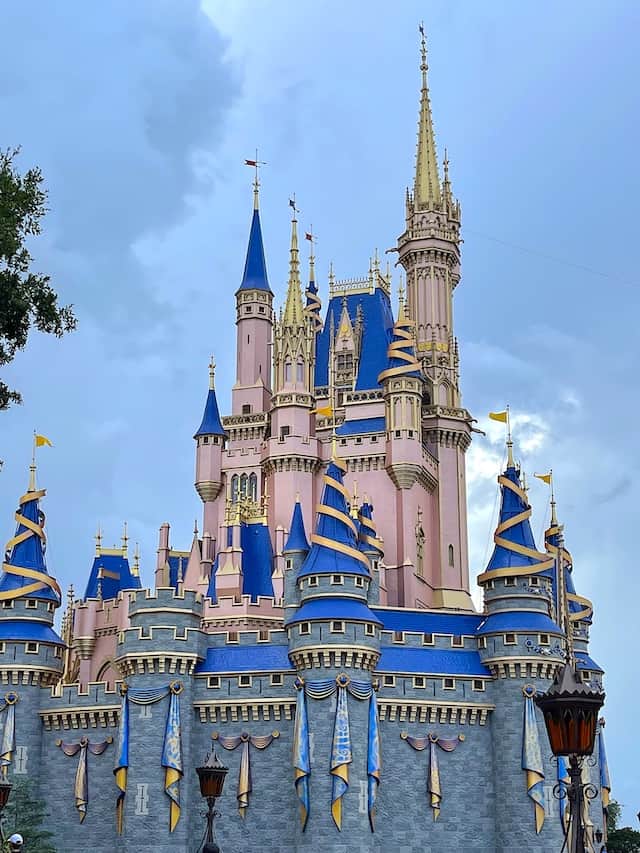 Do you have your ears on and ready to travel to Walt Disney World? It seems like the end of Main Street, USA at Walt Disney World is quite congested. Our family has dined at both Casey's Corner and at the Plaza Ice Cream Parlor to enjoy views of Cinderella Castle.
While we enjoyed both of these dining locations the castle was pretty obstructed by large crowds of guests. Although the food at both locations was delicious, this was not the castle view we were hoping for.
A few years ago we discovered our favorite quick-service dining location with spectacular castle views. Sleepy Hollow is located on the corner of Liberty Square. This is my classic go-to snack during our visit to Walt Disney World. I would dare say this is the best-kept secret of snacking around Walt Disney World.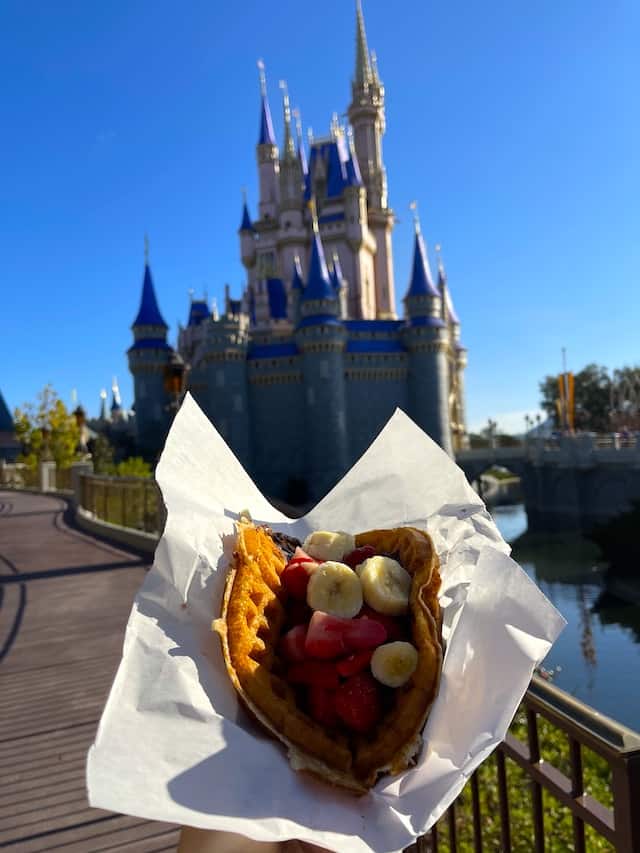 My favorite menu item is the Fresh Fruit Waffle Sandwich The crispy waffle is covered with a sweet chocolate hazelnut spread. A generous serving of strawberries, bananas, and blueberries makes this the perfect breakfast. I think I love the location of this quick-service location as much as I do the snack.
Currently, the Fresh Fruit Waffle Sandwich is available for breakfast and also as snack option throughout the day as well.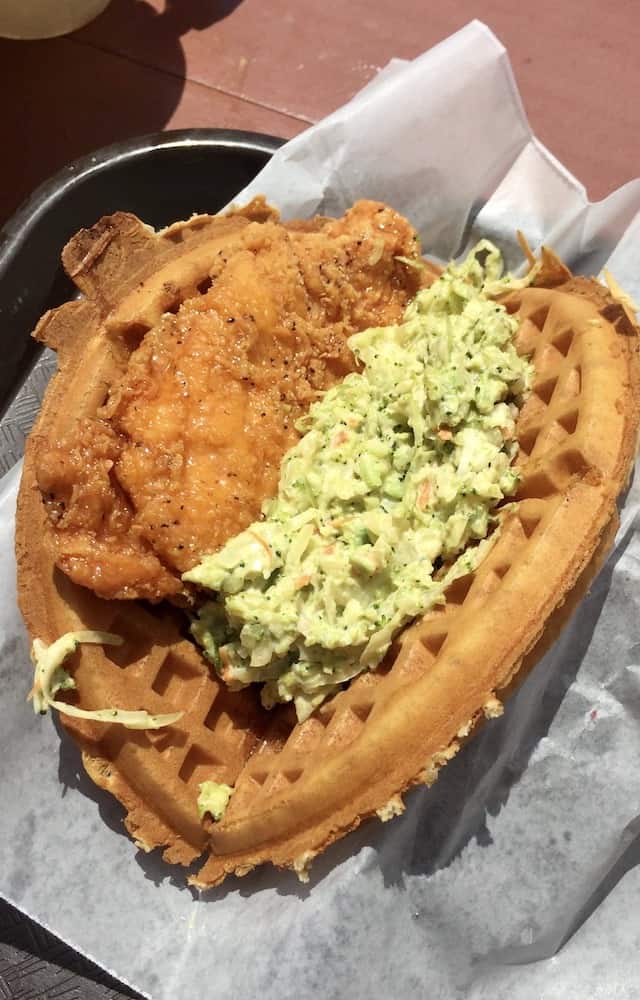 On one occasion, the Fresh Fruit Waffle sandwich was unavailable for purchase after 11:00 am. I (Donna) still wanted to enjoy the view of Cinderella Castle so I ventured into the lunch menu for Sleepy Hollow. The Sweet and Spicy Waffle sandwich sounded good. Unfortunately, this was a one-and-done meal for me. The chicken was heavily fried and not very appetizing. The mixture of the slaw, waffle, and chicken was a bit of an interesting combination.
Now when visiting the Magic Kingdom, I make my touring plan to include a quick stop at Sleepy Hollow. This is one of the best places to enjoy the beauty of Cinderella Castle with limited crowds. Usually, there is also a PhotoPass Photographer at this location as well which is a great spot to have a photo taken without crowds behind you.
Have you enjoyed either of these dining locations? Where is your favorite quick service location in Disneyland and/or Walt Disney World? Where is your favorite place to enjoy views of the Disney castles? Share your thoughts with us on our Facebook Page.