How do you feel about this restaurant?
Magic Kingdom Dining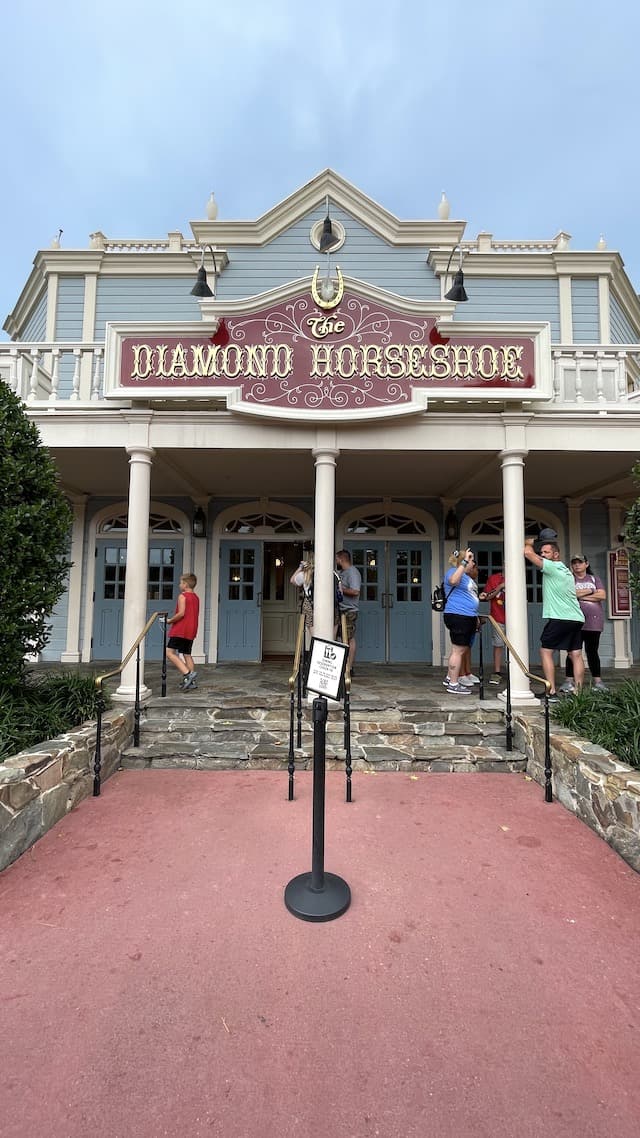 While Magic Kingdom may be the most well known theme park in the world, it is not exactly known for its dining. Don't get me wrong, I (Monica) love Casey's corn dogs, Sleepy Hollow waffles, and dining inside Cinderella Castle. However, when you take a step back and really think about the park as a whole the dining options are not a big selling point.
That does not stop me on my quest to eat at every single restaurant and snack cart in the Magic Kingdom. In fact, I am moving along pretty well with only a few restaurants left on the list to check off! I recently grabbed dinner reservations for The Diamond Horseshoe for no reason other than I have never been inside.
The food is exactly the same as Liberty Tree Tavern, so it is not like I was missing out something that I had never tried before. So, what did I think of The Diamond Horseshoe? Let's dig in.
The Diamond Horseshoe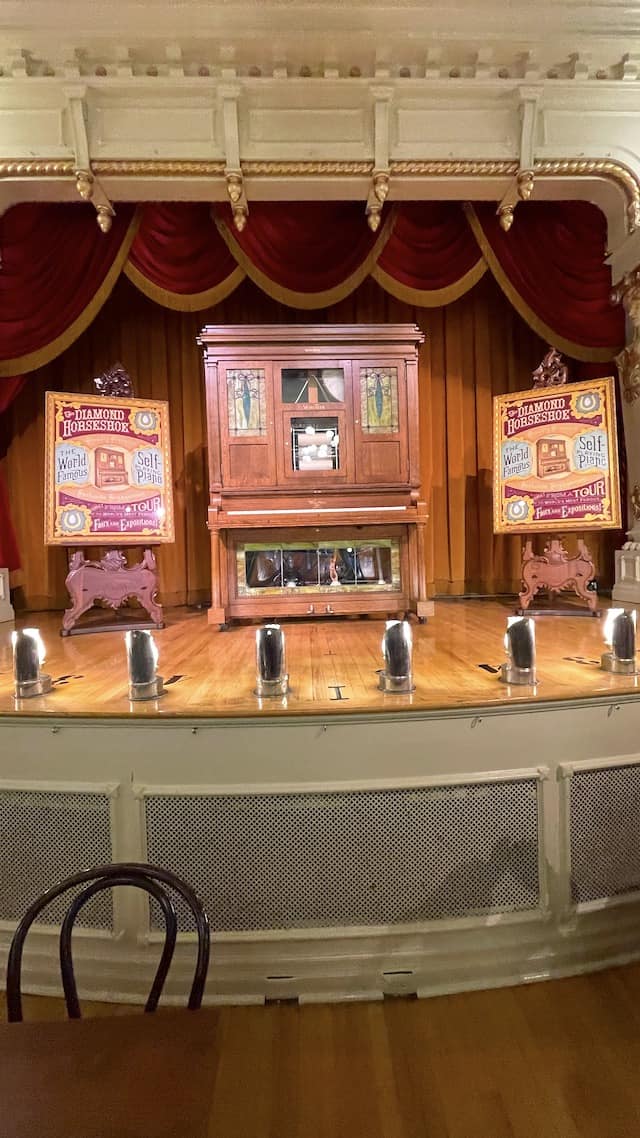 Right where Frontierland meets Liberty Square, you will find The Diamond Horseshoe. It is a table-service restaurant themed after an Old West music hall.
Come and get it—dine in splendiferous style featuring a full-on feast for lunch and dinner. Celebrate with family and friends! No matter if you've got a hankering for grub around high noon or a tasty supper come sundown, make your way into this musical saloon for heaping helpings of traditional family-style dinner.
The show-stopping, all-you-care-to-enjoy feast opens with a zesty salad, followed by a plentiful platter piled high with roasted turkey breast, pot roast and oven-roasted pork accompanied by traditional sides. While you get your fill, be sure to quench your thirst with your choice of beverage before enjoying the grand finale: Ooey Gooey toffee cake with chocolate sauce and vanilla ice cream.
Menu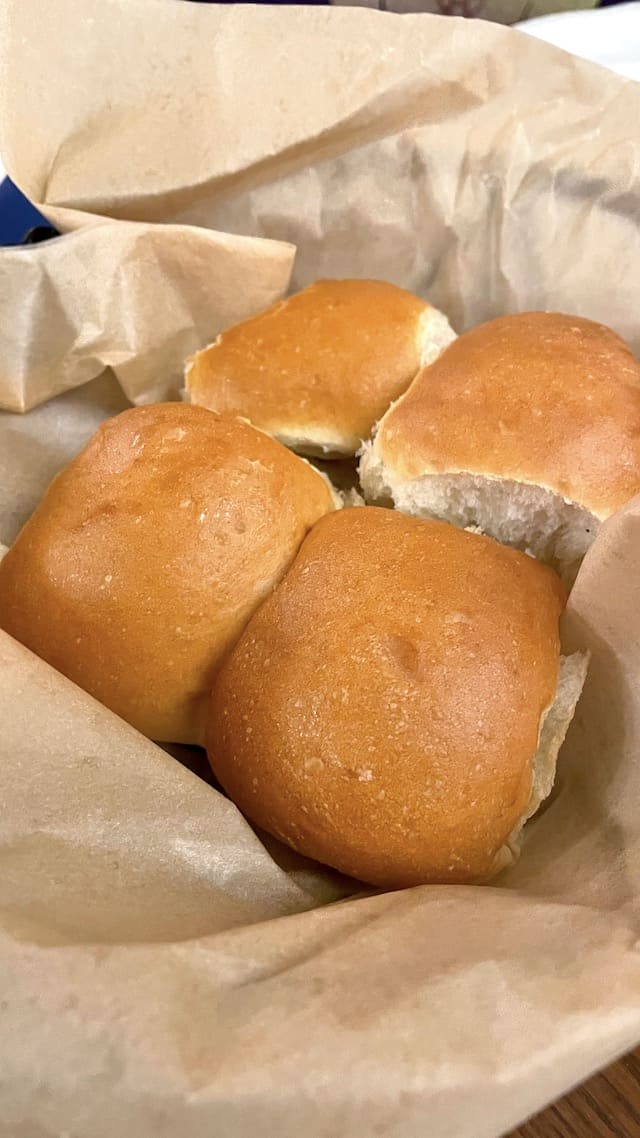 As mentioned earlier, it does share a kitchen with Liberty Tree Tavern. In fact, you may see servers dressed in their Colonial outfits bringing platters of food to your table inside The Diamond Horseshoe. For a long time after the park reopened in July 2020, Diamond Horseshoe served as overflow seating for Liberty Tree Tavern. Read Ashley's disappointing experience about that HERE.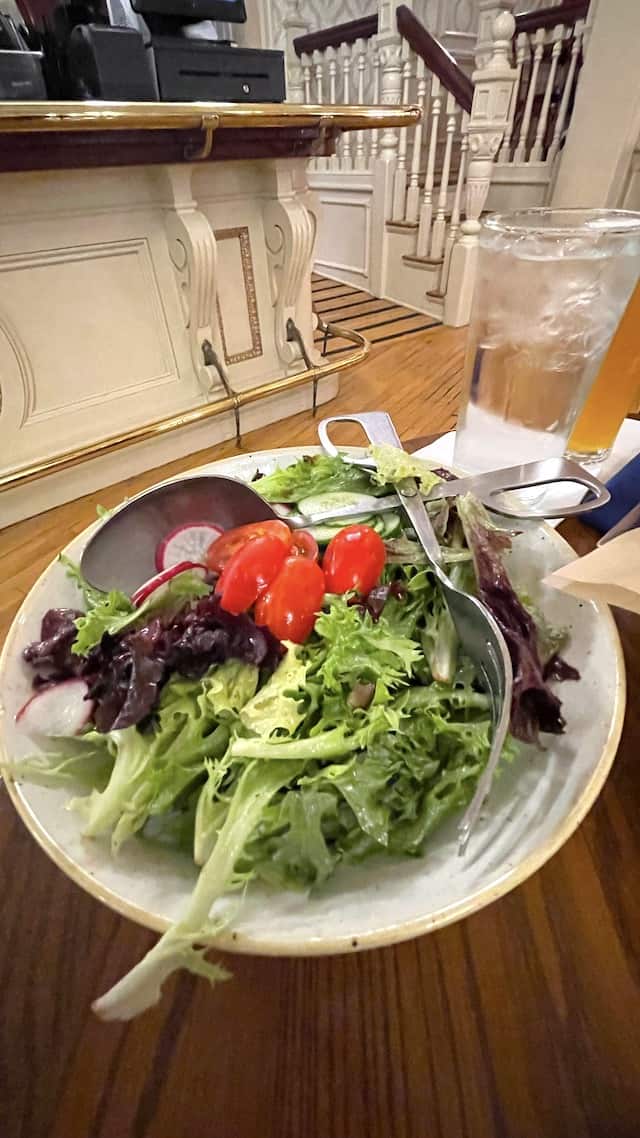 Nevertheless, it is an all-you-care-to-enjoy dining experience, so you are welcome to as many servings as you would like. For starters, munch on a salad and enjoy some warm buttery rolls. I specifically remember my rolls at Liberty Tree being a bit hard, but I was pleasantly surprised to enjoy soft ones here. Your experience may be hit or miss as with any restaurant.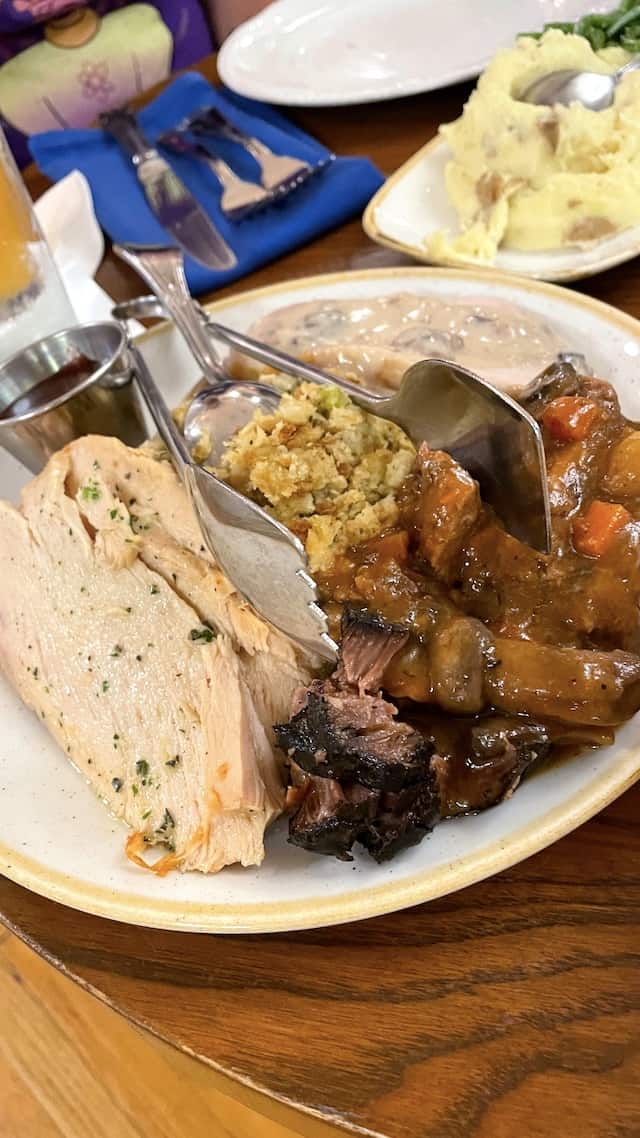 Then, you will want to make sure your table is cleared off because there is a lot more food coming your way! Turkey, pot roast, and pork are all served on a giant plate. Plates of mashed potatoes. stuffing, macaroni and cheese, gravy, and green beans also come with your meat.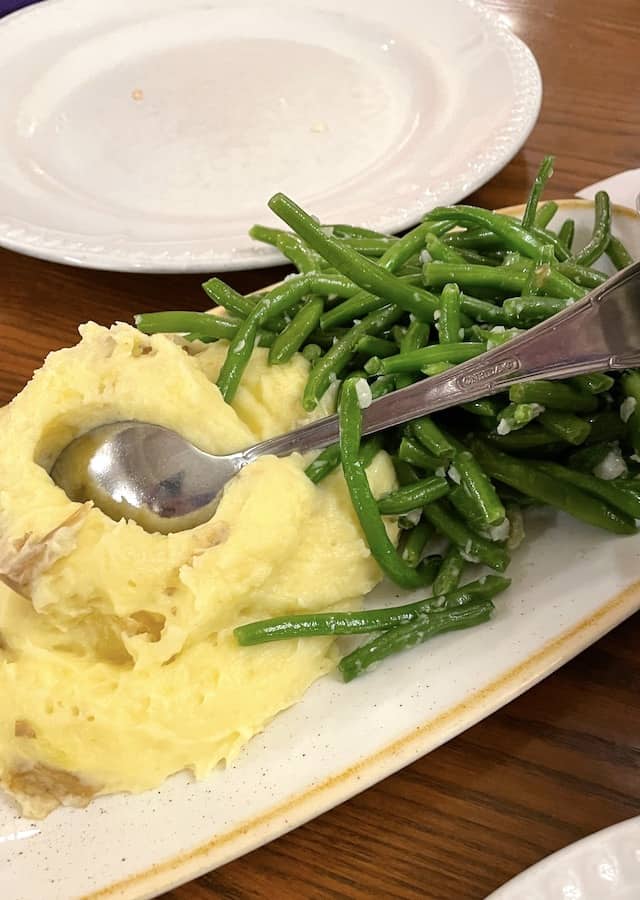 Finish off with the famous oooey gooey toffee cake! The only real "complaint" about this meal was the pork and green beans. The pork was a bit chewy, and the green beans were hard and inedible. However, we were satisfied with everything else and asked for seconds on several items. By satisfied I mean neither pleased nor disappointed. It did not make us rave about the food, but it did not make us regret dining here. Our server was happy to bring us as much as we wanted and kept our drinks refilled.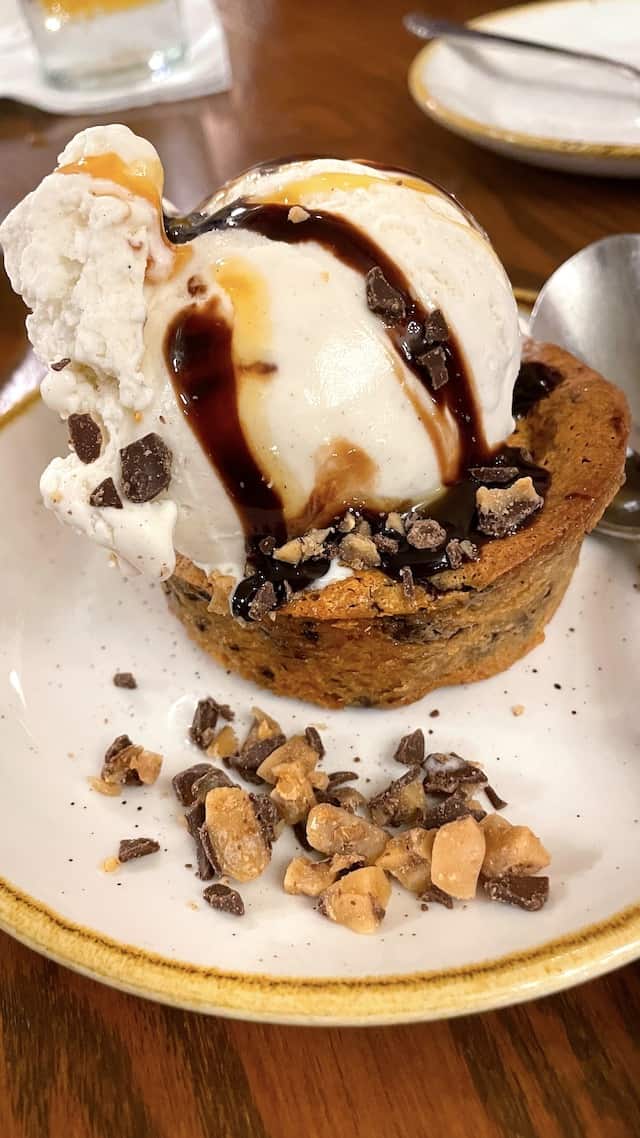 At $39/adult and $21/child I would not bring my children here. I personally think it's astronomical what Disney charges for kid buffets/all you can eat, and I know mine would not touch most of this. If you are going to do buffets or prixe fix meals, you may as well get some characters for that price.
Atmosphere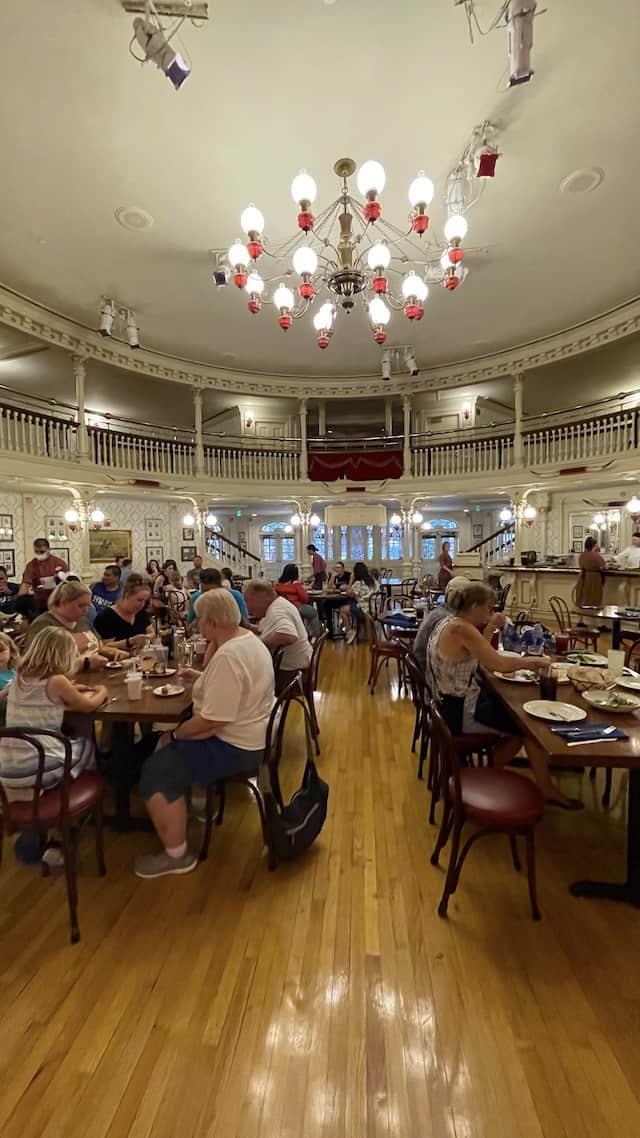 Since The Diamond Horseshoe is located in Frontierland, expect it to be themed to the Old West. It is a lot smaller and more intimate than Liberty Tree Tavern which has several dining areas. The entire upstairs at Diamond Horseshoe is closed off, and there are only about 25-30 tables downstairs. It is set up how you would expect a music hall from the 1800s to be set up.
There is a stage with a self-playing piano that plays tunes every 15 to 20 minutes or so. It was really fun to see the piano lit up and the keys moving on their own! I do think an actual piano player there would be extra special and may add more appeal to the restaurant. It almost did not feel like a restaurant but just a random space where people happened to be eating.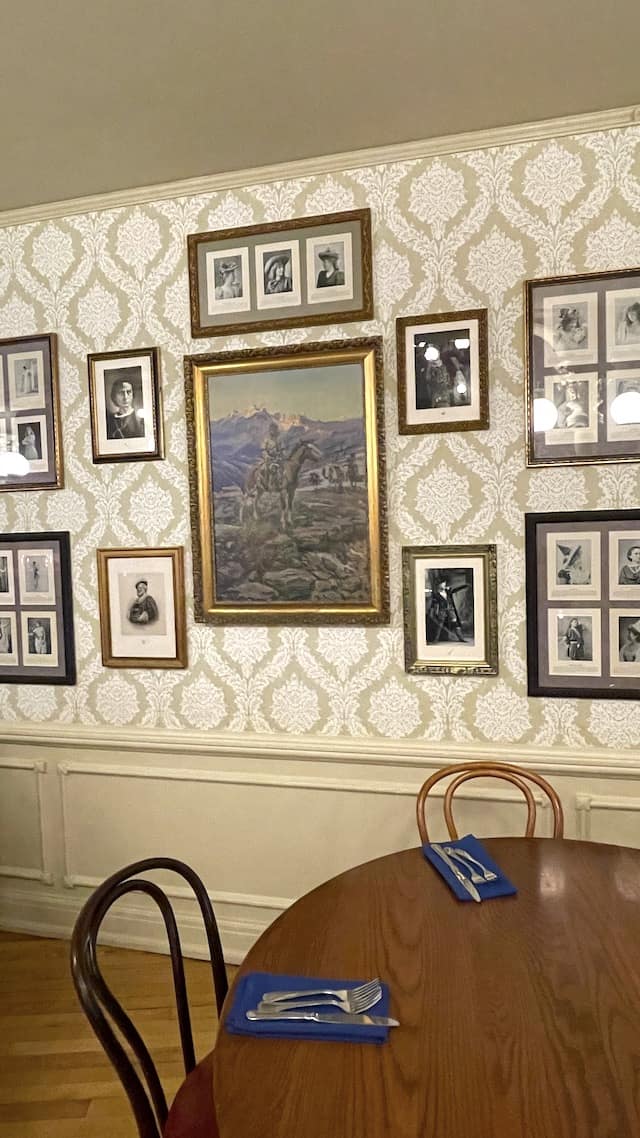 The walls were adorned with various portraits and newspaper articles while a giant chandelier hung from the ceiling. I did appreciate the bar area in the restaurant which gave it an Old West saloon feel.
Final Thoughts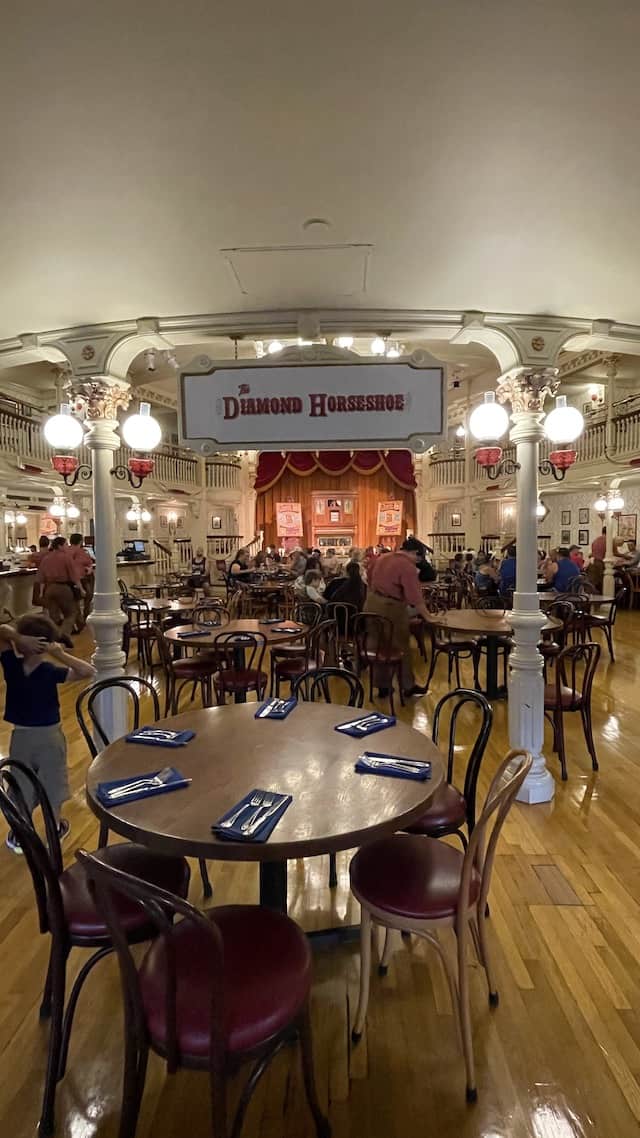 My experience at The Diamond Horseshoe was just fine, but it did not wow me any more or less than Liberty Tree Tavern. Since both serve the same comfort food, many enjoy it during Thanksgiving or Christmas.
To be honest I am not a huge fan of Magic Kingdom dining in general, but I am glad I tried it. The atmosphere felt a little off, but the self-playing piano saved it. I was filled with food, which is good considering it cost $39 to eat there. The toffee cake is really yummy, however, and I wish they would sell it by itself somewhere!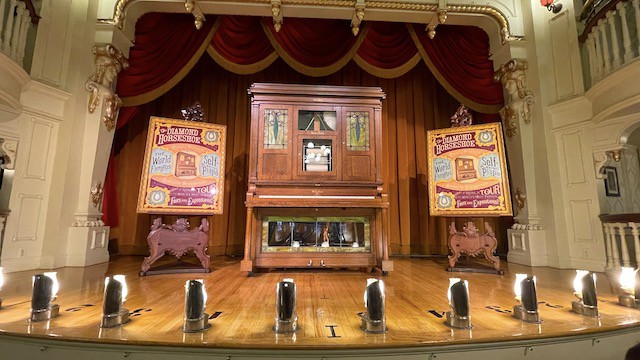 The Diamond Horseshoe will do just fine if you are looking for a sit-down meal in the Magic Kingdom that will fill you up. However, I really have no desire to eat there again. Instead I will go for my usual spring rolls, corn dogs, and cream cheese pretzels!
Have you eaten at The Diamond Horseshoe? Did you love it or did not care for it? Let us know in the comments below and on Facebook.