Have you ever considered adding on a special dessert party to your nighttime spectacular viewing experience in Walt Disney World? I (Jamie) recently attended the Disney Enchantment After Party, hoping I would be "enchanted" by this experience. Here are my thoughts on this dessert party and whether or not the experience was really worth it.
Disney Enchantment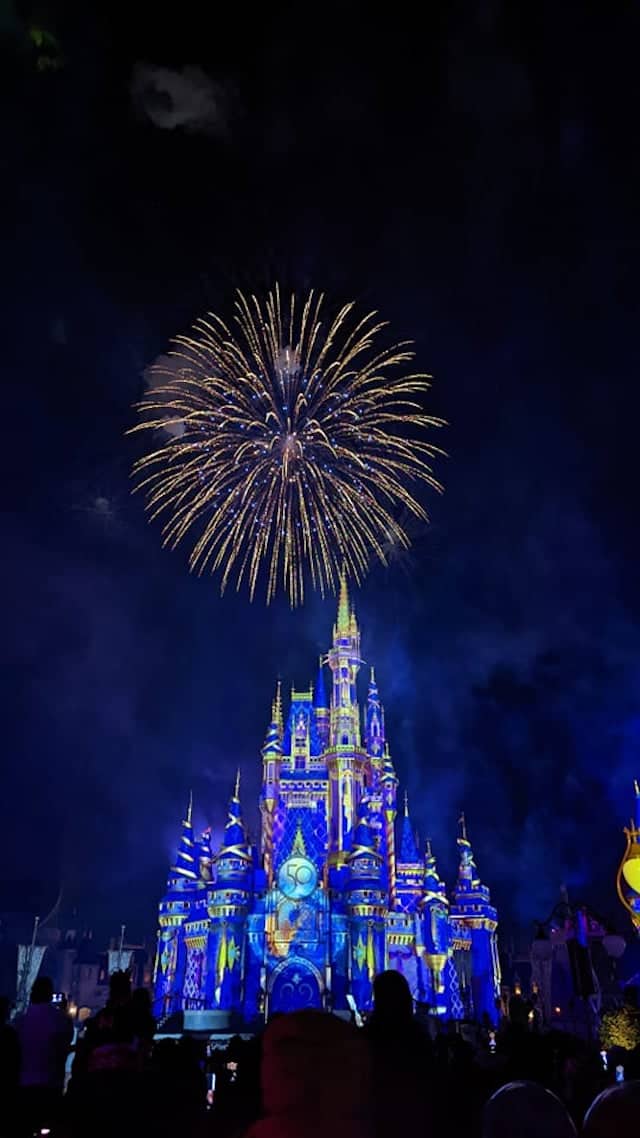 First, let's make sure you're familiar with Disney Enchantment. Magic Kingdom's newest nighttime spectacular, Disney Enchantment, debuted October 1, 2021: the 50th anniversary of Walt Disney World.
Disney Parks Blog shares, "In 'Disney Enchantment', you're inspired to believe in magic, with captivating Disney music, enhanced lighting, and immersive projection effects that extend- for the first time- from Cinderella Castle down Main Street, USA."
"This one-of-a-kind show features characters, moments and music from dozens of Disney and Pixar animated films. It takes you beyond the ordinary to a land of magic, where we're swept up in a world of wonder filled with friendship, love and fun. Through it all we'll discover we only have to look within to find the power to believe and make dreams come true, because the magic was inside us all along!"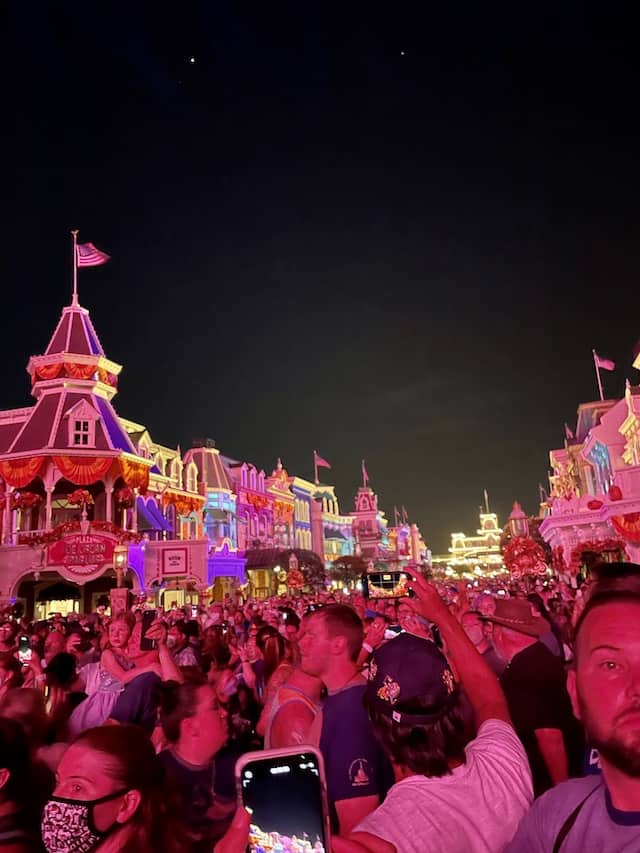 With this show Disney has attempted to disperse the crowds more by using all of Main Street to display the projections. The show can be viewed from all of Main Street, but of course for the best view of the projections, you'll want to be right in the Cinderella Castle hub area.
And that area can get very….crowded. So what is the the solution if you want a non-crowded viewing experience with a guaranteed view? Disney offers dessert parties, which offer a "VIP viewing experience, plus a delicious feast of desserts, for an additional fee.
Disney Enchantment After Party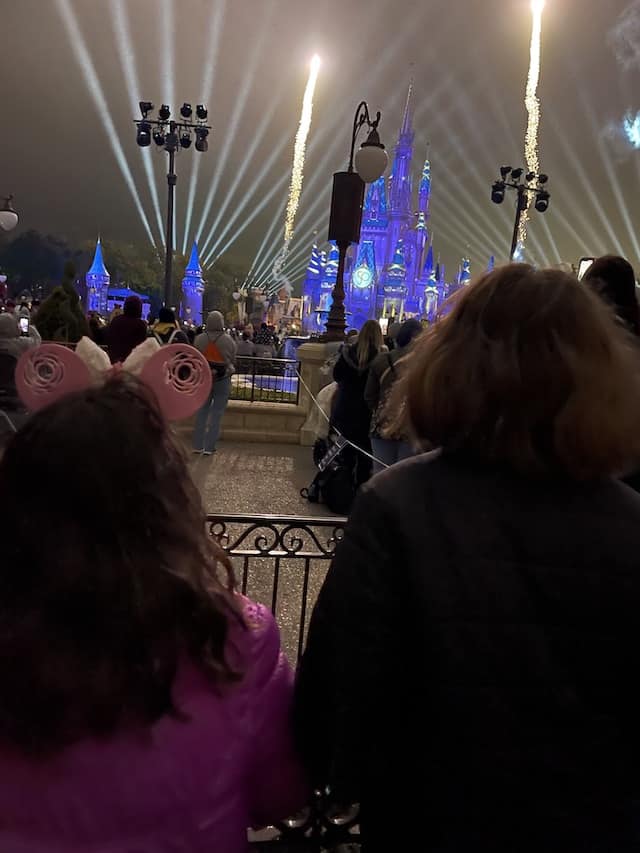 Disney shares: End your magical day on a sweet note, celebrating the 50th anniversary of Walt Disney World Resort. The party begins when you check in at Tomorrowland Terrace Restaurant up to 60 minutes prior to the start time of Disney Enchantment.
Disney Enchantment After Party offers Guests a priority viewing area, and then an all you care to enjoy dessert party, complete with alcoholic and non-alcoholic beverages!
My experience with the Disney Enchantment After Party priority fireworks viewing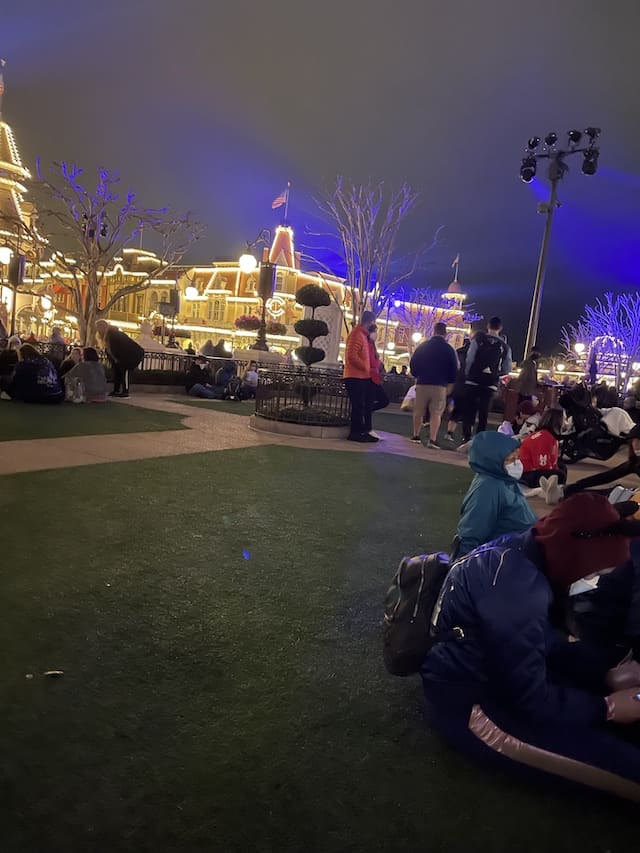 My family and I headed over to Tomorrowland Terrace about 75 minutes prior, and I'm glad we did! On the way, we saw several people already sitting in the priority fireworks viewing area (more on that in a moment), and there was quite a line at the check in booth!
We got all checked in, and with our special "after-party" bracelets on, we were able to enter the fireworks viewing area. The fireworks viewing area is located in the Cinderella Castle hub area. If you are looking at Cinderella Castle, this special area is over to the right, in front of the Plaza outdoor seating area.
When we got in there, we picked out a spot right up front for optimal viewing. We quickly surveyed our surroundings and noticed something interesting.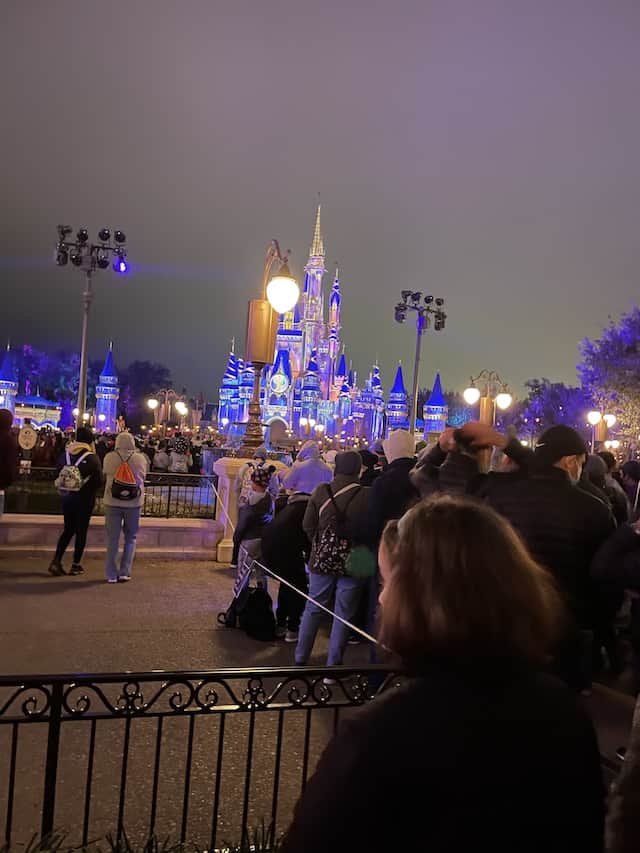 There is a walkway in front of the viewing area that was partially roped off. To the right of the rope, Magic Kingdom Guests would be able to fill in the walkway and stand to view Disney Enchantment. To the left of the rope, no Guests were allowed to stand. This area was used for Disney Enchantment After Party Guests with wheelchairs or scooters. This area was rather large and not completely utilized, so we decided to move over so that we were right behind this area.
I did ask a Cast Member if we could stand in that area, but she stated it was only for parties that did use a scooter or wheelchair. Either way, standing to the left of the rope paid off because we had a completely unobstructed view of Disney Enchantment with only a few people standing in front of us.
The Dessert Party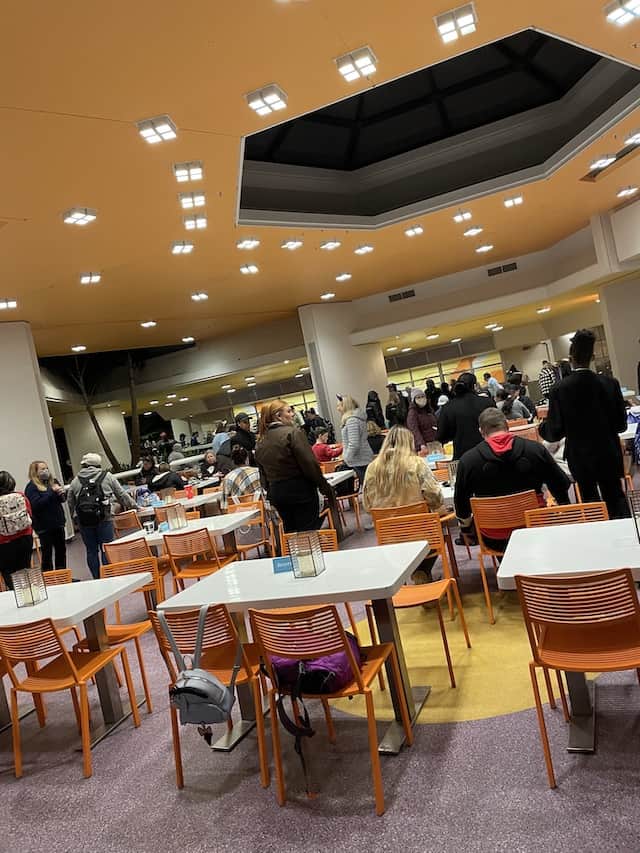 When the fireworks were over, we made our way back to Tomorrowland Terrace to begin our dessert party. The line to get into the party was quite long, but it was wonderful not to be pushing through thousands of Guests that were leaving the Park after the fireworks were over, so we didn't mind a little wait.
When we were at the front of the line, a Cast Member took us to the side of check in to talk with us about an allergy concern with one of our party members. She walked us over to the tables and allowed us to choose our seats, and then went into the kitchen to get an allergy safe platter.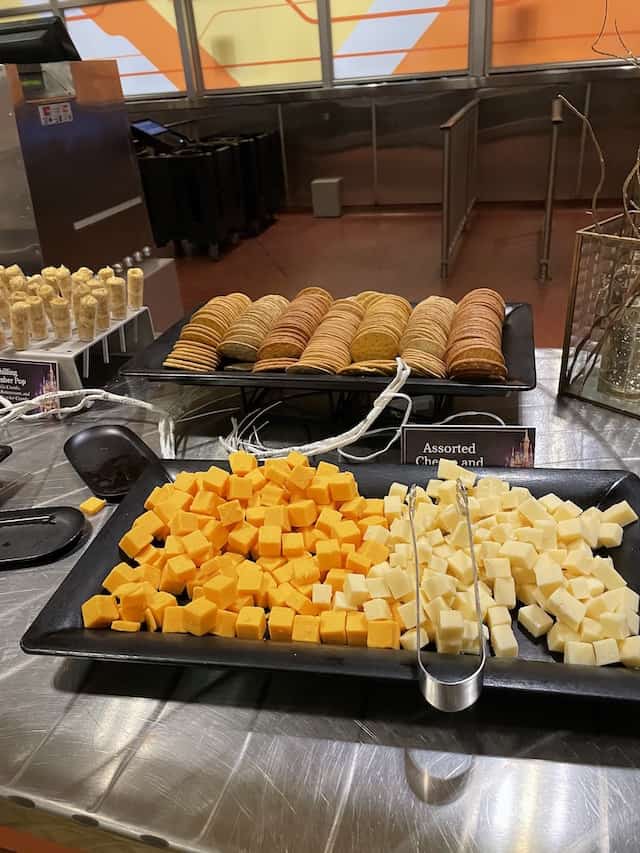 If anyone in your party has a food allergy, do not let this stop you from making a reservation to a dessert party! They were extremely accommodating, and our allergy diner was thrilled to have so many delicious choices. The Cast Member came back several times and happily brought more of anything she asked for! It was definitely a great experience for her!
The rest of us were able to sample from the dessert buffet. There were so many delicious choices, and of course we had to try at least one bit of everything! There were cheese and crackers, assorted fruits, and so much more!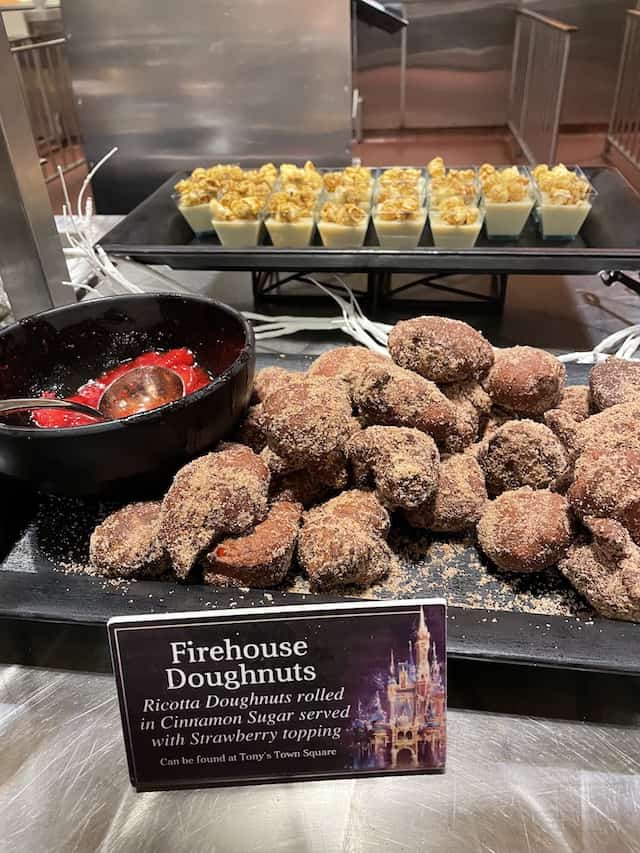 These firehouse doughnuts were a definite highlight at my table! The pudding behind it, not so much. It was very bland.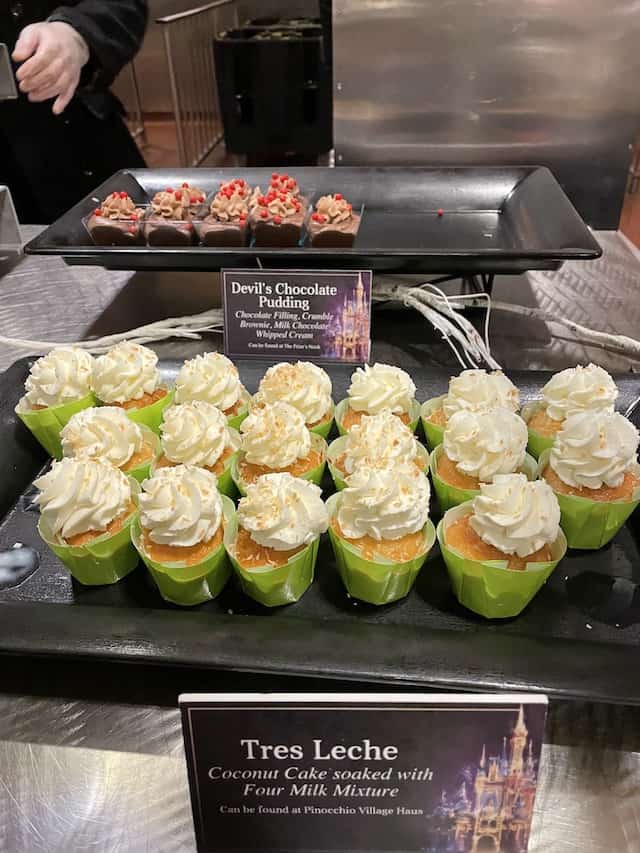 My family doesn't care for coconut, so we didn't try this one. The devil's chocolate pudding was about what you'd expect, and the kids really liked it!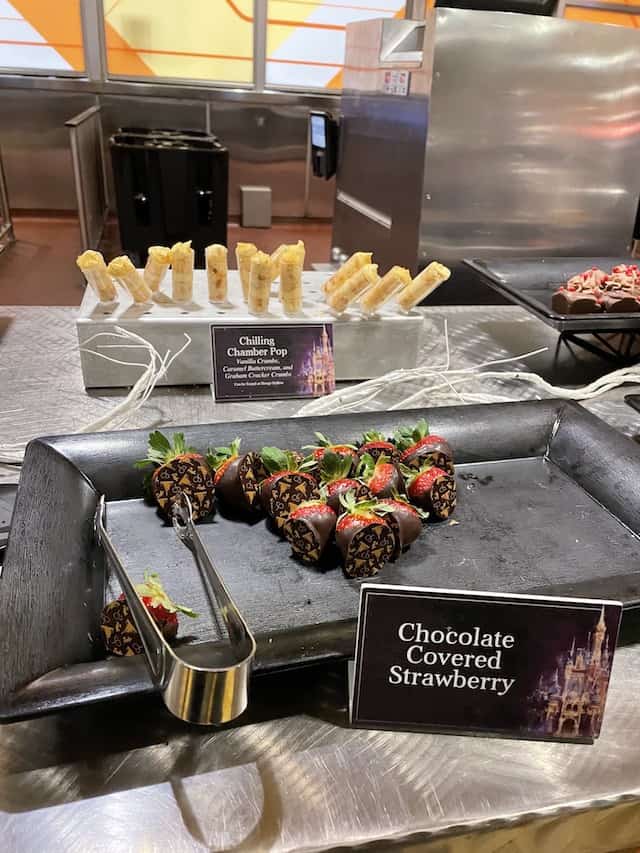 The chocolate covered strawberries were good, and the Chilling Chamber Push pop was a lot of fun to eat! It brought me right back to my childhood!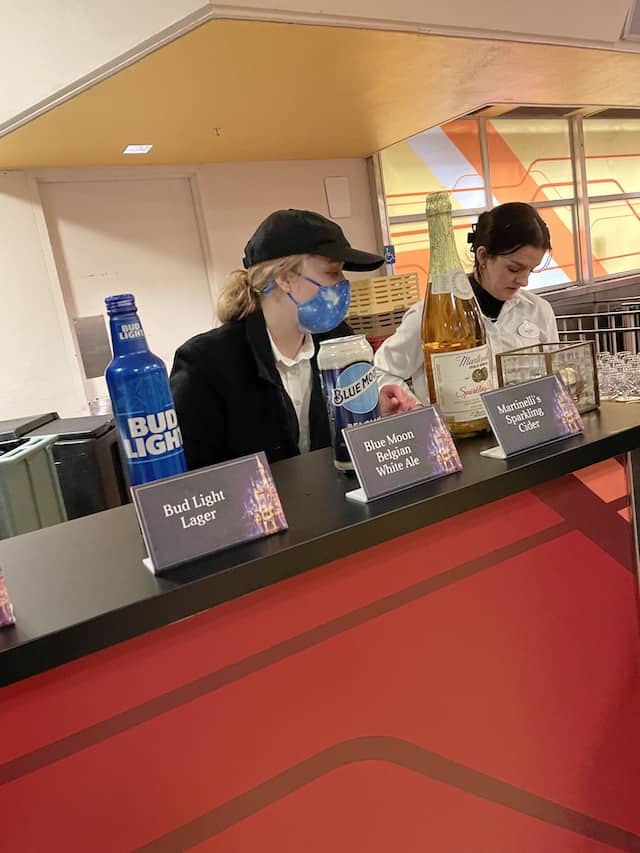 There was also a bar for Guests 21 and up with unlimited beer and wine. Guests could also choose from coffee, hot chocolate, and a variety of juices.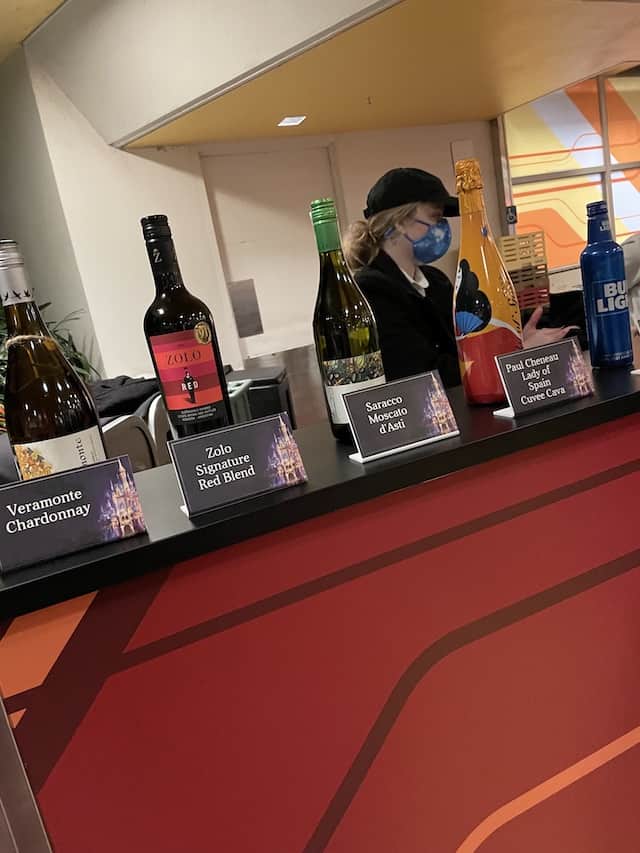 Overall thoughts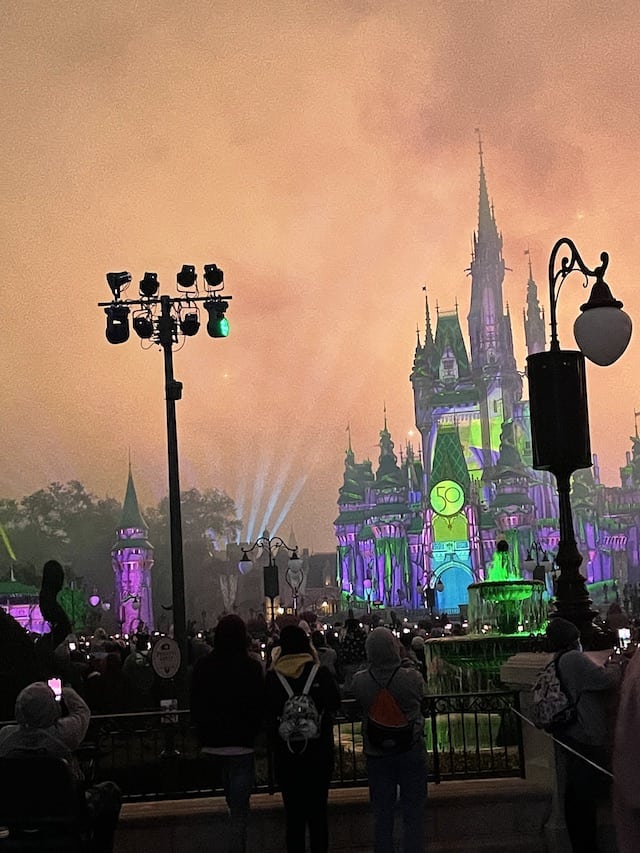 When considering whether or not this party was worth it for us, we really only choose it for one thing: priority fireworks viewing that wasn't crammed up against 10,000 other Guests. So for this reason, we really felt like the party was 100% worth it for us. The viewing area was fantastic, and I loved that we actually had space to enjoy the party without feeling claustrophobic.
I would have paid for the priority viewing experience alone, so the dessert party was an added bonus! The desserts were a fun treat to end our night with, and all of us unanimously agreed that the entire experience was a highlight of our trip.
However, not everyone has the same thoughts. Check out Maggie's review of the same party and her less than favorable experience. Kate also shares her pre-party experience with children HERE.
Will you be checking out Disney Enchantment After Party? Let us know in the comments below, or tell us on Facebook.