Wilderness Lodge is a beautiful resort with even more beautiful theming. The Copper Creek Villas is a Disney Vacation Club accommodation at the resort. Check out this room tour of a studio.
Wilderness Lodge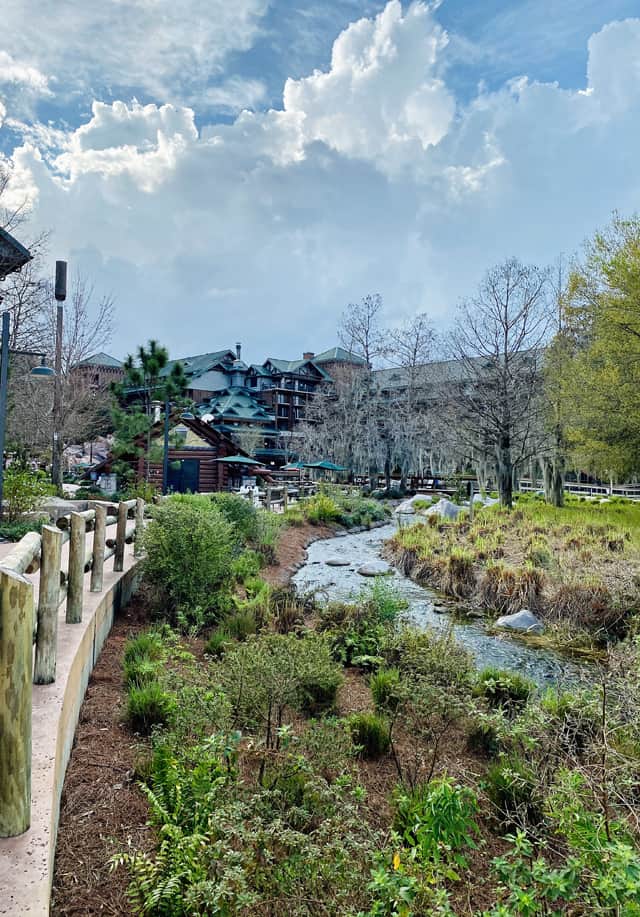 Disney's Wilderness Lodge is a deluxe resort designed to emulate the beautiful Pacific Northwest at the turn of the century. It is heavy on the wood accents and landscaping which helps you forget you are in the middle of Central Florida.
Throughout the resort, there is beautiful decor and architecture like fireplaces, logs, totem poles, and teepees. The serene atmosphere makes it a great hotel to stay at if you want a more quiet and relaxing home base.
It has been a dream of mine to stay at this resort during Christmas, and that is exactly what I did! You can check out my photos of Wilderness Lodge and other resorts in my Christmas decor tour HERE. Susan also has a great guide where she explains all there is to see and do at this resort.
Copper Creek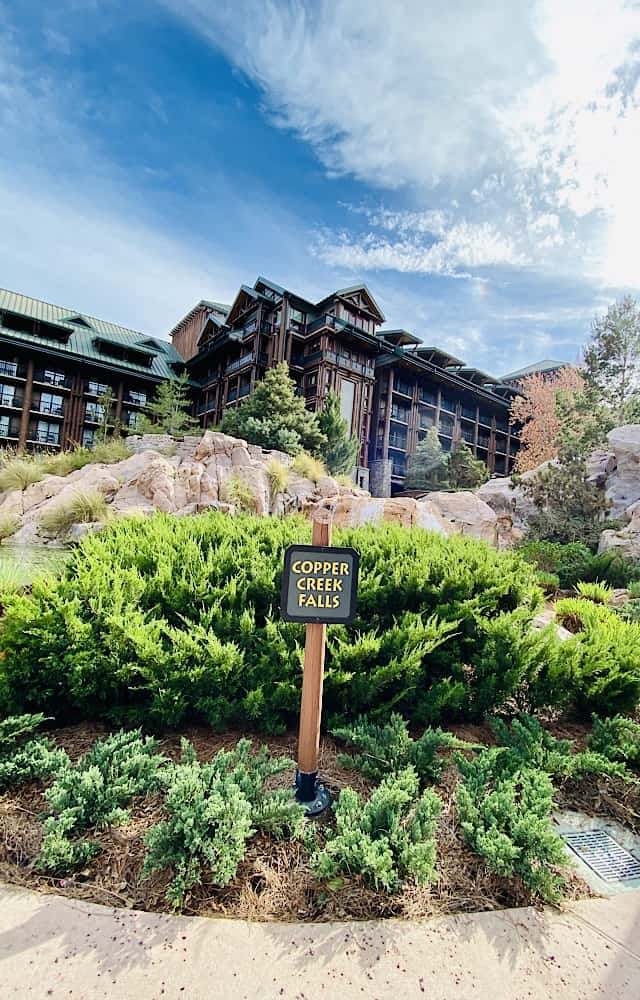 Boulder Ridge and Copper Creek are the two Disney Vacation Club accommodation at Wilderness Lodge. Boulder Ridge is a separate building, but Copper Creek villas are located inside the main building. Oftentimes, DVC buildings are separate and farther away from main lobbies so this is a great advantage of staying at Copper Creek.
You can stay in studios, 1-bedroom, 2-bedroom, or 3-bedroom villas. Additionally, there are 26 waterfront cabins that are completely separate and in a more secluded area of the resort. Combined, there are less than 200 Copper Creek rooms available, which can make it a hard resort to get into.
I had the opportunity to stay in a studio which means I have now stayed in a studio at 6 different DVC studios. I can definitely tell you what I prefer about each studio and what is different to help you make an informed decision.
Studio Tour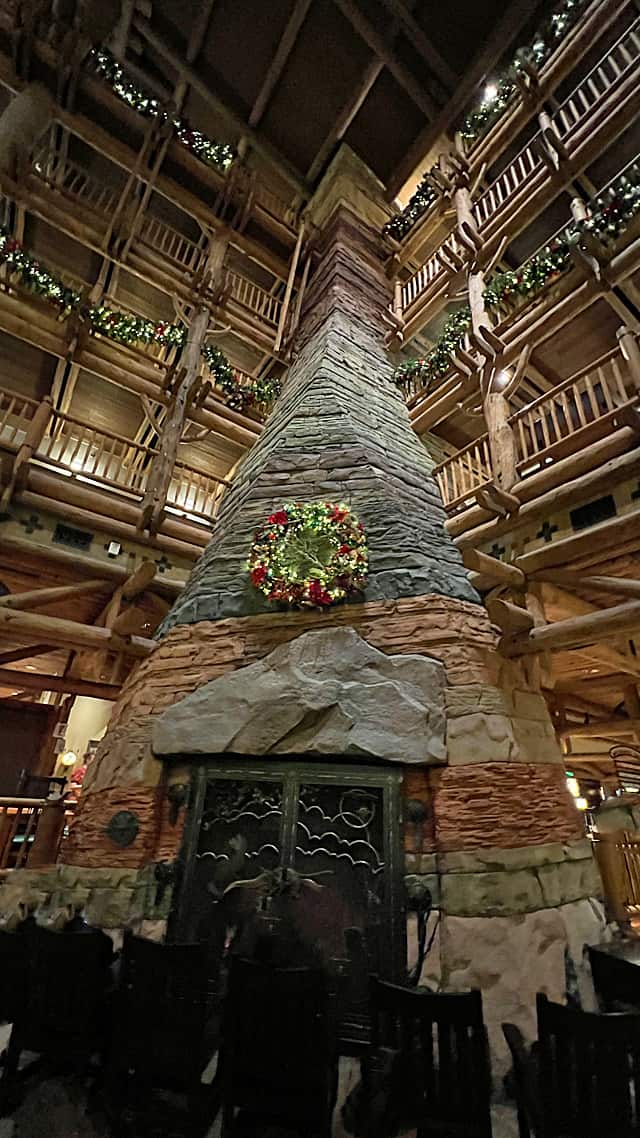 The first thing I loved about my studio at Copper Creek was the fact that it was in the main building with the lobby. We were very close to the Mercantile, Whispering Canyon Cafe, and the swimming pool. It can be a trek to get from your DVC room to the main area of the hotel at other resorts (looking at you, Polynesian).
Closet and Kitchenette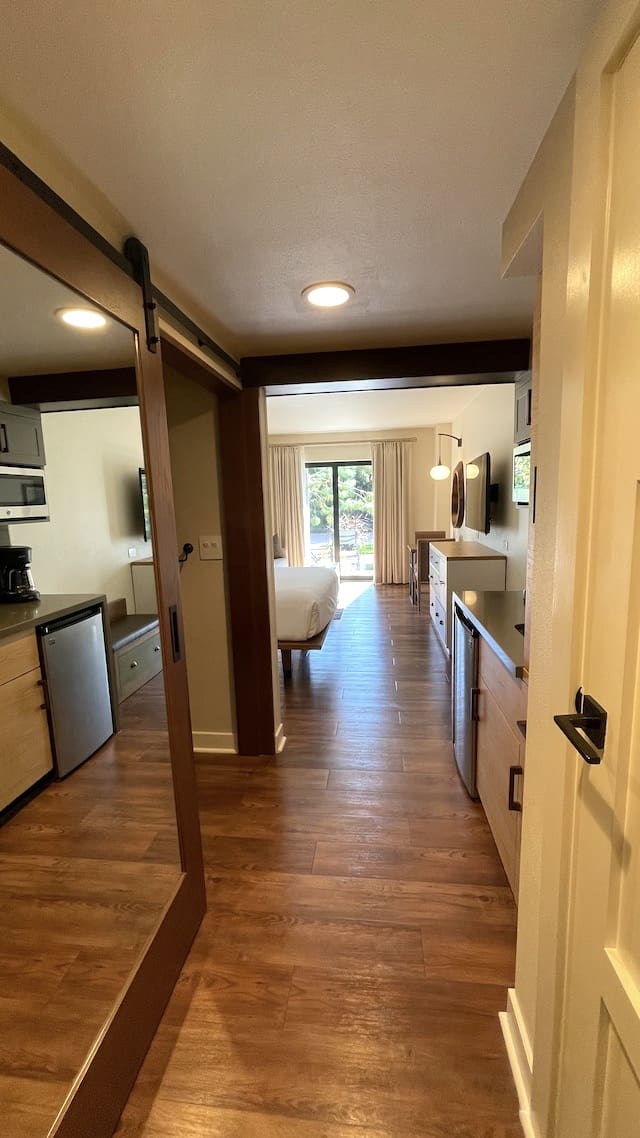 As far as the room itself, Copper Creek is one of my favorite studios I have stayed in. When you first enter your room, you will have the standard hallway like other resorts.
The closet and kitchenette are located on the right and the bathroom is located on the left.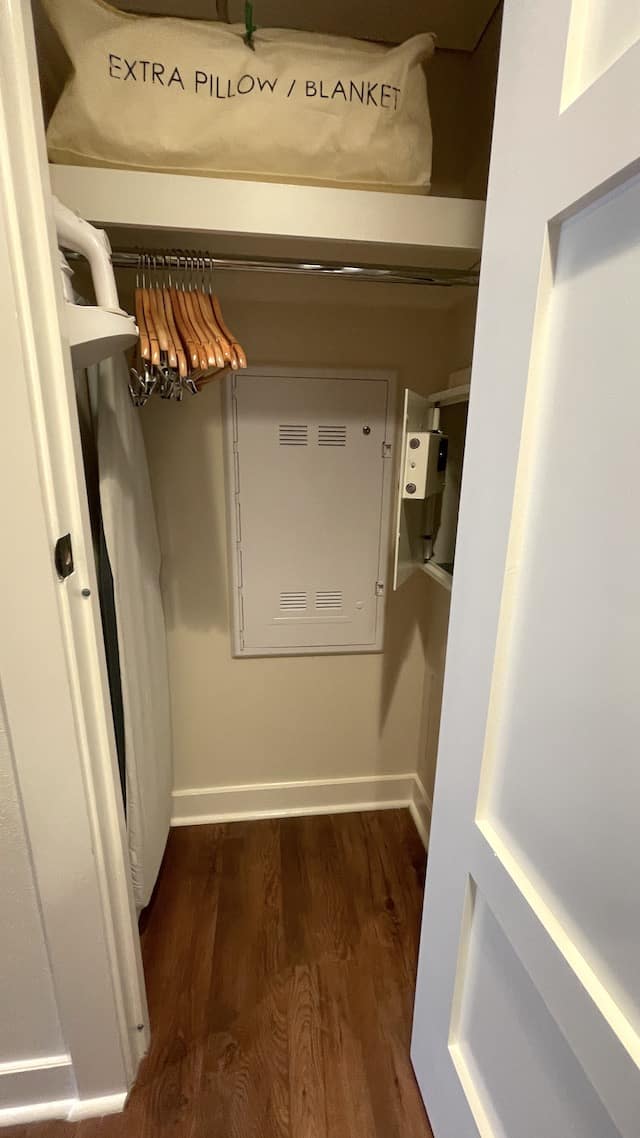 Starting with the right side, the closet contains your iron, ironing board, extra pillows and blankets, hangers, and safe. I really love that DVC rooms provide hangers.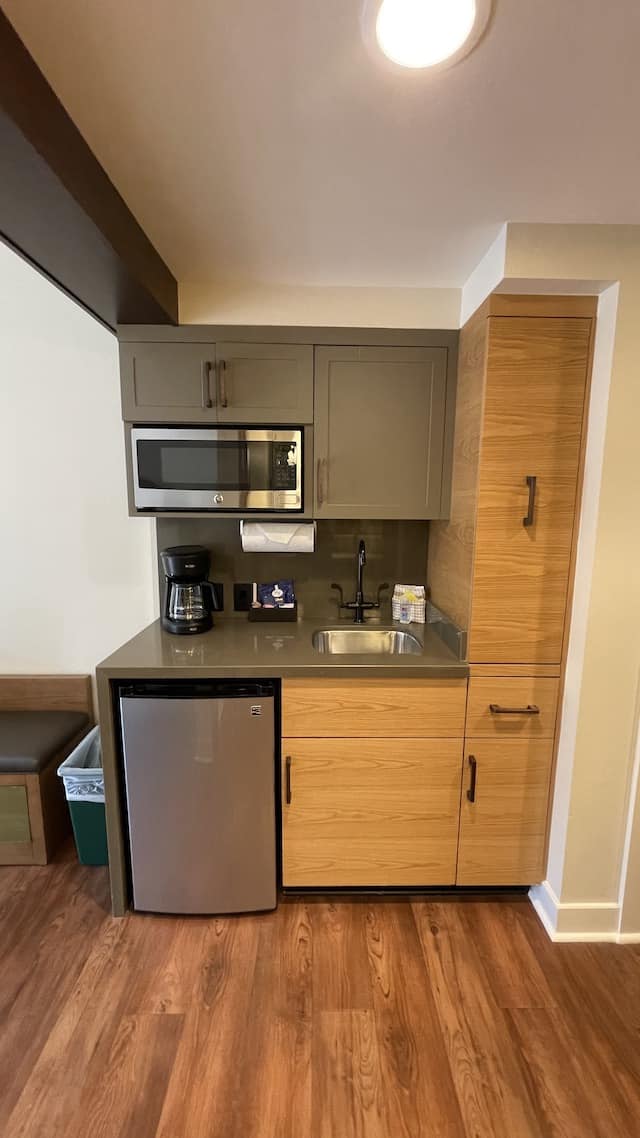 The kitchenette has much more space than other DVC resorts. You have your standard microwave, coffee maker, sink, beverage cooler, and basic essentials like plastic cutlery and paper plates. There are also several cabinets to hold extra supplies.
If you look at the skinny cabinet on the right, that actually pulls out to make a mini pantry! We always end up ordering some groceries, and having this extra space to keep everything out of sight is a huge perk. Bay Lake Tower also has these, and they really need them in every studio!
Bathroom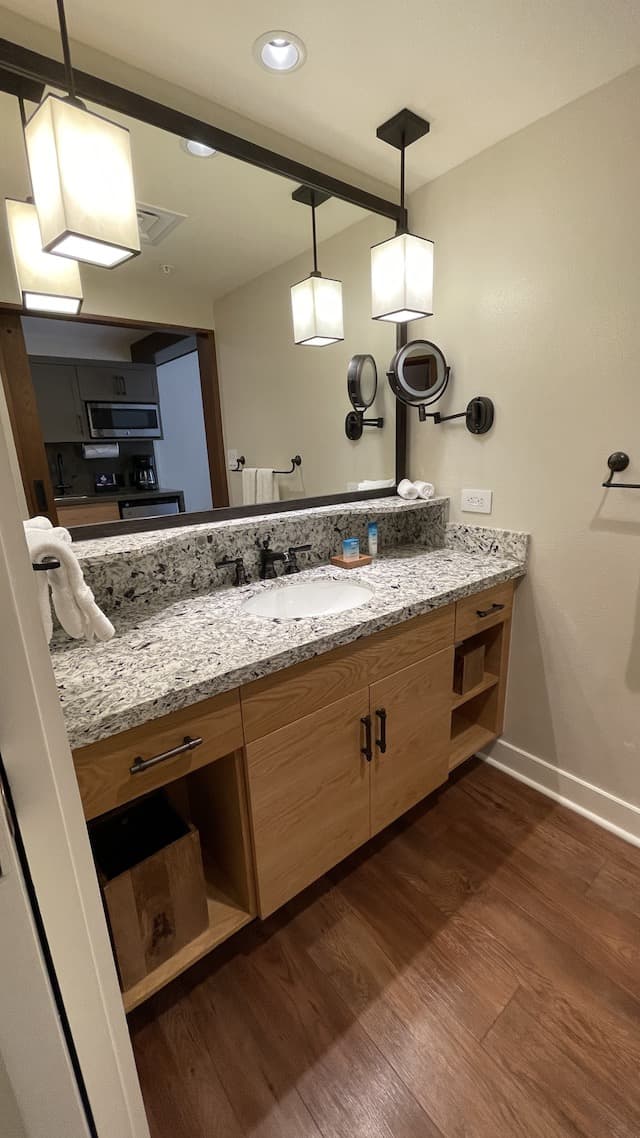 The bathroom is on the left side of the hallway. There is a sliding door to maximize the space in the room. As a bonus, there is also a mirror on the front of the door so you can check your outfits before you leave for the day!
The first portion of the bathroom has your vanity. I disliked the fact that there was only one sink, but the extra vanity space more than made up for it. There is plenty of room to set your things out and lots of cabinet space to store your belongings.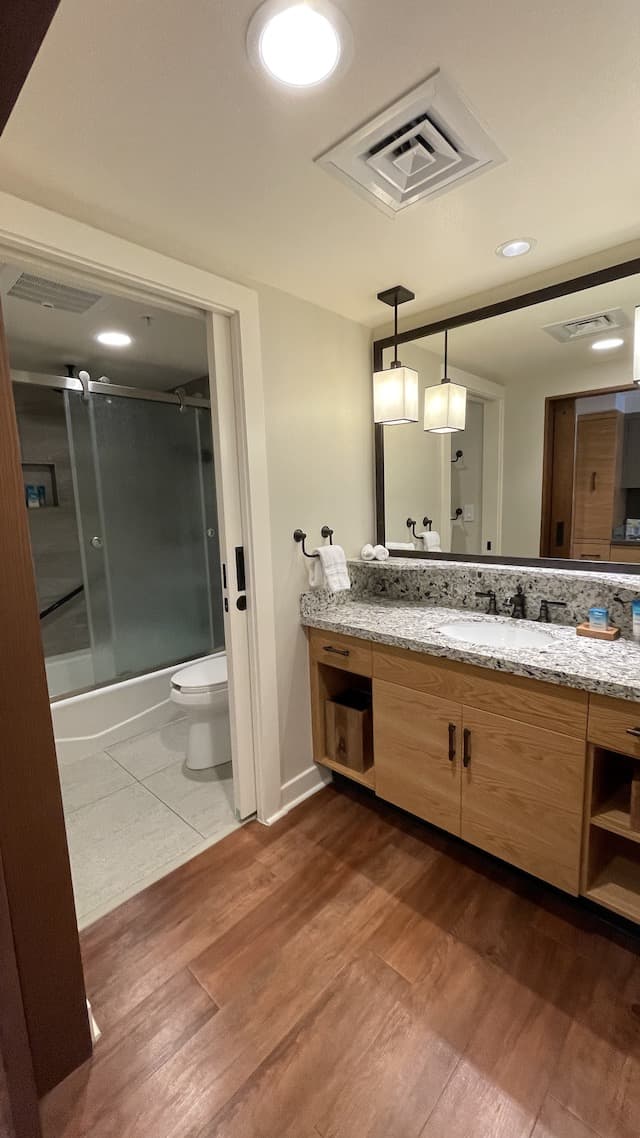 The second portion has your toilet and tub/shower combo. This is pretty standard, but it's worth noting we did not have the large bottles of shampoo and wash attached the wall. We still had the travel-sized items.
Living Space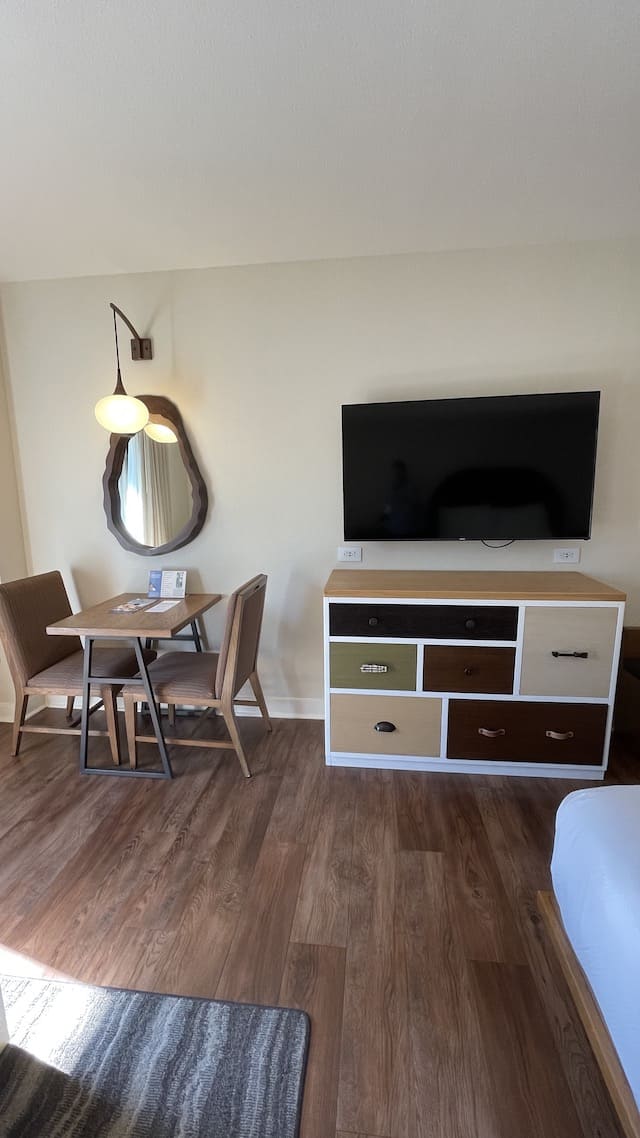 Since this is not a villa, you do not have a dedicated kitchen or living area separate from your bedroom. Everything is all right there together. Beyond the hallway area is your sitting area and bedroom. Along the wall you will find a small bench with a storage drawer underneath, the television and dresser, and a small 2-person table.
Many studios will have a 5th sleeper which means you will not have a dresser in your room. However, that is not so at Copper Creek. Since the studio only sleeps 4, there is ample storage space for your clothing.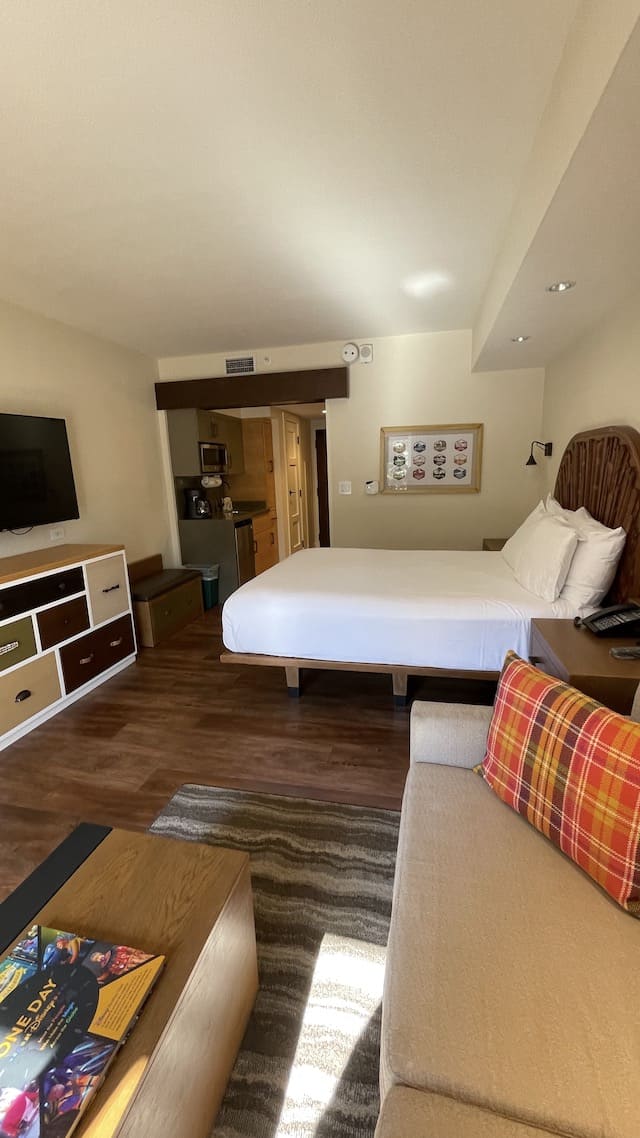 On the other side is where you will sleep and relax. There is one queen size bed, a couple nightstands, and a sleeper sofa. Use the sofa and coffee table during the day to relax, and pull it out at night to sleep.
Theming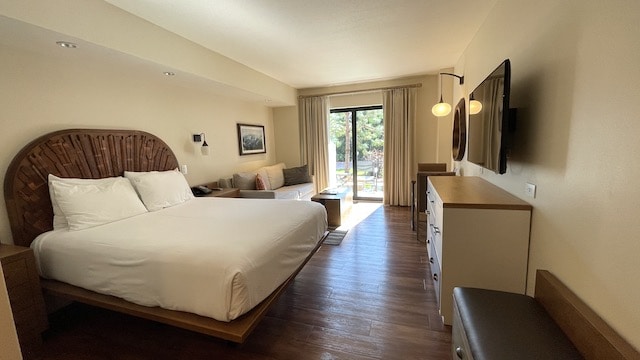 The theming of the Copper Creek villas is updated with small western/wilderness touches. The room has wood flooring instead of carpet, and as you can see in the photos everything is updated and modern. There is a small rug under the sofa and coffee table to provide some additional texture and layers to the room. The miscellaneous knobs on the drawer added a cute touch along with the photographs on the wall.
The room is definitely not heavily themed, and I think that is a complaint among many Guests. In exchange for an updated room we have traded quality and theming. There's certainly nothing wrong with the theming in Copper Creek, but it just doesn't pull you into the storytelling experience like other areas of the resort.
Final Thoughts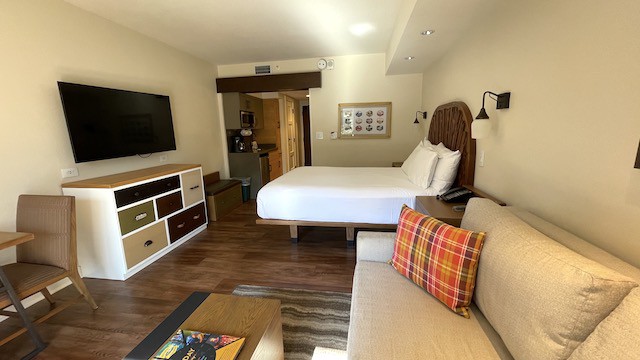 Overall, I really enjoyed my stay in the studio at Copper Creek. It was wonderful being so close to all the amenities and not feeling far away from the rest of the resort. The room was clean and updated, but I do wish there was a bit more of the same feeling I had walking through the lobby.
Other than Bay Lake Tower which has an actual separate kitchenette, Copper Creek may have the best kitchenette in all the studios I have stayed in. They really utilized the space well in this room.
Have you ever stayed at Copper Creek? What did you think? Let us know in the comments below and on Facebook.