Walt Disney World Guests are so excited to shrink down to the size of a rat while enjoying Remy's Ratatouille Adventure. Check out the one BIG thing that is missing from this new attraction experience that can be found at Disneyland Paris.
Where it First Began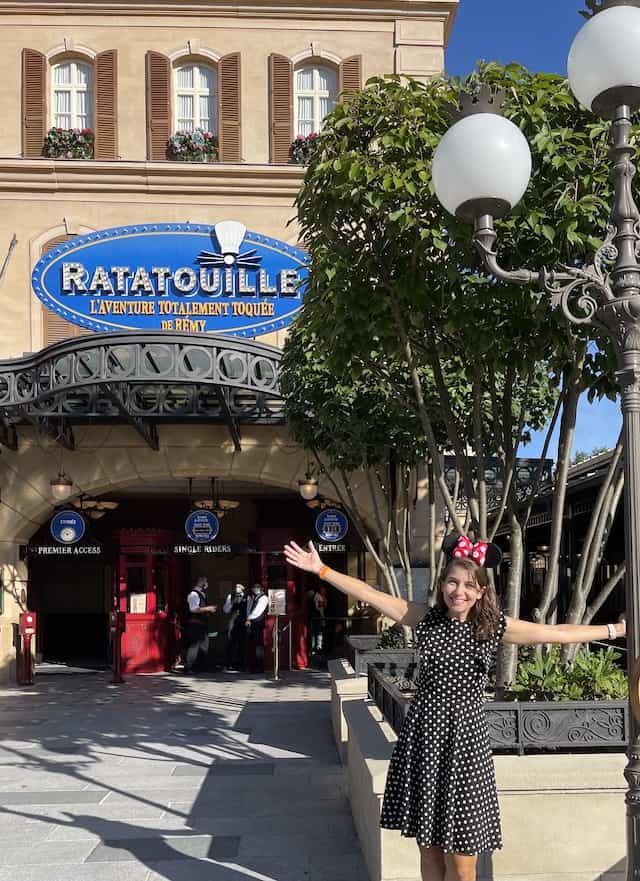 As many Disney fans know, Remy's Ratatouille Adventure first opened at Disneyland Paris on July 10, 2014. We were ecstatic to learn that we would be receiving this trackless ride attraction in our very own Walt Disney World.
In November of 2018, we first heard this announcement that Remy would be joining us in EPCOT. Due to Park closures in 2020, the opening date for this attraction continued to be pushed back.
In honor of Walt Disney World's 50th Anniversary, the opening date for Remy's Ratatouille Adventure was set for October 1, 2021. This leads to the question, which Remy attraction is better: Disneyland Paris or at Walt Disney World?
Attention to Detail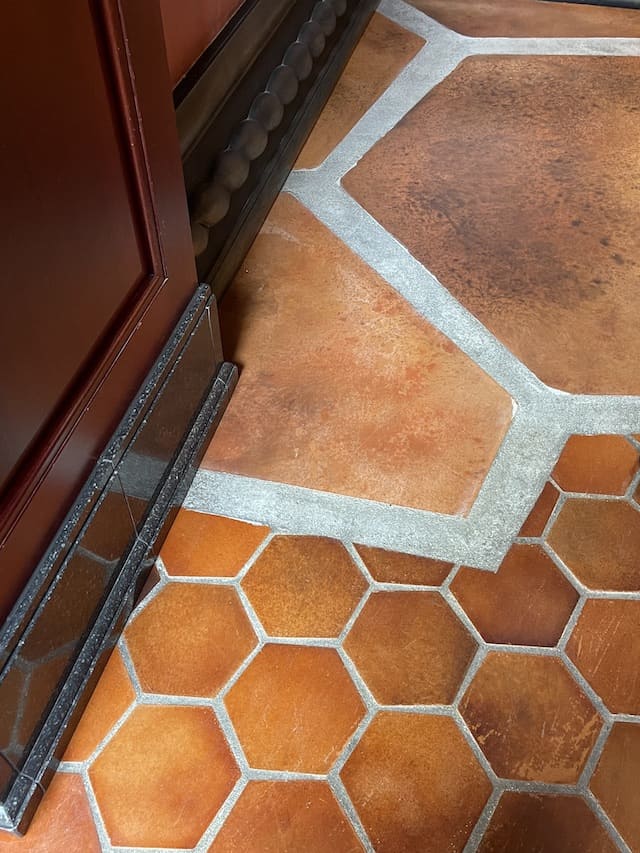 Disney opened up most of the newly-expanded area within the France pavilion. This included deconstructed concrete to resemble the weathered streets of Paris. The railings even give a nod to the curled tails of a rat and the rat ears.
As you prepare to enter the attraction, the tiles change from small tiles to larger as Guests shrink down to the size of a rat. There are so many amazing details in this area that I was surprised that one major portion was missing compared to the original Disneyland Paris attraction.
One Missing Element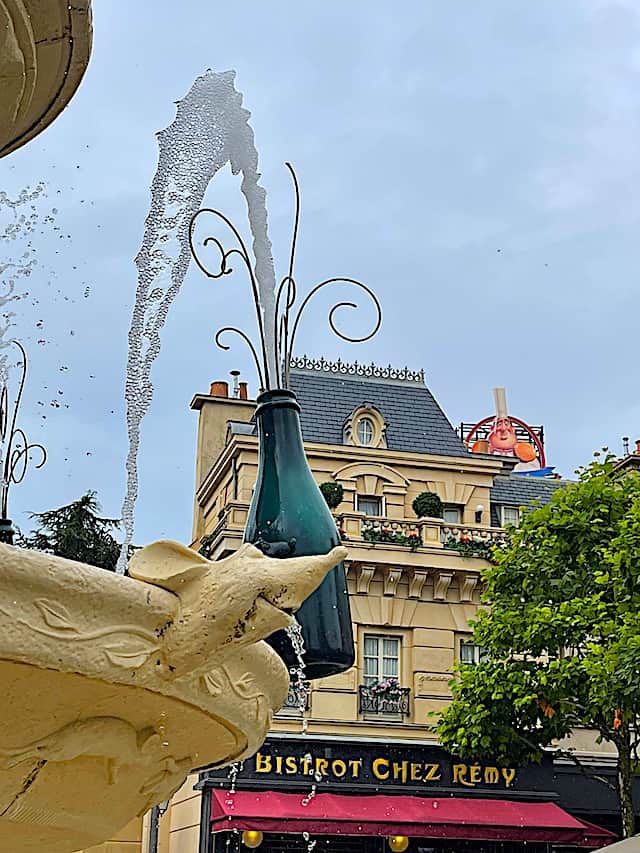 Not to give away any spoilers, but the attraction in EPCOT is extremely similar to the original attraction in Disneyland Paris. The primary difference is found in the grand finale moment.
In Disneyland Paris, we enjoy seeing a Happily Ever After for Remy and his pals. Not only is it a happy ending for Remy, but for the Guests as well. Guests have not only journeyed through the kitchen of Gusteau, but now they are looking into the dining room of Bistrot Chez Remy.
At Disneyland Paris, your adventure has just begun when the attraction ends. A simple dining reservation, allows you and your touring party the opportunity to feast on fine cuisine while still feeling as though you are the size of a rat.
At Disneyland Paris, your adventure has just begun when the attraction ends.
Starters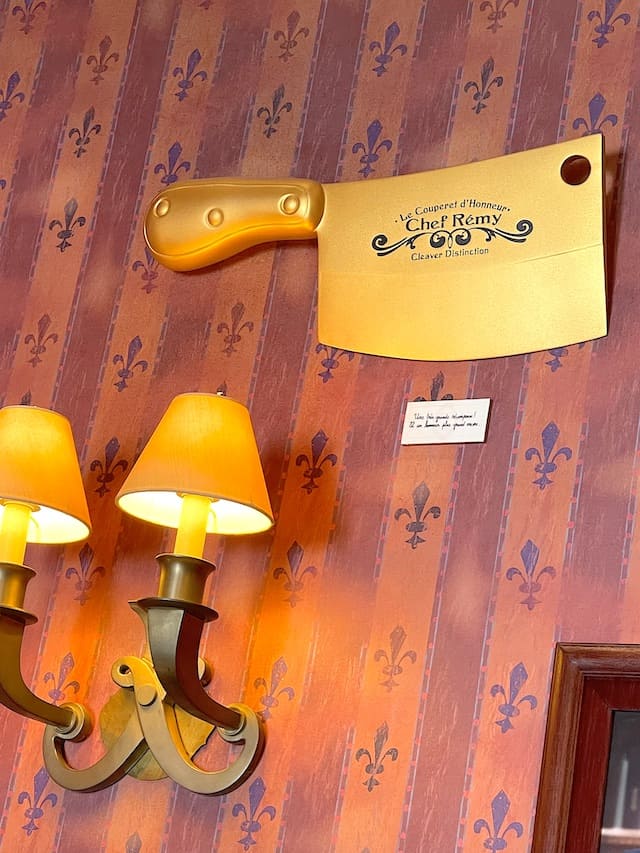 As you step into entrance of Bistrot Chez Remy, you take in the many coveted awards bestowed upon both Chef Remy and Chef Gusteau. I truly felt as though I was stepping into the animated Pixar classic.
As we prepared to enter the dining room, the Cast Member reminded us of the famous mantra of Chef Gusteau, "Anyone Can Cook!" This is such a fun extension of this delightful attraction.
We had purchased the 1/2 Board Dining Package while at Disneyland Paris. With this dining plan, we were able to enjoy the Remy Menu which included a Starter, Main Course, and a Dessert.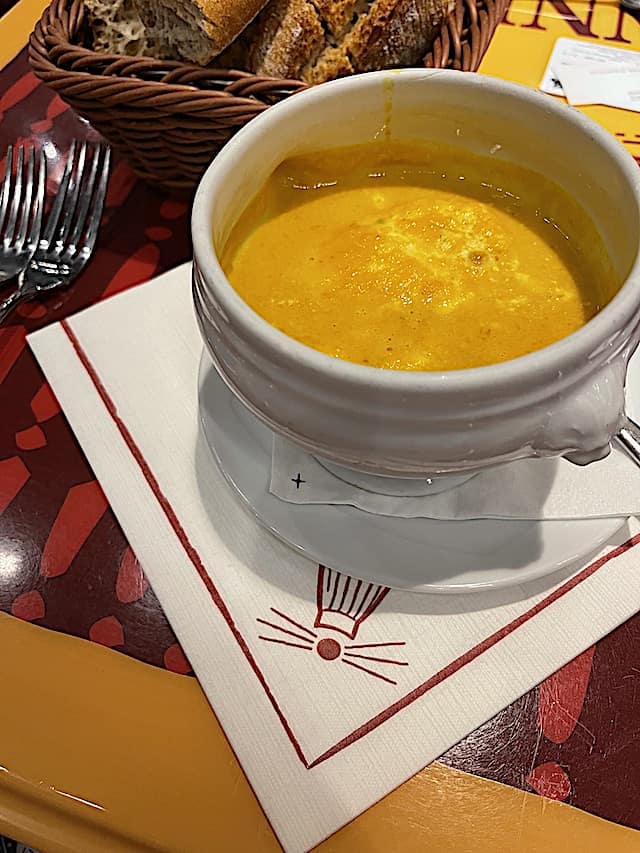 For our Starter, we were given the choice between a salad or the seasonal soup. I enjoyed the Seasonal Soup which was a creamy pumpkin soup. This was a great start for our meal. This soup was exquisite with a bold flavor of pumpkin while coupled with a creamy base. Combined, this created a festival of the fall season for my taste buds.
I quickly enjoyed this starter, and truly felt as though we were in for a great treat as the main course was being prepared.
Main Course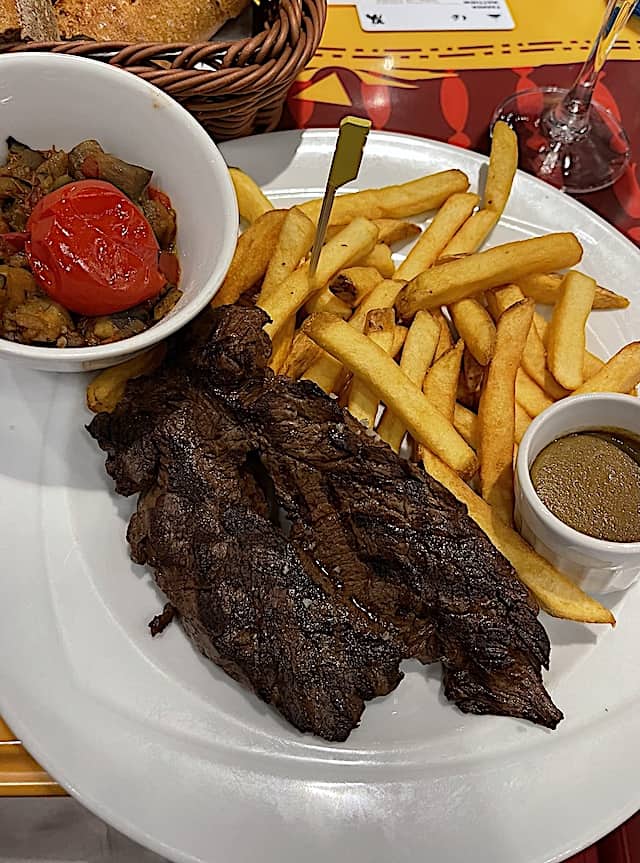 For our Main Course we were given a choice between a meal of grilled steak, ratatouille, and French fries or a meal of roasted cod fished, ratatouille, and crushed potatoes. I selected the grilled steak meal and paired this with the Chef, Meaux Mustard sauce.
Perhaps, the starter raised the bar fairly high because I was a bit disappointed in the main course. I prefer my steak to be prepared medium rare, but this was prepared as medium well. The Chef, Meaux Mustard sauce was quite delightful and made the steak edible.
When I first made our reservation for Chez Remy, my biggest dream was to enjoy the signature dish, Ratatouille. In the film this is a dish that is as beautiful to look at as it is flavorful to enjoy.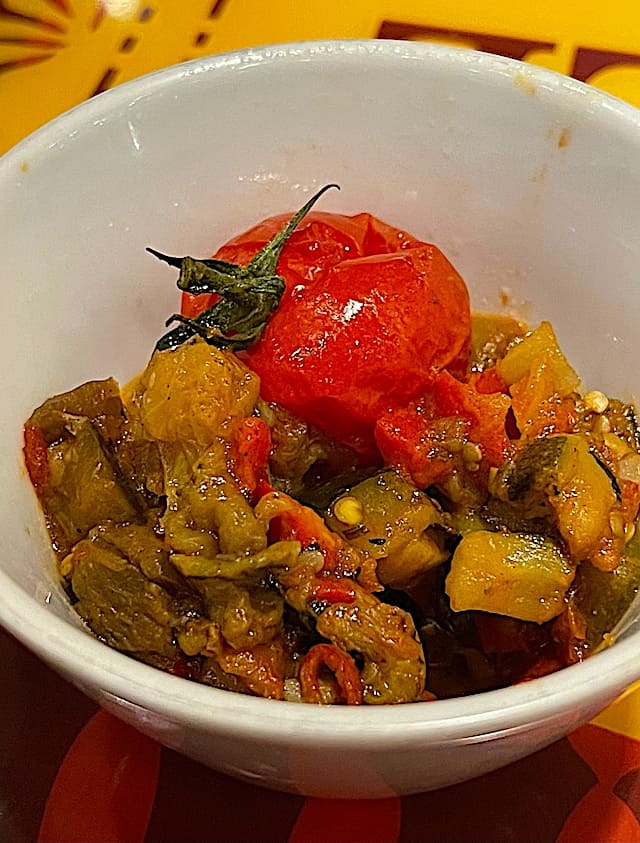 Unfortunately, this was not quite the same in real life. The brightly colored vegetables had transformed into a bland color. Despite the lack of plate appeal, this side dish was quite tasty.
Dessert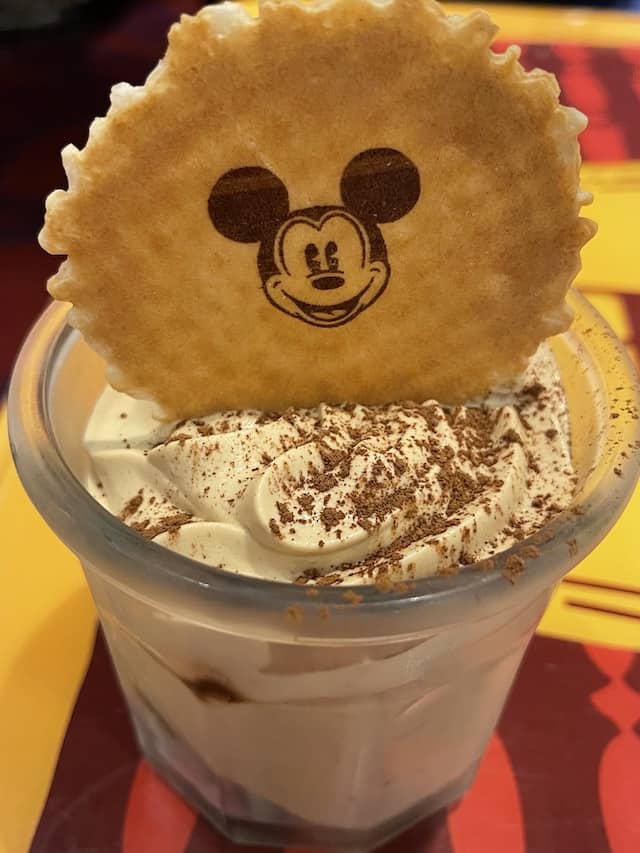 The moment had arrived for the final course, dessert. My husband selected the tiramisu. This was served in a glass dish and was somewhat of a parfait version of this Italian classic. This was delicious, but truly the best part of this was the Mickey Mouse wafer served atop this dish.
I was very intrigued with the special Remy inspired eclair. Apparently, this was available on the children's menu, but our server was gracious to allow me to enjoy it.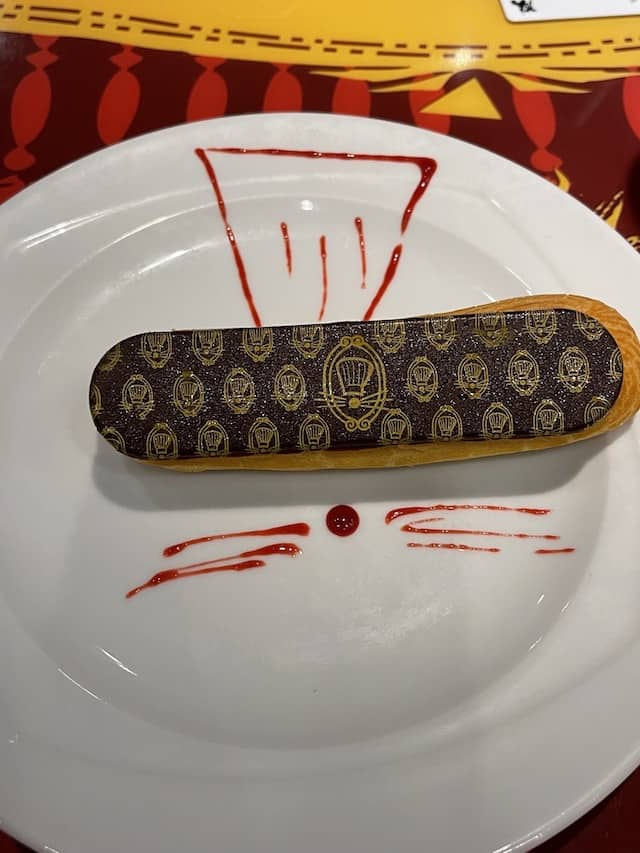 The eclair was almost too cute to eat. I loved the adorable Remy print featured on the thin chocolate wafer atop the eclair. How cute is the plate featuring our favorite chef's profile in a raspberry syrup?
Real Star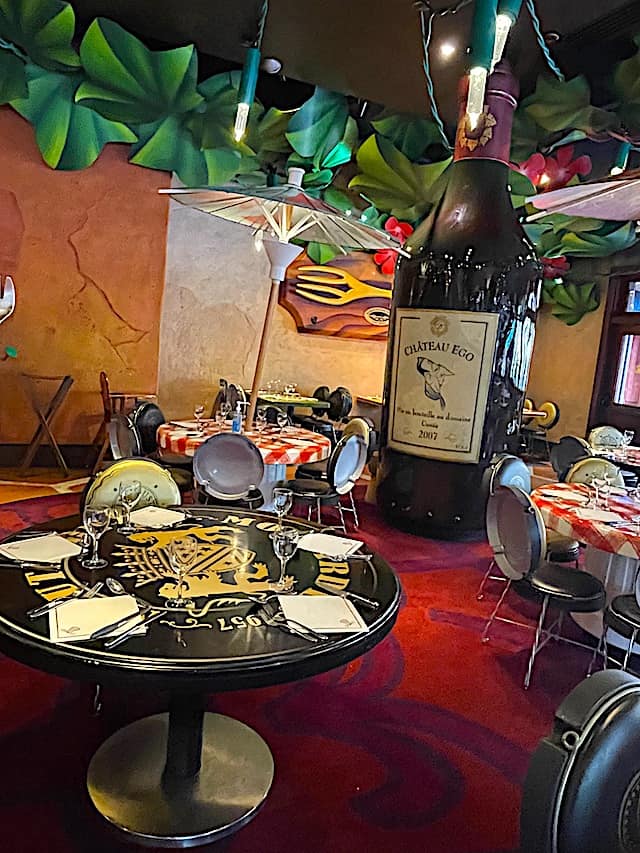 Overall the food was good, but not exactly as amazing as other meals that we have enjoyed in the Disney Parks. Even though the food was not spectacular, why would I recommend this dining experience? The theming and experience for Bistrot Chez Remy is truly impeccable.
Check out this dining room that features a bottle of Chateau Ego in the center of the room. Pixar fans may remember that Anton Ego is the famous food critic that fell in love with Remy's Ratatouille dish at the end of the film.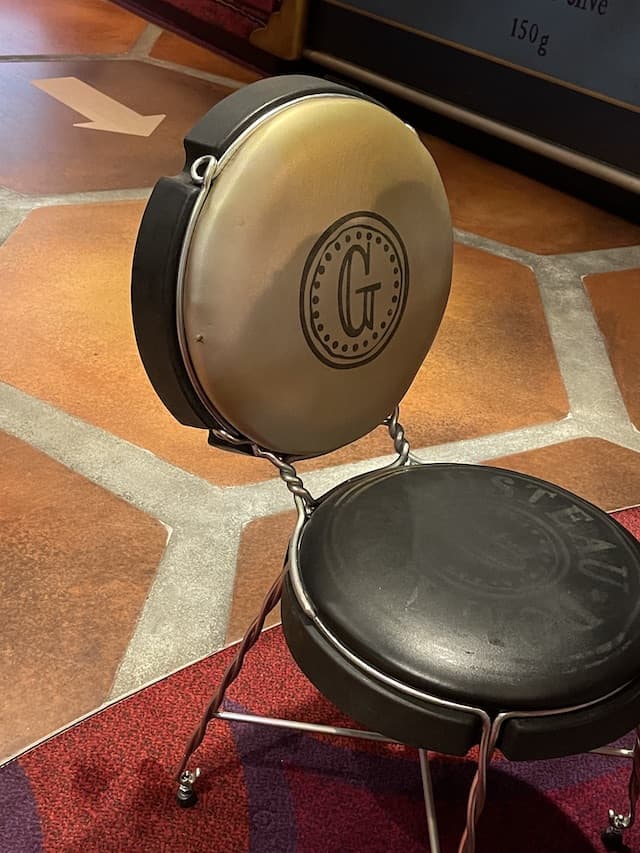 Chairs appear to be constructed from tops of champagne bottles. This great attention to detail truly allowed you to feel as though Remy's family had created this dining location with their own tiny paws.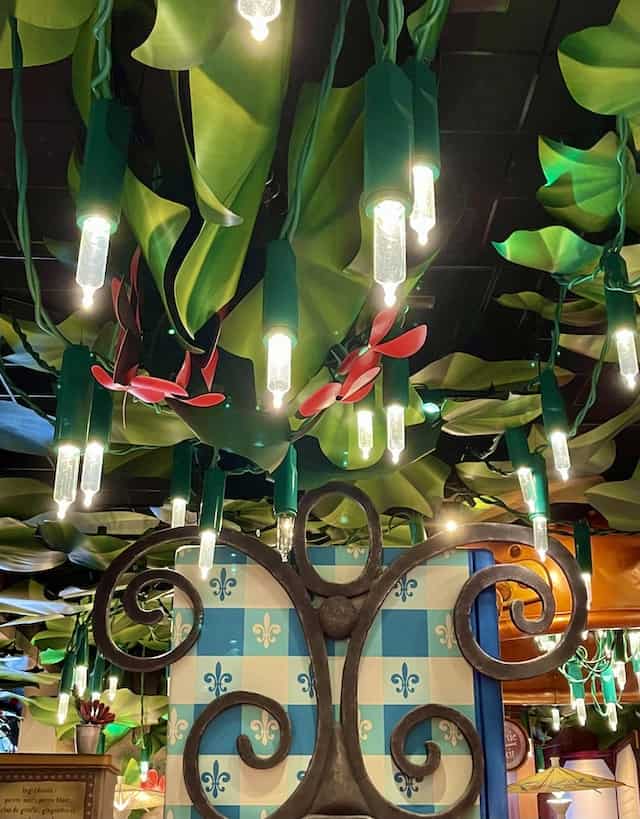 I loved that as you looked around and as you glanced down and looked up that the entire location was craftily constructed with the overall theme in mind. The ceiling was constructed from brightly colored leaves and twinkle lights which appeared HUGE from our perspective of a rat.
Overall Review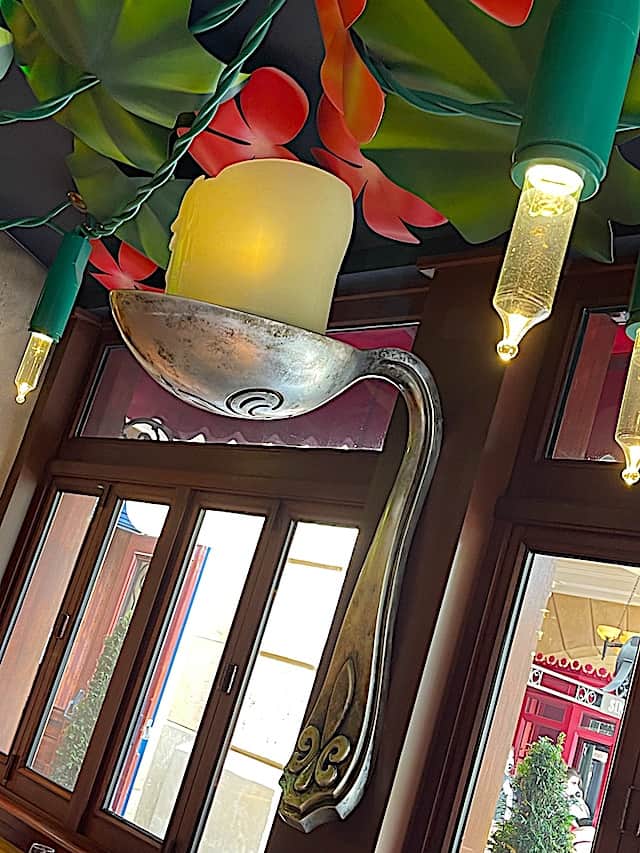 Dining at Bistrot Chez Remy was truly an amazing experience. Although the overall meal was satisfactory, the experience was like none other. It feels that this experience is definitely missing from the Walt Disney World version of this fun attraction.
After shrinking down to the size of a rat in EPCOT, Guests simply leave the attraction and continue with their day without this dining experience. Imagineers paid so much attention to detail given to the France pavilion at EPCOT. It is interesting that this BIG part of the storytelling, Bistrot Chez Remy, was not included in the design plan.
Although the overall meal was satisfactory, the experience was like none other.
Have you experienced Remy's Ratatouille Adventure at EPCOT? Did you feel as though something was missing at the end? Would you want to dine at Bistrot Chez Remy if it were included in the France Pavilion? Share your thoughts with us on our Facebook Page.
Are you planning a vacation? Reach out to our trusted travel agency sponsor Authorized Disney Vacation Planner
Mouse Class Travel
!