LATEST VIDEOS
Subscribe to my Youtube!
LIVE - Just Mousing Around
Just Mousing Around - LIVE
LIVE - Just Mousing Around
The process of embarkation day for your Disney cruise is quite different from how it was before. Check out the steps that need to be taken to make this successful- both before and the day of!
New Disney Cruise Line Policies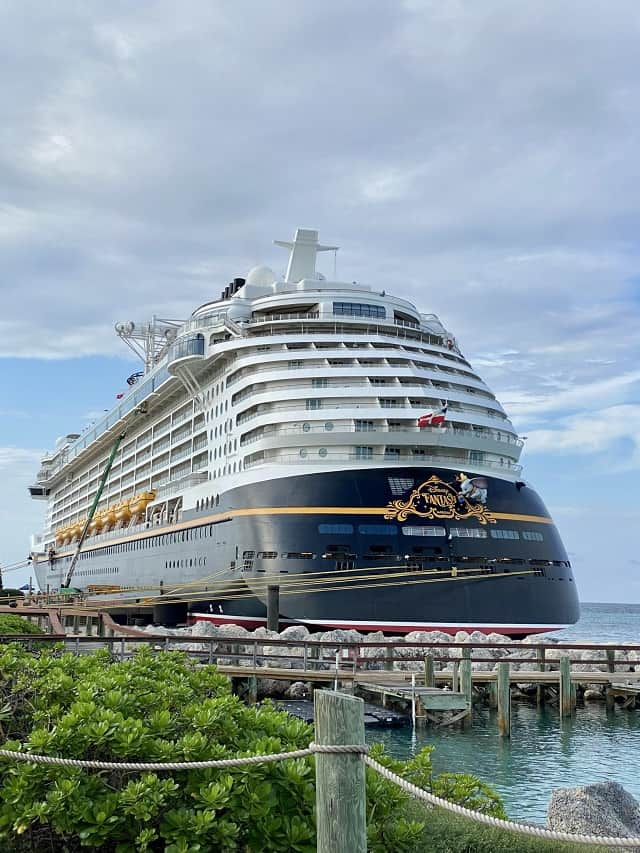 In the last article I wrote for this series, I focused on how to check in and book cruise activities with the new Disney Cruise Line policies. You can read more about it HERE.
The cruising industry has certainly gone through its fair share of changes since the CDC set out guidelines for what cruising would look like during the ongoing pandemic.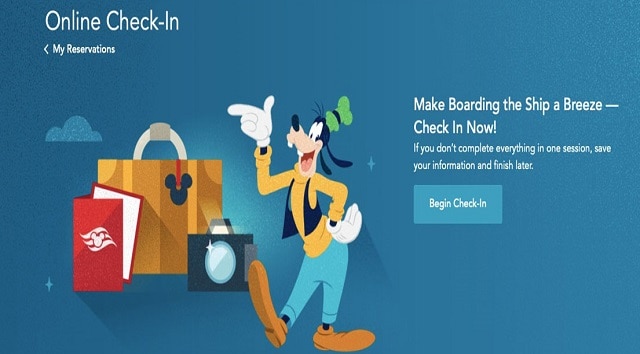 Within a couple of months after several "test sailings" and "staycation sailings" from the UK on the Disney Magic, Disney Cruise Line was back to sailing on the high seas. However, cruising would look and feel a bit different than before in more ways than one!
Travel Day to Orlando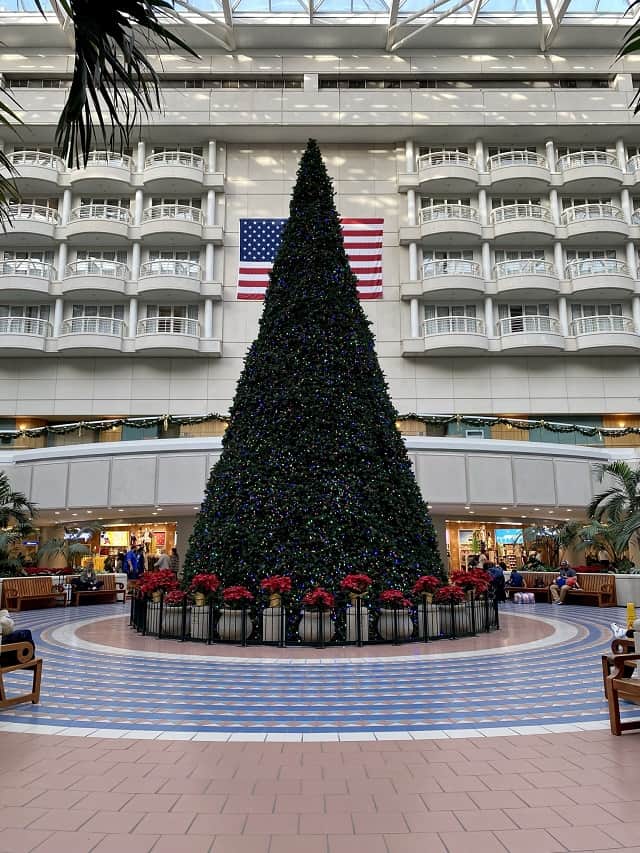 We decided to fly into MCO the day before our cruise from California. Instead of dealing with Los Angeles traffic and snow on the grapevine pass that takes us from where we live to LAX, we decided that we would fly out from our hometown and then catch a connecting flight to MCO.
Luckily, our travel day went smoothly until we arrived in MCO where we had to wait for our luggage at the carousel for over 45 minutes. So many flights had arrived at the same time that there was a huge mix up in putting out luggage from different flights.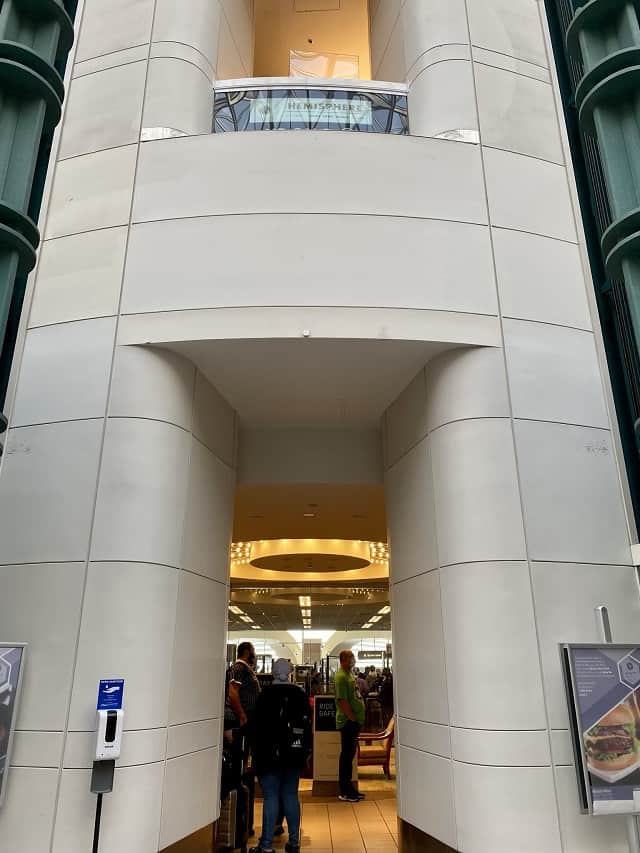 As we would be taking Disney Cruise Line transport to the terminal at Port Canaveral, we decided that it would be easier to stay at the Hyatt Regency in the Orlando airport. For my full review on our stay, read my post HERE.
The best reason for booking and staying at the Hyatt Regency before our cruise was definitely the availability of being able to walk a short distance with our luggage straight to Terminal B, first floor, where the Disney Cruise Line Welcome Desk is located.
Health Care Questionnaire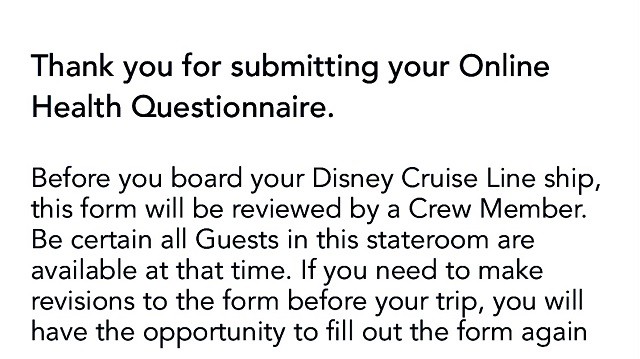 Before leaving the room, I went online and completed the Pre-Trip Embarkation Health Questionnaire. It is required to be completed prior to arriving at the terminal.
The form can be found on the Disney Cruise Line Navigator App on Embarkation Day. An email is also sent to all Guests with a link where they can fill out the questionnaire.
Disney Cruise Line Transportation Check In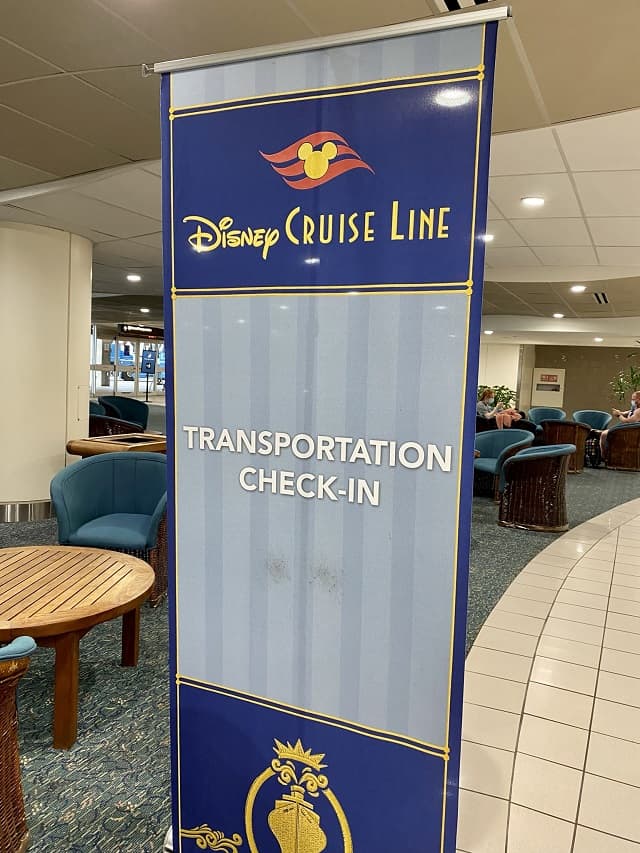 We arrived to the Transportation Check-In at exactly 8:32 am.
Check in for transportation was straight forward as we presented our Port Arrival Form. We utilized it a handful of times before even setting foot on the ship!

They also checked for our names on the list as I had purchased transportation prior to arriving for our trip.
Airport transfers are available on embarkation and debarkation days only for $35 per Guest. We recommend calling (800) 951-3532 to add ground transfers in advance, as only a limited number may be available for purchase upon arrival.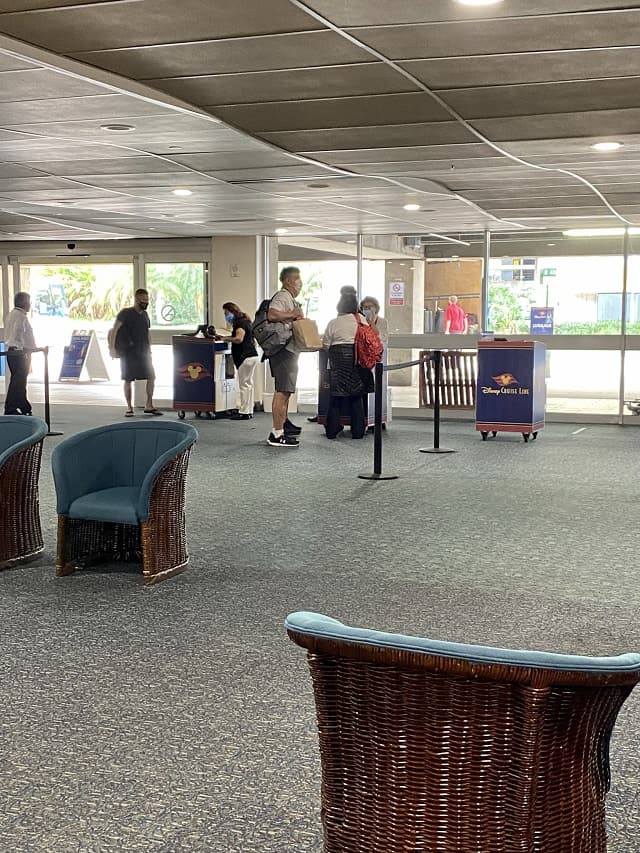 On debarkation day, our Disney transfer would take us from the terminal at Port Canaveral to our Walt Disney World hotel since we had a three day trip planned for the parks.
I found using DCL transportation is an easy way to travel – especially while staying at the airport!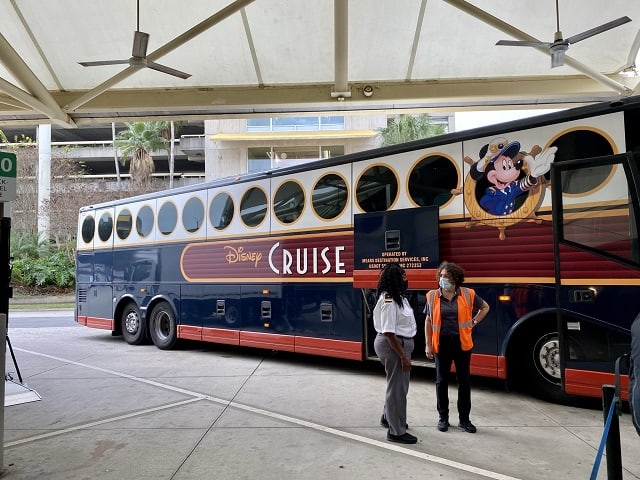 During check in, we added our luggage tags, that had been sent to us by mail prior to the trip, to our luggage. The luggage was then placed on a truck. Later, we would be reunited with our luggage in our stateroom on the ship.
We were then handed four boarding papers featuring Donald Duck. When they called our group we would then be able to board the motor coach.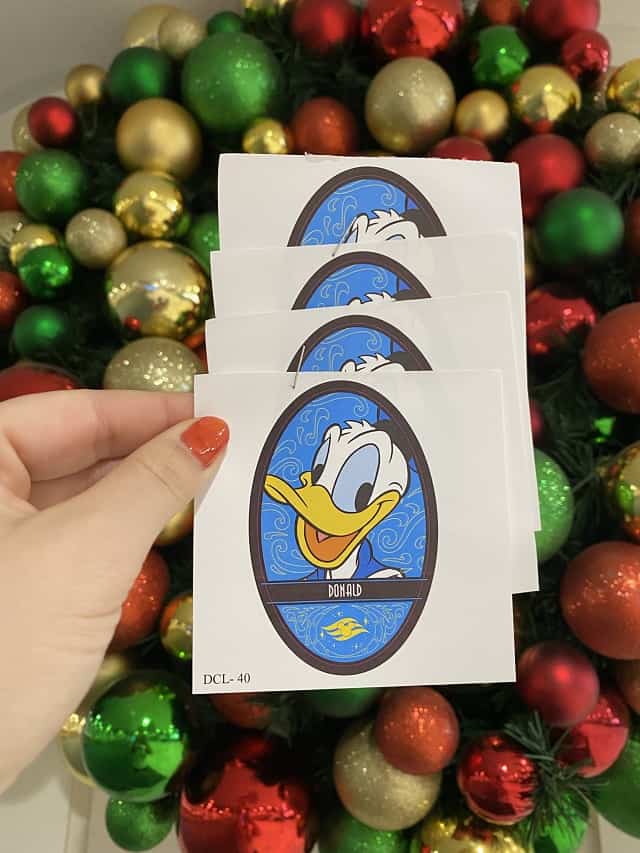 By 9:15 am, we were on our way towards the terminal at Port Canaveral. It felt wonderful to be back on Disney transport. We arrived at the terminal by 10 am.
Inspire Covid Testing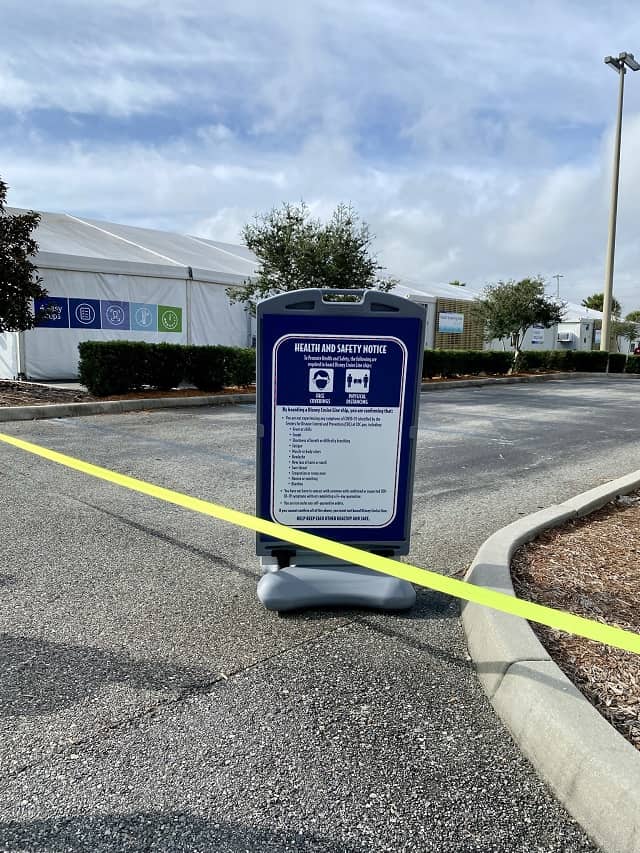 Immediately upon our arrival to the terminal, we walked across the street to the parking lot from the terminal to the white tents.
The time had come for us to take a Covid test for everyone in our party in order to embark on the ship at the Health Care Screening Area.
Here is Disney Cruise Line policy for embarkation:
All Guests, regardless of age and vaccination status, are required to take a COVID-19 test (paid for by Disney Cruise Line and administered by Inspire Diagnostics) at the terminal before boarding. This will be the second of two COVID-19 PCR tests required for unvaccinated Guests. Guests with positive COVID-19 test results—as well as those sharing the same stateroom and their close contacts—will be denied boarding.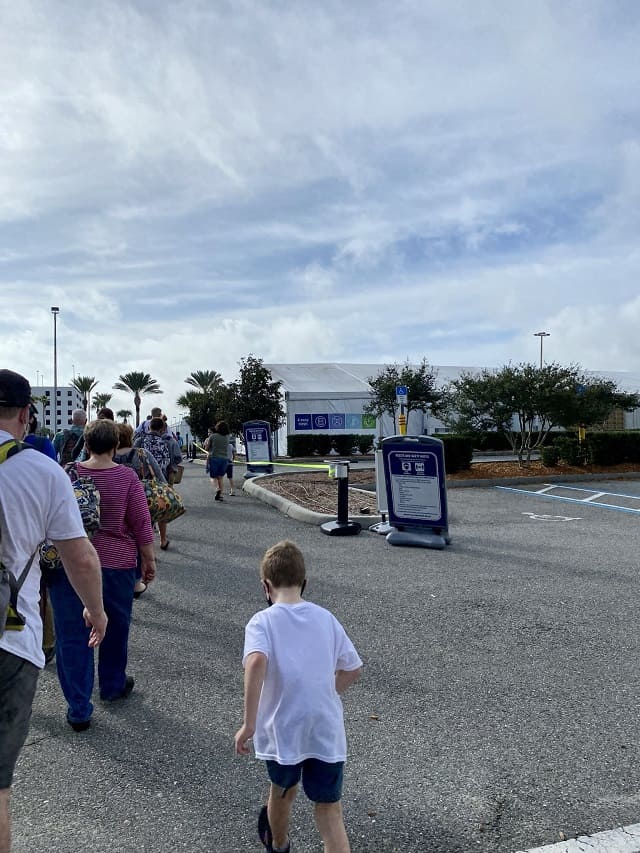 For guests who drove to the terminal, they will stay inside their cars until their testing is completed and they are cleared to park their car and board the ship.
A testing site at the garage is also available for guests who have been dropped off at the terminal.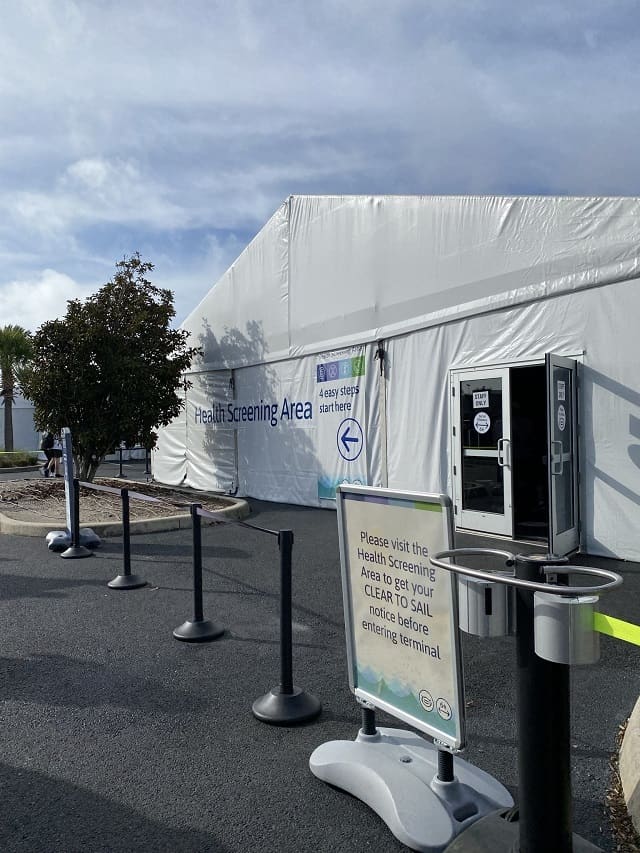 When I tell you I was a complete mess as we walked straight into the tents, I mean it! My stomach was in knots at the thought of someone in my family testing positive.
We had been testing throughout the week leading up to our trip and the morning we flew to MCO. Our tests had all been negative.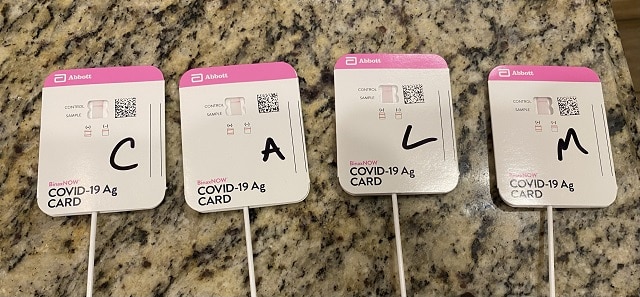 Upon entering the tent, we were handed a baggie that included a rapid test as well as a marker.
We were instructed to go to the next available curtain area where we would proceed to do the test in front of a health provider.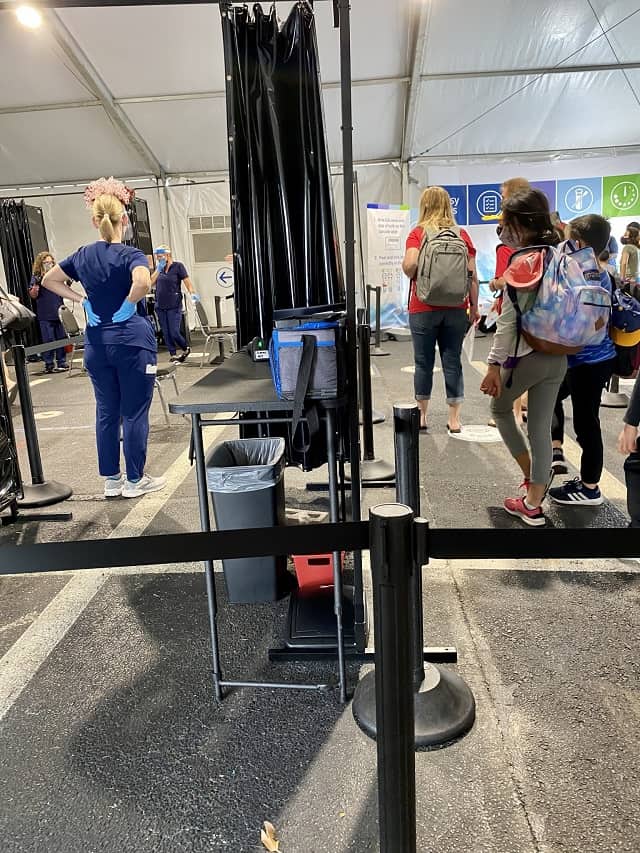 The healthcare provider instructed us to write our names and our birthdays on the outside of the bag. They then provided us with instructions on how to proceed with the test.
We tested ourselves and could aid our younger children if we wanted. The swab did not have to go all the way up your nose.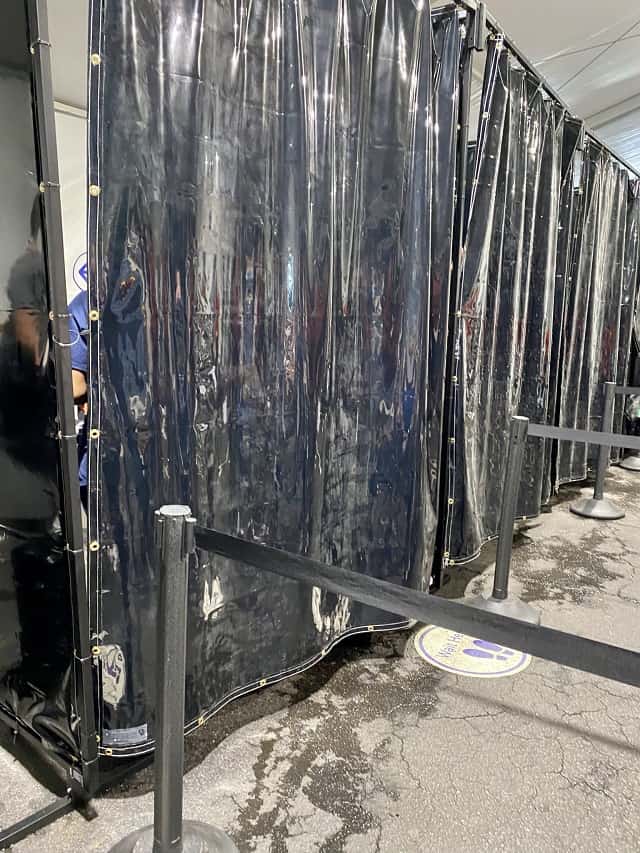 After providing the healthcare worker our tests and a quick blessing and prayer, we were asked to head to the Cast Member. They asked us once again for our Port Arrival Form to be scanned again.
We were then instructed to make our way to Tent A where we would receive our results directly to our email from Safe Passage. Guests could also log into their Safe Passage accounts for results.
Waiting For Results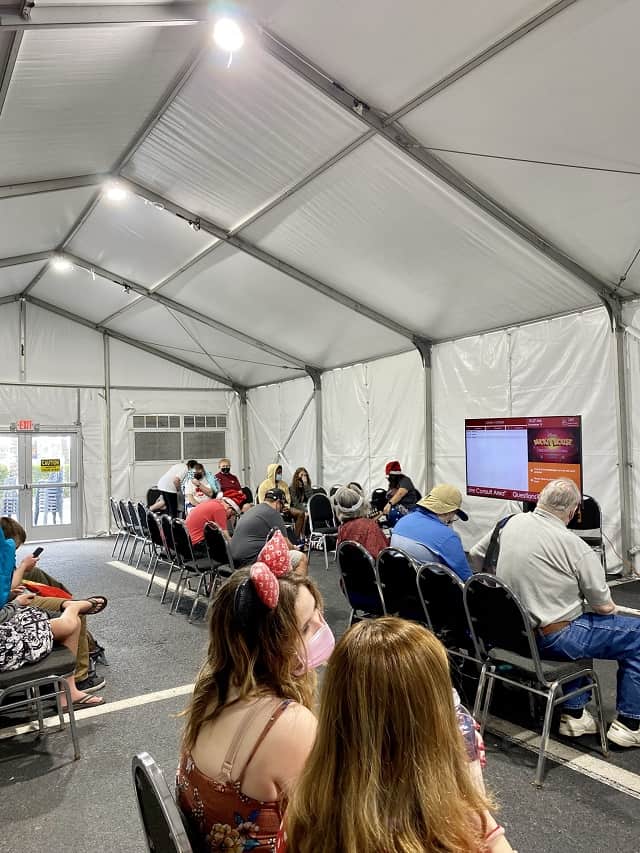 We arrived at the tent at 10:27 am and found ourselves among many other guests eagerly awaiting for results. I immediately noted that there was a prompter that also provided the results.
I was quick to note that there was one of two results that guests and their party would receive. ID numbers given to each party would receive a message to either proceed to Terminal or to Inspire Consult Area.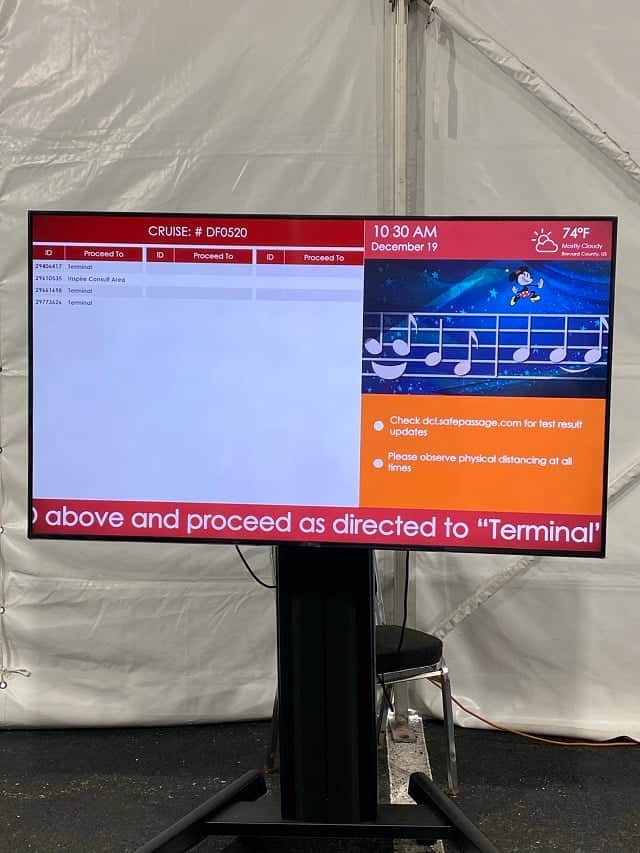 "Proceed to Terminal" was the golden ticket to proceed back across the street to the terminal, through security, check in and then walk through the golden ears to embark the ship.
"Inspire Consult Area" meant that someone in your party had tested positive. This was gut wrenching as guests noted seeing crying families leaving the tent.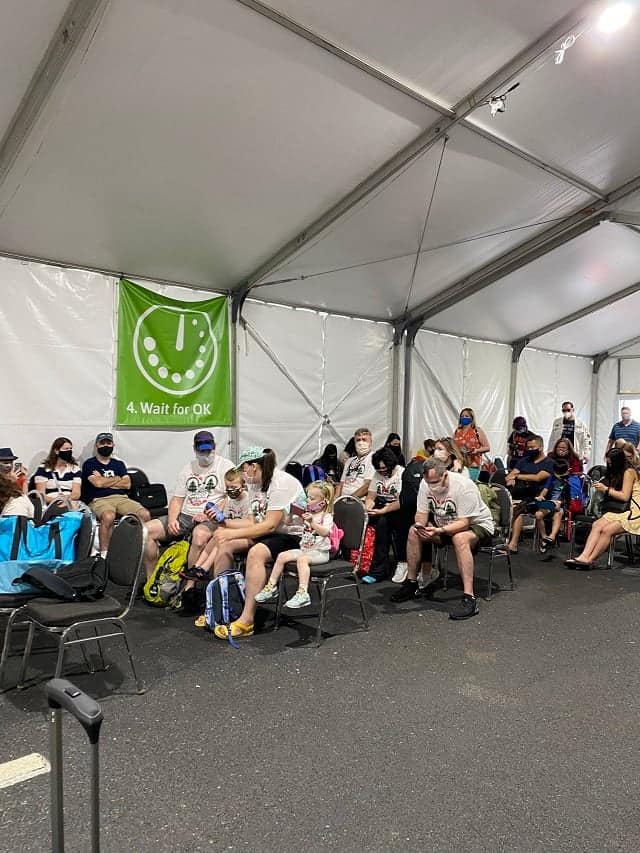 I paced back and forth for what seemed to be eternity when I noticed that guests who had entered the tent before us began to receive their results. There were many whoops, tears of joy and sighs of relief.
The prompter began to fill up with a handful of "Inspire Consult Area."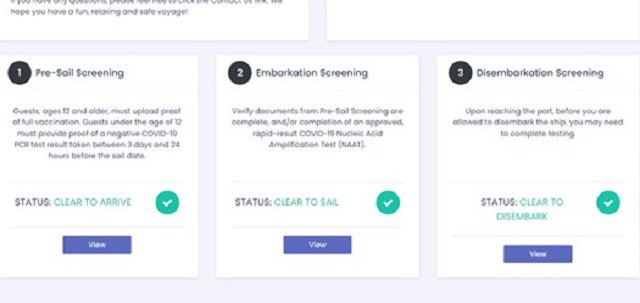 Test results typically take between 45 to 60 minutes to complete but could take longer. We recommend that you plan accordingly and consider bringing snacks, water or activities to make your wait more comfortable. A Cast Member will provide you with a telephone number to call should you have any questions while awaiting test results.
Forty minutes later, a Cast Member at the door made the announcement that emails were being sent out and to check our email. We had received the golden ticket to "Proceed to Terminal." Back across the street we went with tears of joy in my eyes. I could finally breathe!
Proceed to Terminal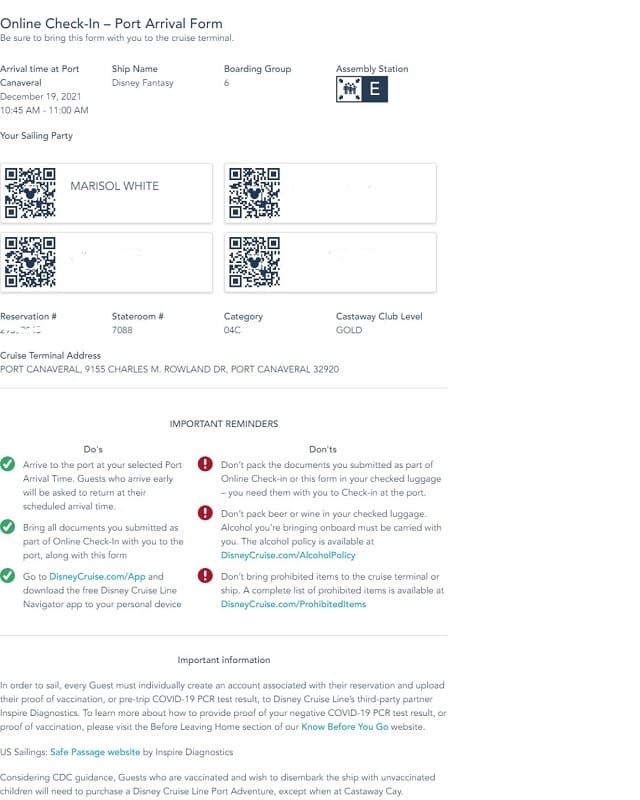 Before entering the terminal we showed our Port Arrival Form where it was, you guessed it, scanned once again. We then walked inside where we got in line to check in with a DCL Cast Member. Then we could walk through security and go up the escalator to the terminal itself.
Check in was a breeze as we had already previously submitted our pre-arrival documentation. You will find that information in my previous article.
Inside the Terminal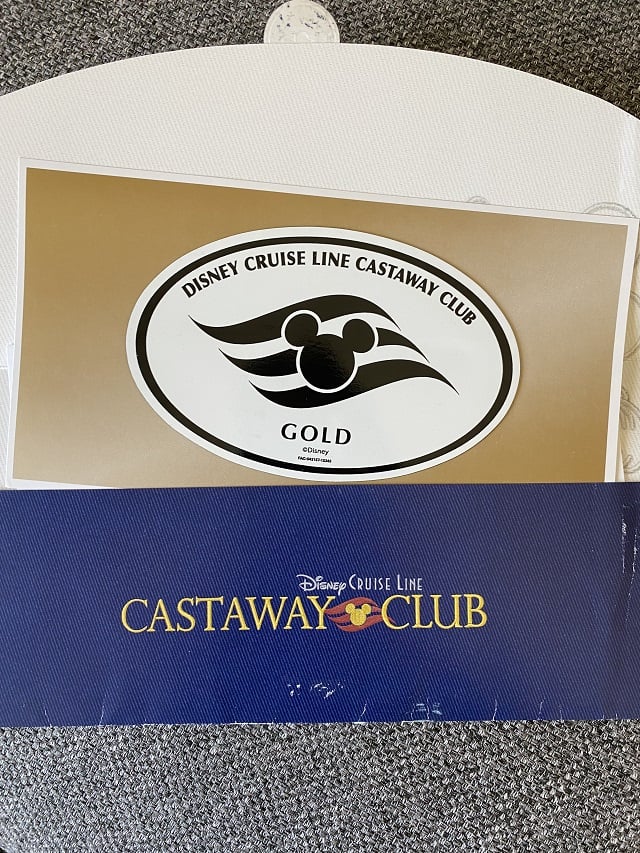 Lines for check in are arranged by the Disney Castaway Club membership that guests belong to. There is a separate line for Silver, Gold, Platinum, Concierge and first time sailors.
Going up those escalators brought such joy as we knew were were minutes away from boarding the ship. In order to board the ship each party is provided a boarding group number. This can be found on the top right hand corner of the Port Arrival Form.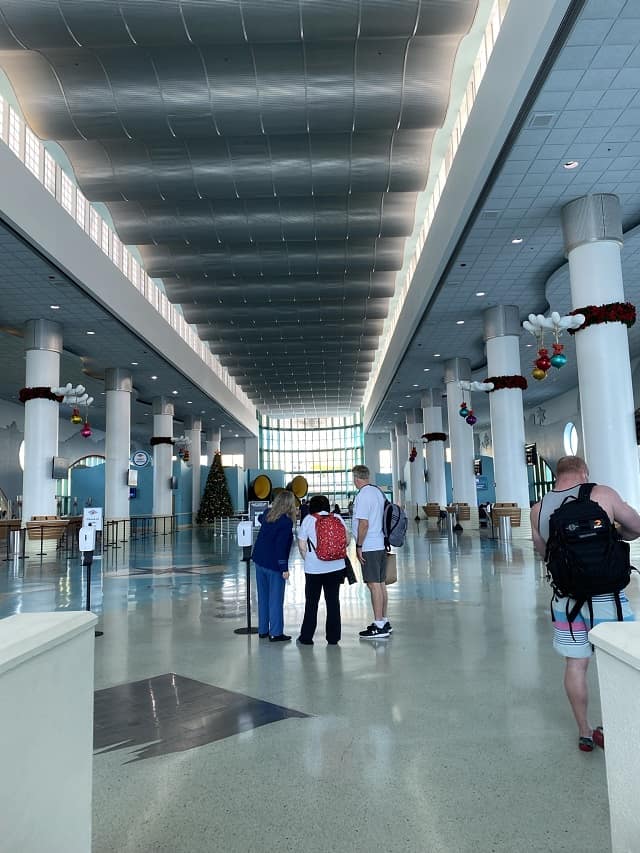 We were group 6 and that meant that we would need to wait for our group to be called and we were ready to board.
While my husband used the restroom, I approached a Cast Member at the counter inside the terminal regarding upgrades for our cruise. This is one of my go-to's on each cruise.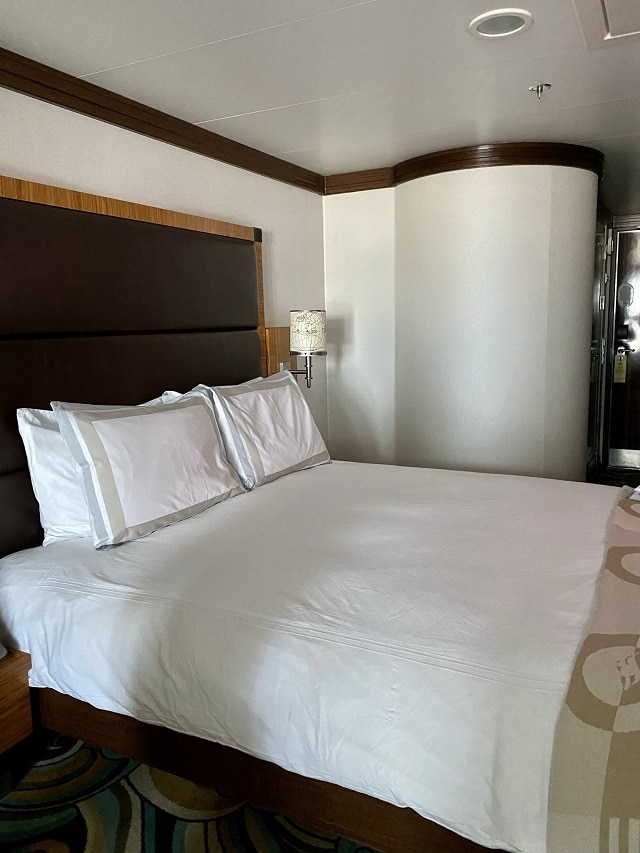 I was told that there were two rooms in Concierge level. After asking for the price of the upgrade and consulting with my husband, we would now enjoy our cruise Concierge.
I will write a more detailed article on the benefits of sailing Concierge and whether it is worth it or not!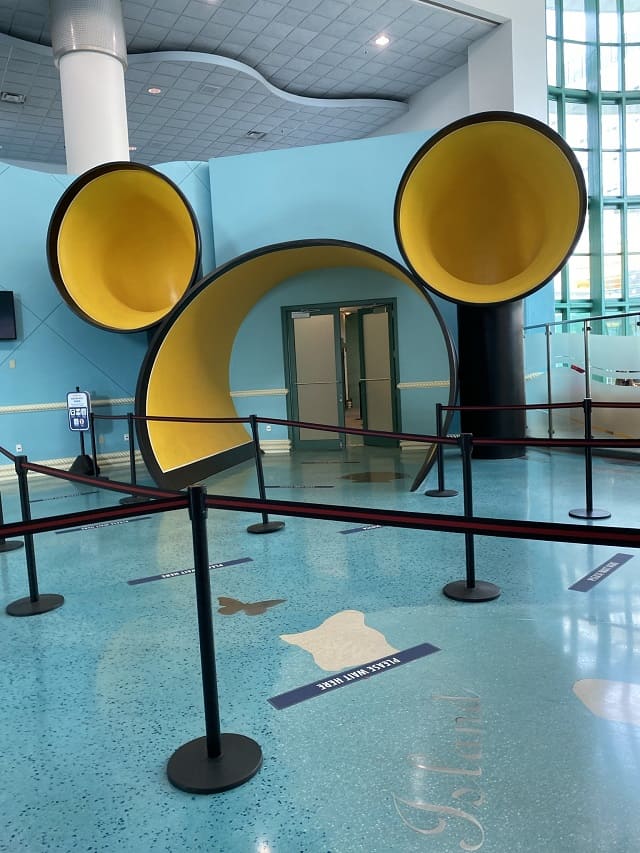 Concierge guests are the first to board the ship before the "Family of the Day" which is when a Cast Member at the terminal selects a family at random to be the first to board the ship. Within minutes, we made our way through the golden ears and walked the runway into the ship.
We had made it onboard, and boy we were ready to sail away with Mickey and the gang on a magical adventure on the high seas!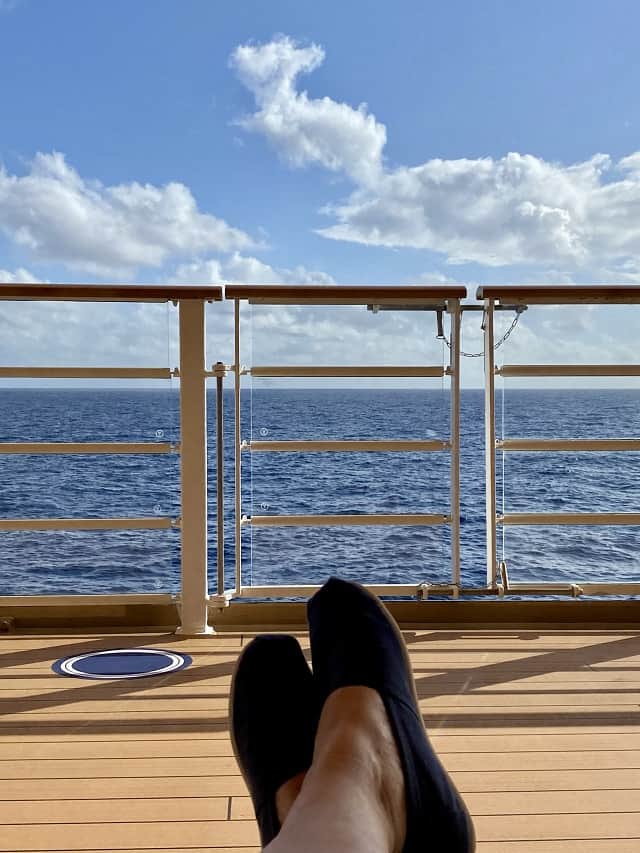 The next article in my series will go through the rest of the day after stepping aboard the Disney Fantasy. Information on the newly updated process of completing the Muster Drill, how guests receive luggage, and how we started off our vacation on Day 1 will be included.
What are your thoughts regarding the new embarkation process at Disney Cruise Line? Have you experienced it yourself? Let us know in the comments on Facebook and in our Facebook group.
Are you planning a vacation? Reach out to our trusted travel agency sponsor Authorized Disney Vacation Planner
Mouse Class Travel
!