As Walt Disney World begins the "Most Magical Celebration on Earth" let us look back at opening day 1971. Travel back to the beginning days of "The Most Magical Place on Earth" and enjoy some highlights of the celebrations through the years.
How it all started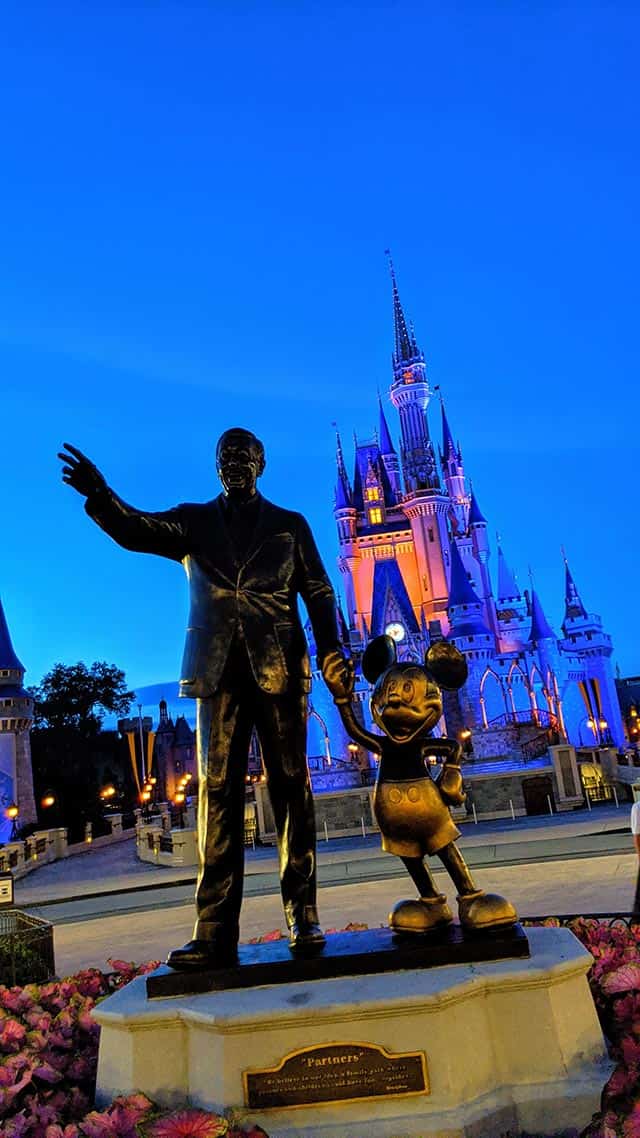 As many of you know, Walt Disney passed away in 1966. He was never able to see his visions and dreams take shape of the "Florida Project," but Roy Disney was. Roy had planned to retire but continued work to complete Disney World.
Three months before Walt Disney passed away, he was asked what would happen to his "Florida Project" (WDW) if he were to be hit by a bus. Walt's answer, "Absolutely nothing. My brother Roy runs the company. I just piddle around." Roy supported the vision and dream of Walt Disney both while Walt was alive and even after he passed.
Roy Disney requested that Disney World be renamed Walt Disney World in his brother's honor. It is fitting that the Partner Statue of Walt Disney and Mickey greet guests at the end of Main Street as they are the true beginning of The Walt Disney company.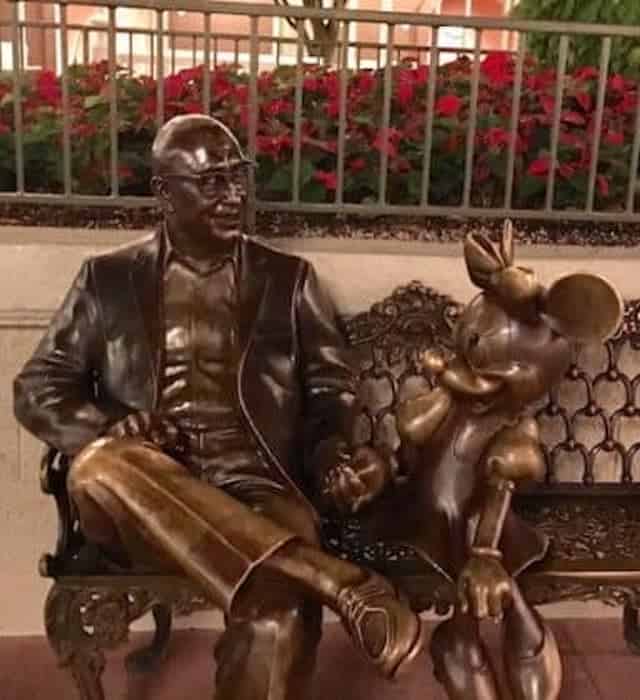 But behind every great man/woman is a supportive team. You can't have Mickey without Minnie, and you can't have Walt Disney without his brother Roy. On your next visit to Walt Disney World, be sure to visit the "Sharing the Magic" statue featuring the great supporters Roy Disney and Minnie Mouse.
Opening Day October 1, 1971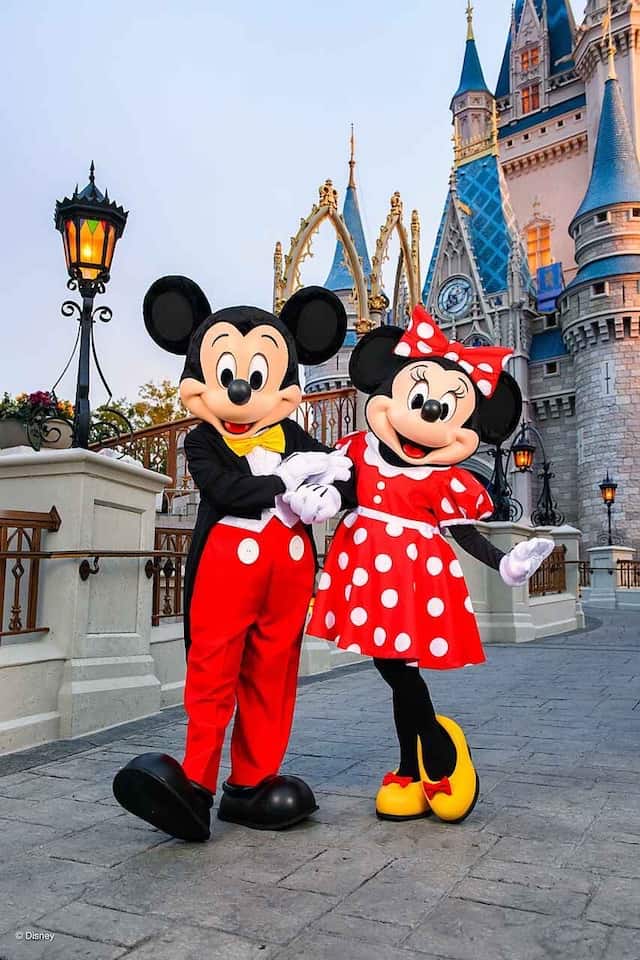 We all know that Walt Disney World first welcomed Guests on October 1, 1971, but the official grand opening did not occur until weeks later. When Disneyland welcomed Guests on July 17, 1955, it was less than magical.
This opening day was referred to as "Black Sunday." Disneyland was greatly successful, but as Walt Disney proclaimed, "To all who come to this happy place, welcome" ladies' heels were sinking into the freshly paved asphalt.
As preparations were underway for the opening of Walt Disney World, they chose to welcome Guests on October 1, 1971 but decided to celebrate the official Grand Opening celebration on October 25, 1971.
Opening Day Attractions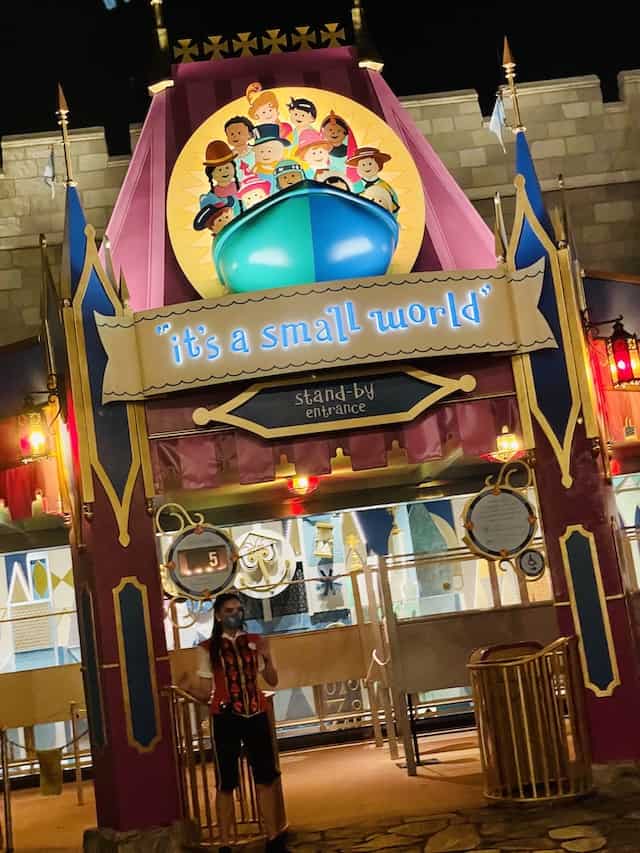 So what attractions were available for Guests to enjoy on October 1, 1971?
Prince Charming Regal Carrousel
Country Bear Jamboree
Diamond Horseshoe Revue
Dumbo the Flying Elephant
Frontierland Shootin' Arcade
The Hall of Presidents
The Haunted Mansion
"it's a small world"
Jungle Cruise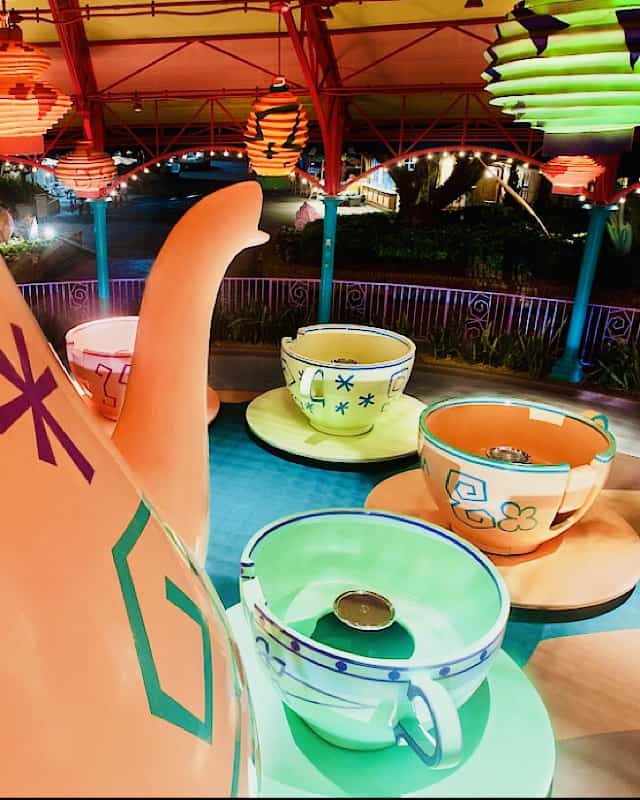 Mad Tea Party
Mickey Mouse Review
Mike Fink Keel Boats
Mr. Toad's Wild Ride
Skyway
Snow White's Adventures
Swiss Family Treehouse
Tropical Serenade (later renamed Walt Disney's Enchanted Tiki Room)
Grand Prix Raceway (later renamed Tomorrowland Speedway)
Walt Disney World Railroad
It is really amazing that many of these Opening Day attractions are still delighting Guests today. Wouldn't it be fun to create a touring plan including all of the attractions that are still available?
15th Anniversary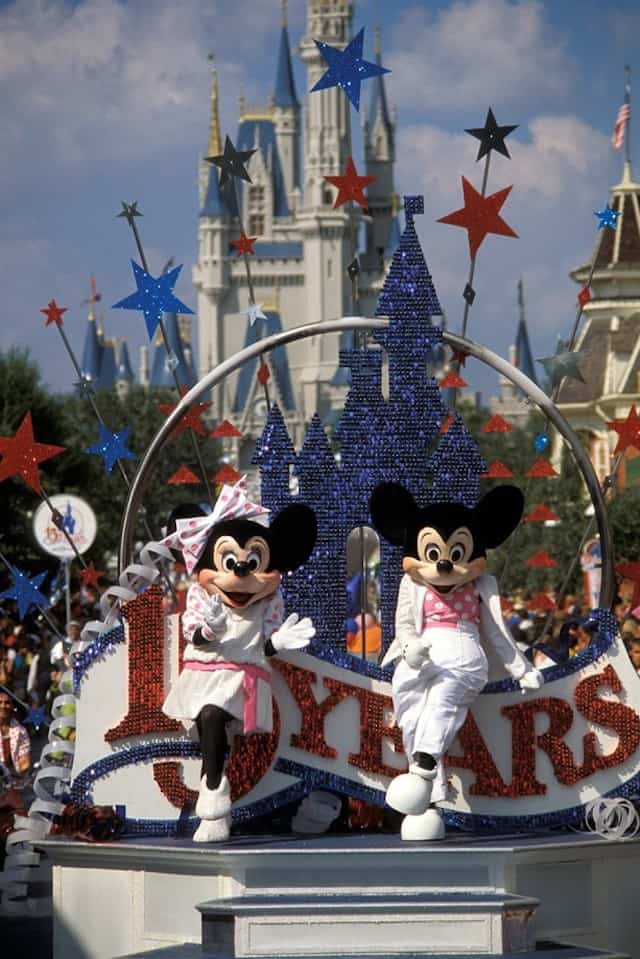 In 1986, Walt Disney World celebrated the 15th Anniversary celebration of the Magic Kingdom in quite a lavish way. Guests enjoyed a brand new parade titled, "15 Years of Magic." This parade featured the new theme song "We're Having a Party."
This parade was not only quite entertaining but one special Guest was selected each day to win a HUGE prize. Not only would this lucky Guest be allowed to lead this parade, but they would also win their very own red Chevrolet Cavalier Convertible.
The 15th Anniversary was celebrated in a lavish way with cars gifted to one lucky Guest every day and Birthday Bonanza Weekends.
Guests were welcomed to enjoy "Birthday Bonanza Weekends." At both Magic Kingdom and EPCOT. Large Mickey Mouse clocks reminded Guests that a new prize would be awarded every 15 minutes during these birthday celebratory weekends. Guests could win small gifts such as buttons or larger prizes such as Theme Park tickets and vehicles.
20th Anniversary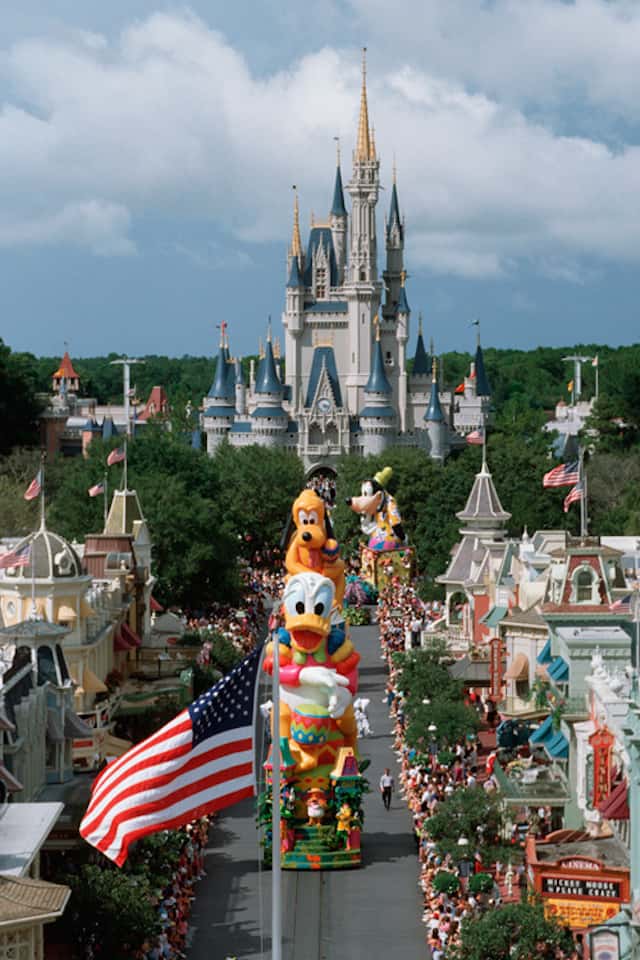 In honor of the 20th Anniversary, Guests were promised a "Year of Surprises." On October 1, 1991, both Disney CEO, Michael Eisner, and Roy E. Disney re-dedicated the Magic Kingdom. This was a fun surprise for all in attendance.
This "Year of Surprises" was enjoyed in all 3 Walt Disney World Theme Parks of that time including Magic Kingdom, EPCOT, and MGM (now known as Disney's Hollywood Studios.)
In Magic Kingdom, Guests enjoyed a celebratory parade coined the "Surprise Celebration Parade." This parade featured large character balloons that were once used for Disneyland's 35th anniversary. Each day a new "surprise" Grand Marshall would be chosen.
At night in the Magic Kingdom, Guests enjoyed the SpectroMagic Parade. This was similar to the Main Street Electrical Parade, but it did feature a few new Disney characters. Guests loved the new soundtrack to this parade while also being mesmerized by the millions of lights and fiber optics used throughout the parade.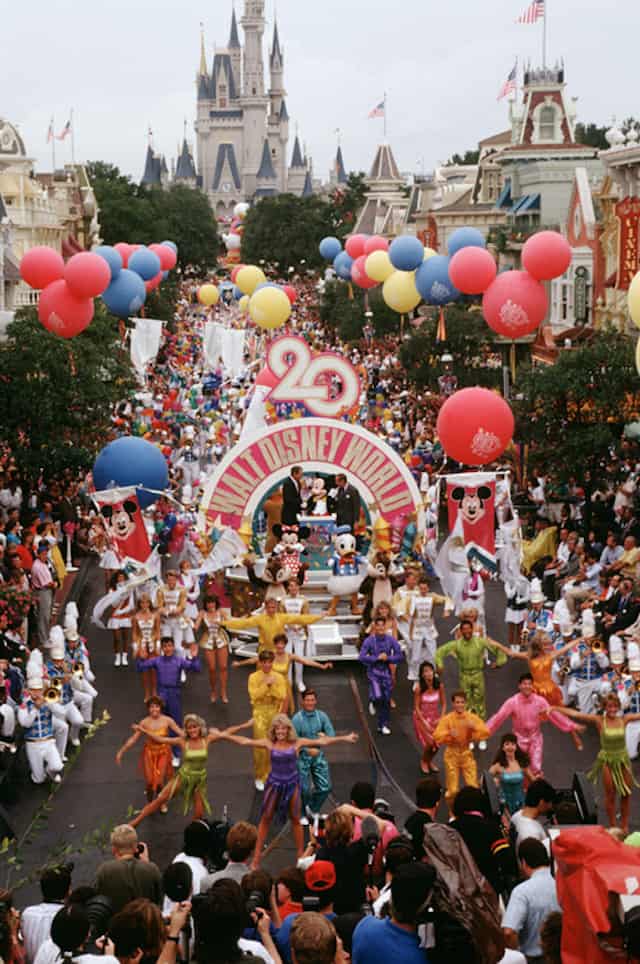 Guests visiting EPCOT could enjoy similar giant balloons from the Magic Kingdom located around EPCOT. Balloons featuring the Fab 5 and a few other characters were dressed in costumes from around the world.
At different times throughout the day, the skies above the Showcase Lagoon came to life with "Surprise in the Skies." This extravagant display featured fireworks, 8 small planes featuring our favorite Disney Pals, colorful kites, and colored smoke. This was truly an over-the-top celebration.
In MGM Studios, Guests could enjoy "Mickey's Magic Show" hosted by Mickey Mouse. Different magicians were featured in this entertaining show. Guests loved the chance to experience a bit of Hollywood magic with their favorite pal Mickey.
25th Anniversary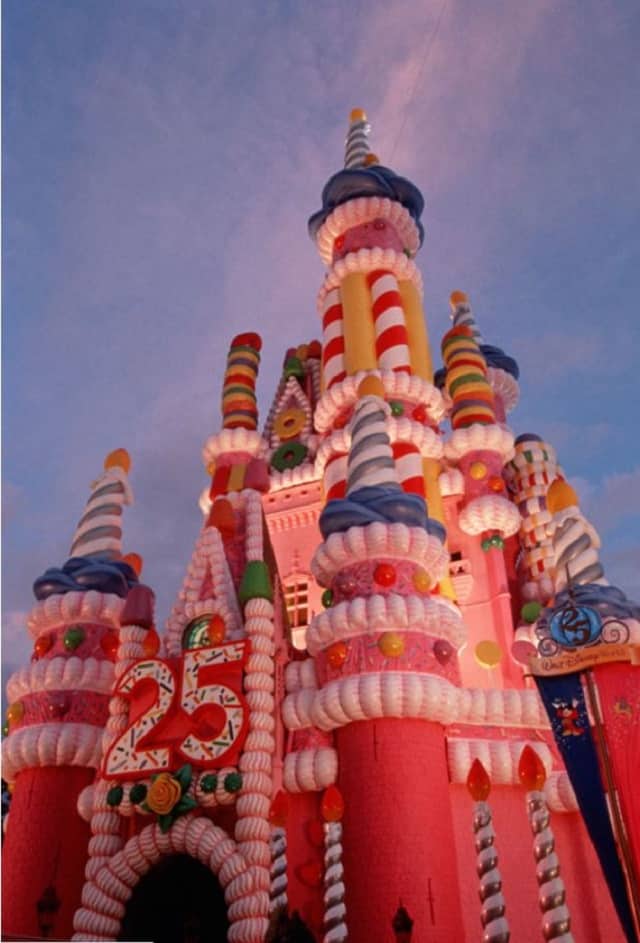 Many Disney fans still shudder when remembering the less than magical overlay for the 25th Anniversary back in 1996. The idea was to make Cinderella Castle appear as an over-the-top birthday cake. It was definitely over-the-top, but I don't think it was received very well.
The Magic Kingdom celebrated this silver anniversary with the "Remember the Magic" daytime parade. Over 100 characters were featured in this impressive parade. Although Guests did not receive prizes every 15 minutes, as was the case for the 15th anniversary, Guests did receive complimentary "Guests of Honor" buttons to commemorate the celebration.
35th Anniversary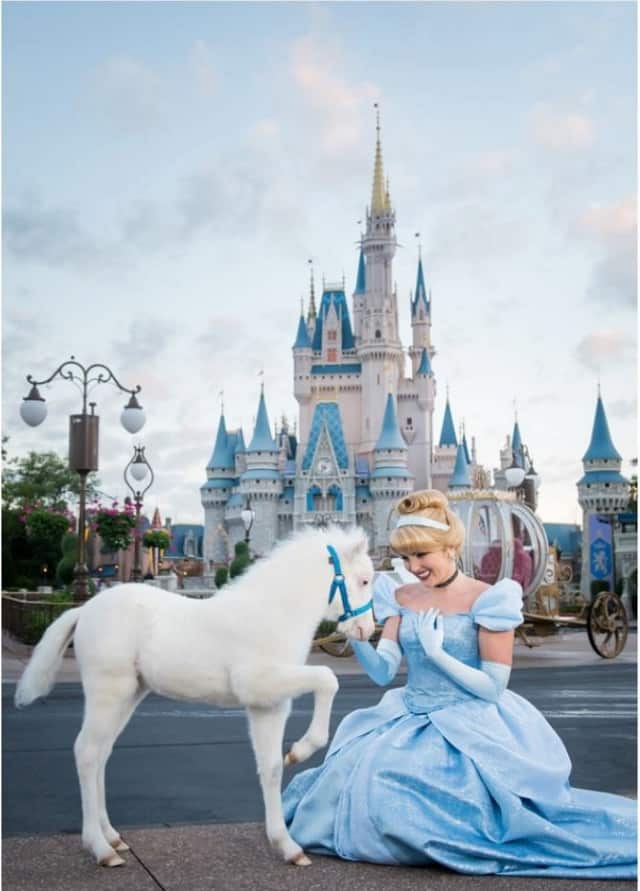 In 2001, Walt Disney World was set to celebrate the 30th anniversary of Walt Disney World, but due to the events of September 11, 2001, a smaller celebration was held in December 2001.
In 2006, Walt Disney World celebrated "The Year of a Million Dreams." Guests received many gifts including a night in Cinderella's Castle.
This set the stage for an even bigger celebration for the 35th Anniversary of Walt Disney World in 2006. This was known as "The Year of a Million Dreams." Guests were again chosen to receive complimentary gifts at random. The greatest gift given, in my opinion, was the opportunity to spend the night in Cinderella Castle. That would truly be a dream come true!
40th Anniversary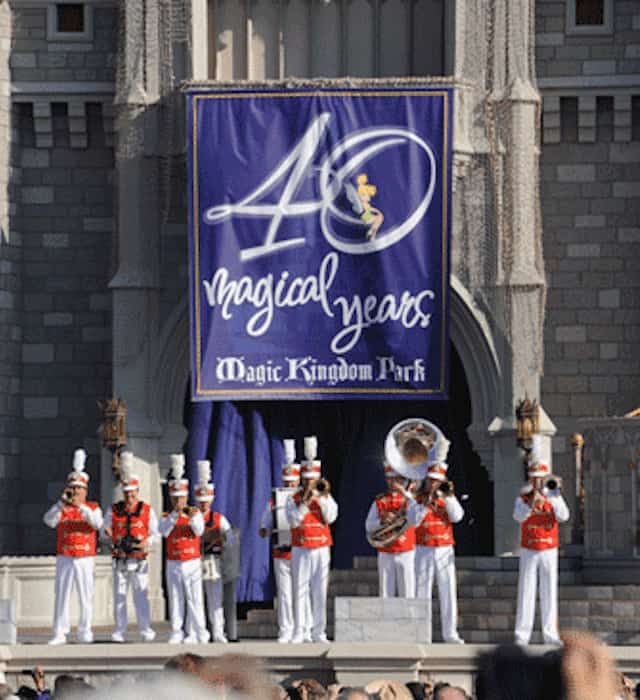 For the 40th Anniversary, it was a bit more subdued. On October 1, 2011, Guests visiting Magic Kingdom received a commemorative button and enjoyed seeing 50 of their favorite Disney pals march through Main Street to "it's a small world" along with celebratory songs of the past including "Remember the Magic."
This was a nice celebration, but it was not extended for several months to allow many Guests to share in 40 Magical Years of the Magic Kingdom. Many speculated that they were saving a more lavish celebration for the 50th anniversary.
50th Anniversary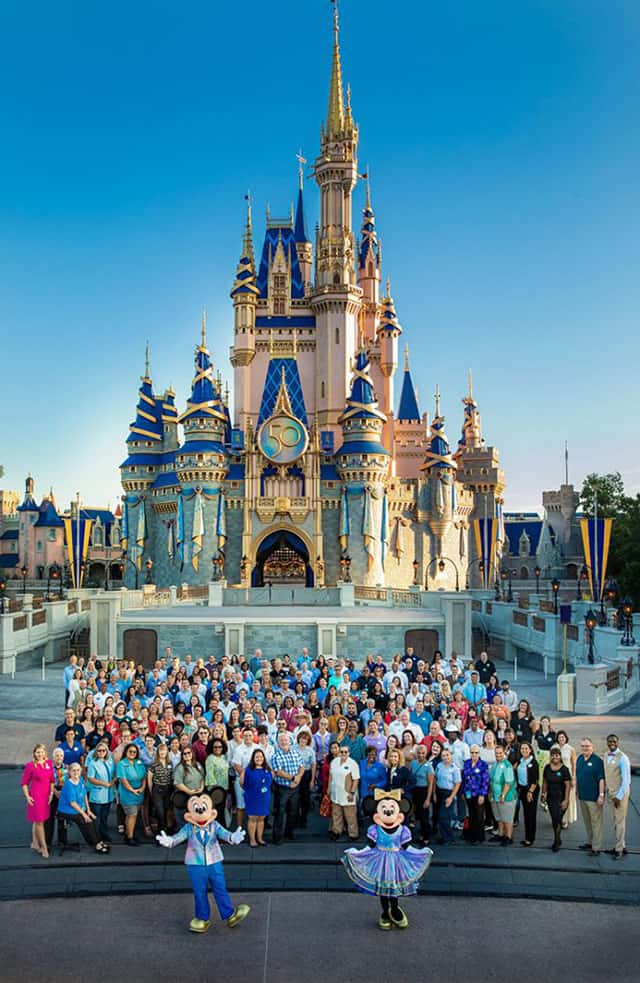 Mickey and Minnie Mouse will be seen in new outfits, and illuminated displays will be seen on all 4 Theme Park icons including Cinderella Castle, the Tree of Life, Spaceship Earth, and the Hollywood Tower Hotel.
There are great 50th Merchandise Collections that Guests are already excited for. Walt Disney World has also installed 50 golden character sculptures throughout each of the four theme parks. This will be a celebration like none other. Be sure to check the full guide to Enjoying this 50th Anniversary HERE.
No Place Like "Home"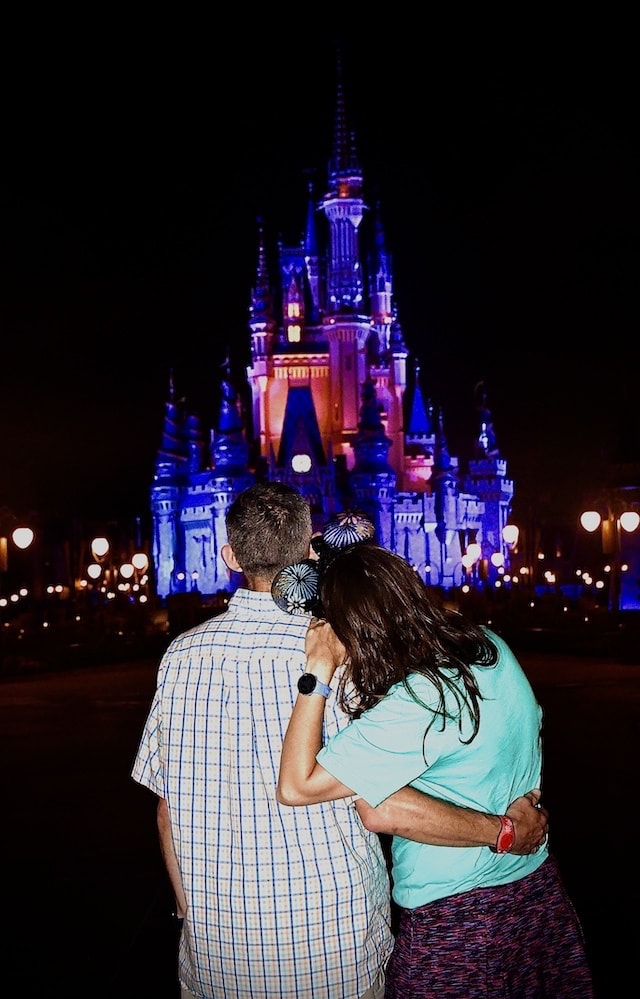 Many things have changed throughout the past 50 years at Walt Disney World, but one aspect has remained very similar to opening day on October 1, 1971. As we walk down Main Street, USA there is something comforting in how familiar this walk is. The street has been kept seemingly unchanged over the years to allow Guests to feel as though they are "Home" in this enchanted land.
Whenever you may be able to enjoy the 50th Anniversary of Walt Disney World, may you truly feel as though you are "Home" in "The Most Magical Place on Earth." As Walt Disney announced during opening day at Disneyland in 1955, "To all who come to this happy place, welcome!"
The street has been kept seemingly unchanged over the years to allow Guests to feel as though they are "Home" in this enchanted land.
Will you be visiting Walt Disney World for this 18 month long golden anniversary? Were you present at previous anniversary celebrations? What was your experience? Share your thoughts with us on our Facebook Page.