As we look forward to Magic Kingdom's 50th anniversary celebration this year, I am reminded of my first trip to Walt Disney World in 1991. Take a walk down memory lane as we remember what the Magic Kingdom was like as it celebrated its 20th anniversary.
20th Anniversary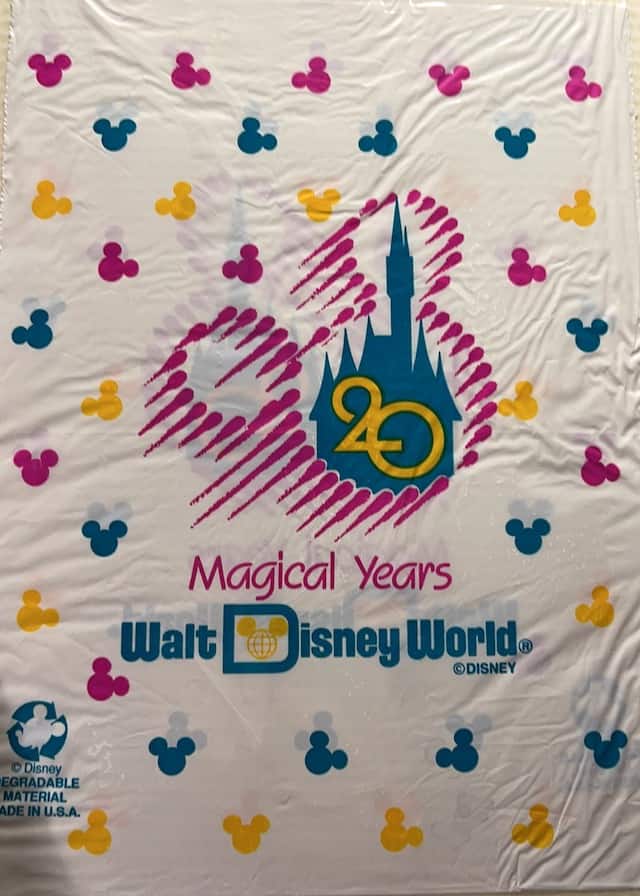 My first visit to the Magic Kingdom was in 1991. This year marked the 20 Magical Years at the Magic Kingdom. My family jokes that I had a tendency to hoard random items when I was younger.
Now, I am very glad that I saved some items from that trip such as the commemorative shopping bag. This led me on a journey down memory lane to remember how Walt Disney World celebrated their 20th anniversary as we prepare for the 50th anniversary of the Magic Kingdom.
Prices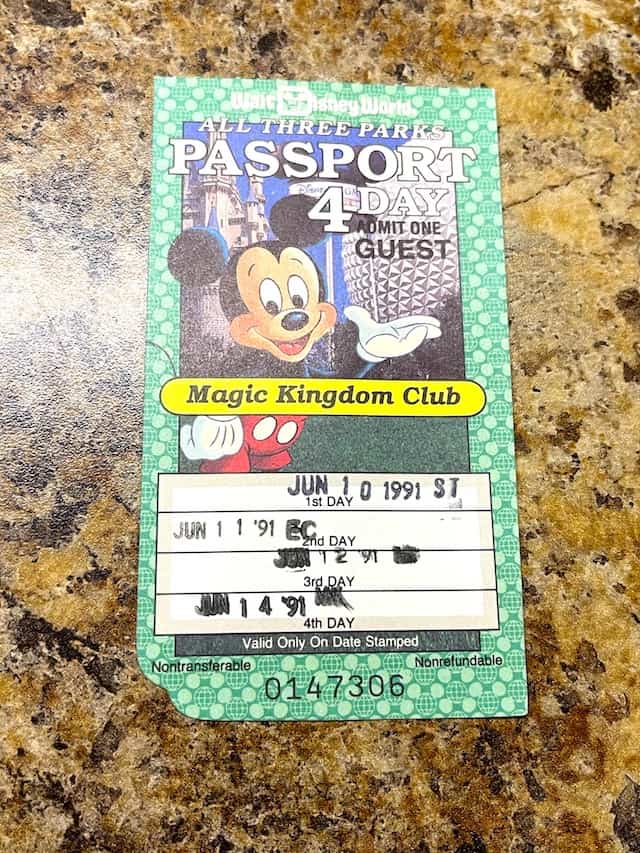 Each year it seems that Park tickets and parking prices continue to increase. How much would a Disney vacation cost you back in 1991? At that time, Walt Disney World only offered 3 Theme Parks: Magic Kingdom, EPCOT, and MGM Studios. MGM Studios had a name change in 2008 to Hollywood Studios.
My family purchased the All Three Parks Passport 4 Day ticket to enjoy the Disney Parks. What was the going rate for 4 magical days in the Disney Parks? The answer is an astonishing $106. The price for 4 days of Park magic in 1991 was still less than the price of a one day Park ticket today.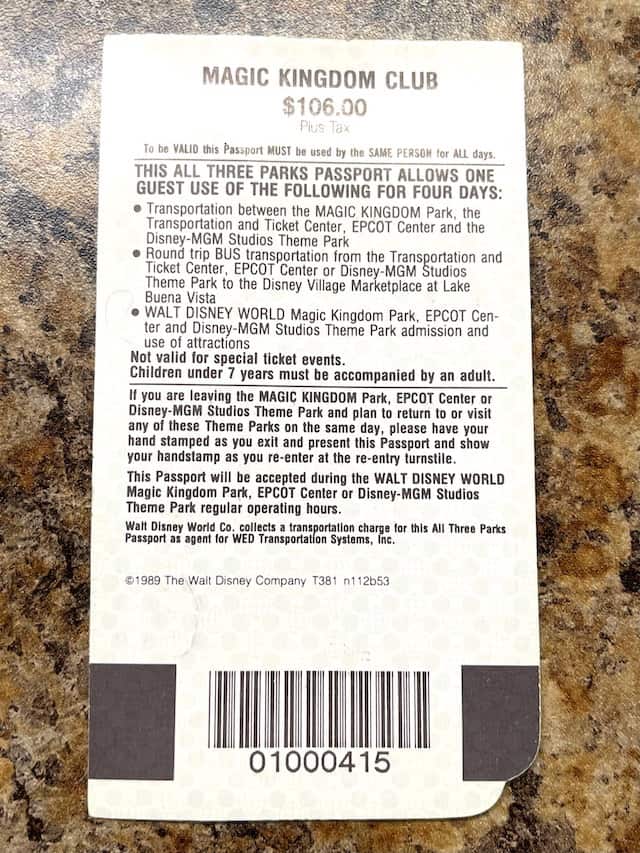 Have you ever had conversations with your family that started with the famous, "I remember when ____ was cheaper." Check out the price for parking at the Walt Disney World Theme Parks in 1991.
Yes, your eyes are not deceiving you. You could park your car for only $4. On the back of this parking ticket, you could write down the aisle # that you parked in.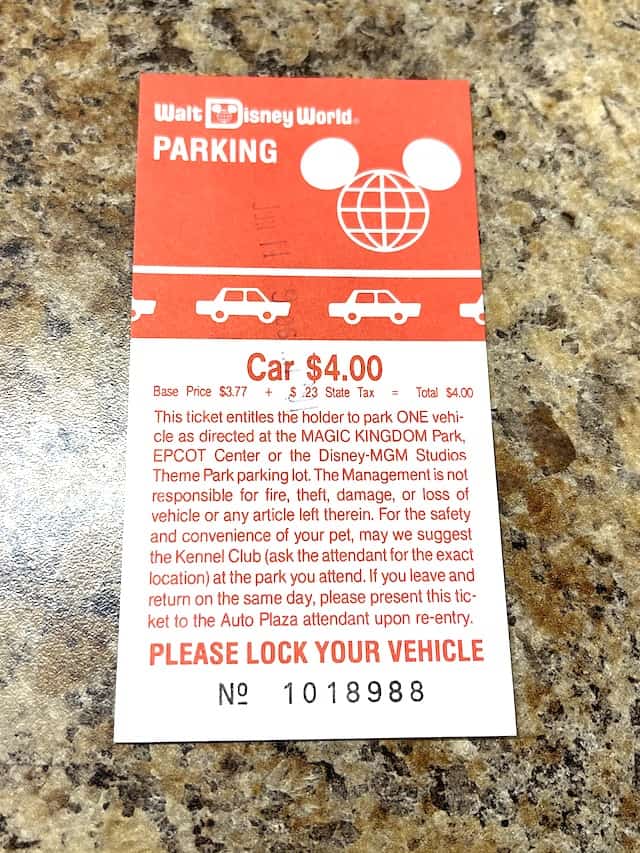 At that time, the Magic Kingdom parking lot was not separated into heroes and villains. Only 12 characters were listed including: Chip 'N Dale, Pluto, Daisy, Minnie, Goofy, Donald, Sleepy, Happy, Sneezy, Dopey, Grumpy, and Bashful.
Traveling over to EPCOT, the parking aisles were divided into seven categories. These included Space, Energy, Harvest, Communication, Imagination, Mobility, and Seas.
At that time, Disney's MGM was the newest Park and held the smallest parking lot. Guests visiting Disney MGM Studios simply noted the aisle number with no reference to a magical character or theme.
Disney Dollars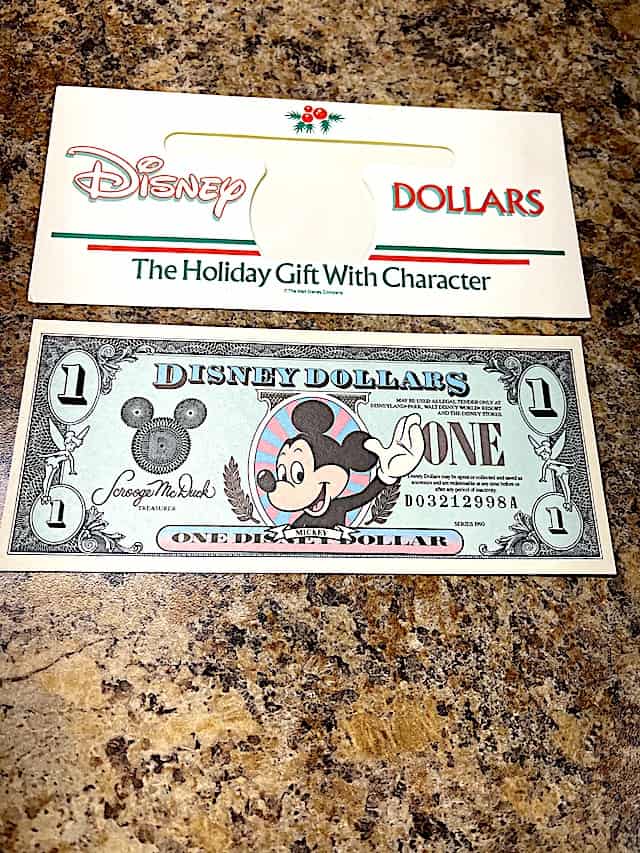 Did anyone else receive "Disney Dollars" for a birthday or Christmas present? In preparation for our magical Disney vacation, I received several Disney Dollars for gifts.
These were so much more fun than a plastic gift card. Each Disney Dollar looked like play money and featured various Disney characters. I still have this one Disney Dollar from my vacation. It features my favorite character, Mickey Mouse.
Check out all of the fun details. I loved that it was signed by the Treasurer, Scrooge McDuck. Each Disney Dollar was numbered and could be used at any time. Could you imagine the look of the Cast Member's face if I tried to use this on my next Disney trip?
Some Disney Dollars are quite valuable online so maybe hold off on cashing it in on your next trip to Disney.
20th Anniversary Parade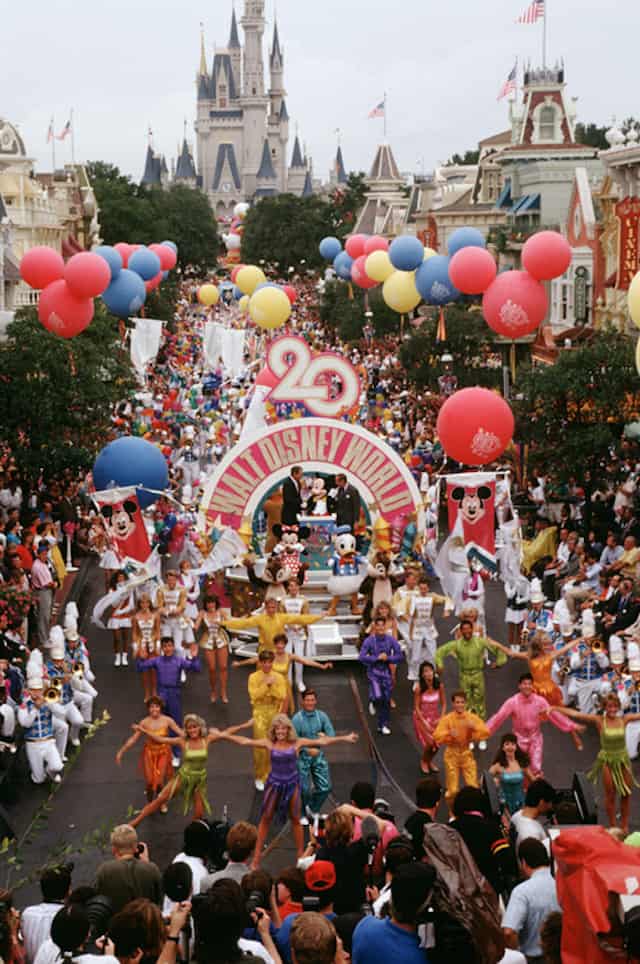 In honor of the 20th Anniversary, Guests were promised a "Year of Surprises." On October 1, 1991, both Disney CEO, Michael Eisner, and Roy E. Disney re-dedicated the Magic Kingdom. This was a fun surprise for all in attendance.
In honor of the 20th Anniversary, Guests were promised a "Year of Surprises."
The previous Disney Character Hit Parade was replaced for the 20th anniversary. In honor of this festive celebration, large balloons similar to those featured in the Macy's Thanksgiving Day Parade were featured.
This celebratory parade was coined the "Surprise Celebration Parade." These large character balloons were once used for Disneyland's 35th anniversary. Each day a new "surprise" Grand Marshall would be chosen.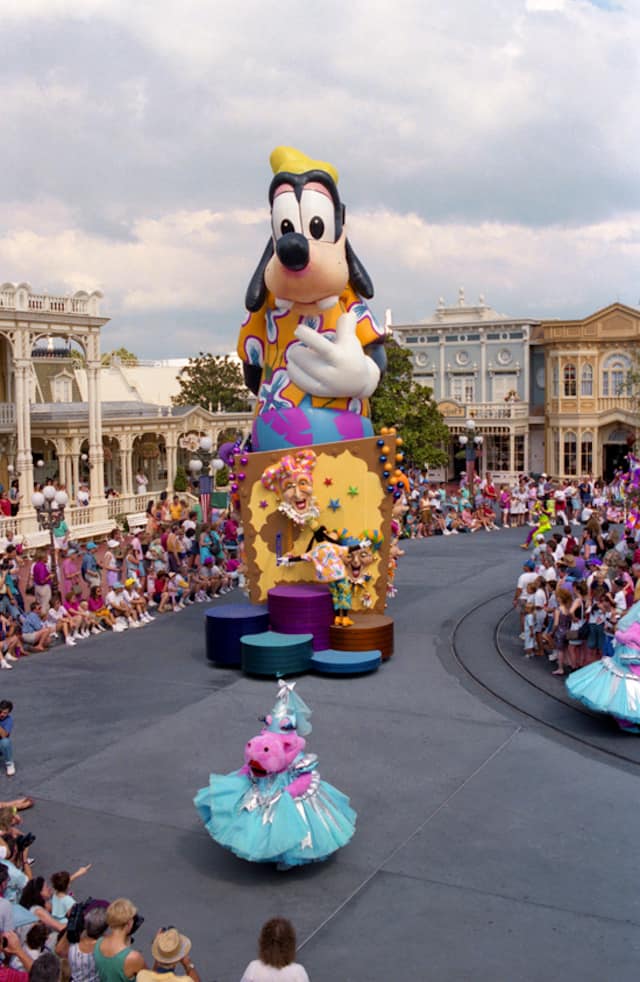 The Surprise Grand Marshall received the honor of starting this parade on the Who Framed Roger Rabbit float. This parade featured live music, musician, singers, and even acrobats.
Joining Roger Rabbit were huge character balloons anywhere from 35-40 feet high. These huge balloons were found towering down Magic Street U.S.A. with our favorite characters welcoming Guests as well.
SpectroMagic Parade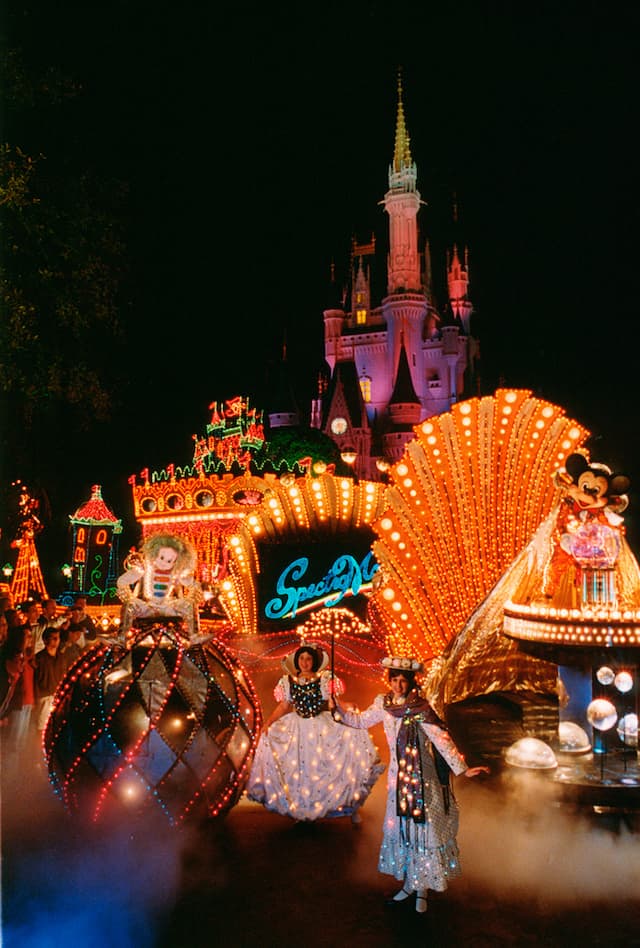 I absolutely loved the Main Street Electrical Parade. In 1991, this parade was set to travel to the newest Disney Park in Paris. In honor of the 20th Anniversary of the Magic Kingdom, they introduced the SpectroMagic Parade.
This was a nighttime parade that originally entertained Guests from October 1, 1991 through May 21, 1999. In 2000, the Main Street Electrical Parade returned to celebrate the turn of the century. SpectroMagic then returned April 2, 2001 through June 4, 2010.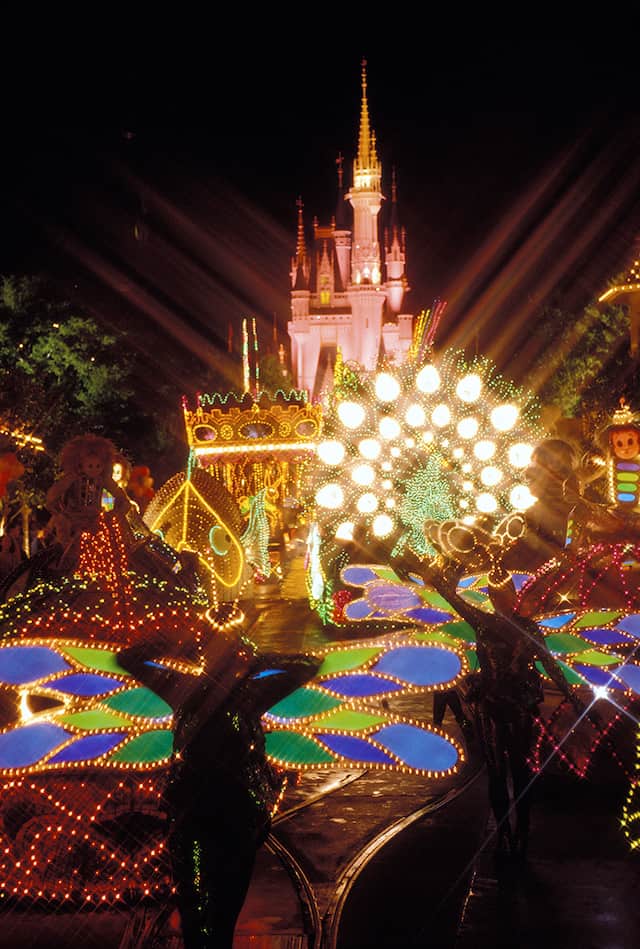 Our pal Jiminy Cricket started this parade off, "Welcome to the splendor, the spectacle, the sparkling sensation, where the comedy and thrill of Disney fantasies come to electric life. And now, the Magic Kingdom proudly presents, in a million points of musical light, the magic worlds of Disney…in SpectroMagic!"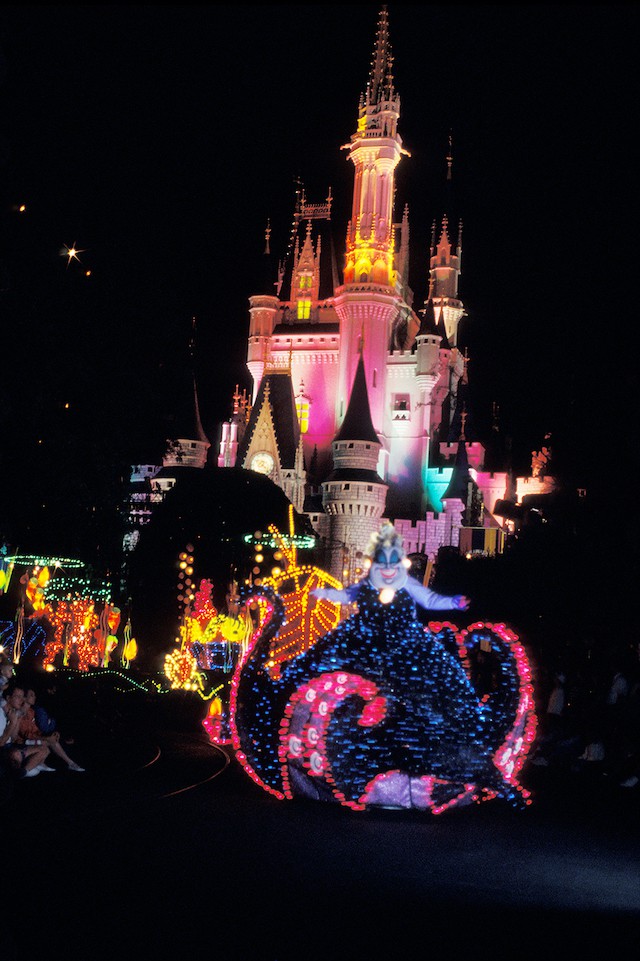 SpectroMagic was similar to the Main Street Electrical Parade, but it did feature a few new Disney characters. Guests loved the new soundtrack to this parade while also being mesmerized by the millions of lights and fiber optics used throughout the parade.
"And now the Magic Kingdom proudly presents, in a million points of musical light, the magic worlds of Disney…in SpectroMagic."

Jiminy Cricket
Surprises in EPCOT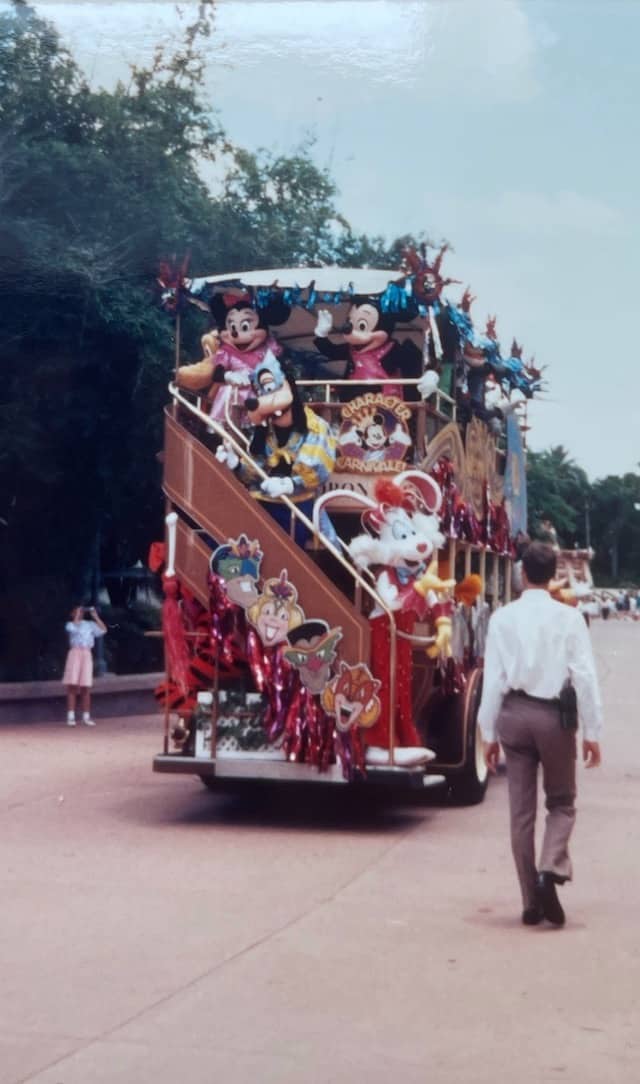 The fun "Party Gras" theme was not simply found in the Magic Kingdom. While we were touring around the World Showcase at EPCOT, we were surprised to find Mickey and his pals featured in a Party Gras Cavalcade.
I remember how excited I was to see Mickey and his pals dressed up in their Party Gras attire. They arrived on their Party Gras trolley and welcomed Guests for a time of dancing and celebrating.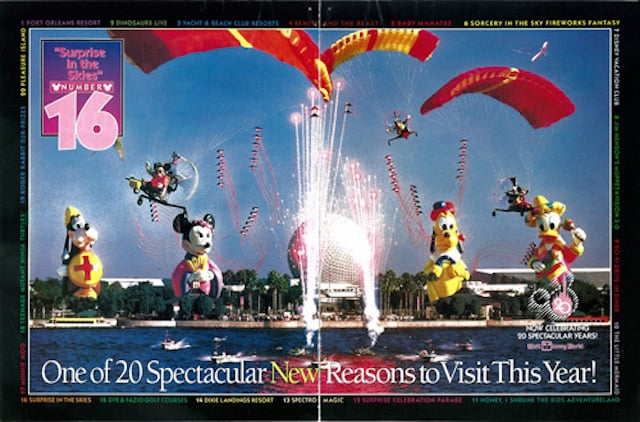 Guests could also enjoy similar giant balloons from the Magic Kingdom located around EPCOT. Balloons featuring the Fab 5 and a few other characters were dressed in costumes from around the world.
At different times throughout the day, the skies above the Showcase Lagoon came to life with "Surprise in the Skies." This extravagant display featured fireworks, 8 small planes featuring our favorite Disney Pals, colorful kites, and colored smoke. This was truly an over-the-top celebration.
MGM Studios Surprises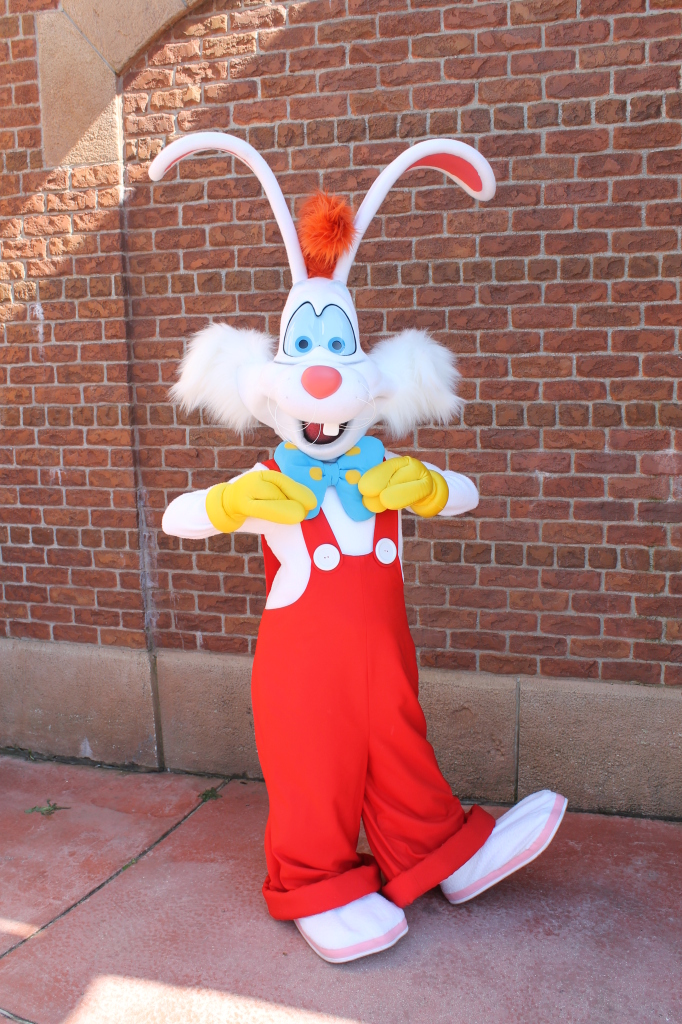 At MGM, which is now known as Hollywood Studios, Guests could enjoy "Mickey's Magic Show" hosted by Mickey Mouse. Different magicians were featured in this entertaining show. Guests loved the chance to experience a bit of Hollywood magic with their favorite pal Mickey.
Roger Rabbit, from the film Who Framed Roger Rabbit, could be found surprising Guests at all 3 Walt Disney World Theme Parks. He would pop-up in the most random of places and give away specialty themed 20th anniversary prizes and gifts.
Magic Was Everywhere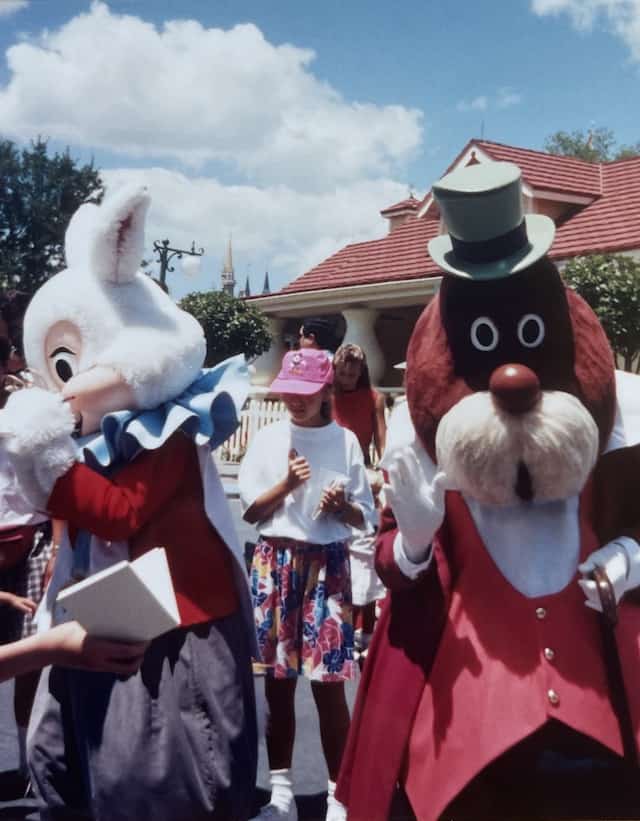 One of the things that I loved most about the Magic Kingdom during this time was the magic that was truly everywhere. Characters could be found at designated locations, such as at Mickey's Starland. However, the character interactions didn't end there.
Some of my favorite characters could be found simply roaming the streets of the Magic Kingdom. This has greatly changed today. I remember my first return to the Magic Kingdom was in 2011 as an adult. I was found wandering around curious as to where all of the characters had gone.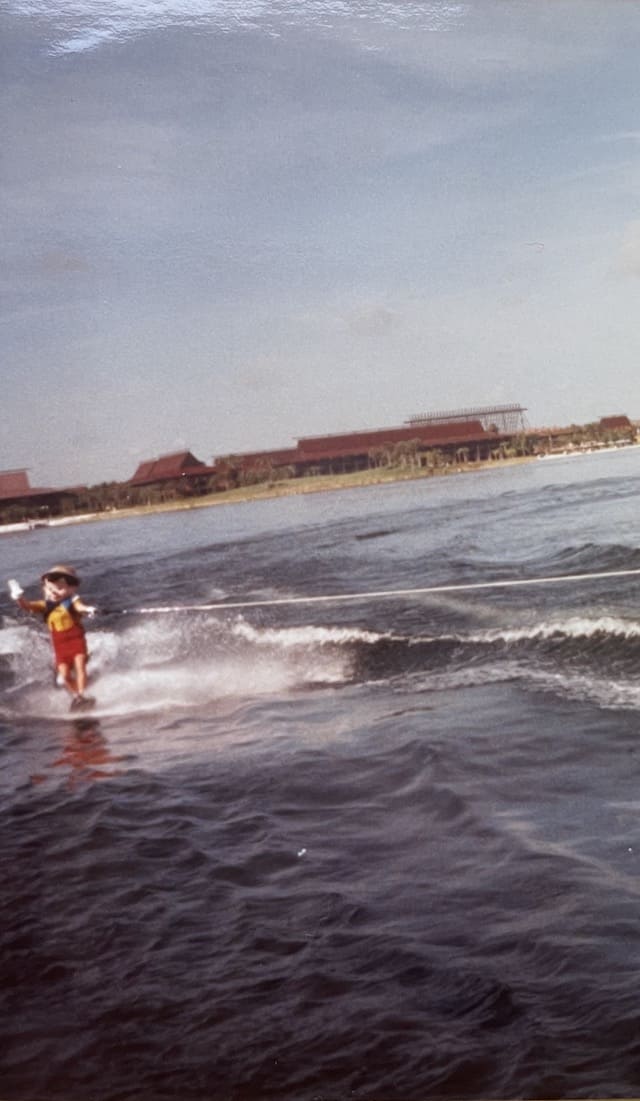 One of my mom's favorite memories was found one morning as we were traveling on a ferry boat. We heard the motor of a speed boat. My mom was alarmed at the speed at which the boat was traveling.
This concern quickly turned to laughter as she noticed none other than Pinocchio on water skis. These fun little surprises were truly a joy and created lasting memories for my family.
Looking Forward to the 50th Anniversary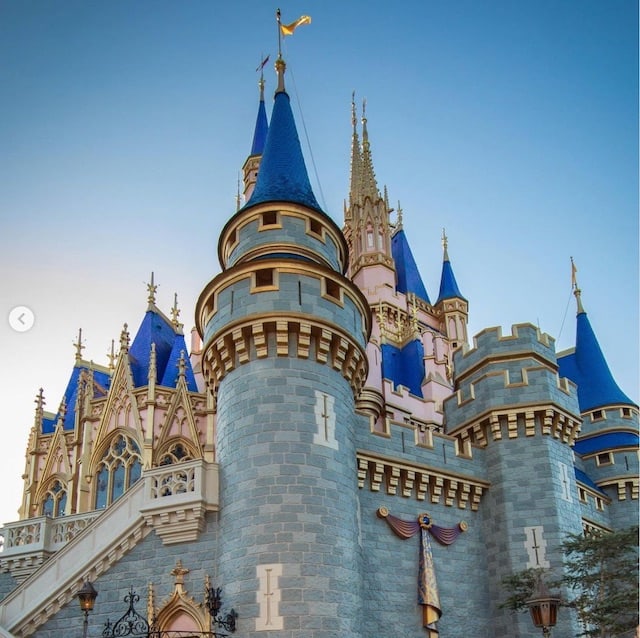 As we look forward to the 50th Anniversary of the Magic Kingdom, we wonder what all may be planned. Work is already underway to transform each Theme Park icon. We have seen much work in bringing new life to many of our favorite Magic Kingdom attractions as well.
Mickey and Minnie Mouse will be decked out for the occasion in a "Ear-idescnet" costumes. We have even heard a rumor of a possible "Project Nugget" fireworks show that may be in the works for this celebration.
No doubt this golden anniversary will truly be memorable. Do you have plans to attend? Do you think Walt Disney World may have a few extra surprises? What do you hope may be able to return for this celebration? Share your thoughts with us on our Facebook Page.