The votes are in! We asked our Crew what their favorite Disney entertainment, show or performance song (past or present) is and, though it was a tough decision, one stood out among the rest! See what Disney fans think is the best Disney entertainment song ever created and let us know if you agree!
Disney Songs
As a kid, a trip to Disney was not complete without a visit to Virgin Mega Store at Downtown Disney, and we always ended up with a pile of new CDs.
Whenever we were in the parks shopping, my Dad would always grab the latest Disney parks soundtrack that we didn't already own. I can remember when the Millennium Celebration was going on, we couldn't get enough of the soundtrack.
It only had 5 songs, but we blasted those 5 songs in our timeshare room all evening, dancing to the Illuminations: Reflections of Earth Medley and the Tapestry of Nations parade music.
Even when I was home, I would play my favorite album 'Disney's Music from the Parks' that had the "Remember the Magic" song by Bryan McKnight. That is still one of my favorite Disney songs to this day.
The Magic Of Music
Disney music is a pivotal part of the magic. It can be as obvious as a ride attraction or nighttime spectacular song with words or that beautiful atmospheric tune you hear playing as you walk around the parks. For me, listening to these songs brings me right back to my happy place.
"MUSIC GIVES A SOUL TO THE UNIVERSE, WINGS TO THE MIND, FLIGHT TO THE IMAGINATION AND LIFE TO EVERYTHING." ― PLATO
A while back, I comprised a list of the Top 10 attraction/land songs as voted by our Crew. I was fascinated by the answers and a bit excited by the song that took first place!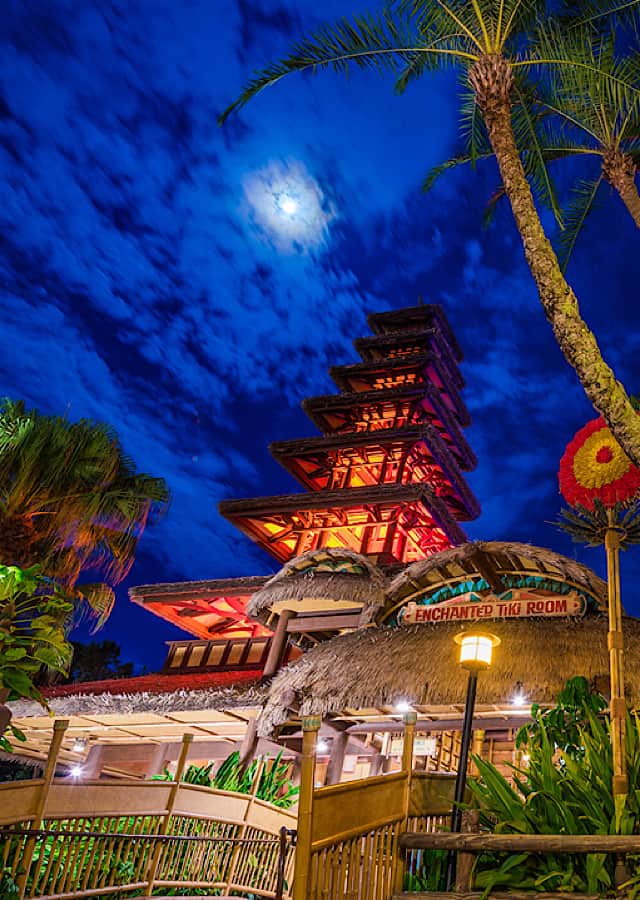 You can also read Jamie's article about more Disney Parks music we love HERE!
Without further ado, let's take a look at which Disney entertainment songs made the Top 10!
#10. "We Go On" – Illuminations: Reflections of Earth, Epcot
"We Go On" was part of the Illuminations: Reflections of Earth firework show at Epcot. It began in 1999 as part of Disney World's Millennium Celebration. The show was so popular, however, that it ran for 20 years, finally ending its run in 2019.
Reflections of Earth will always be my favorite fireworks show at Epcot. The music was brilliantly composed and the show was visually stunning featuring fireworks, pyrotechnics, fire effects, water fountains and lasers.
The storyline of the show was separated into three movements: "Chaos", "Order" (with sub-movements: Space, Life, Adventure, Home and Celebration), and "Meaning".
Spread out around the lagoon were 19 torches representing the 19 centuries of the common era, and when the globe opened up at the end of the finale it revealed the 20th century torch.
The song "We Go On" was the finale song of the Illuminations: Reflections of Earth show. It signifies our unity as the human race and the passing of the torch into future centuries.
This song has always been a favorite of mine. I love the emotion in the words and in the orchestration. Country music singer Kellie Coffey sings both "We Go On" and the song "Promise" from the show, and her voice is so beautiful.
It's clear that "We Go On" and the rest of the soundtrack from Illuminations: Reflections of Earth will be a life-long favorite for many Disney guests.
We go on
Moving forward, now as one
Moving on
With a spirit born to run
Ever on
With each rising sun. To a new day We go on.
#9. "Festival of Fantasy" – Festival of Fantasy Parade, Magic Kingdom
There have been some great, and some not so great, Magic Kingdom parades over the years (I'm looking at you Mickey Mania). When the Festival of Fantasy Parade stepped off for the first time on March 9, 2014, guests were dazzled by the gorgeous and enormous floats.
The parade features many characters from beloved Disney films such as Frozen, Beauty and the Beast, Cinderella, the Little Mermaid, Sleeping Beauty, Tangled, Brave, Peter Pan, Dumbo, Pinocchio and more.
One of the most spectacular features of this parades are the costumes. Designed by Mirena Rada, who has designed costumes for many Disney Parks entertainment, the entire collection took over a year to create.
Just the Seashell Girl's costume from the Little Mermaid Unit takes over 30 yards fabric to create one costume.
The famous steampunk Maleficent float was also designed by former Tapestry of Nations Parade designer Michael Curry.
Festival of Fantasy is one of those parades that is just so unique. Everything from the floats to the music is just amazing.
It's no surprise our crew members said this soundtrack was one of their favorite Disney entertainment songs ever.
We hope that Disney will bring back the Festival of Fantasy parade soon! Cavalcades are great, but they are no substitution for a full parade.
Away we go (away we go),

It's a Festival of Fantasy!

Beauty and majesty,

Shining magically!

Dreams that glow,

Wondrous, dazzling brilliantly.

So, away we go.

It's a Festival of Fantasy!
#8. "Tapestry of Nations" – Tapestry of Nations Parade, Epcot
The Tapestry of Nations Parade was one of my all-time favorite parades ever performed at Disney World. I am so glad to see that many of our followers remember it fondly, too!
The Tapestry of Nations Parade debuted in 1999 as part of Disney's Millennium Celebration and moved around the World Showcase Lagoon.
The main theme was world peace and featured various puppets that danced and delighted guests with the help of very talented Cast Members. Between each section of puppets were giant revolving drum floats with live drummers playing them as they turned.
Not only was the design unique and whimsical, but the music was incredibly catchy. Gavin Greenaway wrote the music for the Tapestry of Nations Parade along with the Illuminations: Reflections of Earth Medley.
He said he designed the music with made up words to sound like a proto-language in order to avoid using a real language that some would understand and others wouldn't. Choosing instead to use simple vowels and consonants, it was more unifying that everyone didn't understand the lyrics.
In 2001, the Tapestry of Nations Parade was transitioned into the Tapestry of Dreams Parade and focused on the idea of Dreams and the world's greatest dreamer: Walt Disney.
The leader of the original parade, The Sage of Time, was replaced by three Dreamseekers who represented discovery, invention, and genius; nature, magic and emotions; and space and the unknown.
Unfortunately, due to deterioration in parade elements Tapestry of Dreams was retired in 2003 and never replaced.
The music from the original Tapestry of Nations Parade could still be heard long after the parade retired as the exit music to Illuminations: Reflections of Earth. There was nothing more toe tapping to get you on your feet than this music.
It would be great to see a parade return to Epcot one day. So many people loved the Tapestry of Nations parade and would love to see either a version of it return or a brand new Epcot parade.
Wé la oh mé la wé-la, wé-é yey-yé oh é yé.

Wé la oh mé la dé lé oh wé-é yay-yé oh é yé.
#7. "Reflections of Earth" – Illuminations: Reflections of Earth, Epcot
Another song from Illuminations: Reflections of Earth is making our top 10 list! The title track of the Reflections of Earth soundtrack was an orchestral arrangement recorded at the famous Abbey Road Studios in London by a 71-piece philharmonic orchestra and a 30-voice chorus.
There is something so majestic about this song, I could listen to it over and over again. Illuminations: Reflections of Earth was so brilliantly constructed that it won 11 straight Best Outdoor Night Production Show Golden Ticket Awards.
I know the show had a good run and all things must come to an end eventually, but I, and many of our readers, would have been perfectly content if it had stayed around forever.
#6. "SpectroMagic Medley" – SpectroMagic Parade, Magic Kingdom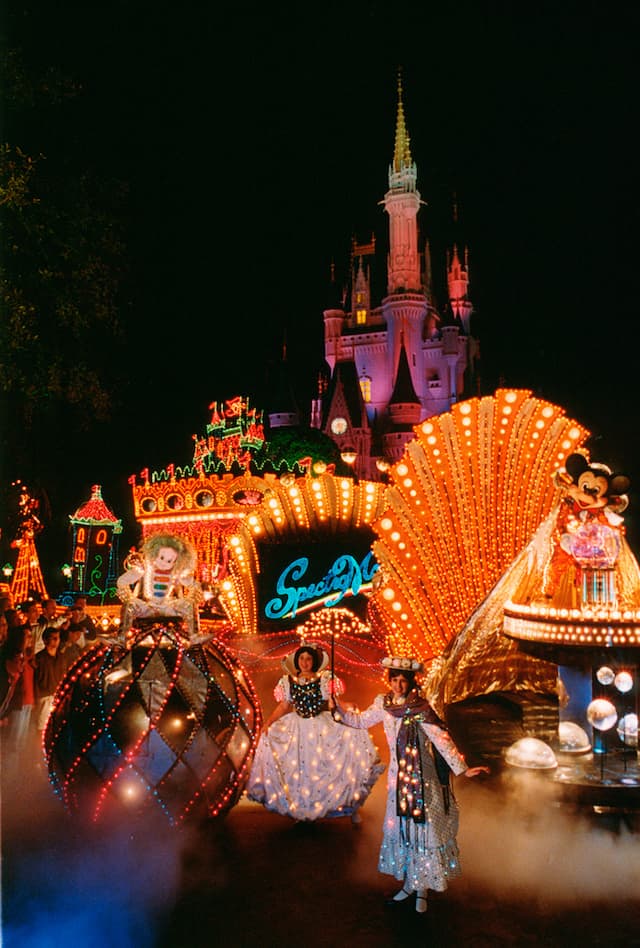 I have such fond memories of watching SpectroMagic as a kid. Everything about this nighttime parade was amazing.
SpectroMagic consisted of 5 main themes:
"The Worlds of Music from the Silly Symphonies"
"The Wonder of Sleeping Beauty's Garden"
"The Fantasy of The Little Mermaid's Ocean"
"The Imagination of Fantasia"
"And The World of Dreams in a Grand Disney Cavalcade"
In each theme there were multiple units totaling 39 floats in all. Not only were there a lot of floats, but SpectroMagic took over 65 Cast Members nightly to bring the magic to life.
SpectroMagic had a nearly 17 year running span between it's two tenures at the Magic Kingdom. The first run was from 1991-1999 and the second being 2001-2010. In 2013, Disney confirmed that the SpectroMagic parade would be permanently retired ending many guests' hope that it would one day return.
The music of SpectroMagic was equally amazing. There was something so magical and whimsical about it's orchestration. As much a I enjoyed the Main Street Electrical Parade that took it's place, it lacked the same musical emotion that SpectroMagic had.
On this magic night,

A million stars will play beside us,

Cast a spell of light,

Glimmering, shimmering, carousel-ling

'Round the world tonight,

A symphony in SpectroMagic.

Pure enchantment lights our way!

#5. "Boo To You" – Boo To You Parade, MNSSHP, Magic Kingdom
The Boo to You Parade is the special Halloween themed parade that runs during Mickey's Not So Scary Halloween Party. It has had many variations over the years with floats being added or removed, but the story concept of representing each Magic Kingdom land remains the same.
I love the Boo To You Parade, but the music is such an ear worm. Once you listen to it, you can't get it out of your head. Many fans love this parade, though, and say that the music is fun and playful.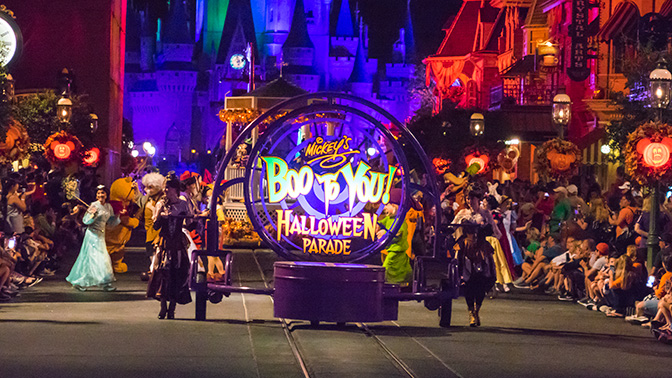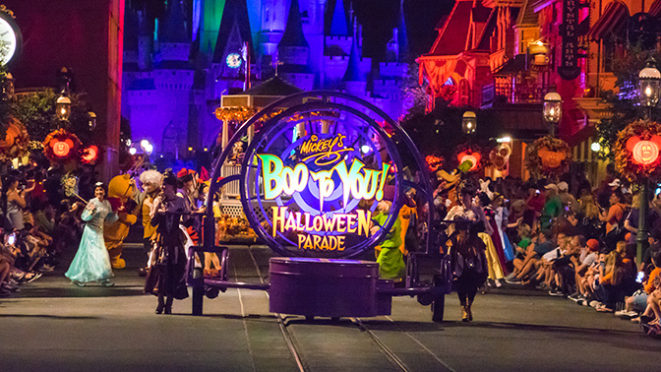 It's unlike any other parade you'll see at Disney, and we hope it returns in 2022 along with the Mickey's Not So Scary Halloween Party.
Boo for you

You know it's true

We have a Boo to you and you and you and you

Happy Halloween
#4. "Fantasmic! Finale" – Fantasmic!
Fantasmic! has been around for a very long time and different versions can be found at various Disney Parks.
The original Fantasmic! debuted at Disneyland in 1992 as a way to revitalize the Rivers of America area. It then received a makeover in 2017, and I can say whole-heartedly that Disneyland's version is the best.
In 1998, Disney's Hollywood Studios opened its version of Fantasmic! in the Hollywood Hills Amphitheater, which offered a much larger capacity of up to almost 10,000 guests.
The man-made mountain that sits atop the lagoon stage is over 50 feet tall, and the lagoon holds 1.9 million gallons of water! Even with more space, I still have to hand the prize to Disneyland for best version of Fantasmic! especially when you see the size of the area Disneyland has to work with.
The music throughout Fantasmic! is great! One of my personal favorites is hands down the Princess Medley, but our crew members chose the Finale song as one of their all-time favorites. I can't argue against that. The music is so upbeat you can't help but be in a good mood as Mickey reigns triumphant over the evil Villains.
Fantasmic!'s lagoon has been drained for quite sometime now, and we hope that this will return soon, although I wouldn't mind waiting a little longer if that meant an upgrade would be in the works!
#3. "Happily Ever After" – Happily Ever After Fireworks, Magic Kingdom
I am going to say something probably a little controversial and shocking even to myself. I just recently rewatched both Happily Ever After and Wishes at home, and I think I prefer Happily Ever After!
For the longest time I held Wishes in higher regards than Happily Ever After because of the nostalgia and charm, but after comparing them side by side I now appreciate Happily Ever After as it should be.
Now, that does not mean I don't love Wishes forever and always, but Happily Ever After has some great qualities. When I first saw Happily Ever After, I initially didn't like the idea of projections. Disney often uses projections to cut back on the use of fireworks.
In Wishes, Disney didn't have the projection system to lean on and had to tell the story with just music and fireworks.
After rewatching Happily Ever After a few more times, it doesn't appear that any fireworks were spared at the expense of the projection technology, but rather the projections helped to visually enhance the storyline.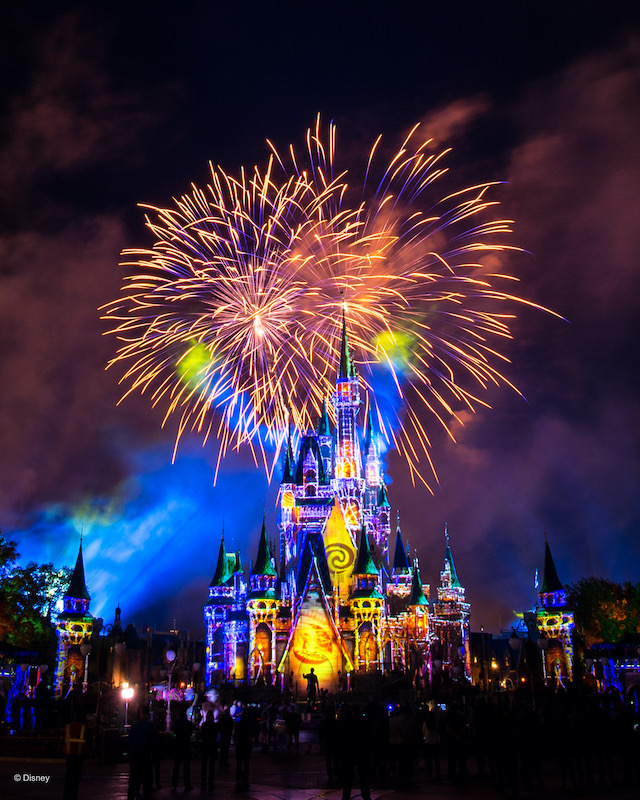 I also enjoy the fact that Disney really utilizes the best of its Intellectual Property in Happily Ever After. All the big movies are represented such as Frozen, Tangled, The Lion King, Aladdin, The Little Mermaid and Moana.
It also showcases music from some very underrated Disney movies of the 90s such as Hunchback of Notre Dame, Mulan and Hercules, too.
As far as I am concerned, the Pirates of the Caribbean music score is the best piece of music ever written (sorry Puccini), and fireworks only make it better.
The message of Happily Ever After is also what gets me. It's so uplifting and encourages everyone to reach down and be the best version of themselves.
Disney announced that Happily Ever After would be retired and replaced with the new nighttime spectacular, "Disney Enchantment".
The story comes alive, when we look inside

A new adventure there in your eyes

There in your eyes

It's just beginning

Feel your heart beat faster

Reach out and find your happily ever after

Find your happily ever after
#2. "Baroque Hoedown" – Main Street Electrical Parade
The Main Street Electrical Parade has long been loved by many Disney guests. The very first version of the parade debuted in Disneyland in 1972. It traveled many times to various other parks over its long run including Disney's California Adventure Park, Disney World's Magic Kingdom Park and Disneyland Paris.
The Main Street Electrical Parade featured the first-ever automated parade show-control program using radio-activated "trigger zones". By using these trigger zones, guests would hear float-specific music through the park's audio system as it entered the 70-100ft zones.
This ensured that all guests would experience the exact same show regardless of where they were standing in the parade route.
The "Baroque Hoedown" is the track that is heard throughout the Main Street Electrical Parade and features a very distinct synthesized sound due to its use of 11 different synthesizers including the Moog synthesizer.
It was hard to not start dancing in your parade spot as this stunning parade went by.
The last run of the Main Street Electrical Parade ended at Disneyland in September 2019, but many fans are hopeful for its return one day as one of the Alice in Wonderland floats was seen on Dancing with the Stars not long ago.
#1. "Wishes" – Wishes Fireworks, Magic Kingdom
Wishes just might be one of the greatest firework shows of all time at Disney. There was something extra special about Wishes. It had a charm and magical quality unlike any other show.
How can you not get teary eyed at seeing those giant gold cascading fireworks that covered the entire sky around Cinderella Castle?
One of my fondest memories as a kid was walking down the glowing Main Street, U.S.A. after watching Wishes and listening to the special exit duet version of Wishes.
For many years, I held Wishes as my number one favorite show, like many others. I have to say I have recently grown to love and appreciate Happily Ever After.
I feel like we need to find another home in Disney for Wishes to go so we can all have the best of both worlds!
Wishes!

Dream a dream

Wishes!

Set it free

Wishes!

Trust your heart

Just believe
Honorable Mentions
Two songs that just missed the Top 10 were "We Are One" from Rivers of Light at Animal Kingdom and "Remember the Magic" from The Remember the Magic Parade in Magic Kingdom.
I wanted to give these a quick shout out because they are personal favorites of mine.
#11. "We Are One" – Rivers of Light, Animal Kingdom
Rivers of Light was a love it or hate it show. I (Christina) personally loved it. It reminded me of some of the old Disney entertainment that didn't have to rely so heavily on Disney IP. It was an original concept.
All the dancing water and colorful lights were so gorgeous! I am a big fan of animals, and Rivers of Light specifically celebrated their majestic beauty. I get all teary eyed especially when the bear and horse start to gallop. It's just the beauty of the projections and music combined that gets me.
The best song in the Rivers of Light show is definitely "We Are One". It's just so beautifully written and sung. I could listen to it over and over again.
It's our rite, it's our call
Every creature great and small
If we stand alone
We stand to lose forever
Raise your hands to the sky
On this journey you and I
We'll grow stronger than we know
If we stand together
"Remember the Magic" – Remember the Magic Parade, Magic Kingdom
The Remember the Magic Parade was one of my favorite parades of all-time at Disney World.
Not only was the music catchy, magical and beautiful, but at certain locations on the parade route, the parade would stop and all the characters would step off of their floats and dance with the guests around them.
I can remember being a little kid and the famous silver and blue mirror castle float stopped right in front of us with Cinderella on it. I may or may not have practically tackled people in front of me to get to her.
The other great thing about the Remember the Magic Parade was that it featured a lot of Disney characters. There was an entire float dedicated to characters you don't usually see on parade floats, such as Pocahontas, Step-in-Time Mary Poppins, Bert, Alice, and the White Rabbit.
Your heart could just take wing,

You could live out all your dreams.

No matter how, no matter when,

You can reach that world again.

It's like a dream come true

That lives inside of you.

It's time to remember the magic!

It's time to remember the magic!
There are so many amazing musical scores from Disney shows both past and present. Disney doesn't do bad entertainment almost ever (still looking at you Mickey Mania parade), but some just hit you right in the feels and grab at your heartstrings more.
What is your favorite Disney entertainment show or performance song ever created? Let us know in the comments or on our Facebook Page.
-Christina
Are you planning a vacation? Reach out to our trusted travel agency sponsor Authorized Disney Vacation Planner
Mouse Class Travel
!