Does your family love the Star Wars: Mandalorian series on Disney+? I will admit that a HUGE part of my love for this series is Baby Grogu (a.k.a. Baby Yoda.) Find out how you can easily host a Baby Grogu party at home.
The Source of Inspiration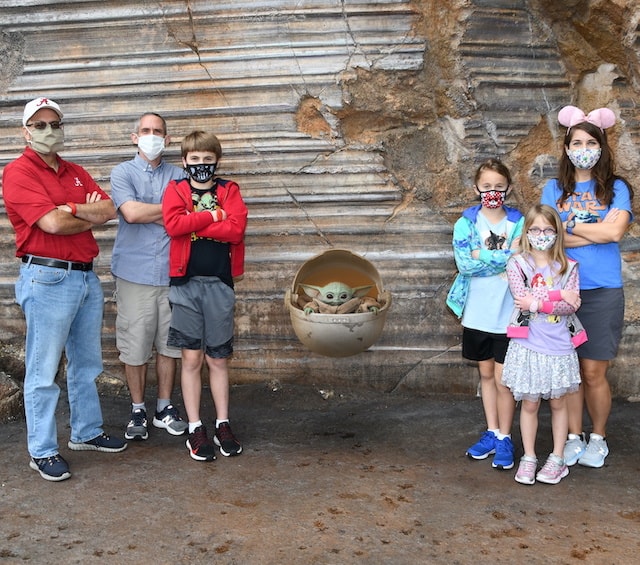 My (Donna) daughter decided that for her 11th birthday she wanted to host a Baby Grogu themed birthday party. I'm not sure who was more excited for this: her or myself. This was such a fun party to put together and lucky for us we had more than enough Baby Grogu merchandise to decorate with. My son even offered the Razor Crest Lego set to be used for decoration as well.
We absolutely loved the first season of Mandalorian, and the second season did not disappoint either. When we visited Disney's Hollywood Studios, we were all so excited to participate in the PhotoPass magic shot with our favorite Star Wars friend.
If possible, it seemed that my daughter's love of baby Grogu grew even brighter after our trip to Galaxy's Edge. The idea for this party can be great for a birthday, or you could even host a viewing party for season 3 of The Mandalorian.
Decorations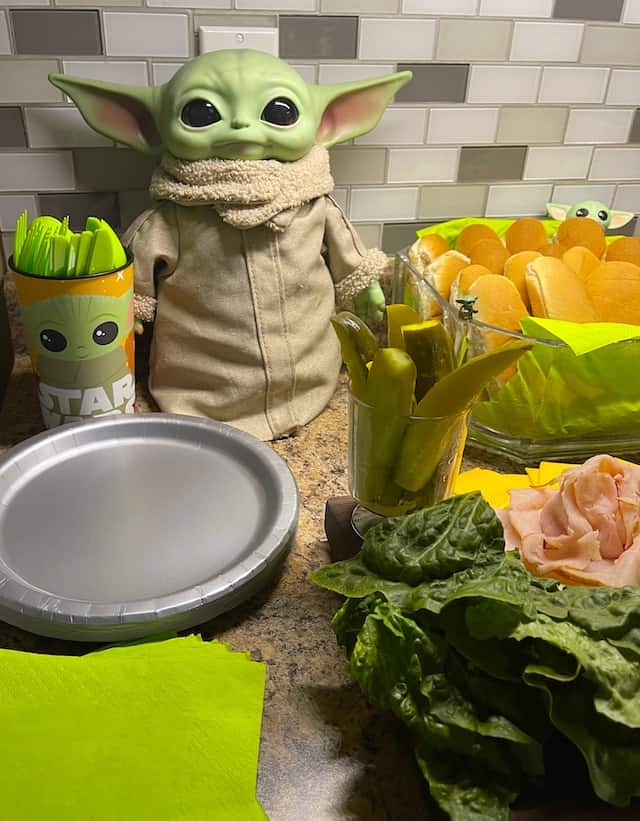 At our local party store, we were able to find an entire party kit that included the following fun birthday decorations:
Happy Birthday banner
Cupcake toppers
Stickers for goody bags
Candy bar wrapper labels for goody bags
Baby Grogu latex balloons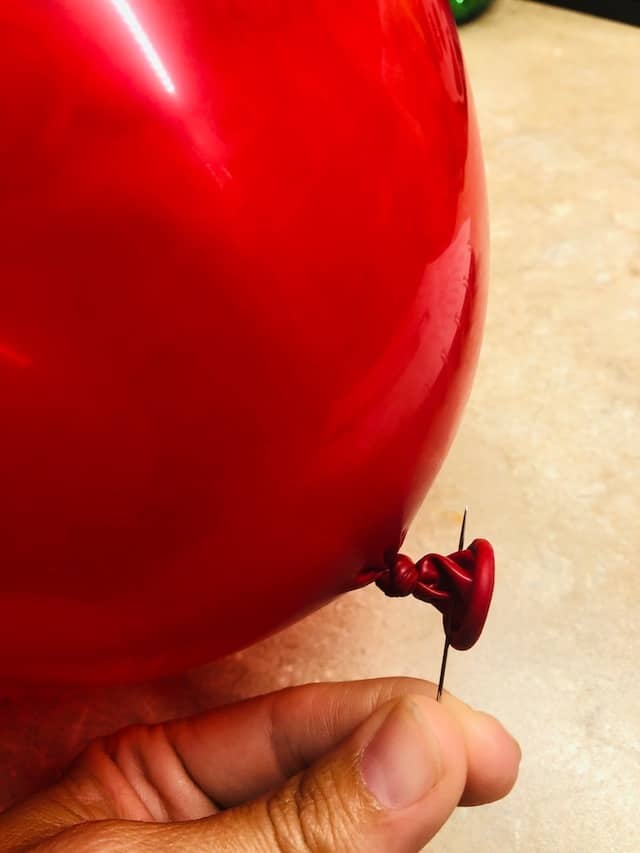 This was a great set to help get our party started off right. One of our favorite and super easy party decorations is the balloon garland. They have balloon kits to create these garlands, but this DIY trick makes it super easy and it so cost effective.
Simply choose balloons to coordinate with the colors of your party and tie them off as normal. Use fishing line and thread this through a sewing needle. Measure the length of fishing line that you will need for your space. Tie the fishing line off on the far right end.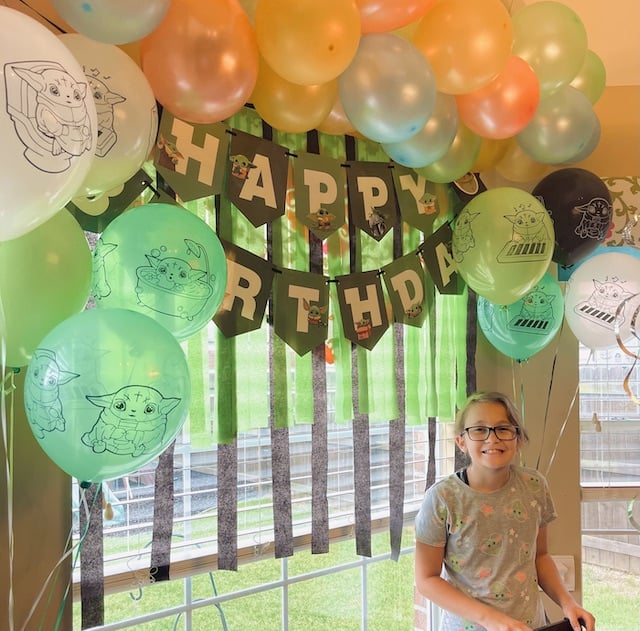 Place the needle through the tied off end of the balloon and push the balloon all they way down to the other end. Continue to string the balloons along this fishing line until it is nice and full. Tie off the remaining end and hang.
We purchased a party decorating kit from our local party store that included many of the decorations that we used. We also used a simply DIY trick to create a brightly colored balloon garland.
Our Menu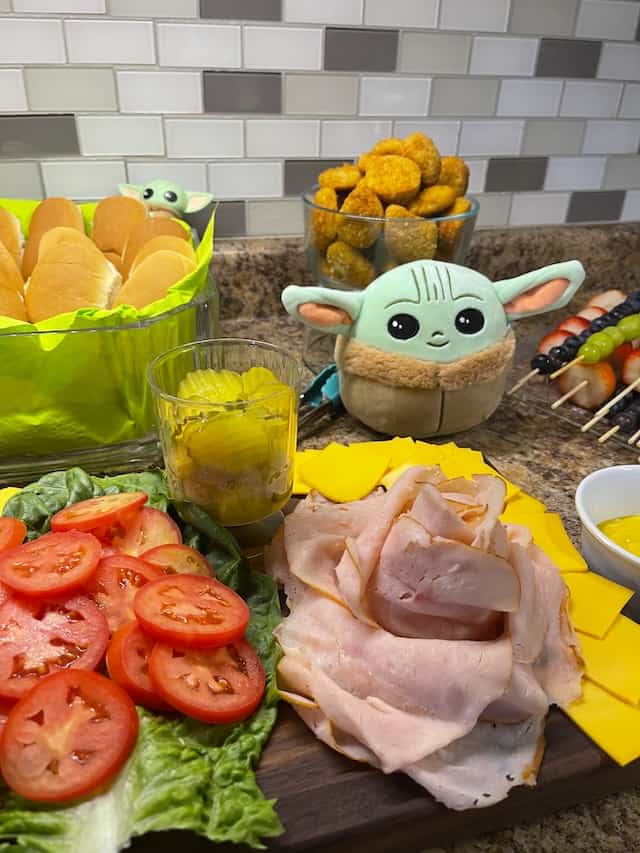 My daughter absolutely loves to party plan, and she loves trying all sort of food. She loves a charcuterie board and asked for a turkey one. This worked great for those guests who would like to make a turkey sub as well.
Of course, you can't host a Baby Grogu birthday party without also having a few "chicky nuggies" and "chocy milk."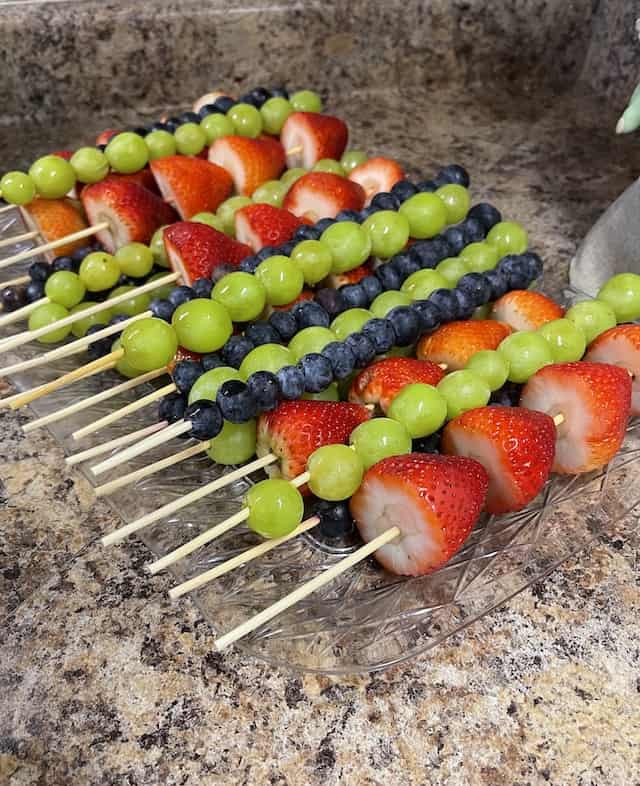 Party guests can wield the power of the force with their own personal fruit light sabers. I wasn't sure if we should make the fruit sabers with various fruit on a single skewer.
My daughter liked the look of a single type of fruit on the same skewer so that it looked more like a real light saber. I think she was 100% correct and by the end of the party all light sabers had been "chosen".
Time for Dessert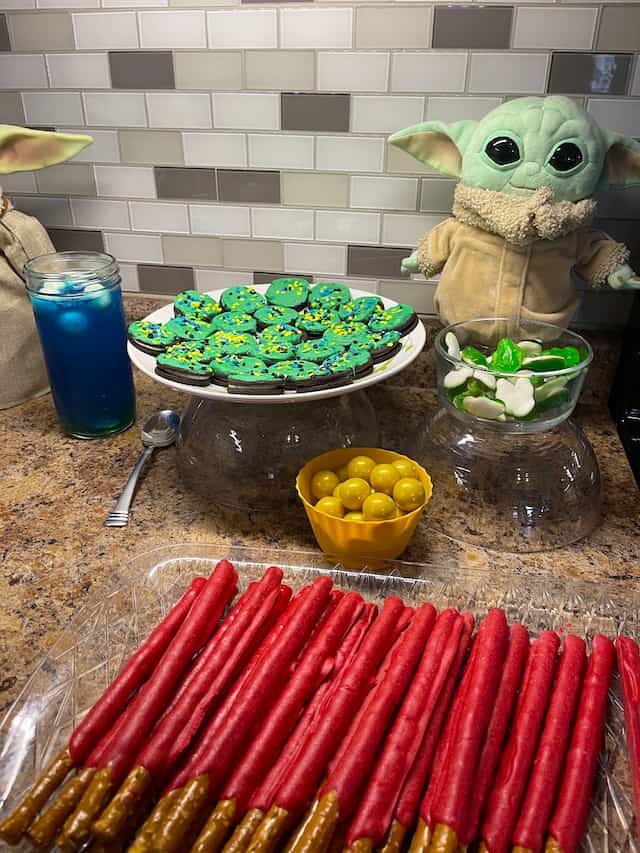 Really the favorite part of any party has to be the desserts. We continued with the light saber them by creating pretzel rod light sabers. Simply use colored chocolate melting wafers and melt according to package directions. I used a spoon to cover the end of the pretzel rod with this melted chocolate.
After each pretzel has been covered, place on wax paper and allow the chocolate to harden. Afterwards, place on your serving tray and get ready for your young Jedis to enjoy.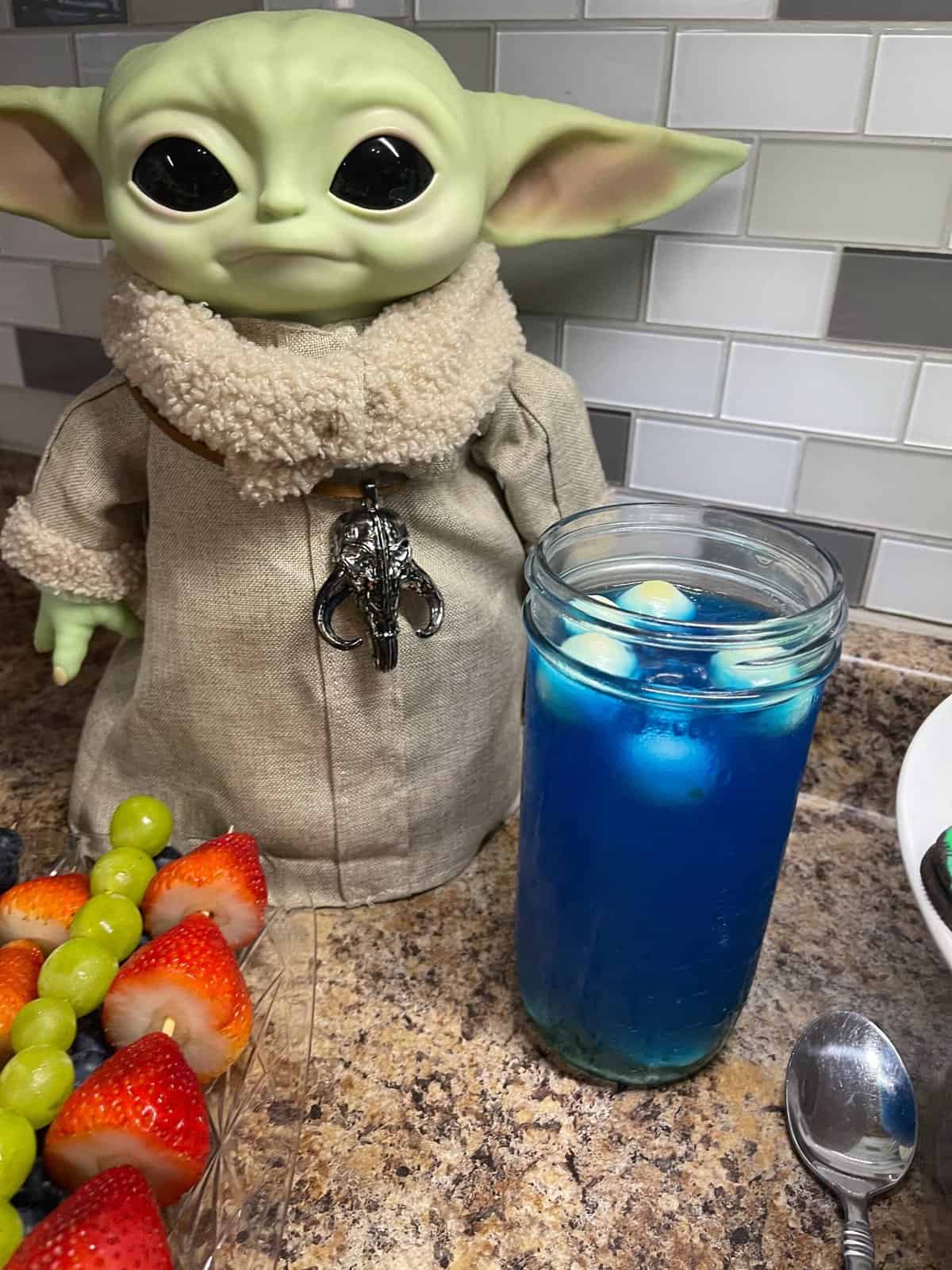 All fans of Baby Grogu know that he loves to enjoy a nice slimy frog and frog eggs. We had gummy frogs available for snacking. My kids absolutely loved the Mandalorian episode where Baby Grogu snacks on a few frog eggs. My daughter asked if we could recreate this for her party.
This took a little bit of thinking, but we finally developed a good plan. We prepared blue jello according to the package directions, and we poured this into a large mason jar. A few gum balls were added to the jello to appear to be frog eggs. For good measure we added the remaining gumballs for all of the guests to enjoy.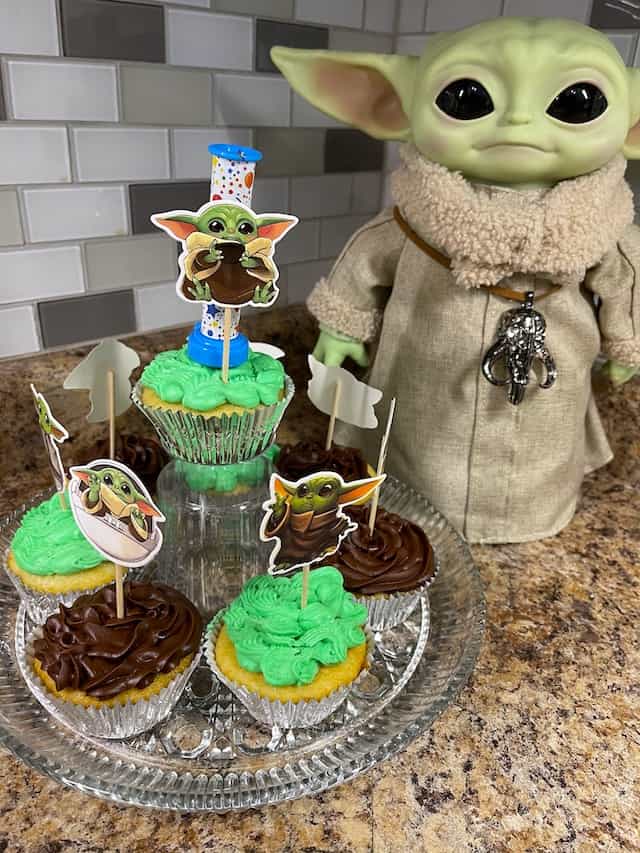 Every birthday party has to have cake, and my daughter opted for cupcakes for this party. We simply placed the Baby Grogu cupcake toppers that were included in our party pack.
Party Game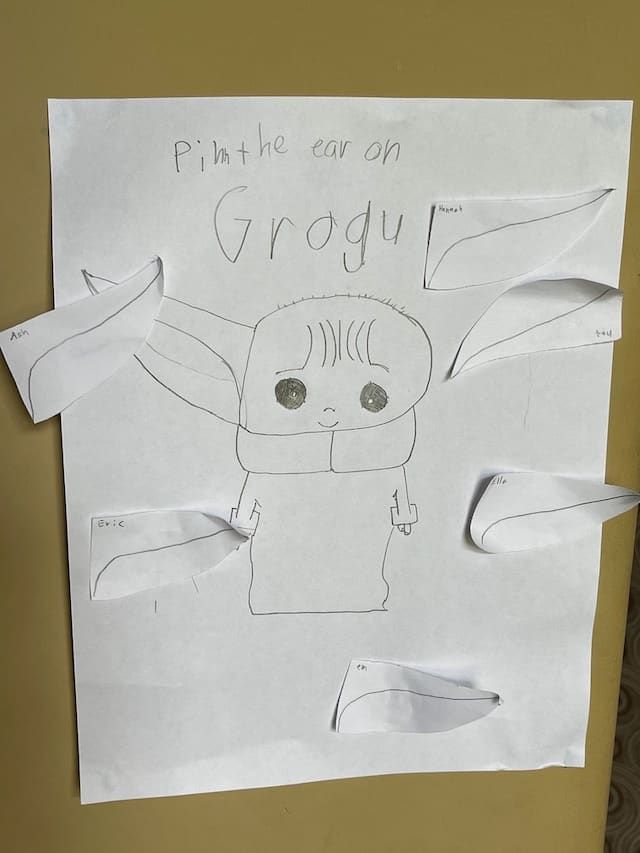 My daughter is pretty creative, and she wanted to create a game for her friends to enjoy. This is her "Pin the ear on Baby Grogu" game. She did such a great job. I love all of the little ears.
Each party guest took their turn wearing a blind fold. They were spun around in a circle. One full turn for each year they had been alive. This made it super fun for adults to watch.
Guests then tried to attach Baby Grogu's ear as close to where it belonged as possible. This was such a fun game for a large variety of ages.
"Pin the ear on Baby Grogu" game is very easy to create and fun for a variety of ages.
Party Favor Bags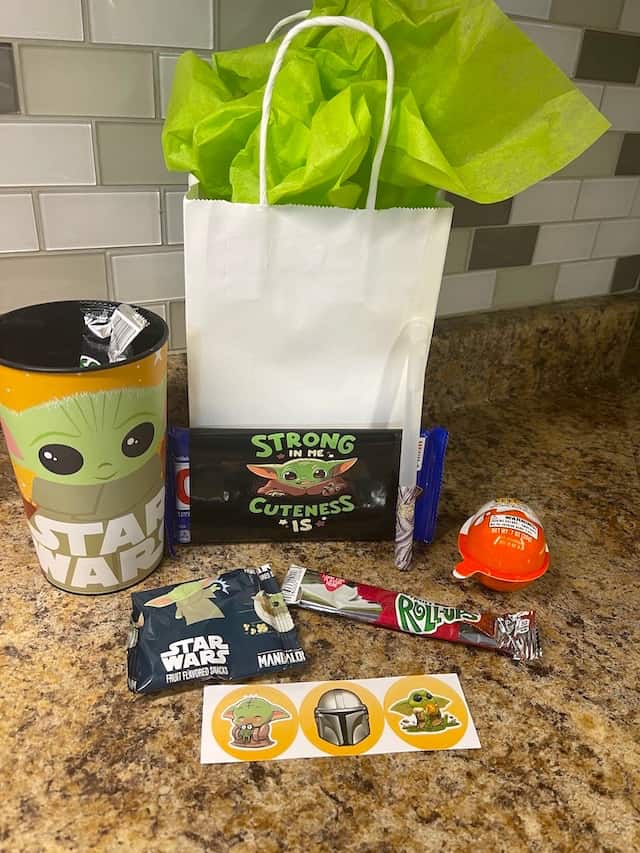 Each guest received a Baby Grogu themed party bag to take home with them. We included a plastic Baby Grogu favor cup that we found at our local dollar store.
A few yummy "snacks-snacks" were included such as Mandalorian themed gummy snacks and fruit roll-ups. We used our candy bar sticker labels from our party decorating kit to create a fun treat for Guests. My daughter used a glow stick and wrapped wasabi tape at the bottom to create a light saber for each guest to enjoy at home.
This was such a fun party to enjoy with my young Jedi. My family loves a party and we shared a couple of our parties with our Pirate Crew including a Mickey Mouse themed party and a Finding Dory movie party. We also have a Toy Story movie night with food and games on the blog.
Do you and your family enjoy The Mandalorian? Have you always wanted to host a Baby Grogu party, but you weren't sure how to plan it out? Which party tips did you enjoy the most? Share your thoughts with us on our Facebook Page.
Are you planning a vacation? Reach out to our trusted travel agency sponsor Authorized Disney Vacation Planner
Mouse Class Travel
!