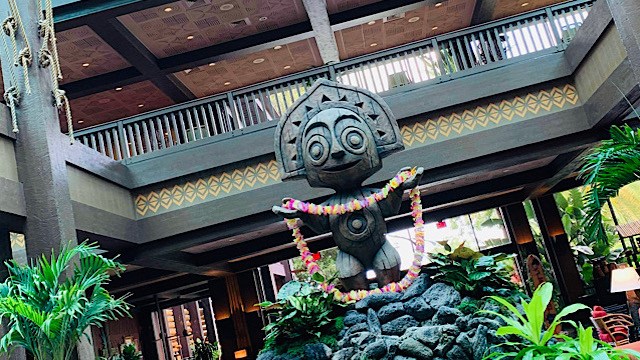 This week many new policy changes have been announced both in Florida and in many Florida Theme Parks. Find out the most recent change to temperature screenings at Walt Disney World.
Florida Executive Order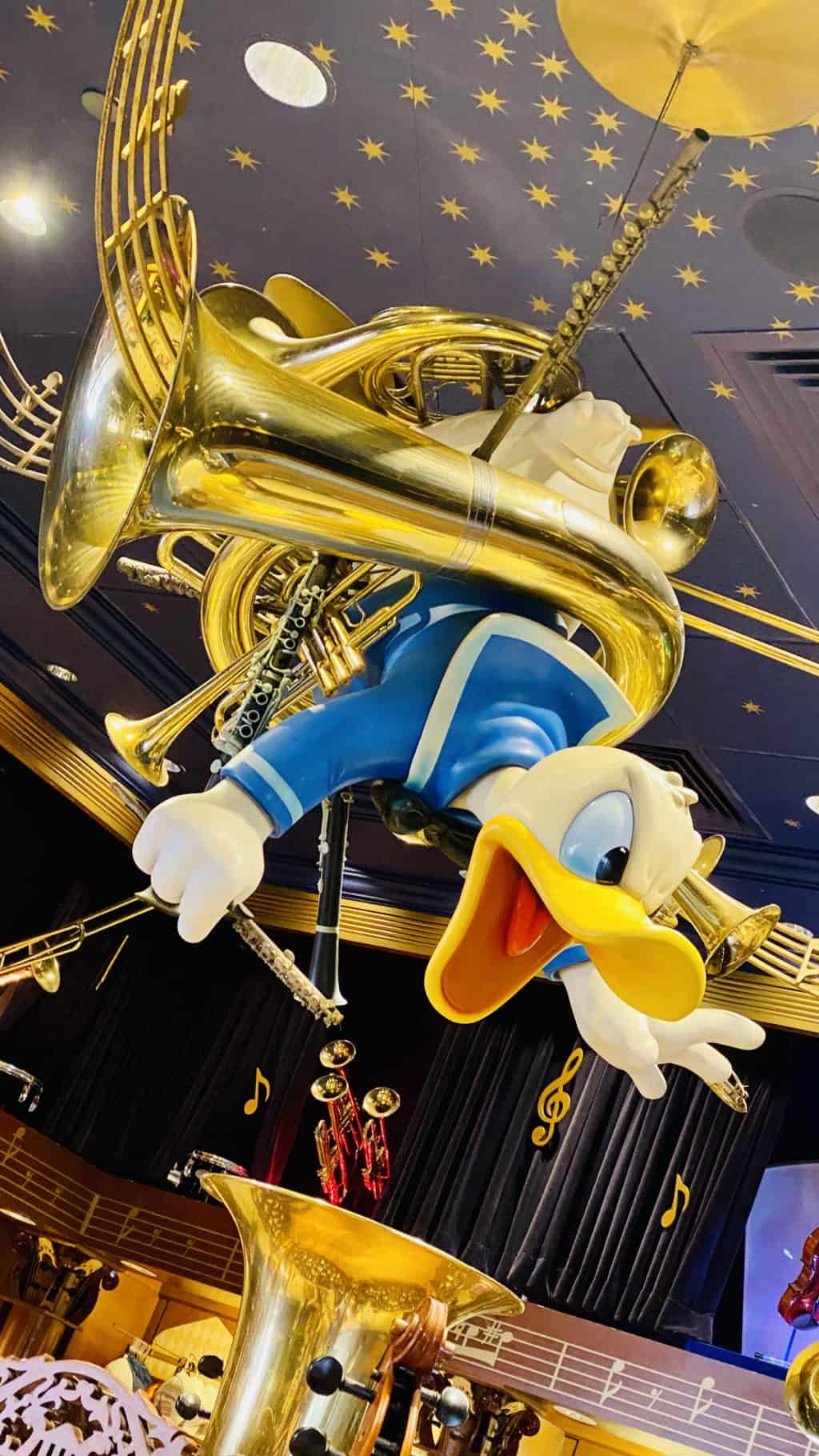 This week, Florida Governor, Ron DeSantis, announced in a press conference that he will sign a bill and an Executive Order that will be effective July 1, 2021. This new Executive Order will invalidate any existing COVID orders. Read more about this HERE.
Many questioned what this may mean for Walt Disney World. Walt Disney World released a statement to Guests assuring them that current health and safety protocols would remain in place and would be reevaluated. Check this statement out HERE.
Temperature Screeing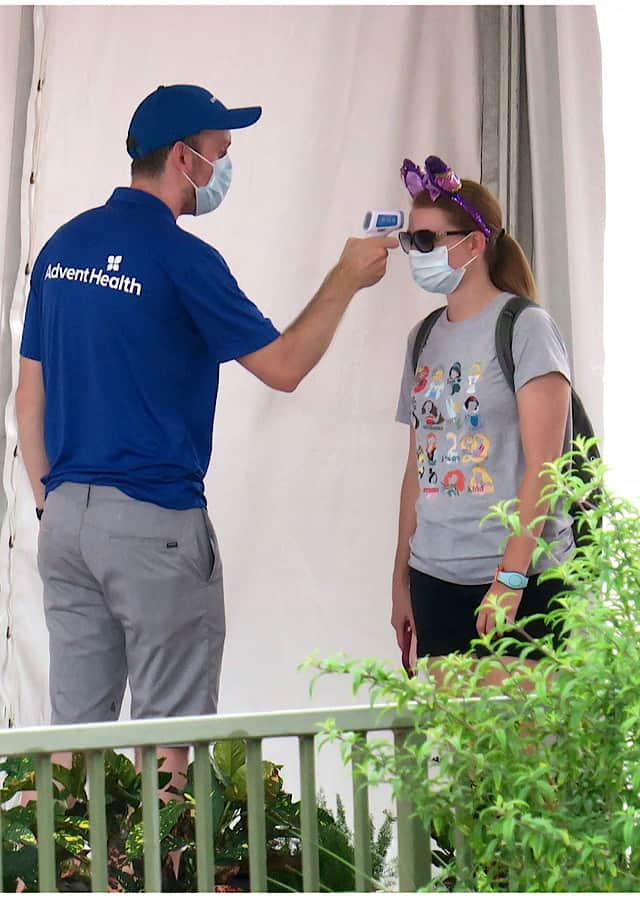 Temperature screenings have been in place at Walt Disney World Theme Parks and restaurants since July of 2020, in an effort to keep Cast Members and Guests safe.
However, after recent studies and CDC guidelines have deemed temperature screenings unnecessary, Disney has decided to phase them out. You can see the timeline for phasing out temperature screenings for both Cast Members and the date for Guests HERE.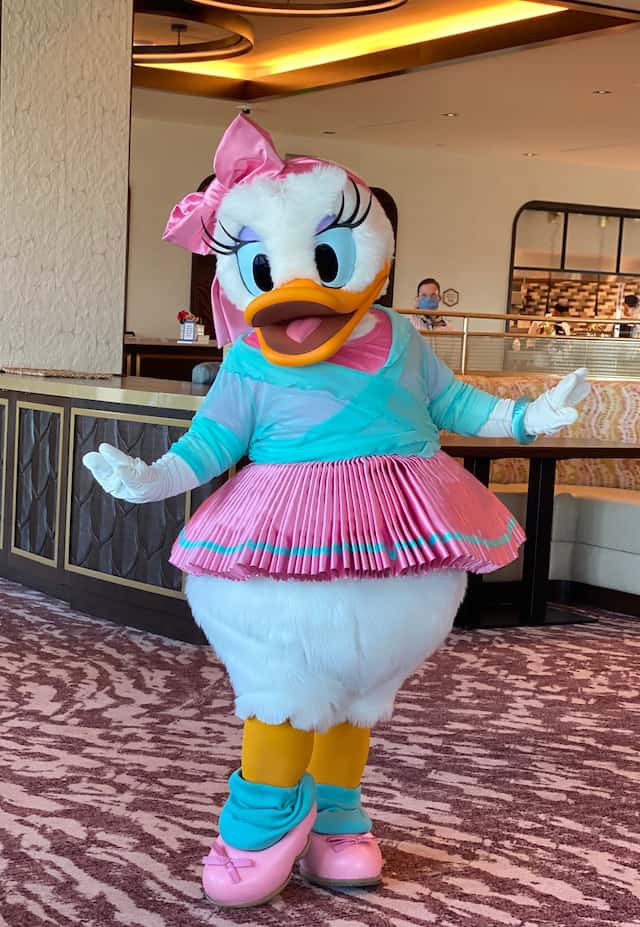 Today, the Walt Disney World website changed the wording regarding temperature screenings. Previously, temperature checks were required to dine at Disney Resort table service restaurants.
Guests with dining reservations would check in at the table service location and would receive a notification through the My Disney Experience app when their table was available. Once returning, to the dining location each member of the dining party would have their temperature scanned.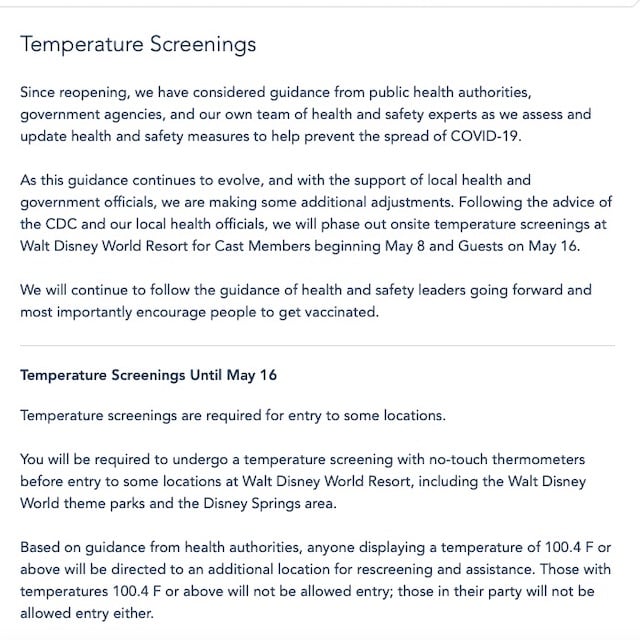 The previous verbiage on the Walt Disney World website included Disney Resort dining locations with mandatory temperature screenings. Now, the Walt Disney World website simply states that temperature screenings are required for entry to SOME locations and not ALL locations.
Temperature screenings are no longer mandatory at all Disney locations including Disney Resort table service dining.
At this time, we aren't sure if some or all table service dining locations will no longer require temperature screenings. This seems to be the beginning sign of the shift towards more a more "normal" Park experience.
What do you think of the elimination of temperature screenings? What did you think of temperature screenings before dining? Do you think that a change may be coming for face masks in the near future? Share your thoughts with us on our Facebook Page.