Foodies, assemble! Walt Disney World is in the process of rolling out delicious new food offerings.
New Disney Food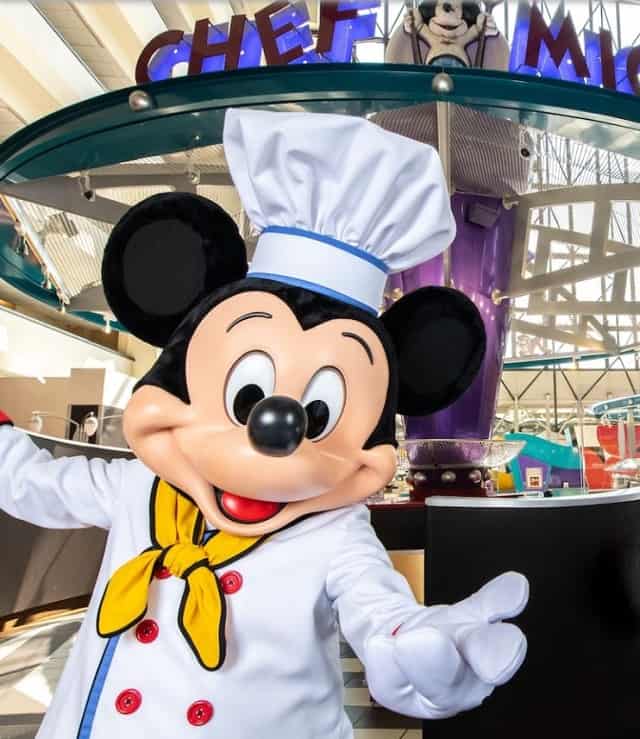 I know I am not alone when I say absolutely love Disney Parks food. The stuff has its own fandom. While there are some people who find the food wholey unimpressive, it is part of the reason others, including myself, keep going back. I want to indulge in all the treats whether they are familiar favorites or new found delicacies.
Now, Mickey is serving up something new. Walt Disney World has started rolling out new foods for guests to enjoy. From Raya and the Last Dragon inspired creations to gloriously cringeworthy hot dog and doughnut combinations, there is sure to be something to intrigue every palate.
Raya Treats in Animal Kingdom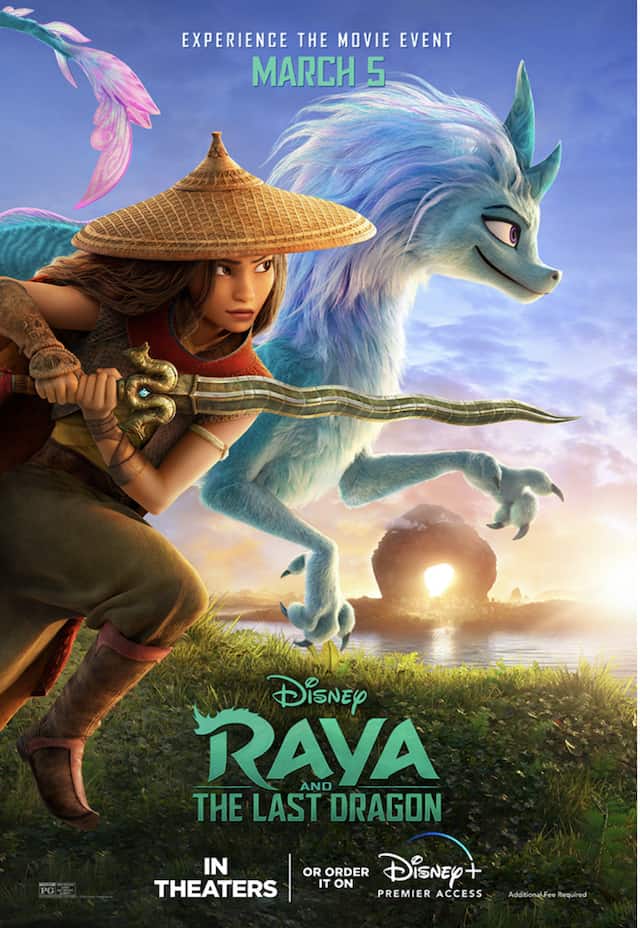 Disney animation fans excitedly anticipate the arrival of the upcoming animated film Raya and the Last Dragon. This is the most excited I have personally been for a new release since Frozen II. If you want to check out the latest trailer for yourself, click here.
Now, Disney's Animal Kingdom will celebrate the latest film in the form of sweet treats. And honestly, does a better way to celebrate something than a day enjoying sweets in Animal Kingdom even exist?
Where to Find Them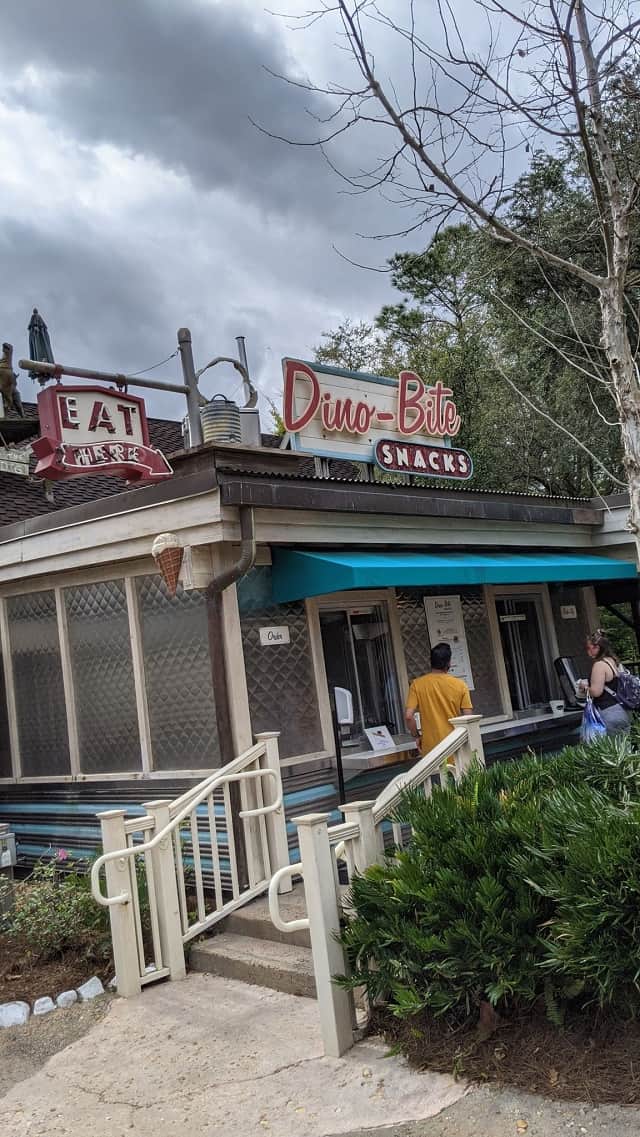 The new Raya and the Last Dragon treats appeared on the scene on Monday, February 22. Kenny spotted some of them in the parks on Monday.
These include the Baby Tuk Tuk Ice Cream Sundae. This dish can be described as "Chai-spiced caramel cake, chai caramel sauce, vanilla ice cream, green tea cake crumbs, salted caramel crispy pearls, and edible image of Baby Tuk Tuk" (Disney Parks Blog 2021).
It will be available starting Feb. 22, 2021. Guests wanting to sink their teeth into it can find it at Dino-Bite Snacks.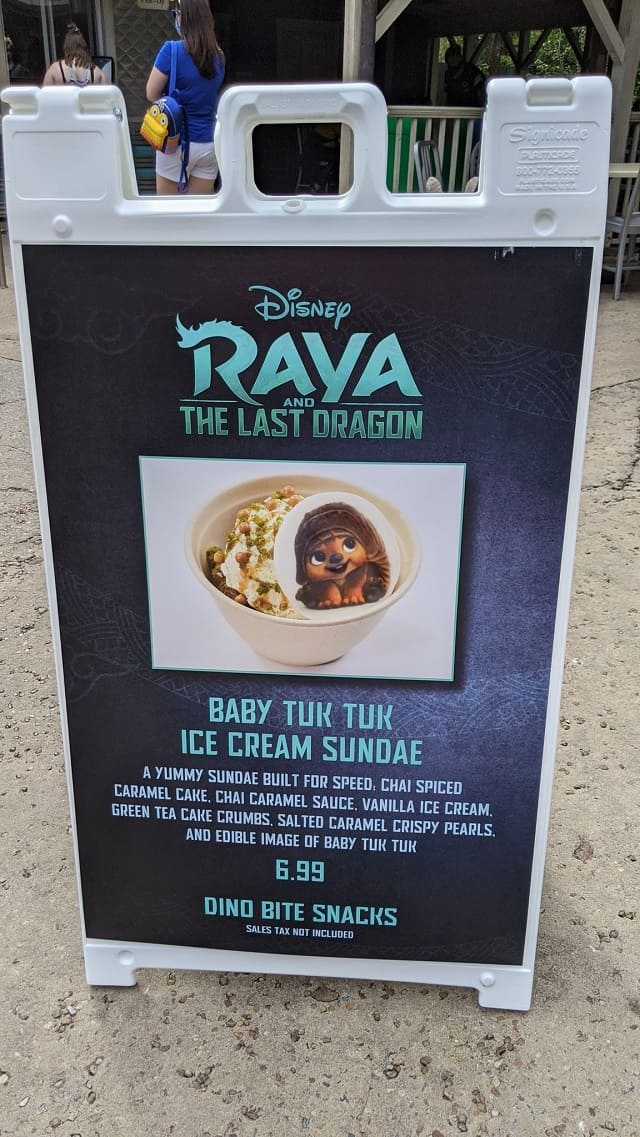 I love Chai, so I simply must have it. I don't know Baby Tuk Tuk just yet other than what I have seen in the Raya trailers, but I imagine I will be a fan!
If you prefer soft serve, you might want to try the Mighty Mist Soft-Serve . Disney Parks Blog describes it as a "twist of strawberry and vanilla soft serve with blue-tinted white chocolate- dipped waffle cone rolled in sparkling sugar" (2021).
This dreamy sounding ice cream creation is exclusive to Anandapur Ice Cream Truck. Availability began on February 22, 2021.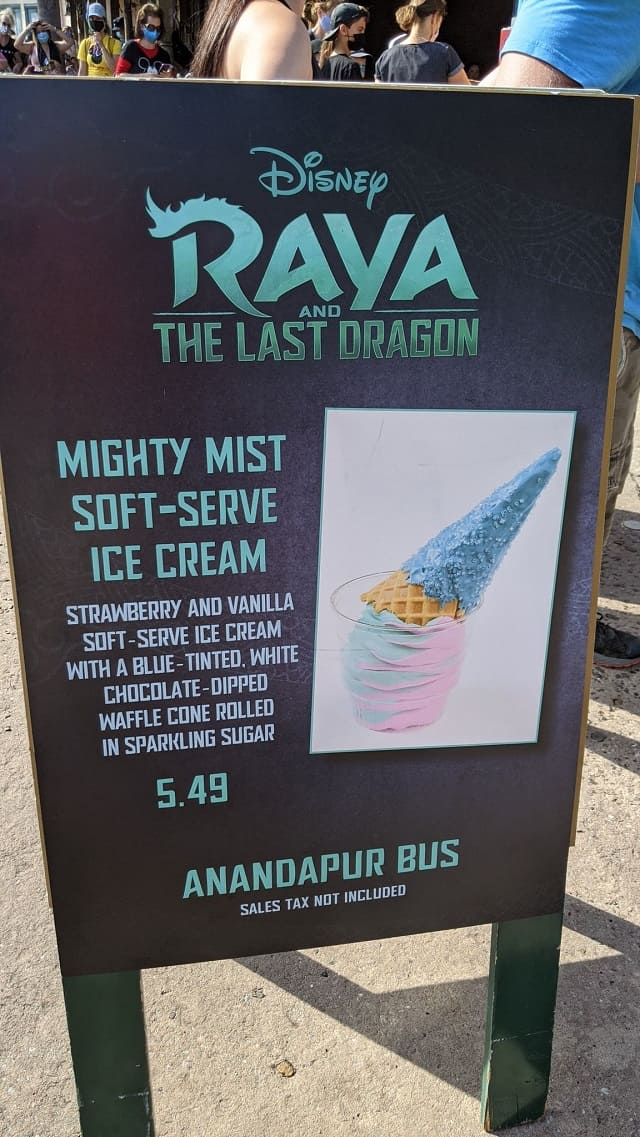 The final treat is Baby Tuk Tuk Mousse, which is a "5-spice mousse on top of chocolate cake, milk chocolate cream, chocolate velvet 'shell,' and chocolate crispy pearls" (Disney Parks Blog 2021). It is available at Creature Comforts Coffee Shop and Isle of Java. Like the other Raya treats, it debuted on February 22, 2021.
If you are a Passholder and venture over to Animal Kingdom between now and mid March, you can enjoy some limited time offer Annual Passholder Exclusives while you are there. Check them all out right here.
New Magic Kingdom Treats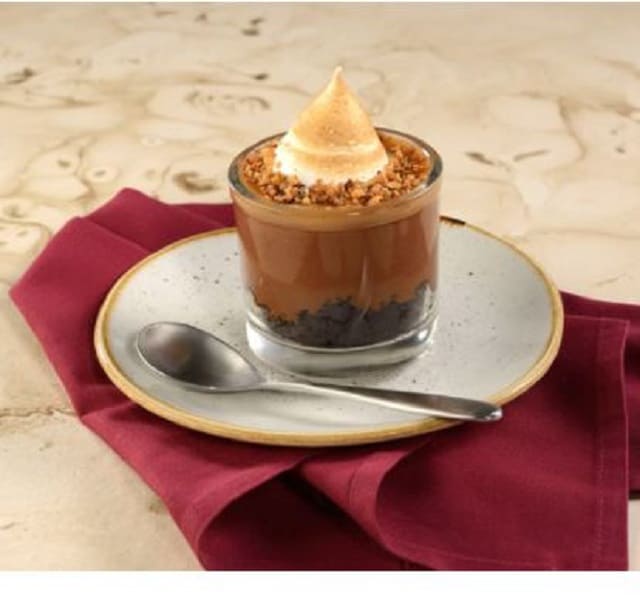 Disney's Magic Kingdom will offer a new pair of treats of its own. There is no specific date range on these new menu items, so keep an eye out for them if you want to try them.
First up, Tony's Town Square Restaurant has a new menu item called Hazelnut Budino . Expect this dessert to include a "creamy chocolate-hazelnut custard with chocolate torta topped with caramel, toasted meringue, and pralines" (Disney Parks Blog 2021).
Tony's Town Square has a reputation for being mediocre or "fine." While it is not a food lover's paradise, I do hear from some of my fellow Disney pals that it is improving. This dessert sounds like it might be a winner in terms of new offerings.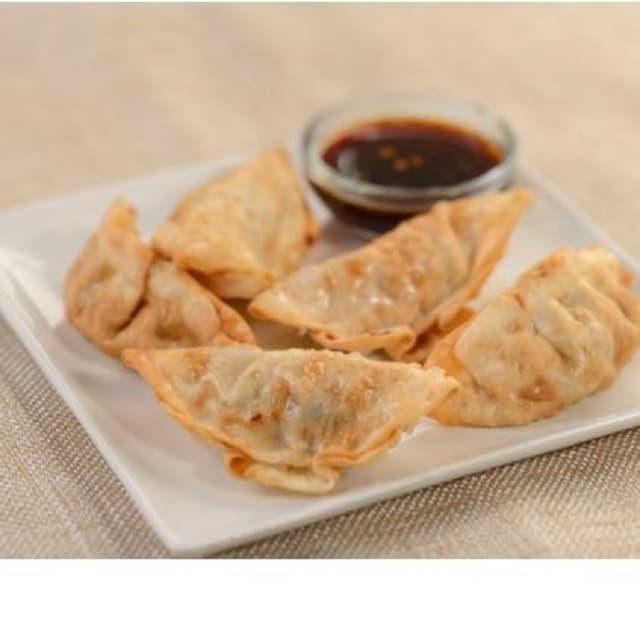 Over in Adventureland, Sunshine Tree Terrace of Orange Bird fame has a new savory option. It comes in the form of fried pork and vegetable pot stickers accompanied by orange-sesame-ginger sauce.
I imagine the pot stickers will pair well with an Orange Cream or traditional Citrus Swirl float. I'd love to give it a try!
Resort Foods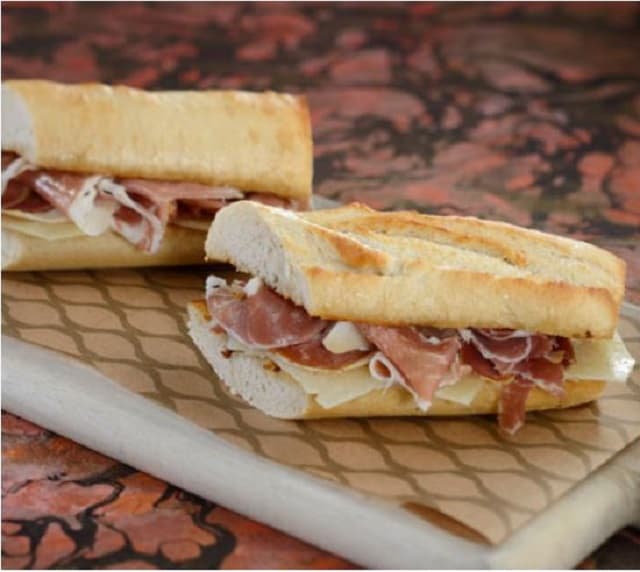 Disney's Coronado Springs is bringing guests some new flavors. It's Dahlia Lounge is home to both.
Offerings include a Ham and Cheese Bocadillo. It is described as: Jamón serrano, Manchego cheese, roasted garlic aïoli, and honey on a toasted baguette.
Newly imagined Chicken Wings have also flown in. These spiced sherry-honey glazed chicken wings are sure to provide a sweet kick.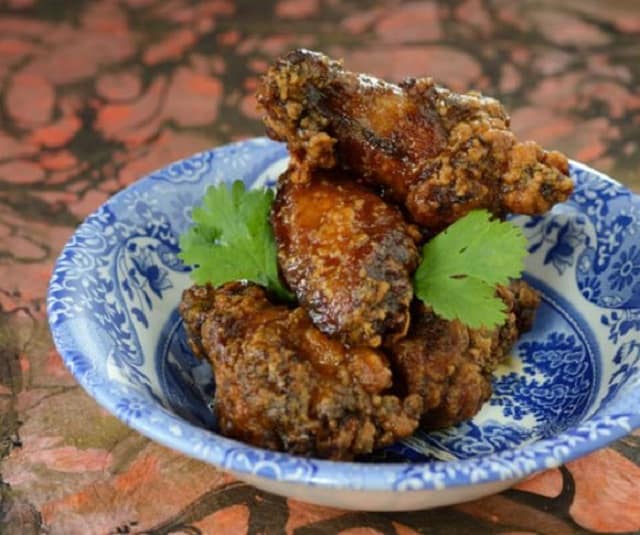 Additionally, Three Bridges Bar & Grill at Villa del Lago is bringing back gurst favorite Sangria University! A sangria sommelier will take guests through the nuances of four house made sangrias paired with appetizers. Guests will make their own Sangria at some point during the experience.
Classes will be extremely limited. For available dates and times, potential guests should email WDW.Sangria.University@disney.com.
Disney Springs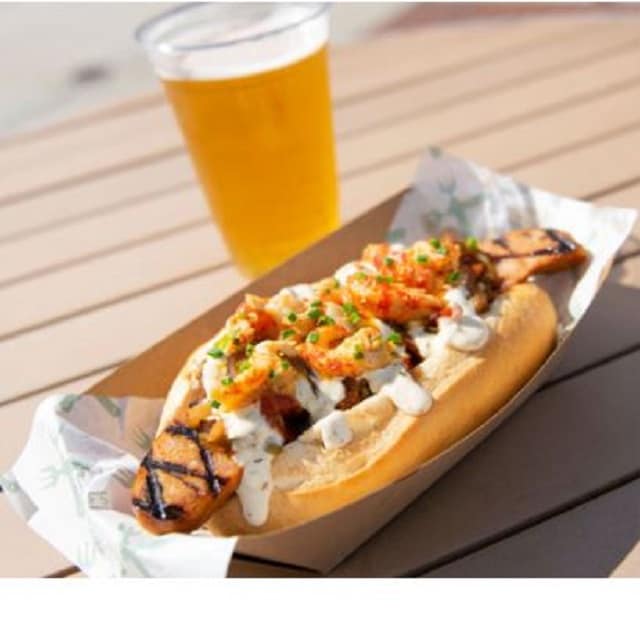 Disney Springs, Disney's shopping and entertainment district, has some new food offerings of its own. These are perhaps the most over the top.
The first one, the Mardi Gras Smoked Crawdog, comes from B.B. Wolf's Sausage Co. This "hot dog" is really smoked Andouille sausage topped with crawfish, lemon caper aïoli, and creole pepper sauce on a roll.
Also available in hotdog land is The King Dog. You can find this one at Hot Diggity Dog Food Truck.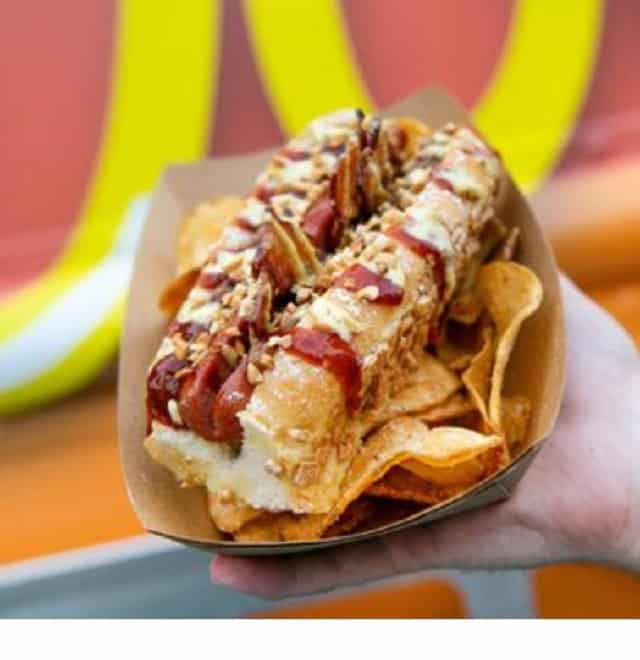 This all Beef Hotdog has been dipped in French Toast Batter and comes on a cereal-crusted bun. It is served it Spicy Peanut Butter Spread, Banana-Honey Mustard, Chipotle-Berry Preserve, and Billionaire's Bacon (Disney Parks Blog 2021).
Everglazed Donuts & Cold Brew has a new treat available ONLY through February 28, 2021. The chocolate Mint Donut is a tribute treat inspired by none other than the iconic Thin Mint Girl Scout cookies.
Disney's Hollywood Studios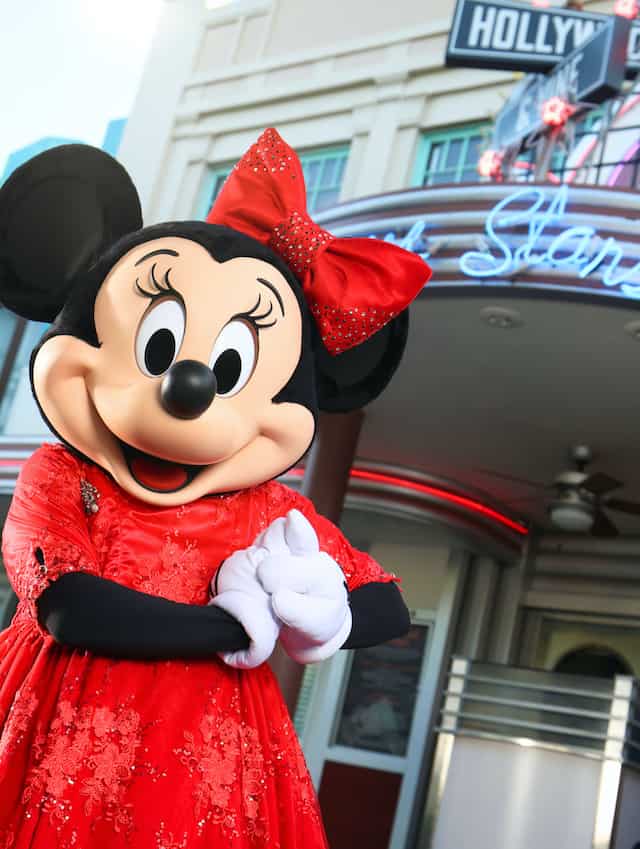 You may have also read that an old favorite is returning to Disney's Hollywood Studios. Hollywood and Vine's Disney Junior breakfast is returning!
For the full story about its reopening, head on over here. You can also view the new menu right here. Let's hope more experiences make the return soon!
Where is a person to begin with all these treats? What will you be trying on your next visit?
Let us know what you think in the comments below or on our Facebook page. Or keep the conversation going and share them with us in our crew too!