Have you wondered if the Festival of Fantasy Parade Dining Package is worth doing?  Here are my thoughts on using the package for a reserved area for watching the Magic Kingdom parade.
Quick Take
If you are looking for an opportunity to enjoy a delicious lunch and guarantee yourself an excellent viewing location for the Festival of Fantasy Parade, look no further than the Festival of Fantasy Dining Package.
For a cost of $54 per adult and $19 for children ages 3-9, individuals who purchase this package receive an appetizer, entrée, dessert, and nonalcoholic beverage from Tony's Town Square Restaurant. Plus, a VIP viewing voucher for the Festival of Fantasy Parade in Town Square at the end of Main Street is included.
VIP viewing takes place by the Main Street, U.S.A. flagpole and is valid for that day's showing of the Festival of Fantasy Parade at either 2 p.m. or 3 p.m. (depending on the day's schedule).  The parade schedules are always easily found here on the Crowd Calendars.
Our Father's Day 2019 Experience:
My son (age 2.5) is a HUGE Lady and the Tramp fanatic.  If it were up to him, he'd watch the movie daily, articularly the very beginning scenes when Lady is just a puppy.  When I discovered the Festival of Fantasy Dining Package with lunch at Tony's Town Square Restaurant, I knew it was a "must-do" experience for my family.
We had a later lunch reservation (1:20 p.m.) booked for our party of seven for Father's Day, June 16, 2019.  Tony's is located near the end of Main Street close to the park's entrance. 
After meeting Mickey and Minnie at Town Square, we walked next door for our dining experience.  Note: Festival of Fantasy Parade was scheduled for 3:00 pm on this day.
Walking off of the hustle and bustle of Main Street into the serenity of Tony's Town Square provided just the break my family needed.  While waiting for our table, my son was able to sit down and watch Lady and the Tramp in the restaurant's lobby.  He loved having a little bit of downtime in the air conditioning!
We called approximately ten minutes after we arrived and we were escorted to our table.  Upon arriving at the table, we were immediately handed our vouchers for our VIP seating for the 3:00 p.m. Festival of Fantasy Parade.
The Food
As mentioned above, the parade package includes an appetizer, entrée, dessert, and nonalcoholic beverage for each person.  This is a lot of food!
In our party of seven, we sampled many different menu items! Some of our favorites were the fried mozzarella and garlic-parmesan wings for appetizers, the Roman-style Steak and the Italian Trio for entrees, and the chocolate-hazelnut cake and tiramisu for dessert.
My not-so-adventurous eater enjoyed two different fruit sides and Mac and Cheese.  Additionally, he wasn't charged at all for his meal, as he was under 3.  I know that at buffets this is standard, but, as this was an individually plated meal, I fully expected to pay for his dish.  This was a very nice surprise!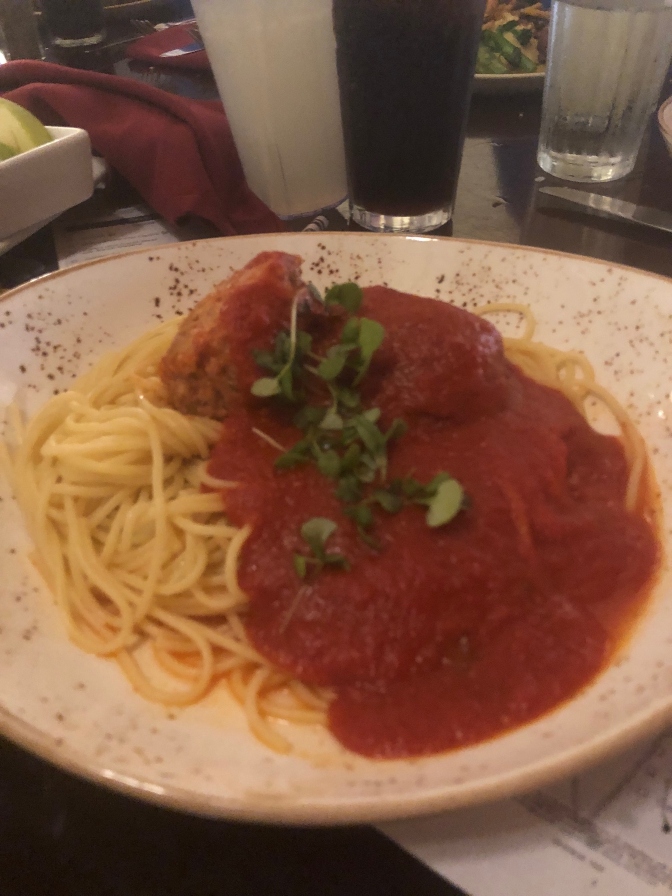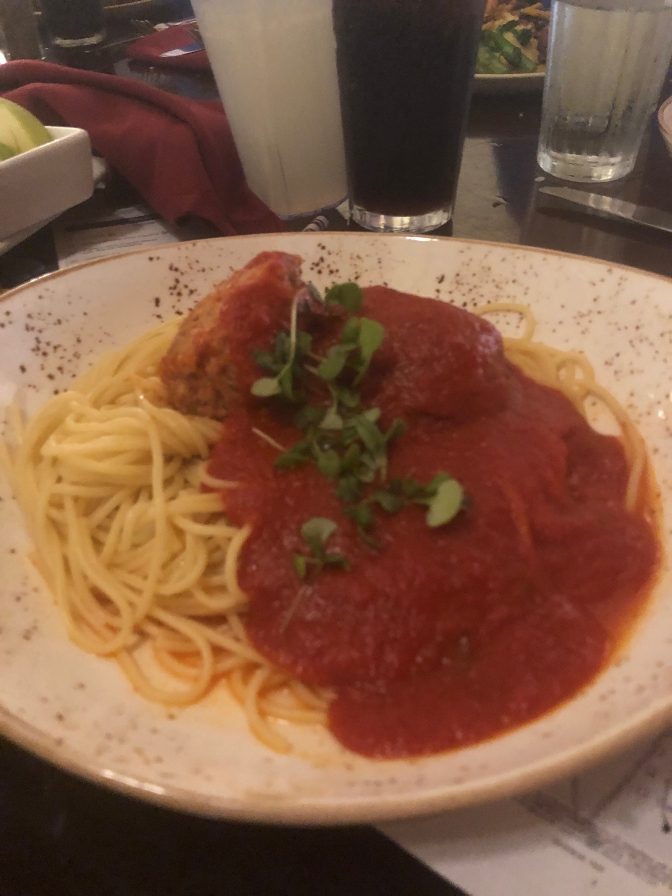 Overall, the entire dining experience lasted about an hour and a half, as we were finished paying out bill around 2:50, approximately ten minutes before the parade was slated to begin.
This lasted a little longer than I would have hoped.  I was paying a premium price for my day at the Magic Kingdom and also paying additionally for this dining parade package, so overall the cost-per-minute was a little more than I desired.  It was great, though, to be able to enjoy a relaxing meal and to enjoy the air conditioning during a hot June day.
The Parade
After eating, we went out to the reserved location for the parade.  The parade happened in the middle of a summer downpour, so many people who had purchased the reserved package location by the flagpole instead opted either not to come or to stay under the shelter of the buildings along Main Street.
My husband, son, and I decided to brave the weather in our ponchos and used our VIP location.  While it was definitely a very wet experience, it is still one of my favorite memories from our vacation!  The characters interacted with us and my son had a blast playing in the rain!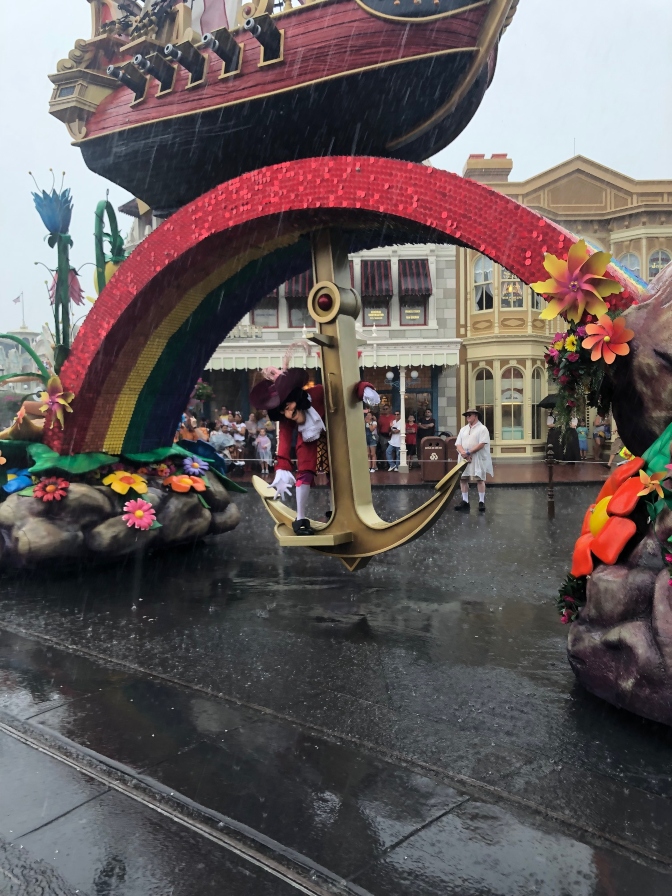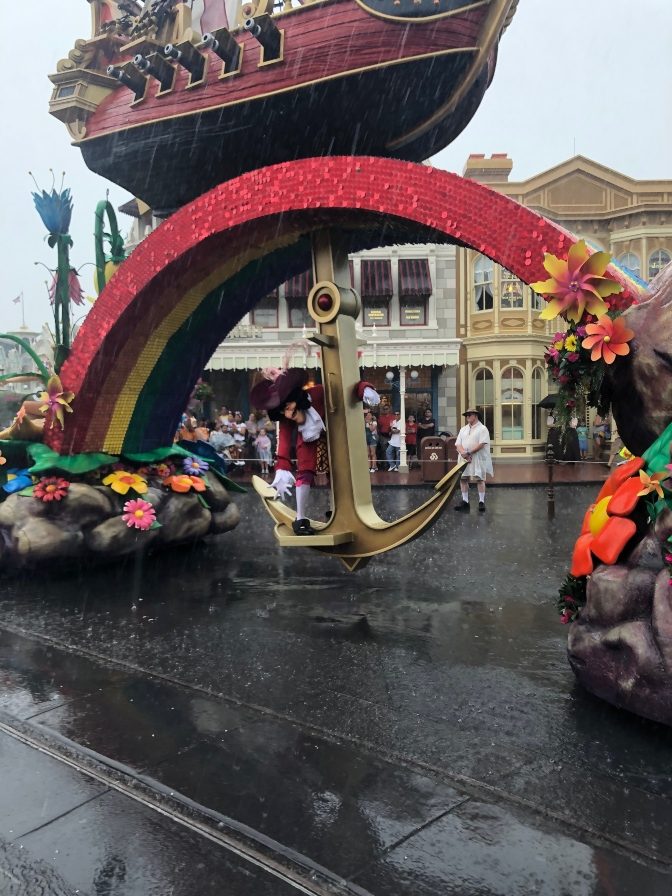 Overall, I would recommend the Festival of Fantasy Parade Dining Package to anyone who is looking for a way to enjoy a great meal and guarantee an excellent viewing location for the parade.
While the meal at Tony's is time-consuming, it is delicious and provides a lot of food.  I was hesitant when we booked because I had heard some not-so-stellar reviews of the food at Tony's, but our experience was overwhelmingly positive.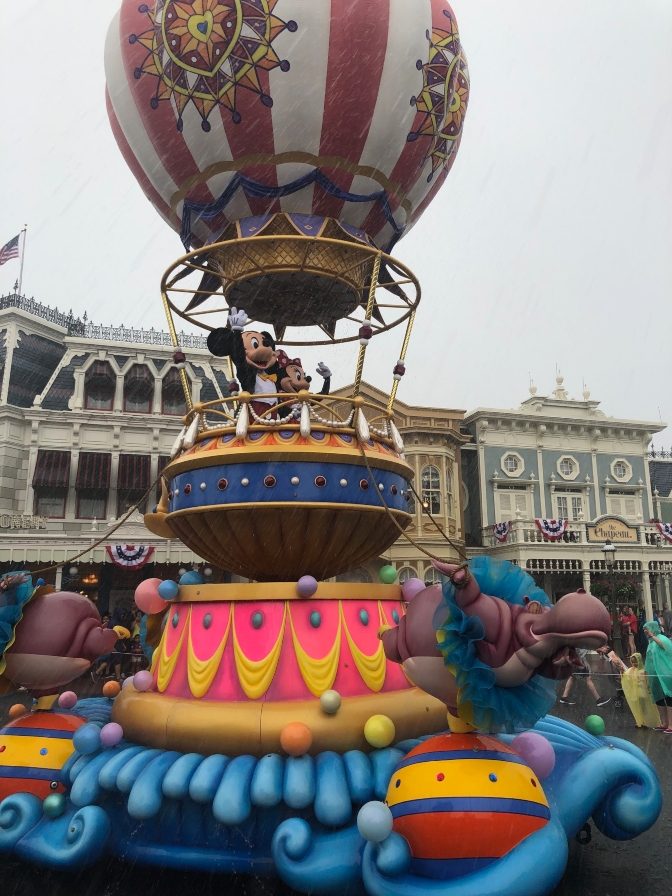 If you plan to book this package, I would recommend not making big breakfast or supper plans. You will want to be hungry to eat when you arrive and you will leave very full! 
Another consideration is that the parade viewing location provides no shelter from the elements.  Whether you are caught in a downpour like we were or are experiencing the hot, Florida sun, you need to be willing to brave the elements to fully enjoy your VIP location.
This is not an experience I'd book every trip, but it was great for my son's first trip to the Magic Kingdom and his first parade experience.
Have you ever eaten at Tony's?  Did you enjoy the food?  Do you have a favorite parade viewing location? Share with us on the facebook page!
-Jaelyn Winkle