Christmas around Epcot's World Showcase will look different this year as there will be no Storytellers. Follow along on my adventures as I share with you how each country in Epcot's World Showcase celebrates Christmas while looking back at the storytellers of years past. Today we focus on Kwanzaa and Hanukkah.
Christmas Traditions at Epcot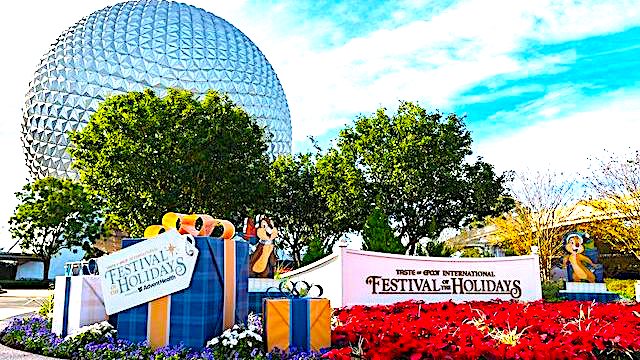 One of my favorite traditions while visiting Epcot around the holidays is for me and my youngest daughter to visit each and every Storyteller's event during our trip to Epcot.
As a Sociologist, who teaches and studies culture, it makes my heart so happy to be able to partake in learning and participating in the vast array of Christmas traditions that countries practice around the world.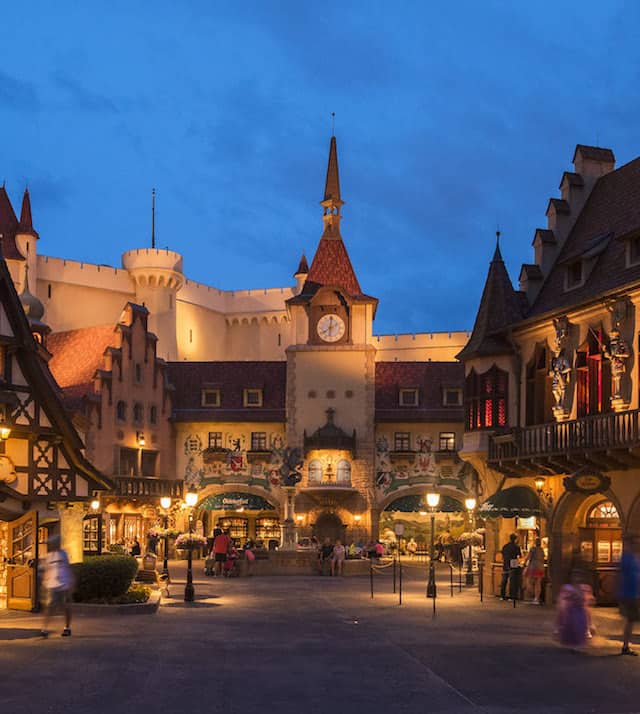 So far in our 12 part series, we have already visited the holiday customs and traditions from Canada, the United Kingdom, France, Morocco, Japan, Italy and Germany.
Today, we continue our adventures as we learn more about the traditions and customs celebrating Kwanzaa and Hanukkah which are showcased in the World Showcase at Epcot during the holidays.
Kwanzaa
Kwanzaa is an African-American celebration of culture and life that is celebrated from the 26th of December to the 1st of January.
Dr. Maulana Karenga first introduced the festival and customs in 1966, during the Civil Rights Movement, to the United States as a ritual to welcome the first harvests to the home.
Kwanzaa is a Swahili word that means "first" and signifies the first fruits of the harvest.
The holiday's name includes an additional "a" so that it would have a symbolic seven letters.
Kwanzaa decorations in family households include objects of art and colorful African clothing. Traditional kente and kaftans are worn throughout the celebrations of Kwanzaa.
It is customary to include children in Kwanzaa ceremonies and to give respect and gratitude to ancestors.
The 7 principles of Kwanzaa
Each of the seven days of Kwanzaa is dedicated to one of the following principles:
Umoja (Unity): To strive for and to maintain unity in the family, community, nation, and race.
Kujichagulia (Self-Determination): To define and name ourselves, as well as to create and speak for ourselves.
Ujima (Collective Work and Responsibility): To build and maintain our community together and make our brothers' and sisters' problems our problems and to solve them together.
Ujamaa (Cooperative economics): To build and maintain our own stores, shops, and other businesses and to profit from them together.
Nia (Purpose): To make our collective vocation the building and developing of our community in order to restore our people to their traditional greatness.
Kuumba (Creativity): To do always as much as we can, in the way we can, in order to leave our community more beautiful and beneficial than we inherited it.
Imani (Faith): To believe with all our hearts in our people, our parents, our teachers, our leaders, and the righteousness and victory of our struggle.
World Showcase Storytellers: Kwanzaa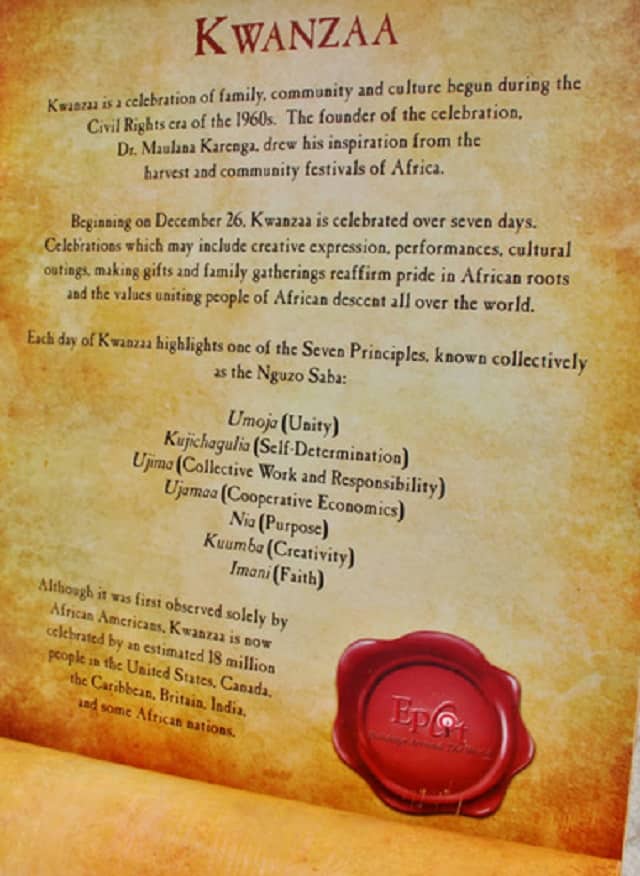 At the World Showcase located at the American Pavilion, guests were treated to the rituals and traditions of the wonderful celebration of Kwanzaa.
Unfortunately, Kwanzaa, a Holiday Story's final performance was in 2016.
Hanukkah
Hanukkah celebrates the Jewish Festival of Lights.
It celebrates the victory and the miracle that occurred in 166 BC (before Jesus was born) when the Maccabees defeated the large and powerful Syrian army driving them from Jerusalem and reclaiming their Holy Temple.
Hanukkah remembers the rededication of the 2nd Jewish Temple in Jerusalem, Israel where they relit the eternal candle.
The word "Hanukkah" derives from the Hebrew and Aramaic word for "dedication."
Hanukkah lasts for eight days and starts on the even of the Kislev 25, the month in the Jewish calendar that occurs at about the same time as the month of December.
Because the Jewish calendar is lunar (it uses the moon for its dates), Kislev can happen from late November to late December.
This year Hanukkah will begin on Thursday, December 10th until the evening of Friday, 18th of December.
Hanukkah is also a time for giving and receiving presents. Gifts are often given on each night.
The most popular game played during Hanukkah is 'dreidel' (Yiddish) or 'sivivon' (Hebrew). It's a four sided top with a Hebrew letter on each side.
The Menorah
During Hanukkah, on each of the eight nights, a candle is lit in a special menorah (candelabra) called a 'hanukkiyah'.
There is a special ninth candle called the 'shammash' which is used to light the other candles. The shammash is the center candle and has a higher position.
On the first night one candle is lit, then on the second night, two are lit until all are lit on the eighth and final night of the festival. Traditionally the candles are lit from left to right.
A special blessing thanking God is said before or after lighting the candles and a traditional Jewish hymn is sung.
World Showcase Storytellers: Hanukkah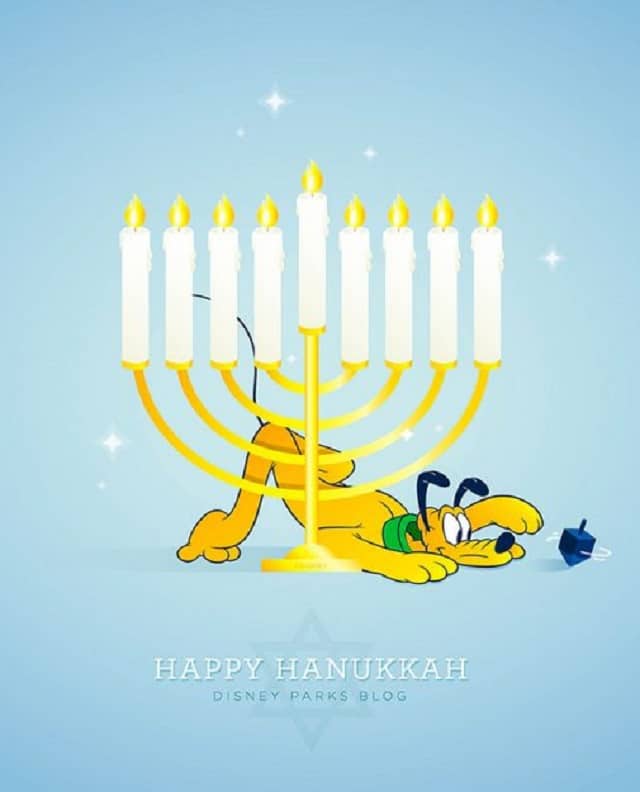 There have been two different storytellers that have shared the story of Hanukkah at the World Showcase.
The first was Sarah who was located in the American Pavilion. She took guests on a journey about the Festival of Lights.
Believe it or not, but Hanukkah is not the biggest Jewish holiday. It is not included in the Torah, the Holy Book, but it has continued to be an important celebration for Jewish families.
Hanukkah parties are filled with delicious fried food that celebrates the miracle of oil such as latkes and jelly doughnuts.
Latkes are the favorite Hanukkah food that are made by grating potatoes and frying them in oil. They are traditionally served with applesauce and/or sour cream.
There is symbolism behind eating fried food during Hanukkah. It is to celebrate the miracle of the burning oil.
Zachary is the most recent Hanukkah storyteller in Epcot.
Between the Morocco and France Pavilions at Epcot's World Showcase, Zachary shares songs and stories about Hanukkah.
Our Storyteller Adventure Continues
For our next adventure series, we will be visiting customs and traditions of China.
We will continue to learn the various traditions and customs that are practiced during the holidays throughout Epcot's World Showcase.
I hope you join me on our next adventure! "Joyous Kwanzaa" and "Hanukkah Sameach! (Happy Hanukkah!)
Did you learn any new traditions that are practiced during Kwanzaa and/or Hanukkah? Let us know in the comments on Facebook and in our Facebook group.
Are you planning a vacation? Reach out to our trusted travel agency sponsor Authorized Disney Vacation Planner
Mouse Class Travel
!