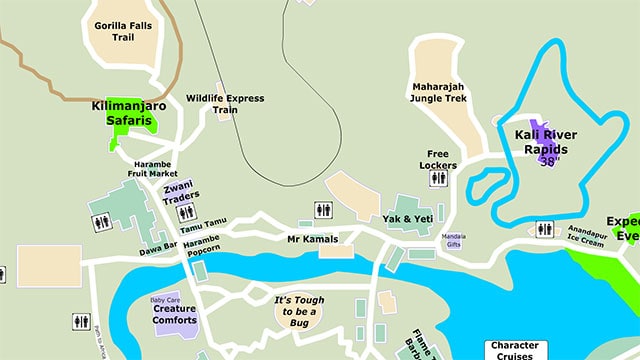 I've just completed updating Character Locator with the information that has been publicly issued by Disney. I removed characters, shows, rides, dining and other attractions that they mention are closed. In doing so, I changed up my custom maps to match the information. It is quite shocking when you see if from a map perspective!
There is a LOT of things that will be closed during the initial Walt Disney World re-opening process. Disney has stated that they will monitor what things will be open or closed during the process and adjust as necessary.
When I temporarily removed items from Character Locator, it meant that I had to remove almost all Character Appearances and shows, a few rides and many dining locations. But when I viewed it from my map perspective, it was pretty jarring what is gone, for now.
Magic Kingdom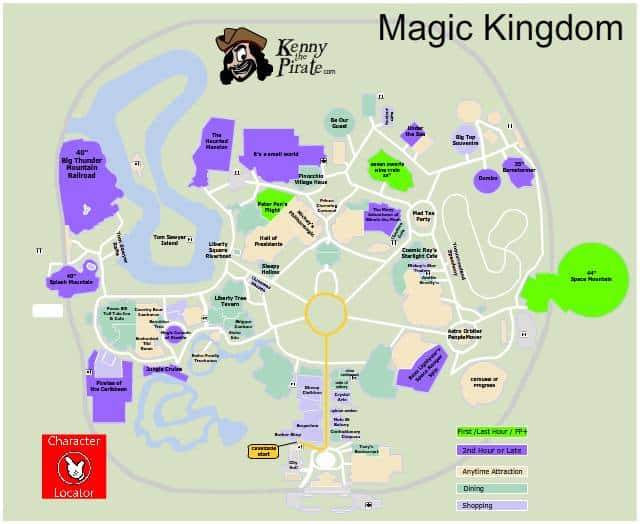 All the Magic Kingdom Character meets are removed with only the Character Cavalcades offered during this initial startup period. There is no Fastpass, so I removed all those tags and some attractions like Monssters Inc Laugh Floor are closed.
Many dining locations are closed, including Columbia Harbor House, Casey's Corner, Gaston's Tavern and Cinderella's Royal Table to name a few. Most "shows" are closed with only things like Mickey's Philharmagic, Tiki Room and Country Bears remaining open.
Epcot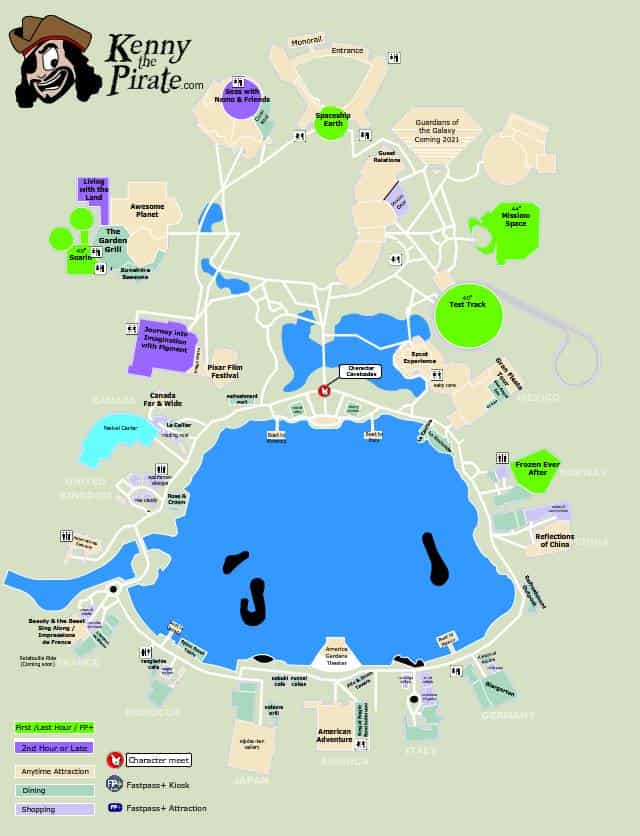 Epcot lost almost all it's small shows like the juggler and the bands. Disney mentioned that Jammitors and Mariachi Cobre will still perform, but in America instead of their standard location. There is some debate over whether Turtle Talk with Crush will be offered, but it seems likely that it's closed, even though Disney had it listed as open.
Spaceship Earth will not enter refurbishment, but will be open for guests to provide ride capacity while the new Ratatouille ride is being completed.
Epcot loses MANY regular dining locations during the start up process. Disney has stated that they will offer Food and Wine booths beginning July 15. They said 20 of them will be offered, but has not provided a listing or menu yet, so I will add those details to the map and Character Locator in coming weeks.
Epcot will offer daily Character Cavalcades. I will be on hand to check them out and let you know what to expect.
Hollywood Studios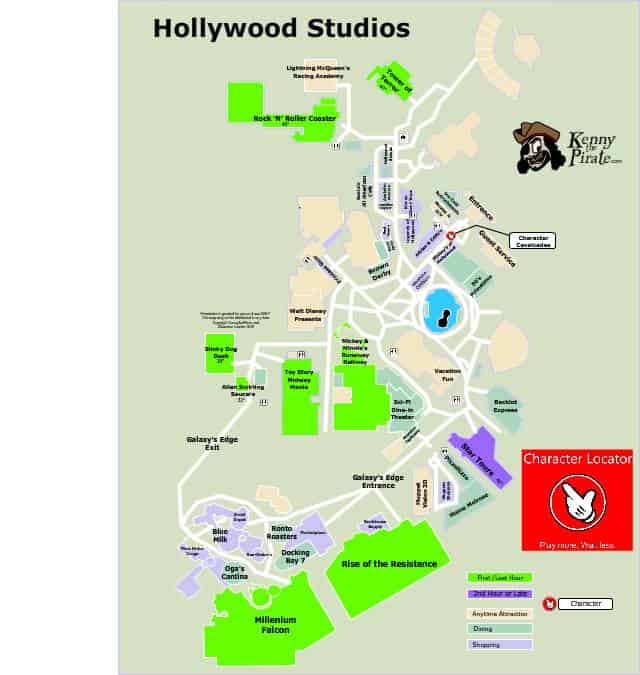 Hollywood Studios will also offer a series of Character Cavalcades, but has removed all the stage shows including Beauty and the Beast, Indiana Jones, Disney Jr, Frozen Sing Along and Disney Jr.
Dining closures include ABC Commissary, Woody's Lunchbox, Hollywood and Vine and several others.
There will be no evening spectaculars like Fantasmic! or any fireworks shows at Walt Disney World during this initial re-opening period. Most attractions will be open in the park. Hollywood Studios has proven to be the most popular park for Park Pass thus far as well.
Animal Kingdom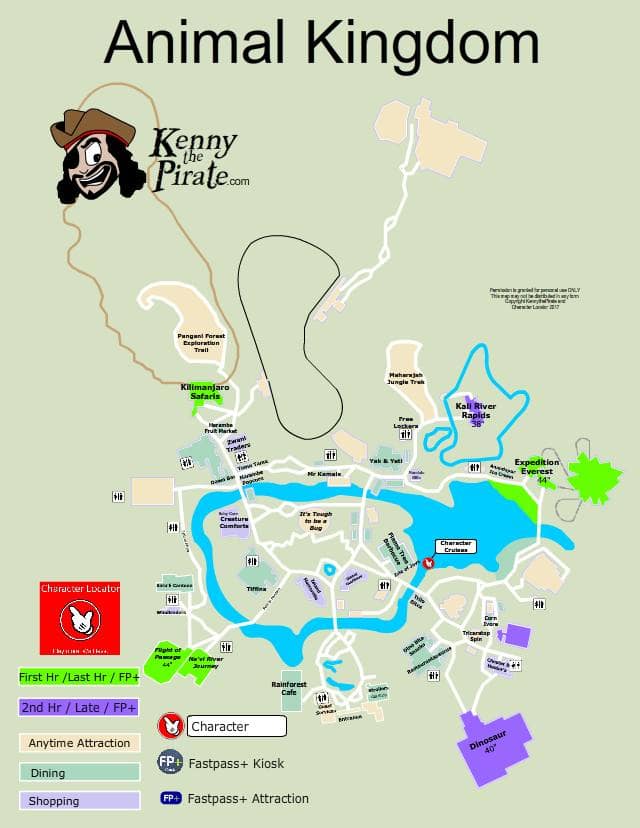 Animal Kingdom will offer "Character Cruises" that will alternate with a live band on a cruise. You'll be able to catch them along the River. I'll update that detail as soon as I catch them.
No actual rides are closed except Primeval Whirl, but that was only open during the busiest weeks lately. It was deemed as "seasonal" after it closed for an extended period of time from an incident of a similar ride in the United Kingdom.
All of Animal Kingdom's shows are said to be closed for this re-opening period. There will be no Festival of the Lion King, Finding Nemo or any of the small acts that bring flavor to the park.
Tusker House and Pizzafari are the biggest names on the dining closure list. My son loved the doughy pizza from Pizzafari, but I was never a fan. I'm glad that Satuii Canteen and Flame Tree BBQ are still available though!
This period of time dealing with Covid and the many that have lost their lives to this serious virus has been difficult for us all. Perhaps having even a touch of magic could help us begin to return to normal.
I must say that I don't really like this "new normal" but I'm following the guidelines to stay healthy and keep my family healthy. I pray that your family is healthy and happy as well!
When do you plan to return to Walt Disney World?
KtP
Are you planning a vacation? Reach out to our trusted travel agency sponsor Authorized Disney Vacation Planner
Mouse Class Travel
!