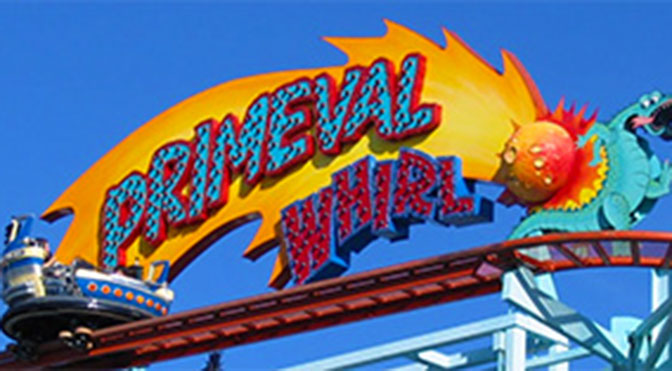 Primeval Whirl closed without any previous notification a few months ago. The official word for the closing was for "unexpected maintenance." But what is actually occurring with the now shuttered attraction?
Editorial – Primeval Whirl is a spinning wild-mouse style coaster that holds up to 4 guests per car with two double pull down bar restraints.  I've often referred to it as "Primeval Hurl" as I only ride it during ride challenges.  It dips and dives and jerks and spins and usually gives me a headache.
Back on May 30, 2019, a 6 year old boy was critically injured on a Primeval Whirl carbon copy ride known as Twister at Lightwater Valley Park in the United Kingdom. Both rides were designed and built by Reverchon Industries. The accident was first reported on a website known as The Guardian.
The Guardian reported that "Mark Charnley, 46, said he saw the boy hanging out of the ride before falling "12 or 15ft" to the ground. "He was hanging outside of the actual carriage … two seconds after that he fell out of the carriage to the floor," he told Sky News.

"After that, everybody in the queue started shouting at [the] operator of the ride to shut it down because he hadn't noticed what had gone on. About 12 or 15 seconds after that, he realised what had happened and closed the machine down."
The same ride had another horrible accident back in 2015, when a "ride attendant was spun 40 feet into the air on one of the Twister's waltzer-style carriages when her colleague started the roller coaster during a routine check."
Primeval Whirl at Disney's Animal Kingdom is not averse to strange accidents that led to deaths as well, but rarely reports any serious injuries to guests.
On November 29, 2007, an on-duty Disney cast member died from head injuries after falling from the load/unload platform.

On March 14, 2011, a repair technician Disney cast member died after suffering a head injury while working on the ride while it was closed.
With those incidents in the mind of Disney executives and ride investigators, Disney chose to close the ride until further inspections were done. Disney truly does feel that Safety is the number one key to success. The ride was inspected extensively and has been scheduled to re-open on two separate occasions, but is still closed. The ride vehicles sit vacant, baking in the scorching Florida sun. Cast Members are assigned daily to inform the public that the attraction is not available.
What could happen to Primeval Whirl?
It could re-open as it is.
It could receive restraint changes and possibly even remove the spinning nature of the ride. Goofy's Sky School in California Adventure is somewhat similar, but the vehicles do not spin.
It could remain closed until Disney decides what will replace it in the future. We've seen that many times at Walt Disney World, with Stitch's Great Escape being the most recent attraction to close and sit vacant. The outer queue is currently used for the Stitch meet and greet.
Would you ride Primeval Whirl again, if it were to re-open?
-KtP