It's been a long, frustrating morning for Disney World goers trying to book their park time for the next several months today. And there was one feature that was conspicuously missing from the new system: the ability to change plans.
After I (Rebecca) got lucky and was able to make all of my park plans for our 2020 stays, I decided to play around with the system and see what I could learn about it.
I made my husband a dummy reservation for Animal Kingdom for July 11 (he is on my resort booking for next month, but will not be joining me after all). I wanted to see how one would go about changing parks once they had selected a park for the day.
I have yet to get into the "my plans" section of the my Disney Experience website, but I am able to see our plans in the app. On the app I only have the option to cancel the reservation: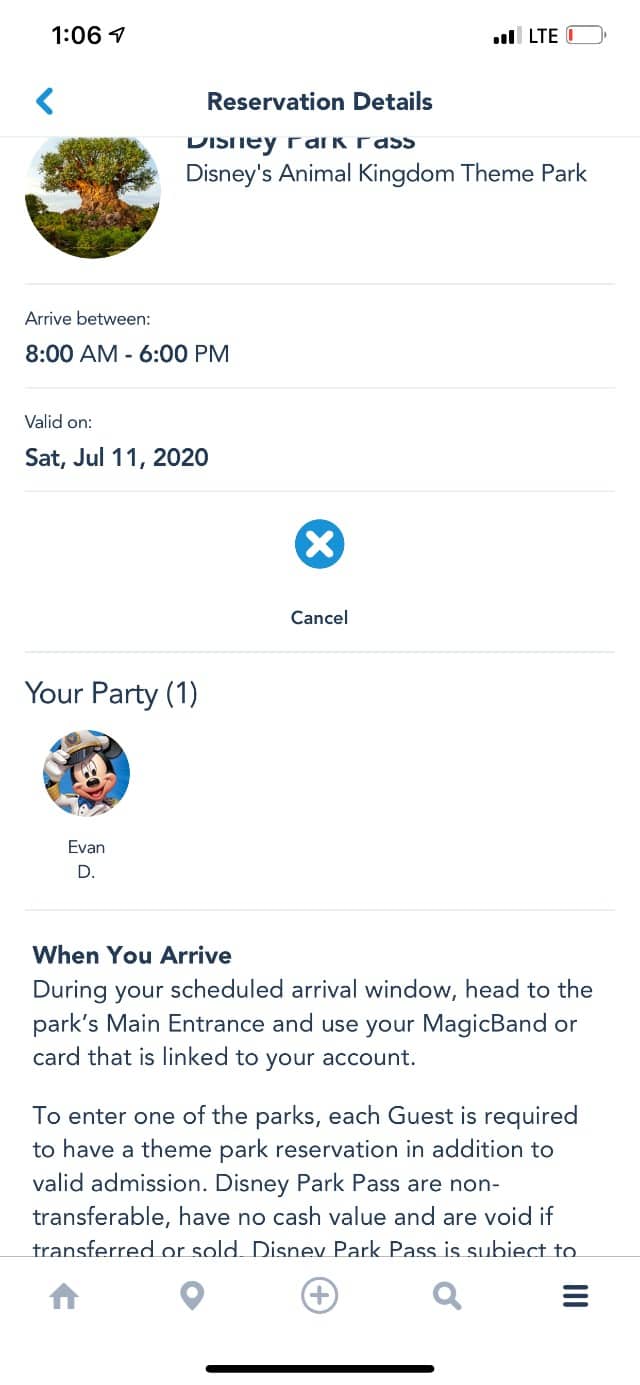 It shows the chosen park, the party for whom it is booked, and gives the park hours for that day. Above his Cruise Captain Mickey avatar, you can see I'm only given the choice to cancel.
Unlike the previous system where guests reserved fastpasses, it does not appear that you can "shop" for other available parks without first giving up your reservation for that day.
As you may recall, if you had Fastpasses booked at Epcot and wanted to see what was available at Hollywood Studios, you were able to take a peek, select a new fastpass and then confirm that you wish to drop your Epcot fastpasses to get the new one at Hollywood.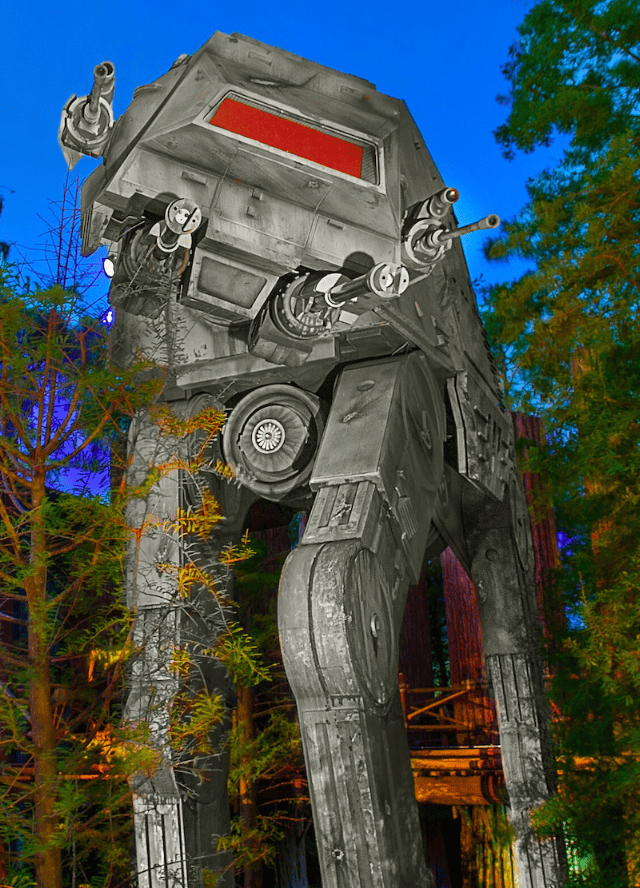 This new system does not appear to have a similar option.
Undeterred, I waited in queue again thinking that maybe it would allow me to change his chosen park by booking the new park in the same manner I booked the initial park.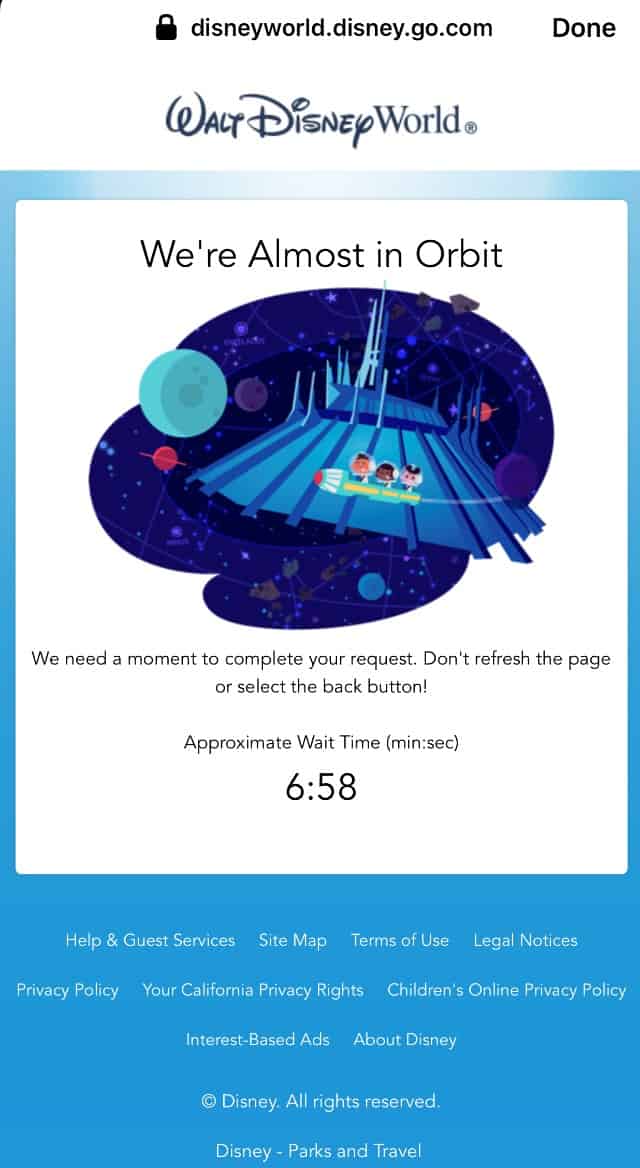 However, when I got in to the system, I selected his name, picked the same date (July 11) on the calendar, and I received this message: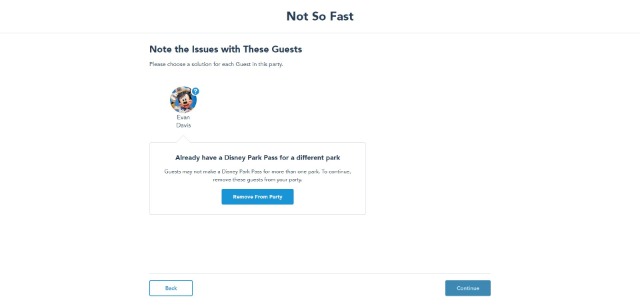 It wasn't just the poor grammar that bugged me! My only option is to remove him from my party. So, it seems it is not possible to change the park he has booked for that date without first dropping his reservation for Animal Kingdom.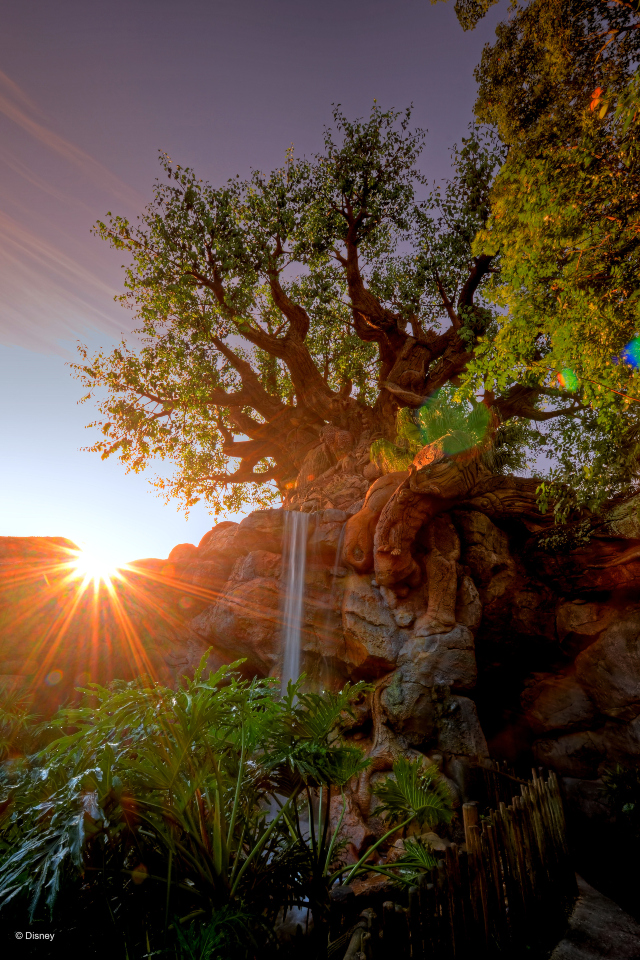 I know this will frustrate a lot of guests because of the trouble getting into the system at all to begin with. But, it seems that if you want to select a different park, you'll need to cancel your original booking first.
I suggest that if you must do this, pull up the affected booking in the app on your phone while you wait to get through to the reservation system on your browser. That way you can cancel your reservation and then quickly pick up a new one once you're in.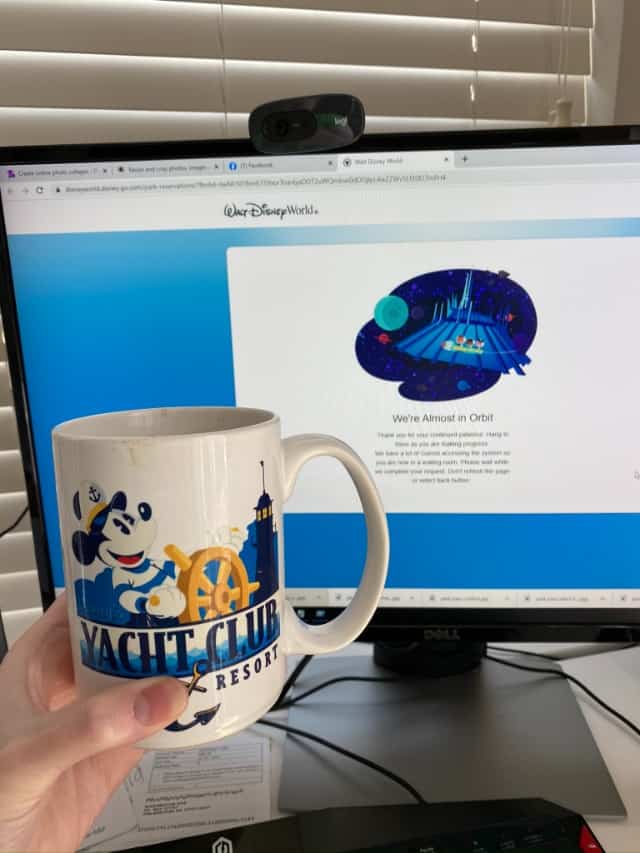 If you haven't gotten to book yet, check out my step by step guide with pictures and Monica's helpful tips for booking here.
Have any of you tried to modify your park reservations? What was your experience? Let us know in the comments on Facebook and let's keep the conversation going in our Facebook group.
-Rebecca W Davis