This morning, guests with resort reservations between now and September 26, 2021 logged on to make their park reservations with the new system. Read on for pictures of the steps in the process.
My fellow writer, Susan, did a great post the other day on the step by step process of booking park reservations. Now that the system has gone live, such that it is, I wanted to build on her work to show readers exactly what each screen looks like.
First thing's first, when trying to do anything in My Disney Experience today (for instance, trying to log in) you will first see this screen: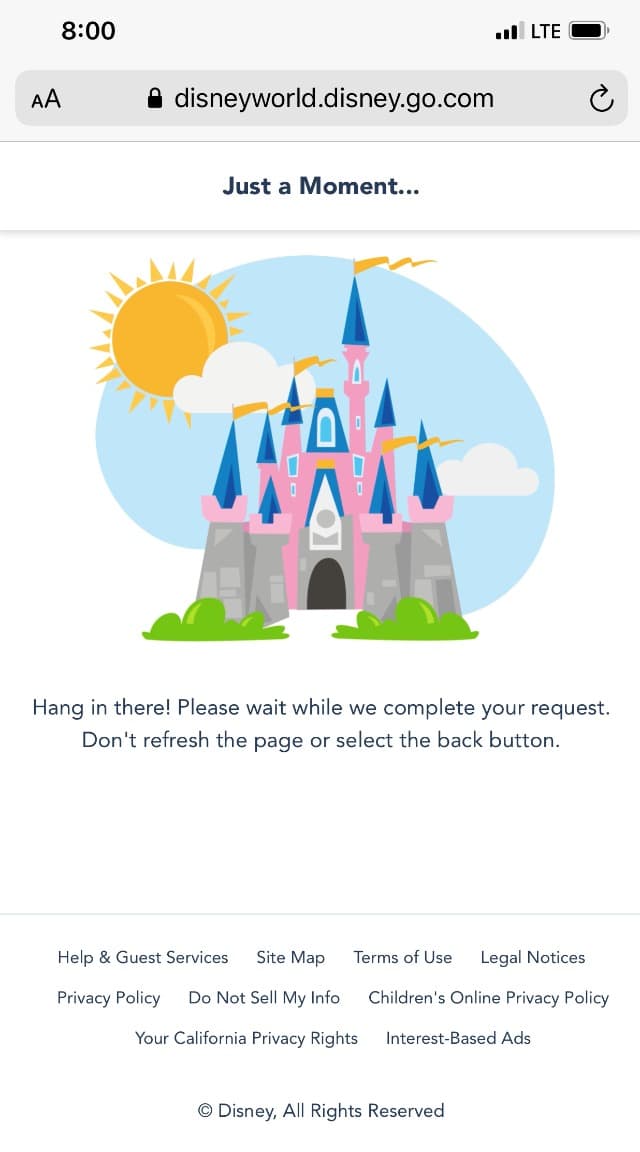 I have dubbed this screen the "Pink Castle of Doom" and plan to make a t-shirt of it. Also "Just a Moment" is in the running for the understatement of the century.
However, part of the way through waiting on the castle screen, the leader of our Pirate crew sent this link, which is a direct link to the reservation system.
This resulted in the slightly improved "You're Almost in Orbit!" screen with a countdown. The countdown frequently went up and down, but as it states it is only an estimate: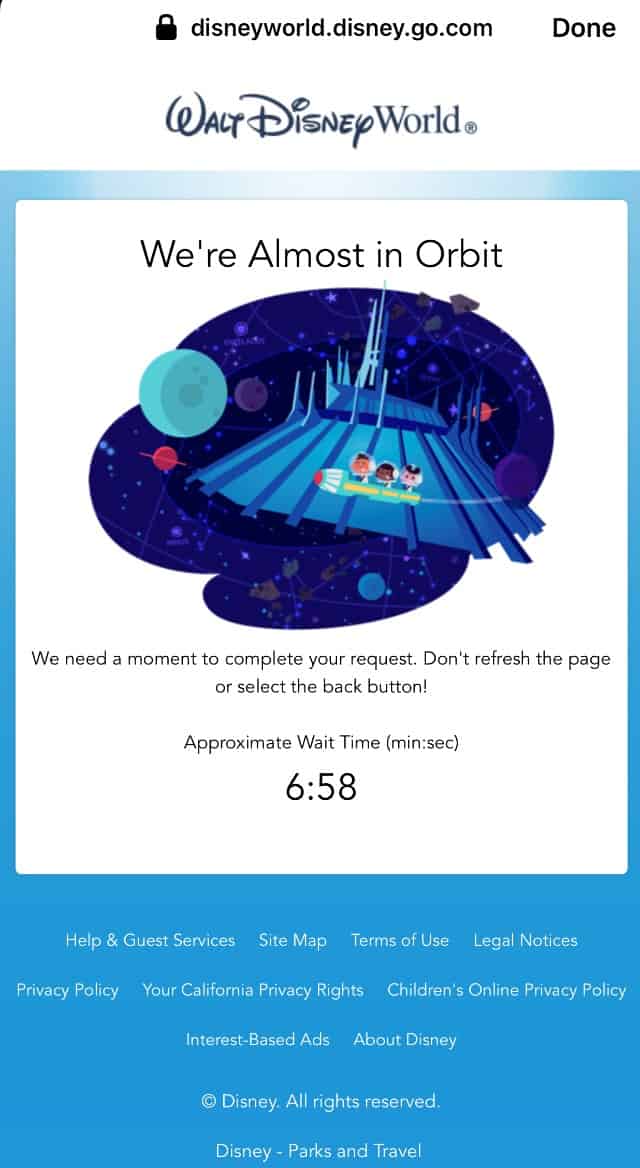 I was exulted to finally see this screen! I could select my party to make park reservations: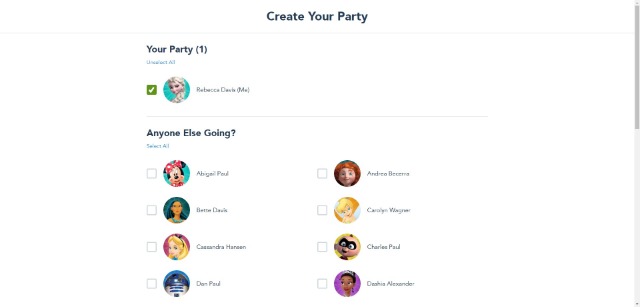 The next screen was the calendar: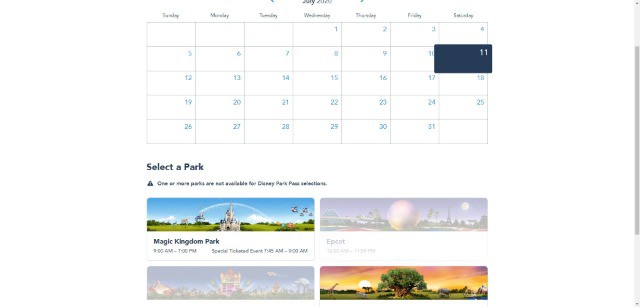 As you can see, the only parks available for July 11 are Magic Kingdom and Animal Kingdom. That isn't because they are "sold out" but because Epcot and Disney's Hollywood Studios don't open until July 15. So, in my example I only had these 2 choices.
When I select a park, I'm asked to select a time, but the time is simply the park's operating hours for that particular day. You do not have to choose a specific entry time as some had feared.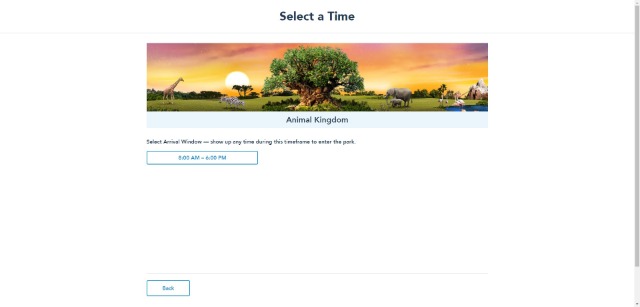 Next, you will see this screen. You are asked to confirm your selection and click that you have read and agree to the COVID-19 liability waiver.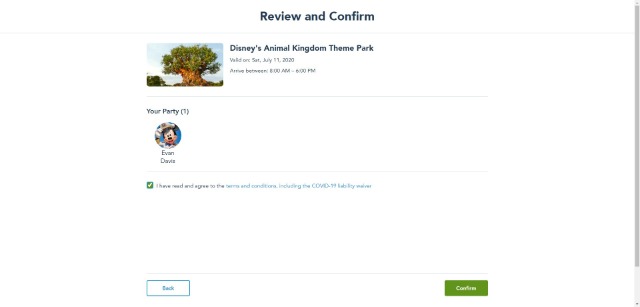 Finally, you will get a confirmation of your selection! And you can then go in and book another day's park reservation!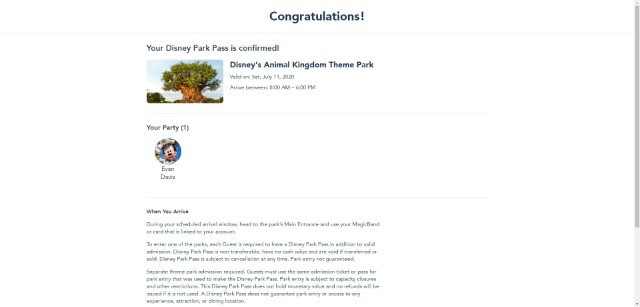 As previously reported and stated on the Disney World Website, park reservations are open through September 2021: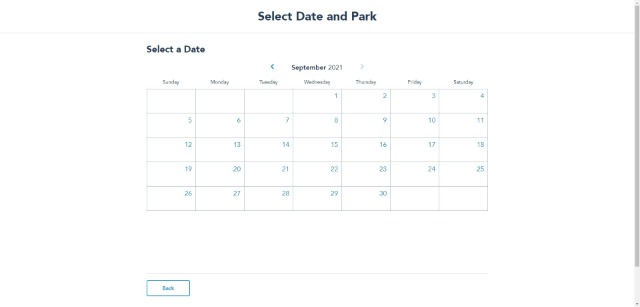 As long as you have a resort reservation and a valid ticket, you can book your time today. Passholder reservations are coming soon on June 26, 2020 followed by all regular ticket guests who do not have current resort reservations on June 28, 2020.
What questions do you have for us? Ask away on Facebook and in our Facebook group!
-Rebecca W Davis