Back in February, we announced that Allure Bridals would be launching the brand new Disney Fairy Tale Wedding Collection during New York Bridal Fashion Week in April. After months of waiting for the delayed release, the dresses are finally here and they do not disappoint! They are sure to make you feel like a real princess!
There are 16 gowns featured in this new collection inspired by Ariel, Aurora, Belle, Jasmine, Cinderella, Pocahontas, Rapunzel, Tiana, and Snow White. Nine of them will be sold at various select bridal boutiques and ranging in price from $1,200 to $2,600.
The other seven dresses are part of the Disney Fairy Tale Weddings Platinum Collection and they are exclusive to Kleinfeld Bridal store and range in price from $3000 to $10,000.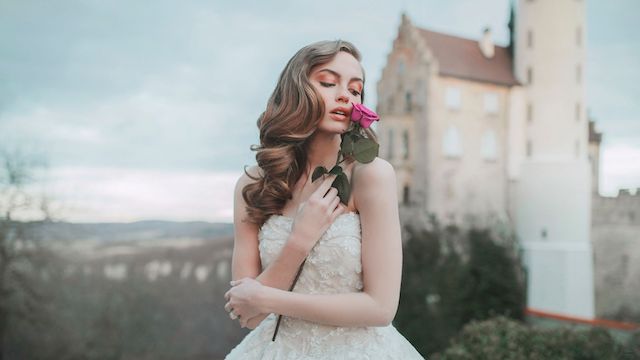 All gowns for both the Disney Fairy Tale Weddings Platinum and Disney Fairy Tale Weddings collections will be available in sizes 0 to 30.
Without further adieu, let's get a closer look at these jaw-dropping dresses!
Disney Fairy Tale Weddings Collection
Ariel $1200-$2600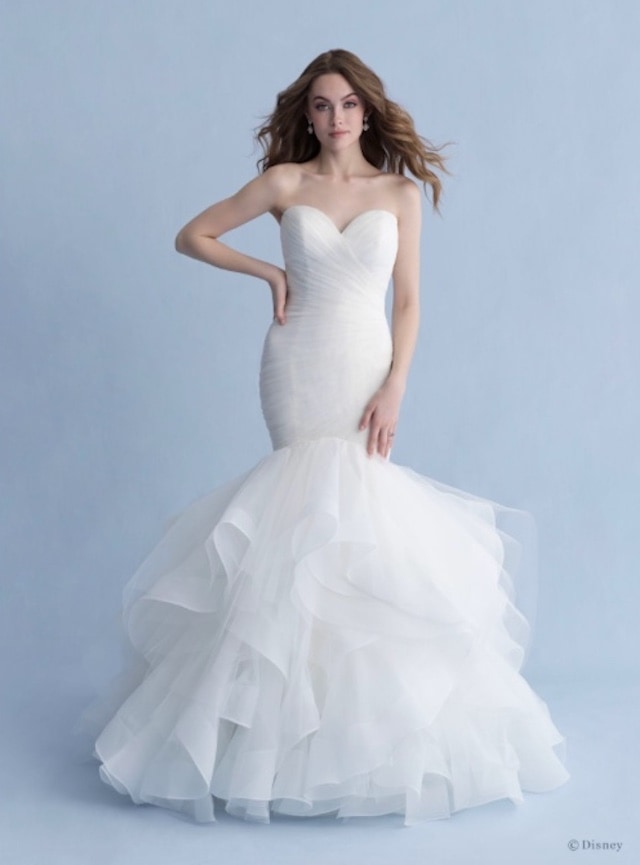 It's no surprise that Ariel's wedding dress is a mermaid style dress. The bottom part of the skirt is full of cascading waves of soft tulle and organza.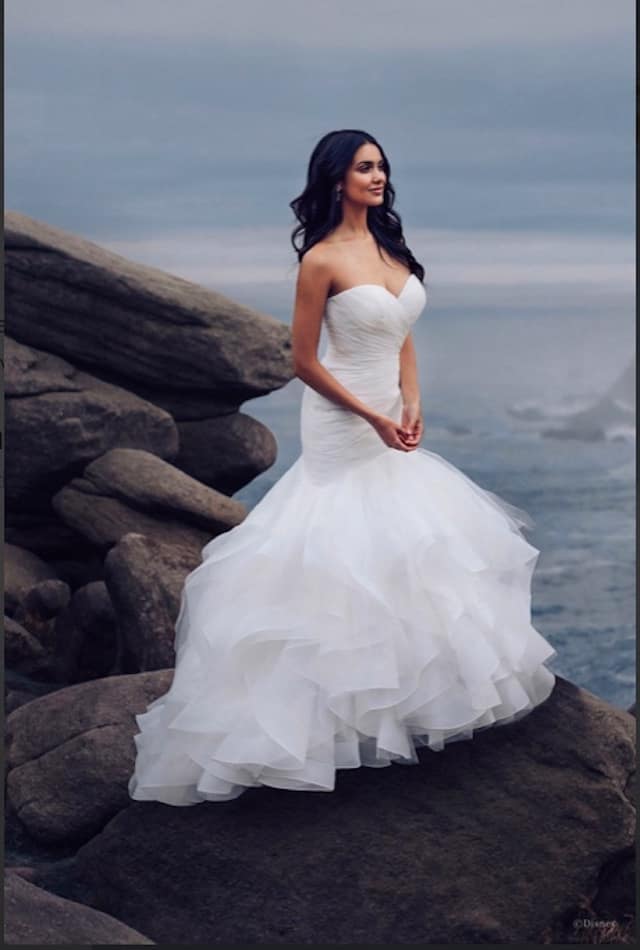 On the back of the dress there is a long strand of buttons made to look like strand a pearls.
It's safe to say that you'll look quite swimming walking down the aisle in this gorgeous gown.
Aurora $1200-$2600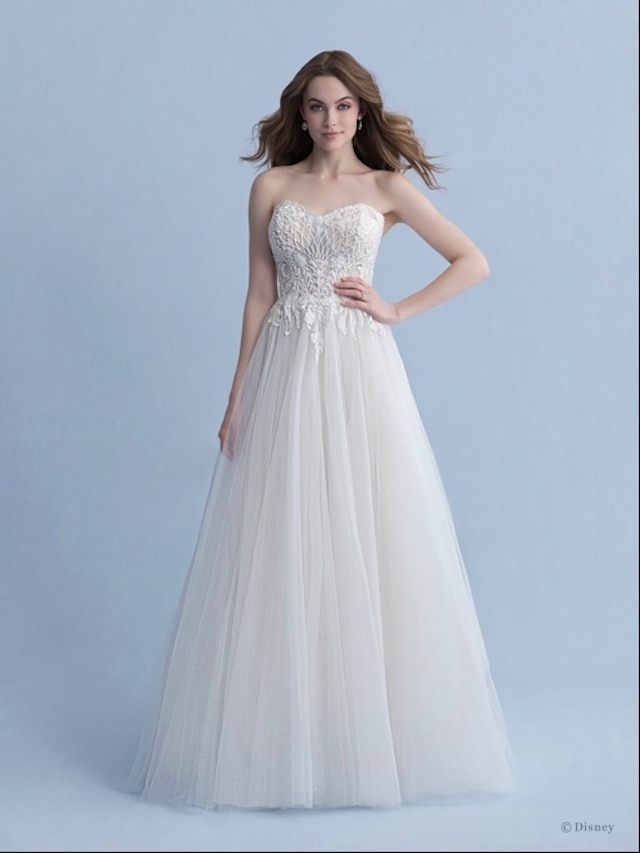 The Aurora dress features a sweetheart neckline and strapless beaded bodice. I will admit this isn't my favorite design mostly because I feel that it doesn't pay enough tribute to Aurora.
I would have liked to have seen a long-sleeved style for Aurora to match her dress in the movie.
Instead they opted for a shear cape with intricate lace and beading.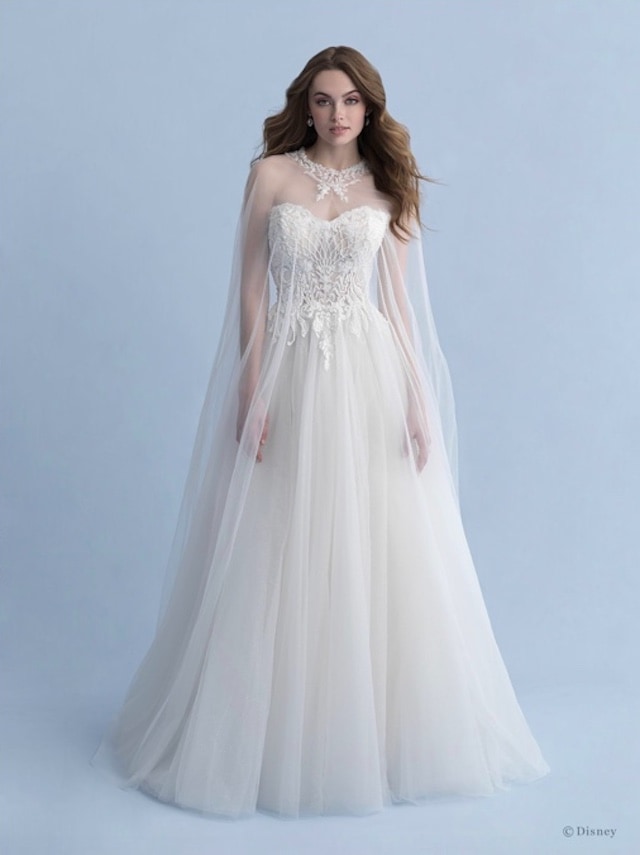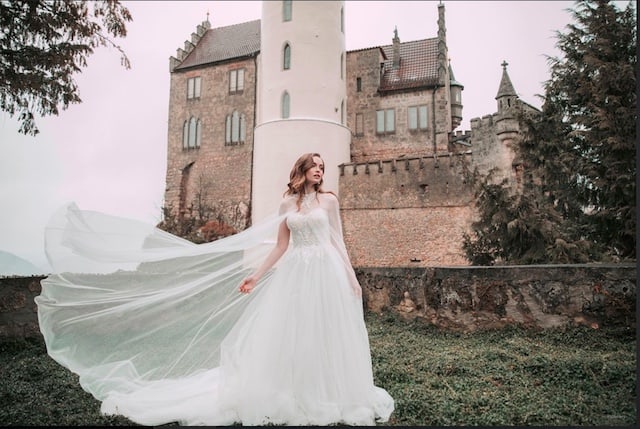 Belle $1200-$2600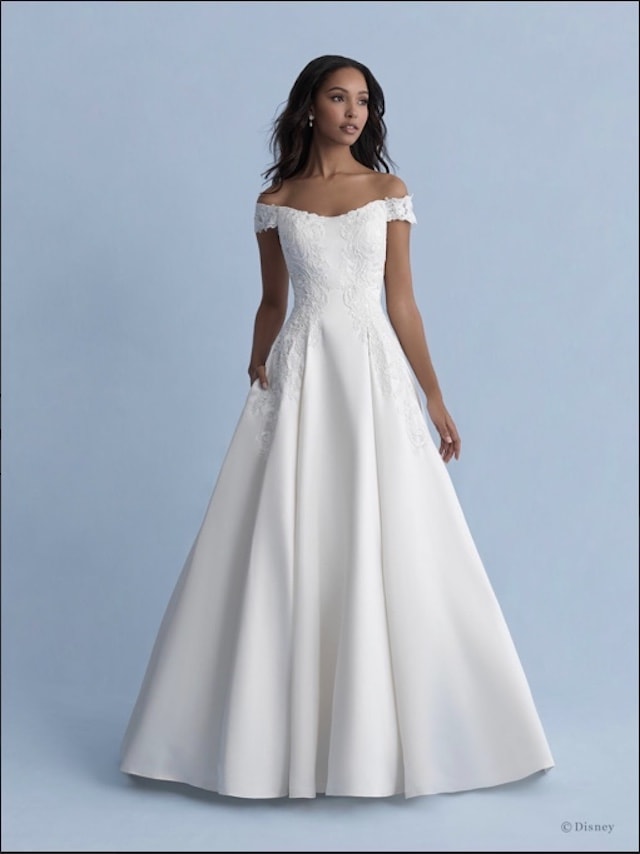 This is one of my favorite dresses in the collection!
This dress just screams princess to me. In fact, the cut of the dress strongly reminds me of Princess Mia's coronation gown in the Princess Diaries 2: Royal Engagement.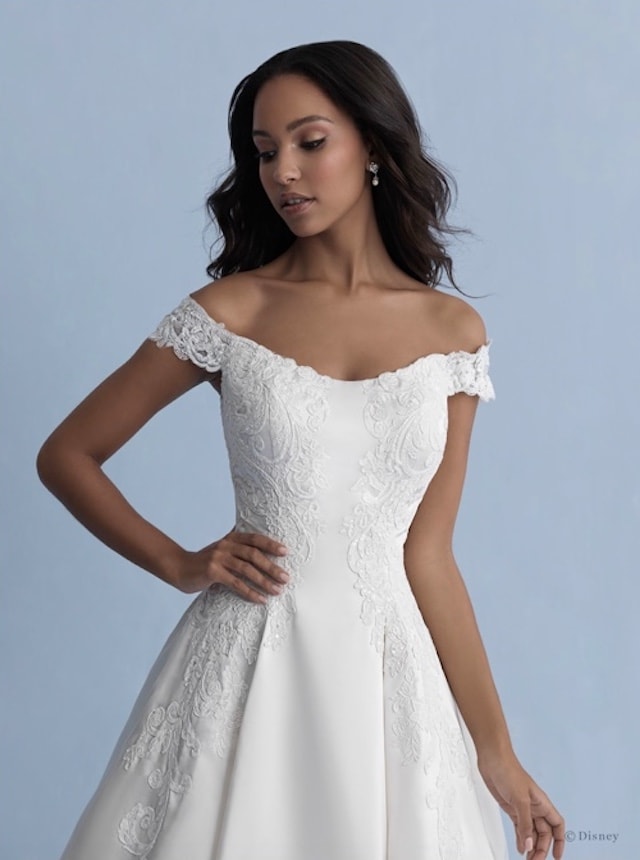 The neckline is an off-the-shoulder look and features Alencon lace appliques all over.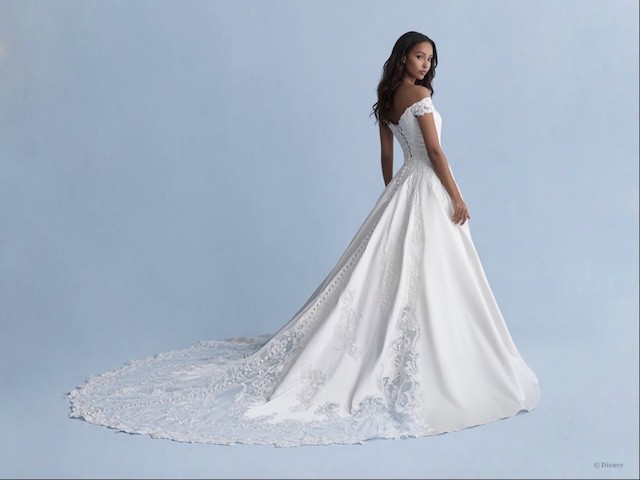 No Belle dress is complete without a gorgeous ballgown skirt and this dress even has an intricately detailed long train to go with it!
Cinderella $1200-$2600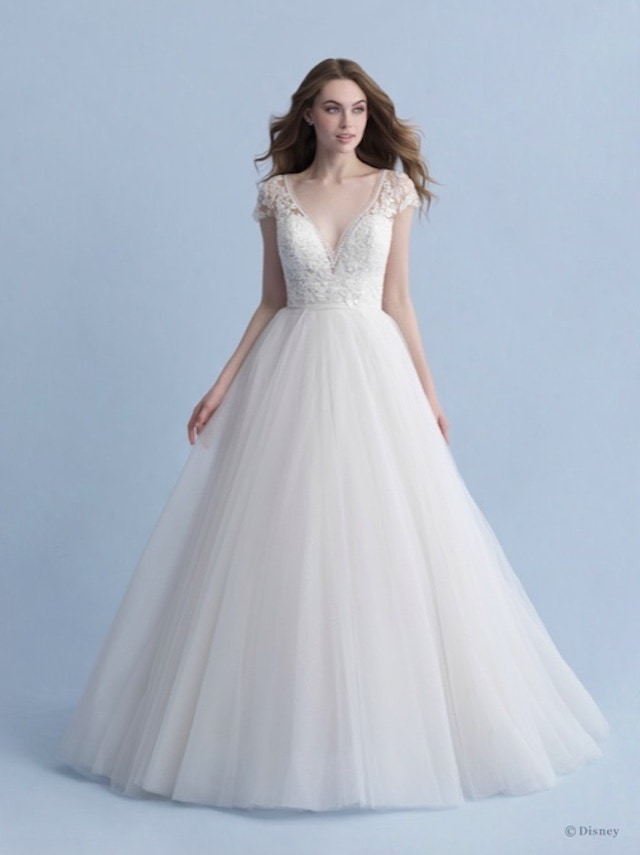 There are some things I love about Cinderella's dress and some things I don't. The ballgown skirt is beautiful and made from sparkling tulle. I also love the cap sleeves that pay homage to Cinderella's blue dress sleeves.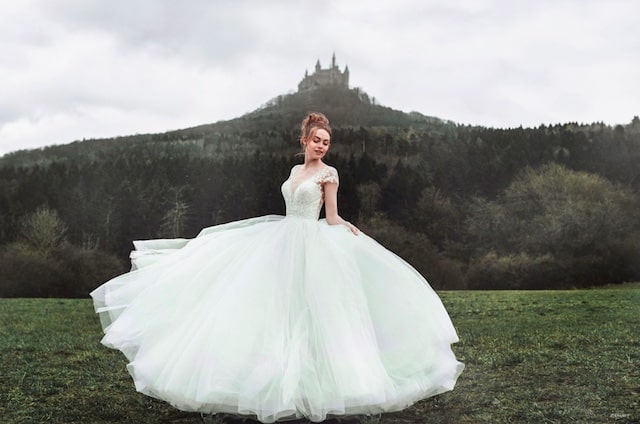 The only thing I wouldn't have done was make the neckline of the bodice a plunging V-shape. One, because Cinderella's dress had a scoop shape in the movie, and two, because Cinderella is probably the most "buttoned up" princess of the bunch. Her dress should a little more modest in design.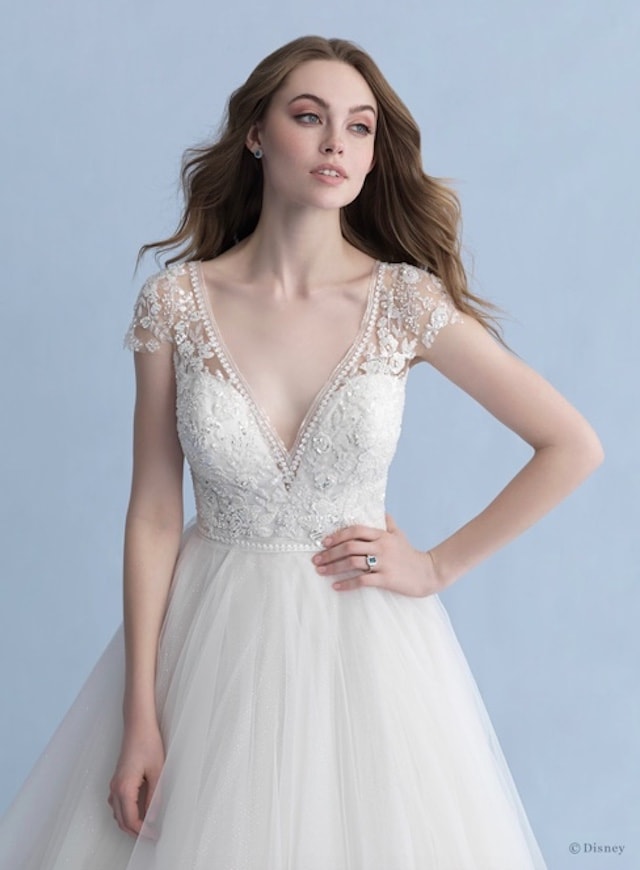 Jasmine $1200-$2600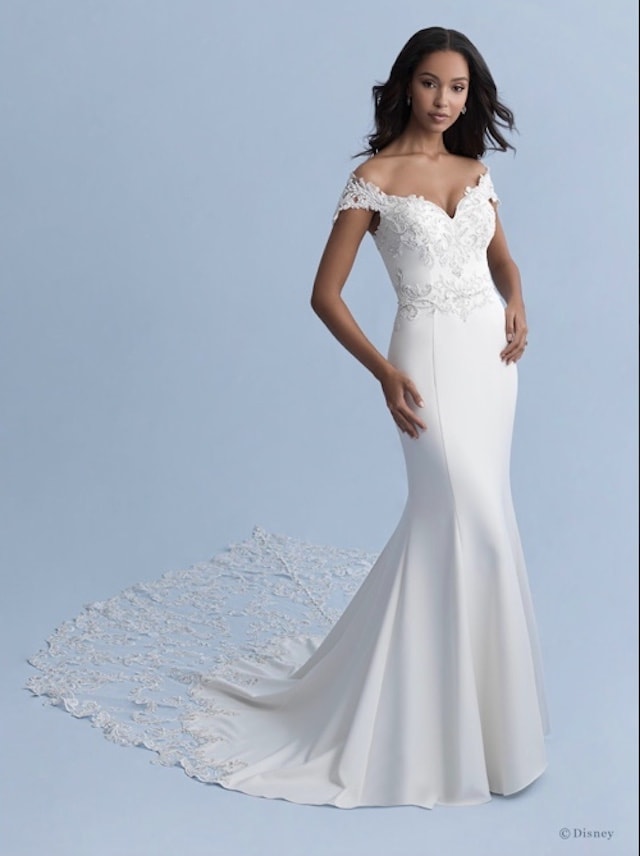 I love Jasmine's dress. When I look at it, I instantly get Jasmine vibes. Everything from the form fitted style to the intricate lace of the train, this dress is a stunner.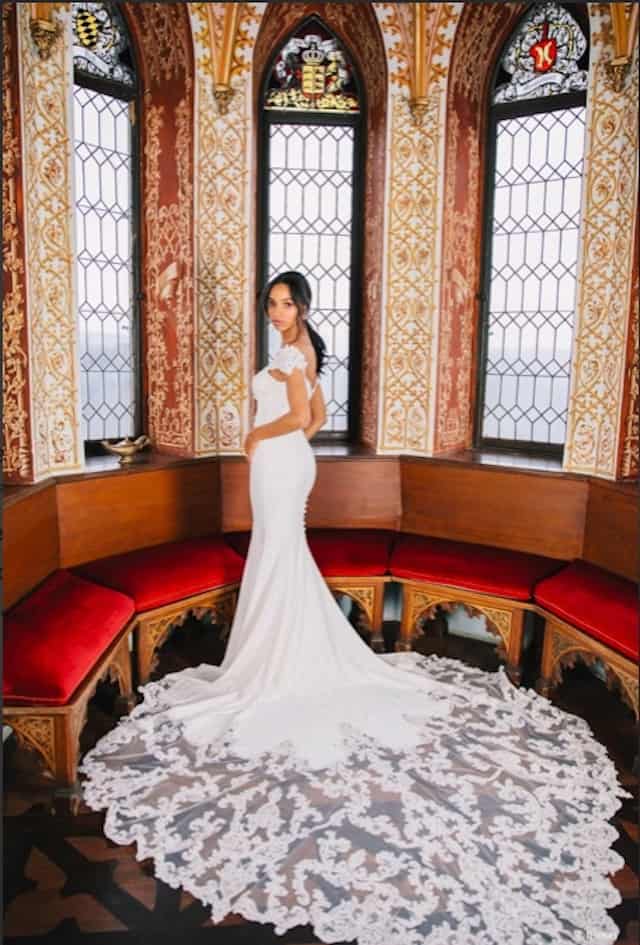 The dress is made from a stretch crepe fabric and the entire bodice is covered in Venise lace and crystals.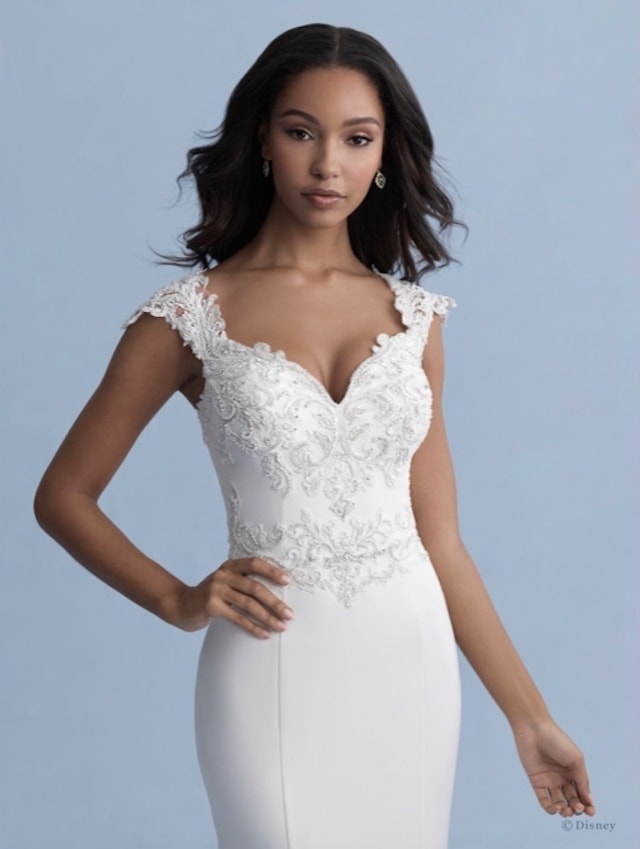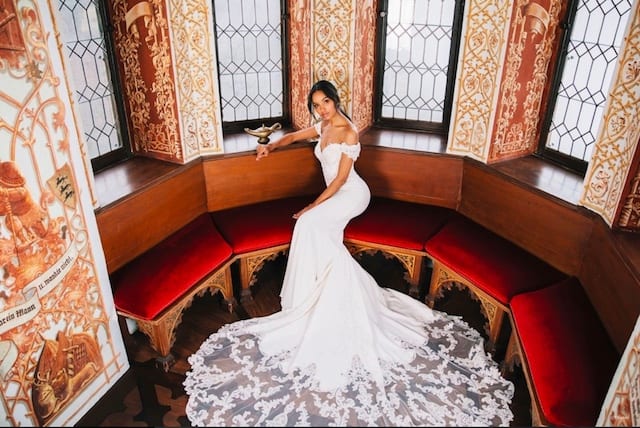 Pocahontas $1200-$2600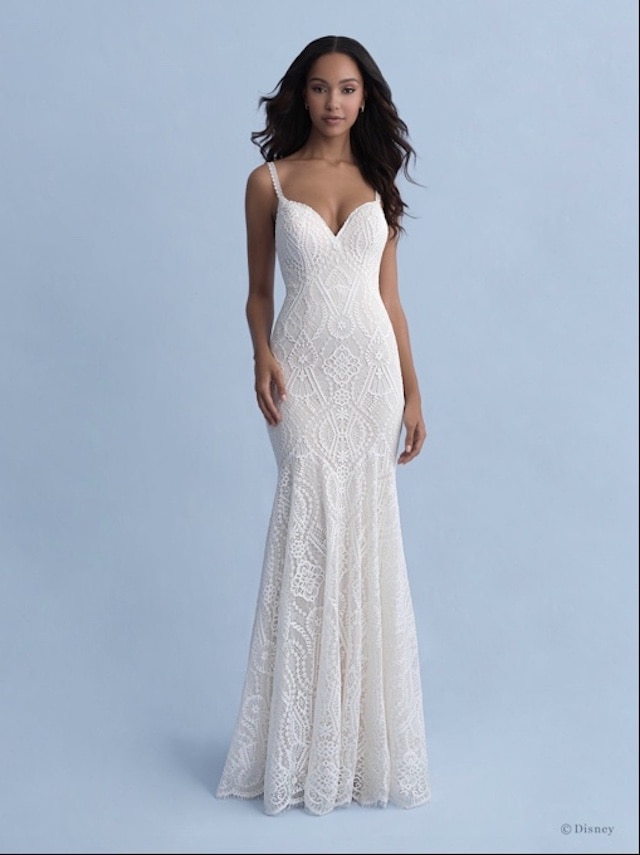 Pocahontas's gown is another form fitting dress. I love the intricate cotton lace appliqué in the lace of the dress.
The style of the dress reminds me of Pocahontas's outfit in the movie a lot and the lace designs remind me of dream catchers and feathers.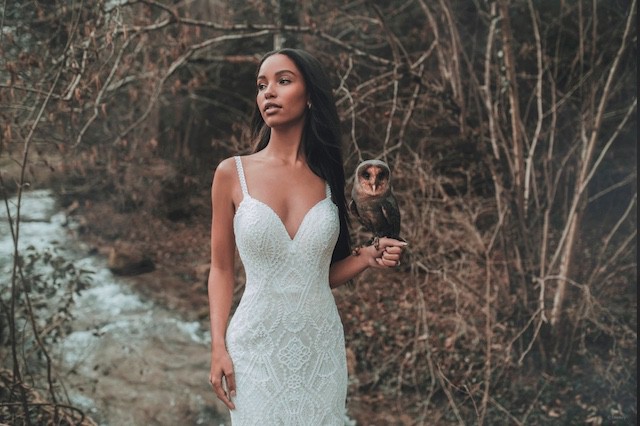 The back of the dress features a beautiful train and covered buttons.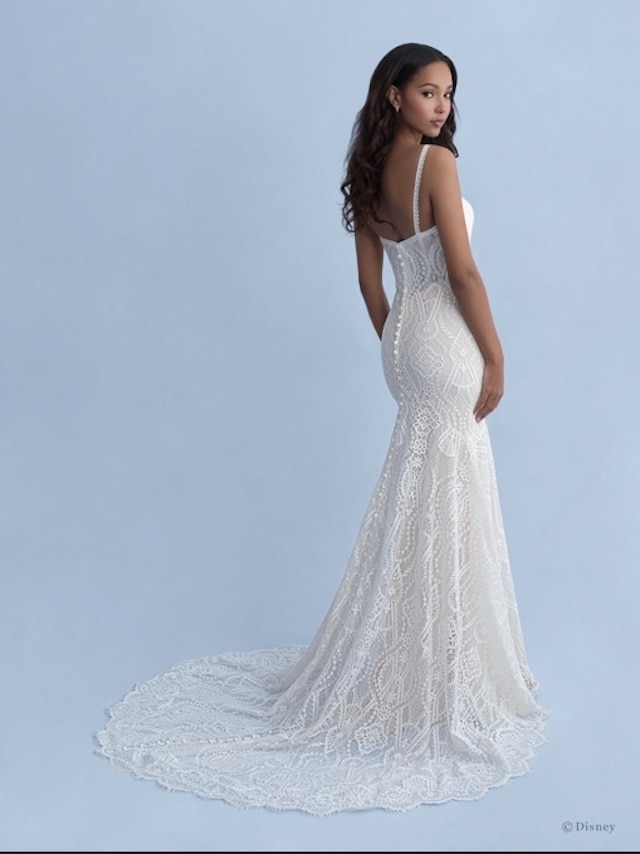 Rapunzel $1200-$2600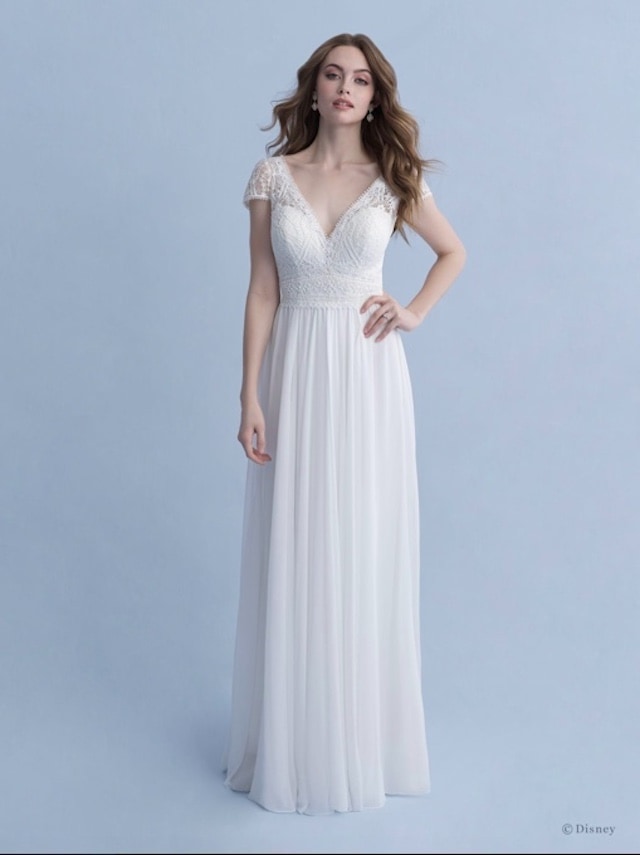 Rapunzel's dress does remind me a lot of Rapunzel, though it looks more light a nightgown than a wedding dress.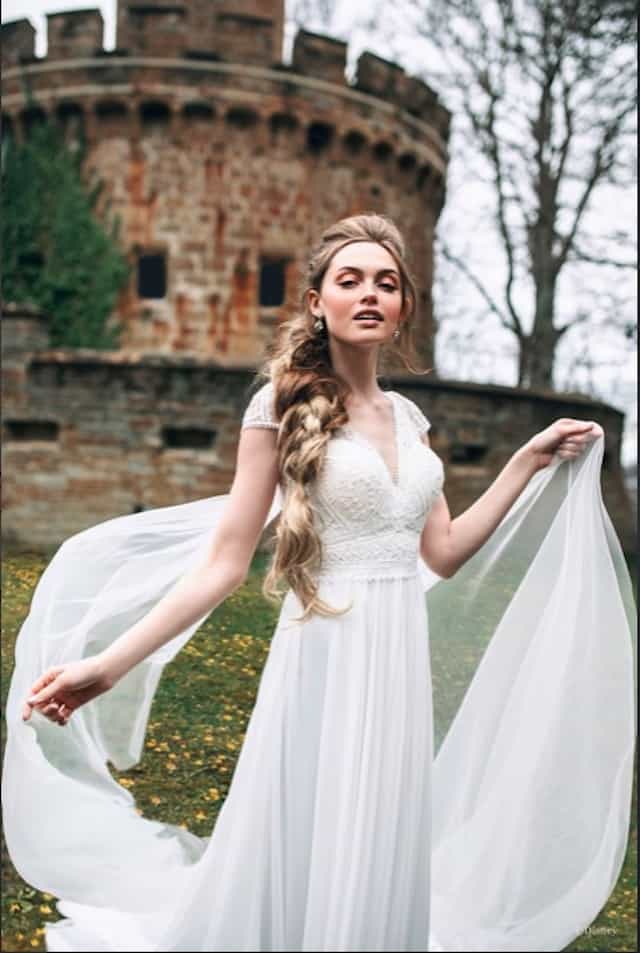 Flowing tulle and chiffon fabric give the skirt a softer look. The sleeves are a cap sleeve style designed to resemble Rapunzel's purple dress and on the back there is a large tulle ribbon that is meant to resemble Rapunzel's long braid.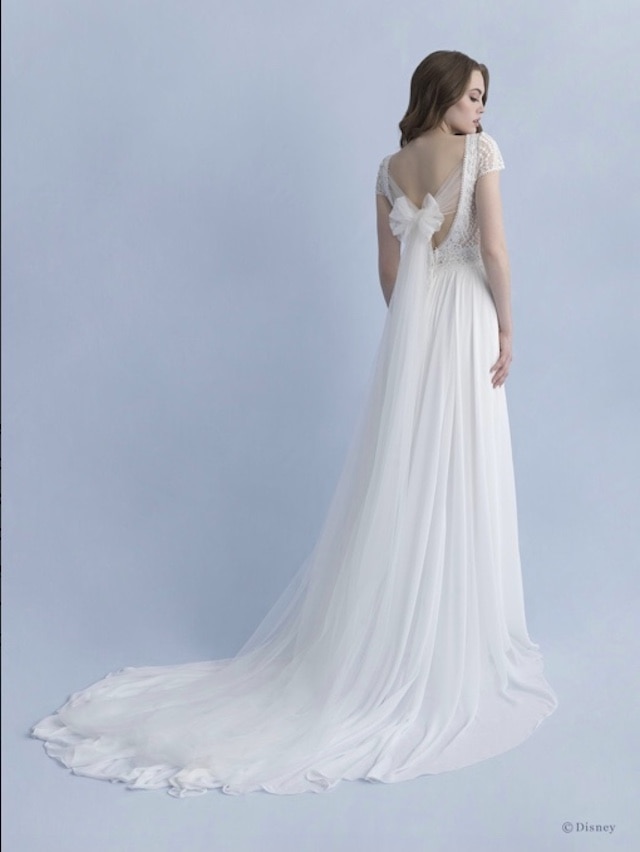 Snow White $1200-$2600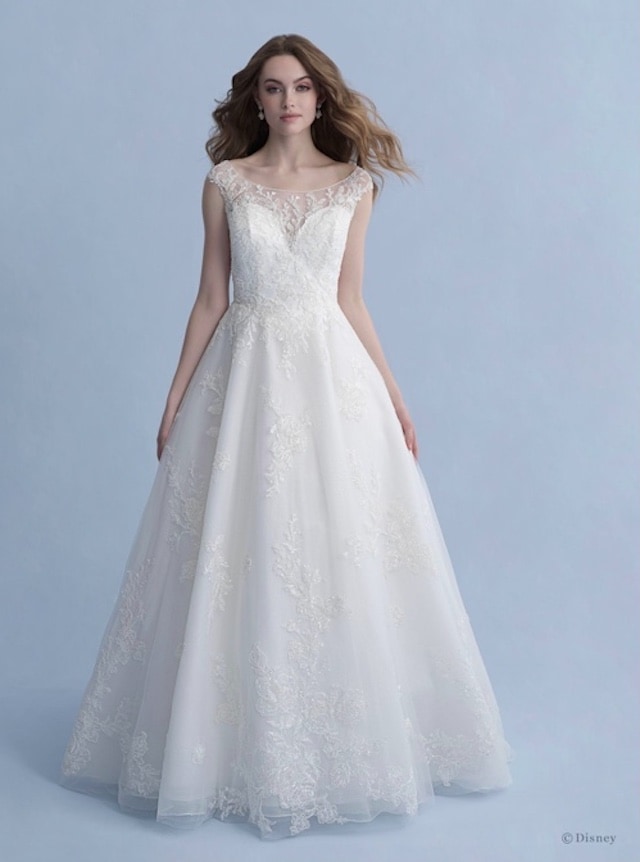 Snow White's dress is another one of my favorites! It is absolutely stunning, and you will certainly be the fairest of them all in this dress!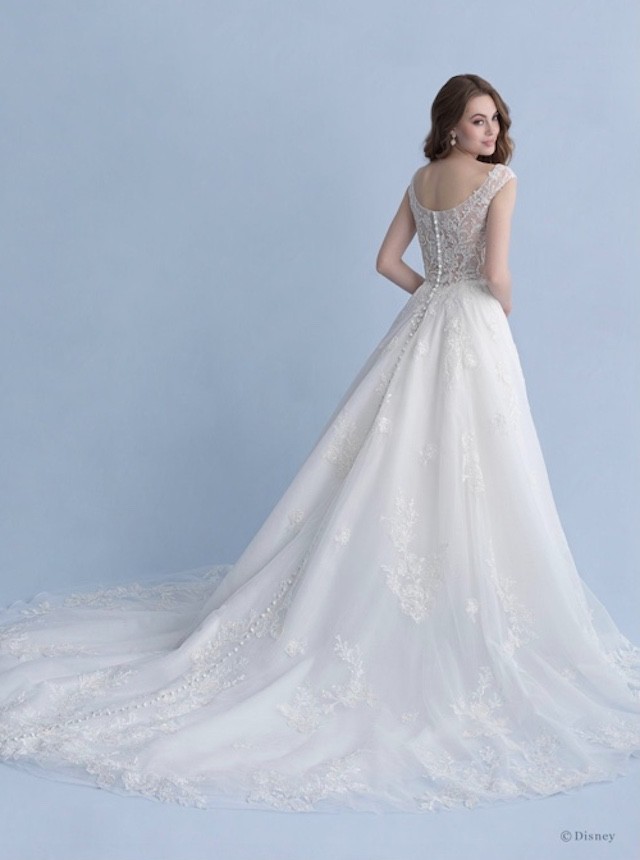 The entire dress is covered in delicate sparkly flower blossom appliqués and the skirt is made from layers of sparkly tulle and organza.
On the back of the dress there are covered buttons that go down all the way to the train.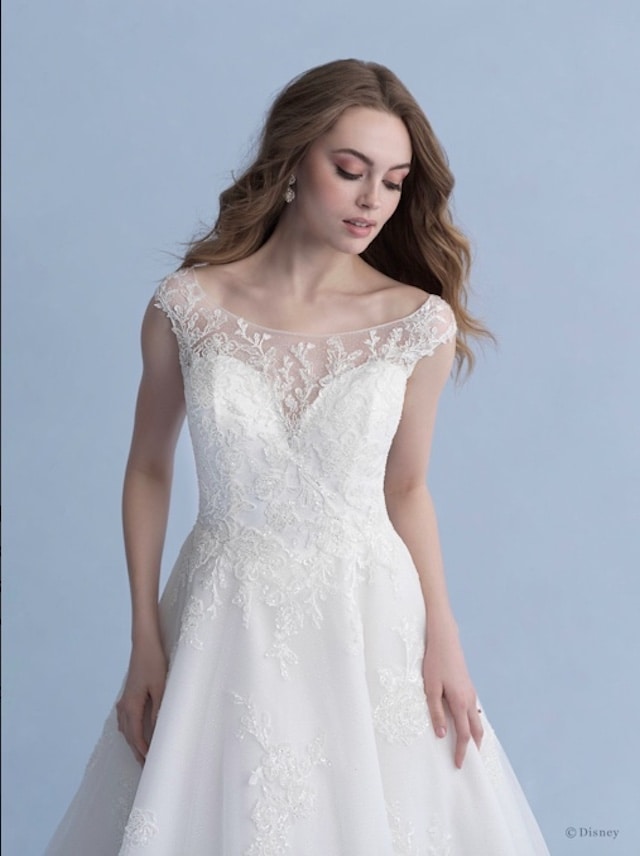 To top off the look, I love that they did a more modest neckline and added a cap lace sleeve to pay homage to Snow White's iconic dress.
Tiana $1200-$2600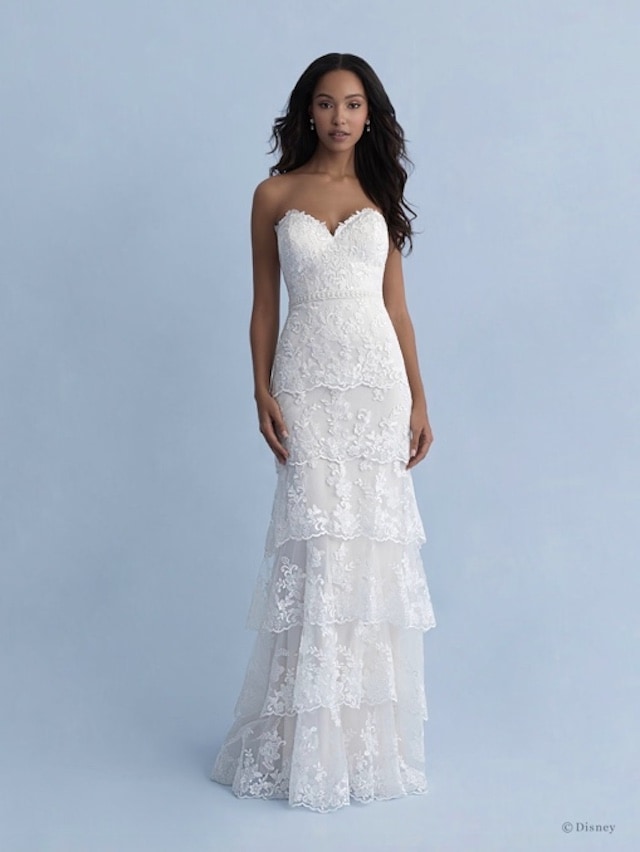 Tiana's gown reminds me a lot of her blue dress that she wore in the beginning of the film. The dress is covered in elegant floral lace that cascades down the skirt in tiers.
It reminds me a little bit of the flapper dresses from the Jazz era.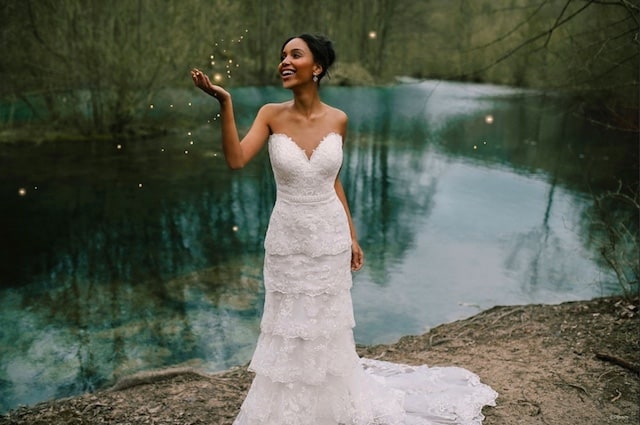 The dress has a small train in the back and also features covered buttons.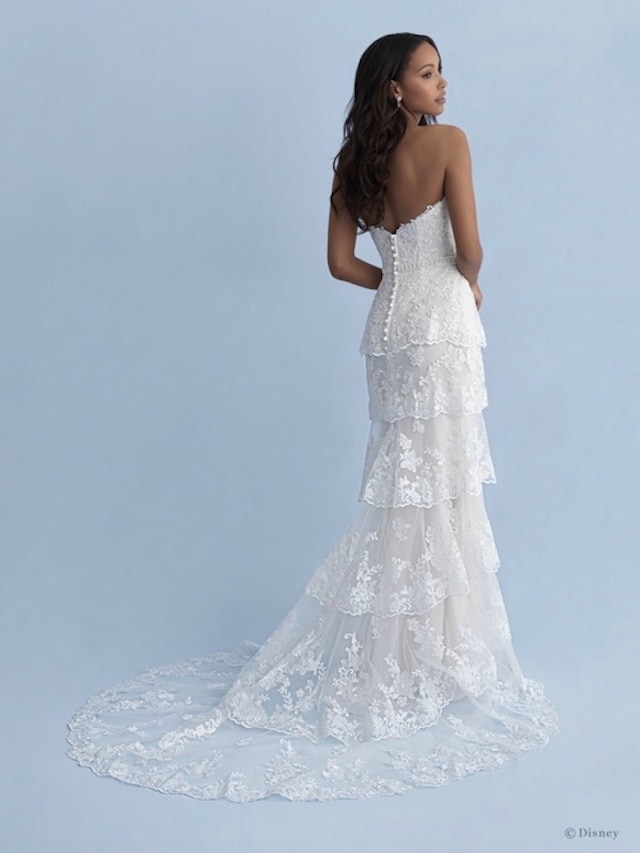 This dress is just the bees knees! It is the perfect dress to make you feel like a princess on your special day. Don't worry, if you were hoping for a dress modeled after Tiana's green ballgown, hang tight! We'll get there soon!
Disney Fairy Tale Weddings Platinum Collection
There are seven dresses included in the Disney Fairy Tale Weddings Platinum Collection. These dresses will be sold exclusively at Kleinfeld Bridal in New York and Ontario.
They are a lot pricier than the other dresses, but also a lot more detailed too.
Ariel $3000 – $4000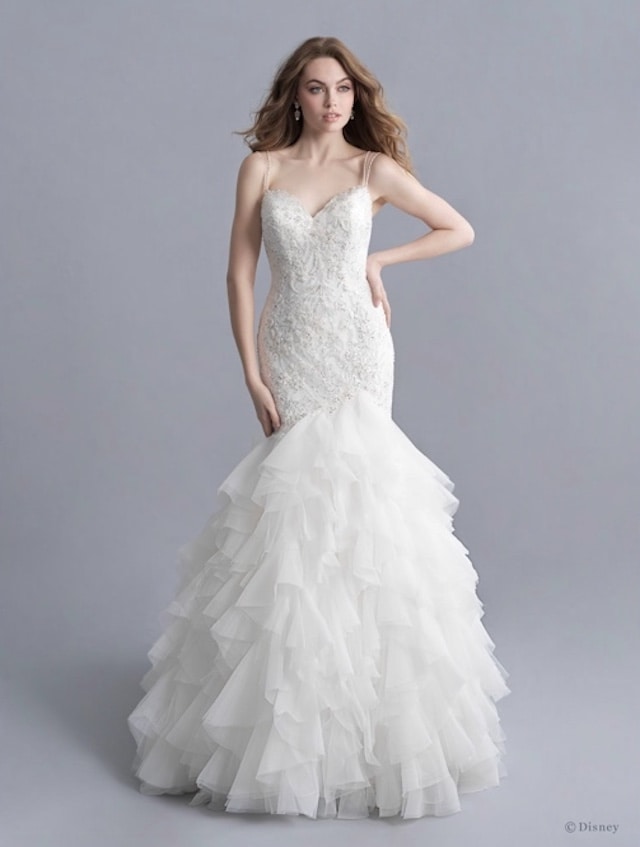 Ariel's platinum dress is once again a mermaid silhouette with flowing tulle and organza at the bottom of the skirt. The entire bodice of the dress is covered in delicate beading and sparkles.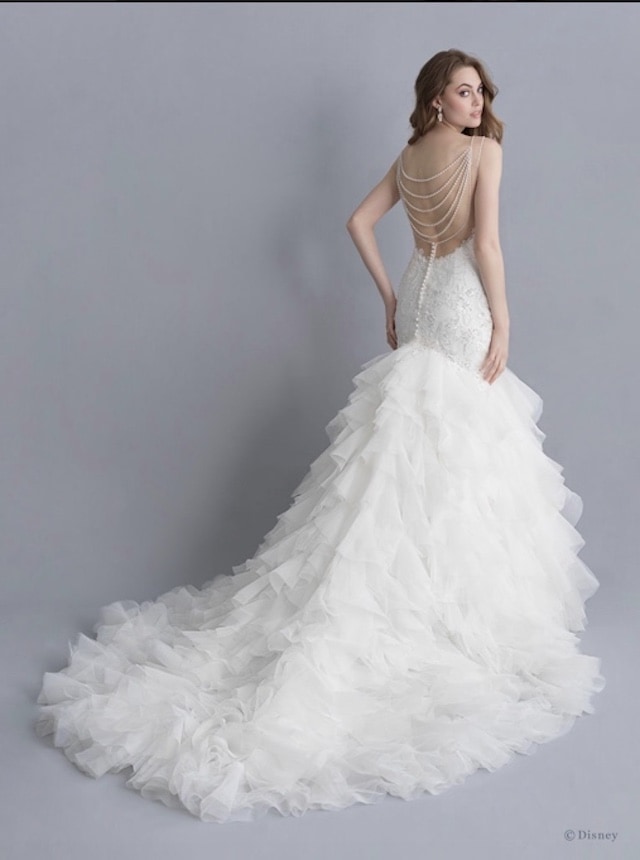 The straps of the dress are made from pearlized beads that drape down the back of the dress in a chandelier effect.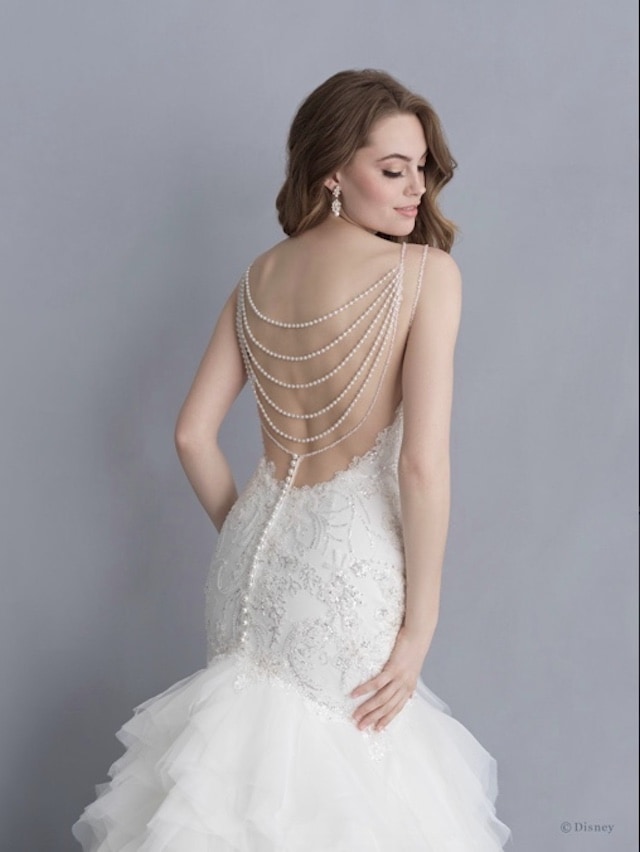 This dress is stunning in every way. One day I would like to see a ballgown inspired Ariel dress. Perhaps one like the wedding dress she wears in the movie or modeled after the dress in the parks.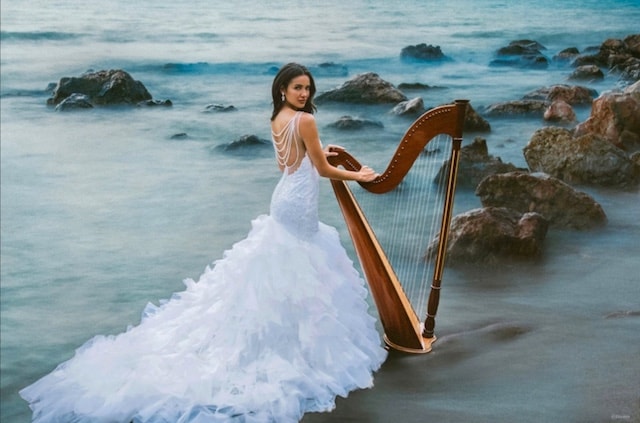 Aurora $8000 – $10,000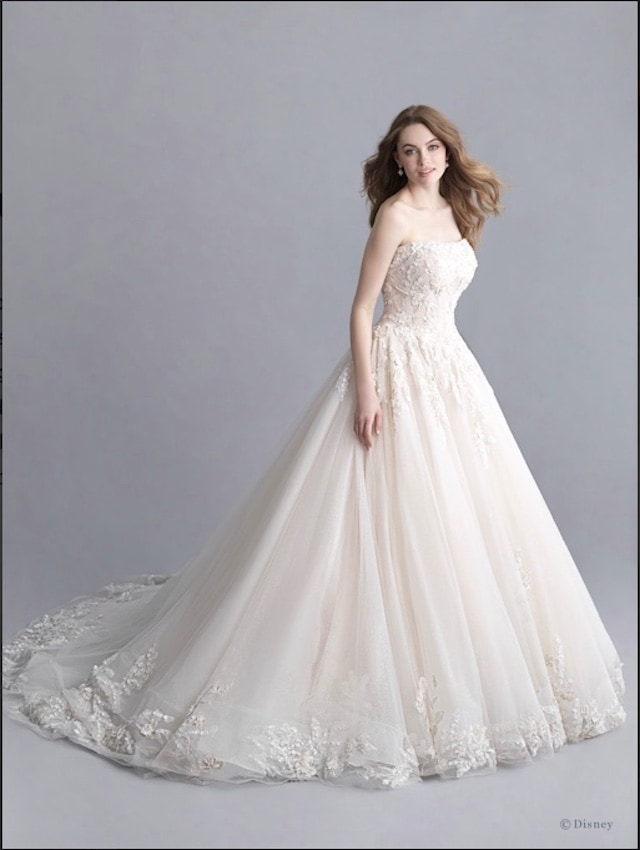 The Aurora platinum dress is as stunning at it's price tag. This dress is absolutely gorgeous. It is made from 100 yards of tulle and sparking tulle.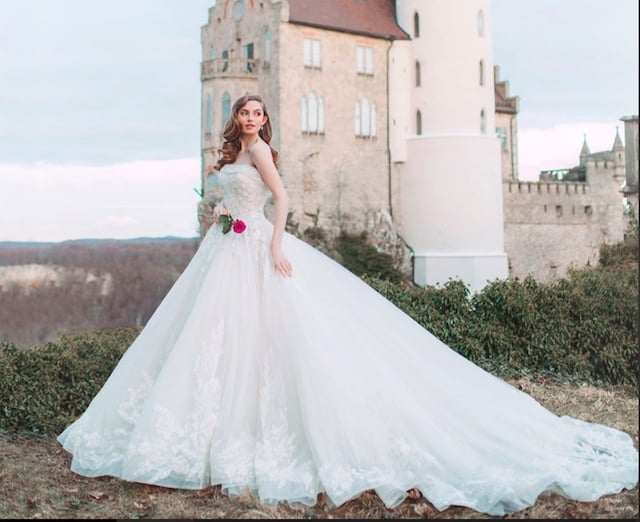 The bodice is strapless and covered with crystals all the way down to the skirt and the edges of the hemline are decorated with Alencon lace.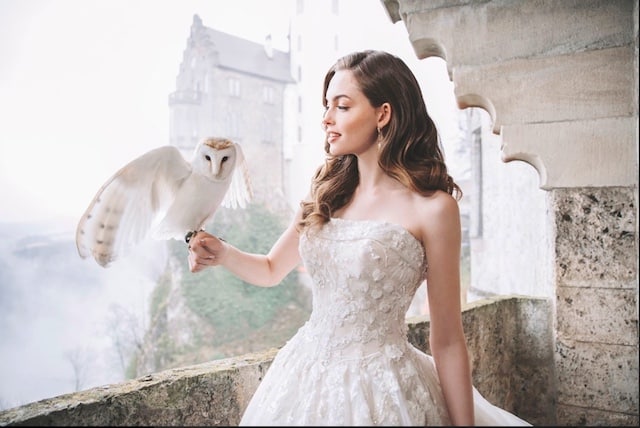 Belle $5000 – $6500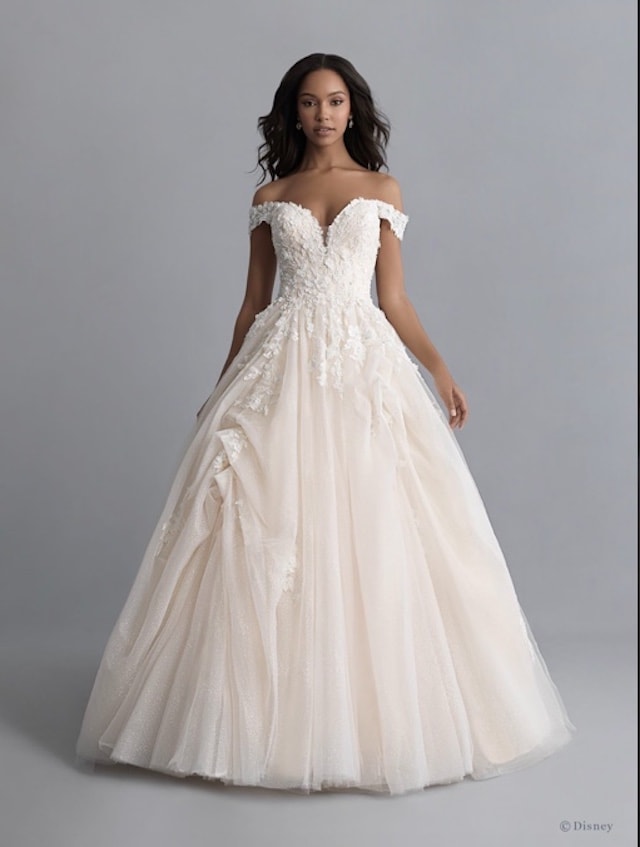 Compared to the other Belle style, this dress doesn't excite me the same way. It is still really pretty, but it definitely has a more ivory color and could use a little more sparkle.
Not to mention it is a lot more expensive than the other one.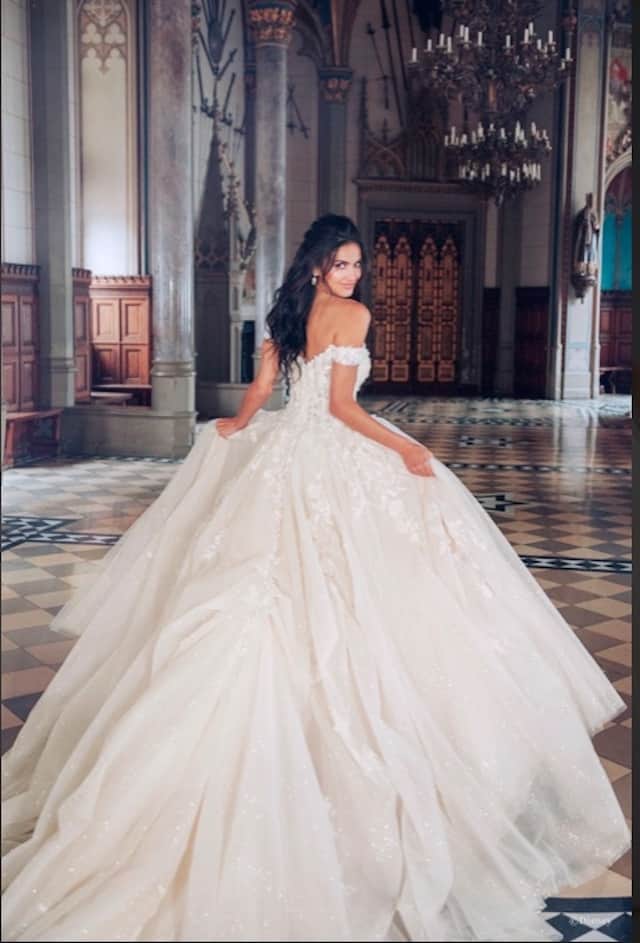 That being said, the skirt of this dress is really amazing. You will want to twirl around on the ballroom floor all nice.
The bodice is embroidered with Venise lace and beads and there are soft pickups on the skirt to mimic the gathering on Belle's icon gold dress.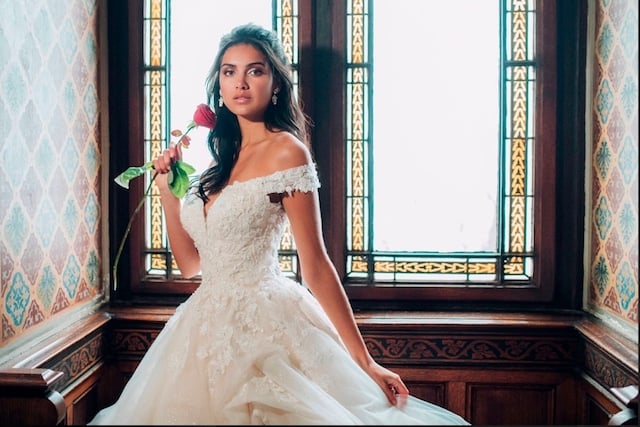 I also love that they continued the off-the-shoulder style for the sleeves of this dress. It immediately invokes images of Belle's dress in my mind.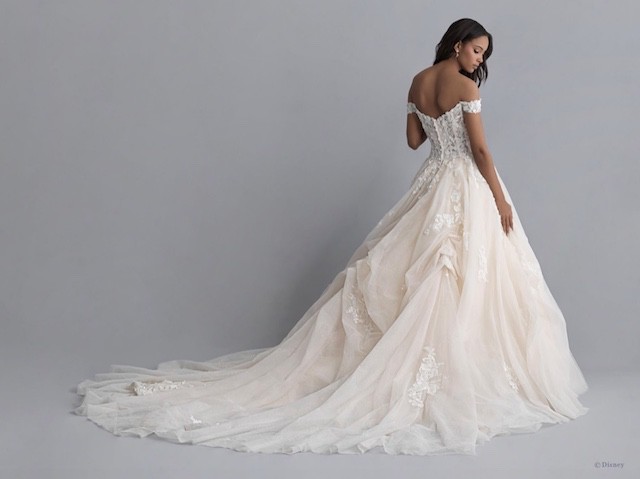 Cinderella $8000 – $10,000
Cinderella's dress comes with another hefty price tag, but once you see it you'll know why. The skirt is made from layers of sparkling tulle and the bodice is embellished with over 4,600 crystals and 44,000 additional sequins and beads.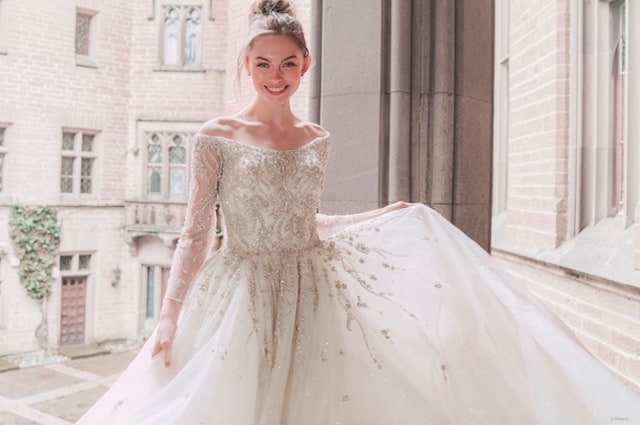 I am happy to see the scoop neckline on this dress. It it much more befitting of Cinderella's character. This dress has 3/4 length sleeves that are also embellished with the same beads and sequins as the bodice.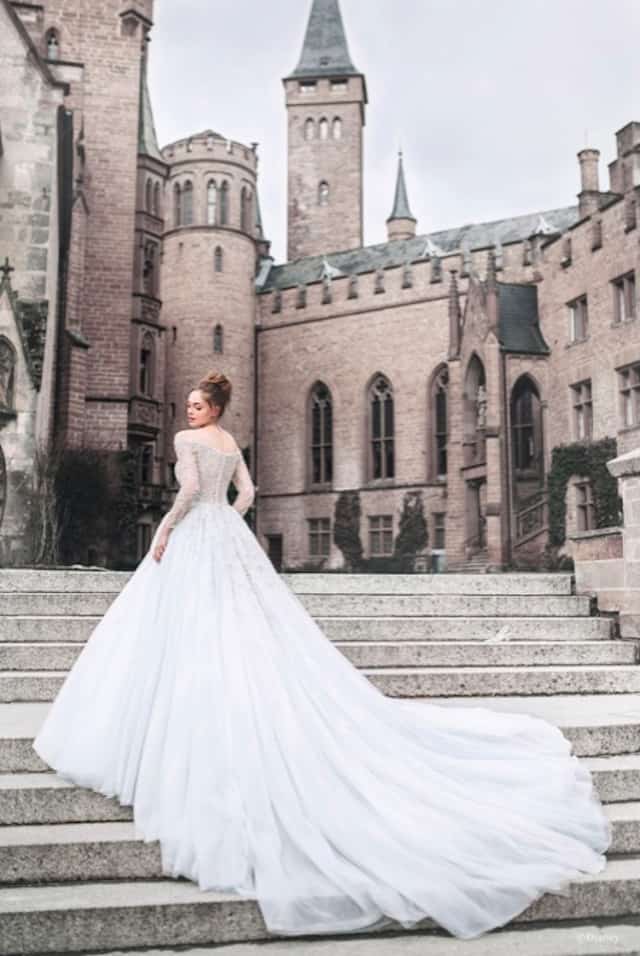 Perhaps what is most unique about this wedding dress, is the fact that you can get it in a light blue shade in addition to ivory.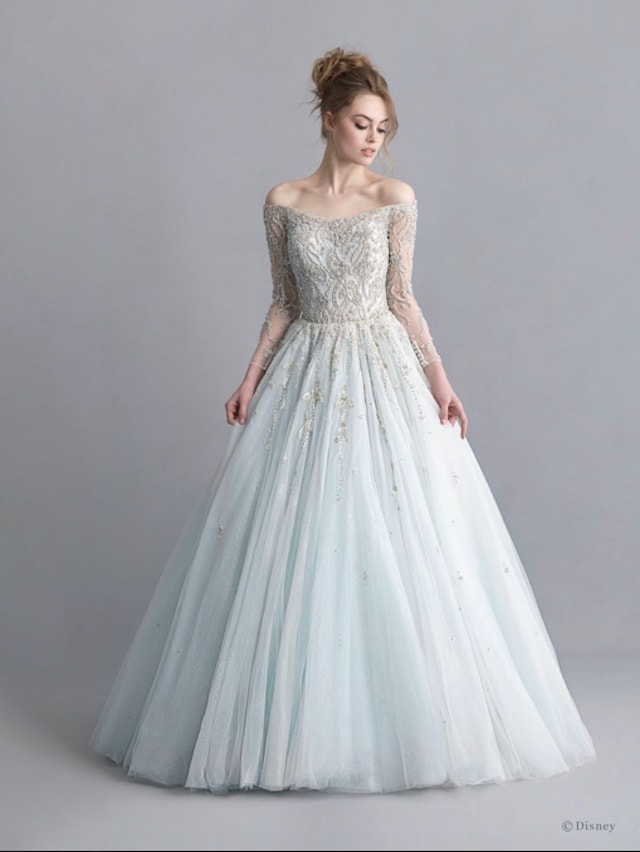 Jasmine $4000-$5000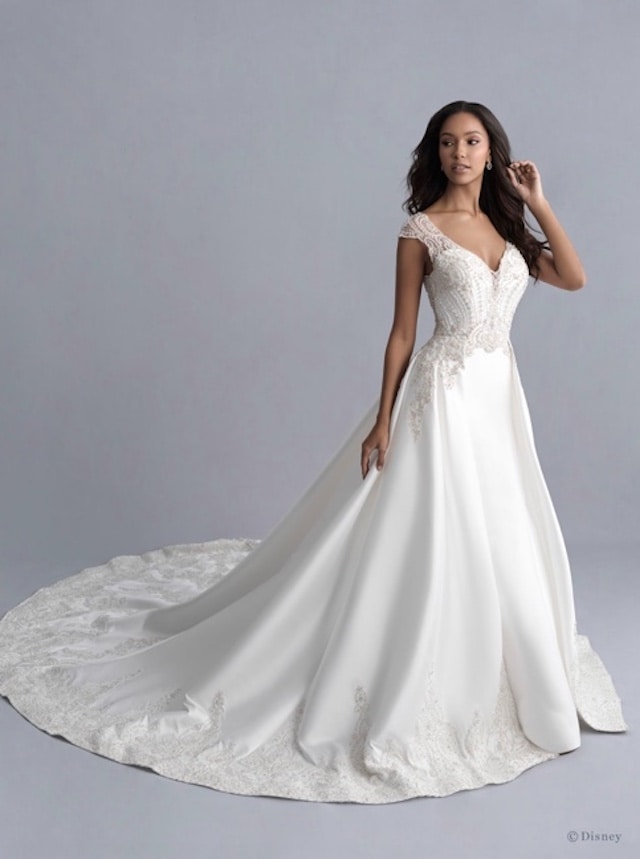 Jasmine's platinum dress is so pretty. The cap sleeves and beading on the bodice remind me a lot of the Live-Action Aladdin movie.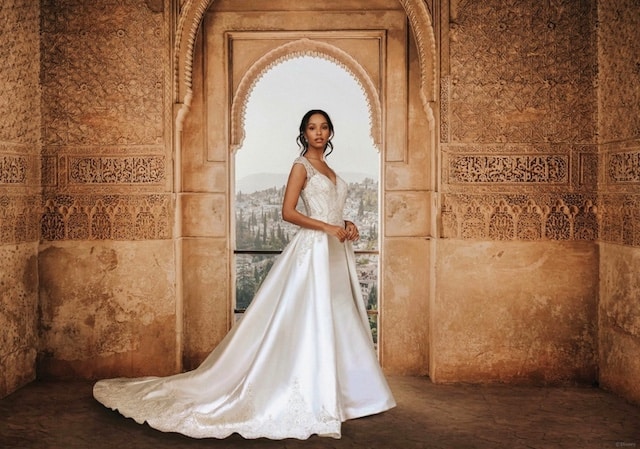 The dress is made from Mikado fabric and comes with a detachable train.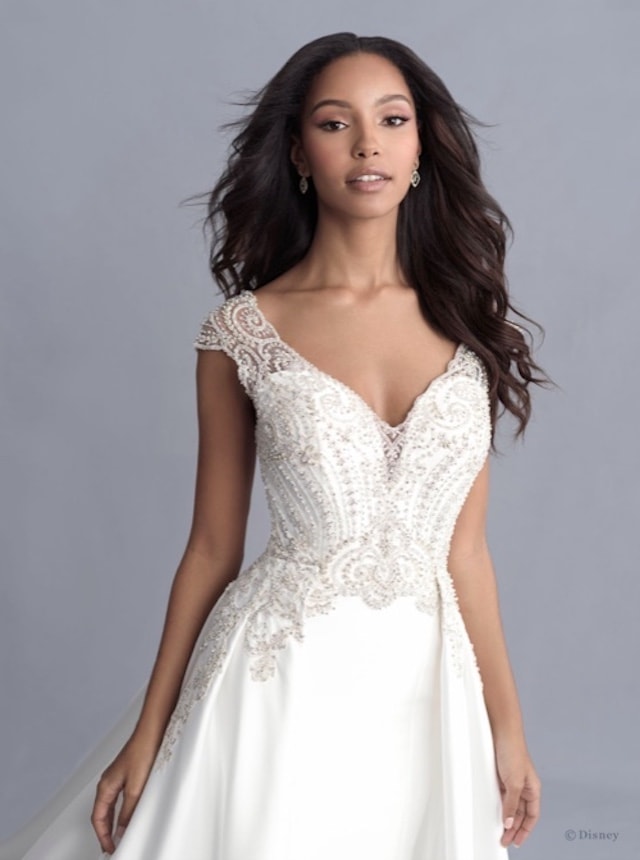 Snow White $5000 – $6500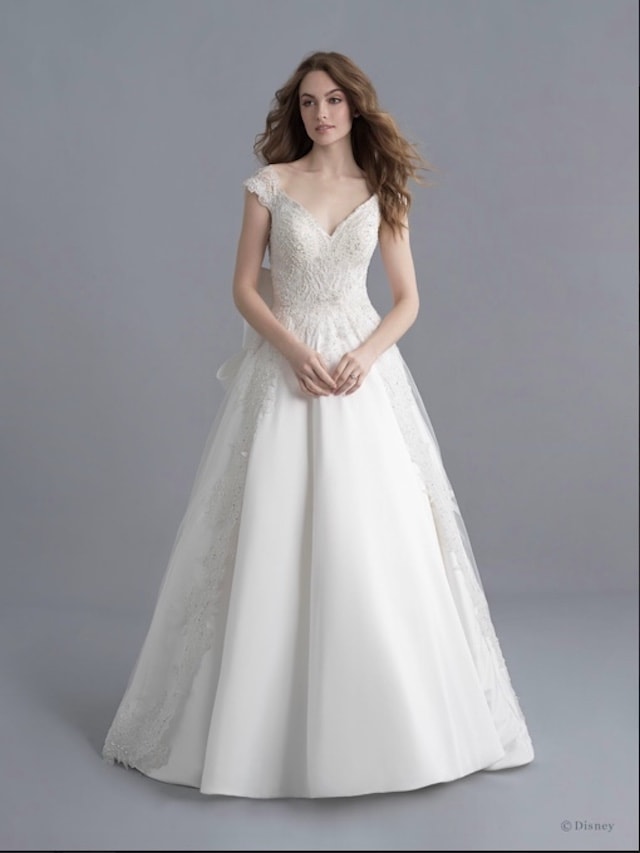 The Snow White dress is another stunning gown. The skirt of the dress is made from Mikado with a beaded tulle overskirt.
Floral lace and beadwork adorn the beautiful bodice and caps sleeves.
On the back of the dress there is an oversized bow which is the perfect standout detail for a Snow White gown. It reminds me of her red hair bow.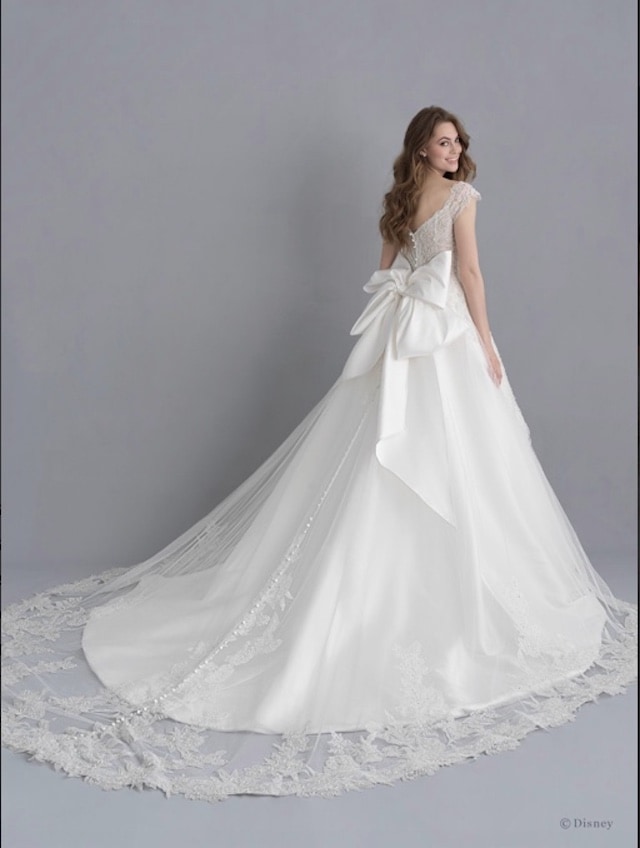 Tiana $3000 – $4000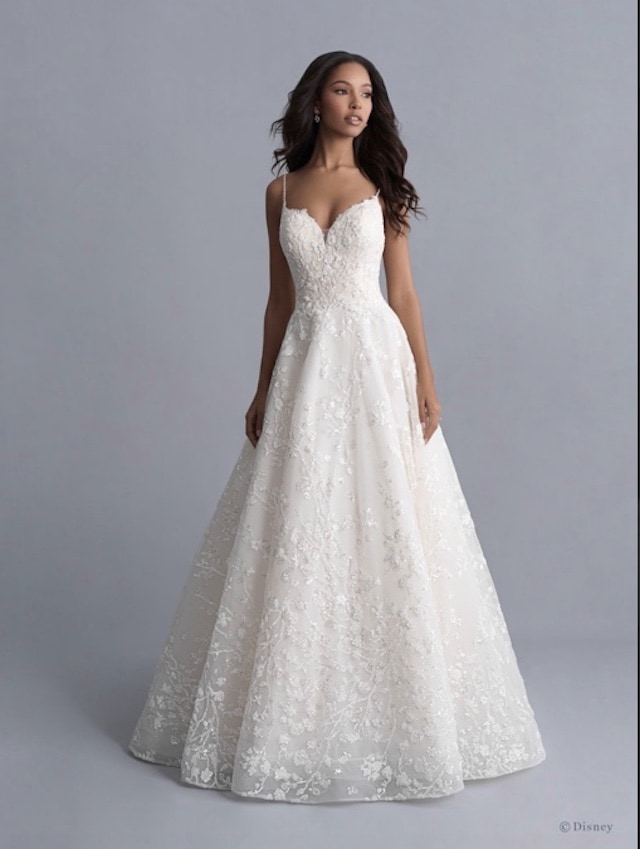 Tiana's platinum dress is by far my favorite dress of the platinum collection. If you have a chance to visit the Allure Bridal website, you gotta view the video of this dress! The glitter on this dress is mesmerizing!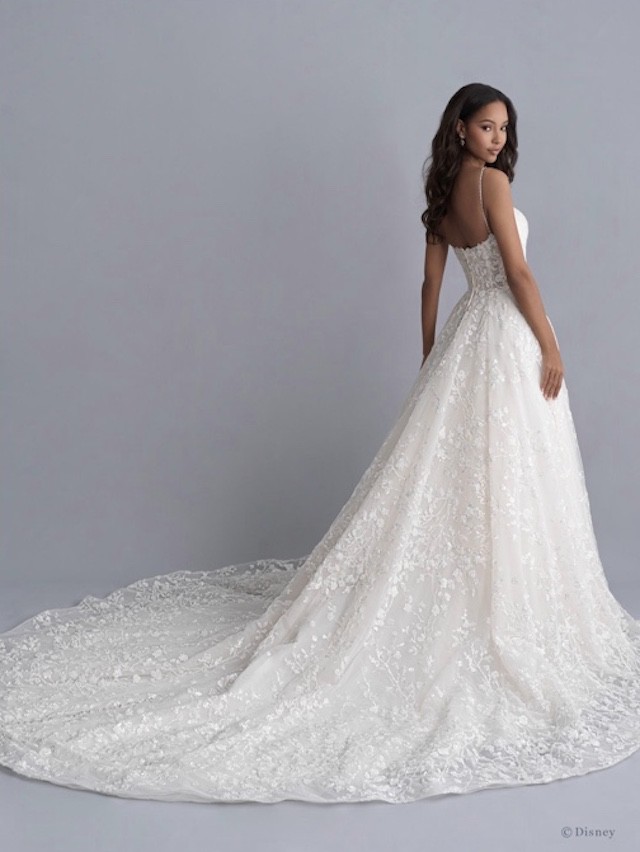 The dress is saturated in petite blossoms and delicate vines handsewn from thousands of sparkling sequins on soft tulle. It looks like fairy dust when it twinkles.
The bodice is made from Venise lace and is fitted to create the perfect feminine silhouette.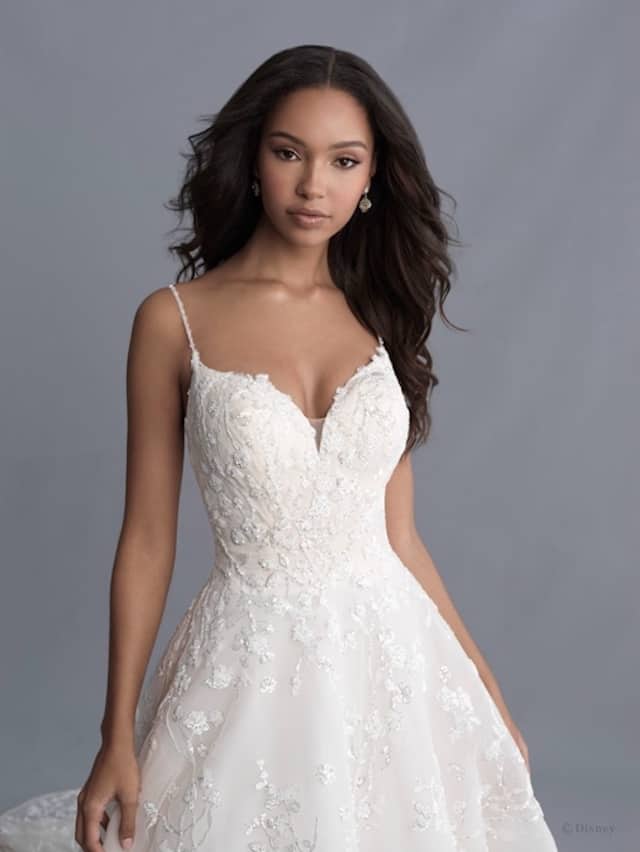 I am totally in awe of all these gorgeous gowns! If you are looking for that perfect dress to feel like a princess in, look no further than the Disney Fairy Tale Weddings Collection and the Disney Fairy Tale Weddings Platinum Collection dresses.
What do you think of these beautful wedding gowns? Which one is your favorite? Let us know on Facebook!
-Christina
Are you planning a vacation? Reach out to our trusted travel agency sponsor Authorized Disney Vacation Planner
Mouse Class Travel
!