When you were younger did you ever dream of what it would be like to be the only kid to spend the night in the candy or toy store? We have a sneak peak from a Security Host inside Hollywood Studios and in Disneyland. Although the parks remain closed, the Security Hosts continue to keep the Disney Parks safe and the bonus is that we get an inside looks at the Parks (plus some funny commentary from them!).
Chinese Theatre
Security Host Elio makes his rounds in an empty Hollywood Studios. Can you imagine being one of the few Cast Members to be strolling around the park? We are very thankful for Security Host Elio and all of the Cast Members who continue to care for our beloved Disney Parks.
Get ready to stroll around Hollywood Studios, no Magic Band required.
Last week we received a special message from Walt Disney World President, Josh D'Amaro as he wished a happy 31st birthday to Hollywood Studios.
He shared that the Disney Parks have remained silent during the indefinite closures of the Disney Parks, but he asked for the park music to be turned on in honor of this special birthday. Watch this video HERE.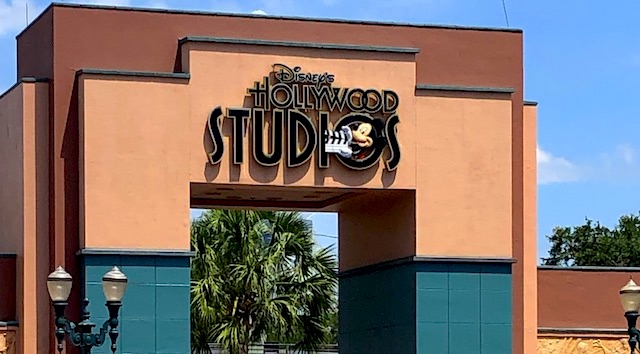 Tower of Terror
I love this view of The Hollywood Studios Tower of Terror. All around Hollywood Studios you can see this iconic building.
We loved this sneak peak inside the lobby of the Tower of Terror. As much as we can't wait for the Disney Parks to re-open, we have seen that many of the Cast Members are also ready to get back to creating the magic for guests of all ages.
You can see some of these great Cast Members on episodes of Cast Life.
Star Wars: Galaxy's Edge
This week we shared how you could get a virtual view of the newest attraction in the Star Wars: Galaxy's Edge, Rise of the Resistance. This is an unbelievable opportunity to enjoy this great attraction like never before.
See how our Security Host Elio measures up to the fellow security Storm Troopers.
Can you imagine being the only person touring through Galaxy's Edge? You can see other great views of Galaxy's Edge in the early morning light HERE.
View a special message from both the Walt Disney World and Disneyland Park Presidents from Star Wars: Galaxy's Edge in honor of May the 4th.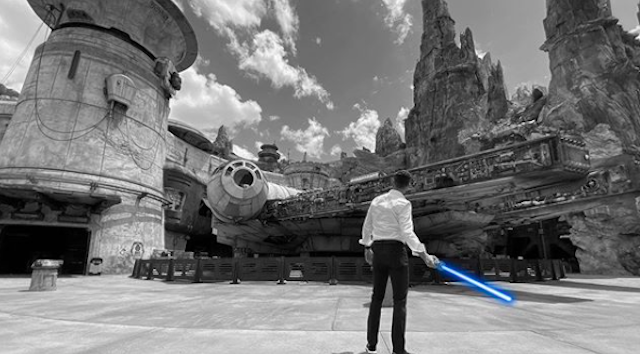 Muppets Vision 3D Theatre
I remember enjoying this theatre on my first visit to Hollywood Studios when I was younger. Security Host Elio gets a sneak peak inside the theatre. I wonder if he made sure the room key was still under the door mat at the entrance of the theatre?
Are you missing your favorite Muppets? Be sure to read about the Disney Singalong Volume II that will be premiering this Sunday to find out about the other great guests that will be joining the Muppets.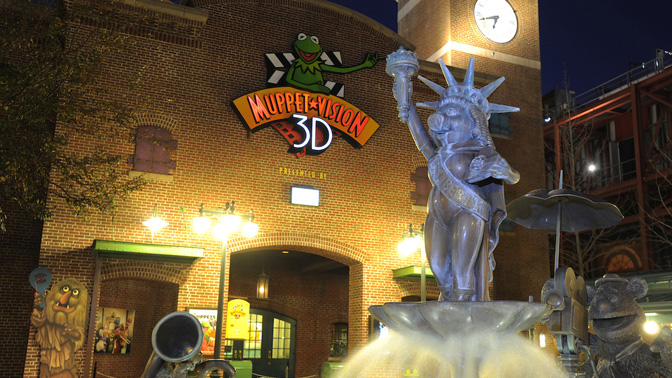 Disneyland
In Disneyland, we follow along with Security Duty Manager Tina as she makes her rounds of the beautiful Disneyland Resort property.
How many of us would love to get a picture taken in front of Sleeping Beauty Castle without the large throngs of people around us?
Mark Twain Riverboat
We now see the Mark Twain Riverboat. Tina shares how she fondly remembers hearing the whistle of the Mark Twain Riverboat from her family's home growing up. She even recalls hearing Louis Armstrong performing from this beloved ship as it cruised down the Rivers of America.
New Orleans Square
Tina continues her journey from Frontierland with the Mark Twain Riverboat over to the New Orleans Square.
This area is so unique, and I wish that Walt Disney World had an area similar. It is so unique and we loved seeing Tina share of her first job at Disneyland which was located at the River Belle Terrace.
You can almost smell the beignets from our visit to the New Orleans Square. Possibly try your hand at making these delicious treats from home. Find the recipe HERE.
Petrified Tree
I once read that Walt and Lillian Disney were visiting the Pike Petrified Forest and Walt decided that a petrified tree would make a perfect anniversary gift for his beloved wife.
His thought was that she could place it in her garden. Lillian had a better idea for this eccentric gift and it found its home here in Disneyland.
Storybook Canal
On our most recent trip to Disneyland, I absolutely loved the Storybook Canal. We rode through this peaceful attraction during the daytime, but look how gorgeous this nighttime view is.
Matterhorn Bobsleds
The Matterhorn is such a fun ride, and Tina captures a beautiful view of the Swiss flags decorating the entrance queue at nighttime.
I enjoyed watching the Imagineering Story on Disney Plus and learning that the upper third of the Matterhorn Mountain is actually used for storage and even houses a basketball court.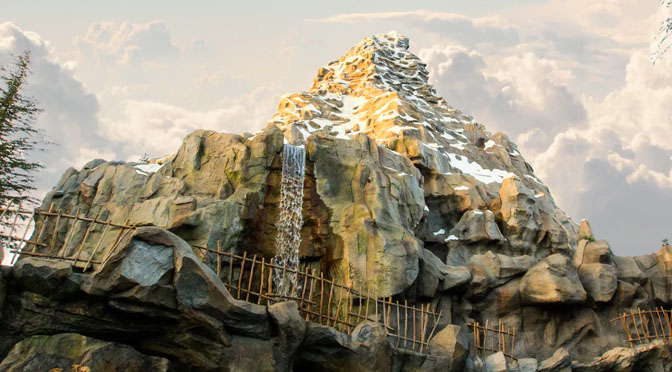 Sleeping Beauty Castle
Tina ends our evening tour with this view inside Sleeping Beauty Castle. It is such an unique experience to actually be able to tour the inside of the this castle.
Guests may venture through the winding staircases and view scenes from the 1959 classic movie.
I think the thing that I love most about the Disneyland Park is that it is the Park that Walt Disney built and resided in. Countless people have documented that Walt Disney would walk the streets of Disneyland early in the morning to see that it was ready for a day of magic and memories for the guests.
I may be a little jealous that our fearless Security Duty Manager, Tina, is able to walk the streets just like Walt did during this time that the Disneyland Park remains closed.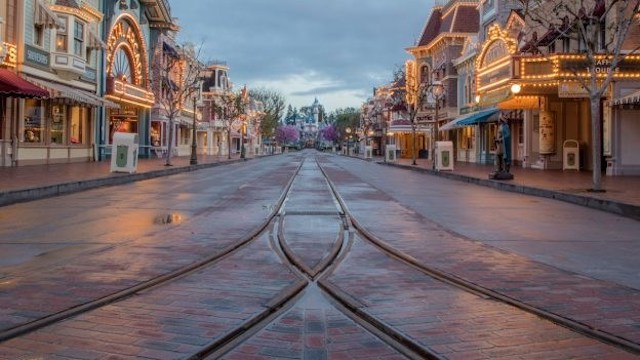 Our time in the Disney Parks has come to an end, but as our pal Mickey Mouse reminds us this is not "Goodbye," but "See Ya Real Soon."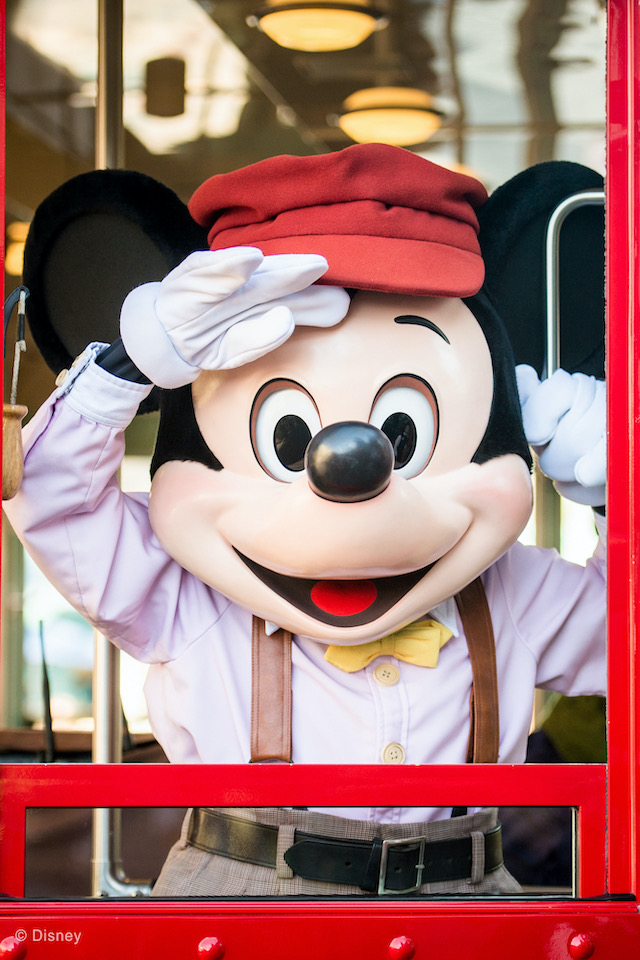 While the Disney Parks are closed, if you were a Security Host where would be the next place that you would visit? Share your thoughts on our KtP Planning Group and on our Facebook Page.
Are you planning a vacation? Reach out to our trusted travel agency sponsor Authorized Disney Vacation Planner
Mouse Class Travel
!