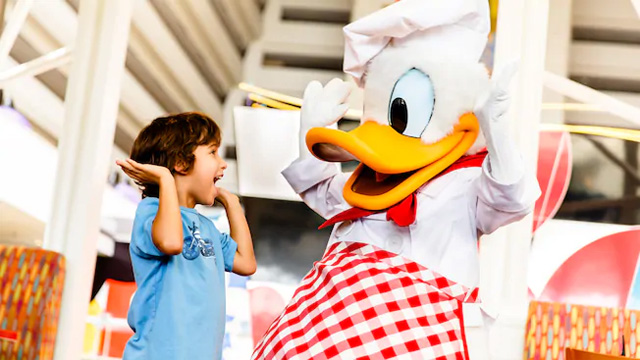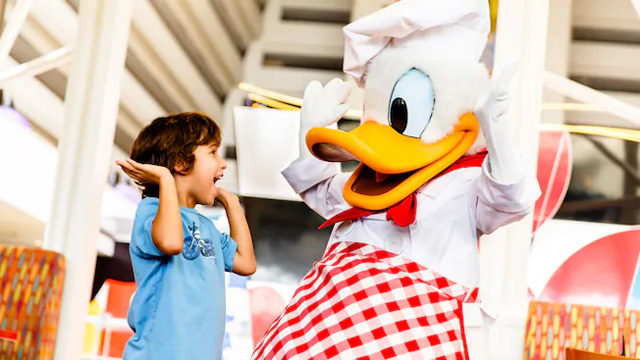 Food and characters go hand in hand at Disney so it's no surprise that you can (and should) do both at the same time during your vacation. KtP friend, Bill, shares his top 5 Disney character meals.
Disney World offers several character meals. They are great opportunities to meet several characters and have great interactions without the lines. Also, some meals are the only regular opportunity to meet a few characters.
Usually, Disney Character meals are buffets or served family-style. Let's take a moment and explore what my family feels like are our favorite character meals.
1900 Park Fare Dinner
This is our favorite character meal by far. It consistently has the best food and character interactions. This restaurant also offers a nice character breakfast featuring Pooh, Tigger, Mary Poppins, Alice, and the only regular meet with the Mad Hatter.
Dinner, however, is hosted by Cinderella and Prince Charming. Also visiting are Lady Tremaine, Anastasia, and Drizella and they are the stars of the evening.
They have been hilarious each and every time and coax great reactions from the little boys who may not have otherwise been excited about princesses. The sisters are so interactive and just love to be told how beautiful they are. Lady Tremaine strikes the perfect balance of comedy with a touch of villainy.
There is also a waltz with the characters periodically, and the kids are welcome to join in. It's very fun.
The food has also been excellent. It is a buffet featuring highlights of Florida. The highlight is the strawberry soup. It is thick creamy and delicious. They have good fried catfish, shrimp, and a carving station.
Also, this may be just me, but some Disney restaurants have some pretty terrible Mac n Cheese, but 1900 Park Fare has some wonderful Mac n Cheese. It has actual cheese and not melted traffic cones for sauce.
There is pizza, standard Disney chicken nuggets, and spaghetti on the children's portion of the buffet.
The dessert buffet has wonderful little key lime tarts, along with an assortment of other desserts. I usually grab a key lime tart and another bowl of strawberry soup!
I think this is a great meal for a partial day in the park, or if you have a day between parks. The Grand Floridian is visually appealing so set aside a few extra minutes to explore. It's a beautiful resort with some nice shopping and activities.
Check out other reviews for breakfast and dinner written by fellow KtP writers.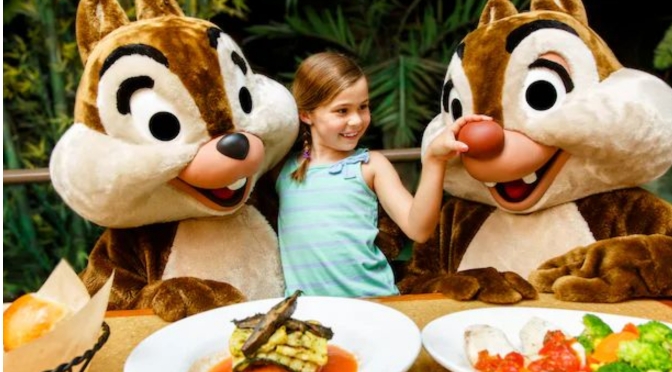 Garden Grill Pre Park Opening Breakfast
This is the character meal we do the most often. It is served family-style and features Chip and Dale's Sticky Bun Bake, Mickey Waffles with Hazelnut Sauce, and salsa prepared with produce grown in the greenhouse below the restaurant in The Land.
The Cinnamon bun and Hazelnut sauce are tasty, but I have to limit myself because it can turn into a lot of sugar to start the day. The Hazelnut sauce is meant for the waffles, but I usually just drizzle some on my bacon and potato barrels.
Also served are freshly cut fruit, bacon, sausage links, scrambled eggs, and potato barrels. I usually request my sausage to be cooked a little longer. They tend to come out grey instead of brown. I also always have a glass of POG juice. Overall it's a delicious breakfast.
Characters will be Chip, Dale, Mickey, and Pluto. Early in the morning at the restaurant, with the day just starting, the characters seem to have more time as only a fraction of the tables are full. We have even had all 4 stop together for a group photo.
But while the food and characters are great, they are secondary to the real reason we make this reservation so often. Generally, with a 9 AM park opening, reservations begin at 8 AM. Anytime I have had a reservation for 8:30 or earlier, I have been allowed into the park between 7:50 and 8:00 AM.
We proceed straight to the restaurant and are seated pretty much upon arrival. We try to complete the meal by 8:40 and line up at Soarin before it opens. And it often will open 15 minutes before the park officially opens. We almost always are walking out of the ride just as the stream of people from rope drop arrives.
We then head straight for Frozen Ever After, and can usually knock that out with a 15-20 minute wait. Then we have our Test Track FastPass and we complete all three tier-1 rides before 10 AM.
This our traditional final day before leaving for home between noon and 2 PM. It's a good way to end our trip, with great food, time with Mickey, and completing several attractions.
Kate wrote about her experience at Garden Grill HERE.
Cinderella's Royal Table
So many princesses…. We don't partake in this meal often because it is fairly expensive. These days we only look to make this reservation if we are touring with any 1st timers to Walt Disney World. But it is worth the experience.
The castle is stunning, the staff is highly professional, the food is fantastic, and the characters are great. It is a very complete experience.
This reservation is harder to get, but if you start early enough in advance you will get it.
You do have to prepay for this meal. If you are using a Disney Dining Plan it will require 2 table service credits, and you will be refunded the prepayment to your credit or debit card after the meal.
Set aside at least 1.5 hours and up to 2 hours for this meal. It starts by checking in inside the castle. We have never been able to get in early. They will usually not let you even check in until 15 minutes before your reservation, and even then it may be 15-20 minutes after your scheduled time before you are called.
Then you go wait in line for photos with Cinderella. It's a great experience and not rushed. There are wonderful decorations, and make sure to see if the kids can find Jacque and Gus.
After meeting Cinderella, you may have to wait a few more minutes, but you will be called to ascend the staircase to the dining room. This is the rare table service character meal. Each meal includes a starter, entrée, and dessert.
There are usually 4 princesses meeting in the dining room. Each is formally announced as they enter the dining room. Jasmine, Ariel, Aurora, and Snow White are the usual quartet. Occasionally you may see the Fairy Godmother. The attendants are very diligent about making sure they visit every table.
Because it is table service you don't have to worry about missing one while at the buffet. You can really add to your park time with this meal by getting some quality time with several princesses.
They also distribute swords and wands to the boys and girls and have a fun little ceremony. It's a very complete experience for anybody who is coming to Disney World for the 1st time, or just to have a special celebration.
Read about Monica's experience eating at Cinderella's Royal Table by clicking HERE.
Chef Mickey's
A classic of Walt Disney World. I remember this distinctly from my childhood when my aunt and uncle brought me and my brothers to Disney World. Good food, great characters, and a cool resort to visit.
Just like when I was a boy, the adventure to Chef Mickey's began with our first ride on the monorail. Now, as an adult, the monorail isn't anything special, but for my 4 year old son, the first time we rode INSIDE of the Contemporary was exciting.
After taking the elevator to the 4th floor, Chef Mickey's is located behind the Contempo Cafe. You will be given a pager while you wait on your table. There are a couple of nice shops close by to explore while waiting.
Once seated you will find a large buffet. It has plenty for everyone including a carving station and some excellent cornbread.
The Fab 5 will circulate the dining room, so you will have to time the trips to the buffet strategically. The character attendants, however, will make sure you meet everyone if you miss a character. They have a fun little dance around the dining room also for the kids to join in.
If you schedule your reservation strategically later in the evening, you can time things to catch either the Magic Kingdom fireworks, the Electrical Water Pageant, or maybe both.
A breakfast reservation can be a great way to conclude the trip, and say a personal goodbye to Mickey and the gang before heading home.


'Ohana
'Ohana is a beautiful and fun restaurant that offers a character breakfast. It is located at the Polynesian resort, so come a little early or budget a few extra minutes after to explore a beautifully themed resort.
'Ohana means family, so it's appropriate that this meal will be served family-style. It includes Hua Paka (Scrambled Eggs), Pua'a (Pork Breakfast sausage links, and Hawaiian style ham with pineapple compote), Uala Kahiki (Fried Potatoes), and Freshly made Pineapple-Coconut Breakfast Bread.
There are also Mickey Waffles and fresh fruit. It is a good change of pace from the usual breakfast at Walt Disney World.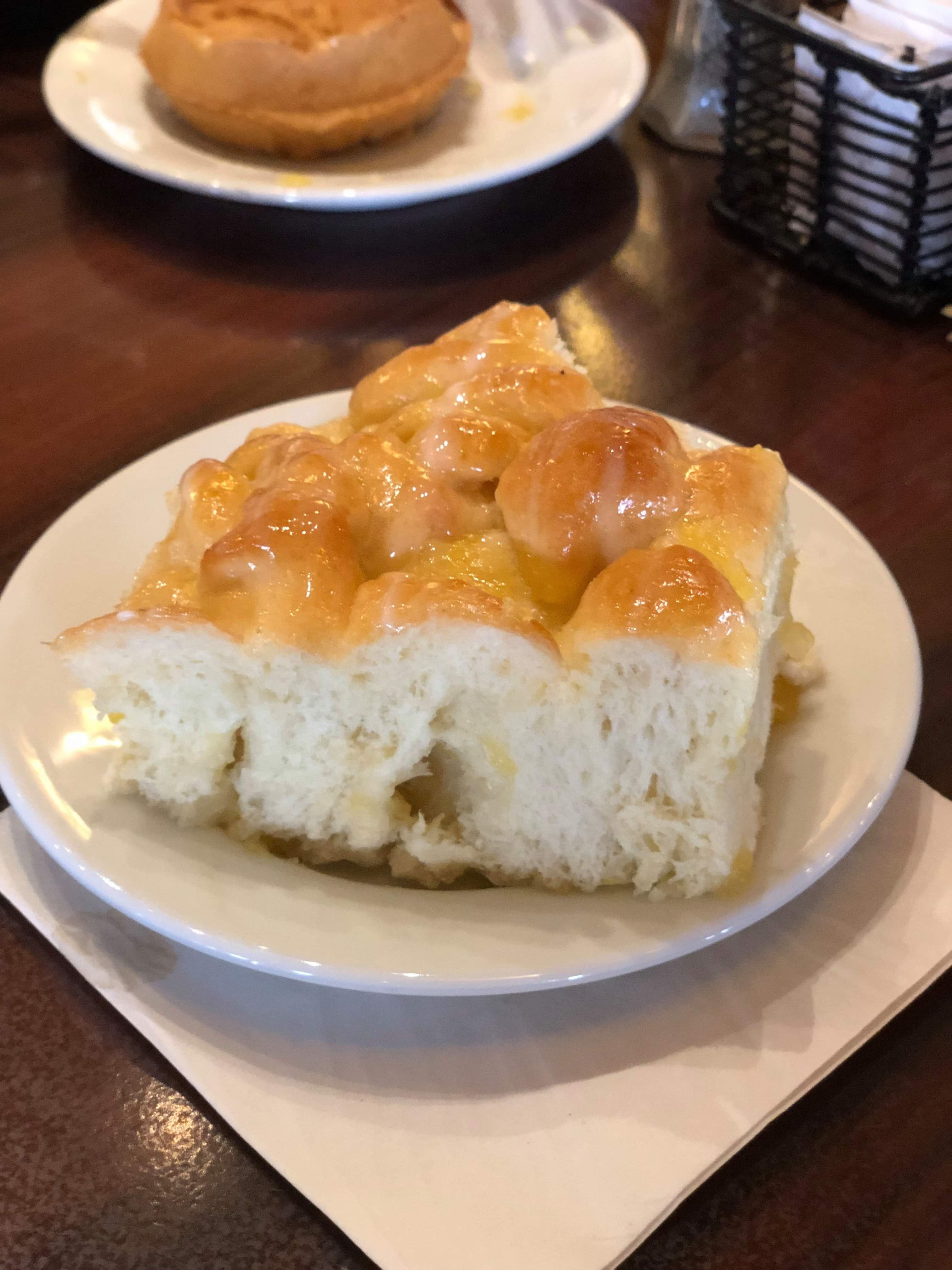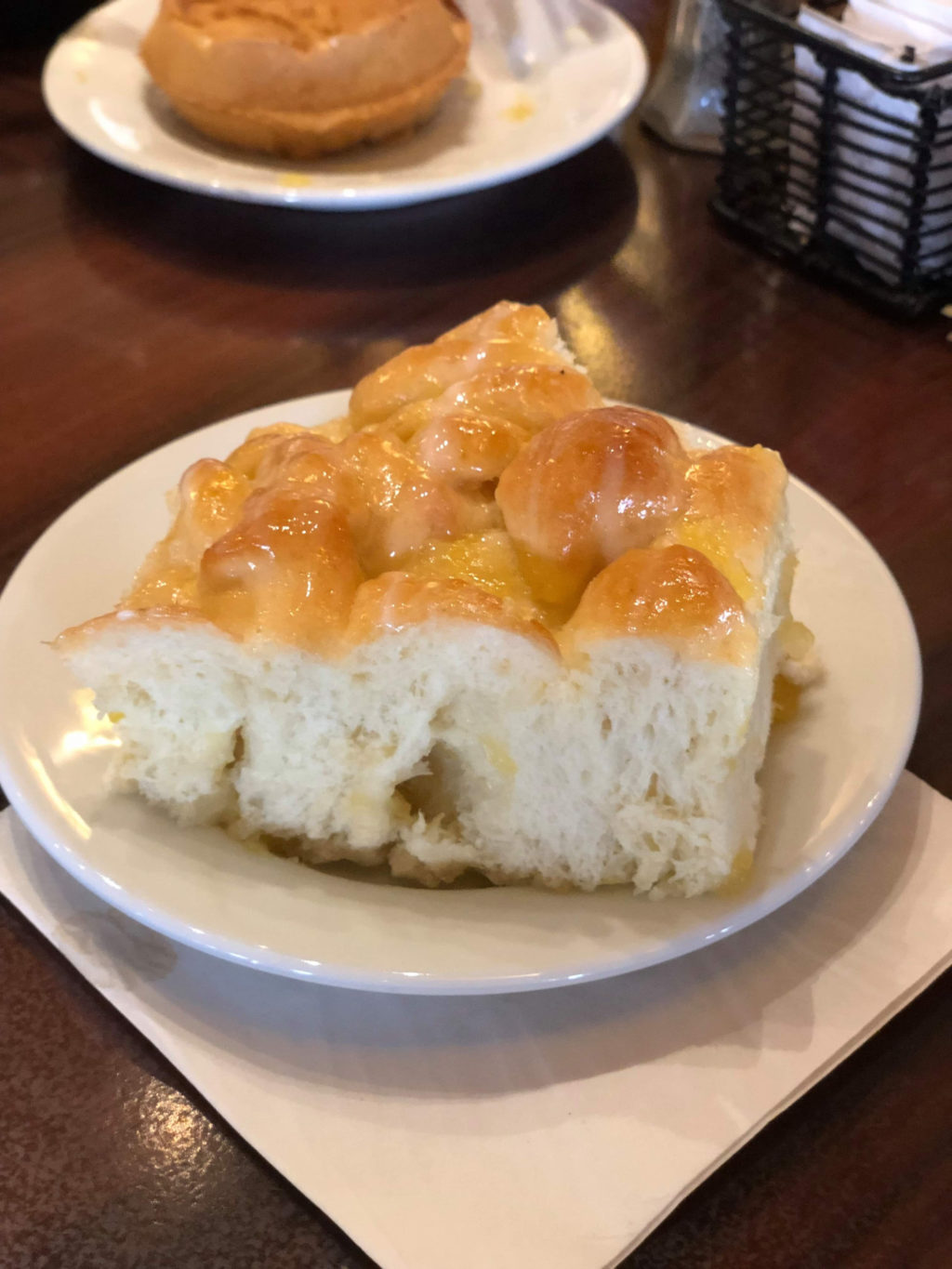 Characters include Lilo, Stitch, Mickey, and Pluto. This is the only regularly scheduled meet for Lilo. The characters are fun, especially Lilo and Stitch. Mickey meets in a Hawaiian style shirt.
This is a good breakfast to start a resort day, before heading back to the pool, or again as a goodbye on your final day.
Be on the lookout for another KtP review of 'Ohana soon!
Building a character meal into your plan from characterlocator.com is a great way to add some magic to your trip and meet some great characters. There are other great character meals like Crystal Palace that offer unique character meets and good food, but these are our family's favorite 5.
Let us know your favorites on Kenny the Pirate's facebook page. Be sure to join the Crew group as well because fellow Crew Members love to share their food reviews!