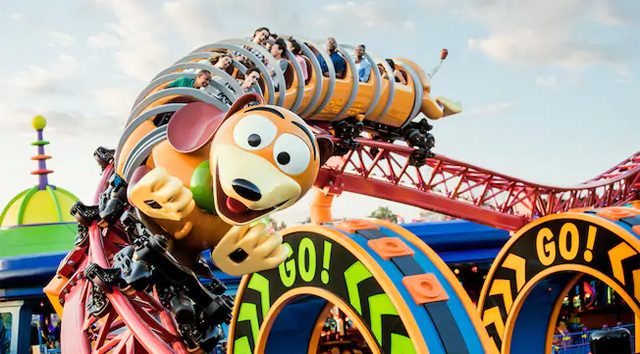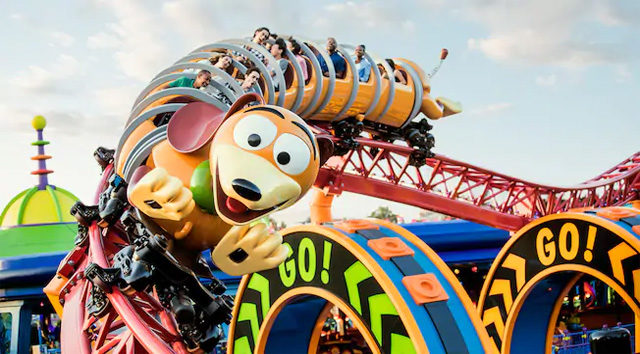 If you have been following Kenny the Pirate for any length of time and have checked out his crowd calendars, you know the week between Christmas and New Year's Day is considered "insane" – meaning you need an excellent touring plan and a lot of patience or you will be waiting in line for everything.
It is the one week of the year Disney brings in the highest number of guests. It is also a fun time to go because the holiday decor and entertainment are still up and running. Plus, the New Year's Eve fireworks that take place at Magic Kingdom on December 30 and 31 are over-the-top and probably one of the most magical ways to ring in the new year.
New Year's Eve is probably the busiest day of the week in terms of wait times for attractions.
I have been checking wait times at all four Disney World Parks to give you all an idea of what you can expect on arguably the busiest day of the year.
Plus, I've got some tips to help you navigate the crowds and high wait times if you are visiting Disney during New Year's Eve or ANY busy day.
10 a.m. on New Year's Eve
The morning is already looking pretty busy at Magic Kingdom, with an hour-long wait to ride Buzz Lightyear and Space Mountain taking the cake with a 2.5 hour wait.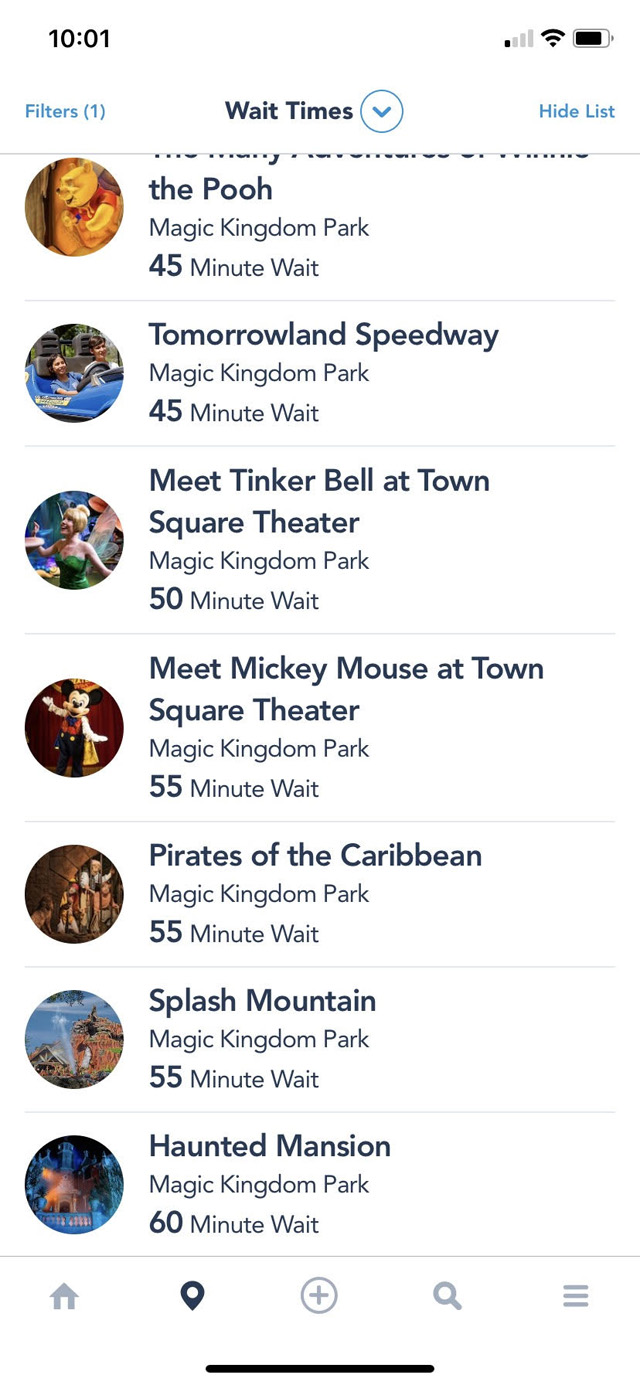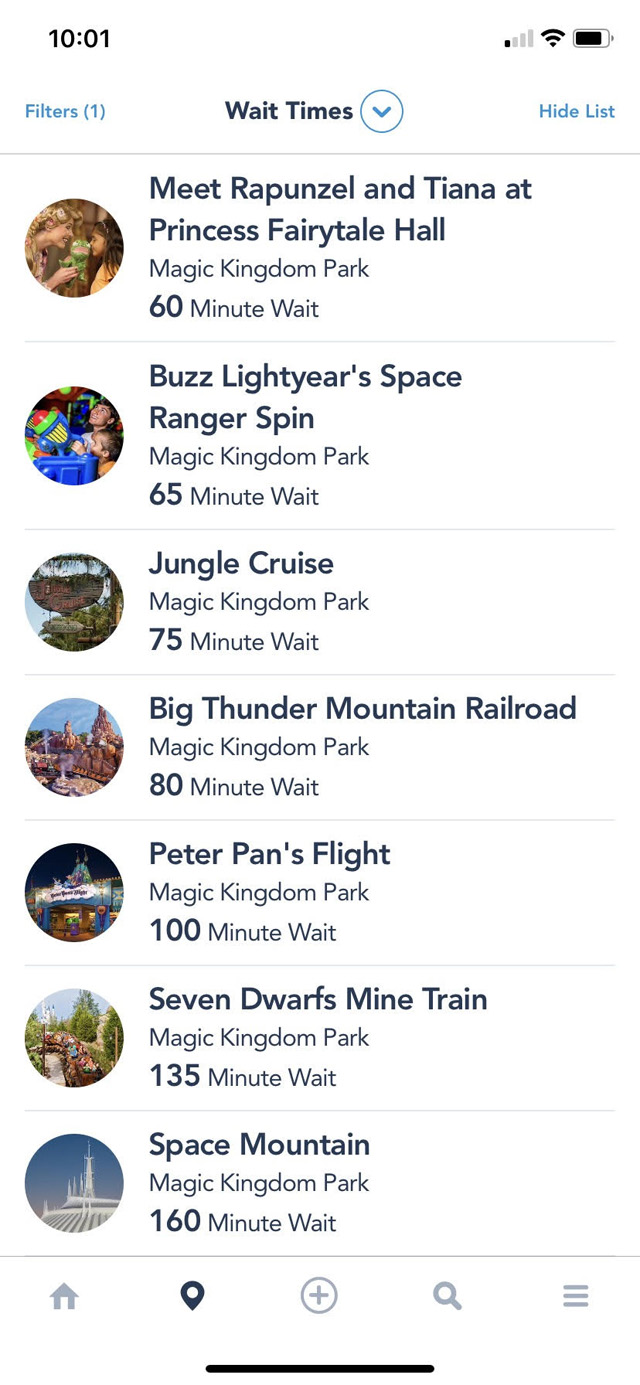 At Hollywood Studios, guests are waiting almost 2 hours to make it across town for the Aerosmith show. At this rate, the concert will be over!
I'm actually a little surprised Slinky Dog Dash only has an 85-minute wait. Most are at Galaxy's Edge riding Smuggler's Run (or waiting 2 hours in line to ride) or using their boarding pass for Rise of the Resistance.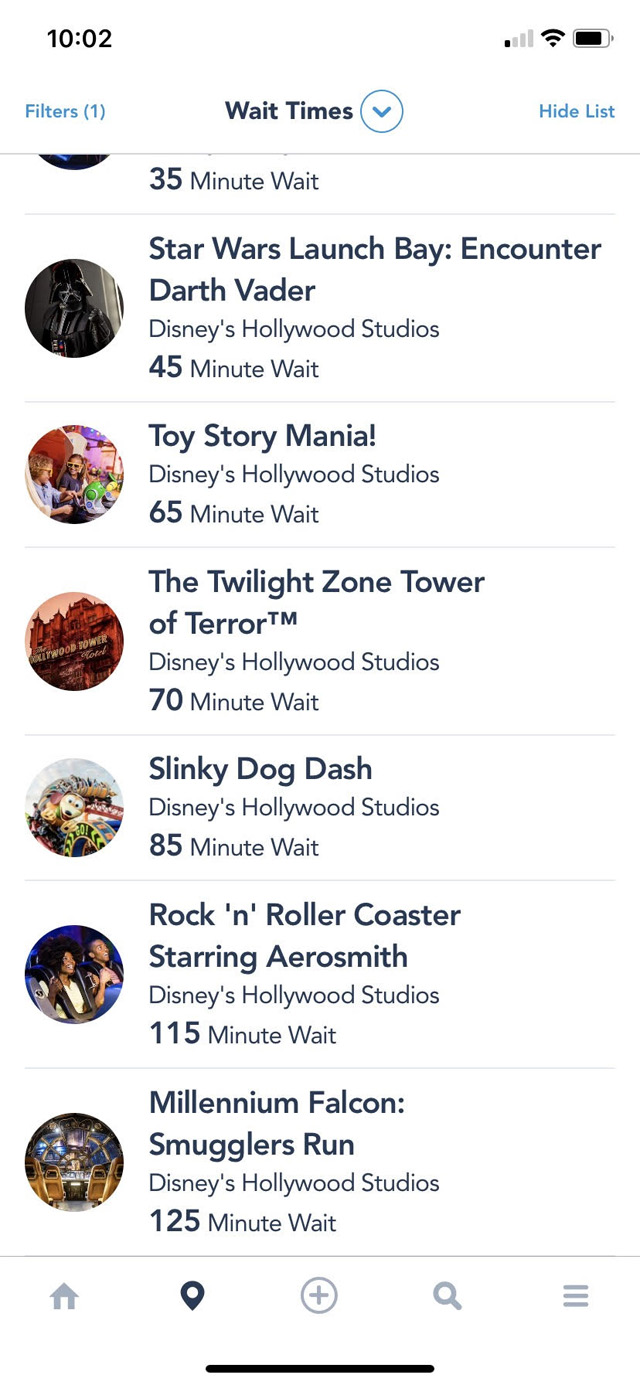 Next, let's take a look at Epcot at 10 a.m. Soarin' and Test Track are both at 2+ hours, which is not surprising. I still wouldn't stand around that long for either attraction, though. Would you? Or would you rather follow Kenny's Tap Grab Modify tips?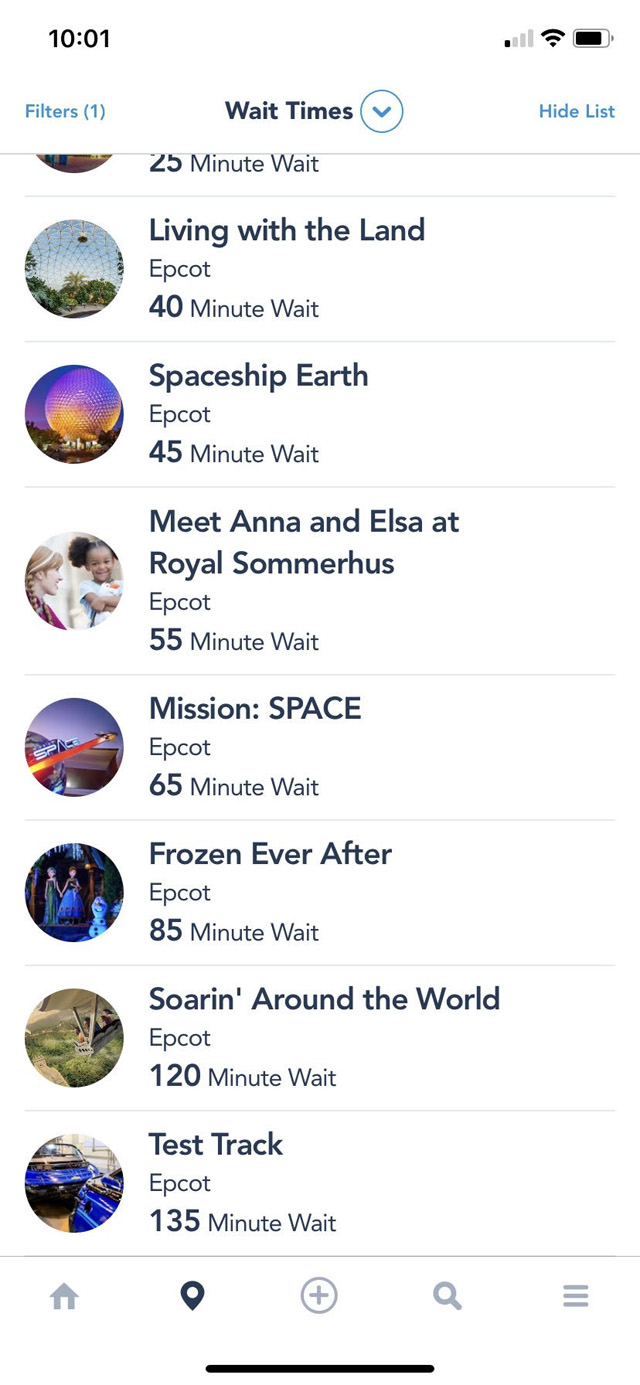 Finally, Animal Kingdom is not looking so bad this early in the day. Expedition Everest, Kilimanjaro Safaris, and Na'vi River are all sitting at a one hour wait. Not surprising, Flight of Passage holds a 2+ hour-long wait.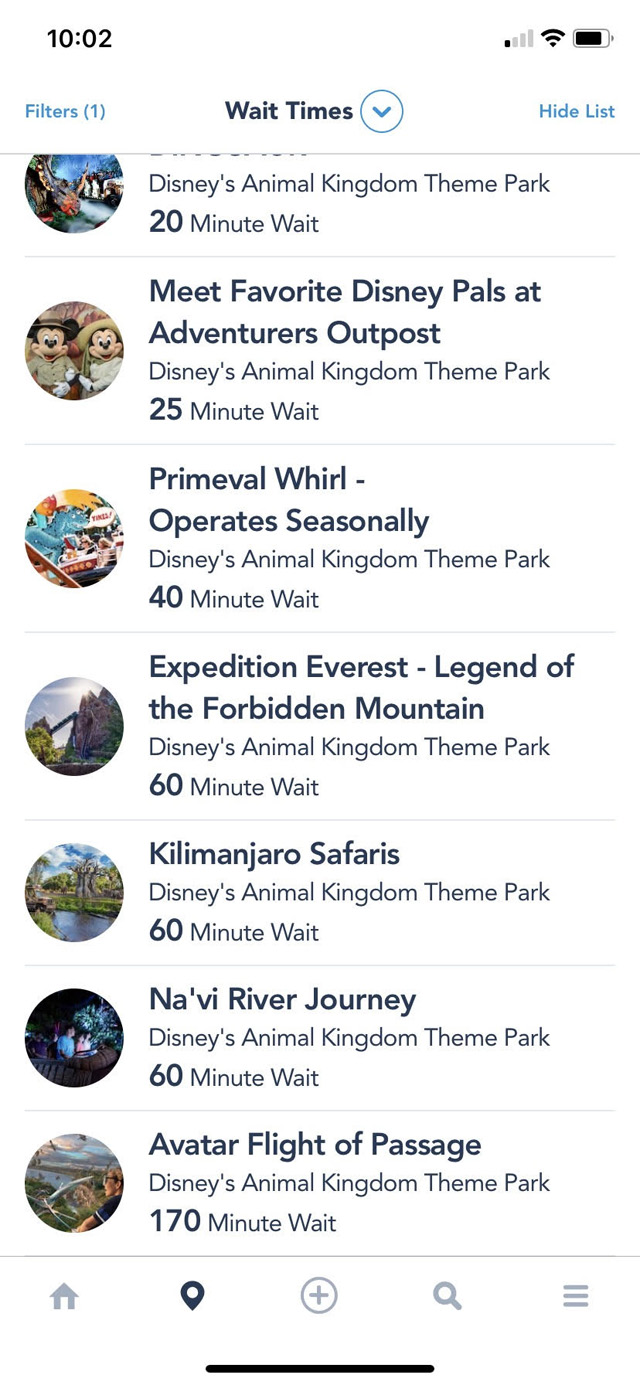 12 p.m. on New Year's Eve
Attraction wait times across all four parks are picking up steam. Let's take a look.
Magic Kingdom is growing in the number of attractions with an hour or longer wait time. Would you wait 60 minutes for Astro Orbiter? Mickey Mouse himself has an 80-minute wait.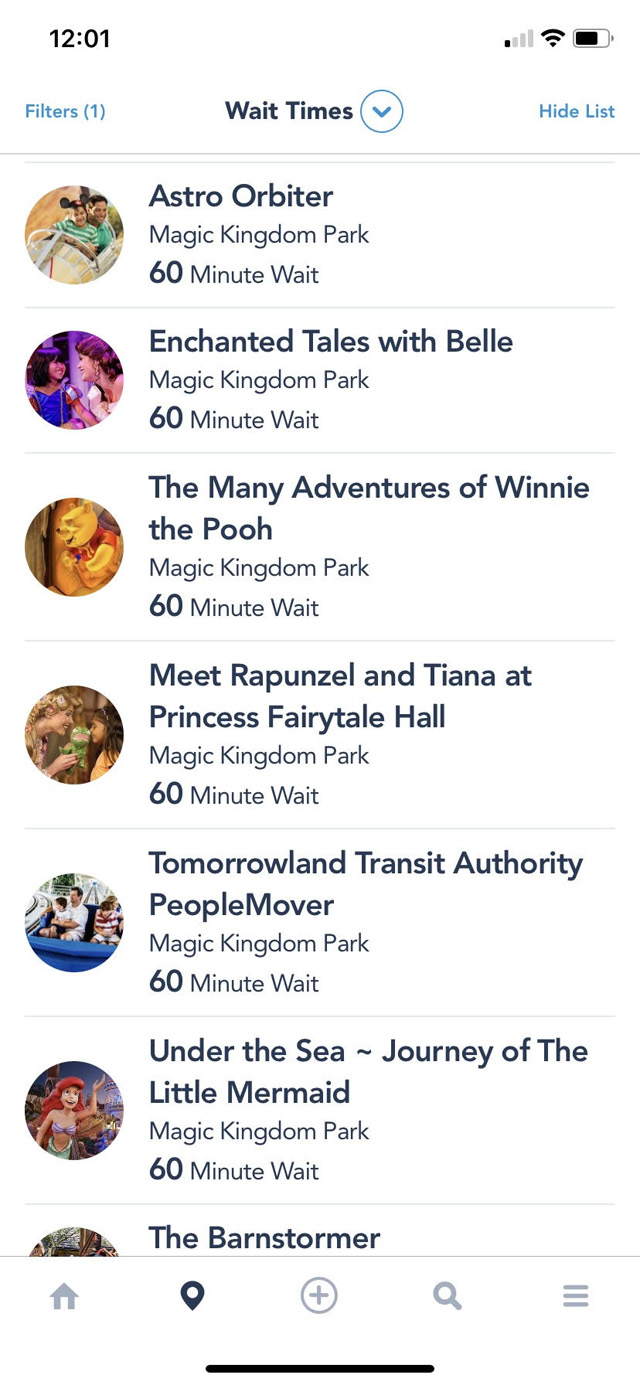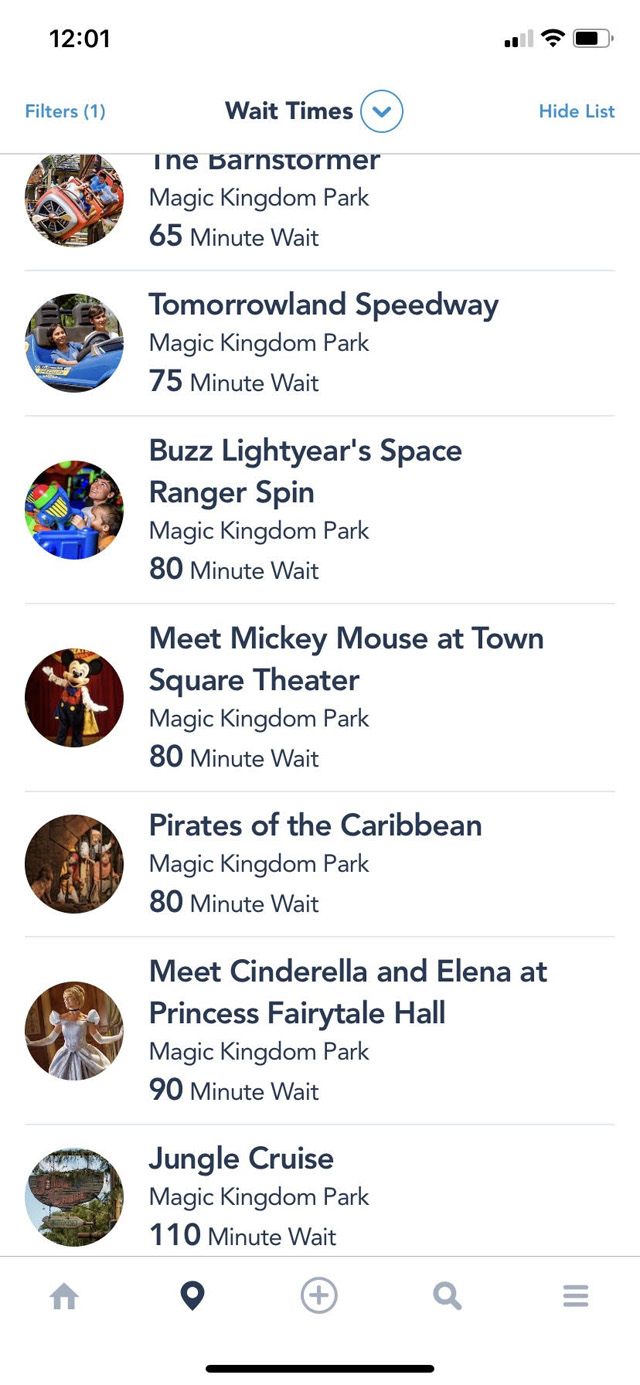 Haunted Mansion, Splash Mountain, Big Thunder Mountain, Space Mountain, and Seven Dwarfs Mine Train all have a 2 to 3-hour long wait. Plus, Peter Pan's flight is not operating at the moment. That's not good.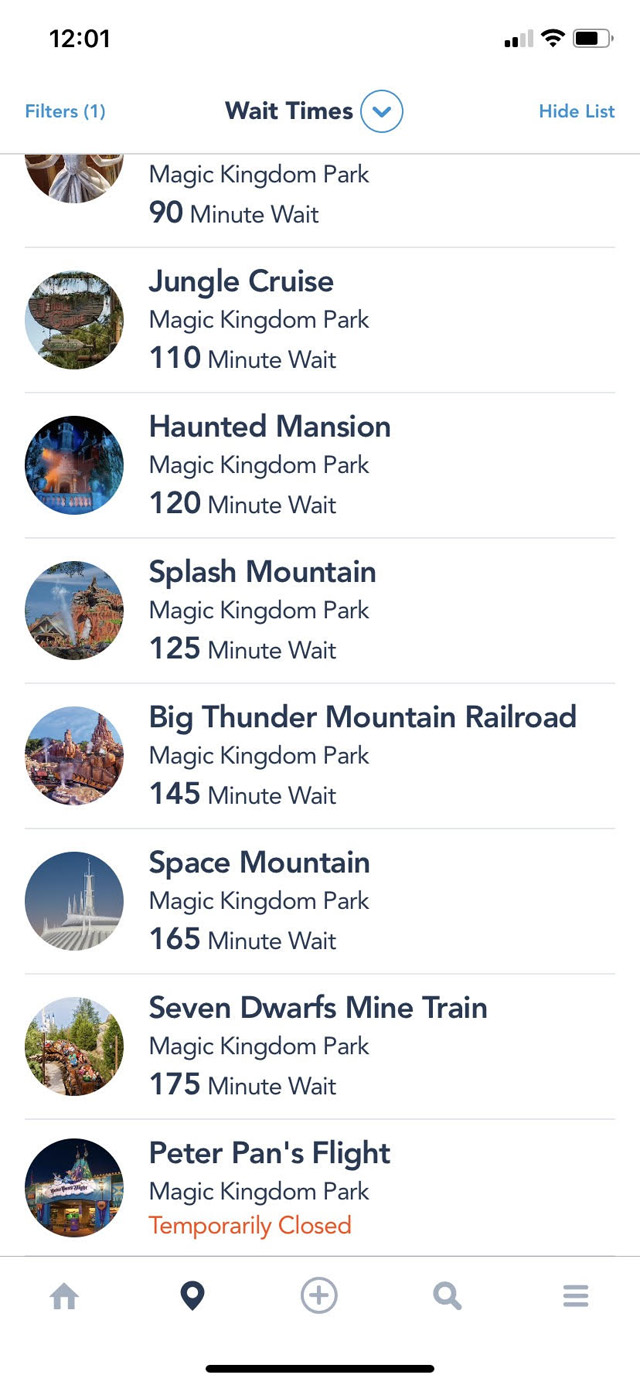 At Hollywood Studios, Slinky Dog Dash has risen from 85 minutes at 10 a.m. to 115 minutes at noon. Slinky is cute, but I don't know if I would wait 2 hours.
Also, there is no way I would wait almost an hour to ride Star Tours. Although, the new scenes they added would be fun to see.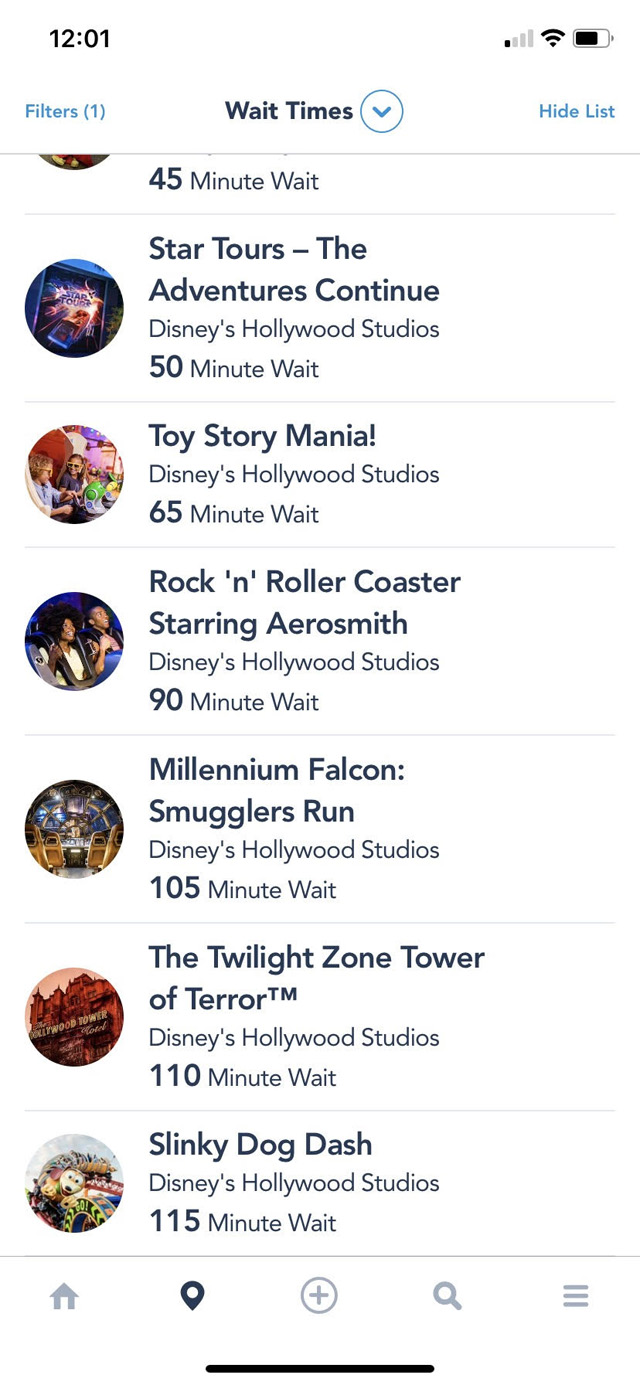 Moving on to Epcot at noon. Nemo has over an hour-long wait. Hopefully, the guests there know they can use Tap, Grab, and Modify to help save them some time.
Frozen Ever After and Test Track both have wait times of 2.5 to 3 hours long.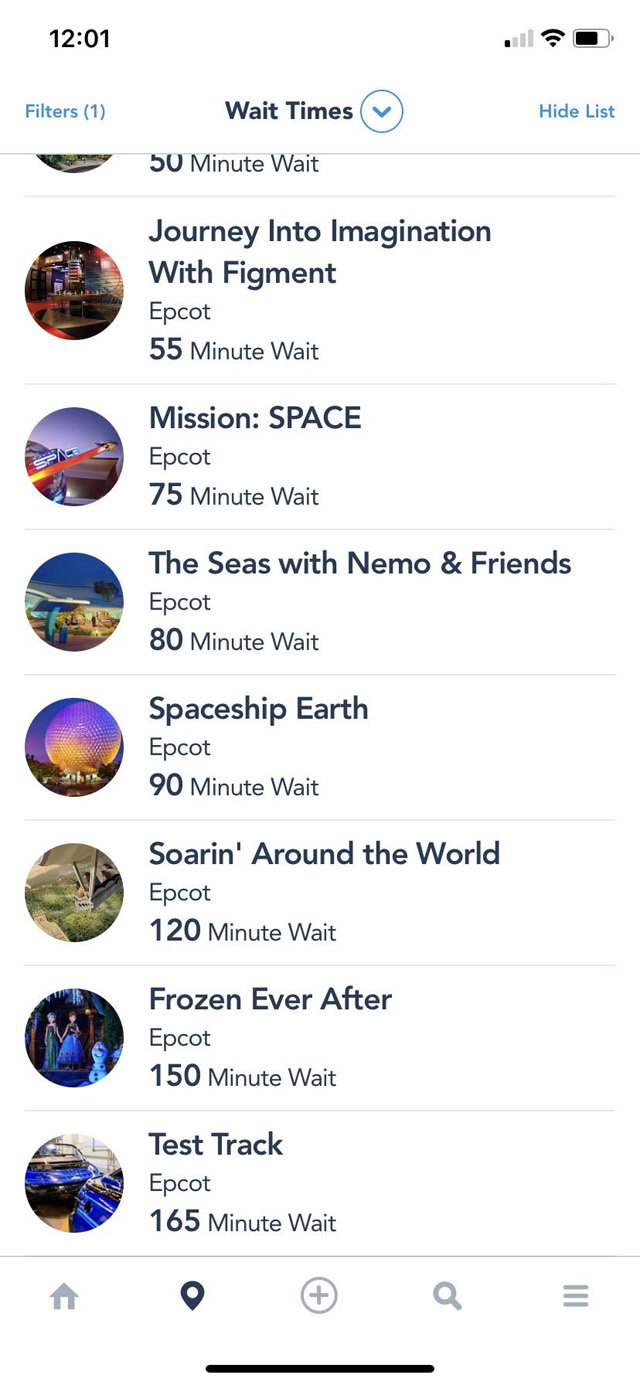 Animal Kingdom looks to be the best park to be in today. Expedition Everest and Kilimanjaro Safaris have a 75-minute wait, and both Pandora attractions have a long, but not totally unreasonable, wait.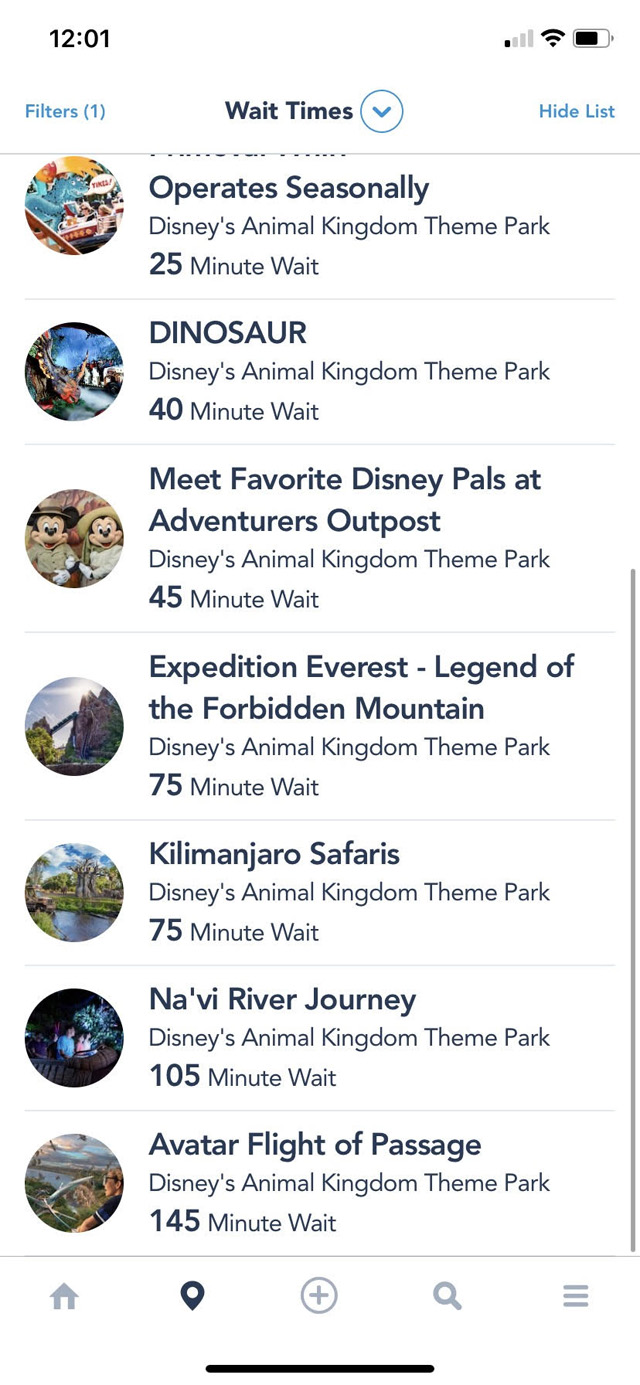 2 p.m. on New Year's Eve
Alright, we're going to look at the parks one last time today. Magic Kingdom has just reached capacity about an hour ago. So the wait times for Magic Kingdom are understandably going to be astronomical.
Would you wait one hour to ride "it's a small world" or Mad Tea Party? I think at this point I would just people-watch.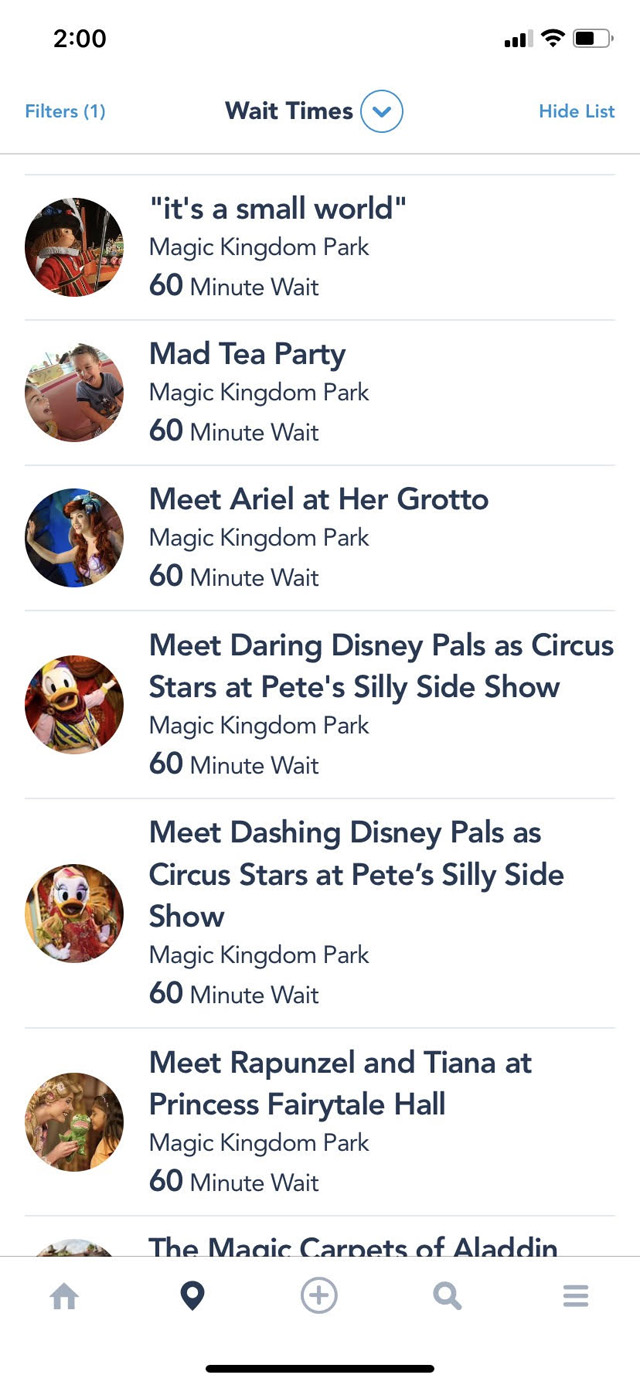 Most other attractions are sitting at 1-2 hours long in wait time. That's a very unproductive day at Magic Kingdom. Space Mountain has a 4-hour wait! No wonder the park has reached capacity.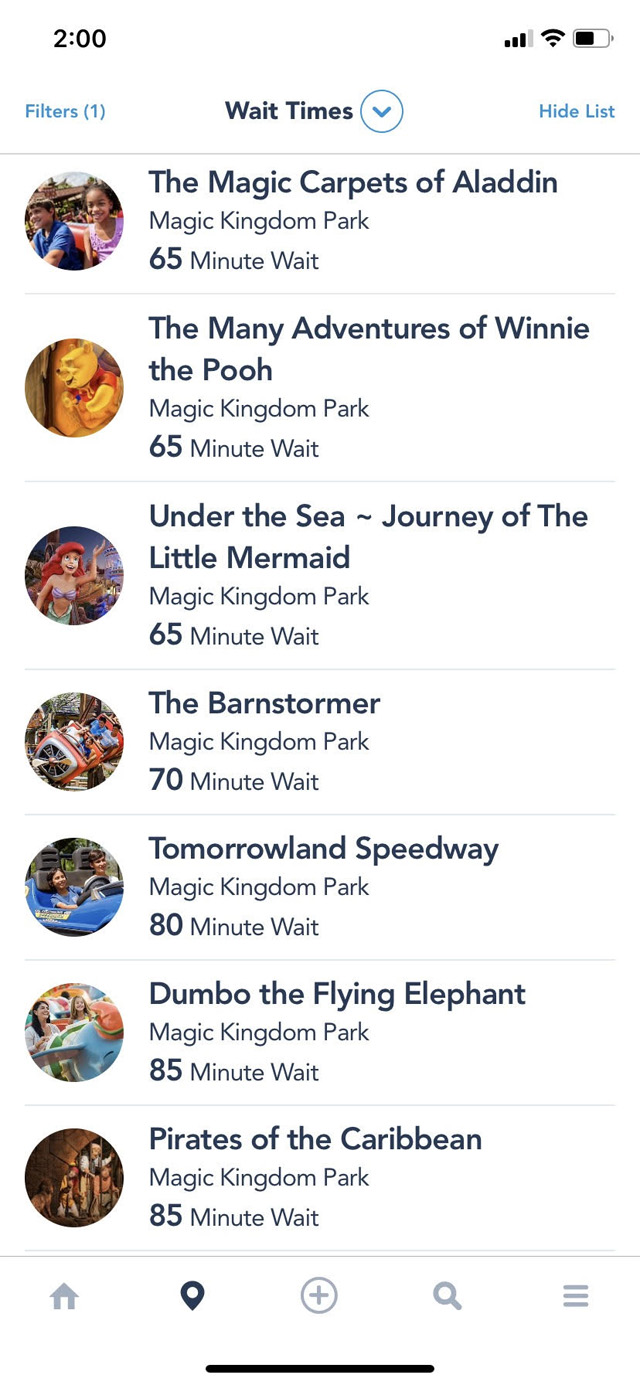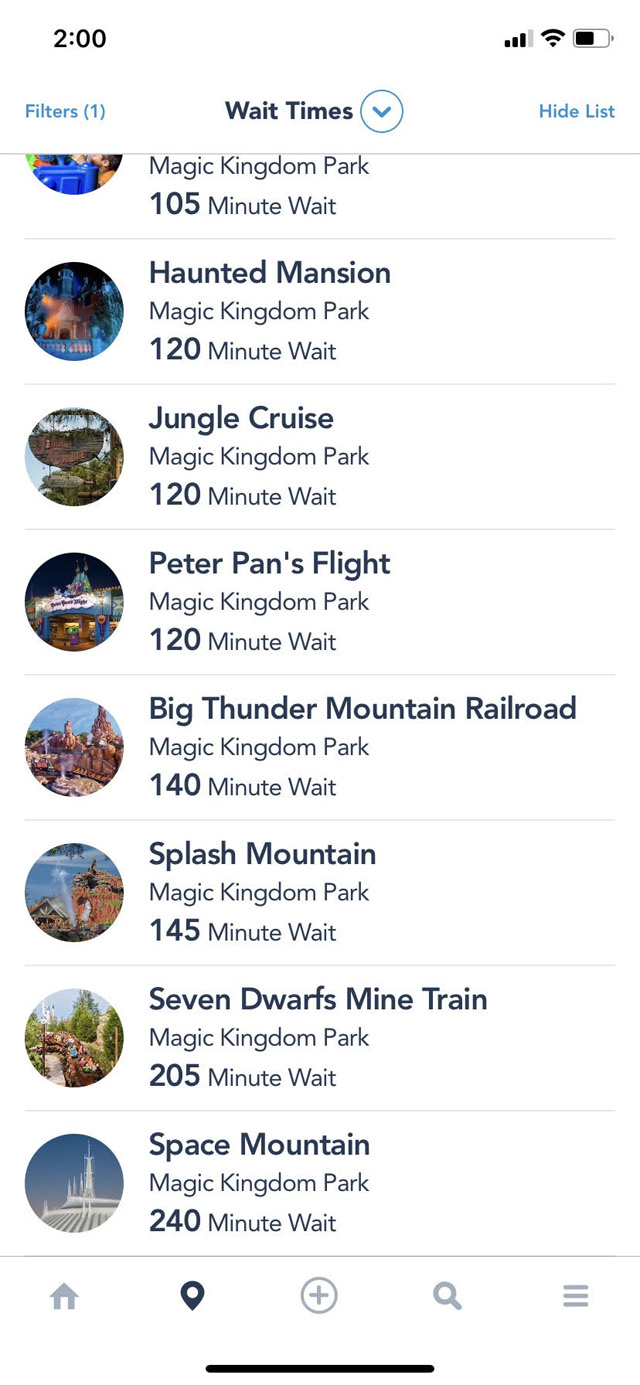 Hollywood Studios looks standard for what we would expect. 2 hours to ride Rock 'n' Rollercoaster (they're gonna be late again) and 3 hours for Tower of Terror.
We've not seen anything for Rise of the Resistance so the boarding group process appears to be running smoothly today. If anyone is at Hollywood Studios today and has a boarding pass give us out a shout on the KtP Crew group!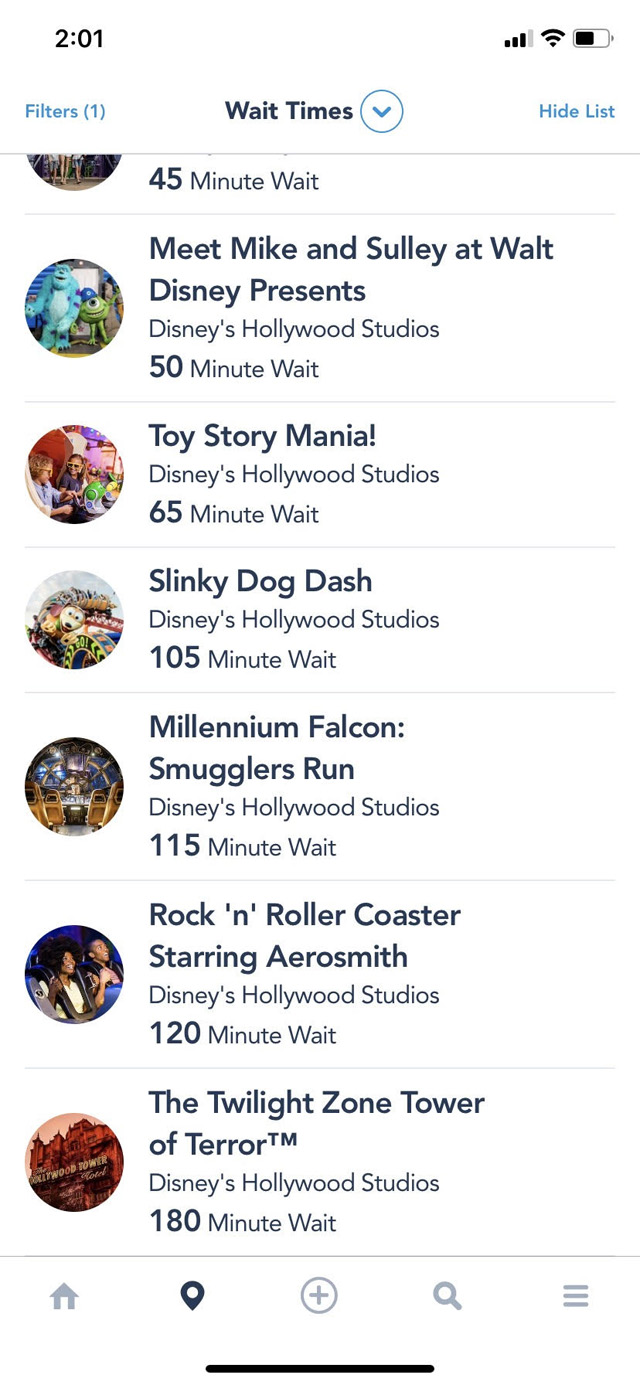 Epcot attractions have also risen steadily over the course of the day. 165 to 200 minutes for Test Track over the course of 2 hours. Everyone at Frozen Ever After must have gone to Soarin' instead because those wait times flipped.
Even still, it's going to take you the greater portion of the rest of the day to ride the big attractions. I hope you know you can grab extra FastPasses after you've used your first three! More details on Character Locator.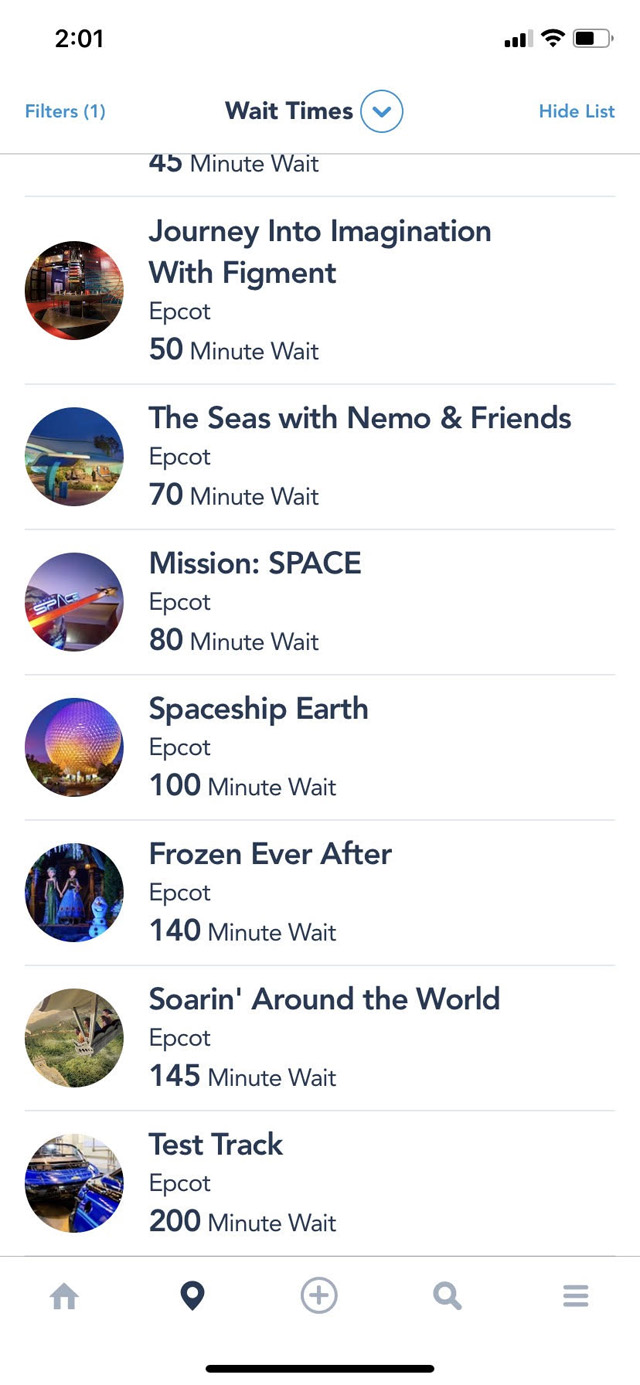 When you consider Animal Kingdom doesn't have a ton of attractions, their wait times are looking decent right about now. Flight of Passage is only at 2 hours and 15 minutes, which is not that much higher than a normal day.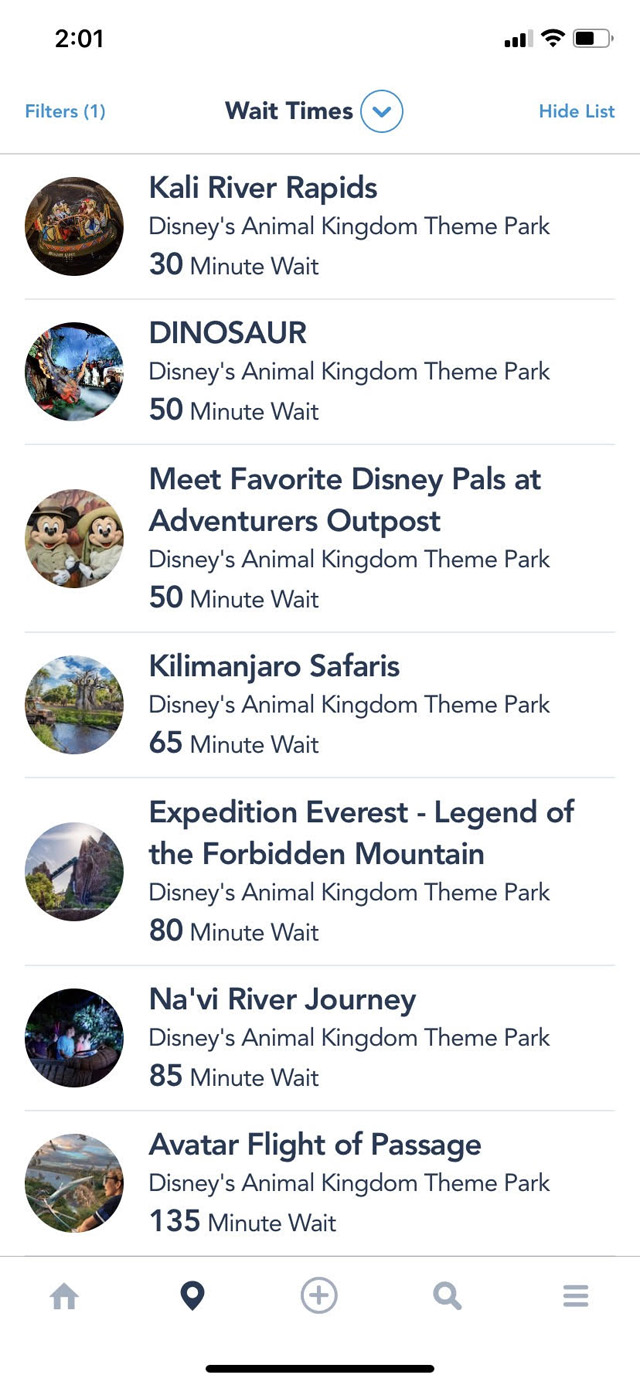 Wait times will remain high through about 5 p.m. today and then will die out a little. You can still expect high wait times throughout the rest of the day, especially at Magic Kingdom.
Fellow writer, Marisol, shared her New Year's Eve at Magic Kingdom experience from last year. The park also reached a closure last year.
How do you avoid these wait times if you visiting during a busy time at Disney World?
First, I'll assume that your schedule doesn't allow for flexible availability, and you are forced to come during peak times. If you can, you should always try to schedule your Disney trip based on the crowd calendars. Kenny always accounts for school breaks, holidays, and events when he creates his calendars.
Rope Drop
My first suggestion is to arrive early! You will need to get there 1 hour before the earliest posted opening time for a park. For Hollywood Studios, make that 2 hours or more before the posted time because of Rise of the Resistance.
It's worth it to ride several attractions with little or no wait, and this will be accomplished first thing in the morning.
So wake up early!
Use FastPasses wisely
If you reserve the most popular attractions ahead of time, you can spend some time doing all the other rides first, and then use your FastPasses on the rides with higher wait times.
Did you know you can continue to book FastPasses one at a time after your initial three have all been used up? It's true! After your three FastPasses are gone, use the Tap, Grab, and Modify tips on Character Locator to help you.
Soon you will be breezing past all those standby lines!
Have a Good Touring Plan
If you haven't, subscribe to Character Locator. Use the premade plans. Purchase customized ones if you desire to. Kenny knows the ins and outs of the parks and the best order to maximize your time in the parks and minimize the time spent in line.
The plans are divided into parks and even into different goals. If you want to focus on characters at Epcot, he's got you covered. Maybe you only want to do rides at Magic Kingdom. He's got that, too! There are dozens of touring plans.
Get one that works best for you and follow it!
Stay Late
Ok so maybe you didn't follow rule #1. That's ok. If you stay until closing you can do one or two high-priority attractions with little to no wait. Just make sure you are in line for one before the park closes!
If you follow these tips and the other tips on Character Locator these wait times won't scare you! Happy New Year's Eve!
If you're in the parks today (or any other busy day), keep us updated in the KennythePirate Crew group! We love to hear live reports from the parks! You can also share this post by clicking the large facebook button below.
-Monica S.