Which restaurants have the best character experiences? Does the restaurant have food that my children will like? Do they offer food that is allergy-friendly? Is the atmosphere kid-friendly? Can my children sit still in this restaurant? Is it a big deal if they DON'T sit still?
These are all questions you might ask yourself when choosing a place to eat in Walt Disney World when you have kids. It's overwhelming because there are SO many, but I'm here to help! Read on to see if any of the five restaurants I talk about sound like they would be a good fit for you and your family.
As a parent, I know what it is like to take children to restaurants. Sometimes it's a breeze and other times (okay, most times), I am trying to find somewhere to go to that offers a good selection of food items (that they actually eat), a kid-friendly atmosphere and somewhere that we as a family can actually enjoy too.
Disney World is THE place for families so almost all accommodate children. However, there are a few restaurants where the dining experience may not be suitable for kids. So just keep in mind almost any restaurant on property will be great for kids!
With all this in mind, below is a list of restaurants that are my favorite places to go and take my children. I hope this helps in your decision making, too!
The Crystal Palace at The Magic Kingdom
In my opinion, you cannot really go wrong with The Crystal Palace, unless you do not like Winnie the Pooh. If you do, then this restaurant is a great pick for families! The characters are great! Food is served buffet-style, so if you need to walk around with the children, it is not disruptive. The last couple of times I have gone they have had a character parade and have invited children (and parents) to march with them, so it's a great chance for children to get up, participate and, hello parents, burn off some energy.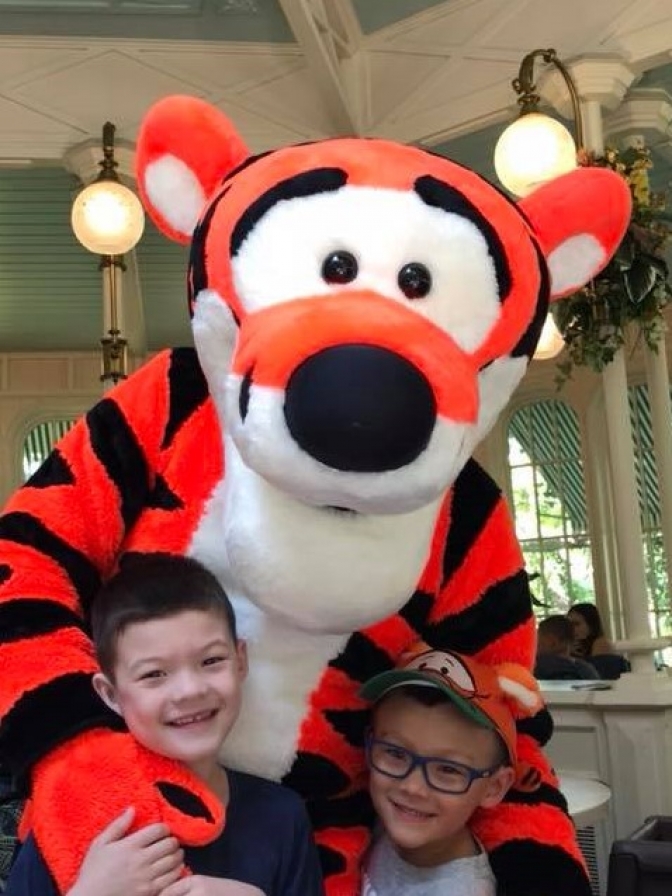 Cinderella's Royal Table at the Magic Kingdom
If you have a princess or prince, this dining experience is perfect. A good review of this experience can be read here. First of all, it is in Cinderella Castle! You and your family are treated like royalty while enjoying breakfast, lunch, or dinner. Here you can dine in a royal setting and meet your favorite Disney Princesses. It is quite the production and makes the kids feel really special.
There are plenty of opportunities for pictures and autographs too, so if your children love princesses, this is a great place to go.
The food on the kid's menu is pretty standard here. Cereal and Mickey waffles are served for breakfast. Chicken nuggets and mac and cheese are served for lunch and dinner.
I took my boys a few years ago, and at the ages of four and five, I got a very polite, "Mama, you can meet with the princesses. That is for you." So, if you have boys, this might not be for them, but my boys did like the wishing stars and wands that were given to them and they both enjoyed the food.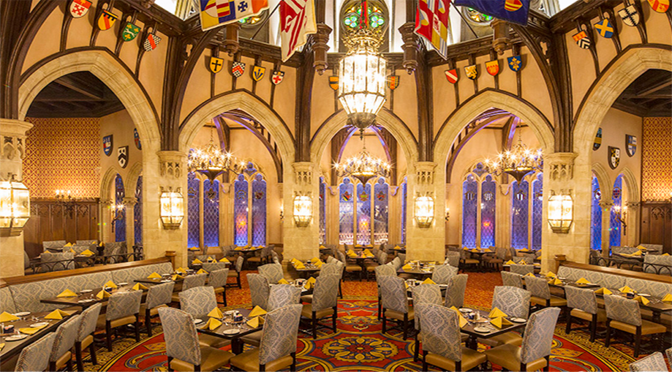 Garden Grill Restaurant at Epcot
The Garden Grill Restaurant in Epcot is probably one of my most favorite places to go and one of the best character experiences. My family has gone here many times and we have been able to meet with Chip, Dale, Farmer Mickey, and Pluto. The character interactions have always been great and there are plenty of food choices for everyone.
Children also seem to love that the restaurant moves around while you dine. Don't worry. It's NOT enough to make anyone sick. It's very subtle and slow-moving, but it's something different for your children to experience.
If you are a fan of the ride, Soarin' Around the World, be sure to book an early reservation, so you can ride it as soon as your meal is over! My family ate here for breakfast and we rode it twice in a row (no waiting) before the crowds came. It was a great way to kick off our day!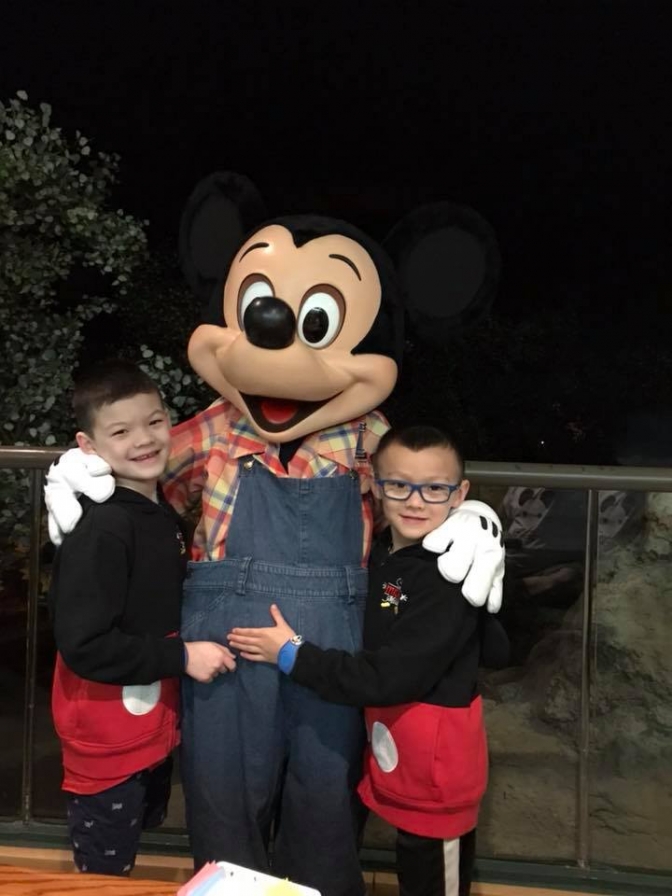 Chef Mickey's at Disney's Contemporary Resort
In my opinion, Chef Mickey's at Disney's Contemporary Resort is one of the best ways to kick off your trip! It is an all-you-can-eat buffet that offers breakfast, brunch, and dinner. There are plenty of kid-friendly food items that is sure to please everyone.
Guests are able to see and hear the monorail rushing by while visiting with their favorite Disney characters Mickey Mouse, Minnie Mouse, Pluto, Donald Duck, and Goofy. It is one of the most fun character experiences I have had with my boys. Plus, after your meal, you can walk right over to the Magic Kingdom!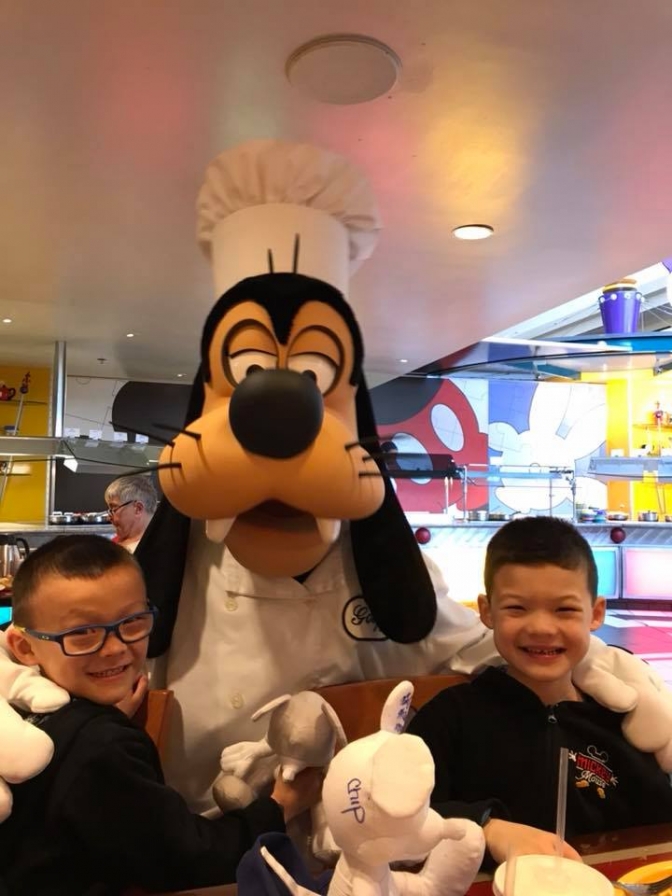 Tusker House Restaurant at Animal Kingdom
If your children want to meet Safari Donald, Safari Mickey, or Safari Goofy, this is a great place to go to in Animal Kingdom. Tusker House offers breakfast, lunch, and dinner and everything is served buffet style. Buffets are great for kids who need to move around a lot (although it may leave parents exhausted and even more in need of a break).
We have never felt rushed while we were here, and the characters always spend a good amount of time at the tables offering families a lot of time for pictures and autographs. Character meals, in general, provide entertainment for kids and helps the time go by faster. Did you notice all my top picks include characters?! That's not a coincidence!
Children (and adults) can also try the yummy Jungle Juice!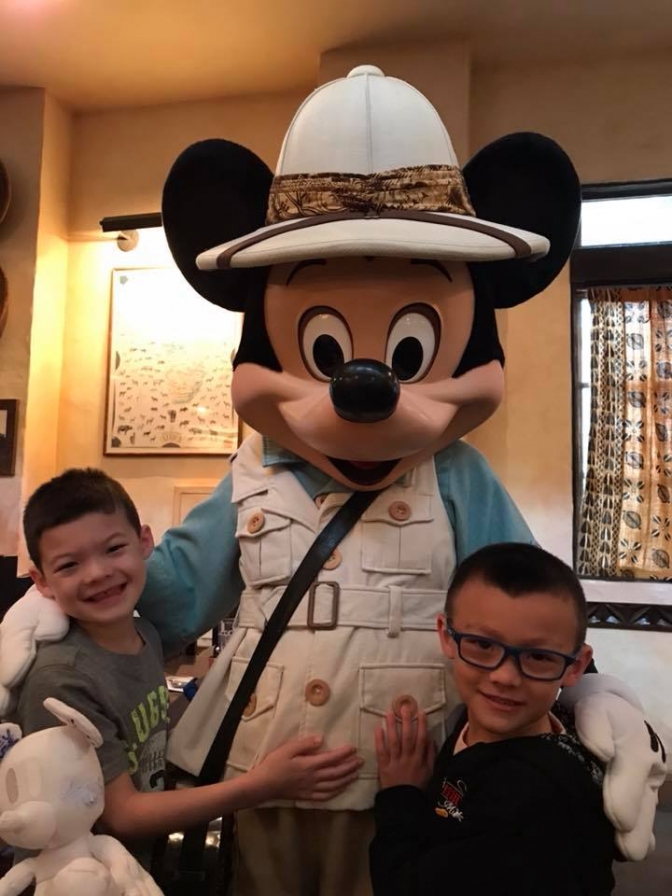 It should also be kept in mind that for many of these restaurants, advance dining reservations are highly recommended at least 180 days in advance. Also, guests should speak to a Cast Member about allergies or dietary needs before placing their order. In my experience, all of the restaurants are very catering to such requests, and if you have any concerns, never be afraid to ask because they are very accommodating.
For complete menus, prices, planning and other reviews of restaurants around Walt Disney World do not forget to check Character Locator or follow Kenny the Pirate on Facebook!
Remember, these are ONLY a handful of suggested restaurants at Walt Disney World to take children to. Did any of these restaurants make your top five? Tell me about what restaurants you enjoy going to with your children and why in the comments below!
Maggie Baltz