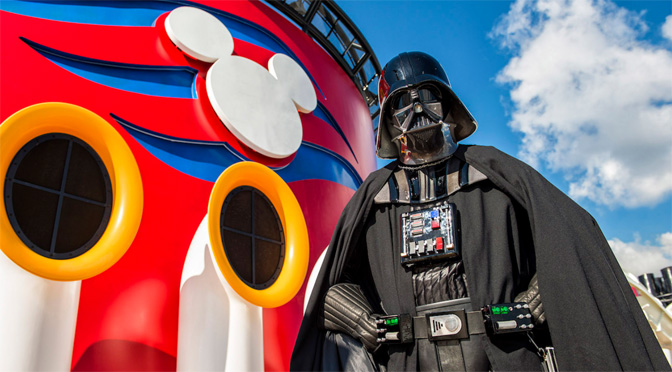 LATEST VIDEOS
Subscribe to my Youtube!
LIVE - Just Mousing Around
Just Mousing Around - LIVE
LIVE - Just Mousing Around
Are you a Star Wars fan? Do you like cruising? If so, you might want to consider going on one of Disney Cruise Line's specialty cruises to enjoy Star Wars Day at Sea!
These types of cruises typically have itineraries traveling to the Eastern and Western Caribbean on the Disney Fantasy for seven nights. There are many reasons why you should consider a Disney cruise! If you are considering the Star Wars Day at Sea, let me tell you all about it!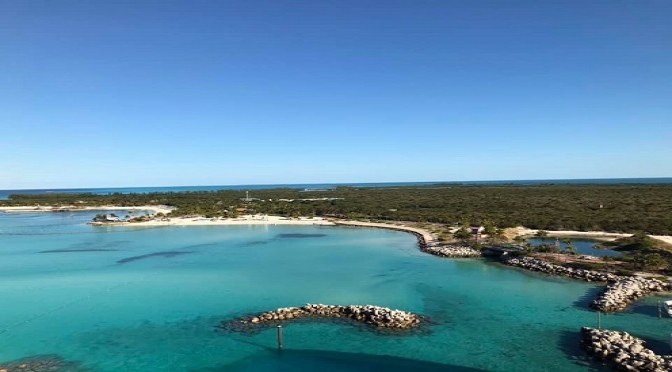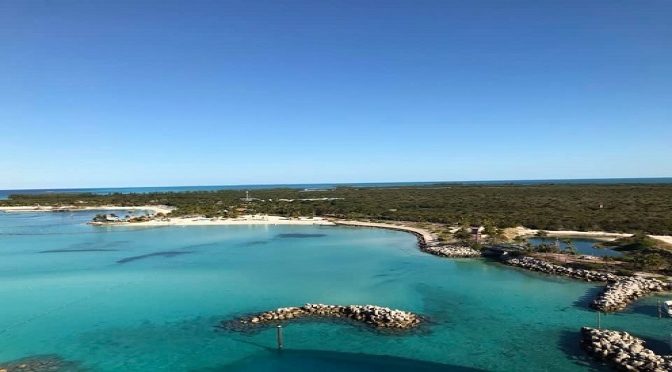 My family was lucky enough to go on one this past January and I am going to talk about the different activities, movies, and food all related to Star Wars!
Fish Extender Gift Exchange
One of the activities that added to the fun during our trip was participating in a Fish Extender gift exchange.  You can read more about what this is here. Here is a picture of our Fish Extender.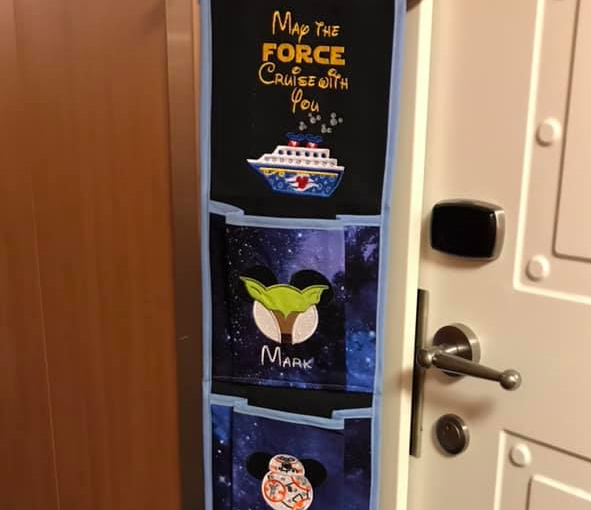 Since our cruise was a Star Wars Day at Sea, a lot of the gifts we received were Star Wars themed.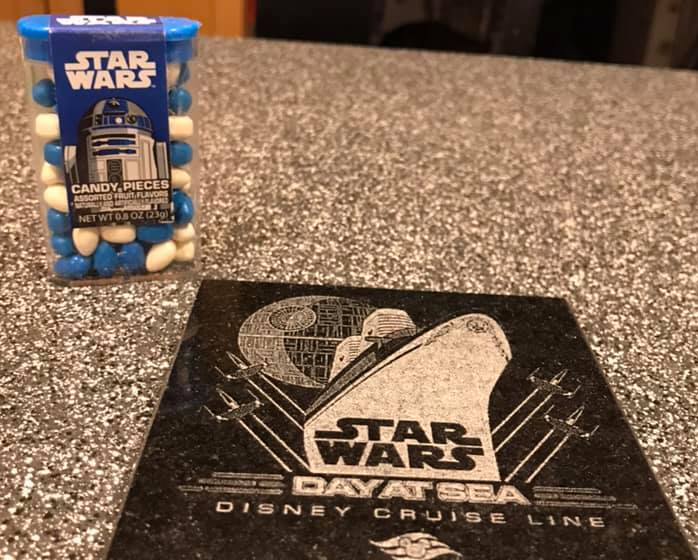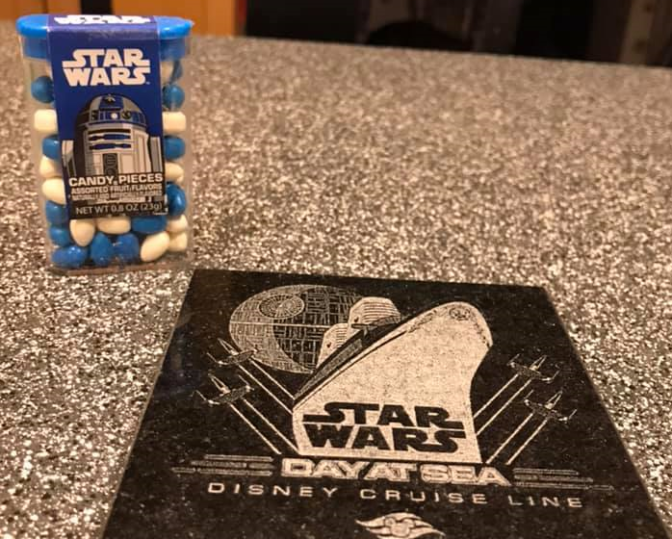 Star Wars Day at Sea Activities
Star Wars Day itself is only one day long and is held towards the end of the cruise on a sea day.  Throughout the day, Star Wars movies will be playing onboard the ship.  Some movies will be playing by the pool area, while others might be playing in the movie theater on the ship.
Activities include Star Wars trivia, Star Wars crafts, scavenger hunts, Build a Droid, Jedi challenges, a costume celebration, and of course, special meet and greets, photo opportunities and character appearances.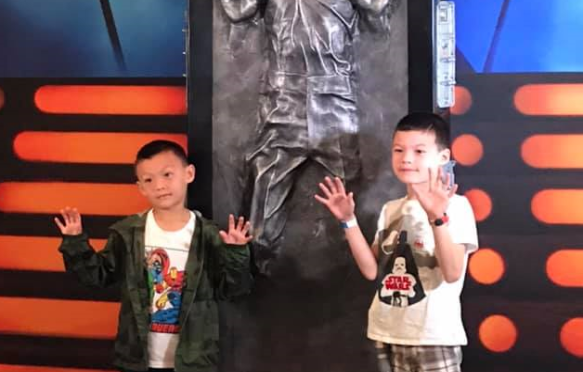 Several characters require reservations ahead of time, such as Darth Vader, C-3PO, Chewbacca, and R2-D2. My sons and I met R2-D2 and C-3PO.
If you do not have a chance to meet one of those characters, do not fret because you are bound to run into Storm Troopers roaming around the ship, or you might even come face-to-face with Boba Fett!
One of the activities my boys loved was watching the BB-8 races.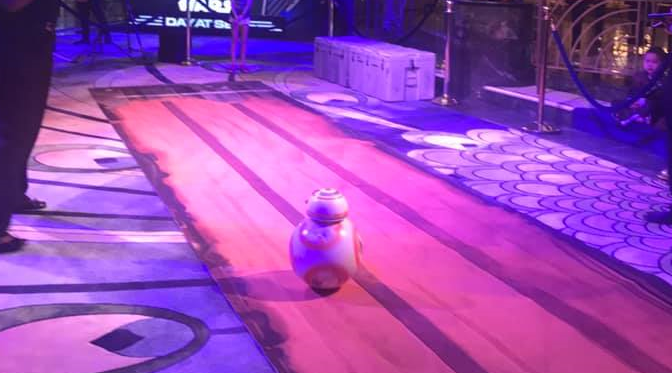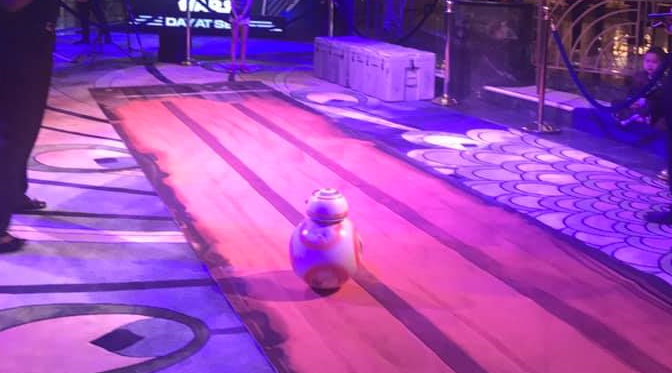 They were also able to participate in Jedi Training. If you have not had a chance to reserve a spot at Hollywood Studios, register for Jedi Training on the ship!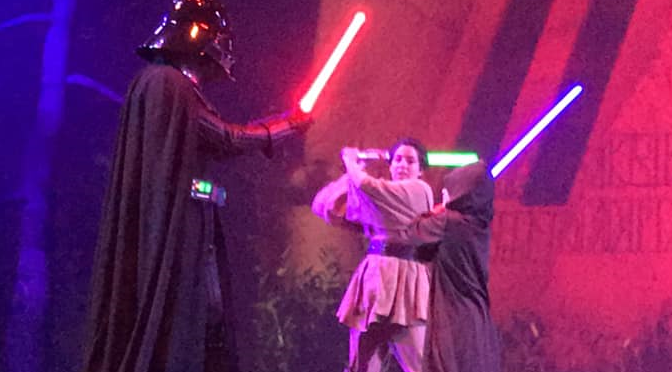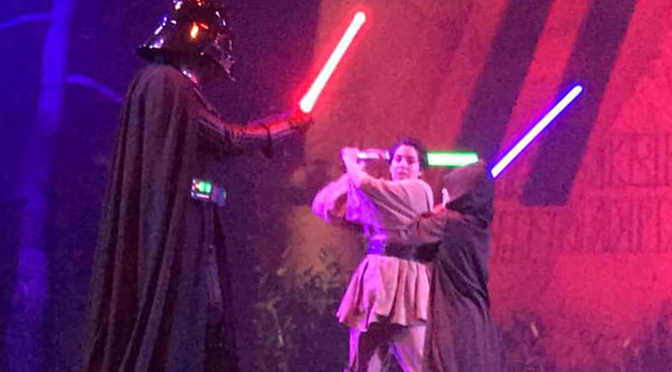 It does require reservations ahead of time and they can be made once you check-in online, or you may want to consider seeing if spots are available the first day of your cruise. Each child "borrows" a Jedi robe and lightsaber to learn how to train like a Jedi.
After successfully learning about the ways of the force and battling with lightsabers, they are then able to battle Darth Vader. At the end, each child receives an official Jedi training certificate. This was one of my favorite activities of the day.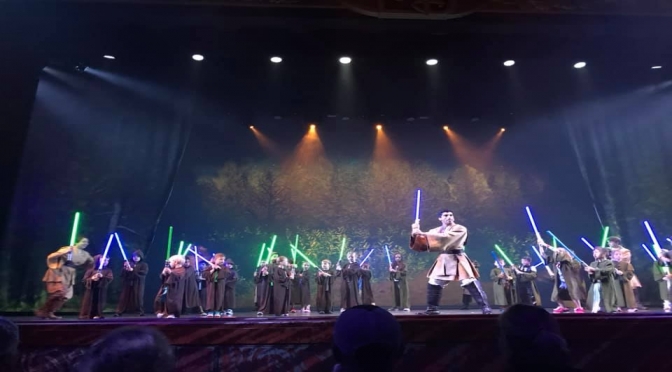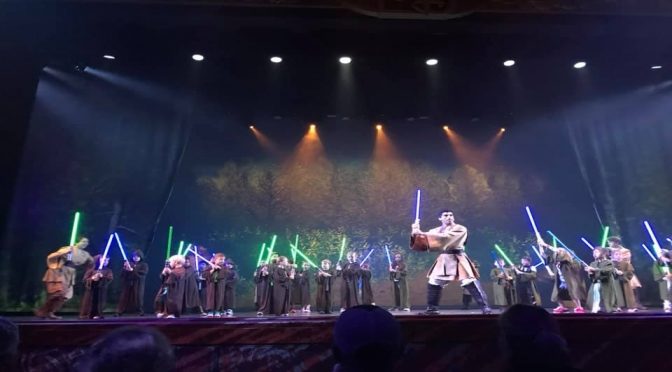 Star Wars Day at Sea Food
At the end of the day, it was finally time for dinner.  I enjoyed the delicious Lord Vader's Nerf Steak, which was a grilled, marinated rib-eye steak with roasted fingerling potatoes.  For dessert, I had Princess Leia's Warm Apricot Pudding (shown below).  I loved that it looked just like Princess Leia!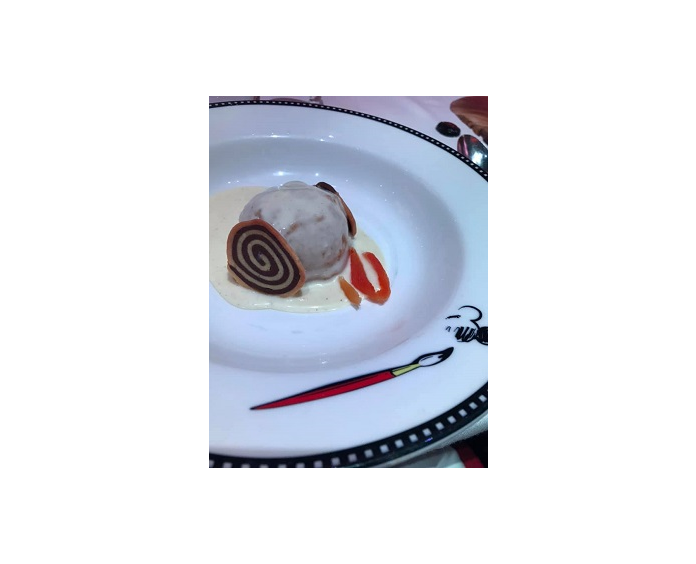 Nighttime Show
The day ended with a nighttime show spectacular featuring all of the favorite characters from Star Wars, such as Luke Skywalker, Rey, Boba Fett and of course, Darth Vader.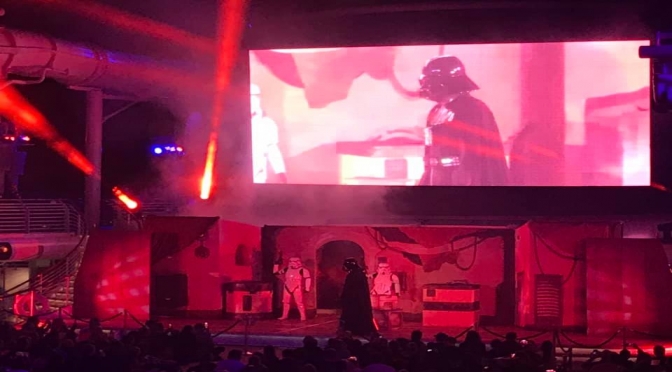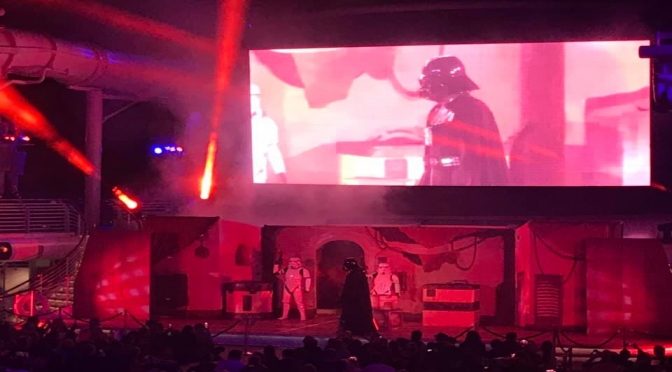 After the show, guests are treated to a fireworks finale set to music from Star Wars.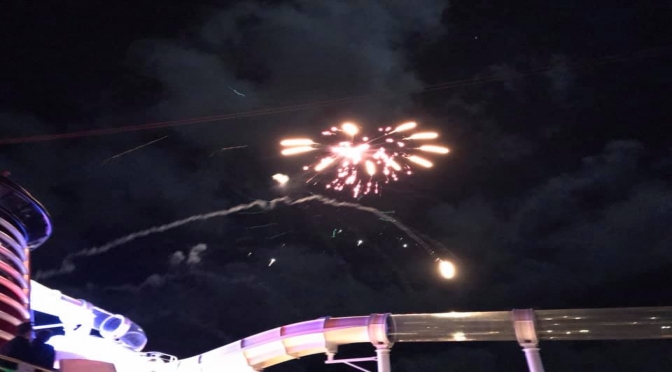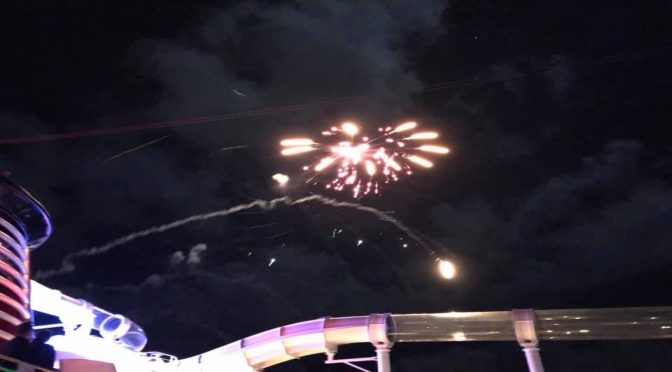 We returned to our stateroom and found a nice little surprise on our bed. We were able to keep the banner across the bed as a souvenir and I thought it was fitting that the towel animal that night was in the shape of a starfish.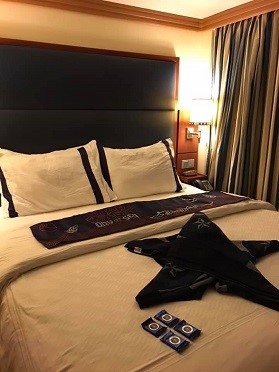 This was our family's first Disney cruise, and the fact that it was a Star Wars Day at Sea made it even more special. My boys' favorite part of the day was watching the BB-8 races and the Jedi training.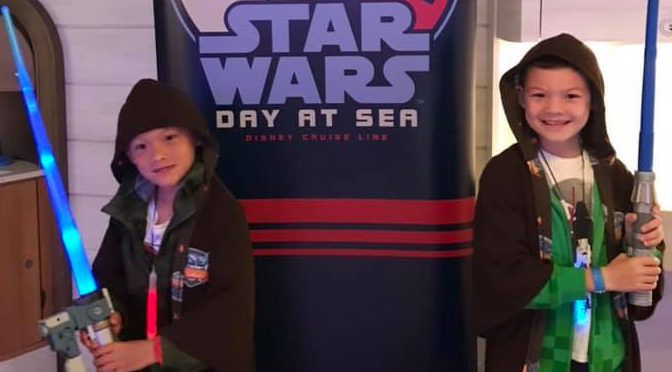 Great news for all you cruisers who want to experience this fun day! Star Wars Day at Sea is returning in 2021! You can get all the details HERE.
Are you ready to experience a cruise with Star Wars Day at Sea?  Feel free to ask me any questions or share your experiences on facebook.
Maggie Baltz
Are you planning a vacation? Reach out to our trusted travel agency sponsor Authorized Disney Vacation Planner
Mouse Class Travel
!