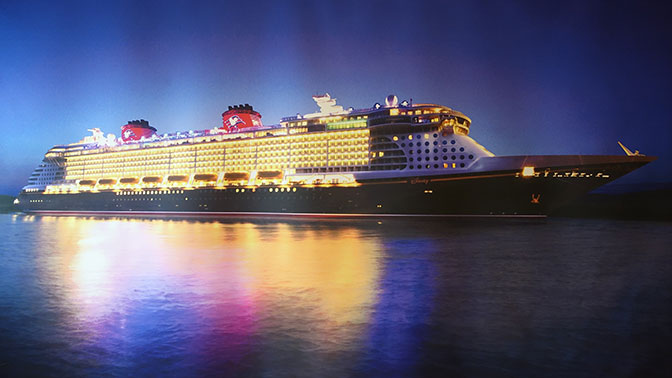 So, you have probably gone to the theme parks. Have you ever thought of taking your Disney experience to the sea by going on a Disney Cruise? Are you a little hesitant? Some people might say it is way too expensive. The thought of being on a cruise might be frightening to some, or maybe you just do not think a Disney cruise could be any different than a regular cruise. Well, I am here to tell you ten reasons why you should splurge on one!
1. The ships
Disney Cruise Line currently has four ships in their fleet: Disney Magic, Disney Wonder, Disney Dream and Disney Fantasy. Each ship is unique in its itinerary, entertainment and design. It was also recently announced at D23 Expo that a fifth ship, the Disney Wish would be joining the fleet in late 2021 and scheduled to set sail in early January 2022. From Disney Cruise Line's website, Disney Parks, Experiences and Products Chairman, Bob Chapek says, "the ship's stern will feature Rapunzel. Spirited, smart, curious and above all, adventurous, Rapunzel embodies the wish and desire to see and experience the world."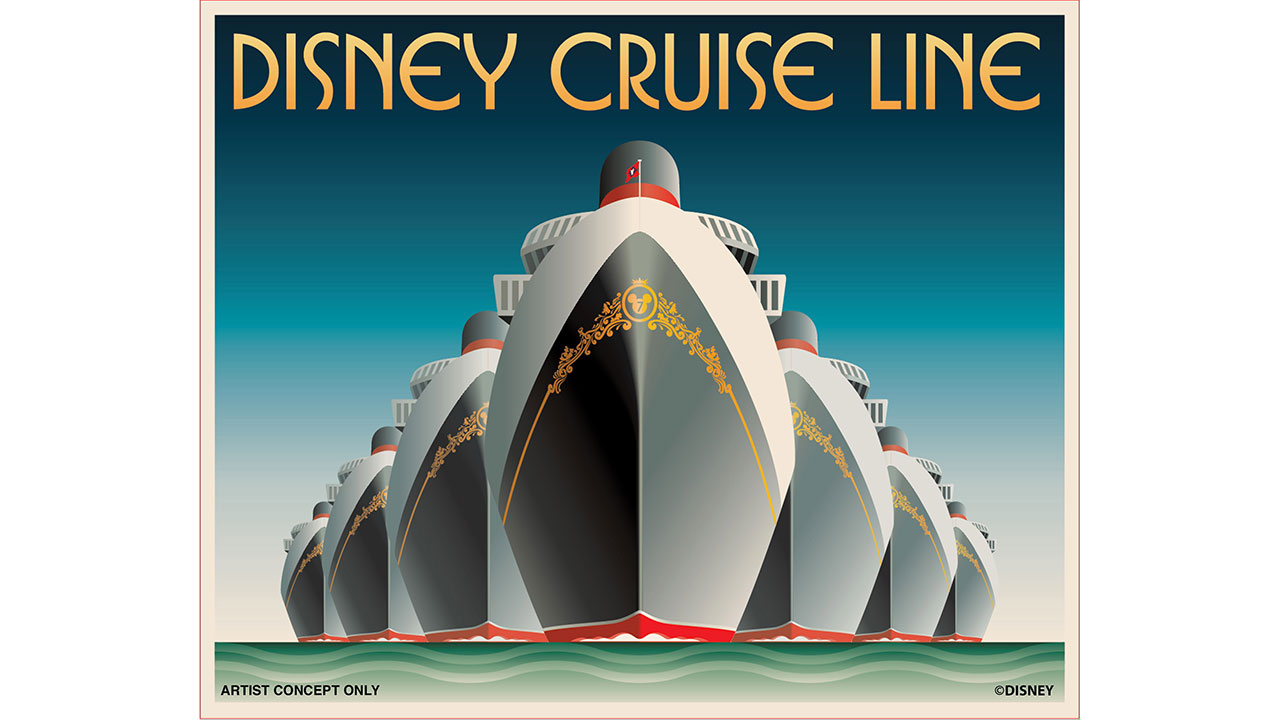 2. Ports of call
The best thing about Disney Cruise Line is the selection of destinations. Guests are able to visit destinations such as Mexico, the Caribbean, the Bahamas, Alaska or even Europe.
3. Relaxation
Relaxation and Disney sometimes are not two words that one might imagine together. I know from personal experience many Disney vacations are all about scheduling, having a good touring plan, making sure we arrive on time to a dining reservation or the next FastPass time. It can often feel hurried or stressful and many times you need an off day in between. Well, on a cruise there is none of that. Feel free to relax by the pool, take in a Broadway show, enjoy a movie in the theater, play some mini golf or even just watch the sunset.
4. Broadway shows
Each ship offers their own Broadway show ranging from Tangled: The Musical (Disney Magic), Frozen, A Musical Spectacular (Disney Wonder), Beauty and the Beast (Disney Dream) or Aladdin (Disney Fantasy). Before our cruise, Disney's Aladdin came into town and I opted out of seeing it locally because we had plans to go on the Disney Fantasy in a few months. It was definitely worth the wait! I saved the money we could have spent on tickets to the local show and put it towards the cruise. The best part? There is no additional cost to enjoy a show on the cruise. The entertainment is included in price of the cruise.
5. Food
Cruises are often known for their wide variety of selection of food and buffets onboard. Disney does not disappoint. Do you want the familiar Mickey waffles that you are able to have when you visit the parks and resorts? Don't worry. The cruises have them!
6. Palo
Palo is a fine dining adult-exclusive restaurant on all four ships that offers Italian cuisine. Experience having dishes such as antipasti, fine Italian wines, and delicious desserts. Palo also offers Brunch on sailings that are 4 nights or longer. Reservations are required and I recommend making ones well in advance of your cruise online, but they can also be made onboard.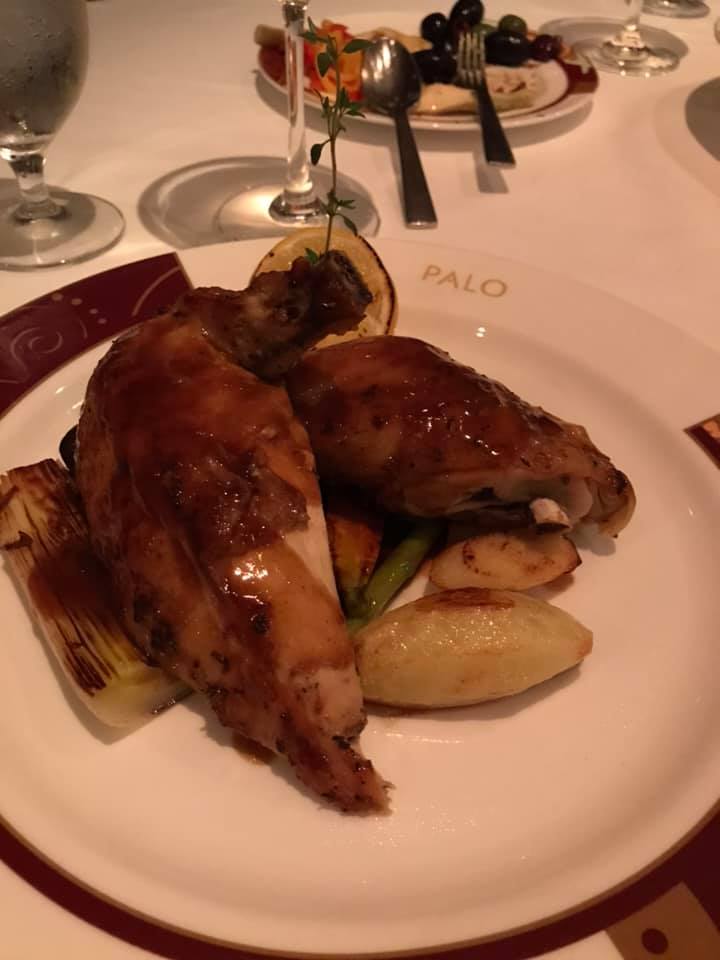 7. Castaway Cay
Castaway Cay is Disney's private island paradise in the Bahamas. It was recently awarded 2019 Cruise Critic Destination Award Winner for Best Cruise Line Private Island. Think about everything you love about Disney and put it on a private island. The service is outstanding. Characters are on the island if you enjoy meet and greets or picture opportunities. There are activities for children and adults and even a private adult-only section, called Serenity Bay for those ages 18+. There are also many port adventures that guests can take if they are interested.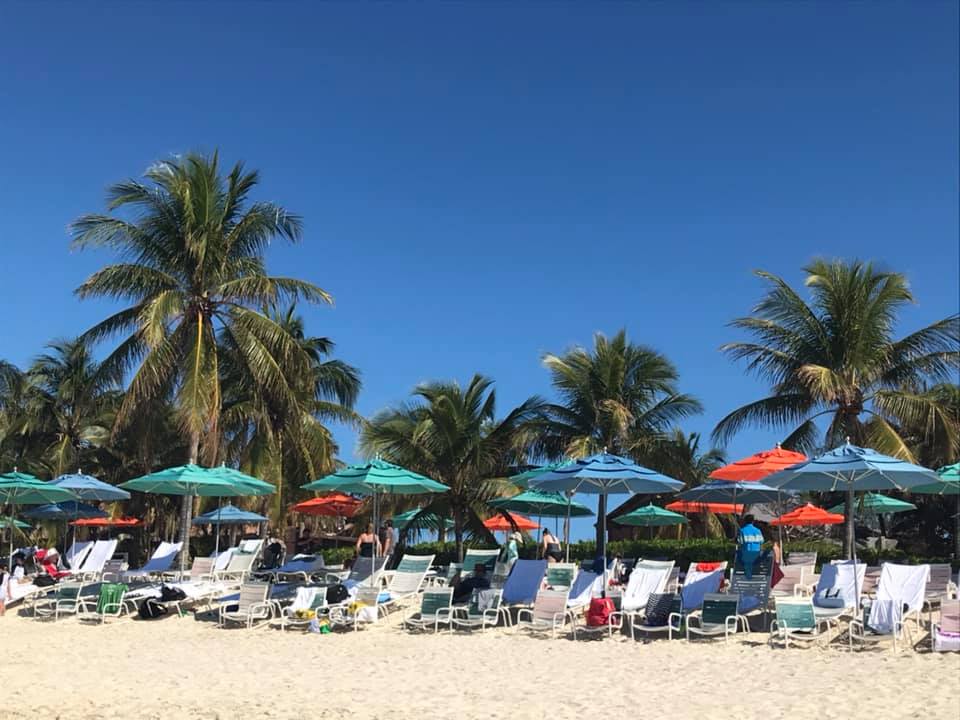 8. Characters
Just because you are on a cruise does not mean the characters people know and love are not there. In fact, in my opinion you are more likely to meet a rare character or have a better chance of meeting characters on a cruise than in the parks. Sometimes characters roam about the ship and you may even bump into Captain Hook on an elevator. Also, what does the cruise have that the parks might not? Short lines! Ships can only carry so many guests, so the lines to the meet and greets are generally very short and go fast. The longest wait my family might have experienced was around twenty minutes.
9. The Disney experience
The thing I enjoyed about the Disney Cruise the most was that despite not being in the parks, you were still able to enjoy all of the Disney magic and what many people might like is the fact that you are away from the crowds that one might encounter at the theme parks. If you do not like the hustle and bustle of the parks, take a cruise and see how truly relaxing it can be.
10. Specialty cruises
Disney Cruise Line offers themed and holiday cruises, such as Halloween at Sea or Holiday cruises during the holidays. Other offerings are Marvel Day at Sea or Star Wars Days at Sea which include one day of Marvel or Star Wars entertainment.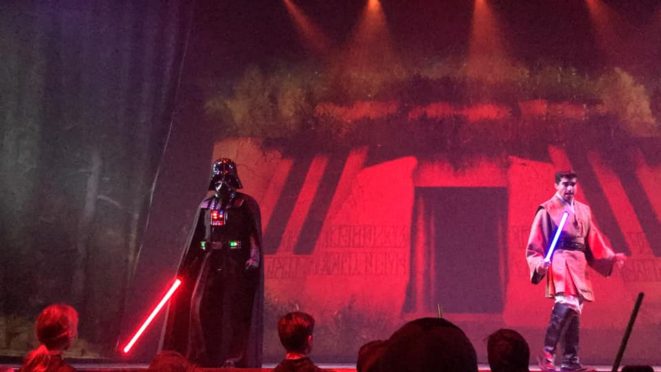 These are only some things guests can experience on a cruise. Other activities also include fireworks and Pirate Night. If you are looking for children activities, all ships offer activities for children of all ages from infant to teen. Children can go to their own kid's club while the adults can enjoy some time to themselves.
Which cruise ship do you want to try? What destination do you want to go to?
Maggie Baltz