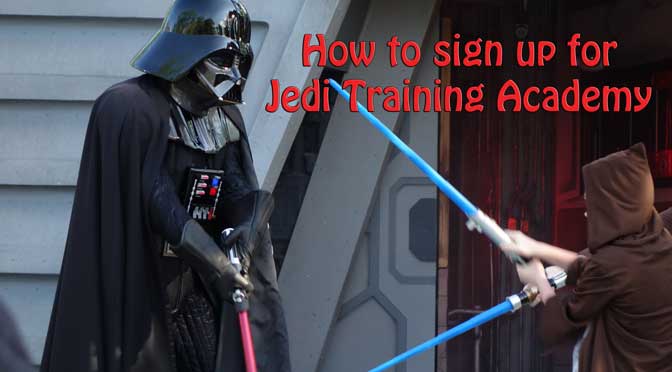 Updated February 13, 2017
I get a great deal of questions concerning how to get a child picked for Jedi Training Academy: Trials of the Temple.  Disney has improved the process in recent years, sort of.  In previous years, a child would appear for the Jedi Training Academy Show next to Star Tours and the Jedi Master would choose the children that he or she felt had the strongest representation of the Force.  In recent years, they moved to a sign up or registration process for Jedi Training Academy that may not be less daunting, but it is more obvious.
Now, you head straight to the sign up area at Indiana Jones Adventurers Outpost store just beyond 50's Prime time and pre-register your child to the show of your choice, based on availability.    Sign ups are typically completed before 9:45am with a 9:00am opening and most of those guests went straight there at park opening.  Your young "Padawan" MUST be present to sign up and they request that the child be between 4 and 12 years of age, but no proof of age is requested.
The Cast Member will give you a little slip of paper to remind you what time to return to the Adventurer's Outpost 30 minutes before your child's performance.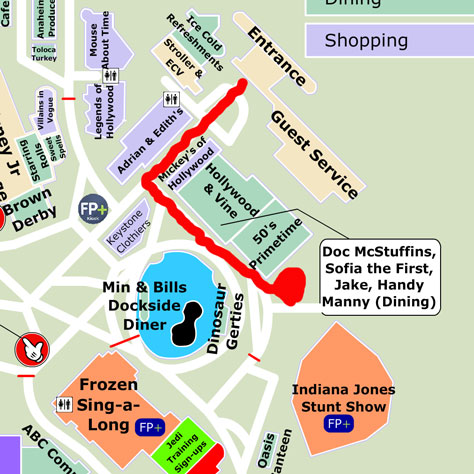 What is Jedi Training Academy?
The Jedi Training Academy is a 20 minute interactive opportunity that allows young children from the ages of 4-12 to battle against the forces of the dark side in a light saber instruction demonstration.  The children are referred to as Padawans, which is like a Star Wars term for apprentice.  Children are usually allowed to battle against Darth Vader or the Seventh Sister.
Only a few children are allowed to participate per show, so registering early is imperative.  Children are loaned brown training robes and practice light sabers for the performance, which they must return after the show,  as the Jedi Master teaches the Padawans to overcome the Dark Side.  After completing their training, Padawans are presented with a certificate that is suitable for framing.  It's a fun show that includes Star Wars music and sound effects along with hearing Darth Vader challenge the children in a non-threatening way.
What happens if it rains?
In the event of inclement weather like rain or lightning in the area or even if there are technical issues, the children could be invited to attend a special meet and greet with Darth Vader and his Stormtroopers inside the Star Tours attraction.   Only Padawans that have pre-registered to participate in the Jedi Training Academy are allowed to take part in this special meet and it only happens if the show is cancelled.
What do children receive for participating?
They receive a special pin a the conclusion of their training experience.
How to register for Jedi Academy:
 Arrive at Hollywood Studios at least 45-60 minutes early
Go straight to Indiana Jones Adventurers Outpost
Be sure your Padawan is between  4 and 12 years of age, but birth certificates are not required.
Choose a show based upon availability at the time of registration
Return a few minutes prior to your assigned time.
Sign ups begin every day at park opening, including Extra Magic Hour days!
Check for weekly performance schedules on Character Locator.