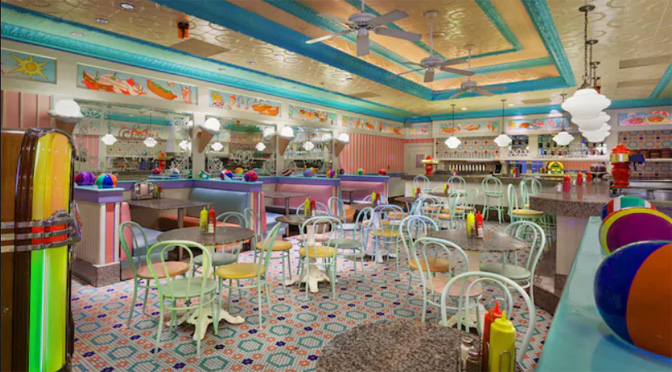 Beaches & Cream Soda Shop at Disney's Beach Club Resort has been closed since August, but thankfully, refurbishment is almost over and we have a reopening date!
According to the Disney website, the calendar on the Beaches & Cream page is grayed out until January 18. Beginning on January 19, 2020 Beaches & Cream will be open for guests to enjoy delicious ice cream again!
The hours are posted and you are able to book reservations! Take a look at the screenshot below: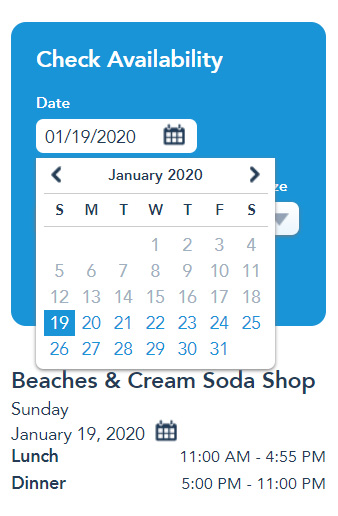 However, Beaches & Cream Soda Shop is a very popular restaurant. Reservations typically book up quickly as it is, and now that they will be open again soon reservations will likely go quicker than ever!
If you are visiting Disney anytime after January 18 and want to eat here, I suggest getting on the website or My Disney Experience app and booking your reservations as soon as you are able!
Beaches & Cream, including the to-go counter, has been closed since August of this year. Disney suggests guests visit the temporary location at Ariel's from 3:00 PM to 11:00 PM to get some delicious ice cream in the meantime.
The refurbishment list is updated regularly on this site so make sure you check out any other refurbishments that may impact your trip.
Never eaten at Beaches & Cream? You are missing out!
Revel in the nostalgia of the Atlantic seashore at this boardwalk-style ice cream shop where every day is sundae.
Recall fond memories and make new ones as you sip on flavored sodas, malted milkshakes and more while listening to oldies on the classic jukebox. Slide into a beach ball-bedecked booth and peruse a menu of fountain favorites, sweet surprises and "hot off the grill" items.
Find yourself in "burger heaven" or try the equally sublime grilled cheese and tomato bisque. Chili-cheese fries and onion rings are among the other comfort classics offered.
But the main event here is, of course, dessert! Find all your childhood favorites plus some new showstoppers: grow starry-eyed over the Milky Way Sundae, say yes to the No Way Jose or consider throwing in the towel once you get a load of the Kitchen Sink: 8 scoops of ice cream smothered in every topping we have.
Are you excited for Beaches & Cream to reopen?
-Monica S.