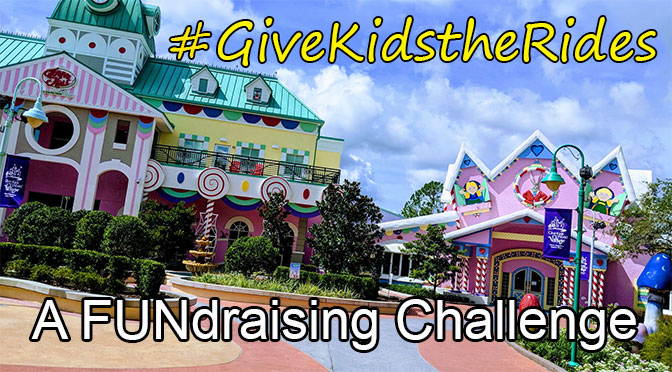 When Disney World announced that the  Liberty Square Riverboat, later followed by the Prince Charming Carousel, refurbishment would be extended back in early July, it left a number of people disappointed that they couldn't attempt to ride every ride in Walt Disney World with the #WDW49 (#ParkeologyChallenge new name).  My friend Jeff had already raised a couple thousand dollars for Give Kids the World based on pledges for his attempt.  That frustration turned into a blessing for this worthy charity as I was encouraged to join in for the support of the kids and encouraged the Crew to begin giving towards our new #GiveKidstheRides challenge.  Here's some additional details that I have to reveal about the challenge and my attempt on Wednesday, July 25:
The #GiveKidstheRides challenge has already raised nearly $10,000 through our combined efforts and we hope to double that amount with your support!  The charity provides critically ill or potentially life-threatening children and their families a week of dreams, a week of hope and and week of joy.
Jeff (ToddlerofTerror on Twitter) and I talked at length about what we could do to create this Christmas in July/August type event and benevolent benefactors like Martin and Joseph stepped up to support our efforts by providing pledges toward Jeff's Team goal for every ride that a challenger would ride.
We felt that a natural progression of the challenge would be teaming up on July 25, 2018 to attempt the #GiveKidstheRides #ParkeologyChallenge.  That's right, we are going to attempt the challenge TOGETHER.  The only other times I've done challenges with others has been with my own family members, but Jeff has become like family, so let's do this.
Support our efforts by making a donation or pledge based on our attempt on Wednesday.  Our goal is to ride all 47 rides in under 17 hours.  Can we do it?  We will certainly give it our best effort!
How many rides do you think we will accomplish?