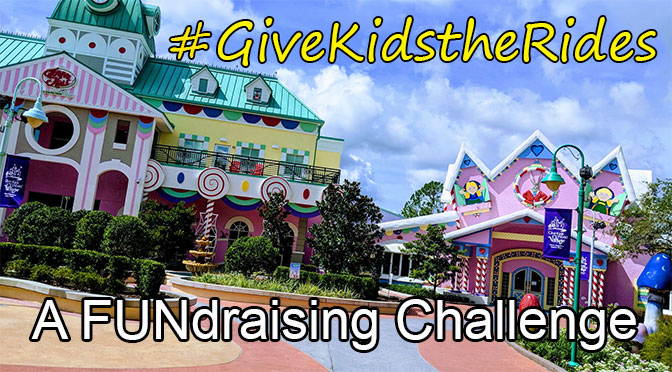 It's time to begin our 2019 #GiveKidstheRides charity FUNdraising challenge!
If you've followed my blog or social media for any amount of time, you know that I love challenges.  I've taken on many different theme park challenges over the last several years.  I was intent to attempt Doing all 49 Rides Challenge in July, but that challenge cannot occur due to the unexpected Riverboat refurbishment extension.  So when life throws you lemons, my friends and I decided to create thousands of glasses of lemonade for critically ill children and their families.  We've created the Give Kids the Rides #GiveKidstheRides challenge that will involve attempting to complete the 48 available, operating rides across Walt Disney World.  Here's the details and how you can support our FUNdraising effort for Give Kids the World Village.
Donate to the KennythePirate Crew Fundraising goal on this official GKTW Village page.
Give Kids the World Village Information
Let's begin by mentioning what Give Kids the World Village is and what type of amazing work they do on a daily basis.
Give Kids The World Village is an 84-acre, nonprofit resort in Central Florida that provides weeklong, cost-free vacations to children with critical illnesses and their families.

The Village and its community partners provide children and their families accommodations in fully-furnished villas, transportation, tickets to theme parks, meals, daily entertainment and much more.

Each year 27,000 children in the United States are diagnosed with a critical illness. Half of all children eligible for a wish through a partnering wish-granting organization choose to visit Central Florida and its collection of theme parks and other attractions.

Our goal, quite simply, is to provide everything these deserving families need to make their trip the vacation of a lifetime. Since 1986, more than 160,000 children and families have had their dreams fulfilled in a whimsical Village unlike any other place on earth.
#GiveKidstheRides History
The challenge itself was to ride 49 rides, but the Riverboat extended its refurbishment, then a short refurbishment was announced to the Prince Charming Regal Carrousel.  This meant that some attempts would be 47 rides and some would be 48 rides.
Because we couldn't do the full challenge of riding every Walt Disney World ride in a single day, we set out to create a new alternative that would offer the ability to ride the rides that were not under refurbishment and raise funds for Give Kids the World at the same time.
In 2018, we successfully raised about $60,000 for Give Kids the World through our Give Kids the Rides charity effort.  Participants were roaming all over Walt Disney World riding rides while helping raise funds for this worthy charity.  Our goal is to raise $100,000 for 2019 and give even more kids hope!
Join the #GiveKidstheRides movement
#GiveKidstheRides challenge is now available year around so you can join our team and raise funds by riding as many rides as you can in a single day, but we will offer at least two special, fun-filled days of ride challenging!  One will be held on Wednesday, July 24, 2019 and the other will be on Wednesday, December 4, 2019.
We ask that you register your attempt with EveryRideChallenge.com and tag @rideevery on Twitter and use the #GiveKidstheRides on Twitter.  We chose Twitter because the timeline is easier to search than other social media networks.  You can share on others as you see fit as well, but Twitter is required.
Reminder that you MUST post screenshots of every Fastpass used WITH your names on each and you MUST post photos of you ON the ride vehicle.   You cannot take a photo passing by the location.  #GiveKidstheRides @RideEvery on every tweet!
I invite you to join Team KennythePirate Crew and make a pledge or immediate donation to this amazing charity.  All donations go DIRECTLY to Give Kids the World.
A generous benefactor has kickstarted our 2019 fund raising challenge by donating $10,000 to our Crew goal of $25,000!  At only $2 per day, each person could donate $104 and we'd meet our goal within days.  Perhaps, you could donate a portion of your tax refund, if Uncle Sam is giving you money back?  Maybe create a special item and donate the proceeds on ETSY?
Give Kids the World is now the official charity for my line of businesses (KennythePirate.com and CharacterLocator.com) and we hope to bless them tremendously.  You'll also see some special volunteer events in coming months where we team up together to provide assistance.
Donate to the KennythePirate Crew Fundraising goal on this official GKTW Village page.
#GiveKidstheRides summer participants from 2018
List of those who participated in the #GiveKidstheRides challenge.
Signups are now handled fully through EveryRideChallenge.com!
The clock begins with the first ride tweet and concludes with your final ride tweet.
Disability Access System Usage
Team Name
Date
Rides
Hours
1
chris_shick29
*Disability Access System
08/08/18
48/48*
17:20